School Leaver CV
Isabella has selected the Wheaton CV template to showcase her relevant experience for her first full-time job. Its simple format displays work experience, skills and additional experience in a easy to read manner.
Create your CV
"Seeking opportunities to gain valuable work experience and eager to expand skills. Committed to exceptional service as well as able to effectively contribute to team-orientated organisations."
Isabella Bennett
- School leaver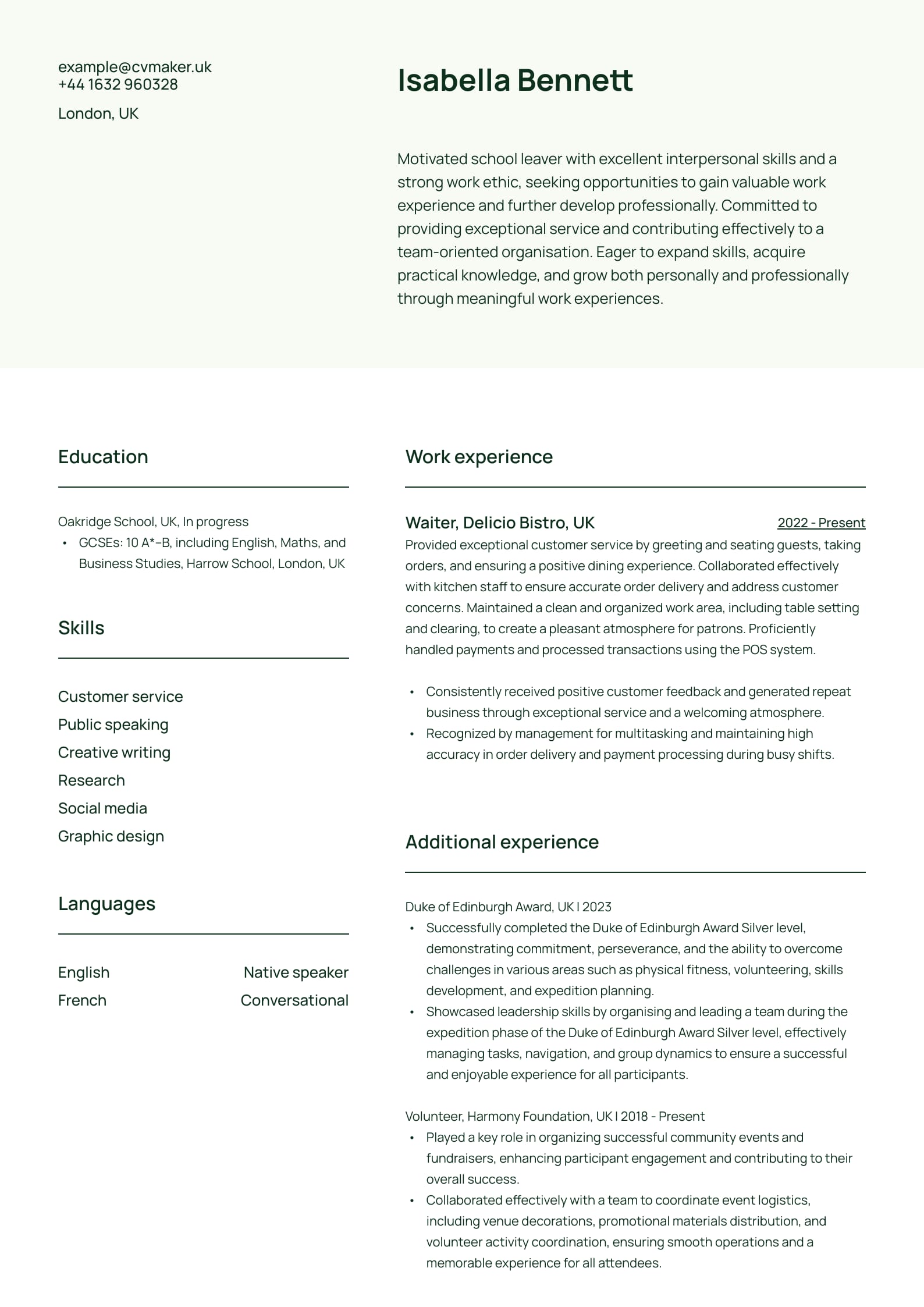 How to Write a Successful School Leaver CV in 2023
Leaving school and entering the job market can be overwhelming and challenging. You may have already put considerable effort into job applications but have not had much luck with recruiters or hiring managers. At this time of your life, finding your first job can be time-consuming. Whether you're looking for your first full-time job, interested in exploring an apprenticeship or internship, or still figuring out your next move, we've designed this guide with you in mind.
Standing out from other job seekers by optimising your CV is crucial in today's competitive job market. Choosing the right school leaver CV template can also be an extra hassle, but it's undoubtedly worth it. Did you know that 75% of qualified applicants get their CVs rejected by Applicant Tracking System software (ATS) because it's unreadable and unclear? Knowing how to write a good CV to attract employers is even more essential to land your first job.
We understand that everyone's experience is unique when they leave school, so we're here to help start you career journey on the right foot.
The CV writing process: Where to start?
Just like preparing for your first job interview, starting a CV from scratch may seem intimidating. If you've begun the job hunt for the first time or have just finished school, you may be unfamiliar with writing a CV and unsure where to start. It is an opportunity to demonstrate your enthusiasm to find a job, develop a career, and learn new skills. In this guide we take you through the key sections of a modern CV, from crafting a compelling personal profile to presenting your academic achievements.
Master CV
Creating a master CV will be your go-to career document that includes an overview of your academic and professional experiences. This document can include a list of your courses, projects, academic achievements, qualifications, certificates and awards. Save this document and reference it later when applying for jobs. This process will save you time and effort when creating a customised job-specific CV to match your job targets.
Job-Specific CV
Tailor your application to the specific requirements of the role and employer. Highlight relevant information and keywords in your CV that align with the job description. A job-specific CV should include industry knowledge, related achievements, coursework, or extracurricular activities to match the job target. By presenting yourself as a strong candidate with a targeted CV, you increase your chances of standing out among other applicants.
School Leaver CV example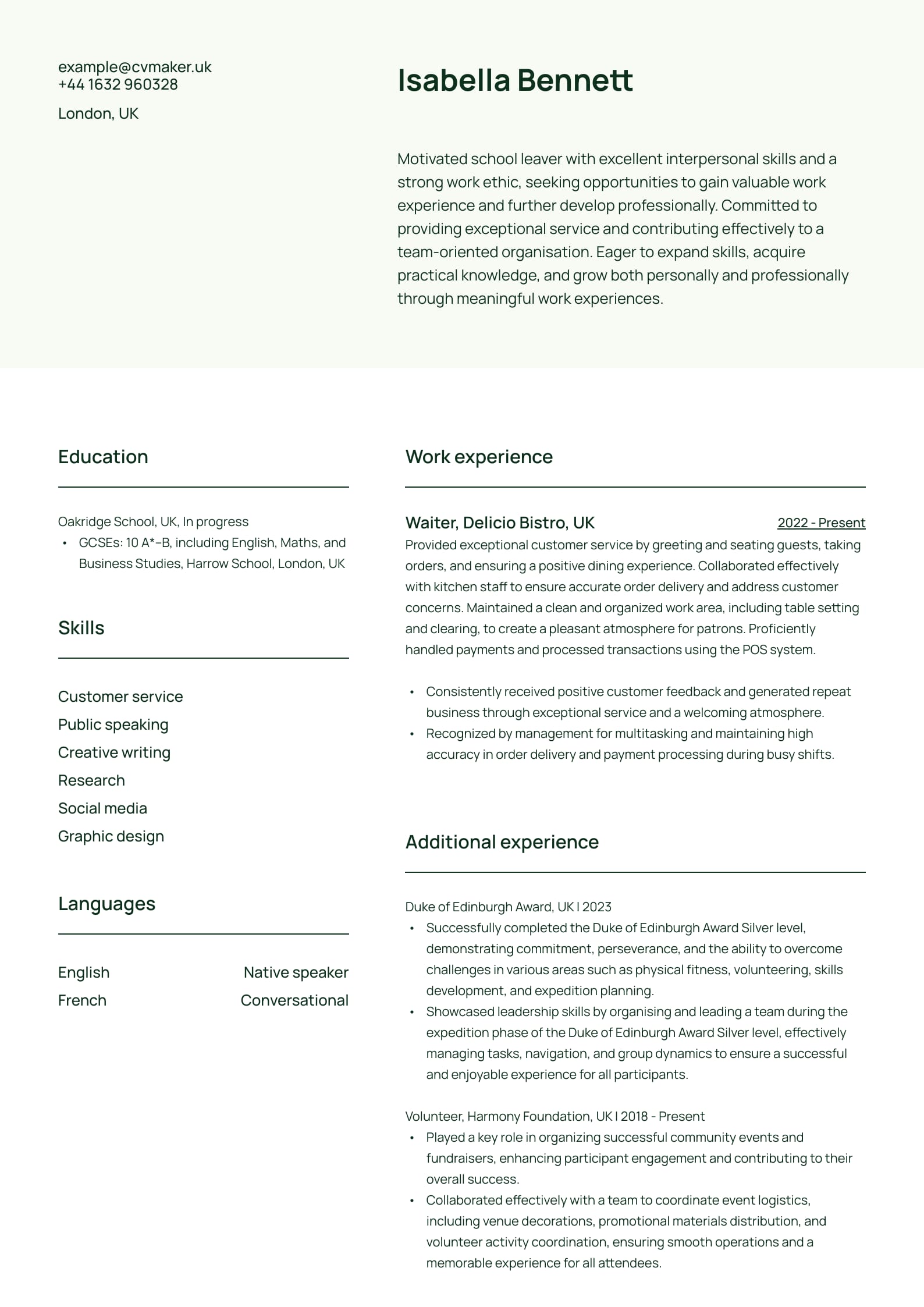 Download this School Leaver CV sample in PDF
In this CV sample, Isabella highlights her customer service and language skills to gain a competitive edge. She demonstrates her ability to be customer-centric and collaborate productively in a team. The additional experience section outlines how she has played a key role in volunteering and organising successful community events and fundraisers. She clearly demonstrates her dedication, teamwork and leadership skills. This Wheaton CV template is well-structured, concise, and well-formatted, which looks appealing and is easy to read by recruiters.
What to include in a school leaver CV?
Like our school leaver CV sample, you should demonstrate to hiring managers that you have the essential skills and knowledge to perform your job targets successfully.
List your personal details, education, work or volunteer experience, skills, achievements, and relevant projects or coursework. Always use a well-structured and organised format, and consider including an additional experience section to highlight hobbies, interests, school projects, awards, volunteer work, or languages.
Consider pursuing a career in customer service or as a shop assistant, which have many benefits and entry-level opportunities. You'll be able to develop transferable skills and experience working in roles such as a bartender, kitchen staff, or waitress, which can be applied to any customer-oriented sector.
In need of more inspiration? Explore careers and our range of CV examples for UK jobs.
How to write a personal profile on a school leaver CV
Start your CV with an attention-grabbing positive, and energetic summary. Introduce yourself and highlight practical qualities like motivation, work ethic, and time-management skills. These qualities showcase showcase your ambition, commitment and initiative. If you have no work experience, focus on transferable skills in your profile instead.
The personal profile is crucial in the hiring process. It should create a positive impression tailored to the job requirements. Ensure you highlight relevant skills, achievements, and qualifications, keeping your profile within six lines, considering your work experience and design of your school leaver CV template. Use this section to explain your long-term career goals or passion for the industry.
Customer Service CV Personal Profile Example
Energetic and customer-focused school leaver with a passion for delivering exceptional service. Excellent communication and interpersonal skills demonstrated through previous volunteering and a work placement in the retail industry. Strong problem-solving abilities, with the ability to multi-task and manage time effectively. Quick learner, adaptable, and eager to contribute to a customer-centric team. Dedicated to providing positive experiences and building lasting relationships with customers.
School Leaver with No Experience Personal Profile Example
Proactive school leaver with a strong desire to become a Teaching Assistant. Demonstrated leadership through community service and volunteering. Excellent communication and interpersonal skills from public speaking and debate clubs. Proven dedication and strong work ethic with consistent academic achievements. Additional experience includes tutoring, assisting teachers, and participating in mentoring programs. Eager to develop professional skills in education and contribute to a learning environment.
Healthcare Personal Profile Example
Passionate school leaver eager to enter the healthcare sector through an Intermediate Apprenticeship (Level 2) after GCSEs. Aspire to train as a healthcare support worker assistant and aim to advance to an Advanced Apprenticeship (Level 3). Excellent communication and interpersonal skills, with experience engaging with individuals from diverse backgrounds. Previous volunteer work at local nursing homes and involvement in community outreach programs has instilled a genuine desire to support and improve the lives of others.Committed to positively impacting individuals' well-being and pursuing a rewarding healthcare career.
For more inspiration, read how to write a personal profile on your CV that will display the best of your personality and potential to employers.
What skills to put on a school leaver CV
Include a combination of hard and soft skills that covers everything mentioned in the job advert. When applying for your first job or apprenticeship, showcasing your skills through your education, volunteer experience, and extracurricular activities is beneficial. As with your personal profile, try giving examples of skills in the job advert relevant to your career goals.
A customer service role such as waiter/waitress or bartender requires cash handling, product knowledge, and time-management skills. You'll also need soft skills such as problem-solving, communication and active listening to interact with customers, resolve conflicts, and manage transactions.
Job hunting often requires sending out numerous applications before hearing back from hiring managers. Since you may be looking for work or have little to no experience, your CV will likely focus on soft skills. Once you start working, you will gain more technical and hard skills.
Highlight transferable skills from school projects, coursework, qualifications, hobbies, extracurricular activities, or volunteering. When applying for your first job, check the specific hard skills written in the job advert and continually work on developing those skills through relevant courses, certifications or internships.
Examples of soft skills:
Communication

Teamwork

Problem-solving

Active-listening

Organisation

Adaptability

Detail-orientated

Multi-tasking

Patience

Critical thinking.
Examples of hard skills:
Computer literacy

Microsoft Office

Maths

Money-handling

Foreign languages

Research skills

Time-management

Customer service

Administration skills

Presentation skills

Product and industry knowledge.
For more information, refer to our article on what skills to put on a CV.
How to write work experience on a school leaver CV
To write an impressive CV without substantial work experience may feel like hard work, but it's possible to impress recruiters without it. Prioritise listing your skills over your work experience section if you have never been employed. Consider creating a skills-based CV to leverage your application and show hiring managers how you can offer value to their company. If you have any relevant work experience, even for a short period, this can significantly enhance your CV.
Here are some tips to keep in mind:
If you have paid work experience, volunteer or internships, add this, start with your most recent job, and work your way backwards.

Avoid including outdated or short-term experience; use this in an additional experience section and remove dates.

Include keywords relevant to your job target that apply to your entire CV.

Provide measurable outcomes or key academic achievements from school, work placement, volunteering or internships.

Emphasise transferable skills from relevant studies or other activities such as volunteering or hobbies. Keep this section short, clear and brief, focusing on the job you are targeting.
Traineeships, apprenticeships, and internships bridge the gap between academic, personal, and professional interests. They also signal to hiring managers that you have gained hard skills from practical experience. It is an investment in your career. Completing a traineeship or apprenticeship will increase your chance of getting your first job.
Volunteering can also be added to a CV and is essential to gaining experience and demonstrating that you are passionate about a particular subject or organisation. Learn more about volunteer opportunities on the UK Government website.
Work experience CV example for 16-year-old CV
Shop and Fundraising Volunteer, Mind Charity, London, UK, 2019-2020
Collaborate effectively with a diverse team to organise and execute fundraising events. Engage and interact with team members, beneficiaries, and visitors, demonstrating strong communication skills. Assist with event preparation, participate in training sessions, and contribute to a positive work environment. Motivate fellow volunteers, maintain morale, and provide customer support.
Successfully raised £800k through collaborative fundraising efforts, contributing to the charity's financial goals.

Assisted with implementing an efficient event planning system, resulting in a 10% increase in event productivity.

Received recognition from the charity for outstanding customer service skills.
In this 16-year-old CV example for work experience, essential skills and qualities are highlighted to recruiters that match the job advert and the candidate's career goals. Their reference to soft skills such as communication, teamwork, and problem-solving demonstrate to potential employers an ability to contribute effectively to a team, handle challenges, and positively impact others.
Pro Tip
If you have no work experience, use this gap as an opportunity to be proactive. Try volunteering with a local charity or business to gain some experience.
For more tips on this section, refer to our article on how to write work experience and achievements.
Education section on a school leavers CV: How to include it?
Including all relevant information about your education is essential. Listing education should include the name of your school or college, the dates you attended, the qualifications you gained for GCSEs or A Levels (England), Highers (Scotland) and any special awards you received. List any extracurricular activities you participated in, such as sports teams, clubs or community volunteer work.
The education section will likely take priority if you have little to no work experience. But make sure you keep this section brief and concise. If your qualifications are particularly relevant to the job you are applying for, it may be worth expanding on them. For example, if you were applying for a job as a bookkeeper and gained an A* in GCSE Maths, ensure this is highlighted.
Here are some tips to consider:
List your most recent qualification first, followed by all other qualifications in reverse chronological order.

Start with the highest level of qualification you have achieved, such as A-Levels or BTECs.

Only include the most important information about your education, such as the type of qualification, school name, and date. If you studied your GCSEs and A Levels at the same school, list them in one entry.

Only include courses, awards, and certificates if relevant to the job or industry you're applying for.

If you are still a student, you can put predicted grades on your CV if you are waiting for results or to take examinations.
A-levels, BTEC, and NVQ Qualifications:
[School Name], [School Location], [Years Attended]
[Qualification] [Subject Name 1], [Subject Name 2], [Subject Name 3]
CVMaker School, Manchester, UK, 2016-2018
Mathematics, Physics, Computer Science
UK GCSEs:
[School Name], [School Location], [Years Attended]\ [n] GCSEs (including Mathematics and English)
CVMaker School, Birmingham, UK, 2014-2016
10 GCSEs (including Mathematics and English)
Scottish Highers template:
[School Name], [School Location], [Years Attended]
Scottish Highers: [Qualifications]
N5s: [Qualifications]
CVMaker School, Edinburgh, 2015–2020
Highers: Maths (A), Physics (B), Chemistry (A), Computing Science (A)
N5s: English (C), Maths (A), Geography (B),  (A), Chemistry (A), Computing Science (B)
Pro Tip
We recommend gathering references from your school teachers, tutors, or career counsellors. Add these details to your master CV and use your references if requested during an interview.
For extra guidance on this section, refer to our article about how to write education on your CV.
How to list courses and certificates on a school leaver CV
Courses and certificates can bring your CV to life and show your potential. Employers will still consider your application even if you have yet to gain experience, as it's possible to enhance your CV in many other ways. Courses are an additional section that will complement your hard skills and work experience sections.
If you are new to the industry, have limited work experience, or have just left school at 16, consider completing a course to develop your knowledge and skills. You will demonstrate your commitment to continuous learning and it can set you apart from other candidates. For more inspiration, find a course with the National Careers Service.
List all relevant courses you have taken throughout your secondary and higher education, then add any certifications or awards you have received in school. We advise keeping courses and certificates as brief as possible and keeping them one to two lines.
Courses and certificates CV examples for 16-year-old CV:
First Aid Certification, St. John Ambulance, 2021

Health and Safety in the Workplace, CVMaker Training Institute, 2020

Digital Marketing Fundamentals, Google Digital Garage, 2019

Introduction to Coding, Codecademy, 2018
Pro Tip
Looking for courses can help you reach your career goals faster. Research the job requirements and determine if a course could leverage your application. Consider taking an online course if you would prefer to gain a certificate at home.
Learn more about how to list courses and certificates in your CV.
How to list hobbies and interests on a school leaver CV
Choose activities that align with your skills, interests, and career goals. This section is perfect for adding to your, as it will help you stand out.
School leaver CV examples for hobbies and interests could be sports, volunteering, community projects, or any other activities that demonstrate what the employer is looking for in the job description. For example, listing sports, tutoring experience, and charity volunteering would demonstrate you have the teamwork, leadership, organisation and communication skills that the employer is looking for.
Key takeaways
Writing your first CV can be time-consuming and stressful, especially if you're a recent student entering the workforce. But by following this guide, crafting a well-written CV and cover letter is much easier than before. This guide will help you step closer to your dream job, even without work experience. We understand that finding work is stressful in the current job market.
Next steps?
For those who want to save time and the hassle of creating their first CV, exploring our CV Writing Service may be helpful. Our team of experts can assist in crafting a professionally polished school leaver CV tailored to your career goals. We also offer over 20 professional templates ready-made for you. Explore our blog for more ideas on achieving your dream career goals and finding your first job.
FAQ
How to make a CV for a school leaver?
Your CV should focus on your education, skills, and additional experiences such as courses, extracurricular activities, hobbies and interests. Use this step-by-step guide on making a CV for a school leaver in the UK.
How long should your school leaver CV be?
A CV should be kept concise and focused, ideally fitting into one to two pages. Avoid unnecessary details and prioritise relevant information, such as your education, skills, and any related work experience or achievements. Remember to use clear, concise language and highlight key points effectively.
What is the best CV template for a school leaver CV?
There is no one-size-fits-all answer to the best school leaver CV UK template, as it ultimately depends on your personal style and the industry you're applying to. However, a clean and professional template with a clear structure is recommended.
How to add work projects to a school leaver CV?
Adding work projects to your CV is a practical way to showcase their relevant skills in a practical context. Educational projects, such as those completed in secondary school for GCSEs or A Levels (England), Highers (Scotland), can be included if relevant to your job targets. We recommend adding work projects from school in your education section or additional experience.
How to write a CV for a 16-year-old school leaver?
If you've recently left school, chances are you're starting to look for your first job. We suggest creating a compelling personal profile, highlighting a combination of skills, and including your achievements. For a 16-year-old school leaver CV in the UK, you probably won't need to add work experience or a lengthy list to your education section- so leverage other sections.
How to write a CV for a 16-year-old school leaver with no experience?
If you have just left school and are looking for a job with no experience writing your CV as a 16-year-old school leaver can be challenging. We suggest using a skills-based approach focusing on key skills and core competencies by bringing them to the top of the document instead of your employment history. Just ensure the details in your CV example is concise, easy to read, and relevant to the job you are applying to. Learn more about your career options as a 16-year old school leaver here.
Land the interview for your dream job with CVMaker
Effortlessly create your professional CV within 10 minutes and download it whenever and wherever you want!
Create your CV
Increase your chances landing your dream job with CVMaker.