Developer CV
Ahmed is passionate about turning design concepts into functional and adaptable web applications, leveraging his 5+ years of experience. His choice of the Wheaton template elegantly displays his professional journey.
Create your CV
"Experienced Front-end Web Developer, focusing on crafting user-friendly and visually captivating websites"
Ahmed Kassa
- Developer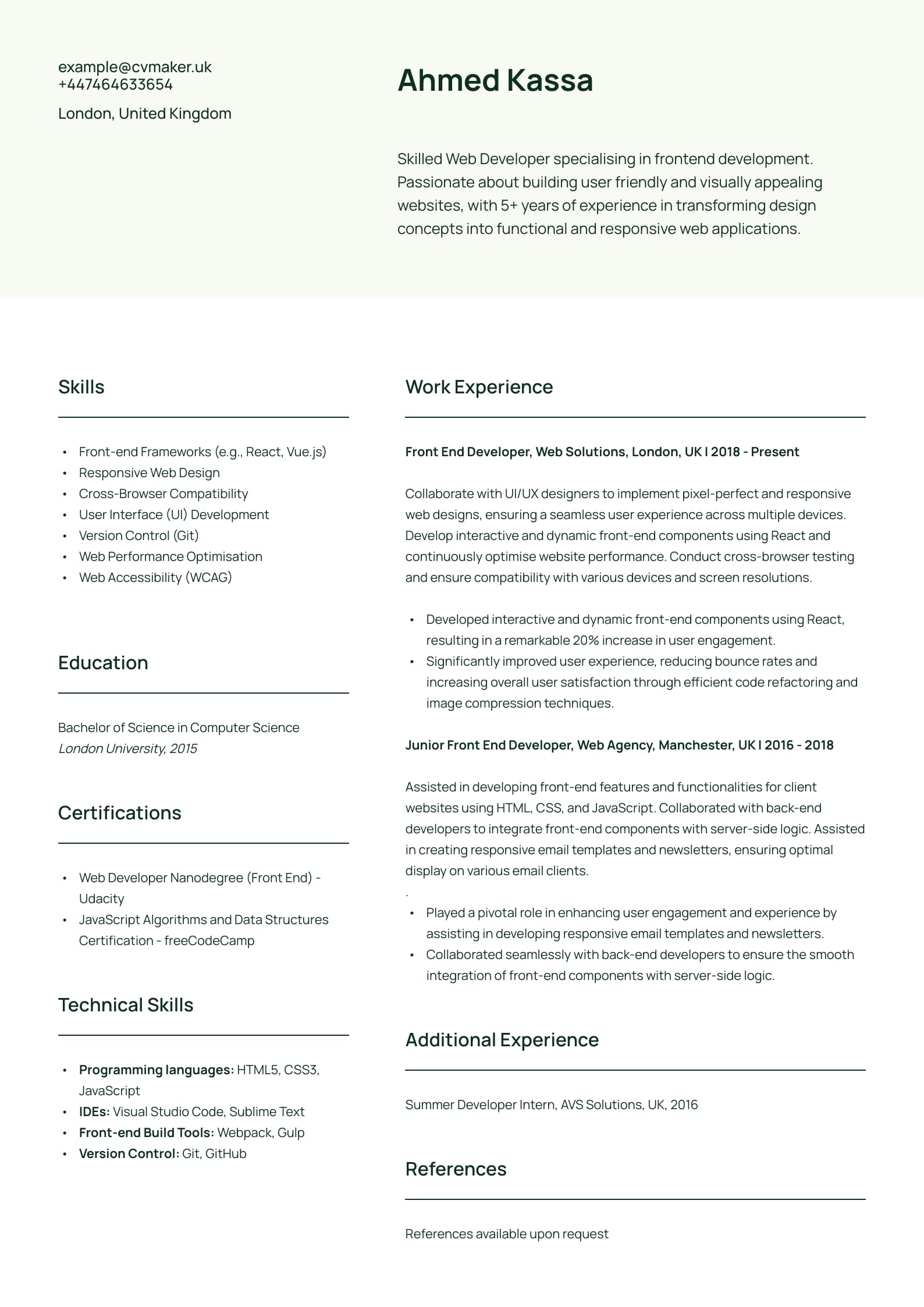 How to Write a Developer CV in 2023 (Templates, Tips, and Examples)
In the UK, developer roles play a pivotal role in shaping the digital landscape. From London's tech hub to emerging tech cities like Manchester and Edinburgh, developer demand is soaring. Companies spanning fintech, AI, and e-commerce seek skilled professionals to innovate and create. With an array of roles like front-end, back-end, and full-stack developers, the UK tech scene offers diverse opportunities.
Are you a Front-end Developer, Back-end Developer, or a Web Developer seeking expert advice on how to write a technical CV? Perhaps you are exploring other roles related to computer science or software development; then you have landed on the right page. This article will answer any questions you might have on how to write a developer CV while ensuring that it remains relevant and aligned with the latest industry standards.
The CV writing process: Where to start?
To create an effective CV, preparation is key. This phase contributes to both your master CV and job-specific CV. 
Your master CV encompasses your educational journey, from initial schooling to your current position, along with a comprehensive list of hard and soft skills. It serves as a foundation for tailoring job-specific CVs to match specific applications.

Tailoring your master CV to specific jobs, like a Web Developer CV or Front-end Developer CV, is crucial. This refined version optimises for applicant tracking systems (ATS) and catches the attention of recruiters.
Developer CV example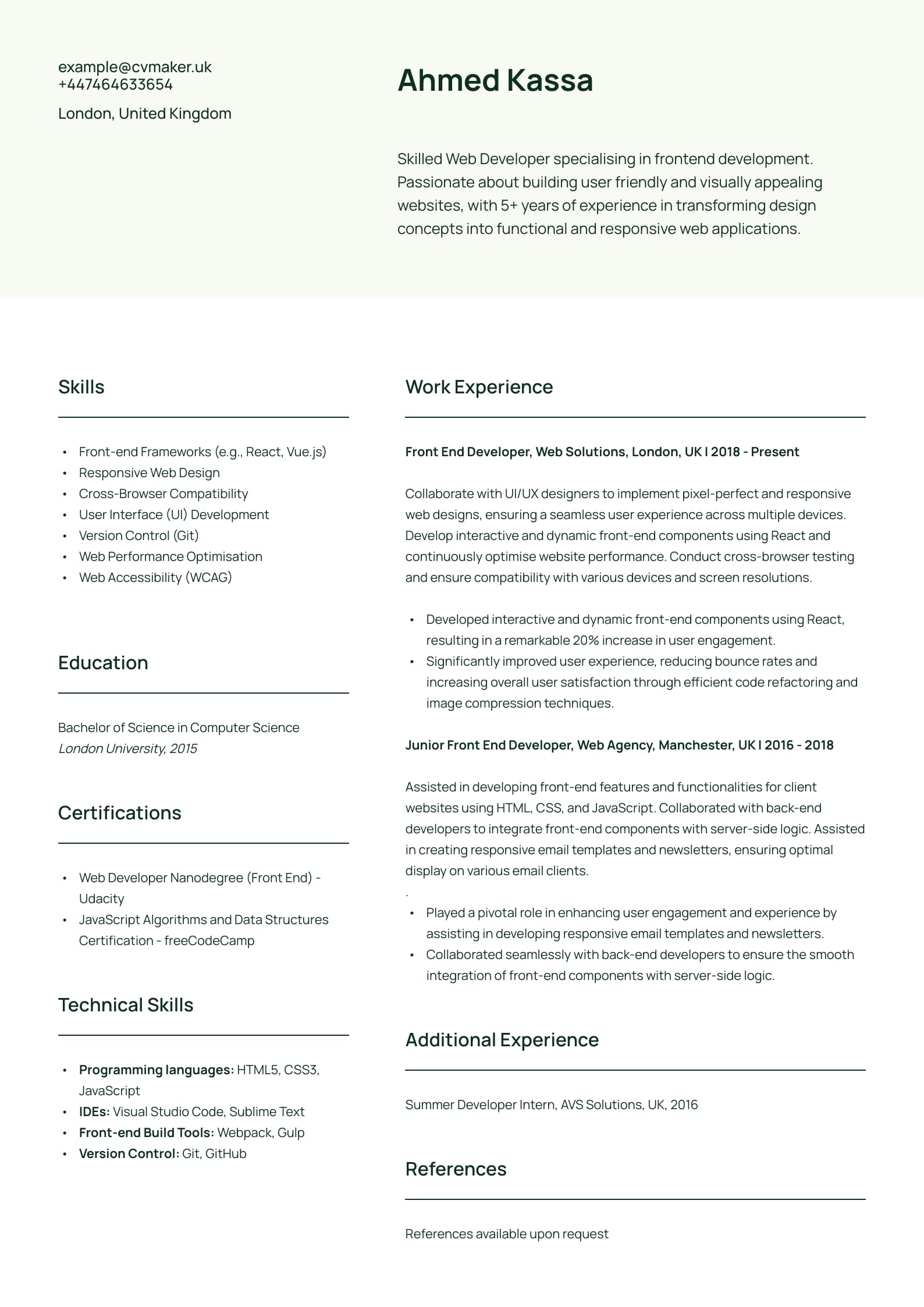 Download this developer sample CV in PDF
Ahmed Kassa, an experienced Web Developer, opted for the simple yet professional wheaton template. Having progressed through a series of technical roles, he is now open to new opportunities in the world of technology.
What to include in a developer CV? 
The sections of a CV are not set in stone, and as with most things in life, there is more than one way to do it. Multiple strategies can be applied to professional career documents such as CVs, cover letters, thank you letters, and even LinkedIn. However, one thing that stays the same is that a well-written CV must include relevant keywords, technical skills, and qualifications. In addition, it should have a good layout, read well, and be tailored towards specific jobs. 
Writing an effective personal profile
Termed a personal profile, summary, or by other names, this initial section is the recruiters' and hiring managers' introduction to your CV. To delve into our article about writing a compelling personal profile and gain additional insights into how to write a good CV.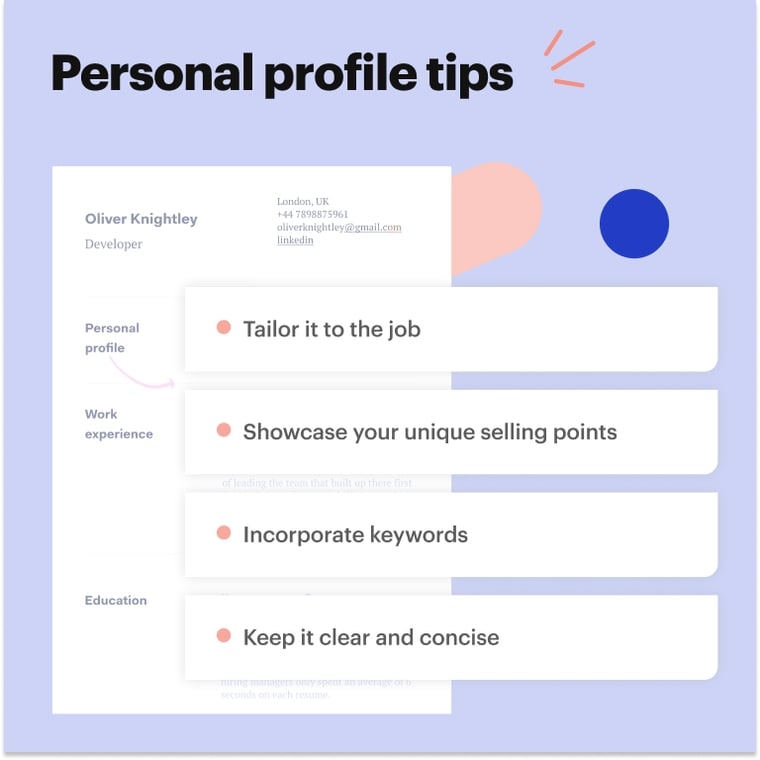 Full-stack Developer CV personal profile example
Dedicated Full-stack Developer passionate about crafting seamless user experiences. Proficient in front-end and back-end technologies with 10+ years of experience bridging the gap between user interface design and server-side functionality. Strong foundation in HTML, CSS, and JavaScript with expertise in server frameworks like Node.js.
Front-end Developer CV personal profile example
Experienced Front-end Developer with a knack for translating design into captivating user interfaces. Skilled in HTML, CSS, and JavaScript and adept at creating visually appealing and responsive websites. Keen eye for detail and passion for delivering top-notch user experiences. Proven ability to collaborate closely with designers and back-end developers to create immersive web environments that engage users and leave a lasting impression.
Back-end Developer CV personal profile example
Seasoned Back-end Developer with 5+ years of success in architecting robust server-side solutions. Proficient in database management, server logic, and API integrations with experience in creating the backbone of web applications. Dedicated to optimising performance and ensuring data security with a meticulous approach to problem-solving to build scalable and efficient back-end systems.
Graduate iOS Developer CV personal profile example
Enthusiastic and innovative iOS developer, fresh out of academia with a degree in Computer Science and a specialisation in mobile app development. Eager to leverage theoretical knowledge and hands-on experience gained through projects to create immersive and user-centric iOS applications.Quick learner who thrives in collaborative environments, with a passion for staying up-to-date with the latest trends and technologies in the iOS development landscape.
If you have little to no experience, you must demonstrate your transferable skills and passion/interest in a specific job or field. Refer to our student CV or graduate CV examples for more tips.
What skills to put on a developer CV?
When it comes to adding skills to a CV, most job seekers find it challenging. You might be asking yourself where and what skills are best for a technical role. The rule of thumb in CV writing is to differentiate between your skills and ensure you include what is relevant.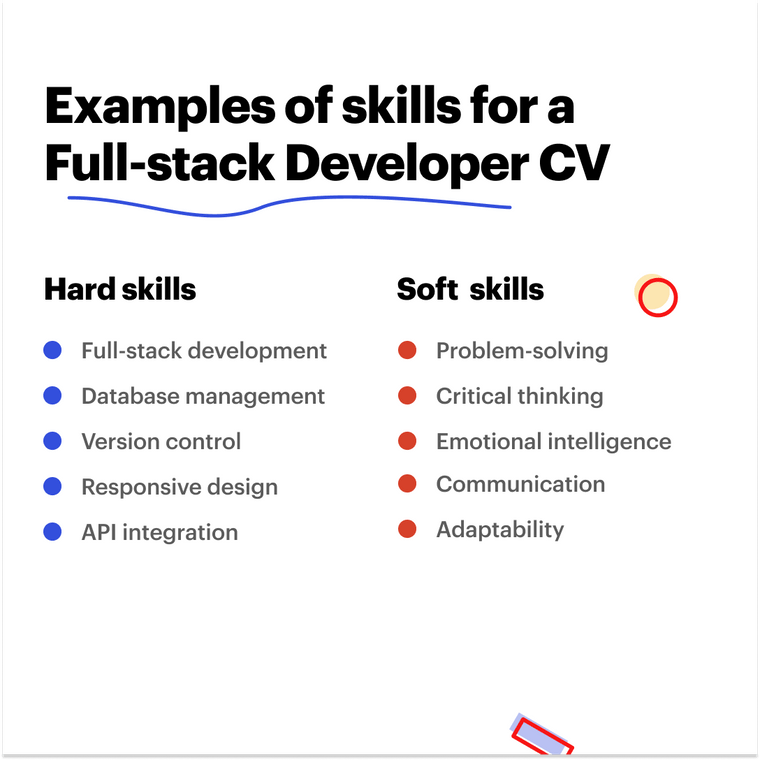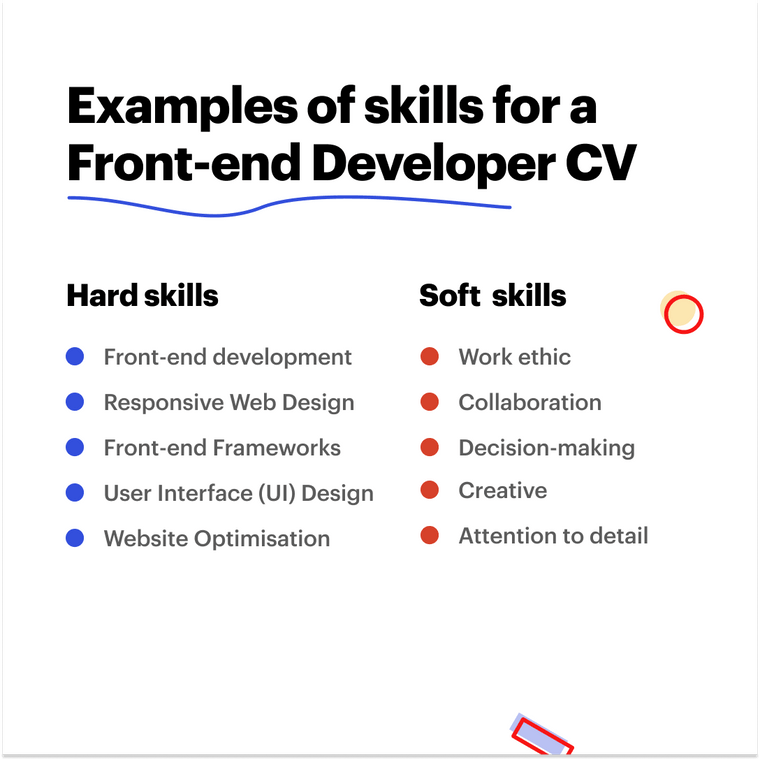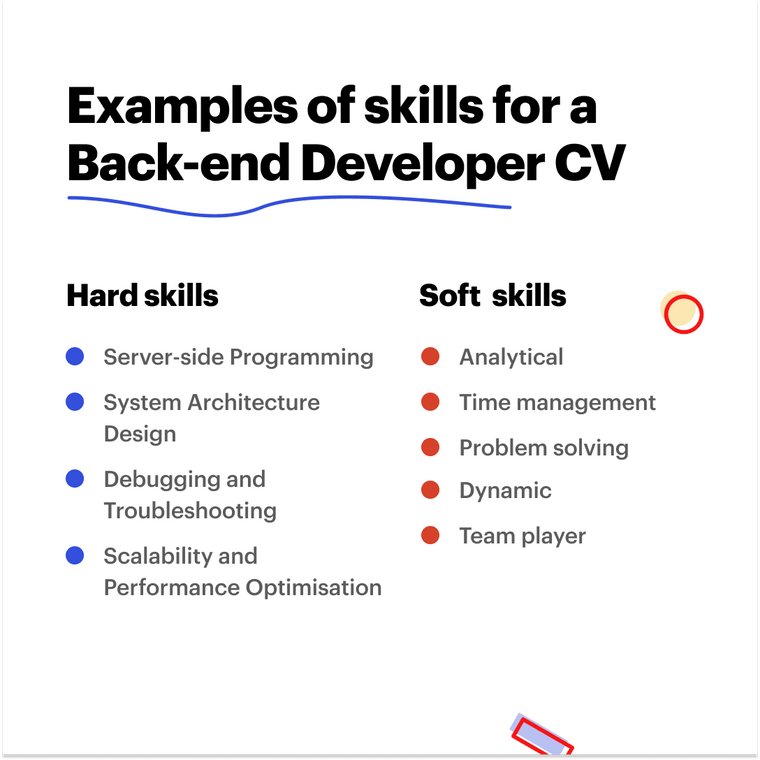 Check out what skills to put on a CV for more information on how to include it in your CV.
Incorporate professional work experience into a developer CV
Experience comes in various forms, through work, volunteering, or studies. This section is frequently shown incorrectly on a CV. Rather than listing all your duties, responsibilities, and achievements in bullet form, we advise showcasing your daily duties versus key achievements.
Full-stack Developer, Tech Innovators Inc., UK, 2021 - 2023
Leveraged back-end development skills, including Node.js and Python, to design and implement server-side functionality for seamless data flow. Utilised Node.js, Express, and Django to construct server-side frameworks, enhancing application efficiency and user interaction. Managed database operations, both SQL and NoSQL, to ensure data integrity and efficient retrieval. Seamlessly integrated APIs, such as payment gateways and social media platforms, to extend application functionality. 
Spearheaded front-end development using HTML, CSS, and JavaScript to create engaging user interfaces and optimize user experience. 

Contributed to user experience (UX) design, collaborating with designers to create intuitive interfaces and workflows.
Read more on how to highlight your work experience on your CV.
Showcase your developer education and qualifications
When it comes to education on a CV, we advise that you include only tertiary education if applicable, as this is usually a section on its own. However, education does not have to be formal but can also be bootcamps or online courses and certificates. Explore our CV tailored for career changers aiming to transition into the realm of development.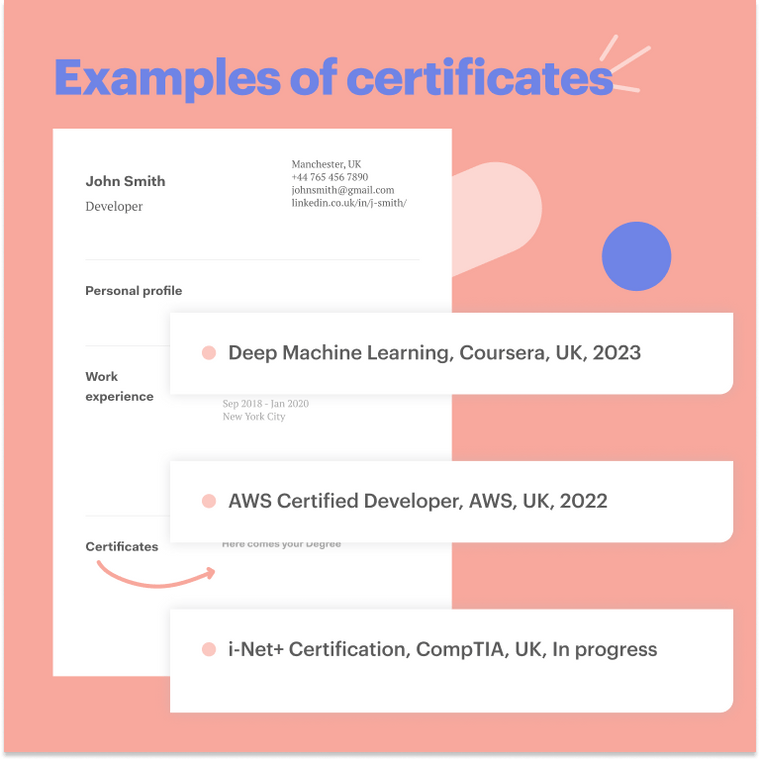 Key takeaways 
At this point, you will have gained insight into several topics to help you achieve your career goals. We strongly recommend following a strategic, step-by-step approach when writing your CV. With the increasing number of people seeking work, you must be clever about making your CV stand out.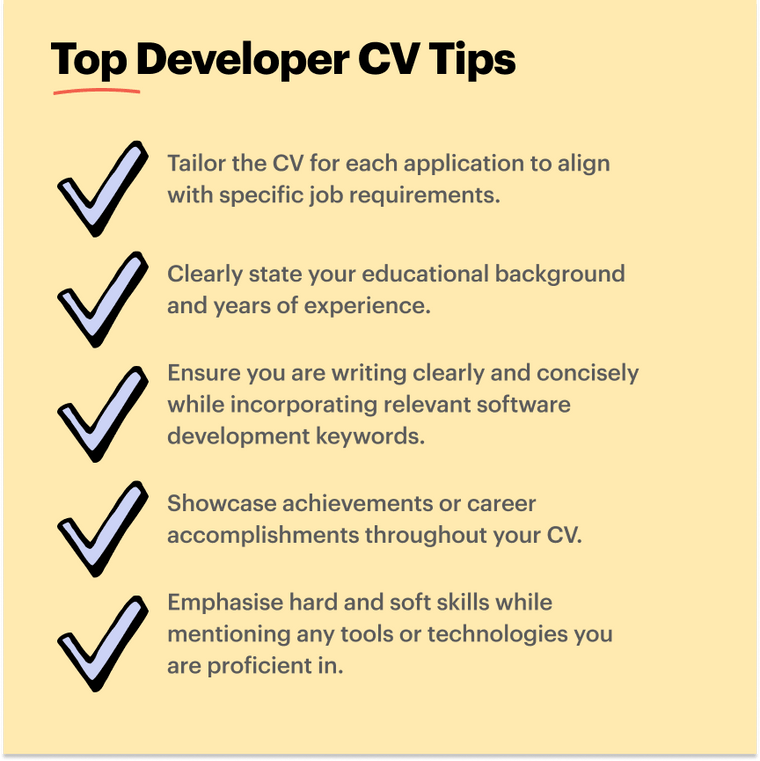 Next steps?
Refine your CV seamlessly using our user-friendly CV builder, offering 20+ CV templates with professional designs. For comprehensive assistance, consider our expert CV Writing Service. Find inspiration in our CV examples to streamline your document, highlight key sections, and enhance its clarity for hiring managers.
FAQ
What are the types of developer jobs? 
There are so many different career paths, including but not limited to software developer, IOS developer, solutions architect, development manager, chief technology officer, and more, according to Wozu and Ongig.
What is the best developer CV template?
We offer an array of templates to choose from and since your CV is your personal marketing document, make sure to select a template and layout most suitable to your career goals. Your layout can also have a meaningful impact on your application, especially if you're applying for a job that demands more creative, visually engaging skills, such as a Front-end or Web Developer.
What are the advantages of working as a developer? 
The benefits of working as a developer are endless. For starters, developers have higher-than-average salaries and more opportunities to work remotely, which accounts for high job satisfaction.
Land the interview for your dream job with CVMaker
Effortlessly create your professional CV within 10 minutes and download it whenever and wherever you want!
Create your CV
Increase your chances landing your dream job with CVMaker.