Graduate CV
Dexter has chosen the Erasmus template because of its colourful, minimalistic, and creative layout.
Create your CV
"Attentive and organised graduate with a specialisation in digital marketing and brand management."
Dexter Saunders
- Marketing graduate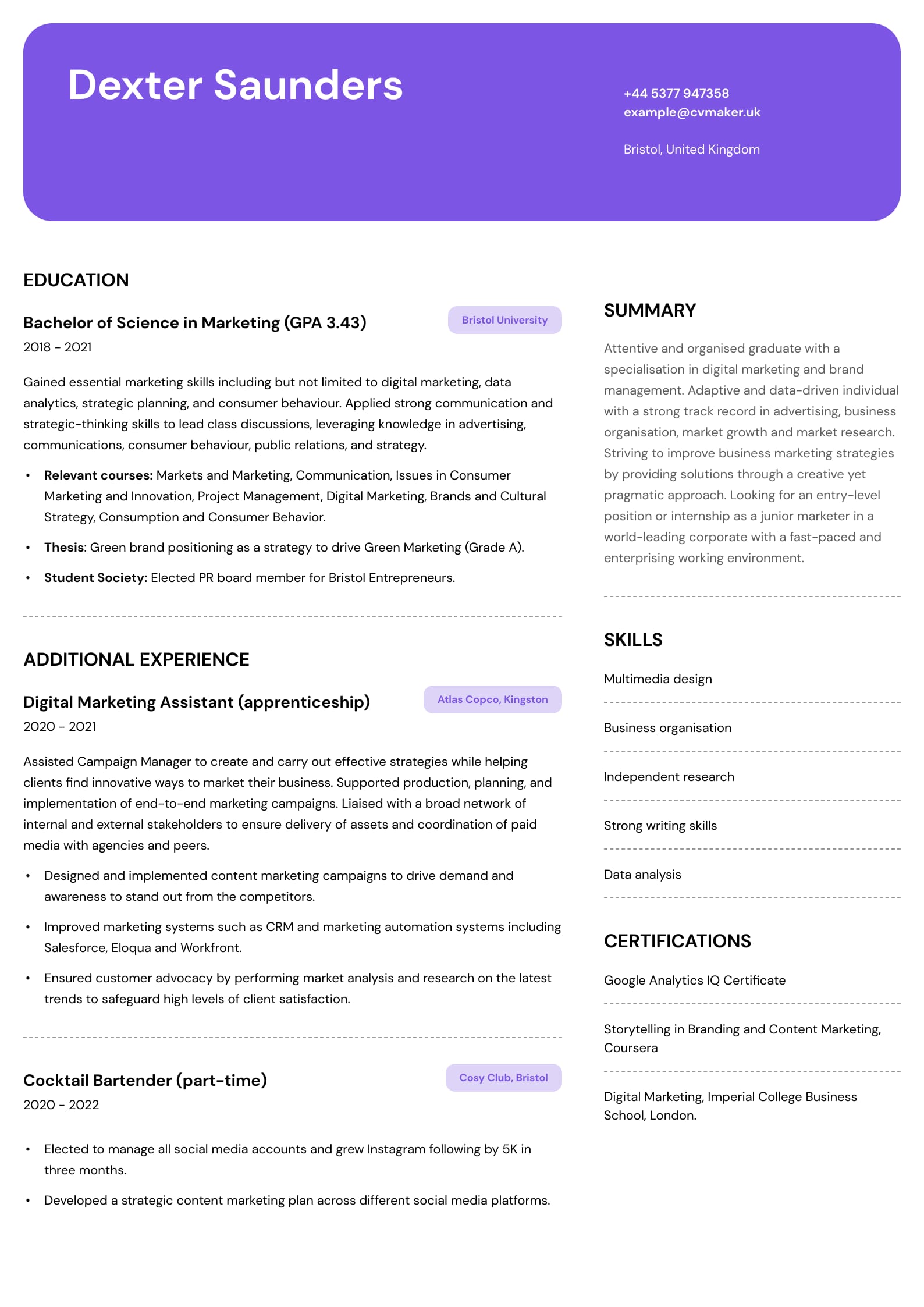 How to write a graduate CV? A step-by-step guide with examples and tips
Are you struggling to land job interviews as a recent graduate? No stress, we're here to help you with the writing process. Using our CV examples and tips you can learn how to write a good graduate CV and ultimately get your desired job.
Naturally, searching for a job and creating a CV can be overwhelming and is often stressful. Nowadays, it's becoming more difficult to find a job in the UK, especially for people with little to no experience who don't always have the right competencies or required work experience. CVMaker is an innovative job-tech company with a built-in CV builder tool that supports over 25 languages. It has evolved from a simple CV generator to a comprehensive career platform with all the tools and functionalities you need to land your dream job. With CVMaker you can now also write professional cover letters, manage your applications and even receive relevant job recommendations. All in one platform.
In this guide, we discuss everything you need to know about writing a CV as a recent graduate. A term that might be new to you is ATS which stands for Applicant Tracking System, a tool used in today's job market in both the UK and across the world. ATS is a software application used to gather, sort out, and track candidates. Companies and recruiters tend to use an ATS to save time when looking for ideal matches during the hiring and recruitment process. It can filter out your application by specific keywords, location, years of experience, and so forth. To help achieve your career goals, our CVMaker team has designed over 20 professional CV and Cover letter templates for you to draw inspiration. Here's some advice on how to enter the workforce.
The CV writing process: Where to start?
Writing a CV is not always a straightforward process. It requires you to conduct research into the job market and to spend time assessing your career goals. In the end, a CV is a personal marketing document to help you stand out from the other candidates. CVs can differ depending on what kind of job you are looking for, but any CV's essence lies in choosing keywords to match the job vacancy and showing off who you are professionally. It needs to be well-structured and concise to ensure it is easily readable for recruiters and scannable for ATS. To achieve this goal, CVMaker advises conducting thorough research about the company and job position beforehand.
Be aware of two main stages of the CV writing process: creating a master and job-specific CV.
Master CV for a graduate
For each job you apply for, tailoring your CV to a specific vacancy would substantially improve your chances of success. To do so, CVMaker recommends creating a master CV to store all your information and then creating a new CV when applying for a specific job.
Collect, write down, and compile all personal, academic, and professional achievements you have into one document. Having a master CV will allow you to copy-paste your details, and you only need to edit your content to tailor your CV per job vacancy.
For more information, read the cornerstone article on how to write a good CV.
Job-specific CV for a graduate
Research the company culture and tailor your CV to a specific job position. This tactic shows your potential employer that you're attentive to their needs and have a genuine interest.
To create a job-specific CV, collect the information from the vacancy you are applying to and the company's website, such as the 'About us' page, to get to know the company's brand and values. Create a list of key requirements, wording, keywords, and company needs. Use this list, in combination with your master CV, to reword and paste information on your job-specific CV.
Graduate CV example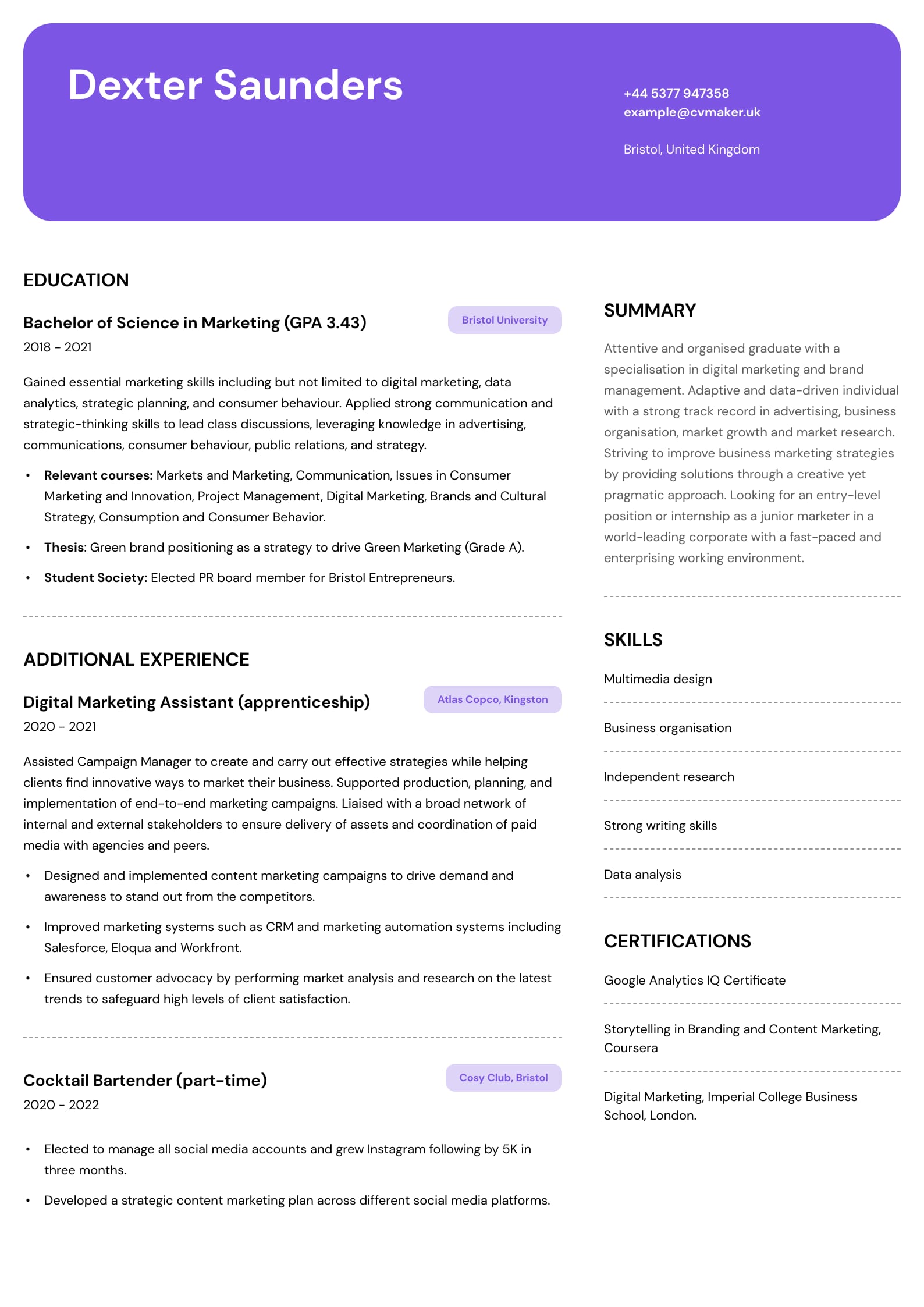 Download this CV example - Graduate CV.
In this graduate CV example, Dexter Saunders is a university graduate with a BSc in Marketing looking for a new job as a Junior Digital Marketing Assistant. During his studies, he gained relevant knowledge and skills in consumer behaviour, communications, and brand strategy. Education and additional experience are two core sections of Dexter's CV. It is an effective tactic that showcases transferable skills to recruiters and how they could be applied in a corporate setting.
What to include in a graduate CV? Tips and examples
A CV will look different for everyone as it is unique to your situation. However, fundamental information should be included no matter the career of choice or professional background. We've provided a list of core sections you should incorporate in your graduate CV example.
How to write a personal profile for a graduate CV
A personal profile or summary best describes who you are and what you want to achieve. Write a few lines that briefly demonstrate your strengths, key skills, and any qualifications.
For an engineering graduate CV, for example, it will be a good idea to indicate such qualities as pragmatic, attention to detail, or strong problem-solving skills where you can then elaborate on more hard or technical skills in a separate section. This is not necessary but as a recent graduate, you can mention what kind of job you're looking for and your preferred working environment or culture.
Data Scientist graduate
Analytical and result-driven data scientist graduate with strong knowledge of JavaScript, Python, Scala, SQL, and R. Experienced in machine learning and statistical tools. Adept at converting complex data into clean and easily understandable results. Demonstrated excellent communication and data visualisation skills. Looking for a new internship to apply for and improve my programming skills.
Grauduate seeking a role as a Technical Writer
Detail-oriented and creative English graduate with a passion for writing and technology. Strong editing skills gained through university courses, PR and communication assistance roles at student societies, and a part-time job in a bookshop. Independent yet outgoing technical writer with a strong work ethic and problem-solving skills. Proficient in creating engaging, error-free, and easily accessible content for clients. Looking forward to joining a fast-growing and team-oriented company as a junior technical writer with a young team.
Accounting graduate
Attentive and enthusiastic graduate specialising in accounting and finance. Trained in governmental accounting procedures, financial statement preparation, budget analysis, and tax/audit policies. Experienced in QuickBooks, Odo, and custom accounting software.
If you want to learn more, see how to write CV personal profile.
How to add skills on a graduate CV
Adding skills to your CV is a must and should be done with careful consideration. You need to highlight your strengths in the industry you're seeking to pursue. When displaying your strengths and skills, ensure they are relevant to the position you are applying for. If writing a graduate CV or undergraduate CV, you may opt for the title 'Skills' as you're not quite an expert in your field yet. If you're writing a postgraduate CV, opt for the title 'Areas of Expertise' as you've now gained more experience and skills.
Make sure that you use engaging and professional language. Avoid using expressions such as honest, good, bad, or funny. These will not serve you well as they are empty expressions. This is why experts at CVMaker recommend including qualities that make a difference to the position you're applying for. Always ask yourself if these skills or qualities match your desired job vacancy or company.
Examples of hard skills for a graduate
Hard skills are teachable abilities and capabilities which are easier to quantify. They typically pertain to concrete, measurable, and often technical skills which apply to a specific job. In contrast to soft skills, hard skills are tangible and are acquired and enhanced through practice, repetition, and education. Possessing hard skills usually implies having a certificate or diploma that proves you possess the necessary skills.
Copywriting

Data analysis

Project management

Machine learning

Social media management

Accounting

Website development

User experience/user interface design

Programming languages (write the specific languages in a separate section called technical skills or technical proficiencies )
Examples of soft skills for a graduate
Soft skills are natural character traits that can be honed in your daily life. Consider how you work and interact with other people or how you deal with conflict. Soft skills are usually not function-specific. Some people may be born with these skills while others learn them through their life journey.
Interpersonal skills

Creativity

Communication

Problem-solving

Attention to detail

Leadership

Adaptability

Critical thinking

Time management

Empathetic
For more details, check out this article on what skills to include on your CV.
What is the best way to include work experience on a graduate CV?
Work experience is the core of a good CV and as a recent graduate, you may not have much work experience.
Always write this section with action verbs to describe your duties and a few achievements. Refer to our work experience article for more on how to do so. A tip would be to include relevant experiences or experience that showcases transferable skills.
Examples of work experience for a graduate
Internships are perhaps the best substitute for your work experience because it gives a clear example of how you applied your skills learned. Additionally, skills gained from an internship make you more valuable as an employee.
Traineeships and apprenticeships, like internships, bridge the gap between your academic, personal, and professional interests. It signals to a recruiter that you have the hard skills gained during your practical experience. You can look at it as an investment in your career. An undergraduate student with a completed traineeship or apprenticeship already has a much higher chance of getting a job than one with almost no experience.
Self-employment or freelancing are great additions to your CV. Similar to adding work experience, side jobs or internships on a CV, make use of a few lines and bullet points. Include both your duties and accomplishments.
For more information, check out the article work experience on a CV.
How to list additional experience such as volunteer work on a graduate CV
Add a new section on your CV if you do not have work experience, which includes all your side activities. Examples of these activities include but are not limited to student societies, board memberships, and volunteering for non-profit organisations. This section can be valuable.
Additional experience could include the following:
Side jobs: showcase that you're able to multitask and have the willingness or drive to work. Examples of side jobs could include waitering, bartending, or au pairing.
Teaching Assistant or tutor provide academic assistance to students outside of a classroom setting. Through this experience, you gain valuable teaching skills such as problem-solving, leadership, communication, and adaptability for each student. Tutors tend to be patient, motivated, and enthusiastic about their subjects.
Student societies: if you were actively involved in your student community at your university it shows that you are willing to help others or go above and beyond what is required of you.
Volunteering activities do not directly belong to the work experience section because, generally, you're not hired or paid by an employer. It depends on what kind of volunteering experience you have, of course, but in most cases, it is safer to keep it in this section. Volunteering is still a useful experience that allows you to gain practical skills while working with diverse people in one team.
For more details, refer to the article hobbies and interests on a CV.
How to write the education on a graduate CV
Education on a CV is highly recommended but keep in mind that it can be both formal and informal. While some recruiters don't require you to possess a specific degree, others do. Carefully review the job requirements in advance to see if you're eligible for your desired job position.
Start by writing a short description of your degree and then use bullet points to list your relevant coursework or any other achievements like projects. If you want to learn more about this, the article on how to improve your CV elaborates more on this.
Highlighting projects on your CV provides recruiters with examples of your transferable skills applied in a non-academic setting. Adding them to your CV illustrates your ability to commit time, lead, initiate, or manage projects over a long period.
Key takeaways
Once you have completed all the preparation, writing, editing, and proofreading stages by making both a master and job-specific CV, you can finally move forward and start applying for your jobs. With more practice and time invested, you'll be able to master the art of persuasion and CV making. This skill will be handy not only in your next job but also in your future career. To learn more, check out our article (skills-based CV example) on how to write a graduate CV.
Have fun mastering your CV writing skills, and all the best on your career journey. Stay creative and good luck!
Additional tips for your graduate CV:
Apply with a matching cover letter.

Use concise, clear, and short language.

Carefully proofread your CV every time you create a new one.

Use keywords and be persuasive from the job post.

Convert your academic skills into industry skills.

If you lack work experience, consider creating a skills-based CV

Consider completing job shadowing or internships during breaks to gain work experience

Focus on your extracurricular activities, training, and part-time jobs to stand out
Next steps?
After reading this article, you'll be in a better shape to identify the strengths and weaknesses of your CV. While keeping in mind all the core information and structure you need to follow, writing a graduate CV will get easier and hopefully less overwhelming for you. Use and apply our career tips to make yourself noticeable in the UK job market. Your destiny is in your hands.
FAQ
How to write a graduate CV?
The key to writing a good graduate CV is to follow all stages of CV development, including but not limited to planning, researching, and creating a master and vacancy-specific CV, followed by proofreading and editing. Use action verbs and clear language to avoid any ambiguities. Stick to the keywords on the company's website and job position.
How long should my graduate CV be?
Your CV must be 1-2 pages long. Ideally, it is better to keep everything on one page. Try to avoid using lengthy and vague words. Note that two or more pages long CVs are not recommended unless you have many years of relevant experience or are applying for a job in academia or STEM industries.
Can I get a job as a graduate if I have bad grades?
The best strategy to overcome this problem is to exclude grades from the CV. For most employers, experience outweighs grades in importance. Having related work experience or completing an internship aside from your studies will contribute much more than your GPA. Don't worry if you don't have high grades. Employers usually don't even check if you graduated from school, so they will be less likely to check your grades.
What courses and certificates to choose for a graduate CV?
If you're looking for trustworthy and reliable online courses as a fresh graduate, consider the below. Opt for courses that would boost your CV with relevant skills and knowledge.
Land the interview for your dream job with CVMaker
Effortlessly create your professional CV within 10 minutes and download it whenever and wherever you want!
Create your CV
Increase your chances landing your dream job with CVMaker.