Retail CV
William has chosen the Auckland CV template because of its simple yet professional layout. This template is a perfect one-pager for anyone just starting out in their career or wanting to showcase career progression.
Create your CV
"Ambitious and customer-focused retail professional with over five years of experience in enhancing store turnover and boosting productivity."
William Evans
- Retail Store Manager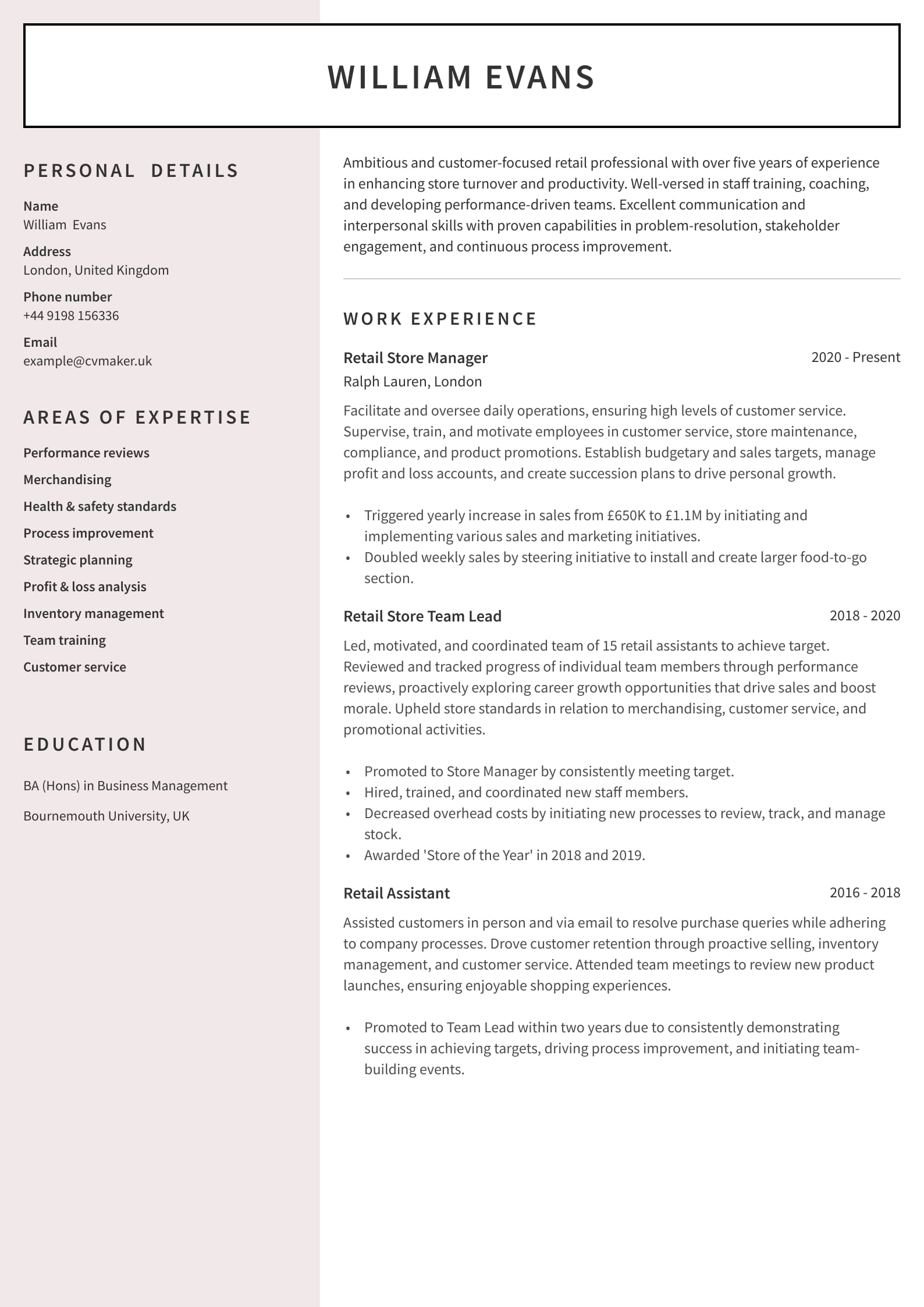 How to write a retail CV? Check out our tips and examples!
The retail industry is a dynamic and ever-evolving sector that offers considerable career opportunities. In addition, it is one of the largest employers in the world, with millions of people working in various roles nationwide. Retailers provide consumer goods and services, from clothing and electronics to food and home furnishings. Working in retail requires strong customer service skills, an understanding of product knowledge, and the ability to work in a fast-paced environment.
When writing a retail CV, it is essential to ensure that it is well-structured and easy to read. CVMaker has an all-in-one platform that allows you to create your professional career documents and manage your job applications. In addition, we have a dedicated CV Writing Service team that can help optimise your CV, cover letter, or LinkedIn profile.
A vital element of a CV is customising it and making it ATS-friendly. ATS stands for Applicant Tracking System, which requires a specific format and composition of a CV to maximise the prospect of getting noticed and securing interviews. We outline the fundamentals and give suggestions for constructing a CV and picking a CV template for retail.
The CV writing process: Where to start?
It is essential to have a compelling CV structure and content if you want to be invited for an interview. Recruiters only spend 9 seconds on every CV they read. So, ensure you create a targeted and brief CV designed for retail jobs to increase your chances of being selected. Learn more from our dedicated experts by following these instructions on improving your CV with examples and tips. Be aware of two main stages of the CV writing process: creating a master CV and a job-specific CV.
Master CV for a retail CV
A master CV is a comprehensive document that outlines an individual's professional qualifications, experience, and skills. It is designed to be a reference before creating your job-specific CV and needs to be updated regularly. Typically, it includes detailed information about education, work history, certifications, awards, and other relevant accomplishments. It should also have any volunteer and community service roles or anything you could use to enhance the quality of your CV, such as relevant hobbies or activities.
Job-specific CV for a retail CV
Retail assistant jobs are a great way to get your foot in the door of the retail industry. To land more interviews, we advise tailoring your CV to the job you are applying for, including relevant experience, skills, and qualifications.
When writing a retail CV, it is crucial to highlight any customer service or sales experience you might have. You should also list any specialised training courses you have taken that are job-specific. Finally, include any awards or recognition you have received in the retail industry.
Pro Tip
Before writing a job-specific CV, read the job post thoroughly, use keywords mentioned in the post, and refer to your master CV for more ideas.
Retail CV example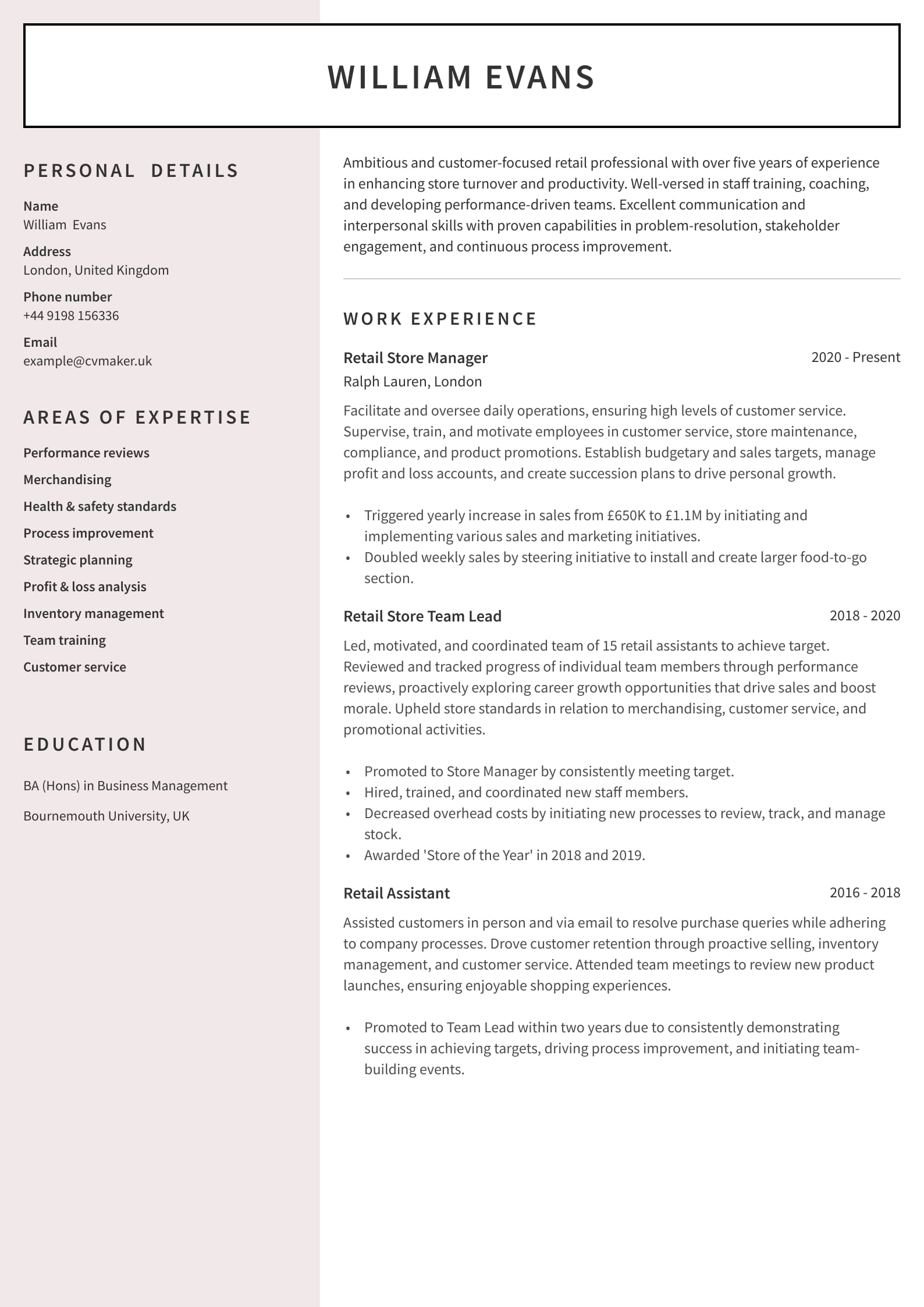 Download this CV example - retail CV.
In this example, William Evans has over five years of experience in a customer-focused role. He highlights his expertise and outlays his success in achieving high-level positions as a Retail Store Manager and Team Lead. This CV follows a professional style and design which helps showcase William's skills and experiences.
What to include in a retail CV? Tips and examples
Specific sections should be included when constructing your CV; others are optional. A successful retail CV should highlight your customer service skills, product knowledge, and experience in retail. It should also demonstrate your ability to work with people, handle transactions, and maintain a professional attitude. In addition, your CV should include any relevant qualifications or certifications you have obtained, such as cashier training. Here, we'll guide what sections and information would help strengthen your CV.
Personal profile for a retail CV
A compelling profile, also known as a CV summary, should demonstrate why you meet the role's requirements by emphasising your relevant qualifications, skills, experience, and achievements. Additionally, it should give recruiters a quick overview of your retail background and other relevant experience that will make you stand out from the competition.
The personal profile is your first opportunity to impress a recruiter. This brief personal profile must accurately reflect your current motivations and objectives.
Example of personal profile for a retail CV
Below is an example of a personal profile for a retail CV. Take note of the use of relevant keywords and phrases. Remember to keep your writing clear and concise when highlighting your key qualifications or skills.
Retail Sales Assistant
Proactive and customer-focused sales assistant with more than two years of experience in retail and hospitality. Known for excellent customer service, teamwork, and proven track record of increasing revenue through upselling.
Skills to put on a retail CV
When crafting your retail CV, you must emphasise the qualities and abilities that make you an ideal applicant. Here are some unique skills to consider adding to your CV as a Retail Assistant or Retail Store Manager.
Examples of hard skills for a retail CV
Product styling and display skills

Team management

Sales and marketing

Training and development

Budget management
Examples of soft skills for a retail CV
Empathy

Problem-solving

Communication

Attention to detail

Interpersonal skills
Learn more about what skills to put on your CV and how to cater them to industry-specific roles such as retail.
Work experience on a retail CV
For a concise CV, include the most relevant and recent employment, with other achievements listed in an additional experience section. This will ensure it is, at most, two pages long. List your professional background in descending order, listing your current or most recent job first. Then, aside from stating your duties, mention any measurable achievements. For example, you could spearhead a renewal that increased sales by 20%. But, if you specify achievements, explain your role in accomplishing them.
Examples of work experience and achievements for a retail CV
Hired and trained up to 10 retail sales associates.

Designed over five merchandise layouts and increased sales of products by 5%.

Supported customers with queries and handled any issues on the shop floor.
Additional experience on a retail CV
If you completed volunteer experience, internships, or other short-term experiences, then you would need to place it into an additional experience section while focusing only on key achievements. Within this section, you can forgo dates and elaborate on them within an interview.
Examples of additional experience for a Retail Assistant
Volunteered at a charity shop, helped with cash handling, and solved customer queries.

Volunteered as a student ambassador and developed vital communication and interpersonal skills.

Achieved a Level 2 customer service certificate.
How to list education on a retail CV
Like the other sections of your CV, listing education is another core of your CV Retail assistant roles only require a secondary-tier education. However, some companies might expect candidates applying for managerial positions to be certified or experienced.
If you are beginning your career, or are a graduate, show your educational background before mentioning any employment history. Provide details about exams taken from GCSE onwards and any additional certifications gained.
Key takeaways
To make your retail CV stand out from the competition, we strongly advise that you follow a strategic, step-by-step approach when writing it and your cover letter. Applying what you've learned in this guide will give you the insight needed to achieve your career goals in an ever-changing job market.
Additional tips to help you create an effective CV for a retail job:
Include any relevant experience in the retail industry, such as previous jobs, internships, or volunteer work. Be sure to list the specific tasks you performed and any successes you achieved.

Highlight your skills, hobbies, and interests and how this would help to create a positive customer experience in your retail role.

Ensure your CV is tailored to the job role you are applying for to reach your career objectives.

Use only relevant keywords, career experience, and education that will serve in your favour when applying for jobs.

Maintain a consistent style, grammar, and punctuation.
Everyone deserves an opportunity to land their dream job. That's why our experts advise you to use this guide and our how to write a good CV article to create a CV that is ATS-friendly and aligned with your career goals.
Next steps?
Are you looking for CV retail examples? Then, quickly create an account with us and choose a professional CV template that suits your career goals.
FAQ
What skills should you put on a CV for retail?
When writing a modern CV for a job in retail, make sure to emphasise the skills and qualities that make you the ideal candidate. For example, your CV should highlight core qualities such as your capacity for providing excellent customer service and team-playing abilities. Make sure you demonstrate how well you can cope with any customer-facing challenges.
How do you write a retail CV with no experience?
Writing a retail CV with no experience can be challenging, but it is possible. The key is to focus on the skills and qualities that you do have and how they can be applied to a retail role. An example would be if you are multilingual, highlight your language skills, or have volunteer experience, highlight this instead. Start by listing all the skills and qualities you possess that could be beneficial in a retail job and focus on creating a skills-based CV or take a look at our guide on this topic.
How do you describe a retail experience in your CV?
When describing a retail experience in your CV, it is essential to highlight the skills and knowledge you have gained from working in a retail environment. Start by listing the positions you have held in retail, including the company name and dates of employment. Then provide a brief overview of your duties and responsibilities to describe and list work experience on your retail CV.
What are some typical jobs in the retail industry?
Retail offers various job opportunities, from seasonal to permanent positions. If you're looking to get into the retail industry or take your career to the next level, consider applying for one of these positions:
Retail Sales Representative: This role focuses on interacting with clients directly by supporting them in buying items. Additionally, they keep the shop clean and orderly, stock products, and carry out customer transactions. When new deliveries come in, the sales representatives manage the stock. They ensure the business is running correctly and augment store sales.
Customer Service Representative: As customer demand increases, there will be more customer needs and problems to address. A customer service representative manages phone calls, manages internet chat programs, answers emails, and gives responses to customers' queries on social media platforms. They also deal with complaints and follow up on returned goods and refunds. This role requires someone with patience and exceptional problem-solving skills.
Cashier: When shops experience an increase in shoppers, they necessitate supplementary cashiers to accelerate the sales process. But cashiers do more than receive payments and help customers with returns or refund transactions; they also advise customers on discounts and loyalty plans.
Store Manager: Large retail stores require a manager to oversee proceedings and ensure everything functions correctly. The store manager is also responsible for controlling staff, budgeting, and adhering to safety regulations and official procedures. In addition, they stand for the proprietor's interests. Therefore, a store manager demands sturdy authority and interpersonal capabilities to arrange the business and keep it in order.
Land the interview for your dream job with CVMaker
Effortlessly create your professional CV within 10 minutes and download it whenever and wherever you want!
Create your CV
Increase your chances landing your dream job with CVMaker.