Security Guard CV
The modern Peking CV template showcases Patryk's experience as a security guard in a two-column format. The professional certifications are easily readable for a quick assessment of suitability for a role.
Start your CV
"Highly skilled and Certified Security Professional (CSP) committed to ensuring the safety and security of individuals and property. Oversee the implementation of security protocols, including access control, CCTV monitoring, and alarm response. "
Patryk Nowak
- Security Supervisor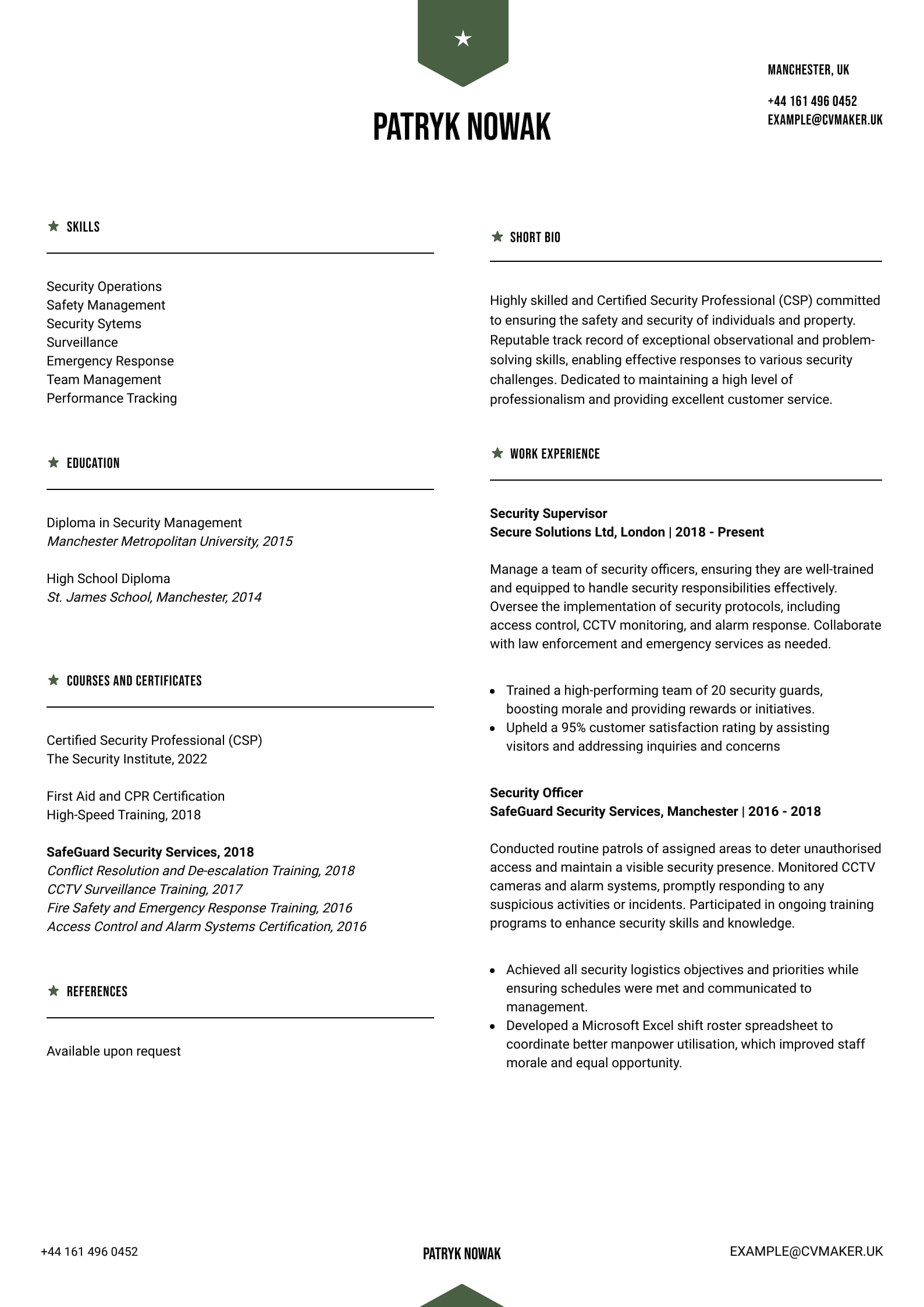 How to Write a Security Guard CV: Guide with Tips and Examples
Security guards are pillars of safety in our daily lives, ensuring a secure atmosphere in diverse environments. From bustling shopping centres and corporate buildings to airports and concert venues, it is their duty help maintain public safety and to keep potential threats at bay.
This role offers a wealth of opportunities for skill development and career progression, making it a compelling choice for those with excellent judgement, a good head under pressure and developed interpersonal skills. Knowing how to showcase these skills in a modern CV is an important part of the application process.
Given the growing need for security across the UK, the job market is competitive, with employers seeking only the best. The CV template and format you choose is the first step in this process. In this guide, we aim to equip you with the knowledge to craft a security guard CV that aligns with applicant tracking systems (ATS) and helps get your name on the list for potential hires.
Security Guard CV Example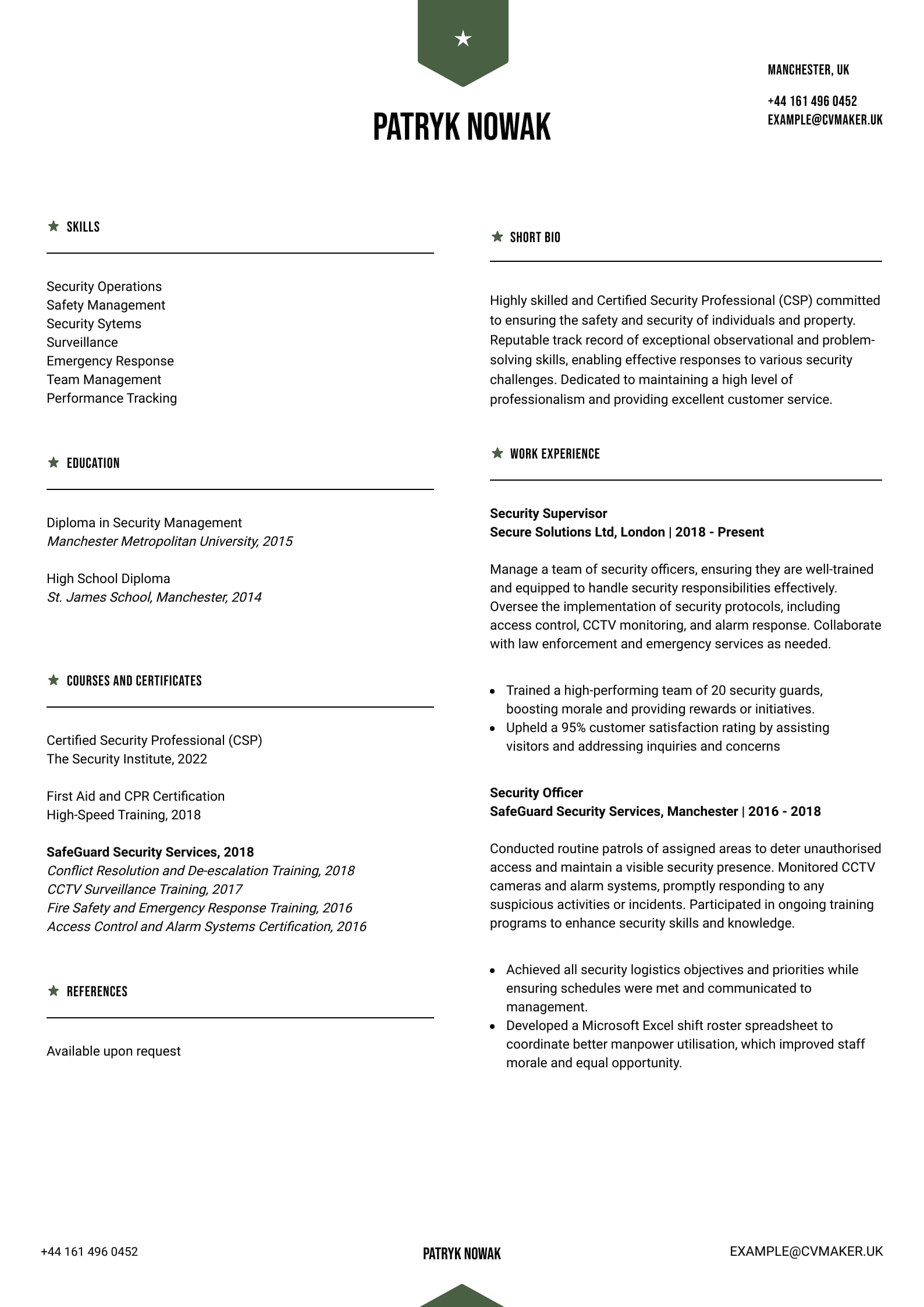 Download this Security Guard CV sample in PDF
Patryk chose the modern Peking CV template because it has a professional look and is easy to read. It clearly shows the professional certifications and experience, which are important parts of a security CV. The layout with two columns makes this CV neat and to the point.
What to include in a security guard CV?
Employment in the security field can require you to work in a variety of environments and situations. For example, security at an airport is very different to a football match or nightclub.
To land an all-important interview it is important to research the needs of potential employers first and differentiate your CV for each role you apply for. Creating a master CV will help and serves as a comprehensive base, allowing you to quickly develop job-specific CVs tailored to different roles as they come online.
As with other people-centric professions such as customer service or hospitality, it is crucial to know how to write a good CV. Whether you're a seasoned security officer or stepping into the field, a well-tailored document opens doors to rewarding opportunities. Before you get into the details of your experience, skills and qualifications, it's important to sketch out the basic components.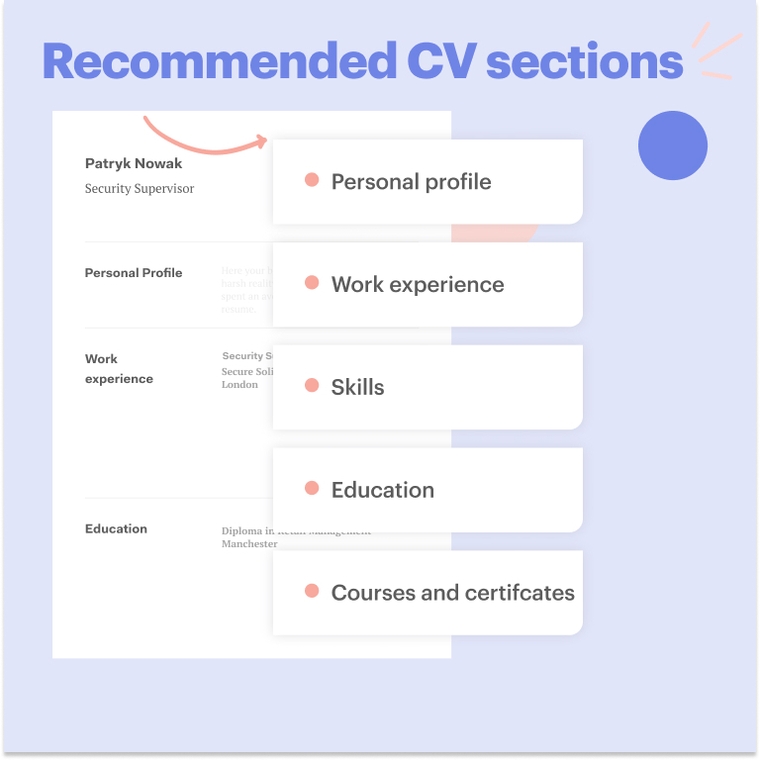 Tailor your personal profile for the job description
A stunning personal profile will also convey your soft skills and demonstrate thorough research has taken place into the specific requirements of the job.
When tailoring your personal profile on a CV, it's essential to highlight your understanding of the role's requirements and challenges. Security guards in the UK are responsible for a variety of tasks, including patrolling premises, monitoring CCTV, controlling access and responding to emergencies.
Security Guard CV Personal Profile Example
Vigilant and committed security guard with over 5 years experience in maintaining a safe environment within commercial and residential settings. Proven ability to deter and report illegal activities, ensuring the safety of assets and personnel. Adept at operating security systems, conducting patrols and responding promptly to incidents. Possesses excellent communication skills and a strong sense of responsibility.
Security Officer CV Personal Profile Example
Dedicated and proactive security officer with 7 years experience overseeing security protocols in high-risk environments. Skilled in risk assessment, surveillance and access control. Demonstrated ability to manage security breaches effectively and liaise with law enforcement agencies. Committed to enhancing overall security through strategic planning and implementation of security measures.
Airport Security Officer CV Personal Profile Example
Detail-oriented and vigilant airport security officer with 4 years experience ensuring passenger safety and maintaining security compliance at international airports. Proficient in screening procedures, detecting prohibited items and managing crowd control. Excellent interpersonal skills, with the ability to handle stressful situations calmly and effectively. Familiar with aviation security regulations and committed to upholding the highest standards of safety.
Security Supervisor CV Personal Profile Example
Results-driven and experienced security supervisor with 6 years experience coordinating and leading security teams to ensure the safety of premises and individuals. Expertise in developing and implementing security policies, conducting risk assessments and managing emergency response activities. Strong leadership and communication skills, with a focus on fostering a collaborative security environment.
What are the key skills for a security guard CV?
Being a security guard is about more than just patrolling areas and keeping watch. It's about demonstrating the skills to respond effectively in different situations. You need the essential skills that form the backbone of your role, the technical know-how to operate security systems and the interpersonal skills to interact with people. Whether you're dealing with a security breach or helping someone in distress, the right skills make all the difference.
Differentiating between must-have, hard and soft skills on a CV is vital. Must-have skills are essential for performing the job, hard skills are technical abilities acquired through training and soft skills are interpersonal attributes, which are often showcased in the personal profile.
Soft skills

Hard skills

Communication

Operation of security equipment (e.g., CCTV, alarms)

Observational

Basic computer skills for reporting

Conflict resolution

Knowledge of legal guidelines and protocols in security

Teamwork

Advanced security systems operation

Leadership

Incident reporting and documentation

Decision-making

Security policy implementation

Problem-solving

Security checkpoint management

Interpersonal skills

Screening equipment
Pro Tip
When constructing your CV, tailor your skills section to match the specific job you're applying for, highlighting the most relevant skills for that position.
How to write the work experience section
Sharing your work experience on a CV is like telling your unique story in the security field. It goes beyond just naming the places you've worked; it's about highlighting your achievements, showcasing your growth and illustrating your commitment to safety.
Every role, whether at a bustling shopping mall or a secure airport, has added valuable layers to your professional journey. Work experience builds the narrative of your story effectively, ensuring it resonates with potential employers and paints a vivid picture of your capabilities and dedication.
Examples of work experience
Security Guard | Greenfields Shopping Centre, London | 2021 - Present
Vigilant in monitoring premises through advanced security cameras and conducting thorough patrolling to ensure the safety of visitors and prevent potential security breaches. Regularly liaise with law enforcement, reporting suspicious activities and assisting in investigations, contributing to a safer shopping environment.
Reduced shoplifting incidents by 30% through proactive surveillance and immediate response.

Implemented an emergency response protocol to be used when needed during critical incidents.
Security Officer | Securicorp, Birmingham | 2019 - 2021
Implemented security protocols, managed access control systems and conducted regular security audits and risk assessments to prevent unauthorised access and ensure employee safety. Maintained detailed logs and reports, ensuring the accurate and organised documentation of security-related activities.
Enhanced building security by implementing a comprehensive access control system, resulting in a 40% decrease in security breaches.

Developed and conducted security awareness training for over 200 employees, fostering a culture of security awareness and vigilance.
Airport Security Officer | Sheffield Airport, Sheffield | 2016 - 2019
Screened passengers, managed security checkpoints and ensured compliance with aviation security regulations to maintain a secure airport environment. Participated in regular training and drills to stay updated on security protocols.
Maintained a 100% accuracy rate in detecting prohibited items and preventing security breaches, earning recognition for diligence.

Coordinated effectively with various airport departments and security agencies to promptly address and resolve security concerns.
Many security guard positions in the UK are accessible to applicants with little to no work experience. If you're coming into the security profession as a school leaver or during a career change, on-the-job training is commonly provided. In this case, you should concentrate on showcasing your transferable skills.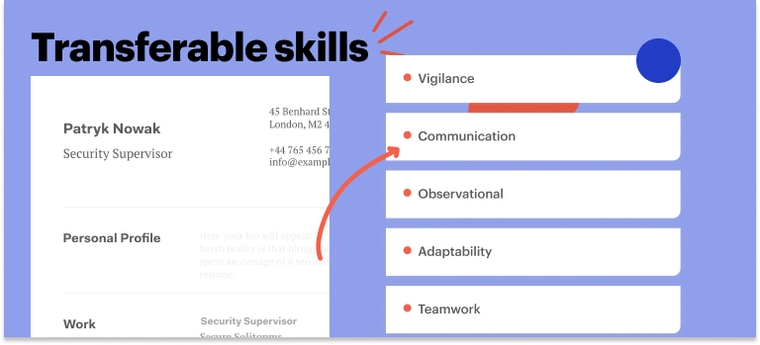 If you are crafting your CV for the first time with no prior experience in security, consider opting for a student, skills-based, or simple CV template to effectively present your potential.
Volunteer Security Assistant | Local Community Events, London | 2022
Focused on crowd control, assisting attendees and supporting event security measures, demonstrating strong communication skills and a keen sense of responsibility during volunteer work.
Successfully managed crowd control for events with over 1,000 attendees, ensuring safety and orderliness.

Assisted in the development and implementation of event-specific security plans, addressing potential risks and challenges to enhance event security.
Add your education and security guard qualifications
Creating the education section on a CV requires a focus on both formal education and relevant courses and certificates. Start by listing your formal education, such as high school diploma or degree, followed by any specialised security training or certifications you have completed, such as the SIA licence.
Be concise and remember to include the name of the institutions, the dates attended and any qualifications earned For example:
Diploma in Security Management, Manchester Metropolitan University, 2015
Bolstering your work experience and educational background with further training and certifications is a sure-fire way to show you're a committed and serious hire. Recommended security courses from the Security Industry Authority (SIA) include:
Key Takeaways
Keeping an overview of your CV creation process can be challenging with various job-specific documents to create, each requiring a focus on different aspects of your abilities. Let's break it down into five clear takeaways.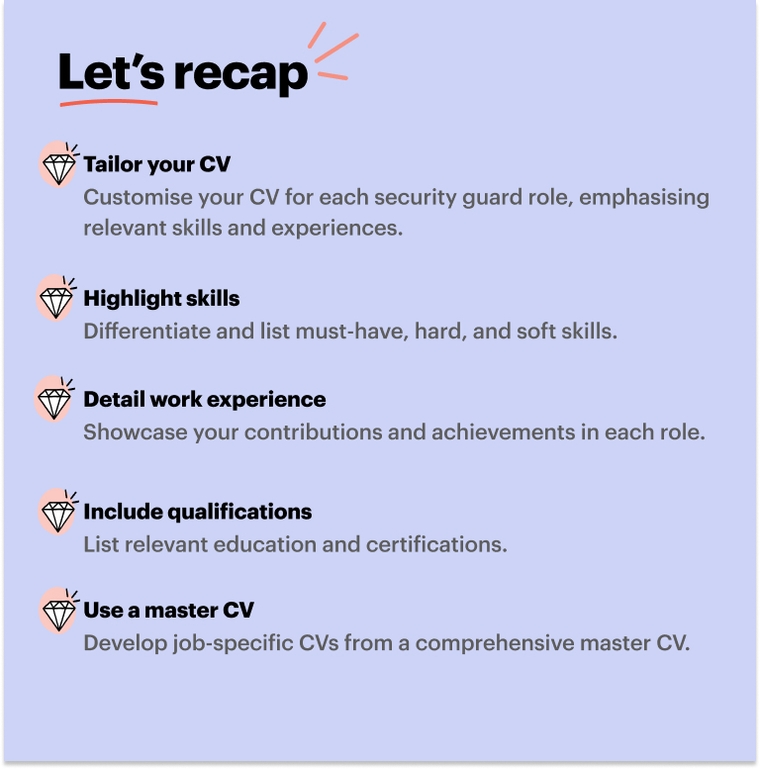 Next Steps?
Iron out any creases using our intuitive CV builder to choose from. To accompany your CV, discover our cover letter templates. If you don't want to leave anything to chance, connect with our professional CV Writing Service. Draw inspiration from our career blog to save time, emphasise important sections and make it easier for hiring managers to grasp your unique professional offer even quicker.
FAQs
How to write a security guard CV with no experience?
Focus on showcasing your soft skills, volunteer work, and any relevant training or certifications you have acquired. Highlighting these aspects will demonstrate your commitment and potential, even if you lack direct experience in the field.
What is the best CV format for a security guard?
Opt for a clear, concise format that prominently features your skills, experience, and qualifications. This approach ensures that potential employers can easily identify your strengths and assess your suitability for the role.
Where can you work as a security guard?
The scope is vast, with opportunities available in various sectors such as retail, corporate buildings, events, airports, and more. Each setting offers unique experiences and challenges, allowing for diverse career paths.
How hard is it to get a job as a security guard?
With the right combination of skills, experience, and qualifications, securing a job in security can be achievable. Demonstrating your competence and dedication is key to standing out in the competitive job market.
What qualifications do I need to become a security guard?
Possessing a valid SIA licence is fundamental, along with relevant training and certifications. These qualifications are essential in proving your capability and legal eligibility to work in the security sector.
Land the interview for your dream job with CVMaker
Effortlessly create your professional CV within 10 minutes and download it whenever and wherever you want!
Create your CV
Increase your chances landing your dream job with CVMaker.