Career change CV
John has opted for the Wheaton template. With in-depth knowledge of intepreting and translation, ready to leverage writing and communication skills in a new position as a technical writer.
Create CV
"Enthusiastic and detail-orientated French-English translator who aims to change career as a Technical Writer. Quick learner with demonstrated communication skills in different multicultural and professional settings. Eager to kickstart a career an international and team-oriented company as an intern or entry-level writer."
John McCarthy
- Technical Writer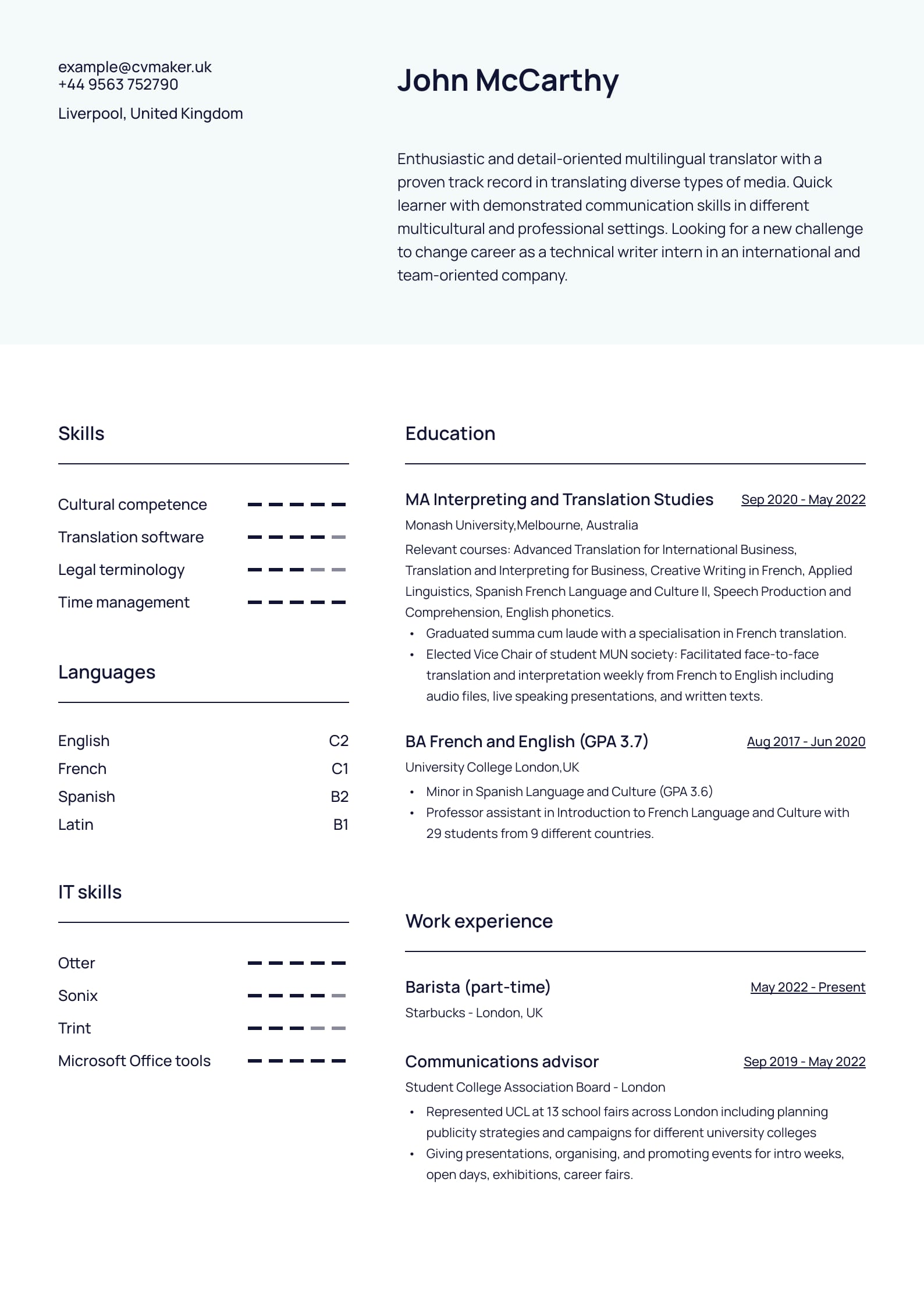 How to write a CV when changing careers
We know a thing or two about writing CVs.
And one thing we know is that writing the perfect cv can hard.
Writing a CV when changing careers, even harder.
Whether it's due to long-held dreams, logistical reasons or shifts in the economy, most of us will go through a career change at some point. And when that times come, you're going to need a CV that gives you the best chance of landing that new job. So here are a few tips that'll have you write the perfect CV for a career change.
Start from scratch
As you're starting a new career it makes sense to start over with a brand new CV. It's common for job candidates to make a few quick tweaks to their standard CV before applying for a new role. A career change calls for a complete overhaul. Use it as an opportunity to reanalyse your skills and experience and make a fresh start.
First impressions matter...make a good one
You only get one opportunity to make a great first impression so don't miss the opportunity to sell yourself. Take the time to write an engaging and compelling cover letter to accompany your CV. After all, your cover letter is going to be your first chance to impress recruiters.
It may be obvious to you why your past experience makes you a great fit for the new position, but don't assume recruiters will make the same connections. You'll be competing with candidates from more relevant backgrounds, so spell out exactly why the skills and experience you've gained from your previous career make you perfect for this new one.
Reference the job description in your personal statement
It's important to include a personal statement on your new career change CV. Use it to highlight connections between the job description and your past achievements. Include keywords from the job description and link them to relevant skills or experience from previous roles.
Choose a different layout
If your new career is very different from your old one, a traditional chronological CV may not be the best option.
Instead, use the first page of your CV to highlight career goals and qualifications, then create categories that demonstrate relevant skills and experience. You can use the second page to list your chronological work history.
For some inspiration on different CV layouts check out these CV examples
Know what to leave out
Whilst it's important to convey skills and accomplishments, there's no need to include every minor achievement in your career to date. Relevance is key!
Focus on only those which demonstrate that you're a great fit for the new role, and make the most of them. When listing your work chronology, include job descriptions only for roles which required similar skills to the new one. Don't include lengthy descriptions for completely irrelevant roles.
Non-work related experience is valuable!
Since your professional experience may be unrelated to your new career, any extracurricular activities on your CV will carry more weight.
Include any relevant volunteering, education, training or internships you've undertaken.
Not only will this demonstrate your transferrable skills, it will also show you're passionate, dedicated and enthusiastic about your new career.
Back up your value with numbers
When listing your accomplishments in previous roles, include bullet points that show your contribution to the bottom line. Numbers are a clear indicator of your contributions and achievements, no matter what field you work in.
The numbers you can are particularly important on career change CVs as they enable hiring managers to quickly relate to an unfamiliar work history, and evaluate what you can bring to the role.
Look for crossovers
Certain skills and accomplishments are similar across different industries and management structures. Find aspects of your previous roles that would have significance to the hiring manager for the new role.
Things like project management, social media marketing and securing sponsorship are similar regardless of what sort of company or organisation you work for, so play these up on your CV.
Don't mind the gaps
As a career changer, you're bound to have qualification gaps if you come from an unrelated career background.
Don't be disheartened by this.
Remember that very few candidates will have every single desired qualification. Most employers would prefer to hire someone who meets 80% of the criteria, but has fantastic enthusiasm and drive. Concentrate on selling your skills and abilities, and don't forget that your desire to change career shows confidence, passion and motivation in itself.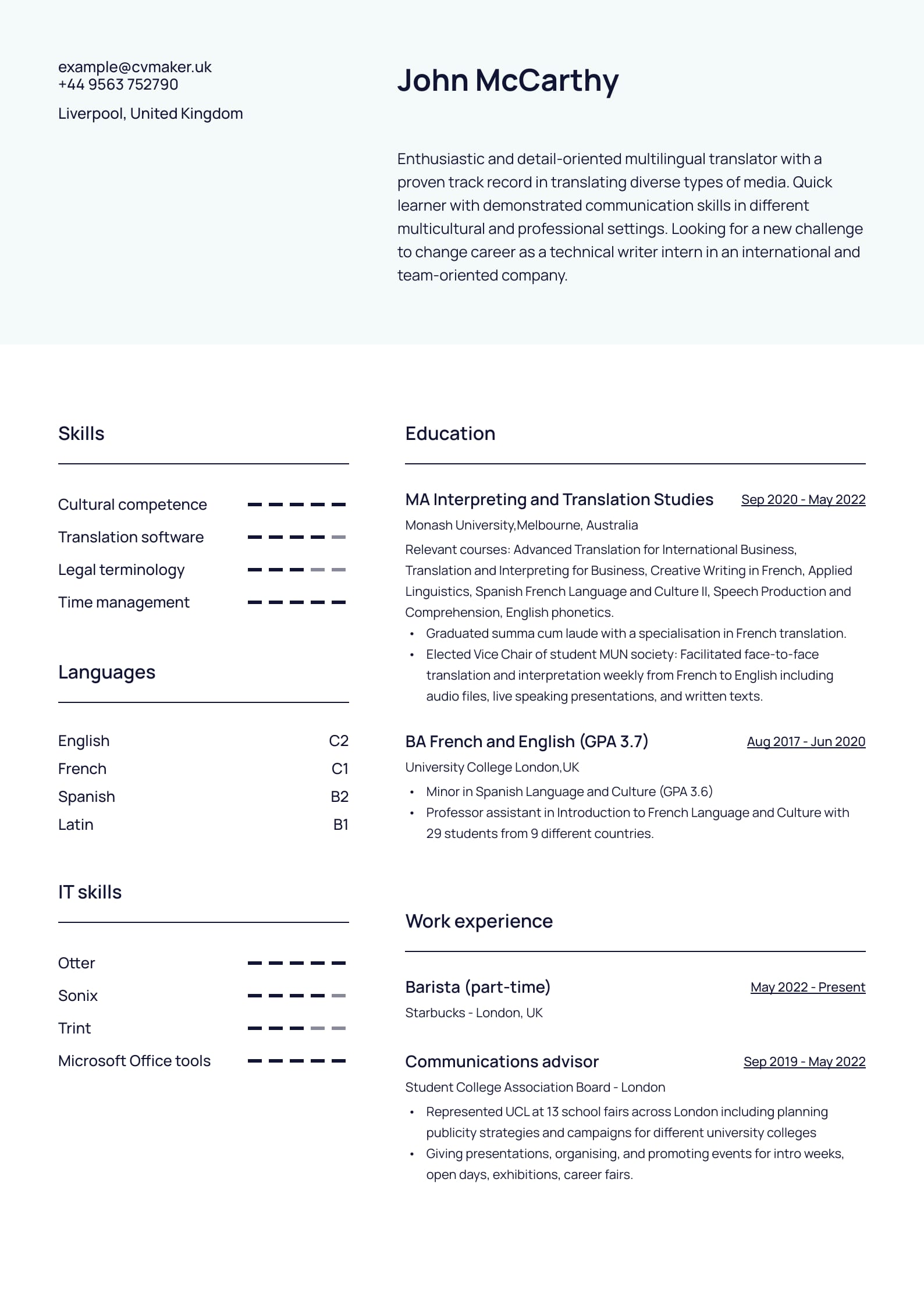 Download this example - Career change cv
Land the interview for your dream job with CVMaker
Effortlessly create your professional CV within 10 minutes and download it whenever and wherever you want!
Create your CV
Increase your chances landing your dream job with CVMaker.