Career change CV
Carlos has opted for the Auckland template. With in-depth knowledge of employment law and court procedures, ready to leverage writing and public speaking skills in a new position as project manager.
Start now
"Highly motivated and results-driven professional seeking a transition to a career in project management. PMI certified with solid leadership, communication, and organisational skills, eager to leverage my diverse experience and drive project success for a dynamic organisation."
Carlos Gomez
- Marketing Manager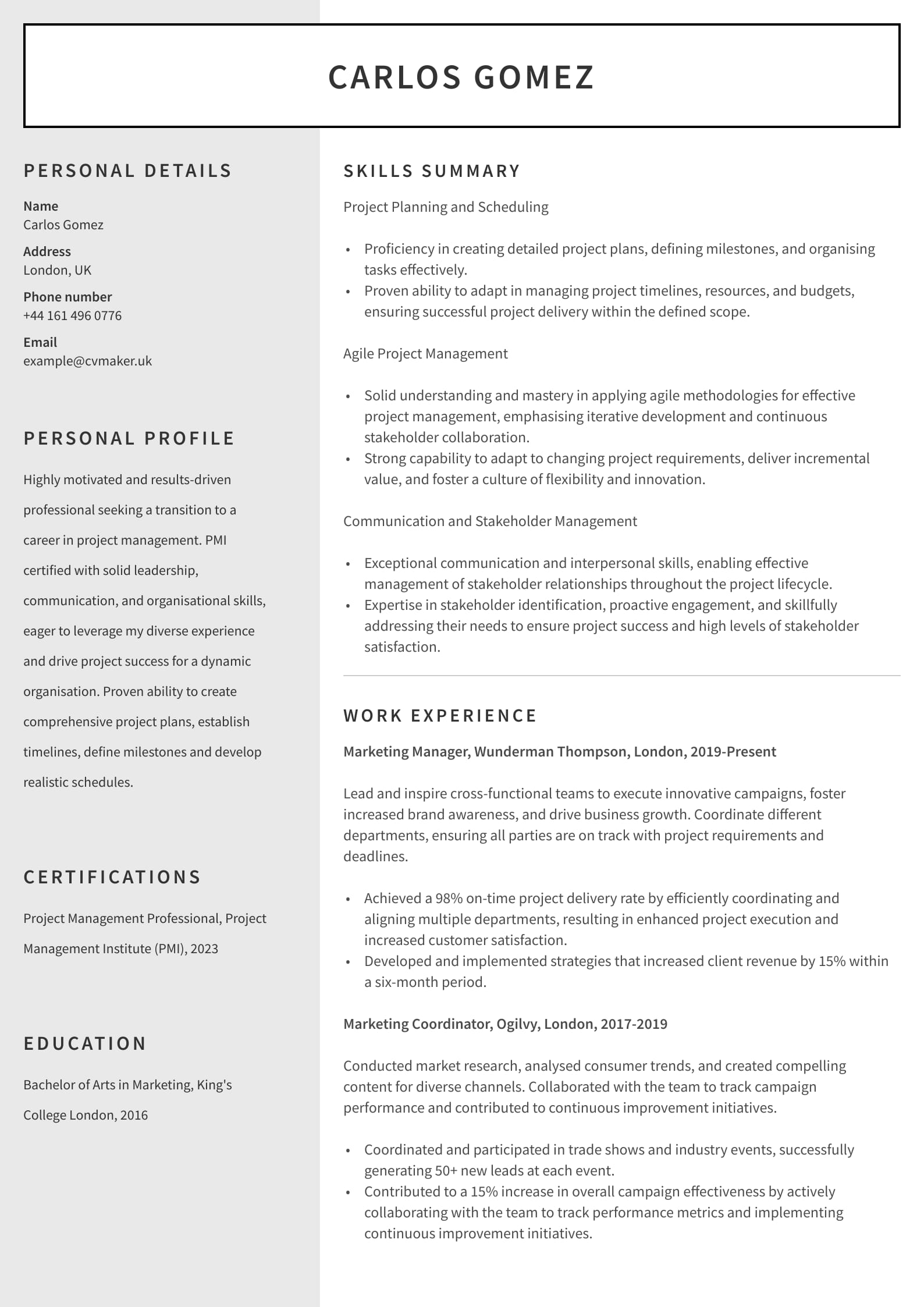 How to Write a Career Change CV in 2023 (Guide, Template, and Tips)
Embarking on a career change is an exciting yet challenging journey, and adopting a skills-based CV format can be the key to your success. Whether you're a student, a 30 or 40-year-old professional, or have reached the pinnacle of your career, this comprehensive guide discusses what to include and how to effectively showcase your experience and skills in the right format when transitioning careers.
Below are five scenarios of why people change careers in the UK:
Job insecurity or industry changes: Tech layoffs and technological advancements such as ChatGPT lead job seekers to change careers for stability and reduced risk of unemployment.

Lack of job satisfaction: Job seekers look for more meaningful work and better opportunities for personal and professional growth, prompting them to switch careers if their current job doesn't offer a fulfilling work environment.

No career progression: When faced with limited growth opportunities in their current field, job seekers often explore new industries to advance their careers.

Hobbies turning into career: Some individuals follow their passions and turn their hobbies into careers, allowing them to do what they love for a living.

Pursuit of higher income or financial stability: Job seekers often switch to higher-paying fields or become entrepreneurs to achieve better financial security.
See our tips and examples below to help through every step of the way. From structuring your CV effectively to adhering to the latest industry standards in the UK, we'll help you launch your new career without stress.
The CV writing process: Where to start?
A CV for career change requires a strategic approach that effectively highlights transferable skills, addresses relevant experience, and showcases your passion for the new career path. Starting from scratch and creating a brand new CV is often easier and more impactful. Avoid the common mistake of just making a few tweaks to your standard CV. Instead, undergo a complete overhaul to distance the focus of your CV from previous job titles you've held.
There are two types of career transitions: voluntary and involuntary. While involuntary changes may sometimes carry negative connotations, they are often a result of poor management that fails to provide opportunities for talented candidates. On the other hand, the voluntary transition usually comes from an employee due to personal reasons or a desire to try something new.
Career change CV example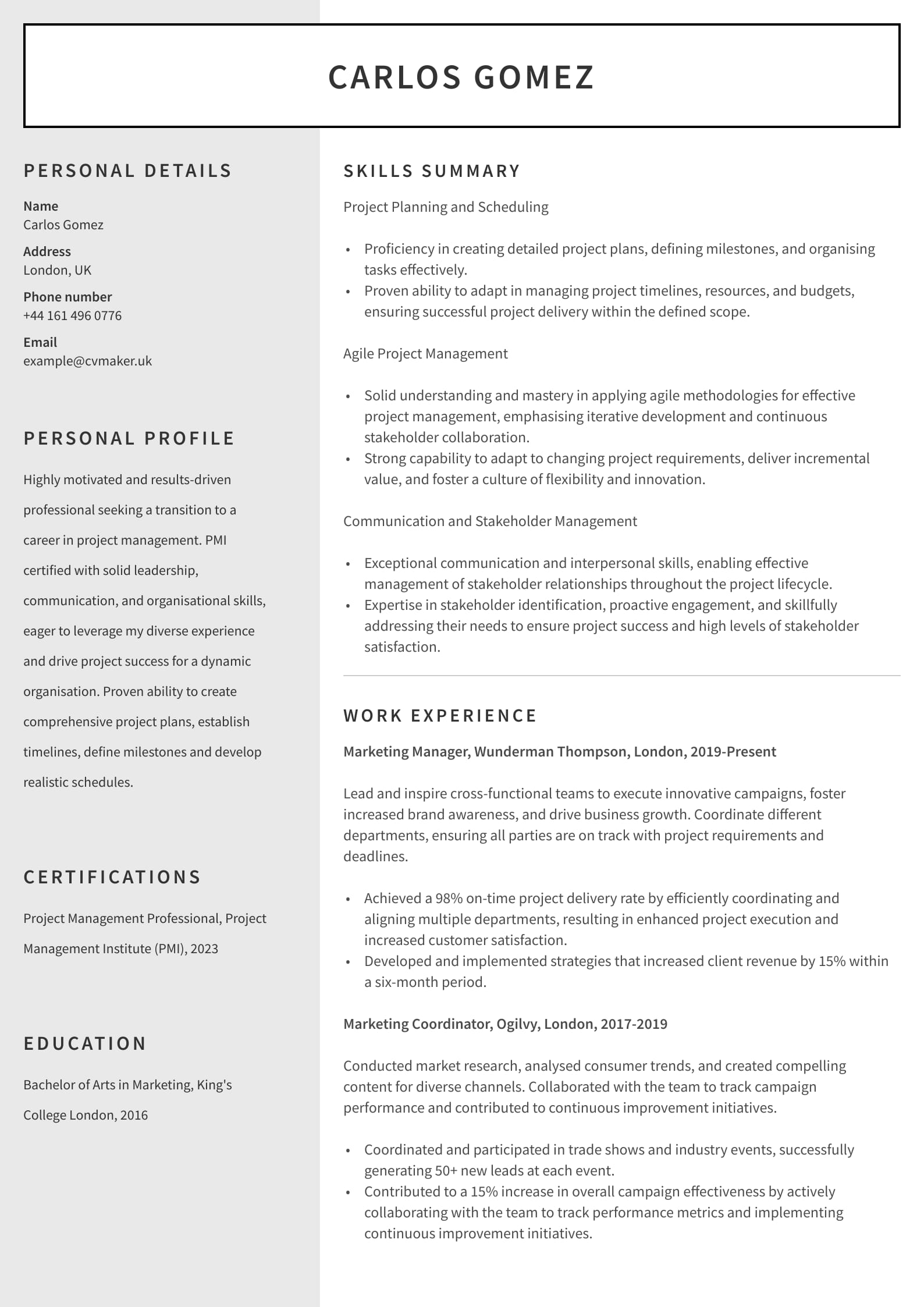 Download this career change CV example as a PDF
Carlos is a marketing manager seeking a career transition to a career in project management. His qualifications summary effectively summarises the main skills and achievements he can utilise in his new role. The education and certifications sections show his ability to learn new skills continuously. He presents himself as a strong leader who can convey ideas and uses software to make the processes more efficient.
How to write a CV for a career change?
To efficiently write a CV when changing careers, switch the focus of your CV to must-have sections such as personal profile, work experience, skills, and other optional sections. If you have little to no experience, use a project-based or skills-based approach, as this would help you stand out and help you highlight your achievements without going into too much detail about your work history.
See how to write a good CV article for more details.
Opt for the appropriate format
As there is no universal way to create a career change CV, the best format depends on your background, qualifications, and career goals. Even though most CVs use a reverse chronological format, we advise you also to give a shot at a skills-based CV format. Typically it focuses on your qualifications or skills summary by grouping your strongest and most relevant skills together for a specific job position. Ultimately, the goal of this section is to keep it ATS-friendly and concise. Remember, a CV for changing careers should not focus on your previous role but rather emphasise your skills and experience that could be transferable in a new role.
Write an effective personal profile
Your personal profile is an eye-catching opening personal statement that states your career goals, along with previous experience and areas of expertise in a new field you're trying to pursue. See our tips and personal statement examples to help make your application stand out:
Your summary needs to be brief, preferably between four to six lines.

A CV usually starts or ends with the phrase about your career goal,  'seeking to transition from an X to Y role in Z industry,'' unlike other personal profiles on a traditional CV.

Incorporate keywords matching your new career to align with employer expectations.

Use a professional tone by avoiding personal pronouns such as 'I', 'me', and 'my'.
Career change CV personal profile example
Data-driven math teacher seeking a career change to a software developer in the logistics sector. Swift learner, proficient in programming languages such as C++, Java, and SQL. Adept at delivering solutions that optimise operations and boost business revenue. A natural leader with exceptional communication skills, well-versed in transforming complex problems into practical and effective business solutions.
Create a qualification summary 
The qualifications summary, also known as a skills summary, is a brief highlight of achievements and skills you can draw from your previous experiences. It focuses on relevant qualifications or knowledge you can transfer from previous roles to new ones.
Start by listing three to four main skills groups related to your job target.

For each group, add two or three bullet points where you can list your hard or technical skills, such as 'Implemented robust communication channels, fostering open dialogue and transparency''.

Ensure to present practical examples from your studies or jobs that would prove you're qualified and capable of performing your duties.

Add soft skills such as 'analytical', 'leadership' or 'communication' because employers want to learn more about your personality and working habits.
Pro Tip
Instead of listing all your soft skills, such as 'analytical, 'enthusiastic', and 'patient' in a separate section, use your personal profile to elaborate on them.
Showcase relevant work experience 
The work experience section plays a crucial role following the qualifications summary. It lets you strategically highlight transferable skills relevant to your new career goals. Research the desired role and craft tailored duties and achievements to make the most impact.
Reverse chronological order: Start with your most recent experience and work backwards, showcasing career progression.

Quantify achievements: Use specific metrics or numbers to quantify your accomplishments, adding credibility to your CV.

Tense: Maintain consistency by using present tense for current roles and past tense for previous positions, ensuring clarity and relevance.

Action verbs: Begin sentences with strong action verbs such as 'led', 'oversaw', or 'trained' to make your CV more engaging and concise.
Highlight your transferable skills
While your previous work experience may not directly relate to your desired career, you still possess transferable skills you can effectively showcase on your CV. By emphasising these skills throughout your document, you can bridge the gap between industries and position yourself as a qualified and passionate professional. Nowadays, employers tend to seek candidates who can work across different industries and possess a diverse background instead of someone who has worked at the same company for 20 years.
Mention your additional experience
In this section, highlight any relevant experiences that may not fit within your traditional work history but still contribute to your qualifications for the new career. This could include internships, volunteer work, freelance projects, or personal projects that showcase your skills and dedication to the field you're transitioning into.
Side projects: Include relevant hobbies or relevance work that aligns with your new career path. This demonstrates your passion and commitment to the field beyond your regular work experience.

Volunteer experience: If you've volunteered in roles that allowed you to develop skills applicable to your new career, mention them here. Volunteering can often provide valuable experience and training.

Showcase placements: If you've participated in industry placements or work-based learning opportunities, include them here. Detail the projects you worked on and the impact you made, demonstrating your hands-on experience.

Emphasise apprenticeships: If you've completed any apprenticeship programs, mention them and highlight the specialised training and knowledge you gained. This can further establish your credibility and dedication to your chosen career path.
See how to improve your CV and no experience CV articles for more guidance.
Key takeaways
Leaving your previous job and starting a new career is undoubtedly a difficult process that requires time and effort complemented by a strategic approach. With our guidance and tips, your CV should be able to create an excellent CV that recruiters cannot miss. Remember that only a handful of candidates have all the right qualifications to meet the job requirements. Most employers would prefer to hire someone who meets 80% of these requirements but has fantastic enthusiasm and drive to learn. Concentrate on selling your skills and abilities, and bear in mind that your desire to change career shows confidence, passion and motivation.
Here are five main key takeaways:
Adopt a skills-based CV format with a qualification summary focusing on your hard and soft skills.

Craft a compelling personal statement that mentions your intention to change careers at the start.

Emphasise transferable skills you can use from previous roles and apply in a new industry.

Highlight your relevant work experience and achievements that align with your career goals and show your ability to adapt to different environments.

Write an engaging and compelling cover letter to accompany your CV.
Next steps?
If you need help filling in the gaps in writing, consult our CV Writing Services. Additionally, we have ready-to-use CV templates to help you create outstanding career documents and help you land your dream job. For more inspiration, check one of our 40+ CV examples to help you.
FAQ
What is the best format for a career change CV?
If your new career completely differs from the previous one, a traditional chronological CV may not be enough. Instead, use the first page of your CV to highlight career goals and qualifications. Create skills categories that demonstrate relevant skills and experience. Alternatively, you can create a combination CV that lists your skill types on the first page and list your work history on the second page. Lastly, ensure to use a consistent and professional font.
Refer to receptionist CV and driver CV for more inspiration.
Is skills-based CV good for a career change?
Yes, skills-based or combination CVs are your best shots to highlight your transferable skills and experience instead of listing all your previous job titles. Whether you're seeking a career change after 30 or 40 years old, it can help you make your CV more focused on achievements and qualifications that prove you're suitable for the next role.
How do you say career change professionally?
We suggest using the personal profile section to state your career goals and say, 'seeking a career transition to an X role'. Throughout your CV, you can show how your experience and skills come together and can be transferred to a new position. Use the keywords from the job description to make your CV more job-specific and relevant. Following these tips can help you describe yourself successfully when changing jobs.
How do you explain career change in an application?
Whether due to long-held dreams, logistical reasons, or economic shifts, most of us will go through a career change at some point, whether due to long-held dreams, logistical reasons or economic shifts. And when that times come, the best thing you can do is to showcase experience and skills that align with specific job requirements and demonstrate your genuine interest in the field you're pursuing. Remember to be clear with your hiring manager about your intentions and show how you can excel in your next role whether you care considering a move to become a lawyer or looking to get into finance.
Land the interview for your dream job with CVMaker
Effortlessly create your professional CV within 10 minutes and download it whenever and wherever you want!
Create your CV
Increase your chances landing your dream job with CVMaker.