Human Resources CV
Natalie chose the Auckland CV template to showcase her HR expertise and experience clearly and concisely. With her extensive experience, she is proficient in utilising various HR tools and systems to optimise outcomes. The Auckland CV template allowed her to present this information professionally and visually appealingly.
Create your CV
"Established HR Business Partner with a CIPD level 5 certification. Reputable track record of crafting and executing HR strategies that have led to business success. Expert in building strong relationships, efficiently managing projects, handling change, and driving continuous improvement."
Natalie Taylor
- HR Business Partner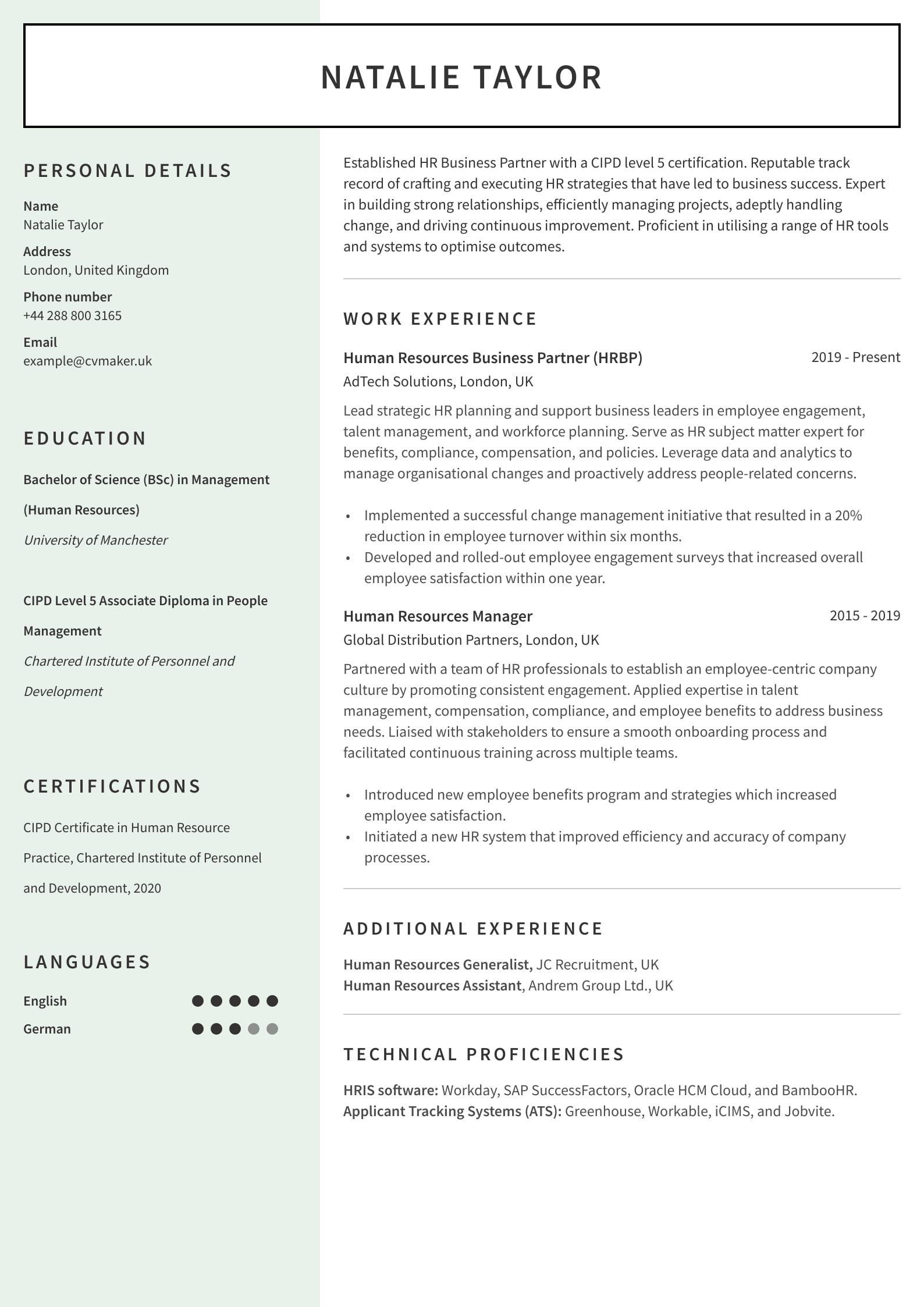 How to Write a Human Resources (HR) CV Guide: Examples and Tips
A company's success relies heavily on its workforce, making the role of human resources (HR) essential. As the heart of any organisation, HR should prioritise an employee-centric approach, ensuring employees feel valued. The HR department manages staff as human assets, not just as part of operational systems. They're strategic partners, directing projects to support the organisation's mission.
The HR field offers diverse career paths, from an HR assistant to more specialised or senior-level roles, such as an HR advisor. Alternatively, one can become an HR generalist, performing recruiting, payroll management, or administration tasks. Regardless of the career path chosen, a well-crafted, keyword-strong CV tailored to your career goals is essential in today's competitive job market.
HR professionals are well-versed in reviewing professional career documents and understand the importance of strategic CV writing, including applicant tracking systems (ATS). However, knowing where to start can be daunting. We've outlined a step-by-step guide to reduce uncertainty, providing expert advice and examples of what makes an excellent human resources CV.
Let's get started!
The CV writing process: Where to start?
Tailoring your HR CV to the specific role is crucial to ensure success when applying for jobs. You should thoroughly research the company culture and the job's key requirements. Before you do this, we suggest creating a master CV as a foundation, followed by a job-specific CV. This approach can help you effectively organise your experiences, skills, and achievements and present them in the most relevant way to the job you are applying for. To learn more, see the cornerstone article on how to write a good CV.To learn more, see the cornerstone article on how to write a good CV.
Master CV
A comprehensive CV that includes all of your experiences, education, courses, skills, and achievements. It serves as a reference for creating several job-specific CVs. In the long run, it can help you avoid writing each CV section from scratch, as you can easily copy and paste information from your master CV. Although time-consuming, a master CV allows you to customise it for various job applications easily.
Job-specific CV
This aims to highlight the skills and experience most relevant for a specific job, such as an HR advisor, recruiter, or HR business partner. Utilise keywords, phrases, and particular requirements (e.g. two years of experience in a recruitment field) from a job post and align your CV accordingly. This tactic can help you optimise your CV for ATS, ultimately increasing your chances of landing an interview.
Human Resources CV Example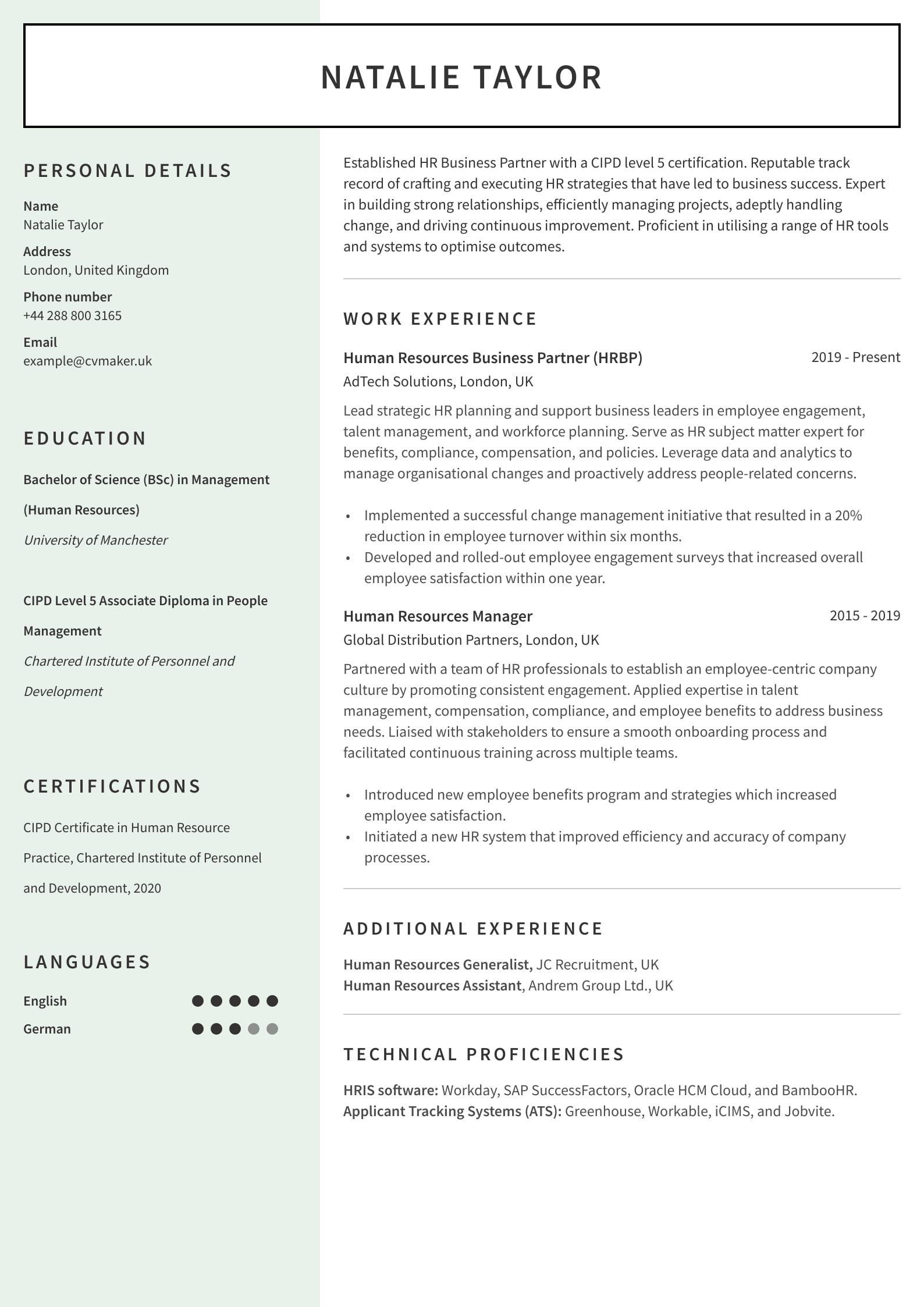 Download this CV example - Human Resources Business Partner.
As an established HR business partner (HRBP) with a CIPD Level 5 certification, Natalie has a proven track record of crafting and executing successful HR strategies that drive business growth. Her strengths are building strong relationships, managing projects efficiently, handling change adeptly, and driving continuous improvement. With her extensive experience, she is proficient in utilising various HR tools and systems to optimise outcomes. The Auckland CV template allowed her to present this information professionally while being visually appealing.
What to include in a human resources CV?
The writing style of a CV is not uniform and varies depending on factors such as your experience, education, and the job or industry you are applying to. Nevertheless, there are core and optional sections you need to be aware of. Once your CV is populated with essential information, consider adding optional sections to make you stand out from other candidates.
How to write a personal profile for a human resources CV
A personal profile, summary, or HR personal statement provides a quick overview of who you are and what you can bring to the table. Ideally, it should comprise 4 to 6 lines highlighting your essential skills, experiences, and achievements. Emphasise your soft skills in a summary section. As for the hard and technical skills, create a separate section called 'Skills' or 'Hard skills' and include them there. To learn more, read the article on how to write a personal profile on a CV.
HR Generalist personal profile example
Human Resources Generalist with over five years of experience managing full employee life cycle. Experienced in recruitment, employee relations, and performance management with proven success in creating positive and productive workplace culture. Strong communication and problem-solving skills enable effective collaboration with employees and senior management.
HR Manager personal profile example
Established Human Resources Manager with over 10 years of experience developing and implementing strategic HR initiatives aligning with business goals. Expert knowledge in employee engagement, talent acquisition, and performance management. Committed to fostering a diverse and inclusive workplace culture by applying strong leadership and communication skills.
HR Director personal profile example
Strategic Human Resources Director and dynamic leader with 10+ years of experience in developing and implementing sustainable HR initiatives. Reputable track record of increasing employee engagement and reducing turnover by creating a workplace culture that fosters high performance and innovation.
HR Business Partner personal profile example
Seasonsed HR Business Partner with 10+ years of proven success in streamlining HR functions to meet business objectives. Dynamic leader with a track record of driving organisational effectiveness and fostering a positive work environment. Strong strategic thinker and problem solver with a keen understanding of the link between HR initiatives and overall business goals.
HR Administrator personal profile example
Dedicated HR Administrator with a solid background in managing HR administrative functions to support organisational efficiency. Detail-oriented and highly organised professional with a strong commitment to accuracy and compliance. Proven ability to handle confidential information and work in fast-paced environments while maintaining a high level of professionalism.
What skills to put on a human resources CV
It is vital to incorporate HR skills in a CV for ATS and to provide employers with a concise overview of areas of expertise. Select your most prominent nine skills to demonstrate your capacity to provide valuable and pertinent abilities that can benefit the organisation. Incorporating specific HR-related skills can also help your CV pass through ATS, which filters applications based on keywords from the job post. Consider taking a look at our lawyer CV example for some more inspiration on what skills to add to your CV.
Examples of HR soft skills on a CV:
Communication

Decision making

Conflict resolution

Administration

Adaptability.
Examples of HR hard skills on a CV:
Recruitment and talent acquisition

Employee relations and engagement

Compensation and benefits

Training and development

HR analytics and reporting.
How to write work experience for a human resources CV
A successful HR CV requires more than simply listing your job responsibilities in bullet form. This document aims to provide potential employers with a clear understanding of your abilities and experience tailored to your career aspirations. To achieve this, it is essential to present your work experience in a concise, relevant manner, highlighting not only what you did but also what you accomplished. For more information, read the article on how to write work experience.
Example of HR work experience on a CV
Human Resources Assistant, Pixalate, London, UK | 2019 - 2022
Applied strong administration skills to assist throughout the recruitment process, including posting job vacancies, CV screening, scheduling interviews, and conducting background checks. Collaborated with HR manager to create onboarding documents, completed paperwork, conducted orientations, and ensured compliance with company policies and procedures. Maintained employee records and updated HR databases, ensuring accuracy and confidentiality.
Implemented a new applicant tracking system, resulting in a 20% reduction in time to fill job vacancies.

Coordinated and conducted a company-wide employee engagement survey, resulting in a 10% increase in overall employee satisfaction.
How to include achievements on a human resources CV
Achievements come in many forms and can be presented differently in an HR CV. One way to distinguish yourself is by featuring a section in your CV dedicated to your most significant career accomplishments. This highlights your ability to deliver tangible outcomes, exhibiting your worth as a potential candidate with measurable results. Additionally, it demonstrates a track record of success, which can boost your chances of standing out from other applicants. Find out more by reading the article on how to list achievements on a CV.
Example of HR achievements on a CV
Developed and implemented a comprehensive talent management program that resulted in a 30% increase in employee retention and a 20% reduction in hiring costs.

Led new company change initiative, including a company-wide restructuring and rebranding effort, resulting in improved operational efficiency and a more aligned and engaged workforce.

Negotiated and implemented a new benefits package for employees that resulted in 15% reduction in healthcare costs and increased employee satisfaction.
How to list education on a human resources CV
In an HR CV, education is a testament to your proficiency, expertise, and qualifications. This helps set you apart from other candidates who may possess different levels of education or credentials. Use it to demonstrate further your relevant experience and prove you're a qualified candidate. To learn more, read our article on how to write education on a CV.
Example of HR education on a CV
Master of Business Administration in Human Resource Management, University of Edinburgh, 2016 - 2017
Bachelor of Arts in Business Studies with Human Resource Management, University of Warwick, 2012 - 2016
How to list certificates on a human resources CV
When listing HR certificates on a CV in the UK, it is essential to include the certificate's name, the awarding body, the certification date, and any relevant accreditation information.
Examples of HR certificates on a CV
CIPD Certificate in Human Resource Practice, Chartered Institute of Personnel and Development, 2020
In addition, you can opt to include a section called associations. See an example below on how to do so. Including the CIPD qualification indicates that the candidate has achieved a recognised professional standard, which is highly valued in the HR industry. Read the article on how to list courses and certificates to learn more.
Chartered Member of the Chartered Institute of Personnel and Development (CIPD), 2018 - present)
Key takeaways
Crafting an HR CV that effectively showcases your experience, skills, and accomplishments can be challenging for HR professionals in the UK job market. However, you can differentiate yourself from other candidates with the appropriate approach, tools, and expertise. A carefully crafted HR CV that demonstrates your strengths and achievements can be decisive in securing your desired role.
Next steps?
By adhering to a structured CV writing process, conducting research, and leveraging relevant skills, you can increase your chances of securing more interviews. If you are not a strong writer or require additional inspiration, contact our team of CV writers or browse our CV examples page for further guidance.
FAQ
What is the best HR CV structure and format?
The best HR CV structure and format typically follow a professional and clean layout that is easy to read and understand. Make sure you use consistent font type and size throughout while writing concise sentences to make the CV easy to scan. Finally, a CV should be no more than two pages.
What are the different career opportunities for HR professionals in the UK?
The field of HR offers a range of career progression, but as with any career, continuous professional development, acquiring relevant certifications, and gaining practical experience contribute to advancing your HR career path. While the specific hierarchy and job titles may vary between organisations, here is an example of a typical HR career progression path:
HR Assistant: This is an entry-level position where you provide administrative support to the HR department.

HR Coordinator: Within this role, you will start coordinating employee onboarding, managing HR projects, and assisting with employee relations activities.

HR Specialist: Areas of specialisation include recruitment, compensation and benefits, employee relations, or training and development.

HR Generalist: With a broader scope, this role requires more involvement in multiple HR functions. They handle various HR tasks, including recruitment, employee relations, performance management, training, and policy development.

HR Consultant: As an HR Consultant, you may work independently or as part of a consulting firm. You provide HR advice and guidance to organisations, assisting them in developing and implementing HR strategies, policies, and practices.

HR Manager: They oversee the HR department and manage HR operations. They lead a team of HR professionals, handle employee issues, ensure compliance with employment laws, and collaborate with senior management on HR initiatives.

Chief HR Officer (CHRO): This is a high-level executive position responsible for developing and executing the organisation's overall HR strategy, aligning HR practices with business goals, and providing strategic leadership to the HR function.

HR Director: In this role, you oversee the HR department's operations, including staffing, talent management, employee development, and policy implementation. You collaborate with senior leadership and play a key role in shaping the organisation's HR direction.
What are the best CV templates for human resources jobs?
There is no perfect CV template, but rather the structure and content of a CV will help you land more interviews. CVMaker provides 20 expertly designed templates, making your CV writing process even more accessible. You can create, edit, and customise CVs and cover letters without worrying about formatting issues in the professional CV builder.
Do I need CIPD level 5 to work in the UK? 
A CIPD level 5 is not equivalent to a degree but a professional qualification that enhances credibility and career prospects. In the UK, a degree in HR is often required, but with no experience or education, you could start your HR career in entry-level positions.
How do I write an HR CV with no experience?
If you lack work experience or have recently graduated in HR, utilising a skills-based CV format for an entry-level HR position is advisable. Moreover, if your hobbies and interests are relevant to your career goals, incorporating them can help capture the attention of recruiters or hiring managers. You can make a strong impression and stand out as a candidate by emphasising your skills and qualifications. Refer to the following CV examples and writing guides for more inspiration - student and graduate CV examples.
Land the interview for your dream job with CVMaker
Effortlessly create your professional CV within 10 minutes and download it whenever and wherever you want!
Create your CV
Increase your chances landing your dream job with CVMaker.