Consultant CV
This CV example showcases Samantha, a seasoned management consultant with a track record of delivering strategic solutions and enhancing organisational performance.
Start now
"Experienced NHS E-Consultant with over 5 years of experience in healthcare informatics, telemedicine, and eHealth solutions. Committed to improving patient care and healthcare systems by integrating innovative technology."
Samantha Thompson
- Consultant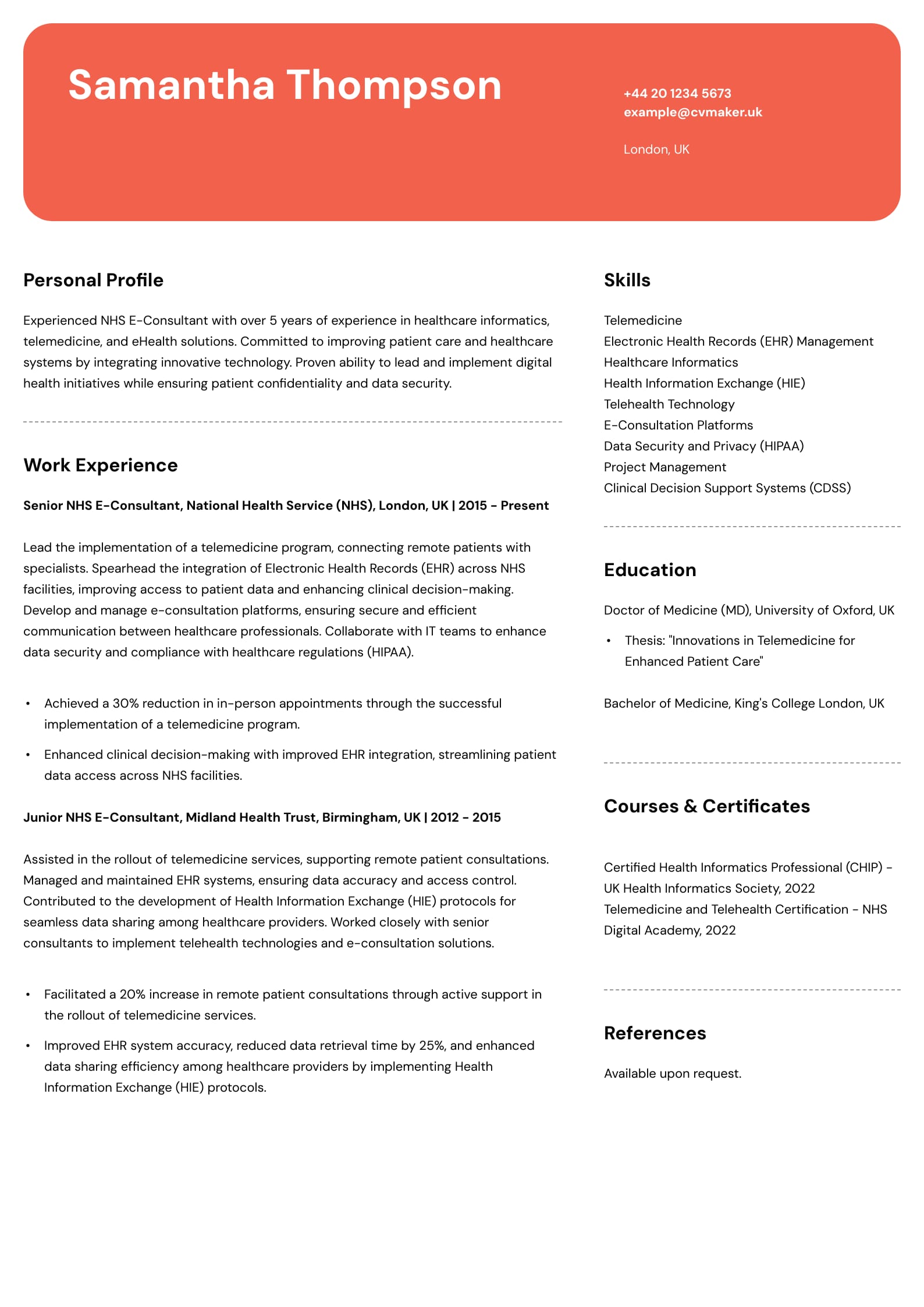 How to Write a Consultant CV Example
Becoming a consultant can be a rewarding career choice, offering a unique set of benefits and opportunities. Whether you're an industry expert, a subject matter specialist, or an experienced professional looking to share your knowledge, having a well-written and modern CV will get you one step closer to your dream job. If you want to embark on a successful career as a consultant and help clients achieve their goals, this consultant CV writing guide is for you!
Consultant CV example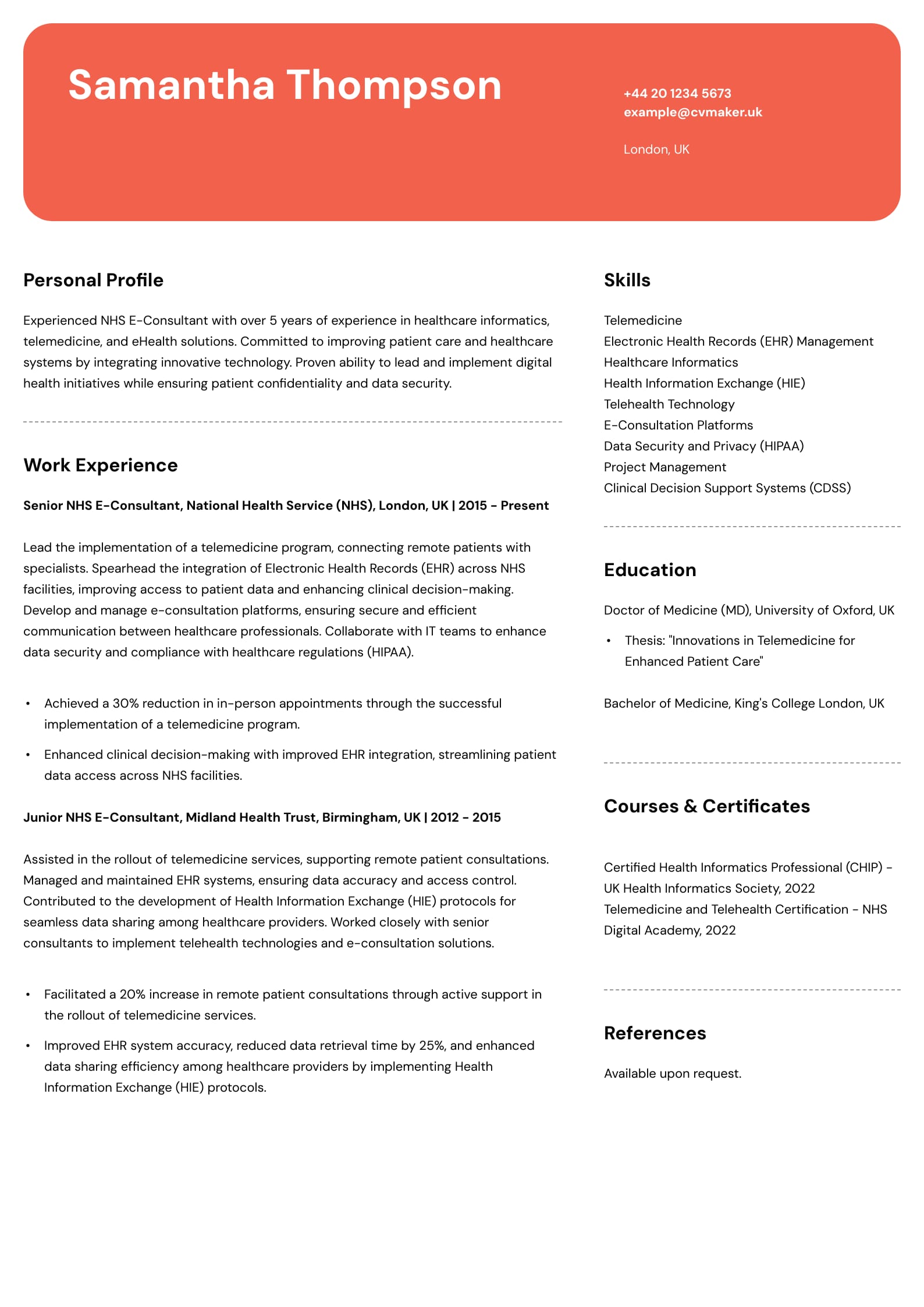 Download this sample of a consultant CV in PDF.
This CV example showcases Samantha, a seasoned management consultant with a track record of delivering strategic solutions and enhancing organisational performance. Samantha has chosen the Erasmus template with two columns to effectively display her career progression, areas of proficiency, and educational background.
We offer a range of CV templates and an extensive library of examples that can be tailored to suit your individual preferences. To explore further, take a look at our comprehensive list of CV examples for inspiration. Alternatively, you can simply click on the following examples to explore various career options:
What to include in a consultant CV?
Consultants support their clients in reaching their business objectives by offering specialised guidance within their areas of expertise. They collaborate closely with clients to provide insights and recommendations on a wide range of areas. When writing a CV, it should be clearly tailored towards the job. In this case, a consultant CV should effectively highlight key skills, experiences, and achievements to demonstrate expertise and credibility.
For quick tips and guidance on crafting an effective CV, simply click on the following links:
Showcase your soft skills in a personal profile
This section provides a concise summary of your background, skills, and career aspirations. It's important to note that careers in consulting can be multifaceted, with professionals often transitioning between various roles and specialisations. This includes but is not limited to:
Management Consultant

Human Resources Consultant

IT Consultant

Financial Advisory Consultant

Marketing Consultant

Business Development Consultant.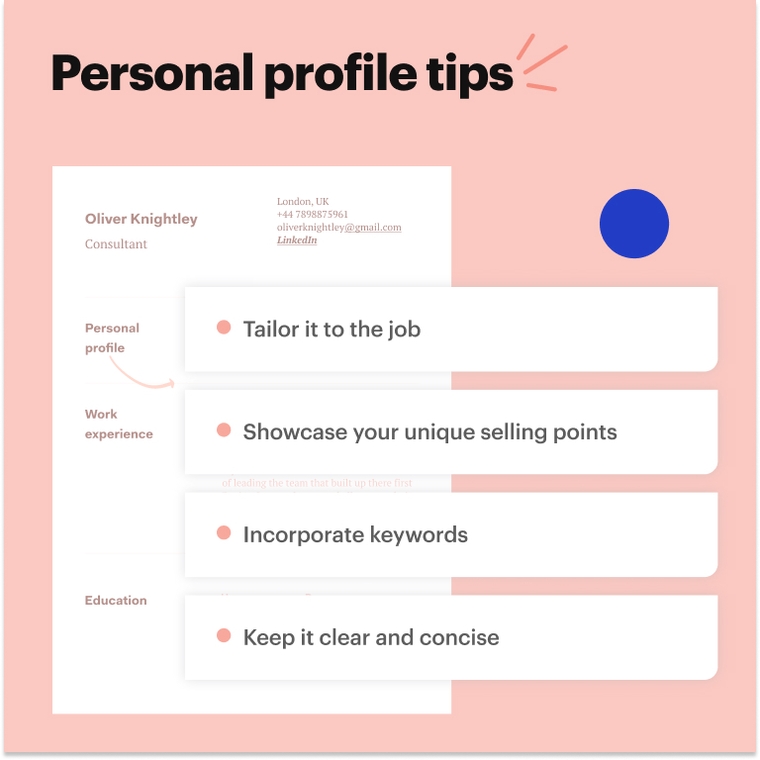 For further guidance, refer to tips on how to write a personal profile.
Management Consultant CV Personal Profile Example
Dedicated and results-driven management consultant with a 10-year track record of enhancing operational efficiency and driving organisational growth. Adept at analysing complex business challenges, developing strategic solutions, and leading cross-functional teams to implementation.
Human Resources Consultant CV Personal Profile Example
Experienced human resources consultant with a passion for optimising HR practices to maximise workforce productivity and employee satisfaction. Proficient in talent acquisition, performance management, and organizational development. Skilled in crafting policies, procedures, and training programs that align with business goals.
IT Consultant CV Personal Profile Example
Highly skilled IT consultant with 5+ years of experience designing and implementing cutting-edge technology solutions. Proficient in system integration, cybersecurity, and software development. Committed to ensuring clients leverage technology as a competitive advantage and stay at the forefront of innovation.
Financial Advisory Consultant CV Personal Profile Example
Accomplished financial advisory consultant with 10 years of experience in financial planning, investment strategies, and risk management. Proven ability to provide clients with sound financial guidance, tailored to their unique goals and circumstances. Recognised for analytical prowess and ability to simplify complex financial concepts.
Marketing Consultant CV Personal Profile Example
Results-oriented marketing consultant, with a passion for driving brand awareness and revenue growth. Adept at developing comprehensive marketing strategies, executing campaigns, and measuring their impact. Proficient in digital marketing, content creation, and market research. Proven ability to adapt to evolving market trends and deliver measurable ROI for clients.
Business Development Consultant CV Personal Profile Example
Proactive and strategic business development consultant with a 5+ year track record of identifying growth opportunities, forging strategic partnerships, and expanding market reach. Skilled in market analysis, competitive positioning, and sales strategy development. Thrive on creating and implementing innovative business expansion plans that drive revenue and market share.
For similar CV examples, refer to the following:
Pro Tip
Tailoring your CV to the specific consulting position you're targeting will maximise its impact and relevance. Include soft skills from the job description to make your CV stand out.
Boost your CV with the best consultant skills
An effective consultant must not only possess a solid foundation in their chosen field but also demonstrate proficiency in several key areas. This includes but is not limited to:
Problem-solving, critical thinking, and adept project management skills.

Effective communication skills (both written and verbal) for client interactions, complemented by active listening.

Strong negotiation and interpersonal skills for building client relationships and fostering collaboration.

Meticulous attention to detail.

Expert time management.

Ability to manage multiple clients and projects concurrently.
We recommend organising your CV with specific sections that emphasise these skills, showcasing your qualifications and ensuring your CV remains ATS-friendly. For more information, refer to what skills to put on a CV.
Include relevant consultant work experience
Whether you initiated your career journey as an assistant or intern and are now seeking to transition into a different role, succinctly capturing your professional experiences can be a daunting task. Nevertheless, we advise adopting a strategic approach when composing this section of key achievements.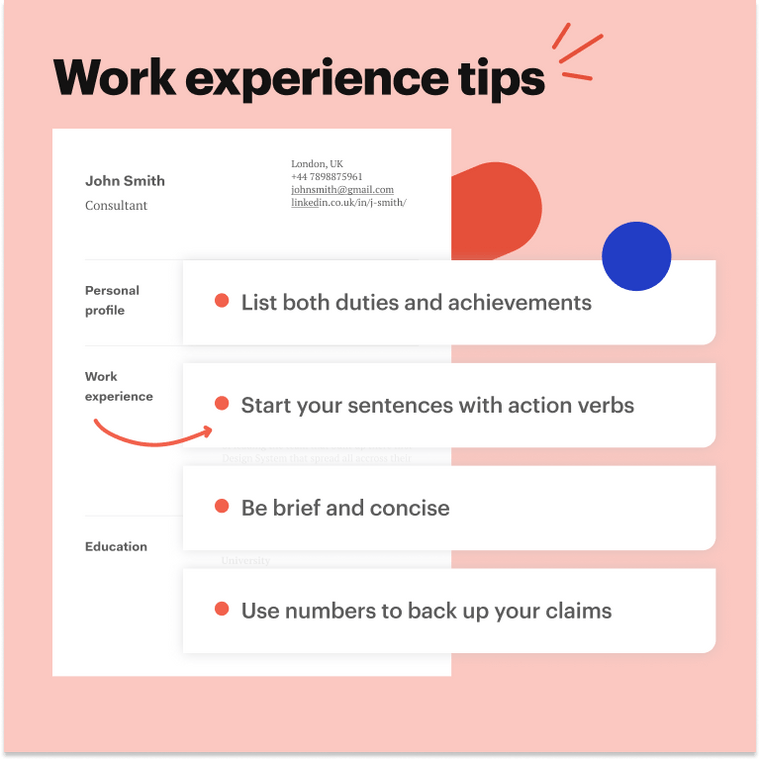 For additional guidance, see the example below or refer to our article on how to write work experience on a CV.
Senior Management Consultant, JC Consulting Group, UK | 2018 - 2023
Led a team of consultants in a major business transformation project for a Fortune 500 client. Conducted comprehensive market research and competitive analysis to identify growth opportunities for clients, leading to the development of a successful market entry strategy. Collaborated with C-level executives to streamline organisational structures and processes.
Developed and executed a cost reduction strategy for a mid-sized manufacturing company, resulting in a measurable 10% reduction in annual operational expenses within the first year of implementation. 

Implemented an organisational restructuring and employee development plan for a client in the retail sector, which led to a quantifiable 15% increase in employee productivity over a six-month period. 
HR Management Consultant, HR Solutions Inc., UK | 2020 - Present
Supervise a team of HR consultants in a comprehensive HR transformation project for a large multinational corporation. Conduct in-depth analysis of HR practices, identifying inefficiencies and recommending solutions to enhance employee engagement and productivity.
Developed and executed a talent acquisition and retention strategy for a tech startup, resulting in a 20% reduction in employee turnover and a 15% increase in recruitment efficiency within the first year.

Implemented an employee training and development program for a client in the healthcare sector, leading to a measurable 10% increase in employee skill levels and a subsequent boost in patient satisfaction scores.
Business Development Consultant, Various Companies, UK | 2020 - 2023
Led a team of business development specialists in a strategic market expansion project for a leading technology company. Conducted thorough market research and competitor analysis to identify growth opportunities, resulting in a successful market entry strategy. Collaborated with the executive team to execute the plan effectively.
Advised a manufacturing client on diversification strategies, leading to the successful launch of a new product line and a 15% increase in market share.

Facilitated partnerships and alliances for clients in various industries, resulting in increased market reach and a 20% growth in business partnerships.
If you're a student with minimal or no prior experience, you can consult our guide on crafting a CV with no experience. Alternatively, for more CV samples or scenarios tailored to specific job requirements, consider exploring the following resources:
List relevant education or certifications
If you aspire to specialise in consulting, it's essential to attain relevant qualifications. The highest level of certification for a consulting career is often a Master of Business Administration (MBA) or a related field. However, if you're exploring alternative career routes in consulting that don't require an advanced degree, you may consider roles like a business analyst, project coordinator, or management trainee. For more guidance, refer to how to write education on a CV.
Explore available courses and certifications for consultants in the UK:
Pro Tip
Choose certifications and courses that align with your consulting specialisation and career goals. Certification requirements and offerings may vary, so it's essential to review specific program details before enrolling.
Key takeaways
Creating a CV can be quite challenging, especially for recent graduates venturing into the job market or those changing careers. It's important to remember that your CV functions as a powerful marketing tool, enabling you to exhibit your skills and experiences to prospective employers or clients. Ensuring your CV is tailored for an impactful first impression is key, as it effectively communicates the value you can bring to a consulting role.
Next steps?
Explore our wide array of customisable CV or cover letter templates. If you require expert assistance or find yourself lacking in experience, take advantage of our professional CV Writing Services for tailored support.
FAQ
How do I write a CV for a consultant job?
Start with a clear and concise summary of your skills and experience, highlight relevant education and work history, emphasise key accomplishments, and tailor it to the specific consulting role you're applying for.
How to write a consulting CV for McKinsey?
Focus on showcasing your quantitative and analytical skills, leadership experience, problem-solving abilities, and your alignment with McKinsey's values and culture. Highlight relevant achievements and qualifications.
How hard is it to get into McKinsey UK?
McKinsey is a highly competitive consulting firm, and they look for top-tier candidates with exceptional skills and qualifications. Be prepared for a rigorous application process and be sure to demonstrate your expertise and fit with the company's values.
How to get a consulting job at Deloitte UK?
Research the specific role you're interested in, tailor your CV to match the job requirements, network with Deloitte professionals, and be prepared for a thorough application process, including interviews and assessments.
Land the interview for your dream job with CVMaker
Effortlessly create your professional CV within 10 minutes and download it whenever and wherever you want!
Create your CV
Increase your chances landing your dream job with CVMaker.