Part-time CV
William has selected the Cornell template for his CV to showcase his skills and qualifications as well as his work experience more clearly and concisely.
Start your CV
"Third-year student with a solid background in customer service and sales. Strong focus on complaint resolution to provide an outstanding customer experience. "
William Jones
- Part-time Customer Service Representative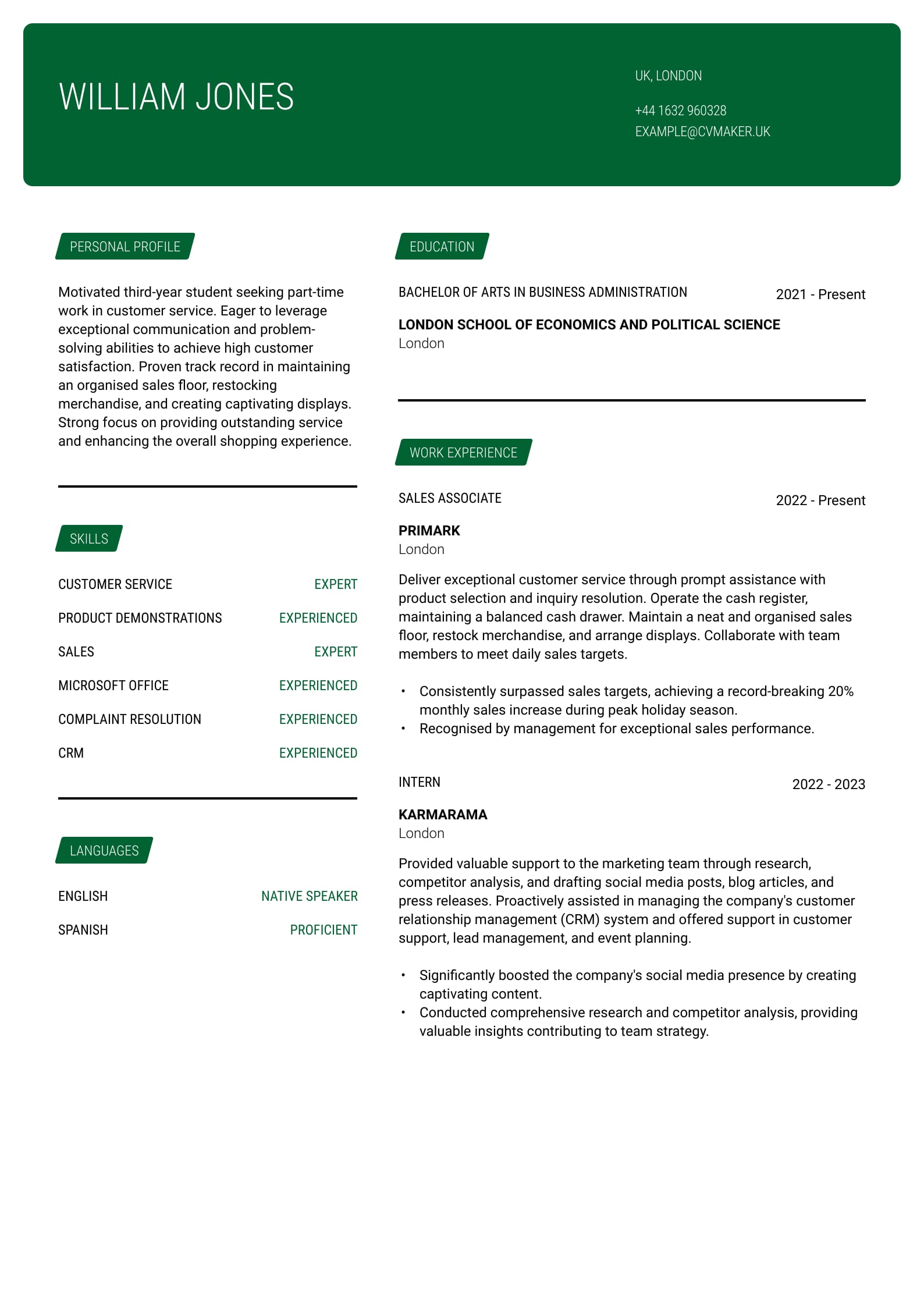 How to Write a CV for a Part-Time Job: Examples and Tips
Imagine having the flexibility to work part-time, balancing your study commitments while pursuing your passions. Part-time jobs in the UK offer various exciting opportunities across different industries and can provide a steady income, flexible hours, and a chance to develop vital skills. Whether you're a busy student managing your studies and looking to earn an extra income, a school leaver wanting to gain work experience, or a graduate looking to kickstart your career, an impressive CV can open the door to new opportunities.
We show you how to stand out from the competition and find your desired job, even if you have little to no work experience.  In this guide, we provide expert tips, practical CV examples, and proven strategies to help you write a good CV.
Before we start, you should be familiar with Applicant Tracking System software (ATS). Did you know 75% of qualified applicants are rejected due to poorly formatted and generic CVs? Therefore, choosing an ATS-friendly professional template is vital to capture your skills and potential and ensure it is readable and appealing to employers.
The CV Writing Process: Where to Start?
With recruiters spending on average just 7 seconds reviewing a CV, a well-organised, clear, relevant CV is essential for your job search. We recommend researching the role, the company, and the industry before applying for any job.
When writing a CV from scratch, it's essential to create a master CV and tailor this document to your job targets with a specific CV. This process will help you save time and effort in the long run when you apply for jobs. Refer to our internship CV or undergraduate CV example for more inspiration. Working part-time can open the door to many opportunities from becoming a hairdresser to a support worker.
Master CV
A master CV is a comprehensive document containing all your relevant qualifications, skills, and experiences. It's a valuable resource to save time and effort when tailoring your CV for specific jobs. By utilising a master CV, you can easily update and customise your application to make it relevant to your job targets and career goals.
Job-Specific CV
A job-specific CV is a targeted version of your master CV. It focuses on qualifications and experiences relevant to your job targets, and while it does demand extra effort, it increases your chances of success. Emphasise key skills and use keywords that align with your career goals. Keep the length of your CV to a maximum of two pages, ideally one for students or those with little to no work experience.
Part-time Job CV Example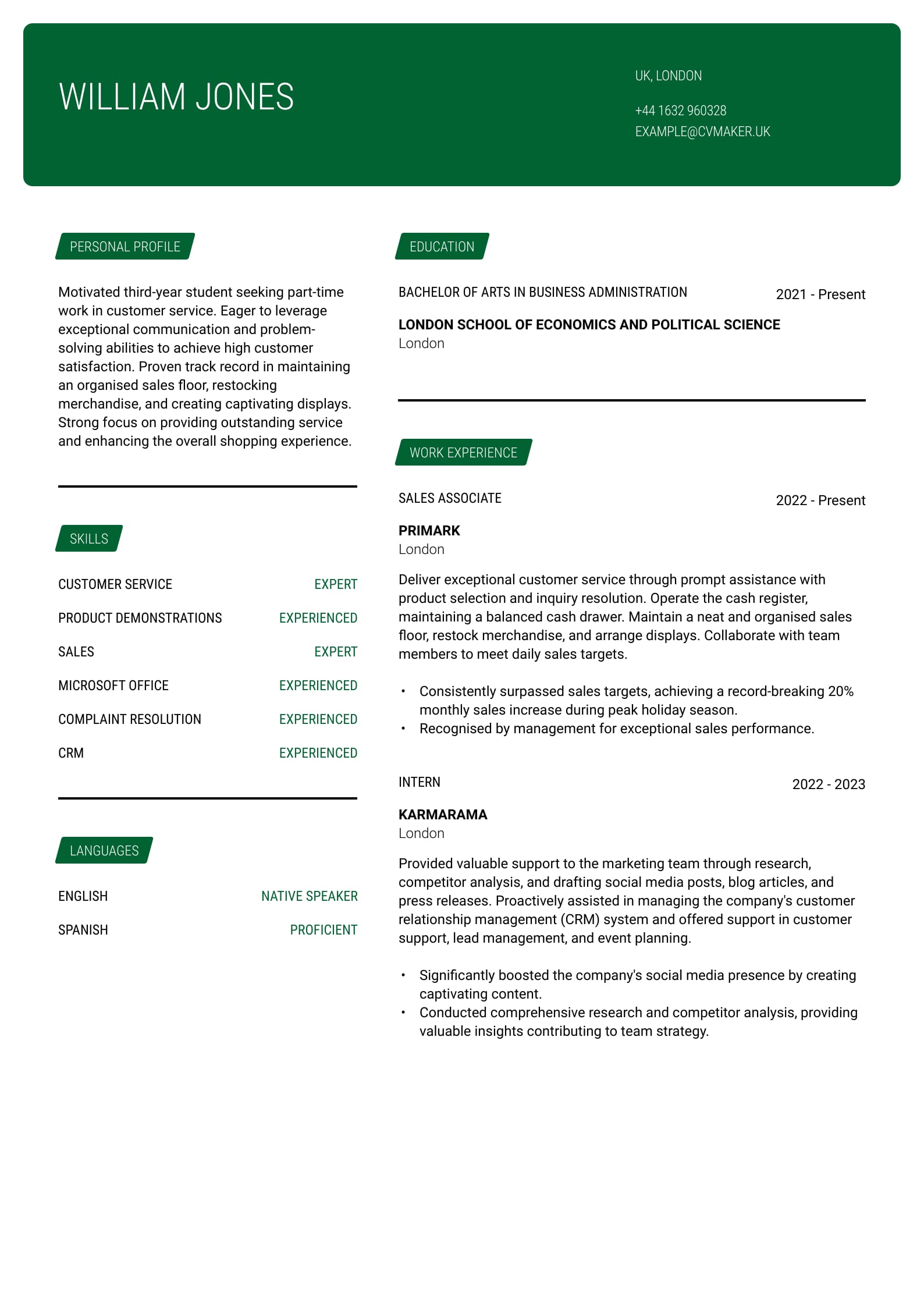 Download this CV sample - Part-time CV.
In this CV example, William highlights key skills, experience and accomplishments relevant to a sales associate role in the retail sector. His professional and eye-catching part-time job CV template presents his customer service, sales, complaint resolution, and market research knowledge. William emphasises his career and educational goals at the top of his CV, demonstrating his ambition to learn and develop professionally. The Cornell template clearly showcases key skills and relevant experience.
What to include in a part-time job CV?
In the UK, there is a diverse range of jobs available for students, enabling a manageable work-life and study balance. Finding a job in customer service, such as retail, is a popular career path, especially for a student or school leaver looking to develop core transferable skills.  In the UK, customer service positions can offer competitive hourly rates of up to £10.35. This wage is higher than other part-time professions, making it an attractive option for students seeking employment. For many students, the most appealing aspect is entering this field without requiring specialised skills or qualifications is the most appealing aspect. In addition, hospitality roles such as a bartender or a waitress can be a rewarding choice to interact in customer-oriented sectors and are a gateway to many entry-level positions.
This type of job can offer students the chance to gain practical experience, develop essential skills, and earn an extra income while pursuing their studies. Yet, for some students, balancing academic commitments and finding work can be challenging. Similarly, choosing the right career path can be daunting if you're a school leaver, especially if you're applying for your first job.
For more ideas on what career path to take, discover these professional CV examples on our blog and find a part-time job CV template that aligns with your career goals. Still trying to decide what career path is best for you? Explore career options and learn more about working part-time jobs in the UK.
How to write a personal profile on a part-time job CV
Your personal profile offers potential employers a glimpse into who you are and what you can bring to the role. Ensure you tailor your personal profile to match the specific job you're applying for, keeping this section clear, concise and relevant. If you're a student with little to no work experience, then highlight your education, skills, or additional experiences in the personal profile.
Personal profile example for a student Part-time job CV
Dedicated and motivated Computer Science student seeking a part-time administrative job. Highly skilled at handling large workloads and using computer software tools to enhance productivity. Developed core interpersonal and organisational skills at a government work placement. Enthusiastic about contributing my positive attitude, willingness to learn, and strong work ethic.
Personal profile CV example for a 16-year-old Part-time job
Active and responsible 16-year-old with a keen interest in gaining work experience. Highly organised and detail-oriented, adept at multitasking and working well with others. Seeking a part-time job in customer service that offers growth opportunities and a chance to develop essential life skills in a supportive team environment.
Personal profile example for a Part-time job CV with no experience
Motivated student seeking a part-time waitressing job. Demonstrates strong communication and interpersonal skills, with a proactive attitude towards assisting customers and providing exceptional service. Actively involved in volunteer work, contributing to community projects, and supporting charitable initiatives. Committed to personal and professional growth.
Ensure you adapt these profiles to reflect your experiences, skills, and career goals. For more inspiration, refer to our article on how to write a personal profile for your CV.
What skills to add to a CV for a part-time job?
When listing skills on your CV, it's essential to focus on soft and hard skills relevant to the role. Soft skills demonstrate your ability to interact well with others, work collaboratively, and manage your responsibilities efficiently.
Showcasing hard skills specific to the role, such as customer service or administrative skills, can further enhance your candidacy. By presenting a combination of these skills on your CV and specific examples or experiences, you can demonstrate your readiness to contribute to a job.
A bartender CV should highlight your customer service skills and ability to work in a fast-paced environment. Showcase your enthusiasm for mixology and your willingness to learn new drink recipes and techniques. Display your strong communication skills and ability to interact and resolve conflicts with customers in a friendly and professional manner.
A waiter/waitress CV must emphasise your ability to provide exceptional customer service and work effectively as part of a team. Highlight your attentiveness to customer needs, taking orders accurately and delivering food and beverages promptly. Demonstrate strong communication, organisational and memory skills, and enthusiasm to contribute to a positive and attentive customer dining experience.
A retail CV should showcase excellent interpersonal skills and assisting customers in a busy or fast-paced environment. Showcase your knowledge of the products or services the retail organisation offers and show a willingness to offer helpful recommendations and answer customer inquiries. Highlight your strong organisational skills, attention to detail in inventory management, and positive attitude to complete tasks on the shop floor efficiently. Learn more about this type of role with our shop assistant CV.
Examples of soft skills:
Excellent communication and interpersonal skills

Problem-solving

Teamwork

Adaptability and flexibility

Attention to detail and accuracy

Time management

Organisational skills

Positive attitude and enthusiasm

Reliability

Initiative.
Examples of hard skills:
Proficiency in Microsoft Office Suite

Cash handling and point-of-sale (POS) system experience

Foreign language fluency

Technical writing

Technical skills (e.g., coding, graphic design)

Data entry and administrative skills

Programming

Writing

Social media marketing.
For more ideas on what to include in your skills section, read our article on what skills to put on a CV or take a look at our barista CV example.
How to write work experience on a CV for a part-time job
When describing your work experience, whether volunteering or paid, it's essential to focus on your achievements, accomplishments, and impact on the organisation. Learn more about how to list your achievements on your CV.
Even with little to no work experience, focus on emphasising skills over your work experience section, and highlight the relevant responsibilities. You can also shift the focus of your CV to education by utilising a skills-based format.
Pro Tip
If you have little to no work experience, consider volunteering, taking a course, or learning a new skill related to your career goals. Completing a traineeship or apprenticeship also increases your chance of getting a side jb as a student.
Follow these steps and keep these tips in mind when showcasing your experience on your CV:
Include paid work experience, volunteer work, and internships, starting with the most recent and working backwards.

Avoid outdated or short-term experiences. Instead, create an additional experience section without specific dates.

Incorporate keywords relevant to your target job throughout your CV.

Highlight measurable outcomes or significant academic achievements from school, work placements, volunteering, or internships.

Emphasise transferable skills gained from relevant studies, volunteering, or hobbies. Keep this section concise and focused on your target job.
Work experience CV example:
Volunteer Retail Assistant, CVMaker Clothing Store, Manchester, UK, 2021-present
Collaborate with a diverse team to achieve sales targets, fostering a positive work environment. Engages and interacts with customers, addresses inquiries, and resolves issues promptly, ensuring high customer satisfaction.
Received positive customer feedback for providing exceptional personalised styling recommendations, resulting in increased customer satisfaction.

Maintained high accuracy and efficiency in processing transactions, minimising errors and contributing to a smooth customer checkout experience.

Won a store competition for the best visual merchandising by creating attractive displays resulting in increased sales.
For more information, refer to our article on how to write experience on a CV.
How to write an additional experience section on a part-time job CV
You can always add an additional experience section if you have little to no work experience or have specific achievements relevant to the job you are applying for. If relevant, add hobbies and interests under the additional experience section. Read more about how to list hobbies and interests on a CV.
Pro Tip
Include references from your school teachers, tutors, or career counsellors. Add these details to your master CV and use your references if requested during an interview.
It is beneficial to Include any relevant traineeships, apprenticeships, and internships on your CV. Completing a course with your school or college also shows you have practical knowledge and bridges the gap between academic and professional interests. Learn more about how to list courses and certificates on your CV.
Adding additional experience to your CV shows a commitment to career development and boosts your chances of securing a job.
Education on a part-time job CV: How to include it?
When listing your education section as a student or graduate, start with the most recent school, college, or university you attended. Highlight your background in a clear and organised manner.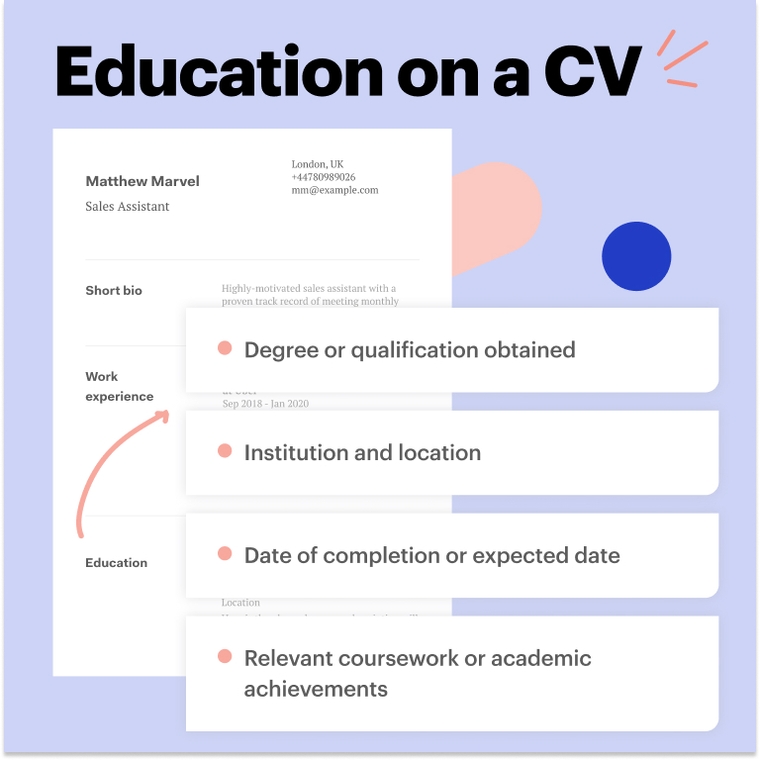 For extra guidance on this section, refer to our article about how to write education on a CV.
Key Takeaways
Searching for work and balancing other priorities can be difficult, especially if you are a student or have little to no work experience. This guide aims to empower you with the tools and resources to impress hiring managers with a professional part-time job CV. Whether you're planning to enter the workforce after graduating, a school leaver or a student seeking your first job and need to prepare for a job interview, explore how to overcome interview nerves and improve your CV to enhance future job applications.
Here are the key points to remember:
Start with a master CV to create a comprehensive document that can be customised for each application.

Include your personal information, personal profile, education, work experience, skills, and references.

Create a personal profile that highlights your strengths and aligns with the part-time job you're applying for.

List both soft and hard skills that are relevant to the position.

Emphasise achievements and responsibilities in your work experience section, whether from internships or volunteering.

Highlight your education, including relevant coursework and academic achievements.

Customise your CV for each application to showcase your suitability and experience.

Remember to proofread your CV carefully and seek feedback from others to ensure it presents you in the best possible light.
Next Steps?
For those who want to save time and effort creating their CV, taking advantage of our CV Writing Service is worthwhile. Our dedicated team of experts can assist you in creating a successful CV for a job tailored to your career goals.  If you need more guidance and inspiration for your career path, explore our blog for more ideas on finding your first job as a student.
FAQ
How do I write a part-time job CV? 
You should include personal information, an eye-catching personal statement, skills, education, additional experiences or achievements. List any relevant work experience, including internships or volunteering, while tailoring your CV to match the job targets.  Always keep your part-time CV concise, well-structured, and error-free.
Do I need a CV for a part-time job?
While not all jobs may require a CV, having a well-written CV can significantly improve your chances of being shortlisted for an interview. It is crucial to showcase your qualifications, skills, and potential to hiring managers. Refer to our articles on job interview tips to increase your chances of securing a job interview for your desired role.
What is the best CV format for UK part-time jobs?
The best CV format is typically the reverse-chronological format. Start with your most recent experiences and work backwards. This format enables employers to see your most recent and relevant information quickly. Ensure you also use a professional ATS-friendly part-time job CV template to boost your chances of getting noticed.
How do I write a part-time job CV with no experience?
Focus on transferable skills gained from volunteering, internships, or extracurricular activities. Highlight any responsibilities or achievements demonstrating your skills and potential value as a candidate. Consider creating a skills-based CV to increase your chances of success.
What is a good summary for a part-time job CV in the UK?
A good personal profile summary should highlight your key strengths, career goals and qualifications for the role. Tailor the profile summary to match the job you're targeting, and use keywords highlighted in the job advertisement. Mention any unique qualities, achievements, or strengths that differentiate you from the competition and help you stand out.
How long should a CV be for a part-time job? 
A CV should generally be one to two pages long, depending on your level of experience and the amount of relevant information you need to include. Keep it concise, focusing on the most critical and impactful details.
How to write a CV for a 16-year-old part-time job? 
When writing a CV for a 16-year-old seeking a part-time job, emphasise relevant skills, such as teamwork, communication, and adaptability. Include any volunteer work, extracurricular activities, or part-time positions demonstrating your responsibility and willingness to learn.
Land the interview for your dream job with CVMaker
Effortlessly create your professional CV within 10 minutes and download it whenever and wherever you want!
Create your CV
Increase your chances landing your dream job with CVMaker.