Marketing
Nina, an experienced marketer, has opted for the Berkeley template to showcase her professional experience and career accomplishments.
Create your CV
"Strategic and creative marketing professional embodying 10+ years of industry knowledge. Highly skilled in crafting marketing strategies and driving innovative ideas that support business growth."
Nina Wilson
- Marketing Manager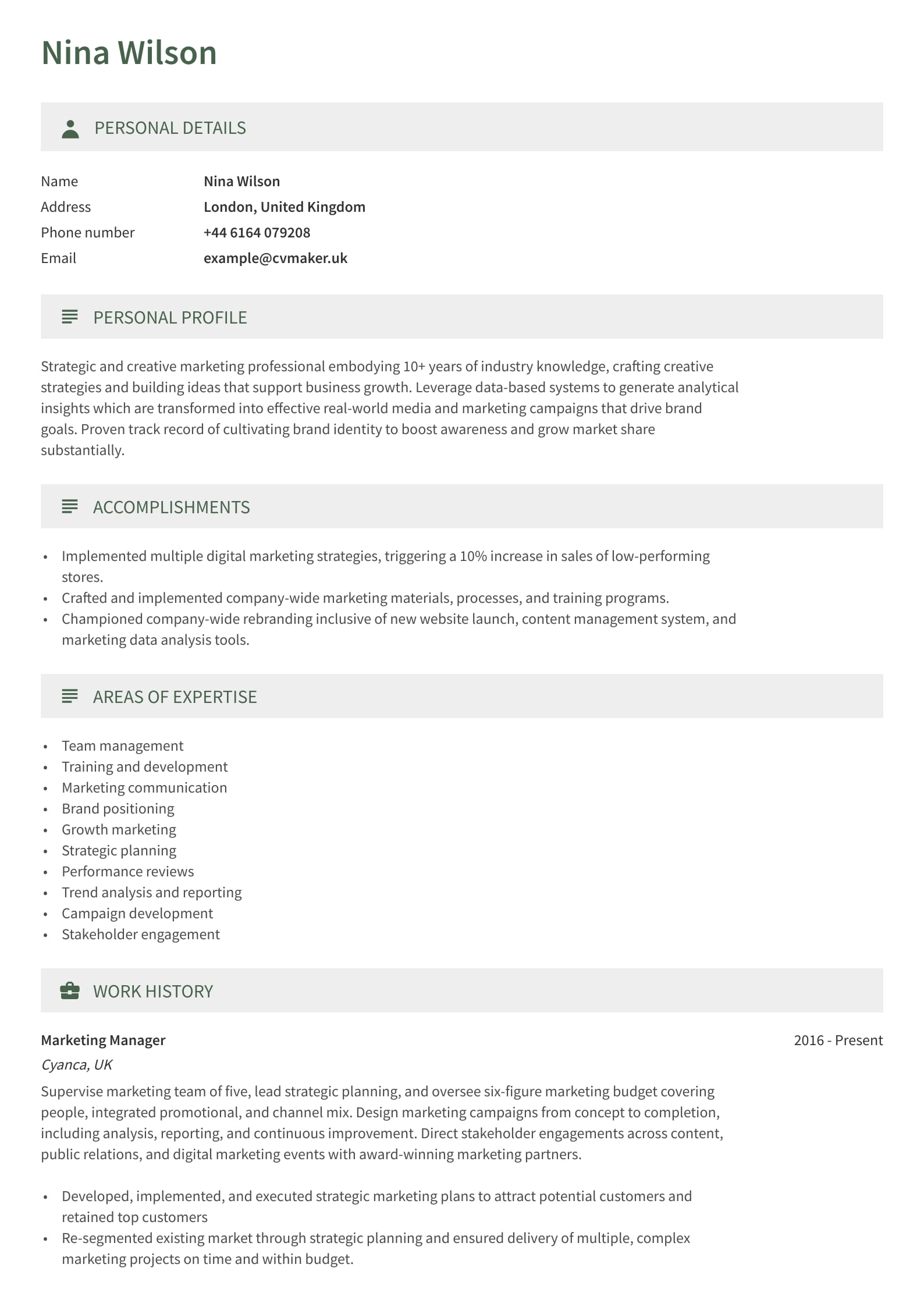 How to make your marketing CV stand out
CV writing might seem simple; however, many marketing specialists still struggle to promote themselves through a CV, despite having years of professional experience. Have you sent out your CV to multiple companies but only got rejections or no response at all? It is often the case for those who hand in outdated CVs without appropriately tailoring them to a specific job vacancy. But don't worry because we're here to guide you through the process of crafting a superb CV.
Look at your CV as a one-page document or "sales brochure" to show your skills, expertise, and qualities explaining why you're the perfect match for a prospective employer. Showcase your most potent abilities and talents that would benefit your desired company.
If you're changing industries or unfamiliar with the technicalities of CV making, that's not a problem. This article is for anyone who wants to take their first step into or advance their marketing career. The key is to define your target audience and their needs. Use your marketing knowledge and skills to display creativity and rigorousness.
Why marketing? 
Marketing is one of the most fast-growing and demanding professions in the business world, providing numerous job opportunities across different industries. Even though it is highly competitive, it is also a rewarding field with diverse applications. Whether you're a creative or a more analytical / data-driven person, there will always be a position that would suit you.
If you're interested in topics such as promotion, branding, communications, creative design, research or sales, then you're the right match for kick-starting or continuing your marketing career.
Marketing is more than promoting products: common job duties on a CV:
Monitor market trends;

Plan, create, and execute advertising campaigns;

Present ideas and campaigns;

Identify and build connections with potential customers;

Report tasks, including tracking performance;

Create competitive analyses;

Produce audience insights;

Coordinate promotional activities, events, and interviews.
Choosing a job for a marketing CV
Depending on your expertise and interests, you can follow different directions such as social media, email, video, display, affiliate, and search engine (e.g., SEA, SEO) marketing. Studying marketing will help you develop a creative and analytical mindset. It is regardless of whether you need a graduate marketing CV or a marketing manager CV. 
If you're unsure what kind of job to do as a marketer, think of the following questions:
Would you like your career to focus on traditional or digital marketing? 

Is it inbound or outbound marketing? (see FAQs section for more details)

Will you be a generalist or specialist? 

Is your employer an agency or an established corporation with a large marketing department?

Or is it a small company/startup about to leverage social media for sales growth?
Preparation: planning before jumping into CV writing.
Writing a stand-out marketing CV can be challenging due to the competitive nature of the field. It Is crucial to plan your time wisely and select a specific job you would be interested in before you resort to writing. By making your CV vacancy-specific, you can save more time and focus on one application at a time. Carefully plan what you'll add in each section to avoid adding irrelevant information to the position you're applying for.
To be the perfect candidate, your CV, alongside the cover letter, needs to do the following:
List your entire background, both educational and professional.

List your exceptional soft and hard skills.

Demonstrate that you are a fit for the company and specific job role/function.
Whether you need to write or improve your marketing manager CV, marketing assistant CV, or marketing executive CV, don't worry because we're here to help you. Don't be afraid of your creativity taking over if you're writing your first marketing CV or marketing director CV. 
CV structure
The first stage of creating any marketing CV is understanding what sections to include. Your CV should contain the following elements:
Personal information

Profile summary 

Work experience 

Areas of expertise (skills)

Education and qualifications
You can also make use of the following parts, but they are optional and only if applicable:
Additional experience

Certificates

Technical proficiencies

Languages

Hobbies and interests (recommended to avoid them unless necessary)

References

Awards and achievements
Master CV
A master CV serves as a basis for gathering and writing down all your experiences, qualifications, activities, and accomplishments in one file document. It works as a reference tool with which you can copy and paste all the relevant specific information you need for your company-catered CV. You can't even mention half of your experiences, given that there are too many things and activities you have accomplished throughout your life. 
Discover your ideal digital marketing CV template
Having all your experiences in one place is of utmost importance, saving enormous time and effort. You won't need to write everything from scratch all the time for each job you apply for. Instead, you can always copy the most necessary information from your master CV and edit a few phrases for your job-specific CV. 
How to write a marketing master CV
To incorporate the key components of a master CV, see the following steps and tips:
Use a black-and-white template and text font.

For work experience and activities, including both job duties and achievements.

Use 3-5 bullet points for describing your job duties and accomplishments.

List your academic and work experience in chronological order.

Use a master CV as a source document for all your future CVs.

Update your master CV regularly.
Vacancy-specific CV
After you're done with you master CV, you can move on to writing a vacancy-specific CV. Our strong advice is to start your writing process with researching the company culture and vision. Check and gather the key information from the job vacancy post you're interested in. To do so, go to the 'About us' page of the company to get to know the brand and values. Focus on the key requirements, writing style, and specific elements a company is looking for. Create a list in a separate document and collate everything you have found in a brief and concise manner. Following this strategy will increase your chances of landing a job interview and eventually a job placement. Keep in mind that a recruiter will more likely hire someone who meets the company's needs and has interests similar to their career goals.
Your vacancy-specific CV needs to be 1 (or a maximum 2) pages long without any irrelevant sections, so it can't possibly include everything you've achieved.
Looking for CV templates? Our CV Maker tool has a versatile collection of over 20 fully customisable HR-approved CVs templates. Create an account and choose CV template for you digital marketing application that would best suit you. 
Follow a professional writing style 
When writing anything for your digital marketing CV, only use concise, simple and, most importantly, professional language. Only use easy action verbs and concrete examples with figures to demonstrate your capabilities.
Avoid writing your CV content in the first person as it may come across as highly unprofessional. Only use first person pronouns when absolutely necessary or if the company mainly asks and uses informal and "friendly" language. Opt to write in the third person without using your name/pronouns or first person without I/me/my. Refer to the digital marketing CV example for guidance. 
To write a successful master marketing CV, avoid doing the following:
Use emotional and negative words (eg 'honest, good, impressive, motivated').

Adding negative comments about your former employer.

Write lengthy descriptions and details about your hobbies and interests.

Create a wall of text using bullet points and short sentences instead.
Need to polish some inconsistencies in your text or improve your writing? 
Check out our website for the professional help from various specialists. They will guide you step-by-step on writing an outstanding digital marketing CV or cover letter. Explore CV Maker writing service run by career experts who have created 1000+ CVs. Whether you are a starter or highly experienced professional, it is not a problem. This platform is for anyone who needs assistance with getting a job.
Use the job vacancy description to your advantage
When choosing a job position for your next marketing CV, look for general criteria such as job level (internship, entry, associate, or senior), required language and years of experience. Remember that you don't always need to meet all the requirements to land your dream job. When creating a vacancy, recruiters tend to describe an ideal candidate with very few people who would actually have every single qualification. Don't worry if your work experience is not entirely related to a job vacancy. Relevant transferable skills gained from another industry or institution can still be beneficial even if you don't possess direct knowledge or expertise.
Pay attention to the company culture
Researching the company culture is the key to matching your CV with the job vacancy. Make a list of keywords and phrases appearing most frequently on a page and choose the ones most applicable to you as an applicant. One of the best ways to do it is to check 'About Us' or LinkedIn page to get familiar with the brand and values of an organisation. Once you have a better picture of what a company expects from you, try incorporating action verbs in your master and specific keywords in your job-specific CV. This way, you'll more likely reach your employer's attention as it would demonstrate genuine interest and dedication to the company. 
Application tracking system: what it is, and how to optimise your CV for ATS
Application Tracking System is a software that scans multiple CVs to sort out and identify the most suitable applicants for a specific job role. In other words, it is an automated hiring procedure whereby recruiters can save enormous time and money by going through hundreds of CVs. This system enables them to make the recruitment process easier and more efficient for companies. So, stay alert for the most relevant information such as employment conditions or keywords (skills, action verbs) appearing on the job description.
ATS filters out your marketing skills and qualifications by:
The number of years of work experience;

Specific keywords;

Experience with promotional software techniques or HTML, CMS;

Certain knowledge or skills in marketing;

Speaking a particular language;

And much more.
How to optimise a marketing CV for ATS 
To avoid rejection during the application process ensure you include all the relevant keywords. Make sure you open up the vacancy of interest and create a list with the following information an employer will be searching for:
Required skills (personal and professional);

Job duties;

Essential characteristics and qualities;

Specific expertise.
CV example marketing manager 
Below, you can find the digital marketing manager CV example for Nina Wilson, a marketing manager from London.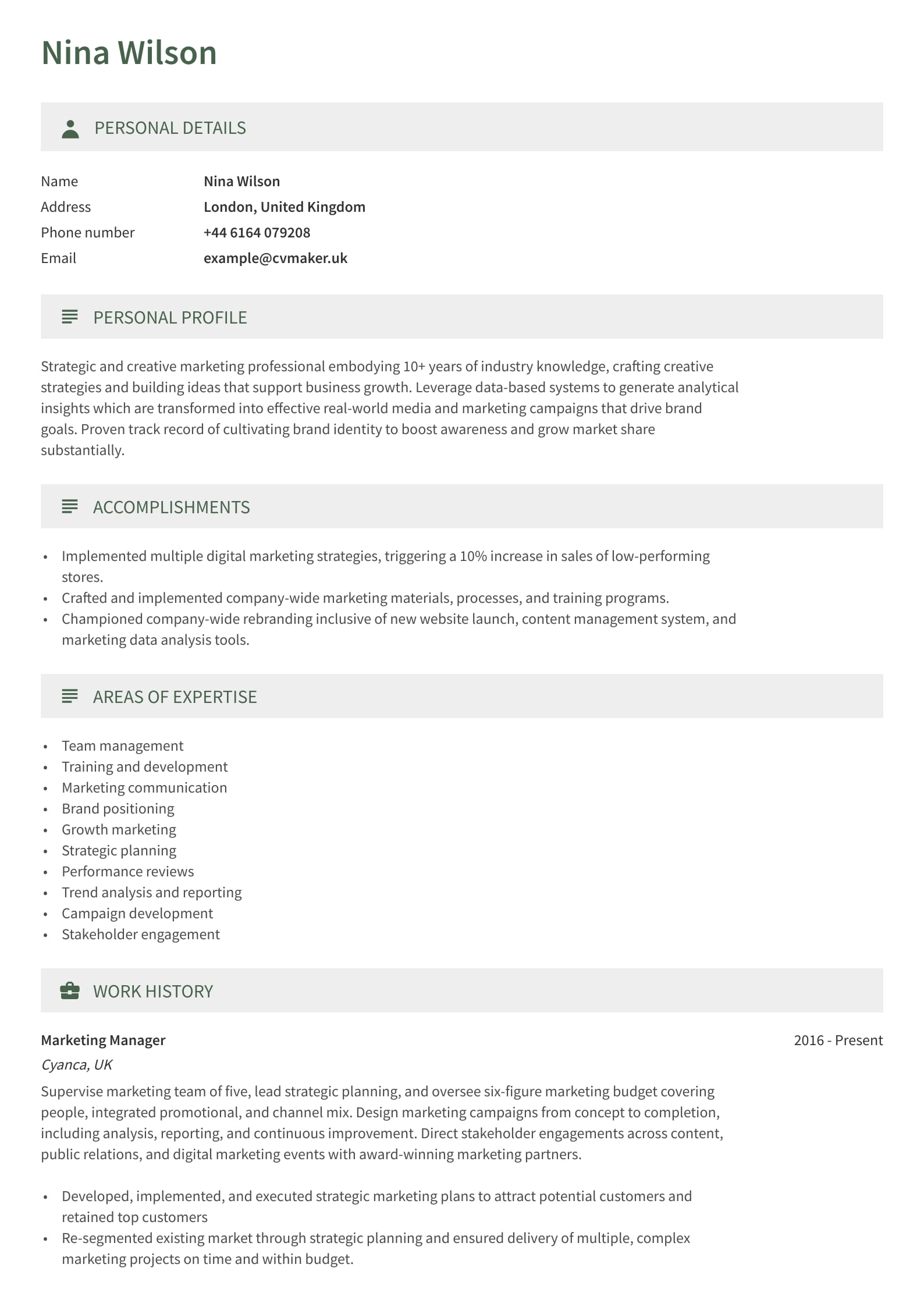 Download this example - Marketing cv
Marketing manager CV example UK - Nina Wilson - This CV example is a digital marketing CV example with over ten years of relevant experience. She is a leader with a dedicated and innovative mindset who knows how to drive sales growth and effectively communicate with diverse customers and stakeholders. Nina has completed the MSc in Marketing and took three professional courses on content marketing, digital marketing, and the introduction to SEO. This marketing CV sample displays her as a strategic, initiative, and creative specialist eager to learn and accept new challenges.
Download this digital marketing manager CV example.
Are you looking for marketing graduate CV example? We have a closely related article with a graduate CV example.
Components of a good marketing CV
This section covers all the information you need for creating your job-specific CV. It includes but is not limited to your layout, personal information, occupation, diplomas, areas of expertise, certificates, accomplishments, and so on. The purpose is to briefly present your 'life course' as concisely and clearly as possible. Your CV acts as a document summarising your experience, qualities, past achievements, and career ambitions. It gives an employer a better idea of who you are and what you want in your professional life. If you could devote just a few extra minutes to making your digital marketing CV more vacancy-specific, that would already make you stand out from many other candidates.
Looking for a CV?
HR-approved templates

Professional and cutting edge

20+ versatile designs to choose from
Several studies have shown that recruiters scan CVs in less than 9 seconds. After spending several nights or maybe even weeks designing your CV, this may be frustrating or shocking. That's why once again, it's of utmost importance to be aware of all the procedures related to CV selection and act accordingly. Make sure you give a positive impression of your personality and career goals. Lastly, you need to craft your CV so that it can be easily followed and read in a matter of seconds.
Template: layout and presentation
Aim to keep the content on your CV brief and concise. Your CV needs to comprise one or a maximum of two A4 pages. It, however, does not imply your CV cannot be longer than two maximum pages if needed. On the other hand, a longer CV is more common in academics and STEM industries. As mentioned earlier, most CVs are scanned in less than 9 seconds on average. Knowing this, think of a way to compose and structure your CV in a way that will catch the attention of your qualifications and marketing CV skills.
If you're interested in topics such as promotion, branding, communications, creative design, research or sales, then you're the right match for kick-starting or continuing your marketing career.
A template choice can also depend on a specific company or position you're applying for. While some businesses will be flexible with your template, others will only select the candidates based on the local criteria.
Your layout can also impact your application, especially if you're applying for a job that demands more creative, visual, and engaging skills. Make sure to use this opportunity to express yourself in a visual and artistic form while showing what drives you as a person.
Select the CV template which fits you the best as a marketer
Personal information
Due to labour and anti-discrimination laws, the UK forbids including applicants' information on CVs. To clarify the contents of this section, we have created a list of what to include or not to include: .
DO INCLUDE
Full name;

Phone number;

E-mail address used daily;

City you're based in;

Additional Info (see below).
DO NOT INCLUDE
Include silly email addresses (2hot4words@hotmail.com);

Age/date of birth, sex, gender, nationality (unless required);

Photos or logos oneself:

Home address.
Optional if applicable or makes your CV stand out: 
To make your recent graduate CV stand out more, you may choose to include the following links or information if suited for the role you're applying for:
Driving licence (and type);

LinkedIn profile;

Link to the portfolio website or blog.
Using visuals on your CV
Using graphics-heavy content is discouraged during most applications unless you're applying for a visually engaging and creative job. ATS' main purpose is to filter out the candidates by criteria based on whichever job requirements you're trying to meet. If in doubt, it is safer to leave out any visuals or excessive graphical content.
Work experience 
Alongside skills, work experience is a primary focus and core of your CV. Regardless of whether you are an expert with years of experience or a newbie, don't worry because we're here to help you. Do you already have relevant professional experience? That's great. We expand on approaching this section on our blog: tips to highlight your work experience. You may also opt to write a skills-based CV instead if you think that you don't have sufficient experience for your job position.
When describing your work experience, use 3 to 5 bullet points to describe your job duties and achievements. Avoid writing a wall of text containing your impressions or all responsibilities and activities you have done.  
If you already have an entry job or internship, list all your relevant experiences in reverse chronological order. Back up all your duties and achievements with quantifiable data and be as concise as possible. You don't need to mention everything you did during your occupation. Instead, pick a few which would match your desired position the most. The goal is to convince a recruiter that you're the right fit for the role, so it doesn't matter what side responsibilities or projects you have. Instead, think of a way to adjust these parts according to the job description, making sure you're using the proper terminology and action verbs. Below you can find one of the essential points you need to consider when listing your work history.
How to approach the marketing work experience section on your CV:
Use reverse chronological order, start with your most recent job experience and start listing other relevant roles you have held. 

For each role, write the title of your function, name of the organisation, date of employment (use the term 'present' for any position you still hold), and responsibilities/duties that best describe your job in bullet points. 

The goal is to show quantifiable achievements or professional skills you've gained - not merely your general responsibilities. If possible, include measured or concrete examples where applicable. 

Start each bullet point with a clear or strong verb like supported, achieved, created, gained and oversaw. 

Make sure to use keywords found in the description of the vacancy in your CV. Refer to skills to match the experience required by the recruiter by wording your list with similar adjectives or responsibilities.
Little-to-no work experience
Placements, Apprenticeships and Transferable Skills. 
If you have little marketing work experience or no experience, consider adding or applying for placements and apprenticeships. For instance, you can do a placement between different terms during college. Note that apprenticeships or placements do not have to take place during your studies. Instead, you can do them during the winter or spring break before your next term begins. Adding them could show your employer that you're ambitious, dedicated, and hardworking. Demonstrate that you're not afraid of a challenge or gaining extra work experience alongside your studies or in your free time. Remember that all your previous job positions you want to add need to match the needs of the company you're applying for. If it is irrelevant or somewhat relevant, don't include it in your CV.
Additional experience
Here, you can add relevant professional courses, freelance work, volunteering, or other activities that add additional value to your experience. This section should spark an interest for an employer from a non-professional and more personal perspective. Remember that not everybody solely looks at your qualifications or the number of jobs you do. Other vital criteria are your personality, interests, and what drives you as a person in general. 
Looking for CV templates? Our CV Maker tool has a versatile collection of over 20 fully customisable HR-approved CVs templates. Create an account and choose CV template for you digital marketing application that would best suit you. 
Education and qualifications
The education section is vital because it helps employers better understand your qualifications and competencies for a specific job. Here, you can briefly mention your high school, higher education, professional courses, and apprenticeships. Keep it simple and short. Your education is a good addition but not always a requirement for hiring you as an employee. Since marketing is a competitive career, writing down professional development courses or academic accomplishments (eg honours certificate, exchange program) can also make you stand out from others. Besides, those extra courses and certifications show your passion for the field and commitment to long-term success.
Education background employers would be looking for but not limited to
University degree (Bachelor, Master, or PhD):  include the duration of your degree with dates of completion (still to be completed), the name of the institution, and your official degree title. Additionally, honours or GPA (only if it is 3.0 or higher) can also be mentioned if it is 2:1 or a first. However, if it's 2.2 or lower, it is not obligatory to include it. If you are still a student, add your expected graduation date.

GCSEs or A levels (or equivalent): if you don't have a higher education, consider adding your high school or other international diplomas to your CV. Only include relevant courses that you have passed. For instance, if you are an experienced marketer with a completed MA or MSc, then you can leave this section out.

Digital marketing certificates:  Some people without training or relevant experience tend to receive training on the job. You may be provided resources to complete a care certificate during this time. With this certificate, you will obtain the knowledge and skills needed for support worker positions in social and health care. Though this is a form of education, we recommend putting this in a 'Certifications' section rather than combined with your education. 

Apprenticeships or traineeships bridge the gap between your academic, personal, and professional interests. If you don't have much experience, it would be advisable to prioritise your education over work experience to show off your qualifications. If you finished an apprenticeship during your studies, it could show that you are a committed and goal-oriented person.
Include responsibilities you had and skills you've obtained from this experience. If you have no work experience or more education and qualifications to show off - consider putting education before work experience.
Select your CV from over 20 HR-approved marketing templates
Areas of expertise
Areas of expertise (also refered to as Skills) is a core part of your CV. They best describe your natural capabilities and personal qualities. In contrast to ideas,  theories, or thoughts, they prove that you have an ability or master over something. There are two main types of skills: personal (ie soft) and professional (ie hard) skills. 
Hard skills refer to concrete and commonly technical skills. Unlike soft skills, hard skills are abilities that are more often developed through training, courses, and practical experience. A diploma, certificate, or test results are the typical indicators of your possession of a hard skill. For certain hard skills such as programming, software expertise, and design programs, you may also consider creating an additional technical proficiencies section. You can elaborate more on your knowledge of specific software or applications in this section.
Hard skills: 
CMS tools;

Copywriting;

Programming languages (list examples in Technical Proficiencies);

Promotional techniques;

Design or web design;

Email automation;

Video production;

Social Media marketing;

Business organisation;

Graphic design (eg Adobe Creative Cloud applications).
Soft skills are applicable to all professions due to their abilities and social nature. It is a combination of character traits, interpersonal skills, and professional attributes that are developed and sharpened in your daily life. Think of how you work and interact with others or how you deal with conflict. While some people may be born with these skills, others learn them through their life journeys. Instead of the Skills (or Areas of Expertise) section, soft skills are better to include in your personal profile (profile summary) to portray yourself professionally and briefly. 
Soft skills: 
Effective communicator;

Problem-solving;

Creative;

Interpersonal skills;

Organised;

Leadership;

Empathetic;

Analytical;

Critical thinking;

Detail-oriented.
Personal profile
You don't need a marketing CV personal statement when applying for a job. However, you must know how to write a profile summary at the top of your vacancy-specific CV.
First, write down the foundation of your summary in a master CV and then modify it for every similar position you come across in your job search. If you have extended time lapses between different applications, we recommend re-writing your summary. The more experience you have, the more professional and skilled you get. Therefore, your previous versions of a CV would already be outdated and present you as less qualified.
Here are four examples of profile summaries based on your competence and job level. Note that they can be maximally  3 to 4 sentences long.
Marketing profile summary examples
Digital Marketing intern CV profile summary
"Attentive and organised graduate with a specialisation in digital marketing and brandmanagement. Adaptive and data-driven individual with a strong track record in advertising, business organisation, market growth and market research. Striving to improve business marketing strategies by providing solutions through a creative yet pragmatic approach. Looking for an entry-level position or internship as a junior marketer in a world-leading corporate with a fast-paced and enterprising working environment."
Entry-level Market Research Analyst CV profile summary
"Analytical and data-driven recent graduate interested in market research analysis. From majors in econometrics and business marketing gained relevant skills in strategic market planning, developing business strategies, and creating original marketing plans. Interested in evaluating the market and competitive conditions. Exceptional skills in communications and business management. Determined to achieve sales growth in a scale-up organisation and help create efficient marketing strategies to improve the service and working environment. 
Associate SEO specialist CV profile summary
Innovative and results-driven SEO specialist with 4 consecutive years of relevant experience. Expert in keyword research, promotional campaign development, social media management, and website traffic analytics. Skilled in a quick and efficient increase of website organic traffic. Experienced in managing Google Ads for 3 years with 7 clients. Demonstrated skills in leading e-commerce, brand management, keyword research & implementation. Looking for a new SEO position in a large corporation to apply my team management and data analysis, including Google Analytics skills.
Senior Product Manager CV profile summary
Strategic and creative marketing professional embodying 9+ years of industry knowledge, crafting creative strategies and building ideas that support business growth. Leverage data-based systems to generate analytical insights which are transformed into effective real-world media and marketing campaigns that drive brand goals. Proven track record of cultivating brand identity to boost awareness and grow market share on a substantial scale. Eager to join a large corporation with a strong and professional marketing team to further improve my analytical and management skills.
Head of Marketing CV profile summary
Agile and results-oriented marketing director with 11+ years of management experience in providing innovative and creative marketing solutions to diverse clients globally. Proficient in leading effective advertising campaigns. Expert in various facets of marketing including CRM, PR, event, e-mail, and brand management. Striving to transition into a strategic business as a head of marketing in a fast-paced, forward moving corporation with a collaborative working environment.
Fashion Marketer CV profile summary
Artistic and enthusiastic fashion marketing specialist with 4 years of relevant experience. Easily adaptable and passionate with a creative eye for creating green and sustainable products. Keen on creating long-term collaborations with similar environmental products. Highly skilled in market research, visual storytelling, Adobe illustrator, and Fashion Media. Looking for an mid-senior position in a similar role, preferably in a customer-oriented and results-driven working environment.
Digital Marketing executive CV profile summary
Goal-oriented and analytical, digital marketing executive with an interest in affiliate marketing. Equipped with a strong record of 55% revenue growth over the period of 4 months. Created multiple Facebook and Instagram Ad campaigns for 9 clients at 4-figure monthly spend. Excel in managing personal and developing long-term strategies to improve the brand image worldwide. Certified professional with excellent leadership and communications skills. Eager to lead a scale-up company with a hierarchical and professional working environment.
Additional sections 
Once you have finished and written down the main components, now consider adding additional sections to your CV. While they are not mandatory, it might still be beneficial to include them because they give a good impression of your abilities and interests. Think of specific examples to enhance your profile and tell more about potential professional goals and inspirations. 
Here is the list of possible sections you can add with specific examples for marketing specialists:
Technical proficiencies
Unlike Areas of Expertise, this section allows you to dive deeper into your skills and list the exact names of applications and tools you know how to operate. Technical proficiencies often relate to information technology, mathematics, programming languages, design programs, medical software and other tools and equipment. 
Programming (languages)
List any of the programming languages you're familiar with in this section. Keep in mind that in higher level job positions you are expected to have not just a basic but also an advanced knowledge of software. Incorporate your technical proficiencies only if the vacancy directly asks for these kinds of skills. So, don't pick tech skills at random on your CV. Below you can see the examples:
JavaScript;

HTML and CSS;

Python;

SQL;

C++.
Add a technical proficiency on your CV only if you have an above-average expertise in using both software and hardware. Remember that hard skills are your method while technical proficiencies are your means. Therefore, technical proficiency is usually a specific tool or language you use to apply your hard skills. Here are examples of technical proficiencies for a marketing specialist. 
TIP: transfer proficiencies to your skills instead
If your desired job position does not require substantial knowledge of programming, you can briefly mention it in Areas of Expertise (also referred to as Skills) instead.
Design or editing 
Creative hard skills contain video editing, photo editing, photography, or design. Here are examples of technical proficiencies of those skills:
Final Cut Pro, iMovie, Adobe Premiere;

Adobe Creative Cloud Suite (ie Illustrator or After Effects);

Canon, Nikon, Sony;

Blender, Figma, Gimp.
Languages
Knowing several languages could be advantageous if you work in an international or multicultural industry sector. Use your language skills to showcase your ability to interact with diverse people from different cultural backgrounds. Place this section either on your CV's side or right next to education and work experience.
Before adding them, make sure you back up your competence with a recognised test to prove your level of proficiency. Your proficiency level can be categorised by either level bars or systems such as the CEFR indicators (A1-C2). 
Hobbies and interests
It is preferable not to include hobbies in your CV. However, you may want to add them if you don't have much relevant professional experience and need to stand out from other candidates. 
Examples of hobbies related to marketing could include but are not limited to photography, drawing, and design. These kinds of activities would portray you as a creative and interesting person who is not afraid to explore something new and diversify their interests.
References
Do not add references unless the job description asks for them. However, do include references in your master CV. One day you might suddenly need it and will be grateful that you stored it in one place. If you ever need them, you can always refer to the master CV. However, the only case when you can include them is when nothing else is left from all the previously mentioned sections that you can add. You can ask your former supervisor, employer, or even professor to write a reference letter for you.
For more information, please consult our article on how to add your references to your CV. 
Awards and accomplishments
Using awards and achievements is a great way to show your employer that you are a dedicated and well-disciplined candidate to achieve top results. If you ever won a contest or were nominated as the best employee or student, briefly mention it on your CV. Use this section to highlight your outstanding achievements that could have given your world recognition in the areas of your desired job industry.
TIP: what accomplishments to add?
Only use this section to display your exceptional accomplishments. Avoid using irrelevant achievements such as winning a sports or festival competition that doesn't add value to your CV. Instead, focus on stronger sections such as work history, skills, or qualifications.
Key takeaways
Now that you have mastered your writing skills, you're finally ready to start off your application process and choose a position that would best suit you as a person. After reading this article, you will be better equipped with the knowledge to make an outstanding, well-created and sound CV. Make sure to separate your workflow in an organised and easy-to-follow manner. Don't aim to write a perfect CV the first time because you would probably need time and practice to master the art of CV making. Don't be afraid to make mistakes and make multiple draft versions of your CVs. It's all a part of the learning process. The more mistakes you make, the better. They will bring you closer to landing your dream job and excelling at creating concise and well-structured CVs. Our CV Maker team wishes you the best of luck and inspiration for your future CVs.
Tips and tricks
To summarise some of the article's key points, we have condensed all the previous sections into a short list explaining how to approach your digital marketing CV before handing it in.
Here are some tips to make your digital marketing CV stand out:
Use clear, professional, and brief language.

Be persuasive and concise.  

Use marketing skills to market yourself for a CV.

Use keywords based on the job description and the company's 'About us' page.

Propose your value by showing off your unique skills and qualities.

Back up your duties and responsibilities with quantitative data and statistics.

Use an easy-to-follow and well-designed (or creative) CV template.  

Write a catchy profile summary to impress recruiters.

Use powerful action words.

Make an effort to get your work done and voice heard.
FAQs and facts
Your CV is supposed to be 1-2 pages long. In most cases, it is preferable to stick to one page. Use very concise and straightforward language, avoiding the use of lengthy and vague words. Note that two or more pages long CVs are not recommended unless you have many years of relevant experience or are applying for a job in academia or STEM industries.
Create a master CV, research the company culture, and wisely plan your CV content and structure. Once you have done this, move on to writing a vacancy specific CV for each company you apply for. Proofread and edit your CV along the way and at the end before submitting your application. Use action verbs and be clear, avoiding any ambiguities in your text. Don't forget to include the keywords and list specific job requirements confirmations based on the company's website and job description.
How to write a good marketing CV?
To craft a good marketing CV, research company culture and values, and know what skills you need to put down based on a job description. Consider adding professional courses and technical (hard) skills to further boost your chances of landing a job. Use a master CV as a cheat sheet for all your future job-specific applications. 
Marketing jobs are in demand because it drives revenue in business. It provides you with versatile career options continually evolving to meet the new demands of consumers. Marketing attracts people from all backgrounds and there is always room for a newbie. This kind of job attracts both creative and data-driven people. 
Where can marketing take you?
Marketing is a diverse field with many branches that might interest you: social media, e-mail, video, display, affiliate, search engine (e.g. SEA, SEO) marketing. As for the job positions, the most common jobs include marketing specialist, social media manager, SEO/SEA manager, content specialist, product manager, and marketing analyst.
What is inbound and outbound marketing?
To make it more straightforward for yourself what kind of marketing career you can pursue, get familiar with two main marketing branches: inbound and outbound. The former suggests using a strategic approach whereby you create content that aligns with the target audience's needs and facilitates a long-term connection between the potential customer and a company. The latter refers to reaching out to a broader audience using traditional tactics via general media advertising campaigns (e.g. billboards, newspapers, TV ads).
What is the salary for a marketing job in the UK?
Marketers are also paid pretty well and can earn from £20,000 up to £50,000 on average, depending on your job position and years of experience. Digital marketing directors at large corporations can even earn up to £100,000.
In general, digital marketing managers, web designers and analysts tend to be paid more than content writers or SEO specialists. The average salary, however, varies per company and type of industry you're applying for. 
Here is the list of common marketing jobs with the corresponding average salaries according to the UK talent page:
Marketing Specialist (£32,500 per year): creating promotional campaigns and conducting market research to support business growth. 

Social Media Manager (£35,000 per year): building a company's brand awareness via social media and digital marketing campaigns. 

SEO Specialist (£32,500 per year): a search engine optimisation expert ensures the company's website is visible, ranking high in search engines to generate steady traffic

Content Specialist (£32,967): writing blog posts, sales and email copies, and newsletters for their company's website to boost search engine visibility. 

Product Manager (£50,284 per year) uses buyer's knowledge to develop products that satisfy consumer's needs while increasing the company's profitability. 

Marketing Analyst (£35,000 per year): using data collection and data analysis to create better digital marketing plans that will increase the company's bottom line.
Does marketing have job opportunities?
There are plenty of opportunities for you as a prospective marketer in the UK job market. Marketing is one of the most prominent professions in business. With marketing, you'll have numerous opportunities to diversify your interests and gain valuable knowledge. The skills you gain are transferable and apply to many other industries.
Why apply for a marketing job position?
Marketing positions enable you to cultivate creative ideas and explore your potential. It's a job where you can freely express yourself, and you would not be assigned monotonous and tedious tasks all the time. Marketing specialists tend to have very diverse interests and areas of expertise, so don't think that all the positions require you to do the same thing.
Should I include a cover letter in my application?
Yes, we recommend you attach a cover letter to your job application. Even though recruiters may not always read it, they would still expect you to hand it in. A sound and well-written cover letter can significantly increase your chances of landing a job. Submitting it already sets you apart from many other candidates who haven't submitted one. Overall, a cover letter is a great way to include or expand on relevant information that doesn't fit your CV.
What is the difference between a cover letter and a personal statement?
A personal statement is a one or maximum two pages (500-1000 words) document alongside your CV that provides a piece of additional information about yourself. It focuses on your skills (both hard and soft) and interests rather than your career or professional achievements. Like CVs, It also needs to be tailored to the position or study program you're applying for. Unlike a cover letter, personal statements are mainly used for university applications. On the other hand, cover letters typically highlight your work experience and career ambitions with a focus on the skills needed for the concrete job position.
Need a quick and professional CV check?
While our guidelines may seem like an easy thing to do for some, for others, it can come across as quite challenging and stressful. We know that writing doesn't come easy for everyone, especially specialists who work more with numbers and figures. Don't worry! We're always here to help you. To create a brief, concise, and professional CV, you need to have the right marketing mindset and know how to meet the expectations of an employer reading your documents. If you need some assistance or guidance on improving your graduate CV, you can get in touch with us to get advice from an expert who has created thousands of CVs.
Land the interview for your dream job with CVMaker
Effortlessly create your professional CV within 10 minutes and download it whenever and wherever you want!
Create your CV
Increase your chances landing your dream job with CVMaker.