Digital Marketing CV
Sofia has selected a simple two-column Harvard template. It showcases her experience, qualifications, and digital skills concisely, ensuring it is ATS-friendly.
Create your CV
"Accomplished Digital Marketing Manager with 10-year track record of success in driving brand awareness through data-driven social media campaigns. Hold a CIM qualification and excel in designing and optimising social media strategy for Youtube, TikTok, and X with a collective of 5m+ followers."
Sofia Al-Mansoori
- Digital Marketing Manager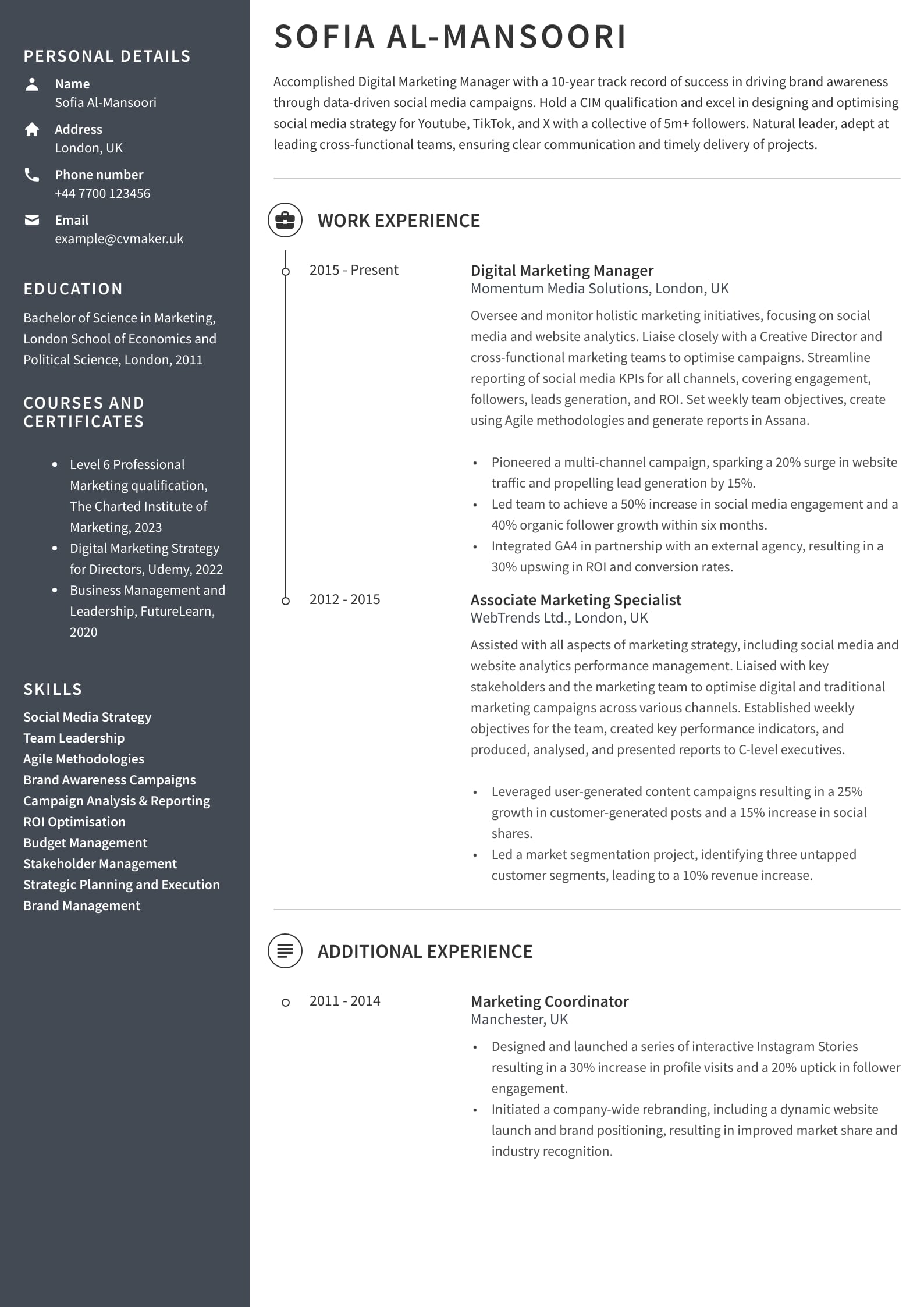 How to Elevate your Digital Marketing CV in 2023 (Free Guide with Examples)
In today's tech-driven world, digital marketing revolves around platforms like TikTok or Instagram, and your CV is your passport for entering this rapidly-changing field. However, the challenge is to create a CV that stands out as well as meets the requirements of a specific recruiter assessing your application. 
Types of digital marketing:
Pay per click (PPC)

Affiliate Marketing

Email Marketing

Search Engine Optimisation (SEO)

Content Marketing

Viral Marketing

Mobile Marketing

Social Media Marketing.
Whether you're a student or a C-level executive, this step-by-step guide shows how to navigate the Applicant Tracking Systems (ATS) and ensures you stay updated with the rigorous industry trends. From highlighting your creativity and know-how to presenting your digital skills, this article hopes to help you craft a good CV that opens doors to the UK world of marketing. 
How to kickstart your CV for digital marketing
As a digital marketer, you wear multiple hats, from writing articles to strategising and leading multiple campaigns. The goal is to align a CV to your career goals, showcasing your versatility and ability to adapt to a fast-paced digital landscape. Highlight your industry knowledge, technical skills, and relevant certifications to showcase your main talents. 
To help you with the process, create a comprehensive master CV which includes all your training, accomplishments, and projects from professional as well as academic backgrounds. Use it as a reference point for creating multiple tailored CVs. The key is to portray yourself as a skilled and motivated candidate and display your relevant qualifications accordingly. 
To accompany your CV, learn how to start a powerful cover letter.
Digital Marketer CV example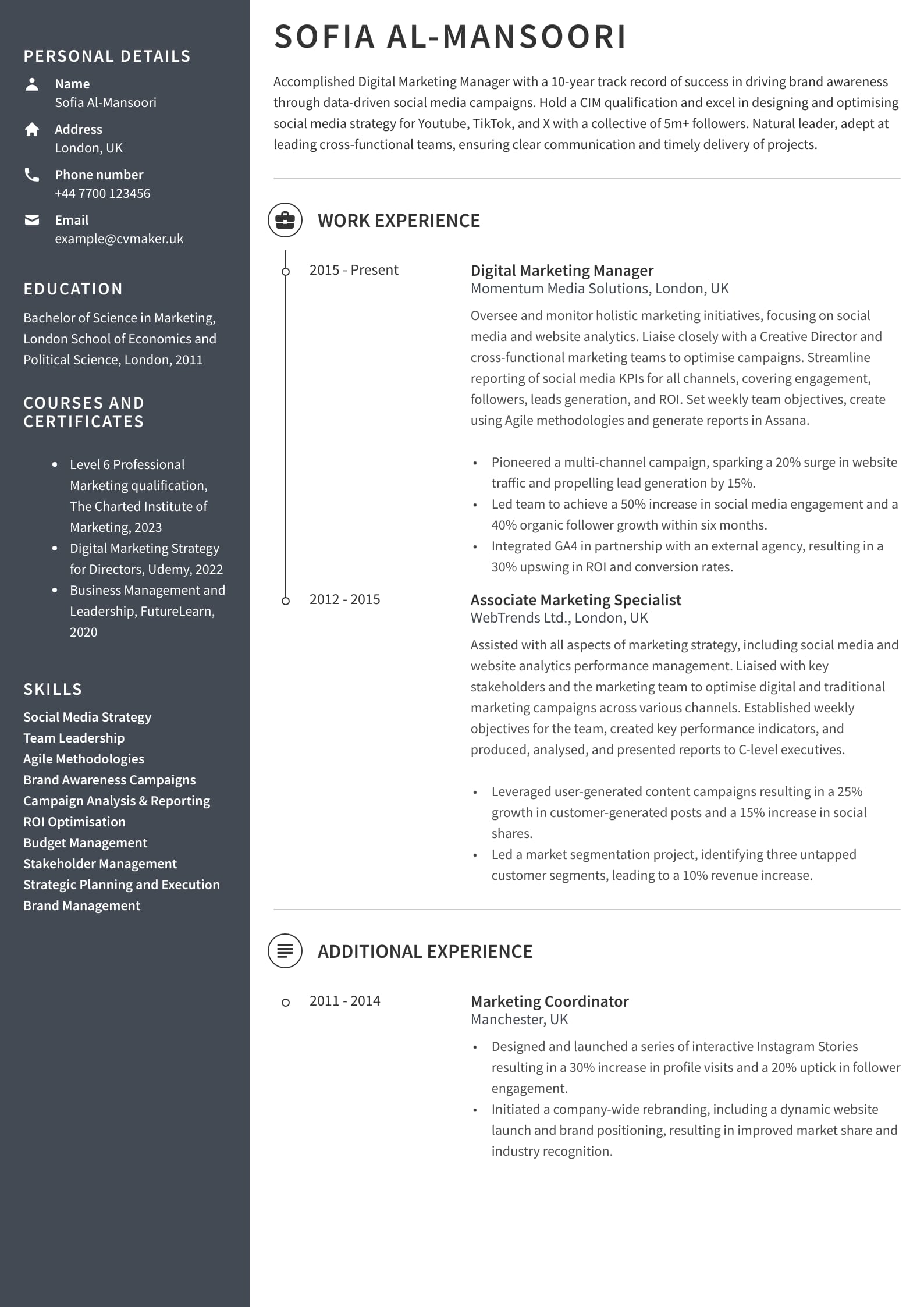 Download this digital marketing CV sample in PDF
This CV sample features Sofia Al-Mansoori, a digital marketing manager from the UK seeking to advance her career to a C-level executive role. With a strong background in leading data-driven campaigns and branding initiatives, her work experience section shows her as an adaptable candidate with a flair for creativity and social media. With a strong foundation in all branches of digital marketing, she presents herself as a professional and suitable candidate.
How to write a CV for digital marketing
Creating a successful CV involves more than just listing your skills and experience. It needs to show your personality and interest in the marketing role you are targeting. Similar to business analyst or sales, you should focus on highlighting your strengths and data-driven approach to stand out from the competition.
Ensure to include core sections, providing a comprehensive overview of your relevant expertise, experience, and career accomplishments:
Personal details

Personal profile

Work experience

Education

Skills.
As for the optional sections, they can encompass the following:
Achievements

Additional experience (volunteering or hobbies and interests) 

Courses and certificates

Technical proficiencies.
Pro Tip
If you have little to no experience, we suggest prioritising your education and transferable skills over your work experience. As a fresh starter, you must showcase your side jobs, internships, volunteer work, or any other experience.
Craft a captivating personal profile
A personal profile, also known as about me or summary, is a brief statement at the top of your CV that reflects your career goals and personality in four to six lines. It should highlight your unique qualities, such as communication and ability to adapt to industry changes. As a digital marketer, your profile could include:
Type and size of companies/clients you have worked for.

Specialisation in digital marketing (SEO, email marketing, PPC, etc.).

Type of projects you have worked on and their size and impact.

Tools and technologies you are familiar with.

Relevant qualifications or experience.
Digital marketing manager CV personal profile example
Results-driven Digital Marketing Manager with 8+ years of experience in developing and executing successful multi-channel strategies, increasing brand visibility, and leading marketing teams. Proven track record of driving business growth through innovative data-driven campaigns using Agile methodologies.
Digital marketing graduate CV personal profile example
Recent marketing graduate with hands-on experience in email marketing. Knowledgeable in CRM, digital marketing, and content creation. Eager to apply theoretical knowledge in real-world marketing. Committed to driving business growth via data-driven campaigns.
Digital marketing internship CV personal profile example
Motivated student seeking a digital marketing internship to gain practical experience in social media. Proficient in using Instagram and Facebook for content writing and eager to learn and contribute to marketing initiatives. Strong team player with excellent communication skills.
Digital marketing fresher CV personal profile example
Passionate marketing graduate, specialising in social media. Seeking to apply creativity skills and contribute to digital marketing success. Skilled in SEO, content writing, and sales techniques. Quick learner with a proactive attitude and strong analytical skills.
Digital marketing apprenticeship CV personal profile example
Highly motivated apprentice eager to develop practical skills in digital marketing and contribute to marketing efforts during an apprenticeship. Proactive problem-solver willing to take on new challenges and grow in the field.
Digital marketing assistant CV personal profile example
Organised Digital Marketing Assistant with experience in social media, data analysis, and leading digital campaigns. Detail-orientated and skilled at coordinating tasks to ensure the seamless execution of marketing initiatives.
Digital Marketing consultant CV personal profile example
Experienced Digital Marketing Consultant with a successful track record 5 years in developing comprehensive strategies, conducting market research, and delivering measurable results for diverse businesses. Strong expertise in SEO, SEM, and social media marketing.
Refer to apprenticeship and internship articles for more CV examples and learn strategies to effectively display your CV sections.
Create an achievements-based work experience for digital marketing 
When showcasing work experience on a CV, it is crucial to highlight relevant positions and responsibilities demonstrating your expertise, research skills, and contributions to the academic or professional community. Here are some tips on how to effectively present work experience:
Use the reverse-chronological format, starting with the most recent positions.

List both duties and achievements in 4-6 lines.

Quantify achievements if possible.

Use action verbs and concise language.

Proofread and format consistently.
Example:
Digital Marketing Manager, PixelGrowth Ltd, Manchester, UK, 2023-Present
Devise and execute email marketing campaigns to elevate customer engagement and drive conversion rates. Manage end-to-end email marketing processes, including list segmentation, content creation, A/B testing, and performance analysis. Collaborate with cross-functional teams to align email campaigns with overall business goals and ensure consistent brand messaging.
Led a cross-functional team of email marketing specialists, fostering skill development and achieving a 25% increase in campaign productivity.

Achieved a 30% surge in email open rates via targeted market segmentation and personalised content strategies.

Improved click-through rates by 20% by creating SEO-driven content based on user. 
Mention your education for digital marketing CV
Education is crucial in digital marketing, showcasing your skills and suitability for a role. Highlight high school, higher education, courses, and apprenticeships. While not always mandatory, it could add value to your CV. 
Structure:
[Degree ] in [Program name] [Institution], [Location], [date range, year of graduation, or in progress]
Examples:
Bachelor of Arts in Digital Marketing, University of Warwick, UK, 2023-Present

Master of Science in Marketing, London School of Economics and Political Science (LSE), UK, 2022-2023

Postgraduate Diploma in Digital Marketing, Imperial College London, UK, 2021.
Articulate your value proposition by emphasising key achievements such as grades or awards that align with your personality and the company's goals. Lastly, mention any side courses or volunteering roles that show your relevant experience and dedication to learning.
Showcase your skills in digital marketing CV
When writing your CV, it is essential to emphasise a diverse set of soft and hard skills that align with the specific requirements stated in the job description. They are often skilled in using storytelling to get their point across. Start by incorporating soft skills within the personal profile. For example, professional marketers are effective communicators both verbally and in writing. As for the hard skills, highlight your digital skills by creating a separate section called 'Areas of expertise' or 'Hard skills.' 
Soft skills:
Communication

Time management

Creativity

Presentation

Analytical.
Hard skills:
Social Media Marketing

Data Analysis

Graphic Design

Content Marketing

Pay-per-click Advertising.
Transferable skills:
Leadership

Adaptability

Critical thinking

Customer service

Project management.
Technical skills:
Web development: JavaScript, React.js, Node.js

Email marketing: Mailchimp, Campaign Monitor, Klaviyo

CRM: Hubspot, Salesforce, Pipedrive

SEO: Google Search Console, SEMrush, Google Analytics 4

Video editing: Adobe Premiere Pro, Final Cut Pro, DaVinci Resolve.
List relevant courses and certificates for digital marketing CV
Enhance your digital marketing CV by displaying official courses and certificates, showing your specialised knowledge with dedication to ongoing learning. Keep it concise, with each entry limited to one or two lines. Incorporate pertinent secondary and higher education courses, along with earned certifications and awards. Lastly, tailor your CV for each application, aligning it with specific digital marketing roles and sectors.
Examples of accredited certifications:
Key takeaways
From showcasing your creativity to highlighting your digital skills, this article has shown how to create and format your CV and add the most relevant sections. Leveraging this knowledge opens new doors and prepares you to efficiently navigate the competitive job market where every second counts.
Remember that your CV is more than words on paper; it's your digital signature, a testament to your adaptability and expertise in this rapidly-changing field. So, harness the insights and examples above and confidently apply for your dream job!
DOs
Focus on one field of marketing.

Highlight your digital skills and experience.

Set achievable and measurable goals.
DON'Ts
Focus on quantity over quality.

Add generic or outdated information.

Use inconsistent or technical jargon.
Next steps?
If you want to smooth out gaps or inconsistencies in your CV or create it from scratch, our career platform can assist you in every step. Using our easy-to-use CV builder, you can choose from one of 20+ professional templates and easily format your CV. If you don't want to leave your marketing skills to chance, consult with one of our experts at CV Writing Services.
FAQ
How to improve your CV in digital marketing?
As creating a CV is not always a straightforward process, there are several strategies you can use to improve both your CV and cover letter: 
Tailor your CV to the specific job and industry.

Use figures and numbers to back up your statements.

Attach links to your portfolio, courses, or personal website.

Add a personal touch.

List awards and certifications.

Keep your education section short and concise.
For more details, refer to the cover letter article.
How to write a digital marketing CV with no experience?
Carefully plan what you want to put on a CV by creating a comprehensive master CV and then adjusting it to specific roles. Focus on highlighting relevant certifications that bolster your qualifications and demonstrate commitment to professional growth.
Tailor your CV to reflect your versatility and ability to thrive in the fast-paced digital marketing landscape.

Seamlessly navigate ATS and stay current with industry trends to ensure your CV stands out.

Embrace your creative flair and highlight your digital skills to make a lasting impression.
See the article on how to write a CV with no experience for more inspiration.
How to write a graduate CV for digital marketing?
Emphasise your education, relevant courses or projects to showcase your key skills. Highlight transferable skills gained through other roles, ensuring they align with the needs of your desired job target. Additionally, you can look for a volunteering position, on-job training, or internships for students at an official company. Alternatively, consider creating a skills-based CV, focusing on your technical proficiencies and digital projects to demonstrate your capabilities.
Refer to the undergraduate and graduate articles for more information.
What digital skills to add to a digital marketing CV?
Your digital skills section need to be separated into hard skills and technical skills. To ensure the best impact, exclude outdated information and ensure they are specific to the job you're applying for:
Hard skills:
E-commerce

CRM

Influencer Marketing

Video Marketing

A/B testing

Web analytics

UX/UI design
Technical skills:
Search Engine Optimisation (SEO): Google Analytics, SEMrush, Ahrefs

Pay-Per-Click (PPC) Advertising: Google Ads, Microsoft Advertising, Facebook Ads Manager

Social Media Management: Hootsuite, Buffer, Sprout Social

Content Marketing: WordPress, Yoast SEO, BuzzSumo

Email Marketing: Mailchimp, HubSpot, Constant Contact

Data Analytics: Google Analytics, Tableau, Mixpanel

Marketing Automation: HubSpot, Marketo, Pardot (by Salesforce).
What are the top 3 qualities that a good digital marketer should possess?
Every marketer should strive for creative problem-solving, leadership, and communication skills. By leveraging your ability to work with people and creating data-driven solutions, you can be one step ahead of competitors. 
Is digital marketing a creative field?
Yes, you must have a creative yet analytical mindset to produce content and executive multi-channel strategies. Consider content marketing, for instance. It demands both innovative ideation abilities as well as adept execution to generate outstanding narratives that resonate with your target audience.
Where to get marketing experience?
The best way to start is to create a blog or personal website where you can show your skills and passion for marketing. Additionally, consider internships, volunteering, freelance work and online courses to help you further. See additional tips below:
Find a marketing internship through National Careers Services.

Volunteer for non-profit organisations and small enterprises.

Enrol in a digital marketing boot camp for specialised training.

Ask for advice from a seasoned professional to gain practical insights.

Launch mock campaigns.
Land the interview for your dream job with CVMaker
Effortlessly create your professional CV within 10 minutes and download it whenever and wherever you want!
Create your CV
Increase your chances landing your dream job with CVMaker.