Writer CV
Having progressed through a series of content writer roles Kai has strategically opted for the two-column Auckland template. It effectively showcases his relevant career history, technical proficiencies, and qualifications.
Start now
"Senior Content Writer with 5+ years of writing and editing experience, ready to excel in an Editor role. Adept at crafting engaging and error-free content while maintaining a keen eye for structure and style."
Kai Grey
- Senior Content Writer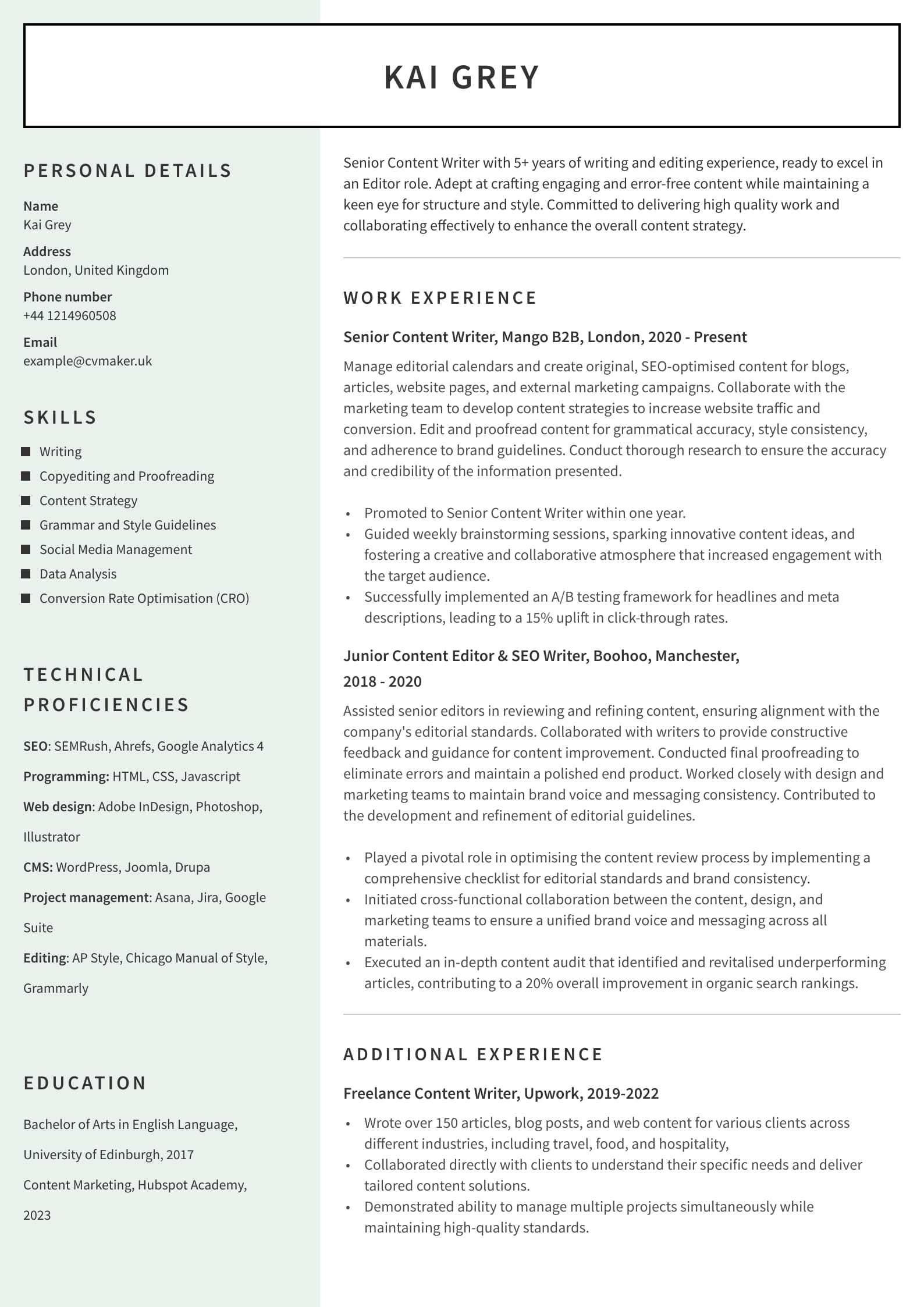 How to Craft an Impactful Writer CV in 2023 (Step-by-Step Guide with Examples)
Are you worried AI might swipe your writer's hat? With the advent of AI like ChatGPT gaining ground and automated content proliferating on the web, it has sparked concerning discussions about the future of content writing jobs. Still, the need for human-generated content is in high demand, and machines cannot entirely replace our creativity. In this ever-evolving landscape, a well-crafted CV becomes your compass for navigating the UK job market. Your mission is to captivate, inform, and establish a strong bond with your target audience.
Discover the diverse writing roles:
Freelance Writer

Copywriter or Content Creator

Novelist

Screenwriter

Editorial Assistant 

Editor 

Journalist

Technical Writer.
Whether you're a student, looking for a career change, or a seasoned professional, this comprehensive guide takes you through forging a well-crafted content writer CV but also shares practical examples for other related roles. See our best tips and examples below to help you stay up to date with the latest industry trends.
Ready to take the next step? Let your story begin now.
The CV writing process: Where to start? 
Writing is not just typing words and phrases; it's about creating an emotional link with the reader while providing them with all the necessary information. Writing a good CV is like putting together a puzzle which requires careful planning and critical thinking. Regardless of where you stand on the career ladder, the sectors writers can work in include but are not limited to:
Traditional Publishing

Marketing and Advertising

Media and Journalism

Entertainment and Screenwriting

Technical Writing 

Non-Profit Organisations (NGOs)

Education and E-learning

Public Relations (PR)

Corporate Communications

Travel and Tourism.
Start by creating a master CV which includes all your experiences, skills, and accomplishments. This document serves as a foundation for building multiple job-specific CVs. When tailoring your CV, use concise language and highlight essential skills and experiences that set you apart from other candidates. Lastly, ensure to create an applicant tracking systems (ATS)-friendly CV to ensure you include all the right keywords, technical skills, and qualifications so that the recruiter can see you've put the right effort and time into the application. 
See National Career Services for UK requirements and job opportunities.
Writer CV example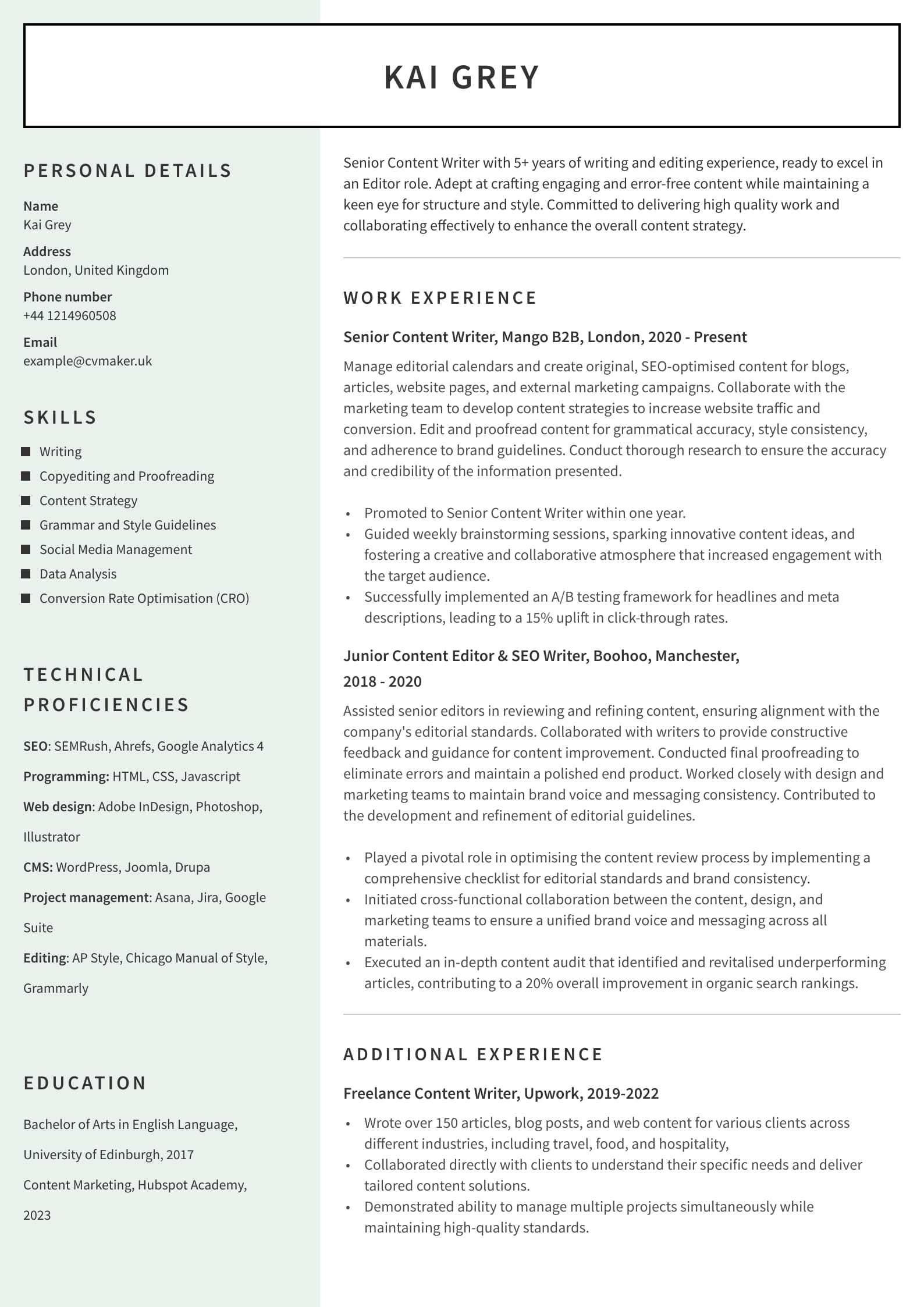 Download this Writer CV sample in PDF
This Content Writer CV sample features Kai Grey, a Senior Content Writer seeking a director's role within marketing. The work experience and education sections present him as a qualified candidate with an impressive track record of leading teams, creating style guides, and consistently delivering high-quality content. The additional sections, such as languages and freelancer experience, further showcase the interest in writing, making Kai an ideal fit for the next role.
How to write a CV for a writer?
Crafting a successful writer CV in the UK involves integrating key sections. These include personal information, profile, education, work history, and skills. Enhance it with a strong portfolio and list of top publications to help you stand out more. As you apply for different roles, customising your CV to align with your specific job targets becomes crucial as it heightens your chances of getting shortlisted for a job interview.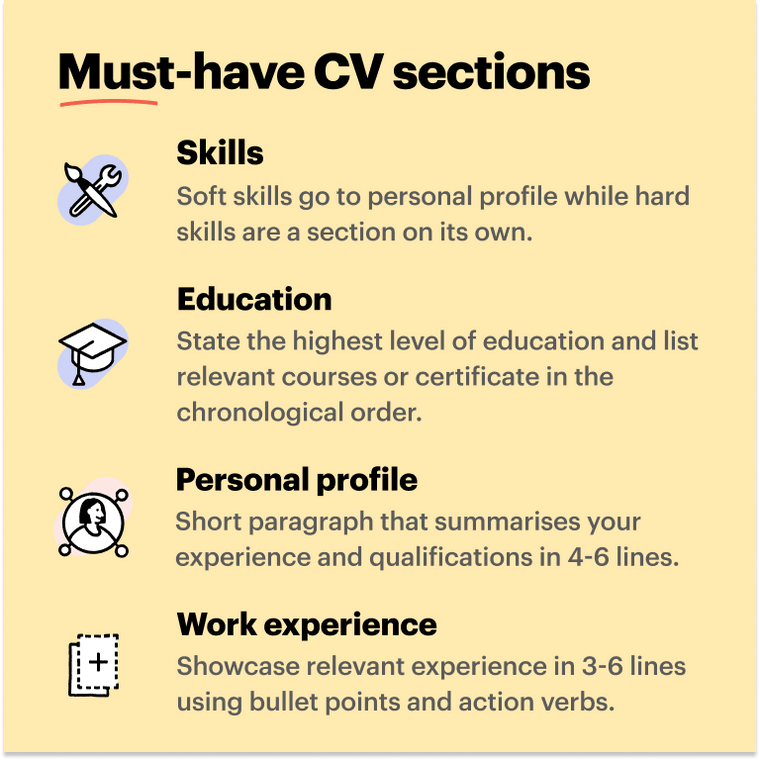 For instance, when applying for a content writer role, emphasise SEO skills and showcase related published articles. If you're targeting an editor position, highlight your meticulous proofreading and ability to adjust to different style guides and tones of voice. Lastly, for a novelist role, focus on your long-form storytelling and world-building. By effectively showcasing these key sections, you can position yourself as a qualified candidate poised to excel in your next role. 
For more information, explore the diverse career opportunities in the UK through resources such as Prospects or Reed. 
Showcase your talents in a personal profile
Your personal profile, also known as a personal statement, offers a brief glimpse into your qualifications and experiences. It presents a snapshot of your key accomplishments, akin to a captivating hook that aims to grasp the reader's attention. It should summarise your main areas of expertise and years of experience in four to six lines while aligning with the specific company's goals. Keep it clear and concise without giving too much information while focusing on the job's requirements.
Incorporate soft skills, such as:
Creativity

Leadership

Adaptability.
State your career goals, such as:
Deliver high-quality and flawless work.

Drive business growth through data-driven content strategies.

Enhance brand awareness and engagement rates.
Pro Tip
Trim down your writing by avoiding articles and personal pronouns such as 'I' and 'me'. This would make your writing more concise while keeping it professional and specific to the company's needs.
Copywriter CV personal profile example
Creative Copywriter with over 5 years of experience in the marketing and advertising sector. Proficient in crafting persuasive and error-free content for diverse audiences. Adept at translating brand messaging into a captivating copy that fosters customer engagement and conversions.
Journalist CV personal profile example
Accomplished Journalist with 8 years of success in investigating and reporting across international news agencies. Hold a level 5 NCTJ certificate, adept at using storytelling and data-driven approaches to drive conversion and engagement rates.  Exceptional communication and research skills with an extensive portfolio of writing blogs, web copies, and news articles.
Freelance Writer CV personal profile example
Seasoned Freelance Writer with a versatile background in creating content across fashion and lifestyle industries. Possess over 6 years of freelancing, consistently delivering high-quality articles, blogs, and video scripts for clients. Effective communicator, excel in adapting to diverse tones and style guidelines while consistently exceeding client expectations.
Technical Writer CV personal profile example
Data-driven Technical Writer with 4 years of expertise in the SaaS industry. Skilled in translating technical concepts into accessible and user-friendly documentation. Natural leader with a proven track record of collaborating with IT specialists and engineers to produce comprehensive user manuals and guides.
Editorial Assistant CV personal profile example
Detail-orientated Editorial Assistant with 5 years of experience in travel and tourism agencies. Proficient in proofreading, copyediting, and fact-checking, ensuring error-free written materials. Skilled in coordinating with writers, managing editorial calendars, and formatting content for various platforms. Strong organisational skills and a keen eye for consistency and quality across all publications.
Editor CV personal profile example
Experienced Editor with 7 years of experience in academic publishing within the science community. Demonstrated proficiency in enhancing manuscripts for clarity, coherence, and compliance with editorial standards. Excellent communication skills, adept at collaborating with authors to proofread and consistently edit work.
Grant Writer CV personal profile example
Established and results-driven Grant Writer with 5 years of success working for non-profit organisations. Swift learner, skilled in crafting compelling grant proposals and driving successful fundraising campaigns. Adept at conducting meticulous research, identifying relevant funding opportunities, and strategically aligning proposals with the business goals.
Proposal Writer CV personal profile example
Seasoned Proposal Writer with 6 years of expertise in the entertainment industry. Demonstrated track record in creating persuasive proposals articulating project objectives, methodologies, and value propositions. Skilled in cross-collaboration to deliver winning proposals aligned with client needs.
Quantify your writer's success using work experience
Structuring your work experience section is crucial for showcasing your relevant skills and achievements effectively. When listing your job roles and dates, use reverse chronological order and official titles to give a clear timeline of your career. Start off with your most recent positions and work your way backwards, providing your company names and years of employment. 
Examples of work experience for a writer CV:
Freelance Travel Writer, Upwork, 2022-Present
Create engaging, concise, and SEO-friendly content for website pages, cooking blogs, and print ads. Liaise with creative directors, content team, and digital marketing specialists to improve content strategies and brand awareness, aligning the company's goals. Assist with social media campaigns and adhere to the deadlines of multiple projects, ensuring timely delivery.
Write 70+ articles for a travel blog, boosting monthly website traffic by 50% within six months.

Designed and executed a content strategy, resulting in a 25% rise in social media engagement, as measured by likes, shares, and comments on Instagram and TikTok.

Created style guides that led to a 40% increase in affiliate marketing revenue. 
Editorial Assistant, The Literary Chronicle, Liverpool, UK, 2019-2023
Proofread and copyedited articles, adhering to grammar rules, style, and formatting. Coordinated with authors, literary editors, and publication managers, ensuring a seamless manuscript submission and review process. Managed content scheduling and editorial calendar, ensuring consistent article flow within deadlines. Collaborated with graphic designers and layout artists to optimise article presentation and repurpose content for social media. 
Wrote and published  200+ articles, consistently upholding high-quality standards and meeting tight schedules.

Implemented an efficient editorial tracking system, accelerating manuscript processing.

Initiated an author feedback loop, fostering manuscript improvement and engagement.
Technical Writer, TechSolutions Inc., Swansea, Wales, 2018-2022
Collaborated with software developers, product managers, and quality assurance teams to identify concrete technical specifications, ensuring seamless communication across cross-functional teams.. Transformed complex technical procedures into accessible documentation, including user guides, API references, and weekly updates. Developed company style guidelines, ensuring accuracy and consistency. 
Led engaging workshops on feedback and documentation practices, elevating content quality for all stakeholders.

Garnered a 30% increase in user engagement with technical content, as measured through user feedback and Google Analytics 4 reports

Streamlined documentation creation and review, reducing review cycles by 25% and ensuring an average turnaround time of 48 hours.
If you need more inspiration, see our digital marketer, graphic designer, and project manager CV examples. 
Integrate education for your writer CV
To become a writer, you do not necessarily require specific education or grades, as writing is a skill that can be developed through practice and dedication. Build a strong portfolio demonstrating your writing prowess and link to it in your content writer or copywriter CV. Begin with your highest degree name, institution, and graduation date using a reverse chronological order.
See the academic CV for more details regarding publications and research experience.
Structure:
[Degree] in [program name], [institution/school name], [Location], [date range, year of graduation, or in progress]
Examples of education for a writer CV:
Master of Arts in Creative Writing, University of Edinburgh, 2023-Present
Bachelor of Arts in English Literature, University of Oxford, 2023
Bachelor of Science in Journalism and Media, Cardiff University, 2022
How to write a writer CV with no experience
If you don't have any work experience, we suggest changing the focus of your CV to education and transferrable skills. Alternatively, you can opt for a skills-based CV. 
For example, on-job training, volunteering or freelance experience, internships, and a strong portfolio are often as important as the specific degree you hold. Employers often appreciate candidates who can demonstrate their ability to research, write, and report effectively through their work samples. Take advantage of relevant projects and commitment to learn and showcase them on the CV. 
See how to write a CV with no experience for more information.
Display key skills for a writer CV
Although writers have different personality traits and writing styles, what binds them together are their creative abilities and curiosity through words and ideas. When it comes to adding skills, it is quite straightforward. You should balance them out between soft, hard, and transferable skills. For more technical roles, such as a technical writer or SEO copywriter, you need to elaborate on your technical skills by listing specific tools and software in a separate section.
Feature relevant courses and certificates for writer CV
If you've completed any certificates or specialised training programs related to writing, such as content creation, journalism, or copywriting, highlight them in a separate section called 'Courses and Certificates'. This strategic approach showcases your dedication to self-improvement and positions you as a proactive and curious candidate, ready to evolve in the dynamic field of writing and publishing.
Examples of courses and certificates for a writer CV:
List your language skills
In today's interconnected world, language skills are valuable to any writer. Display your linguistic versatility and proficiency in multiple languages, especially if you're applying for an international company. They enrich your writing and demonstrate your interest in different cultures and critical thinking. This linguistic flair further showcases your ability to connect and communicate on a broader scale, increasing your chances of success.
Language

CEFR level

English

C2

French

C1

Mandarin Chinese

B2

Spanish

B1
Key takeaways
By applying top tips and creative flair, you can outshine your competitors. Harness this knowledge to open new doors to your career and prepare yourself for future job interviews. Success hinges on tailoring your CV to specific jobs, highlighting relevant sections and aspirations. Furthermore, understanding how to create an ATS-friendly CV and navigate the job market boosts your chances of landing job interviews. Equip yourself with a CV that tells your story and helps you chase your dreams and leave your mark in the world with words.
DOs
Quantify and highlight literary achievements.

Tailor your CV for each job description.

Include a strong portfolio with relevant publications.
DON'Ts
Include all your work accomplishments and details.

Use outdated or generic information.

Neglect proofreading and editing.
Next steps?
If you urgently need a new job, take a look at our CV templates to help you get started. Additionally, discover our cover letter templates to accompany your CV. To ensure you tailor your career documents correctly, get in touch with our experts using professional CV Writing Services. Lastly, explore how to start a cover letter to further enhance your writing skills. 
FAQ
What is a writer CV?
Like any standard CV, it is a brief career summary that provides a concise overview of your key areas of expertise, experiences, and achievements. The main difference is that it focuses on your wriring skills and portfolio with relevant literary work. Creating this document makes it easier for recruiters and employers to assess your application and decide if you fit the role.
How do you introduce yourself as a writer?
Present your personality by mentioning professional experience crafting engaging content across X years in the Y industry and Z field. Highlight any noteworthy achievements and showcase your ability to captivate readers with your storytelling skills.
"Accomplished screenwriter with 5 years of experience in the entertainment industry. Well-versed in translating brand vision into compelling scripts that fuel engagement and drive revenue for both established corporations and startups. Proficient in every facet of story development, script writing, character creation, Natural leader with exceptional communication skills, adept at training and mentoring junior screenwriters."
How do you put writing skills on a CV?
To effectively display your writing skills on a CV, list your proficiency in specific skills like content creation, editing, and research. Illustrate these skills through relevant achievements, such as published works and successful projects, demonstrating your capacity to deliver impactful written content.
What does a writer CV look like?
A writer's CV includes the following core sections:
Personal details

Personal profile

Work experience

Skills

Education.
You can complement your CV with the following additional sections:
Courses and certificates

Language skills

Hobbies and interests

References

Achievements.
See how to improve your CV for more details.
What are content writer skills?
The key content writer skills include strong writing, SEO foundations, market research, creativity, adaptability, adherence to grammar and style guides, collaboration, and meeting client deadlines.
How do I write a good writer CV?
Write an effective writer CV incorporating core sections such as personal profile, work experience, skills, and education. Whether you're an aspiring novelist, a content creator, or a technical writer, tailor it to one job at a time, emphasising relevant expertise and experience in a specific industry niche. It should be well-organised and concise and may include bullet points to highlight accomplishments and possibly samples of your work.
Land the interview for your dream job with CVMaker
Effortlessly create your professional CV within 10 minutes and download it whenever and wherever you want!
Create your CV
Increase your chances landing your dream job with CVMaker.