Project Manager CV
Matthew Lewis is an experienced and qualified Project Manager who has opted for the Erasmus template. His CV is simple, easy to read, and, most importantly, tailored to his career goals.
Create your CV
"A proven track record of ensuring projects are delivered on time, on budget, and within scope. Adept at project scoping, scheduling, finance, risk mitigation, quality control, and resource management."
Mathew Lewis
- Project Manager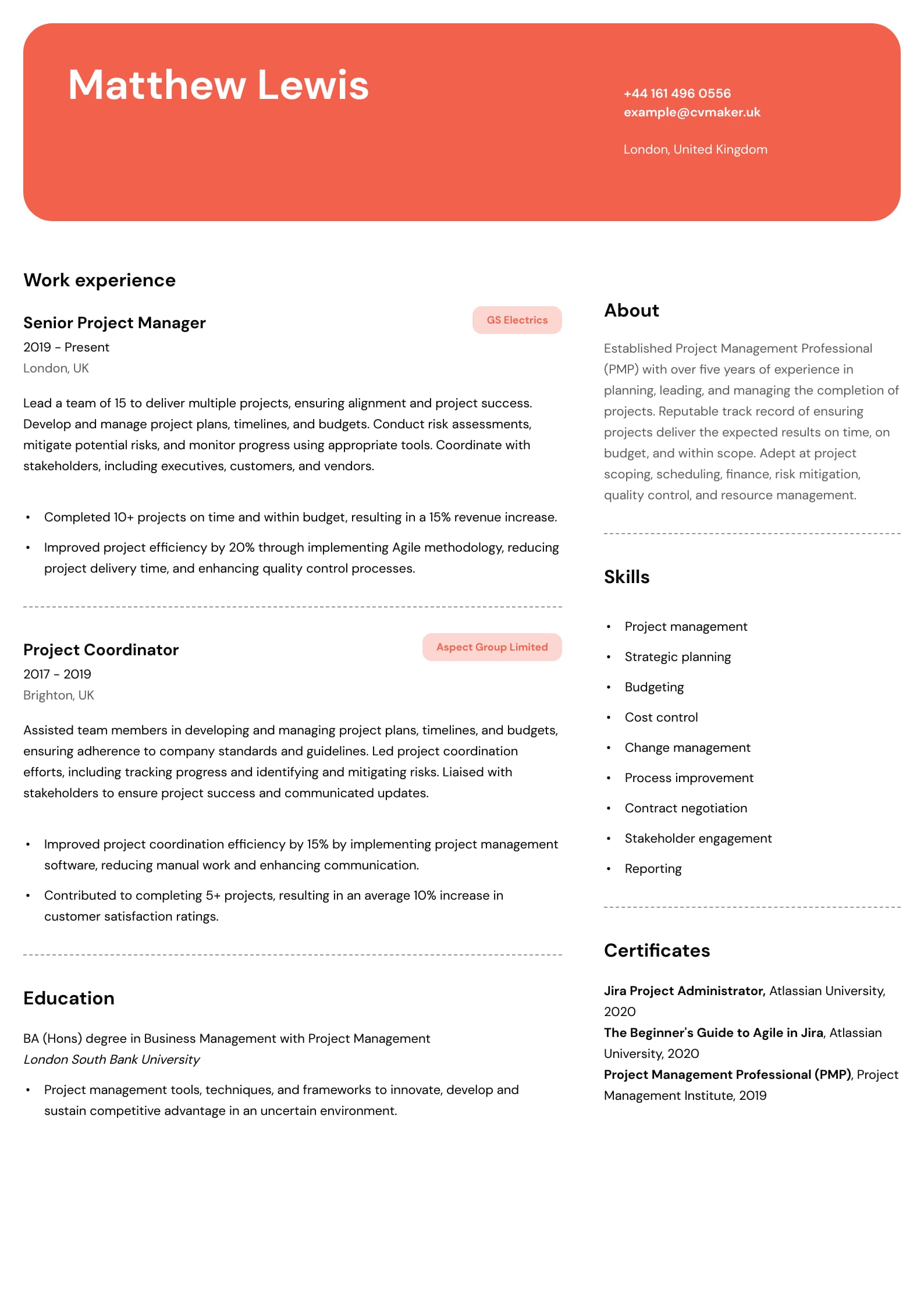 How to write a job-winning Project Manager CV with examples and tips
A career in project management comes with many benefits, including versatility in solving problems, cross-team collaboration, and the ability to switch between industries easily. As a project manager, you ensure projects are completed on time, within budget, and according to high-quality standards.
Whether you are a seasoned project manager looking to update your CV or if you are just kickstarting your career, this article is for you. Read more about what makes a good project manager CV and how CVMaker can help you achieve your career goals with their all-in-one career platform.
Project management is a broad-scope profession that includes but is not limited to:
Construction Project Manager

Electrical Project Manager

IT Project Manager

Architectural Project Manager

Marketing Project Manager

Event Project Manager
The CV writing process: Where to start?
A project manager leads a project from start to finish. When writing a CV, the project lifecycle is similar - initiation, planning, execution, monitoring, and finally, closure or, in this case, application. You need to carefully plan your professional career documents by understanding the type of role you are targeting and the industry or sector you intend to enter. Remember that the essence of any CV lies in structure and format. Clarity precedes competence. Like any project, follow a structured approach; this two-step process is highly recommended.
Master CV for a Project Manager
This is a log of all your information, especially your career history. The main aim of CV writing is to tailor your CV to a specific role. Creating a document containing your previous work history, education, and courses or professional training will be beneficial when creating a job-specific, tailored CV.
Pro Tip:
When writing about a previous job or experience, including everything you can recall from teams you collaborated with, projects you assisted with, or any challenges you may have faced. By documenting this now, you might be able to incorporate it into your job-specific CV later.
Job-specific CV for a Project Manager
Creating a CV for every job application might seem time-consuming, when in fact, the reason for not doing so might be why you are waiting to hear back from recruiters. Another reason for creating a tailored project management CV is due to automated software known as Applicant Tracking System. Many recruiters use this to filter out candidates by specific keywords, experience, and education. Hence, having the correct CV sections and content is more crucial than ever.
Project Manager CV example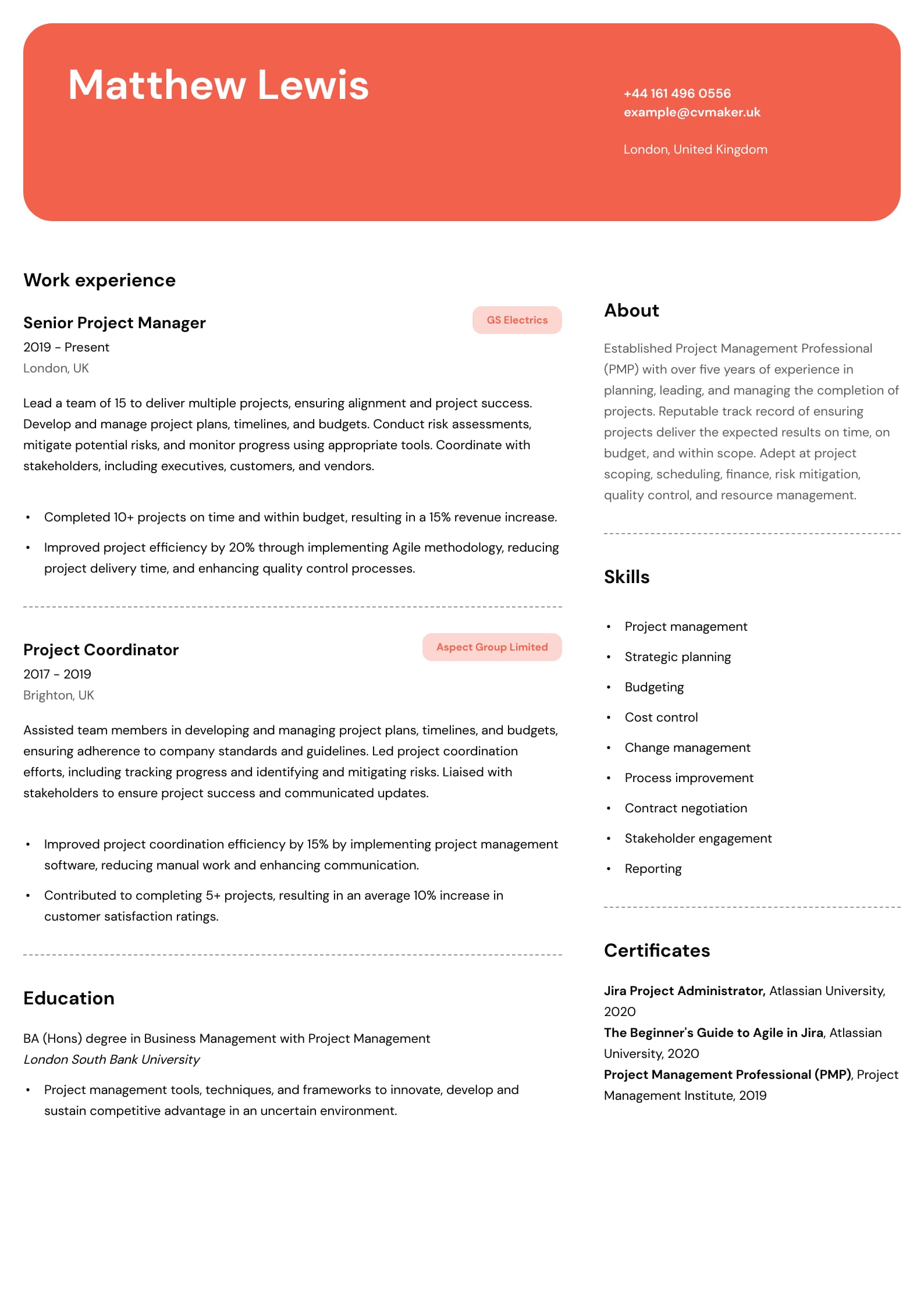 Download this CV example - Project Manager CV
Matthew Lewis is an experienced and qualified Project Manager who has opted for the Erasmus template. His CV is simple, easy to read, and, most importantly, tailored to his career goals.
What to include in a Project Manager CV? Tips and examples
A well-crafted project manager CV highlights your experience, skills, and achievements, demonstrating your ability to manage projects efficiently. Consider that certain sections come highly recommended, and others that are optional should be inclined based on their relevance to your career goals.
How to write a personal profile for a Project Manager
A personal profile is a summary at the top of your CV that briefly mentions relevant experience, soft skills, and qualifications for the desired position. It is most likely the first thing recruiters or hiring managers will read. Therefore, it should be well-written.
Examples of personal profiles for a Project Manager CV
Senior Project Manager
Agile Senior Project Manager with 15+ years of experience delivering technical solutions that drive key business strategies. Dynamic leader with proven success in leading cross-functional development teams, contributing to every step of the software development life cycle (SDLC). Strong mentorship skills with experience in training, motivating, and supporting other project managers.
Project Coordinator
Aspiring Project Manager with three years of experience organising and managing various projects throughout each project lifecycle stage. Proven success in supporting teams by assisting with administrative tasks such as scheduling, resource allocation, reporting, contracts, and logistics.
Director of Program Management
Seasoned Project Manager with over five years of experience as a Director of Program Management. Knowledgeable in program management principles, strategy, and financial management with a proven ability to deliver high-value projects on time and within budget. Adept at supervising large teams by leveraging strong communication, conflict resolution, and leadership skills.
What skills to put on a Project Manager CV
A competent project manager must be well acquainted with industry-specific concepts, methodologies, practices, and vocabulary and have solid technical proficiency in specific tools and techniques. You must demonstrate certain skills on your CV, whether a seasoned project manager or a junior.
For a more senior role, you should have the proven ability to manage teams/projects and bring them to success. For more junior positions, you must showcase your willingness to learn by being proactive and taking the initiative to ensure delivery on time and within budget. To work in this field means you need both people and technical know-how; below are some examples of hard and soft project management skills to include in your CV.
The competencies and attributes that companies look for include but are not limited to leadership, communication, time management, problem-solving, negotiation, and decision-making.
Hard skills:
Agile and scrum methodologies

Lean project management

Budget management

Strategic planning

Negotiation skills

Resource management.
Soft skills:
Time management

Communication skills

Problem-solving

Issue and conflict resolution

Critical thinking

Adaptability.
How to write work experience for a Project Manager CV
Whether you have 10+ years of experience or are just kickstarting your career, work experience should always state what you did versus what you achieved. When adding your job history, make sure you also include what is relevant. If you have job hopped or have various short-term roles, consider excluding them.
Examples of work experience achievements to include as a project manager
Managed multiple projects with budgets ranging from £100K to £500K, resulting in successful completion within timelines.

Coordinated and led a team of 10 for a community project, resulting in increased community engagement and positive impact.

Developed and implemented a new project management process that increased project success rates, improved team collaboration, and reduced project risks.

Successfully managed a project team of 10  through a challenging project, resolving conflicts and ensuring team members stayed focused and motivated throughout the project lifecycle.

Delivered training programs, resulting in increased knowledge, skills, and abilities of the project team.

Implemented project management tools and software that increased project visibility, improved team collaboration, and enhanced project tracking and reporting.
How to list education on a Project Manager CV
Some careers may require minimal education or training; in others, you can get hands-on experience. If you are considering a shift in your career, returning to school or signing up for a certification program might be your next best bet.
To become a Project Manager, consider completing a bachelor's degree in business management specialising in project management. It also depends on the type of industry you work in. For example, you can be a qualified Civil Engineer or Quantity Surveyor who later transitions into a project management role. In this case, most professionals either choose to complete a Project Management Professional (PMP) certification, an internationally recognised professional title.
Always highlight your relevant education and certifications, demonstrating your knowledge and expertise in the field. The most common approach is to list your most recent education first, ensuring it is relevant. If you have any experience managing projects, highlight that as well. This could include projects you managed in your previous jobs or any volunteer work involving project management. Refer to the student and graduate articles for more details.
Example of how to list education on a project management CV
[Degree] in [program name] [institution/school name], [Location], [date range, year of graduation, or in progress]
Master of Business in Project Management, London University, UK, 2021-In progress

Bachelor of Science in Business Administration, London University, UK, 2020
How to list courses and certificates on a Project Manager CV
The Project Management Institute (PMI) provides certificates for entry-level project managers to more experienced project managers. In most cases, you'll need a degree and at least three years of project management experience to enter the more advanced programmes. Read more about how to include courses and certificates in your CV.
Examples of project management courses include:
Project Management Professional (PMP)

Program Management Professional (PgMP)

Certified Associate in Project Management (CAPM)

PMI Agile Certified Practitioner (PMI-ACP)

PMI Risk Management Professional (PMI-RMP)

PMI Scheduling Professional (PMI-SP).
Example of how to list certifications on a project management CV
PMP (Project Management Professional), Project Management Institute, 2022
Key takeaways
By now, you should have a strong understanding of what makes a good CV. Although there is this need to create an ATS-friendly CV, you should also make sure to include accurate information. Avoid creating a keyword-heavy CV you cannot back up within an interview.
Next steps?
Whether you are a seasoned project management professional or just kick-starting your career and need additional guidance, inspiration, or expert advice, contact our CV writing team or refer to the CV examples page.
FAQ
How long should your project management CV be?
The standard length of a CV is two pages. A one-page CV is more common for people who are recent graduates or have little experience. Sometimes, a three-page CV can be used if you are a more seasoned professional. In any scenario, brevity is key, meaning sometimes you must kill your darlings to keep only the most relevant and vital information in your CV. Instead, you can elaborate on any details or additional experiences in a job interview.
How to highlight project management skills on a CV?
Skills should be strategically listed throughout a CV, from having soft skills incorporated into the personal profile and hard skills mentioned separately. If the job description requires you to be proficient in a specific tool, consider adding a technical skills section to elaborate on specific tools, programmes, or software.
What is the best CV template for a project manager?
CVMaker offers an array of CV templates, and with our easy-to-use CV Builder, you can select the best template that suits your personality. The best CV template depends on your personality, but the best format for a project manager CV is to focus on the projects you have worked on, specifically the value or type of project. This allows you to stand out from the crowd.
How to list project management skills/experience on a CV?
Always list your title if you have experience in project management or strategically incorporate keywords relevant to project management within your job description, skills sections, and other CV sections.
What keywords to mention in a project management CV?
It is important to list specific soft and hard skills, if possible, transferable skills from other work experience. The best way to do this is to conduct your research, truly understanding the role and what is required regarding skills, attitudes, or mindset.
Land the interview for your dream job with CVMaker
Effortlessly create your professional CV within 10 minutes and download it whenever and wherever you want!
Create your CV
Increase your chances landing your dream job with CVMaker.