Event Manager CV
The Yale CV template seamlessly combines key skills and education, highlighting Sarah Mitchell's extensive expertise, accomplishments and career development in the event management sector.
Start now
"Dedicated and results-oriented Event Manager with 5+ years of experience in end-to-end event planning, including budgeting and client relations. Capable of leading a team of professionals to ensure events run smoothly."
Sarah Mitchell
- Event Manager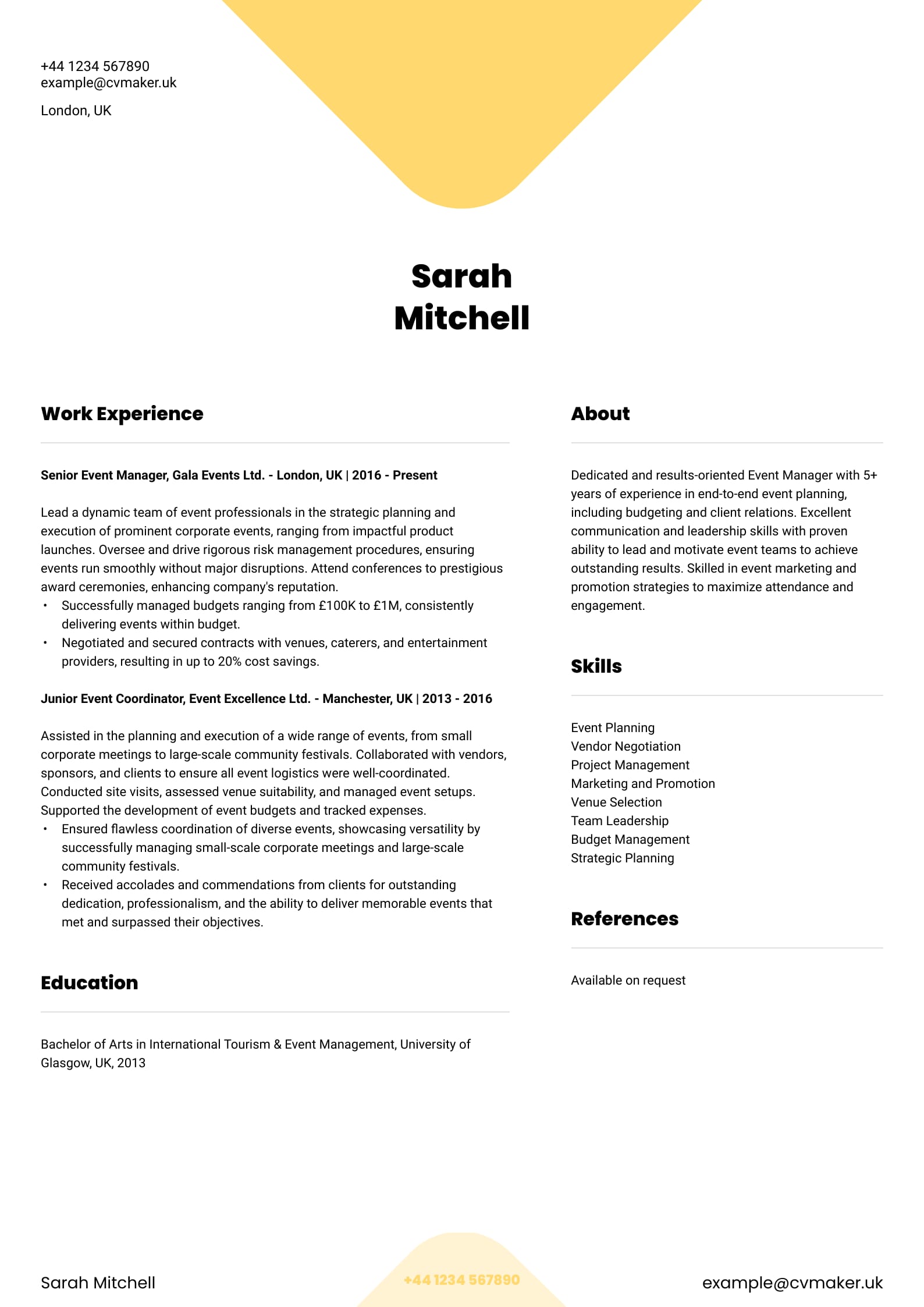 How to Write an Event Manager CV: Top Tips and Examples
Event management is a dynamic and challenging profession orchestrating memorable experiences and gatherings, ranging from weddings and corporate conferences to music festivals and exhibitions. This competitive industry is ideal for those with a passion for organisation, creativity and a flair for bringing people together.
A top-notch CV is your ticket to securing coveted positions. The CV template you choose serves as your first impression, showcasing your skills, experience and personality to potential employers.
In this comprehensive guide, we walk you through the process of creating a modern CV tailored specifically for the UK's event management sector. We provide valuable insights on how to write a good CV, granting your career an Access All Areas pass in this vibrant and fast-paced industry.
Event Manager CV example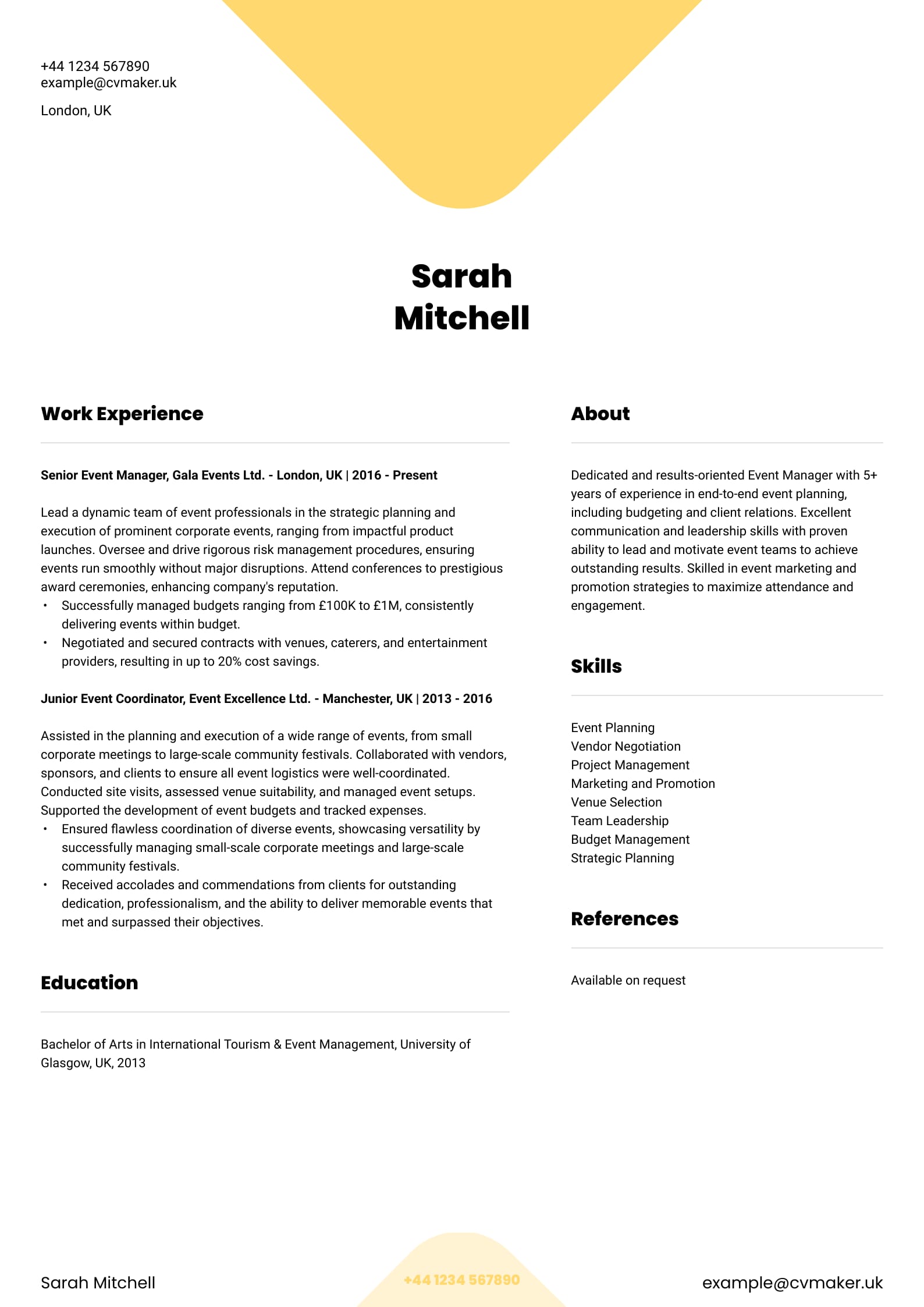 Download this sample CV in PDF for an event manager job in the UK
The Yale CV template seamlessly combines key skills and education, highlighting Sarah Mitchell's extensive expertise, accomplishments and career development in the event management sector.
What to include in an event manager CV? 
Similar to digital marketing or graphic design, event management offers a range of professional niches to explore, each with its own core competencies and clientele. With a range of opportunities to choose from, it can be tough to know where to start.
Narrow things down by answering a few fundamental questions:
What type of role are you interested in?

What are your long-term career aspirations?

What specific skills and experiences do you possess?

What industries or sectors are you passionate about?
Next, we recommend you compile your entire experience and education to date as well as any relevant personal qualities into one overarching document. This will be your master CV and will not be sent out to employers but used as a base to create job-specific CVs for each role you apply for. Creating job-specific applications helps you maintain consistency and always show your best, most relevant side.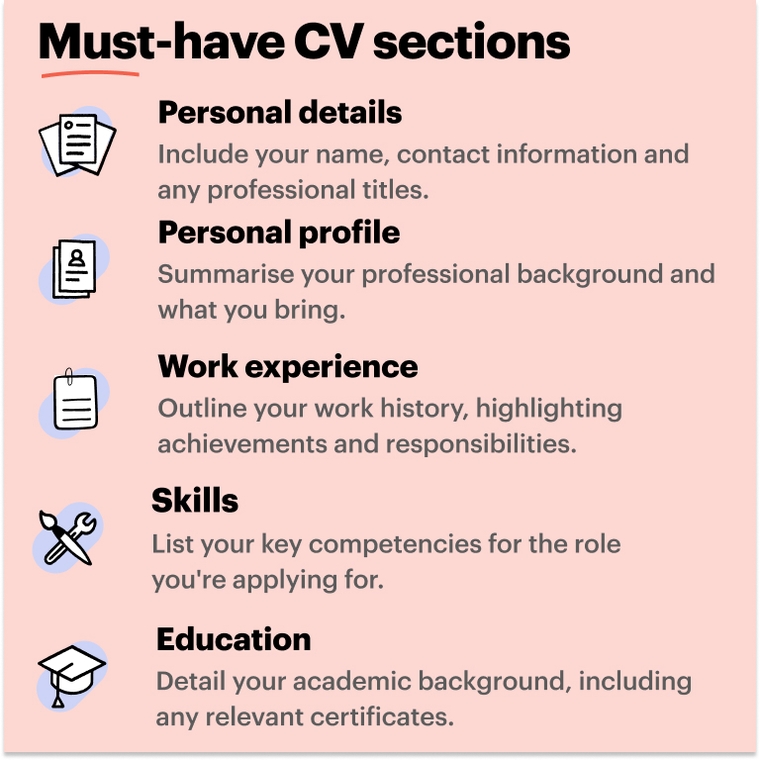 Personal profile, the perfect introduction
The personal profile on a CV is a concise outline of your unique offer as an event manager. It's your chance to grab the hiring manager's attention by highlighting your relevant soft skills, level of experience, personal attributes and career ambitions.
You only have a few seconds to make an impact. Be sure to include:
A strong opening line that grabs the attention of recruiters or hiring managers.

Your current role or job title.

Your level or years of experience.

The relevant soft skills that define you.

The unique value you'd add to the team.
For inspiration, take a look at other examples such as our artist CV or hospitality CV to see how they approach the personal profile section. 
Executive Event Manager CV Personal Profile
Dynamic and strategic leader with over 10 years of experience in delivering high-profile events internationally. Proven track record of exceeding performance goals through innovative event strategies. Excels in fast-paced environments, demonstrating unparalleled organisational skills, team leadership and a keen eye for detail. Adept at fostering relationships with stakeholders, negotiating contracts and leading cross-functional teams to exceed corporate objectives.
Event Manager CV Personal Profile
Highly motivated and creative professional with 6 years experience managing diverse events from conception to completion. Renowned for skilfully managing client expectations, budget constraints and on-site coordination. Thrives in challenging environments, consistently ensuring the seamless execution of events that resonate with target audiences and exceed client expectations.
Apprentice Event Manager CV Personal Profile
Enthusiastic and ambitious, passionate about the events industry. Eager to learn and contribute creative ideas in a collaborative team setting. Known for exceptional organisational skills, attention to detail and a proactive approach. Committed to achieving excellence and gaining hands-on experience in event planning, coordination and execution.
Pro Tip
Personal profiles do not use 'I' or 'me' and are rarely longer than 70 words or six lines of text.
Essential skills for an event manager CV 
Your skills section is a carefully curated showcase of your abilities, typically split into hard and soft skills.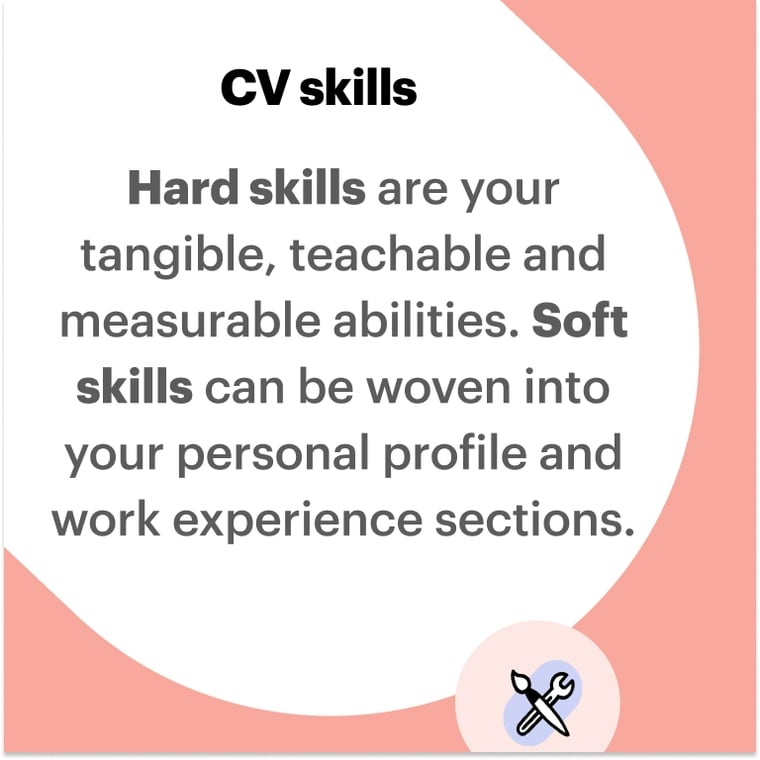 Hard skills are acquired through professional experience, education and training and should be listed under their own heading.
Soft skills are crucial for effective communication, leadership, problem-solving and adaptability in the fast-paced world of events.
Read more about what skills to put on a CV.
Executive event manager CV skills:
Hard skills

Soft skills

Financial planning

Leadership

Event technology

Crisis management

Vendor management

Strategic thinking
Event coordinator CV skills:
Hard skills

Soft skills

Event planning

Communication

Vendor negotiation

Attention to detail

Project management

Strategic thinking
Junior event planner CV skills:
Hard skills

Soft skills

Administration

Eagerness to learn

Social media

Creativity

Budget management

Collaboration
Showcase your work experience 
The work experience section is pivotal as it chronicles your journey in the event management industry. Not just a rundown of past jobs; it's an opportunity to showcase your legacy in each role, highlighting a record of success and the soft skills that facilitated it.
For each role, kick things off with a concise paragraph summarising your key responsibilities and achievements. Follow this up with two bullet points that quantify your success, using figures or specific outcomes to give a clear picture of your impact. Learn more about how to write work experience on a CV.
Pro Tip
Structure this section in reverse chronological order, meaning your most recent job takes precedence.
Event Manager | Big & Loud Events, London | June 2018 - Present
Spearhead comprehensive event planning and management processes, including detailed coordination with vendors, strategic venue selection and thorough attendee management for large-scale events. Lead a dedicated team of five coordinators, fostering an environment of collaboration and excellence to ensure the seamless execution of memorable events. Demonstrate strong leadership and communication skills, leading a team of 5 coordinators to execute seamless events.
Successfully managed 30+ events annually with a 95% client satisfaction rate.

Reduced costs by 20% through effective budget management and vendor negotiation strategies.
Executive Event Manager | Brands Live Productions, Newcastle | 2015 - 2019
Directed strategic planning and execution for an array of high-profile events, including corporate functions, international conferences and television studio-style live streams.´Demonstrated exceptional crisis management, strategic thinking and leadership skills. Established standardised event procedures and trained staff to execute them autonomously. Developed and implemented strategies to gain and maintain new client relationships. Analysed event performance, synthesising feedback and metrics to report on event success and propose improvements. 
Drove a 25% increase in year-on-year company revenue through innovative event strategies.

Enhanced client retention by 30% through exceptional service and relationship management.

Oversaw new client acquisition growth of 25%
Junior Event Manager | Harmony Wedding Planners, Brighton | 2020 - 2023
Played a key role in various facets of wedding planning, from the initial brainstorming to the 'I do' moment. Showed a genuine passion for matrimonial events, a keen eye for romantic details and a knack for bringing love stories to life. Took charge of spreading the word via social media and ensured every behind-the-scenes detail was handled with care.
Boosted social media interactions by 15%, drawing more couples to our services through creative and heartfelt online campaigns.

Assisted on 10+ weddings, each tailored to the couple's unique story, earning glowing testimonials post-event.
Event Coordinator | Here and Wow Events, Leeds | March 2019 - 2022
Coordinated logistical aspects of events, including vendor relations, guest services and event documentation. Showcased excellent multitasking abilities and attention to detail in a time-sensitive setting. Maintained detailed event documentation including contracts, floor plans, guest lists and schedules. Supported the management team in operational duties and client relationship management.
Played a key role in executing 20+ events annually, consistently adhering to budget constraints.

Recognised for outstanding customer service, receiving the 'Employee of the Quarter' award in Q3 2020.

Handled approximately between 50 - 100 client enquiries per event.
Applying with little to no work experience
If you're looking to enter the industry with little to no work experience, see it as an opportunity to highlight your soft skills, character and potential through non-traditional experiences. This approach shows employers that you possess the qualities necessary to thrive in a professional setting, even if you haven't yet done so in a paid role.
Volunteer Coordinator | Local Charity Run, Liverpool | 2023
Took the initiative to lead event planning for a local charity run, coordinated with multiple stakeholders and managed promotions. Demonstrated strong organisational skills, adaptability and a commitment to community service.
Coordinated a team of 20+ volunteers, leading to a successful event with 400+ participants.

Helped raise £15,000+ for charity, exceeding the fundraising target by 50%.
Boost your CV with the education section 
In the event management field, your education CV section enhances your experience and skills, reflecting your industry commitment. Here's how to optimise it:
Start with your latest academic achievements, in reverse chronological order, including the institution, qualification and completion date.

Add relevant courses, workshops or certifications specific to event management.

Highlight any academic honours or awards.

Recent graduates with minimal experience should consider a skills-focused CV format.

Keep entries concise; one to two sentences suffice.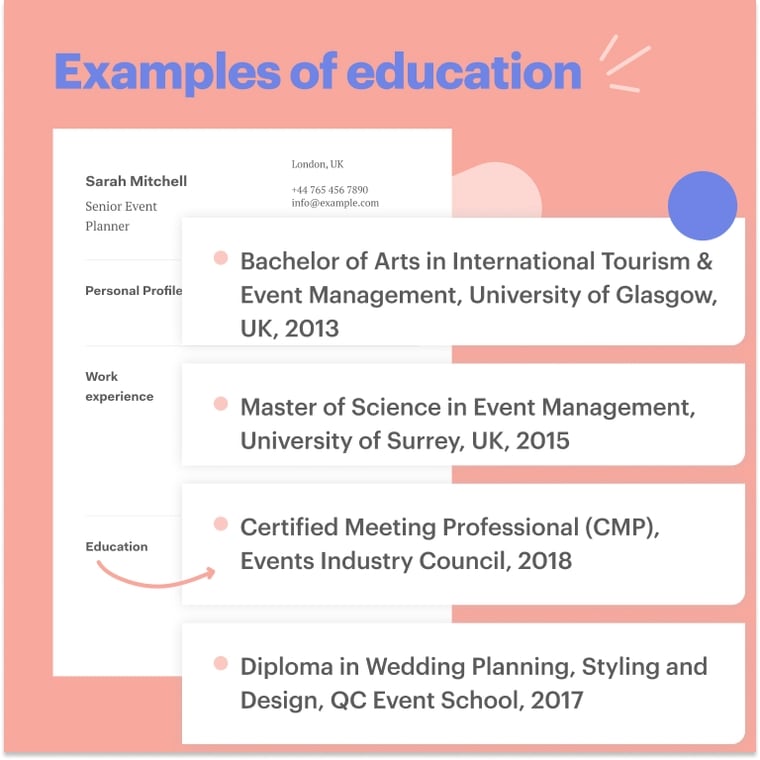 Add additional courses and certificates to your event manager CV
Adding additional courses and certificates in a CV shows you're willing to go the extra mile for your own career development, as well as the level of quality you deliver to the client. If you want to put the finishing touch to your event management CV, check out these courses:
Part-time diploma - The Event Academy
MA Event and Experience Management - Goldsmiths College
Online courses include:
Online Foundation Certificate - The Event Academy
Online Event Management Course - Institute of Event Management
Wedding Planner and Event Management QLS Level 3
Introduction to Event Management QLS Level 2
Key takeaways 
Navigating the creation of an event management CV can be a complex task. To keep things clear, here are the essential takeaways:
Next Steps?
Iron out any creases using our intuitive CV builder with 20+ templates and professional designs to choose from. To accompany your CV, discover our cover letter templates. If you don't want to leave anything to chance, connect with our professional CV Writing Service. Draw inspiration from our career blog for tips on how to save time, emphasise important sections and make it easier for hiring managers to grasp your unique professional offer.
FAQs
What qualifications do you need to be an event manager in the UK?
Event managers in the UK typically possess a bachelor's degree in fields like event management, hospitality or marketing, providing foundational knowledge of the industry. However, the field also values practical experience and specific skill sets, which can be gained through diplomas, certifications or hands-on roles in related areas.
Can you apply for an event manager position with no experience?
Yes. Candidates should emphasise any relevant skills or experiences that align with event management such as volunteer or school work. Demonstrating a genuine passion for the industry, a strong understanding of event dynamics and a willingness to learn can go a long way.
What are the 5 roles in event management?
Event Planner: Oversees the event from conception to completion, ensuring all elements align with the client's vision.

Coordinator: Manages logistics, from vendor relationships to scheduling and day-of execution.

Marketing & Promotion: Develops and implements strategies to promote the event, engage target audiences, and manage public relations.

Sponsorship Manager: Identifies and secures event sponsors, negotiates agreements and ensures sponsor visibility and satisfaction.

Guest Services: Ensures an excellent attendee experience through efficient registration, accommodation management and handling of any guest-related issues.
What is an event manager CV personal statement or summary?
An event manager's CV personal statement or summary is a concise introduction at the top of your CV. It highlights your key skills, relevant experiences, and career ambitions in event management, all in a few punchy sentences.
Land the interview for your dream job with CVMaker
Effortlessly create your professional CV within 10 minutes and download it whenever and wherever you want!
Create your CV
Increase your chances landing your dream job with CVMaker.