Musician CV
Utilising the Stanford CV template, Eleanor accentuates her unique offerings with a clean, professional aesthetic. With clear, bold headings, hiring managers can quickly identify key attributes and qualifications.
Start now
"Passionate and accomplished pianist with a demonstrated history of delivering captivating performances that resonate with diverse audiences. Received the 'Young Artist Award' from the Music Association for outstanding contributions to the local music community, 2021."
Eleanor Montgomery
- Concert Pianist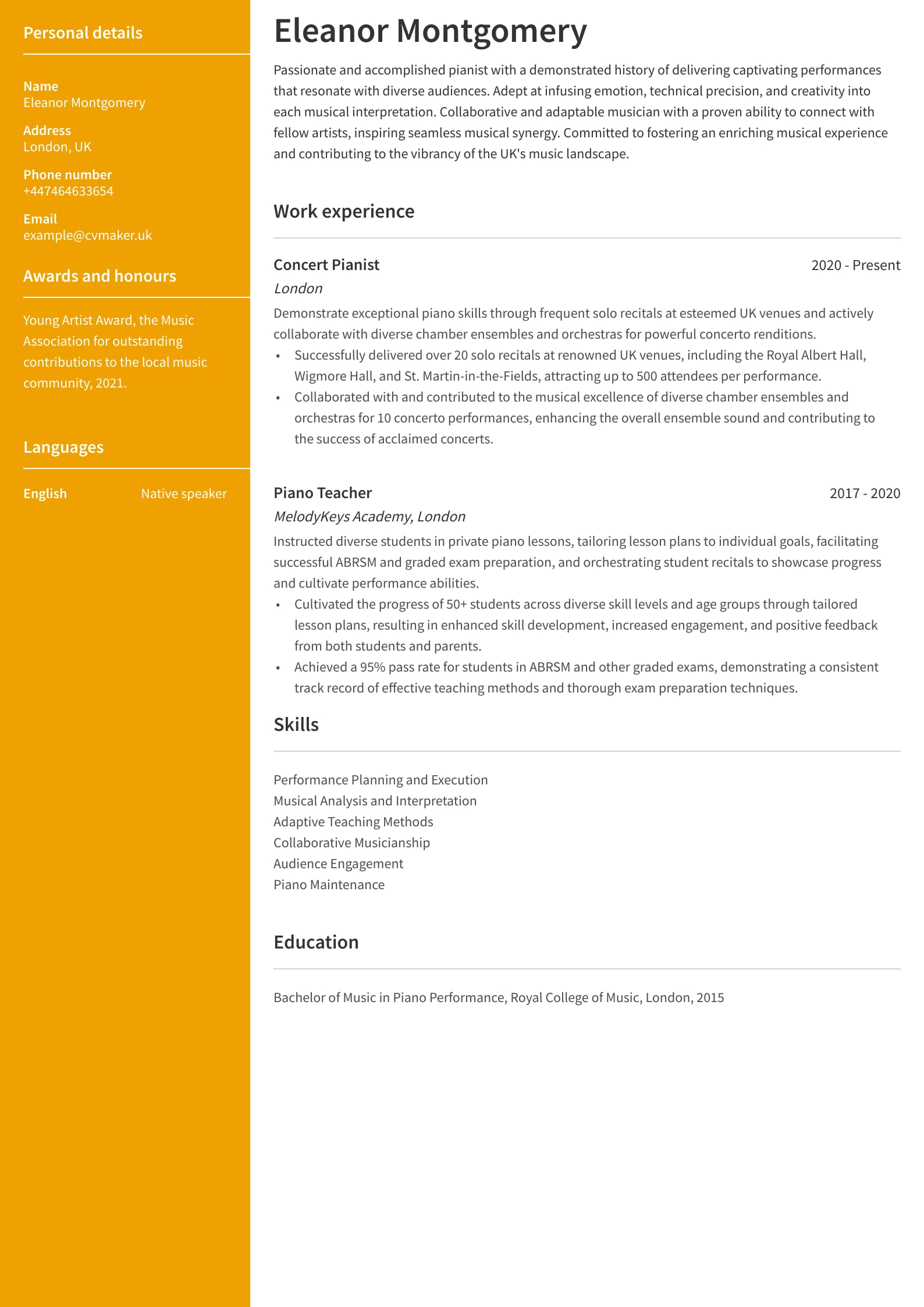 How to Write a Musician CV: Examples and CV writing tips
The world of music offers a vibrant and fulfilling career for those with a passion for melody and a calling to touch lives through sound.
This field values not only technical skills but also creativity, collaboration and versatility. It is an ideal landscape for individuals eager to contribute to concert halls, educational institutions, recording studios or live performances. Roles in music are as diverse as the notes on a scale, each contributing to the wide soundscape of the musical arts.
In this guide, we'll outline the steps to compose an application tracking system (ATS)- friendly CV for a UK-based pianist. However, we'll cover the essential elements that make your CV resonate across the musical spectrum. Whether you're a seasoned performer or just stepping into the spotlight, this guide is your keynote to a rewarding career in music.
The CV writing process: Where to start? 
Much like artists need a portfolio to showcase their work, musicians need a CV to make their mark in a competitive industry. Today's music and performance industry is as specialised as other professions like actor or teacher, with roles such as:
Music producer

Composer for film, television and video games

Session musician

Music therapist

Jingle writer

Music educator

Choir director

Orchestral musician.
Your CV is not just about the music you've made but also the experiences you've had, the training you've received and the skills you bring to the table. Writing a good CV sets the stage for your professional journey, builds trust with your potential employer and states your abilities as clearly and effectively as possible.
For consistency and convenience, start with a master CV including your musical milestones, educational background and skills. This becomes your go-to document for crafting specialised CVs for different roles.
Musician CV example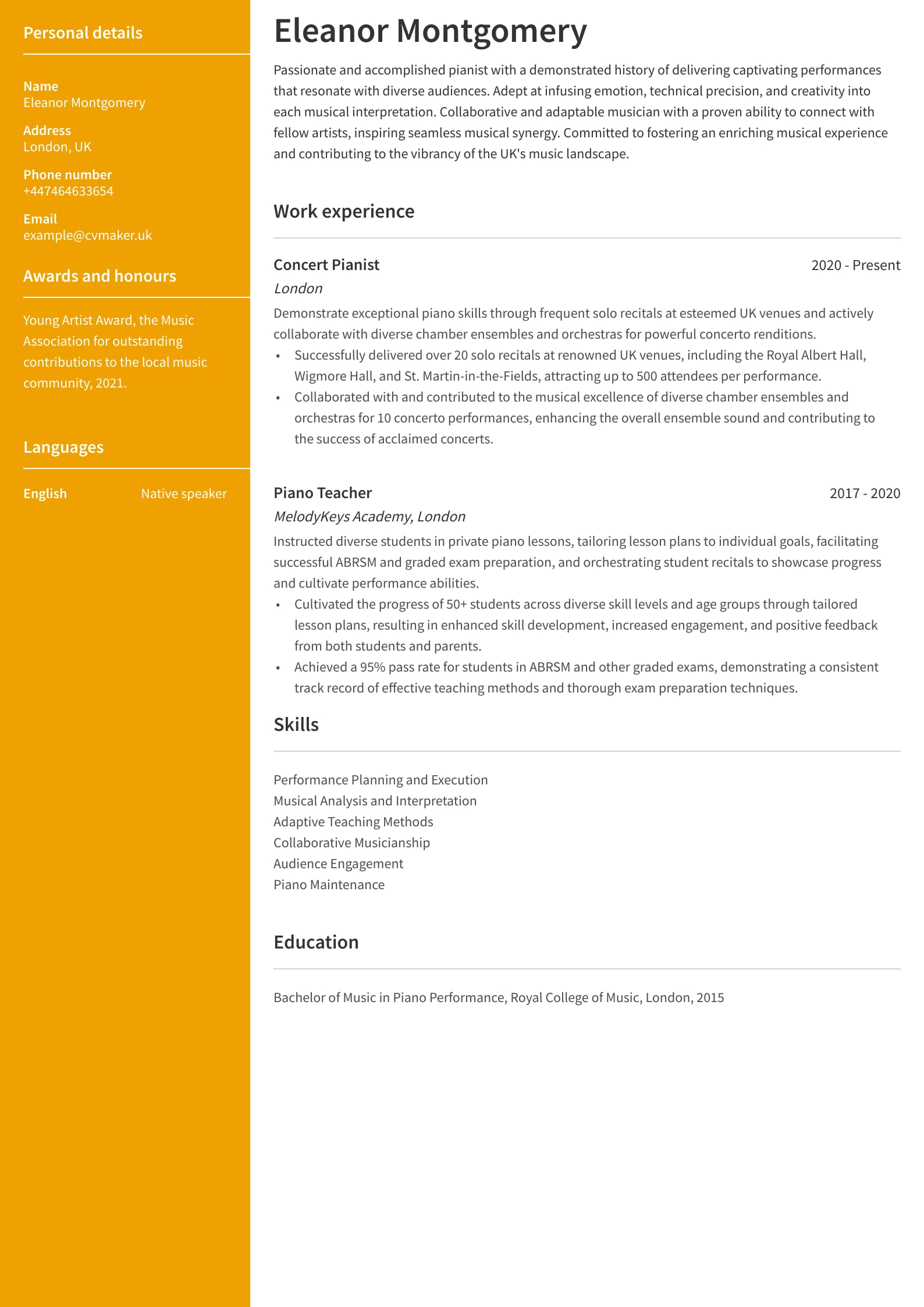 Download this Musician CV example in PDF.
Eleanor Montgomery is a highly talented and experienced concert pianist with a history of excellence in both performance and education. With clear, bold headings, hiring managers can quickly identify key attributes and qualifications. Eleanor has streamlined the process by highlighting her six years of experience as a piano teacher and concert pianist, making it easy to recognise the hard and soft skills that position her as an ideal candidate. Utilising the Stanford CV template, Eleanor accentuates her unique offerings with a clean, professional aesthetic.
What to include in a musician CV? 
While it is important to include a compelling personal profile on a CV, a list of relevant skills and a full work history - the music industry requires something more. To present yourself as a well-rounded, competent and experienced professional, it is recommended to include a variety of elements that showcase your versatility in music.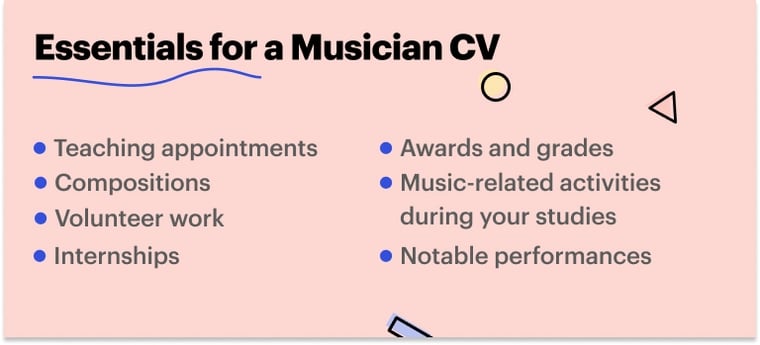 Teaching appointments: If you've held teaching positions, this not only demonstrates your mastery of an instrument or theory but also your ability to communicate and mentor. It adds depth to your CV, showing you can guide others in their musical journey.

Compositions: Original compositions can set you apart as a creative force. Whether it's a piece for a local theatre or a full orchestral score, your creations add to other tangible achievements on your CV that speak to your artistic capabilities.

Volunteer work: This can range from community outreach programs where you taught music to underprivileged kids, to volunteering at music festivals. It shows your commitment to using your skills for the greater good.

Internships: Early-career experiences like internships at recording studios or music labels can be invaluable. They offer a glimpse into the industry's business and can be stepping stones to more significant opportunities.

Music-related activities during studies: Whether you were part of a college band, a musical theatre production or a competitive choir, these extra hobbies and interests on a CV show your dedication and hands-on involvement in music from early on.

Awards and grades: Achievements like music competition wins or additional certificates on a CV in music theory or composition serve as external validations of your skills and dedication.

Notable performances: Whether it's a local gig or a national concert tour, notable performances can serve as practical examples of your stage presence and ability to engage with an audience.
By incorporating these elements into your CV, you offer a more comprehensive picture of your qualifications, making you a more attractive candidate for a range of musical opportunities.
Captivate your audience with your personal profile 
The personal profile section of your CV is like the overture of an opera. It sets the tone and captures your audience's attention. This brief but impactful introduction encapsulates your professional identity and gives them a quick overview of who you are, what you bring to the table and why you're the right fit for the role or opportunity at hand.
Pro Tip
Use the personal profile to show your research into employer values and job-specific requirements.
For a musician like Eleanor Montgomery, a concert pianist with six years of experience in both performance and education, the personal profile might look something like this.
Concert pianist CV personal profile example
Passionate and versatile concert pianist with six years of professional experience in both teaching and live performance. Adept at engaging audiences with a wide repertoire ranging from classical to contemporary pieces. Proven ability to mentor and inspire students of all ages, leveraging a deep understanding of music theory and technique. Committed to continuous professional development, as evidenced by numerous awards and additional certificates.
Additional personal profile examples for the music industry
Music teacher CV personal profile example
Enthusiastic music teacher with 8 years of experience in fostering a love for music among students of all age groups. Proven track record in developing tailored lesson plans that cater to individual learning styles. Committed to providing a solid music foundation while encouraging creativity and passion.
Music student CV personal profile example
Aspiring musician with 2 years of formal training in classical guitar. Passionate about both performance and theory, demonstrated through active participation in school ensembles and a commitment to attaining grade 8 classical guitar certification. A teachable and adaptable performer eager to further develop skills and gain professional experience.
Session musician CV personal profile example
Versatile session musician with 5 years of experience in studio recordings and live performances. Worked in a variety of styles and with diverse clients. Proficient in multiple instruments including guitar, bass and keyboard. Known for quick adaptability to various music genres, active listening and sight-reading skills. Equally comfortable improvising or playing to notation. Team player always ready to serve the performance or composition first.
Musical theatre CV personal profile example
Dynamic performer with 3 years of experience in musical theatre. Skilled in both singing and acting, with roles ranging from ensemble to lead characters. Highly dependable with a strong production-first work ethic. Open to feedback, emotionally intelligent, with excellent group working and workshopping skills. Committed to bringing energy, professionalism and emotional depth to every production.
Music producer CV personal profile example
Creative music producer with 6 years of experience in overseeing projects from concept to completion in a busy studio environment. Expertise in mixing, mastering and recording, with a deep understanding of various music genres. Excellent interpersonal skills, an eye for creative direction and a proven ability to deliver high-quality productions on time and within budget.
Pro Tip
Personal profiles do not use 'I' or 'me' and are typically no more than 70 words or six lines of text.
What skills should I put on my CV for a music job? 
In the music industry, effectively showcasing skills on your CV is instrumental in the success of your application. Employers or collaborators want to know not just what you can play, but how you play it, how well you understand it and how you interact with others in a musical setting.
As with other roles such as architect or graphic designer, skills can be categorised as either soft, hard or technical.
Soft skills are interpersonal attributes that can enhance your ability to work well with others. For a musician, these may include:
Teamwork

Adaptability

Emotional intelligence

Active listening

Stage presence.
Hard skills are quantifiable abilities that you've learned through education or experience. For musicians, these may include:
Sight reading

Ear training

Music theory knowledge

Arrangement

Digital Audio Workstation (DAW) proficiency.
Technical skills are specialised skills that pertain to the technology used in your field. For musicians, technical skills may include:
Sound editing and mixing

Ableton and Pro Tools

MIDI programming

Microphone technique

Sequencing.
Pro Tip
Weave soft skills into your personal profile while giving hard and technical skills their own space in a dedicated section. This will give both the most impact in the shortest time.
Highlight your musical journey with work experience 
The work experience section on a CV is the crescendo, where you showcase your professional journey in the music industry. It's essential to be concise and use a reverse chronological order, starting with your most recent role.
Each entry should consist of a brief paragraph outlining your duties and responsibilities, followed by bullet points highlighting quantifiable results.
Violinist | London Symphony Orchestra, London, UK | 2018 - present
Serving as a key violinist in a prestigious orchestra, performing in concerts around the world. Mastering a diverse repertoire ranging from Baroque to contemporary compositions. Collaborate closely with renowned conductors and fellow musicians, engaging in intensive practice sessions and sight-reading. Demonstrate strong skills in music theory and communication, contributing to the orchestra's reputation for high-calibre performances.
Performed in 100+ concerts over 3 years, showcasing versatility and endurance.

Received a standing ovation for a solo performance at the annual gala, attended by 2,000+ patrons.
Artist manager | Blue Face Management Agency, Sheffield, UK | 2017-2021
Served as the primary point of contact for artists, demonstrating strong communication and organisational skills. Proactively planned and implemented collaborations and media placements, showcasing a keen understanding of the music industry's dynamics. Conducted contract and price negotiations with renowned providers and service partners, evidencing strong negotiation skills. Developed and executed content strategies to elevate artists' profiles. Independently conceived, planned and managed collaboration projects, campaigns and events, taking full responsibility for budget management and control.
Secured 10+ high-profile collaborations and media placements, resulting in a 30% increase in artists' overall visibility and earnings.

Successfully negotiated three record deals with renowned providers, leading to a 25% increase in client revenue and solidifying long-term partnerships.
Composer | Various Projects, Glasgow, UK | 2016-2021
Created original music compositions, demonstrating a high level of creativity and understanding of music theory. Collaborated with diverse creative artists showcasing excellent communication skills. Involved in selecting instruments, writing sheet music and conducting rehearsals to bring each project to fruition. Led highly productive recording and production sessions. Actively engaged in marketing and promoting music across various platforms, leveraging a strong network within the industry.
Compositions featured in two award-winning films and one top-selling video game, highlighting a unique blend of creativity and technical proficiency.

Achieved a 98% client satisfaction rate, emphasising strong communication skills and a deep understanding of music theory.
Applying with little to no work experience
If you are writing a CV with little to no experience, consider the transferable skills you already have and apply them. Be sure to use any volunteer or unpaid work to your advantage.
Event Musician | Mini-Fest, Bury St. Edmunds, UK | 2023
Performed as a musician for hire across various community events during the festival weekend, gaining valuable experience in live performances. Collaborated with other musicians and took direction from event organisers to provide background music and featured performances. Demonstrated a strong work ethic, adaptability and a willingness to learn.
Received positive feedback from event organisers, leading to recurring invitations for future community events.

Engaged with audiences of up to 200 people, gaining valuable experience in stage presence and audience interaction.
Turn the spotlight on your education 
As a musician, you might think your education section on your CV takes a backseat to your performance history or skill set. However, this section offers a chance to strike a chord with potential employers or selection committees. Whether you're applying for roles as a concert pianist, music producer or composer, consider these tips to make your education section resonate: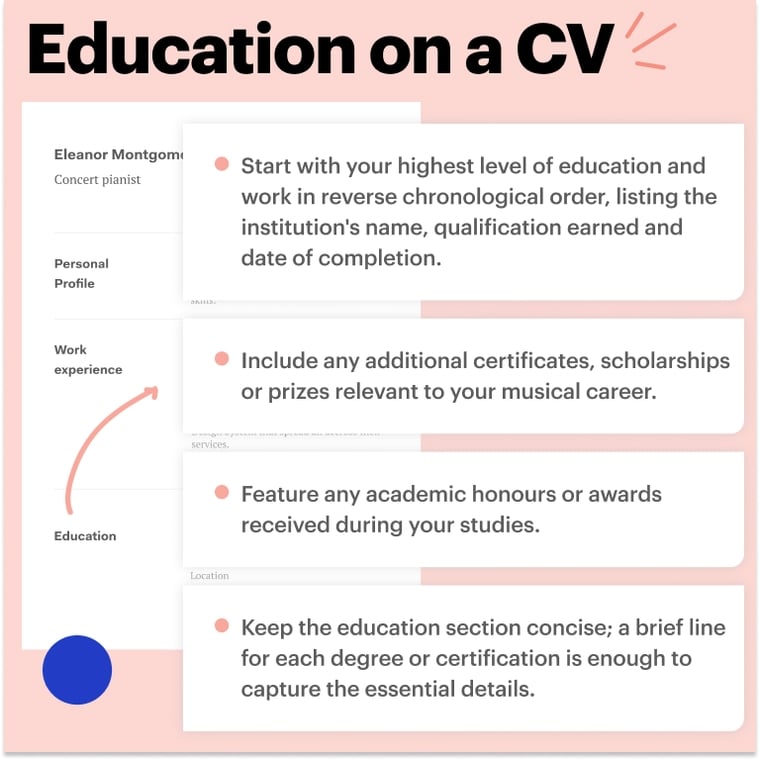 Examples of education
Advanced Piano Techniques (Short Course), Royal Academy of Music, London | UK, 2019
Bachelor of Music (Hons) Music Performance, Guildhall School of Music & Drama, London | UK, 2016
Shine with additional sections on a musician CV 
Additional sections like teaching, awards and certifications can serve as high notes, and amp up your unique skills and achievements. Here's how to fine-tune these sections to make your CV sing:
Teaching positions can showcase your versatility and depth of knowledge in music. List the institution, the courses or instruments taught and the duration of your teaching appointment. This section can demonstrate your ability to communicate complex musical concepts, adding another layer to your professional profile.
Example: Piano Instructor, London Music Academy | 2018-2021
Awards can serve as third-party endorsements of your skill and dedication. Whether it's a music competition win, a grant or an industry accolade, include the name of the award, the institution that granted it and the year received. This section can make your CV stand out by highlighting exceptional achievements in your musical career.
Example: Winner, National Piano Competition, UK | 2019
Both sections should be presented in a clear, concise and accurate manner. They offer a glimpse into your multifaceted career, making you a more compelling candidate for a range of musical opportunities. If you have limited work experience, consider using a skills-based CV format, or drawing inspiration from a graduate CV example.
Key takeaways 
Crafting a standout CV can be a tall order, with so many elements to consider.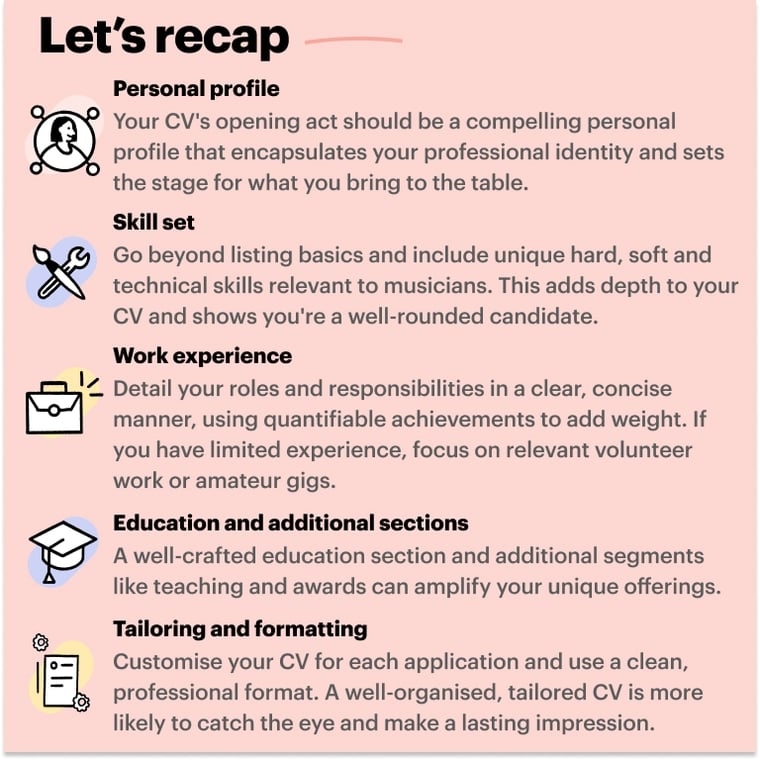 Next Steps?
Choose a CV template from one of our professionaly-designed samples to match your experience. To accompany your CV, discover our cover letter templates. If you don't want to leave anything to chance, connect with our professional CV Writing Service. Draw inspiration from our CV examples to save time, emphasise important sections and make it easier for hiring managers to grasp your unique professional offer even quicker.
FAQ 
How many pages should a music CV be? 
A music CV should ideally be one to two pages long. Keep it concise, focusing on your most relevant and impressive experiences and skills.
What is the best music CV format for the UK? 
In the UK, the best format is a reverse chronological CV, listing your most recent experiences first. Use a clean, professional layout with clear headings.
Do musicians need a CV? 
Yes, musicians need a CV to showcase their skills, experiences and achievements. It's essential for job applications, auditions and networking within the industry.
How do I get started in the music industry?
Start by gaining experience through education, internships or volunteer opportunities. Build a strong CV, network actively and consider joining industry associations to increase your visibility and opportunities.
Land the interview for your dream job with CVMaker
Effortlessly create your professional CV within 10 minutes and download it whenever and wherever you want!
Create your CV
Increase your chances landing your dream job with CVMaker.