Architect CV
David Bremner is an experienced landscape architect who has opted for the Michigan template. His colourful yet simple CV displays relevant work experience, skills, and education in a brief and concise manner.
Create your CV
"Qualified landscape architect with over 10 years of experience in planning, designing, and overseeing the development of outdoor spaces. Skilled in using computer-aided design to create functional, practical, and sustainable spaces that inspire."
David Bremner
- Landscape architect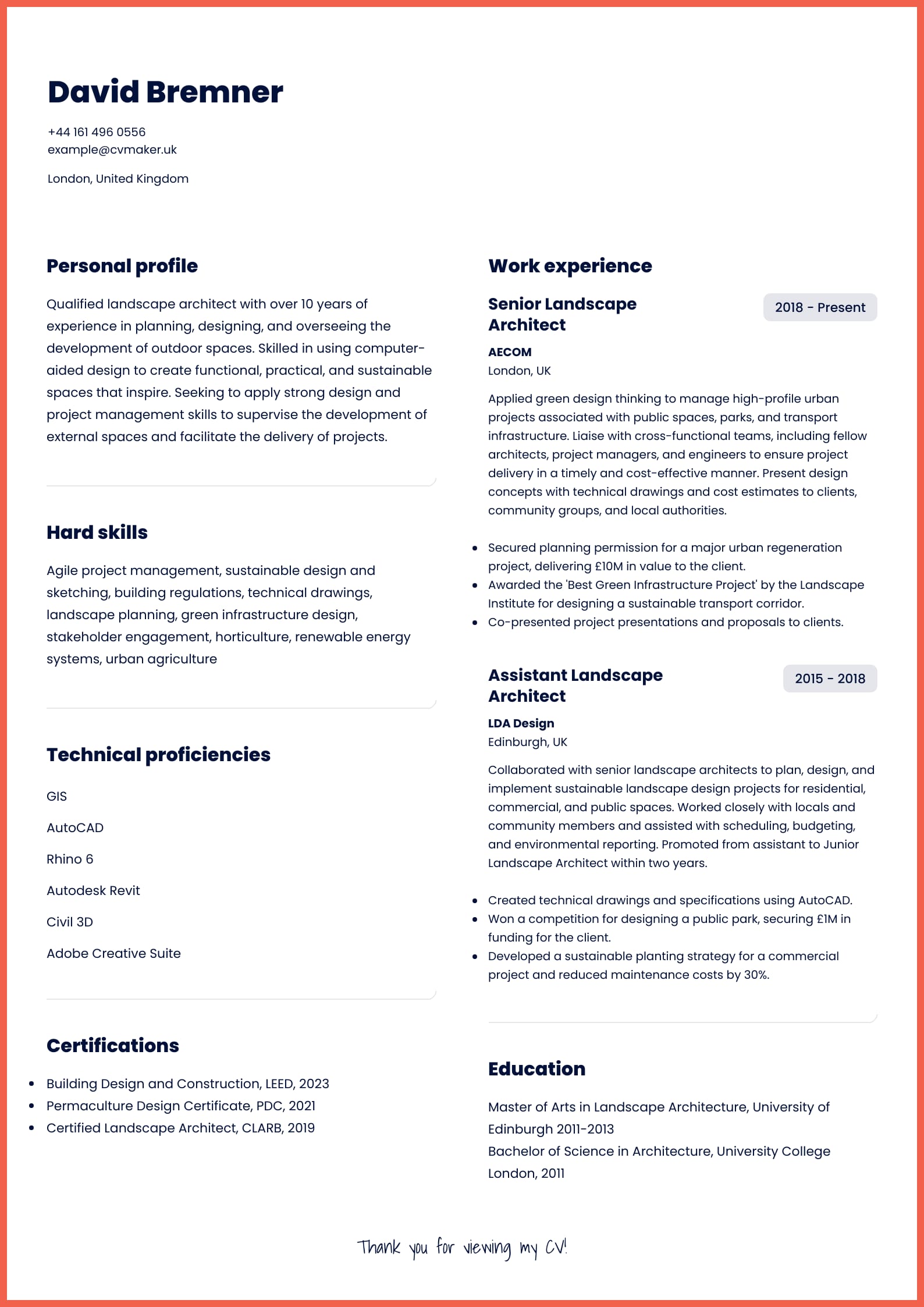 How to write an architect CV? See our template with examples and tips
If you're looking to pursue a career as an architect, you're entering one of the most sought-after professions in the UK today, with top talent being scarce. People in this field play a vital role in shaping the world around us and are responsible for designing or improving new buildings and structures. Similarly, knowing how to shape your CV is crucial, as it can help you make your application stand out and eventually land your dream job.
As an architect, you understand that the key to transforming a structure lies in careful planning and precise execution. However, when it comes to targeting the best architecture jobs, having the right skills and experience is only half the job. Architecture is an all-encompassing profession that includes but is not limited to the following:
Landscape Architect

Residential Architect

Commercial Architect

Sustainable / Green Design Architect

Interior Designer

Urban Planner

Conservation Architect

Lighting Designer

Industrial Architect

Educational Architect
This article is for you if you're about to change your career to architecture or want to learn more about what makes a winning CV, especially one that would make Frank Lloyd proud.
The writing process: Where to start?
A good architecture CV should include relevant and applicable keywords showcasing your abilities. Why? Hiring managers or recruiters can parse your CV using automated software known as Applicant Tracking System (ATS). It selects candidates based on years of experience, skills, or specific industry knowledge.
For the first step, we suggest creating a separate text document where you can write down everything you need for your job-specific CV. Document all your skills and experience so that when you create your job-specific CV, you can back yourself up in an interview. As in any CV, the career goals examples could include progressing or changing a career, creating an extensive portfolio, or improving the company's reputation or revenue.
Master CV
A master CV is a career document that provides a complete overview of your academic and professional history. It includes all your achievements, past positions, and side activities that you find useful for your job search. Although time-consuming, the value of creating a master CV outweighs the cost. Doing so saves you time by referring to it and copying and pasting the necessary information. If you're still unsure what to include in your master CV, see the cornerstone article on how to write a good CV.
Job-specific CV
A generic CV reduces your chances of landing the best architecture jobs. Therefore, you need a solid CV to stand out among a sea of candidates. Conduct thorough research on the job requirements and incorporate relevant keywords and skills that recruiters or hiring managers have mentioned in their job descriptions.
Pro Tip
Did you know recruiters only spend, on average, 9 seconds reviewing a CV? This makes it of utmost importance to keep your CV brief, relevant, and focused on your career goals.
Architect CV example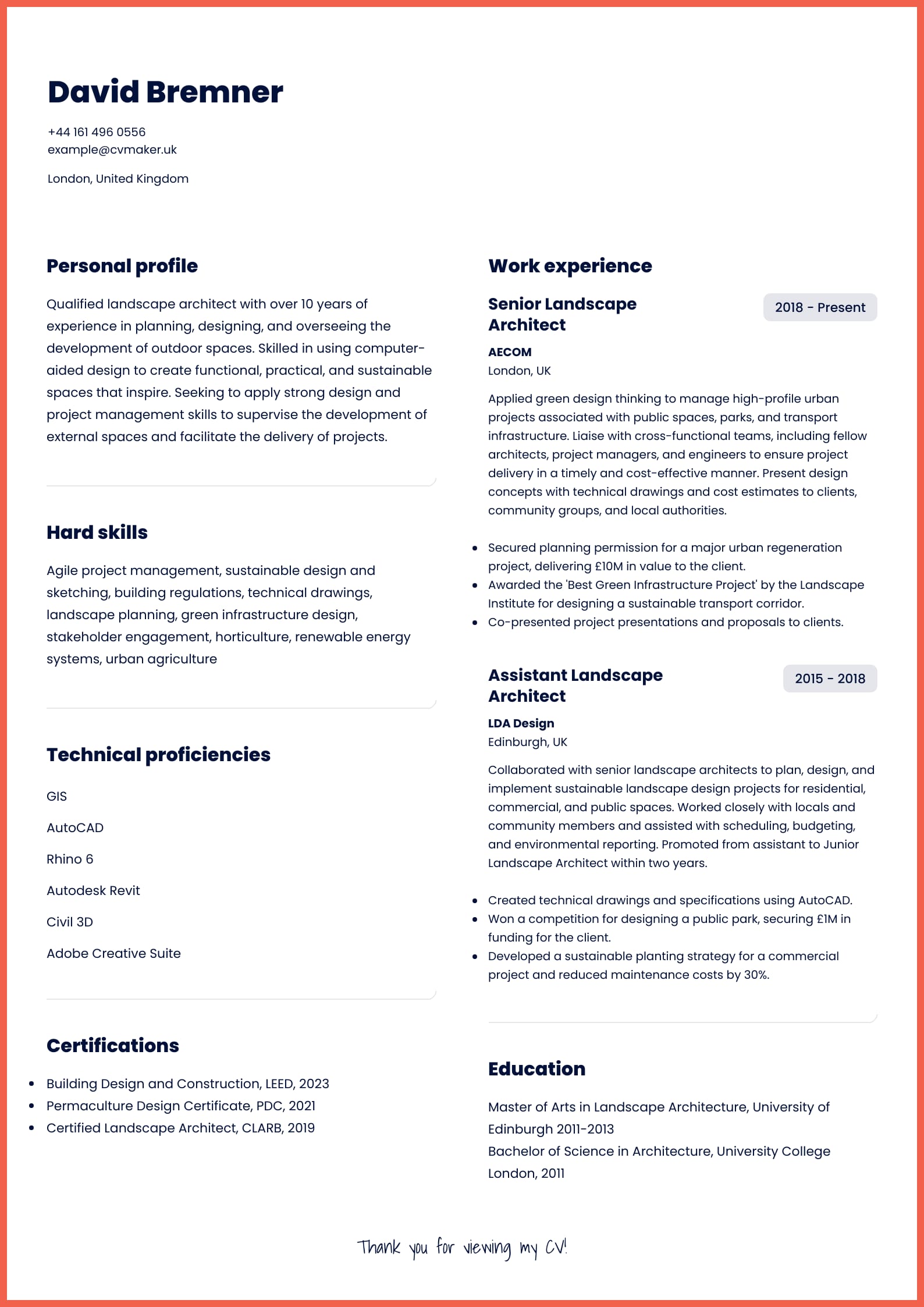 Download this CV example - Architecture CV
David is a senior landscape architect with a passion for green design and the development of sustainable outdoor spaces. This CV demonstrates work experience and skills which are relevant to his job. He has excellent interpersonal and leadership skills and a demonstrated track record of collaborating with and leading different teams. The Michigan template displays David's expertise in architecture in a simple, concise, and cohesive manner.
What to include in an architect CV? Tips and examples
As there is no standard way of crafting a CV, the sections are not set in stone. Depending on the job you're applying for, there are numerous strategies you can utilise to achieve your career goals. Nonetheless, the essence of a well-written CV stays the same. It should be easy to read, have a cohesive layout and have an ATS-friendly design.
Pro Tip
If you have prior experience in a related role, highlight it in your CV, as it can significantly enhance your chances of landing the job.
Remember that your CV goes hand in hand with other career documents such as cover letters, thank you letters, and LinkedIn profiles. Don't try to include all experiences on a CV; rather, strategically use all available resources to sell yourself.
When writing a CV, highlight your measurable achievements and unique strengths that can add value to your organisation. Remember that a CV needs to show how you can benefit the company you want to work for. Below you can find further advice for the sections we recommend incorporating into your CV.
How to write a personal profile for an architect CV 
A personal profile, also known as a personal statement, is the first section that should catch the eye of recruiters or hiring managers. In four to six lines it must outline your current or desired job title, years of experience, soft skills, and career aspirations. It's essential to make it concise and engaging. It can help you grab a recruiter's attention and increase your chances of landing a job interview. Below are examples of personal profiles to mention on a CV.
Landscape Architect personal profile example
Experienced Landscape Architect with 10+ years of expertise in designing and implementing landscape plans for a range of projects, from small residential gardens to large-scale public parks. Skilled in site analysis, conceptual design, construction documentation, plant selection, and project management.
Sustainable / Green Design Architect personal profile example
Ambitious Sustainable/Green Design Architect passionate about creating innovative and sustainable solutions that reduce environmental impact and improve quality of life. Reputable track record of designing and implementing sustainable buildings and infrastructure projects. Skilled in site analysis, conceptual design, construction documentation, and project management. Proficient in a range of software programs, including AutoCAD, SketchUp, Revit, and Energy Modeling software.
Conservation Architect personal profile example
Established Conservation Architect with a proven track record of preserving and enhancing the cultural heritage of communities through sensitive and sustainable design solutions. Skilled in historic research, site analysis, conceptual design, construction documentation, and project management. Proficient in a range of software programs, including AutoCAD, SketchUp, and Adobe Creative Suite.
Junior Architect personal profile example
Recently qualified Architect, eager to learn and contribute to the design and implementation of innovative and sustainable architectural projects. Holder of BA degree in Architecture with experience in site analysis, conceptual design, and construction documentation through internships and coursework. Strong collaborator with excellent communication skills and a passion for sustainable design.
What skills to put on an architect CV
If you're wondering what skills to put on your CV, it's more straightforward than you might think. They are three main types: hard, soft, and transferable skills. If you're writing a software architect or solutions architect CV, you can elaborate on technical skills (e.g. software and tools) in a separate section called technical proficiencies. Otherwise, you can also add the exact names of tools to your work experience or education sections. As for the soft skills, we advise you to include them in a personal profile section instead.
On the one hand, hard skills are measurable abilities you can gain through a course, training, or work experience. On the other hand, soft skills are natural character skills that you can hone in your daily life. Transferable skills come somewhere in between and are usually relevant if you need to show related or similar skills to your next employer. Additionally, if you're wondering what software to put on a CV, see examples of technical skills below.
For more details, read the article on how to list skills on a CV.
Examples of soft skills: 
Interpersonal skills

Project management

Problem-solving

Adaptable

Time management

Creative

Leadership.
Examples of hard skills:
Landscape design

Building regulations

Budgeting

Urban design

Technical writing

Project management

Knowledge of building codes and regulations.
Examples of technical skills:
AutoCAD

Revit

SketchUp

Rhino

ArchiCAD

3DS Max

Adobe Creative Suite.
How to write work experience on an architect CV  
The work experience section on a CV aims to include your most recent job positions relevant to the job you are seeking. In other words, you must list previous positions in reverse chronological order. Use concise sentences and action verbs to summarise your duties and achievements in 4-6 lines.
Examples of achievements in work experience:
Enhanced office building design and construction process, achieving 15% energy efficiency increase and a 25% operating cost reduction in year one.

Mentored and trained five junior architects, achieving a 40% increase in their project completion rates within six months.

Collaborated with senior architects and stakeholders to decide on applicable construction materials, resulting in a cost reduction of 10% via bulk orders a

Led a team of 10 architects to deliver an award-winning residential development project on time and within budget.

Implemented effective project management protocols, cutting down project delays by 50% and a 30% increase in client satisfaction.

Conceptualised and executed sustainable design solutions, achieving a 20% carbon footprint reduction.
Pro Tip
If you have experience dating back over ten years, consider removing this section or leaving out the dates without going into details.
How to list education on an architect CV  
To be qualified, you need to be acquainted with specific tools, common practices, and industry knowledge. Perhaps you already possess transferable skills from a previous job or acquired them through self-study. Either way, it's still worth including them in a separate section called 'Education'. See examples of what to include below.
Institution/school name

Degree type

Location

Date range, year of graduation, or in progress
Structure:
[Degree] in [program name], [institution/school name], [Location], [date range, year of graduation, or in progress]
If you want to learn more, see the education article.
Examples of education on an architect CV
Bachelor of Science in Architecture, The Bartlett School of Architecture, University College London, United Kingdom, 2021-In progress.

Bachelor of Arts in Architecture, University of Cambridge, United Kingdom, 2017-2020

Master of Engineering (MEng) in Engineering and Architectural Design, The Bartlett School of Architecture, University College London, United Kingdom, 2021.
If you have little to no experience, consider placing this section above work experience and elaborate on relevant courses or achievements in the section description. For more architect CV examples of education, see the student and graduate articles.
What certifications to include for an architect CV
Include courses relevant to your career goals. As a junior or senior architect, professional training or certification can be a great addition to your CV. It demonstrates your commitment to keep on learning and improving your skills. List your certification, name, course provider, and completion date. It shows you as a proactive person who takes the initiative proving you are up to date with the latest industry trends. Doing can already set you apart from other candidates.
The choice of certification depends on your target job. Most jobs usually require a degree or work experience in the relevant field. Nonetheless, adding certifications to your architecture CV can give you an advantage over other candidates. See the architecture CV examples for courses and certificates below.
Other platforms:
Key takeaways
Knowing what makes a strong CV will already make you one step ahead of other candidates. As an architect, you have been trained to devise creative solutions using practical means. After reading this article, we hope you have a better insight into creating a job-specific and master CV and strategies to make you stand out. Use our CV examples above as guidance to create your next CV. Remember that the goal is to create a CV that will leave a long-lasting impression while showing your main qualifications and expertise.
Additional tips on creating a good architect CV
Write concisely and persuasively.

Use easy-to-read and professional language.

Attach a cover letter alongside your CV.

Avoid using personal pronouns such as 'I', 'me', or 'us' in your CV.

Tailor and personalise your CV to meet your employer's needs.

Utilise relevant keywords and sections.

Proofread your CV regularly.

Only include up-to-date, relevant, and accurate information.
Next steps?
Do you need a simple yet modern CV template for your CV? Check out our CV Maker website to explore over 20 professional templates for those who need a tailored and well-formated CV. If you already have a CV at hand but need a quick review, consult with our CV Writing Service. Additionally, check out cover letter templates with a clear layout and easy-to-read structure that you can easily personalise.
FAQ
What is the best CV template for an architect CV? 
The most common design for a CV is reverse chronological, with your most recent position listed first. As a junior or senior architect, another option is to create a skills-based or project-based CV where you can focus on your achievements and areas of expertise in more detail rather than displaying a career progression. The look of a CV differs from person to person. Although having a visually appealing CV might seem crucial, it shouldn't be your main focus. Rather, focus on ways to pick the right format and layout for your architecture CV.
See how to write a skills-based CV to learn more about architect CV templates.
What does an architect do?
Architects are in charge of designing and supervising the construction of buildings, outdoor spaces or other structures. They plan, draft, and prepare documents for their contractors or clients to ensure everybody is on the same page with regard to the design vision. The specific project types and duties differ across different industries for architects. Examples of architecture jobs for a CV include Landscape Architect, Commercial Architect, Urban Planner, Residential Architect, and others.
Regularly meet with clients to understand requirements, project goals, and cost estimates.

Ensure to comply with local regulations and obtain permits to meet local building codes.

Use hand sketches or computer-aided design (CAD) software to visualise and prepare the project.

Collaborate with other designers, engineers, and contractors to conceptualise and implement the business idea.

Assess the feasibility of a project, provide solutions, and revise design ideas in case of construction or design issues.
How to write an architect CV with no experience?
We suggest directing the focus of your CV to education, skills, and additional experience sections. Within these sections, you can display your transferable skills or experience relevant to the position you seek to pursue. See the article on how to improve your CV for more details.
How to add work projects for an architect CV? 
To add projects to your CV, highlight the most relevant and exceptional ones showcasing your skills and expertise. Add a project name, key achievements in two bullet points, and completion date. Alternatively, you can create a portfolio with your achievements and any supporting documentation. If you have an in-depth knowledge of project management, architectural design, and problem-solving skills, consider creating a project architect CV where you can elaborate on more details.
How long should your architect CV be? 
Whether you are a junior or senior architect, it can range from one to two pages in the UK. Typically, a CV should be at most two pages, so prioritise the essential information and avoid redundancy. Focus on your most recent and relevant work experience, and highlight your unique strengths and achievements. Remember that the main goal is to ensure your examples meet your architect career goals.
How to define an architect project on your CV?
When defining a project on your CV, provide specific details highlighting your role and contribution to the company. Briefly outline the design process and the challenges that you overcame. Include measurable results, such as increased efficiency or cost savings achieved through your work. If you're a solutions or enterprise architect, we advise you to check out the software developer article for examples of technical skills.
Should your portfolio and CV match architecture? 
Your portfolio and CV should be cohesive and complementary, with a consistent design aesthetic that reflects your personal style and brand. Doing so will help you to create a memorable impression on potential employers and clients. Ensure that the visual style of your portfolio and CV are consistent, using the same colour schemes, fonts, and graphic elements.
Land the interview for your dream job with CVMaker
Effortlessly create your professional CV within 10 minutes and download it whenever and wherever you want!
Create your CV
Increase your chances landing your dream job with CVMaker.