CV
>
Best CV tips on how to mention language skills on a CV
Best CV tips on how to mention language skills on a CV
CV
· February 09 2023
· 4 min read
The ability to speak multiple languages not only improves your memory, critical thinking, and problem-solving skills but it can, in fact, also open up new doors when it comes to applying for jobs. Whether or not it is a requirement for a specific job, it also has the potential to demonstrate your willingness to learn and can showcase transferable skills.
Whether or not to include language skills on your CV depends entirely on the industry you work in or the type of job. It is not a requirement in the UK, but when applying for jobs abroad, it is advantageous to list your proficiency in a specific language. Your level of proficiency can range from beginner to master, meaning an A1 to C2 level. 
Take note that larger companies utilise Applicant Tracking System (ATS), an automated software, to manage hundreds of applications. It enables recruiters or hiring managers to filter by criteria such as years of work experience or specific keywords, including but not limited to language or technical skills. If you need additional career advice, see the article on how to write a good CV. Alternatively, if you seek more information on mentioning your language skills in your CV, let's get started! 
What are language skills on a CV
Languages play an essential role in building a comprehensive and attractive CV. It shows recruiters that you are open to different cultures, can communicate with people from different backgrounds and that you are team player who can understand others' views even when they don't speak the same language. Remember that if you are applying for a job abroad, we recommend including your native language. 
Where to put language skills on a CV?
Before including this in your CV, consider the job requirements and if it would be advantageous. If it is an international company, they might require you to know your proficiency level. You could leverage this skill by listing it in your personal profile and languages section. Does the job post specifically require you to be proficient in one or more languages? Then that is probably part of the selection criteria, and you want this to appear as soon as possible. 
Even if your job does not specifically require the knowledge of specific skills, there is still a chance you will encounter foreign languages in your daily work. For example, you might be expected to possess basic skills in operating English-language computer systems or know how to communicate with an international customer.
How to write language skills on a CV
You can verify your language skills through a course, certificate, or work experience. However, keep in mind that the internationally recognised framework known as the Common European Framework of Reference (CEFR) is adhered to in the United Kingdom. 
When listing your language skills, use a top-down approach. The more relevant the languages are, the higher they must be in your CV. For example, if a job you're applying for requires you to be fluent in French, mention this early and several times throughout your CV. 
All languages you have sufficient command to use in a professional setting. So do not mention a language you only know a few words of because there is little added value for an employer. In addition to foreign languages, always state your native or native languages if you are bilingual.
Example of language skills on a CV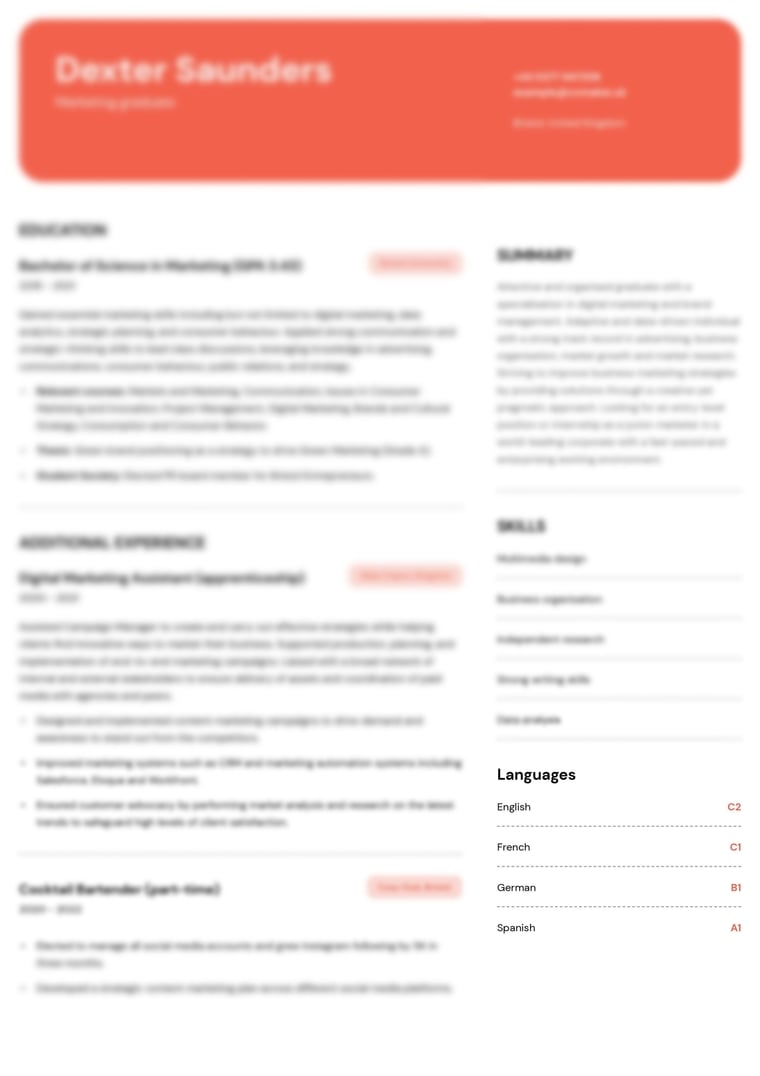 The different language proficiency levels in the UK 
Language proficiency is categorised into beginner, intermediate, and advanced levels. Depending on the language, you might need to pass a proficiency test. Remember that different languages and regions have standardised (usually government-issued) proficiency tests for students, which you can list on your CV.
Standard terminology
In a non-work sector, standard terms are typically used to indicate a language level. Use the following language levels:
Native language

Excellent

Good

Reasonable
International CEFR Standard
Are you applying for an international company? Do you want to write your CV in French? In that case, we recommend that you state your language level based on international standards. CEFR distinguishes between six different language levels:
A1 level beginner
Understand basic concepts and expressions.

Introduce yourself and ask questions to find out personal information.

Interact as long as the conversation is slow and precise.
A2 level elementary 
Understand commonly used expressions in shops, family, work, etc.

Perform tasks that require a direct exchange of communication.

Describe advanced terms in simple terms.
B1 level intermediate
Understand topics related to family, work and school.

Briefly describe experiences, events, dreams, plans, etc.

Write simple texts on topics of personal interest.
B2 level upper intermediate
Understand the context of complex texts.

Interact spontaneously without too much tension.

Create detailed texts on a wide range of topics.
C1 level advanced
Understand longer and more demanding texts or conversations.

Express ideas without looking too much.

Write structured and detailed texts on complex subjects.
C2 level mastered
Understand almost everything you read and/or hear.

Summarise information from different sources in a coherent presentation.
Key takeaways
In the end, a CV needs to be brief, relevant, and truthful. Only ever include information if required or if it will make your CV stand out. There are several strategies for listing language skills on a CV but most importantly, only do so if you can back yourself within an interview. 
Additional tips on what to avoid when putting language skills on a CV:
Be honest about your level of proficiency. If a recruiter or hiring manager doubts your skills, they can test your language level during a job interview. 

Adding languages or other optional CV sections should take as little space as possible. Alternatively, mention them in a cover letter or the application form itself. 

Create a separate CV section and keep it brief. 

We advise including your native language, mainly if you apply at an international company or abroad. 

Avoid mixing different language frameworks as it can confuse a reader and backfire your chances of getting a job.
Start creating your CV
Create a professional CV quick and easy with our advanced CV Builder
+ Create CV
Written by
The CVMaker platform offers a complete career platform for jobseekers with handy tools and valuable information. Are you ready for the next step in your career? Create your CV now
Land the interview for your dream job with CVMaker
Effortlessly create your professional CV within 10 minutes and download it whenever and wherever you want!
Create your CV
Increase your chances landing your dream job with CVMaker.