CV templates
If you are seeking professional CV templates, then look no further. Our CV templates have been professionally designed and reviewed by experts in the United Kingdom and European job market. Each CV template has been carefully created for different levels of work experience, and with our CV builder, you can easily switch between templates.
+ Create your CV
How much experience do you have?
CV template of the month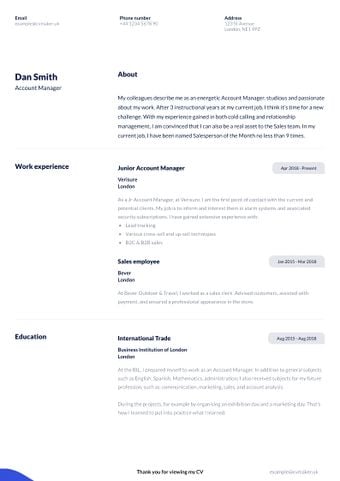 Duke Template
A modern CV template that has been carefully designed and reviewed by experts. Stand out from the crowd with this Duke CV template so you can land that first interview.
+ Create your CV

"I get very good responses to my CV. Nice and professional CV template that is suitable for both starters and professionals with more experience"
Dan Smith,
Account Manager
Looking for inspiration?
Are you looking to update your CV, or perhaps you are a recent graduate looking for what is the best CV template on the UK job market? Either way, we have created CV examples for you to find additional inspiration on what makes a good CV and which CV template to use.
Find inspiration from our CV examples.

Refer to our career blog that experts have written.

Use our CV Builder to create a CV and easily customise the layout or template.
Go to CV examples
What is the best CV template?
In today's job market, getting lost in the crowd is easy, so at CVMaker, we have selected professional CV templates for different levels of work experience. With our CV Builder, you can choose a CV template best suited to your personality and your level of experience while being able to change the layout or template with ease.
All you have to do is choose the best CV template and fill in your details!
Professional CV templates with fully adjustable layout
There are many CV templates in the market, but have they been reviewed or assessed by experts? At CVMaker, we have tested and carefully selected every CV template to ensure they are top of the range and industry standard. With this in mind and our CV Builder, you will find a suitable template for every situation to ensure you are using the correct CV layout, getting you one step closer to landing that first interview!
Additional tips on how to choose a CV template:
Use a template based on your career goals and relevant experience.

Assess the culture of the organisation.

Make sure the template is easy-to-read.
Should my template be in Word or PDF format?
Whether or not PDF or Word is preferred, can be a debatable topic. However, the most crucial part is ensuring the layout is correct and that the content is relevant. The part that becomes difficult is formatting your CV, such as moving sections around, trying to fill white space, or making it fit onto one page. With our CV Builder, you can create a CV in minutes rather than struggling with formatting.
What are the advantages of CVMaker templates?
When it comes to templates, this is only one part of writing the perfect CV. When you decide which template to use, always make sure you are selecting one that aligns with your level of experience or industry type. We have categorised our templates into four types; creative, modern, professional, and simple.
Designed and selected by experts.

Save time by easily customising or changing the layout of your CV.

Easily switch between ready-made templates.
How to structure a CV?
There are several sections that you should find on every CV but keep in mind, a CV must always be tailored to your career goals. That's why at CVMaker, we recommend the below. Note that there is no fixed way to structure a CV but rather important sections that should be incorporated or emphasised depending on your career goals and level of experience.
Preferred CV sections:
Optional CV sections:
If you are unsure how to structure a CV, what layout to use, or which CV template to choose, then refer to our CV examples for additional inspiration. Here you will find various examples and tips on how to write a CV for different job types. Additionally, visit our career blog for more tips and examples on how to write a good CV.
Choose from the best CV templates!
Over 20 professional templates to choose from

Designed by experts and suitable for any career

HR-approved
Create CV
Start creating your CV
Create a professional CV quick and easy with our advanced CV Builder
+ Create CV
Land the interview for your dream job with CVMaker
Effortlessly create your professional CV within 10 minutes and download it whenever and wherever you want!
Create your CV
Increase your chances landing your dream job with CVMaker.