CV
>
What is the Best Font for a CV in 2023 (Top Tips and Examples)
What is the Best Font for a CV in 2023 (Top Tips and Examples)
CV
· November 07 2023
· 4 min read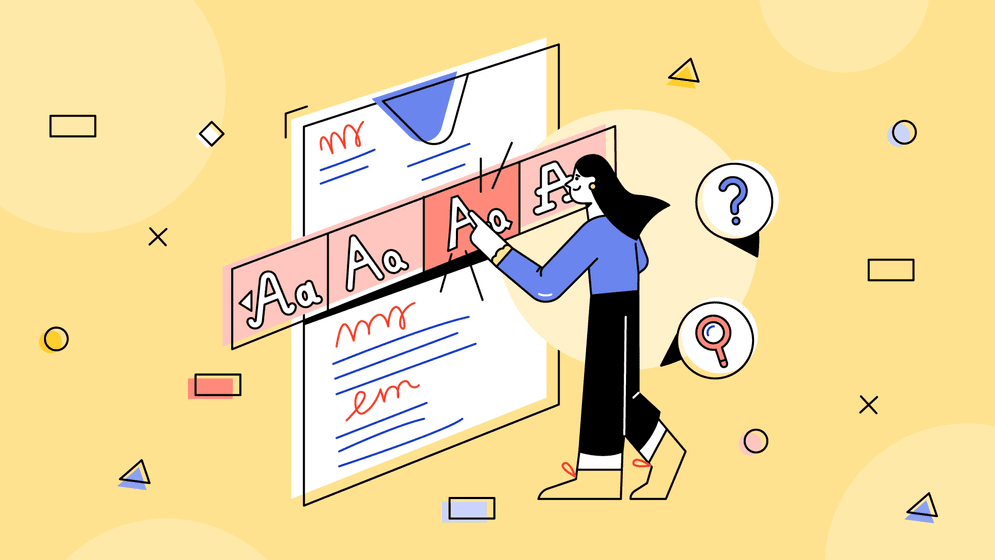 Whether you're a student, seeking a career change, or a C-level executive, this article equips you with practical tips to help you shape a sound CV. The writing process involves more than just listing your work history and qualifications - it's all about how you market yourself, including your font choice. A modern CV shifts towards clean, minimalist designs, putting simple fonts at the forefront of today's job market. Accordingly, striking a balance between professionalism and modernity while ensuring it is ATS-friendly is key to leaving a positive impression on recruiters or hiring managers.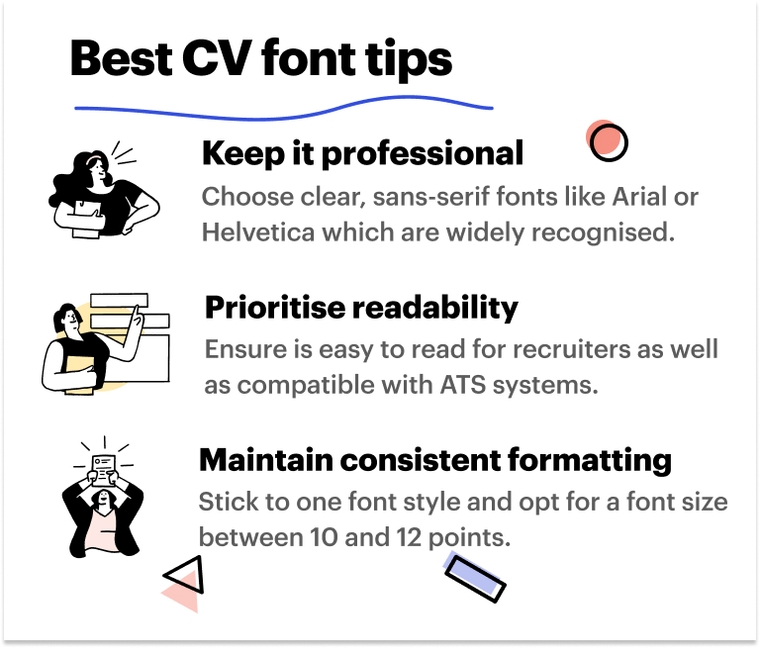 What are the top 10 fonts on a CV?
The most common fonts include Calibri, Cambria, and Arial, which are widely known for their versatility across different industries and roles, making them more suitable options for your CV. The right font can elevate your job search and make your CV design more appealing to recruiters.
Top 10 CV fonts:
Calibri

Cambria

Georgia

Helvetica

Arial

Times New Roman

Garamond

Palatino

Tahoma

Verdana.
What are the main types of CV fonts?
There are two most well-known types of fonts on a CV: serif and sans-serif. Serif fonts, known as serifs, have tiny strokes at the end of each character, giving them a more traditional and formal appearance. On the other hand, sans-serif fonts lack these strokes, offering a cleaner and modern look often preferred for online content and CVs.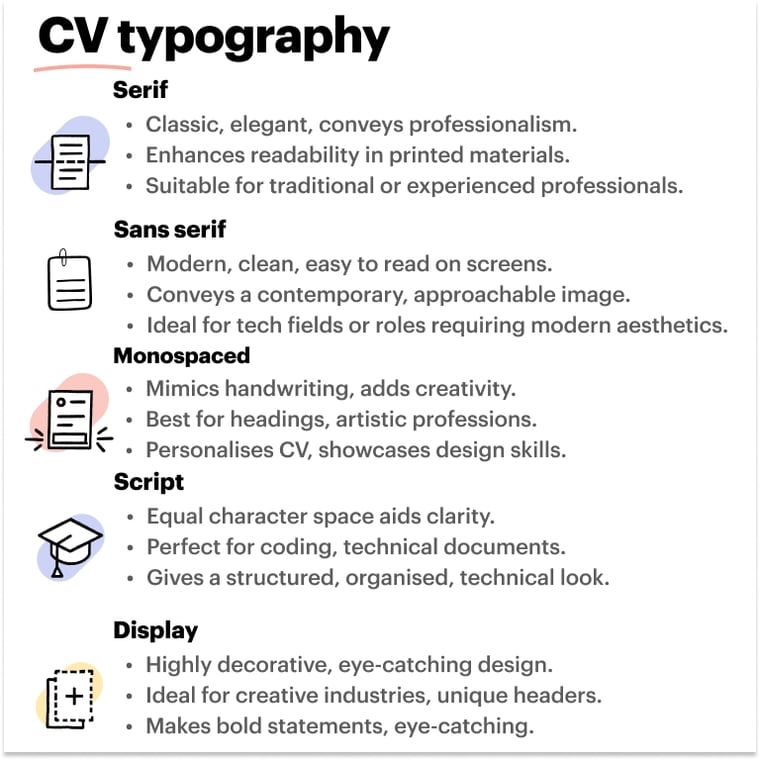 While other font types such as monospaced, script, and display exist, some recruiters may consider them less readable or unprofessional, so we advise excluding them from your CV. Knowing which category suits your industry and job role can help you choose the best font and improve your chances of landing that all-important job interview.
Serif:
Times New Roman

Georgia

Garamond

Baskerville

Didot.
Sans-serif:
Helvetica

Arial

Roboto

Lato

Verdana.
Discover how to choose the best font for your CV in three easy steps and watch our video now.
Designer CV example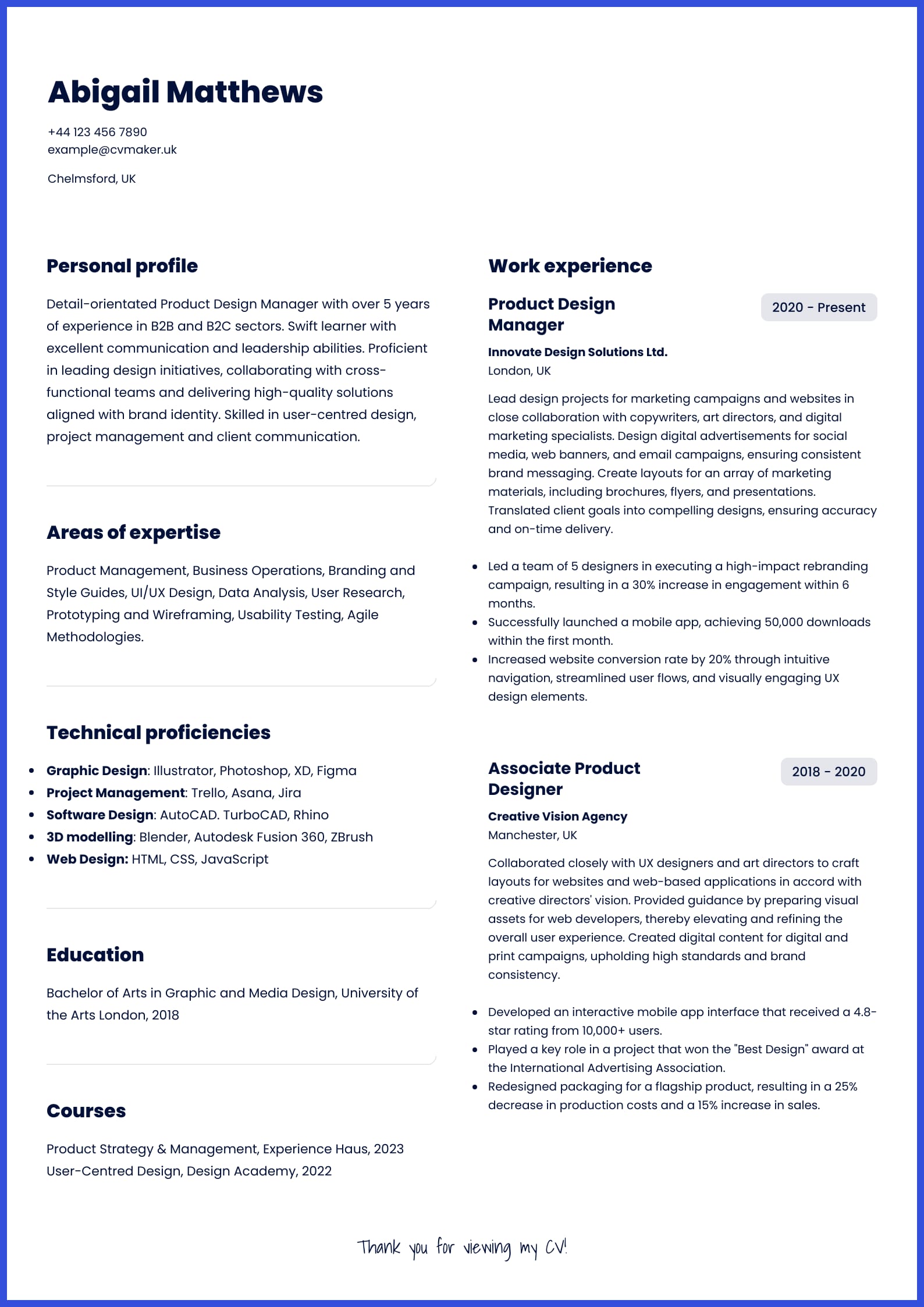 Download this Designer CV example in PDF
This Designer CV example features a seasoned Product Design Manager who uses DM Sans and a slightly grey font to showcase his expertise and strengths in a concise manner.
What is a good font and size for a CV?
The three pillars of a good CV font are simplicity, readability, and compatibility with ATS. Finding the ideal font size ensures your CV remains visually striking and easy to read. Clean headings, subheadings, and body text formatting are key to a polished CV. Maintaining a clear and consistent font size and style allows you to present a professional and polished CV with little to no formatting issues.
Simple: Arial, Calibri, Helvetica

Reader-friendly: Georgia, Cambria, Garamond

ATS-friendly: Times New Roman, Verdana, Courier New 
Key takeaways
Creating a successful CV goes beyond selecting a vibrant font or an eye-catching template. It's about cultivating a consistent, professional look that resonates with your job target. By integrating our industry tips and future-proof fonts, you can confidently apply for your dream job. Your next opportunity awaits just around the corner, so ensure you opt for the appropriate font to help you break through the fierce UK job market. Your well-designed CV might be the game-changer you need to secure that job.
Next steps?
Once you know your desired design and font, the next step is to create a simple yet ATS-friendly CV. Explore our services below for more professional support:
Dedicating time to making a master CV can help you significantly improve your job prospects.
FAQ
Is Sans serif or Serif more professional?
Serif fonts are considered classic and formal, while sans-serif fonts are seen as minimalist and casual. Print publications like books and newspapers often use serif fonts, while digital journals or magazines favour sans-serif fonts. Remember, your font choice should align with the industry you're applying to.
What font size should a CV be?
We recommend a font size between 10 and 12 points. It ensures readability while allowing you to present your information effectively.
What fonts are safe for a CV?
Fonts like Calibri, Arial, and Times New Roman are safe choices due to their readability and widespread acceptance by recruiters and hiring managers within the UK and across the globe.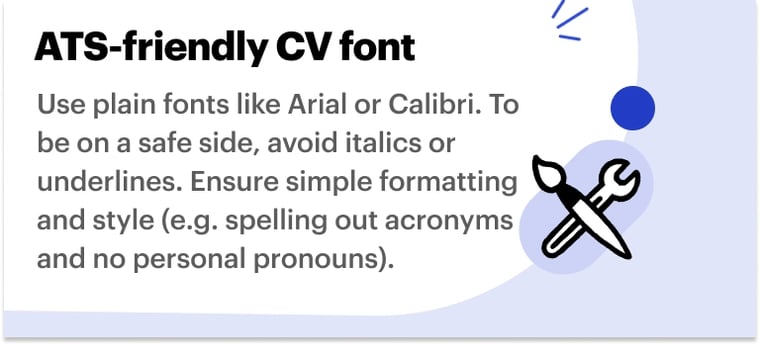 Is 10 font too small for a CV?
A font size of 10 may be too small for some readers. Instead, opting for 11 or 12 points would be safer, as it ensures clarity and readability for a wider audience. However, keep in mind all three sizes are widely accepted regardless of readability. 
Is it okay to use different fonts on a CV?
It's best to stick to one consistent font throughout your CV. Using different fonts can make it confusing for recruiters. Instead, emphasise essential details with bold or larger text for headings and job titles, and use italics for company names. This approach can help you maintain a clean and professional look.
Which font should you not use in your CV?
Your CV is your passport, so your font choice should also be professional. Stay away from fonts like Comic Sans, Papyrus, and, of course, Wingdings.
Start creating your CV
Create a professional CV quick and easy with our advanced CV Builder
+ Create CV
Written by
The CVMaker platform offers a complete career platform for jobseekers with handy tools and valuable information. Are you ready for the next step in your career? Start here today!
Related articles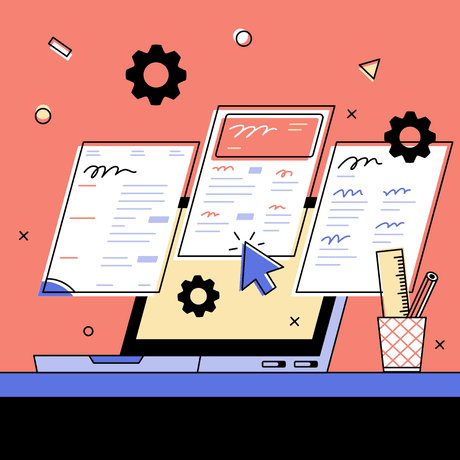 CV
· Nov 14 2023
· 6 min read
How Long Should a CV be in 2023 (Free Guide with Examples)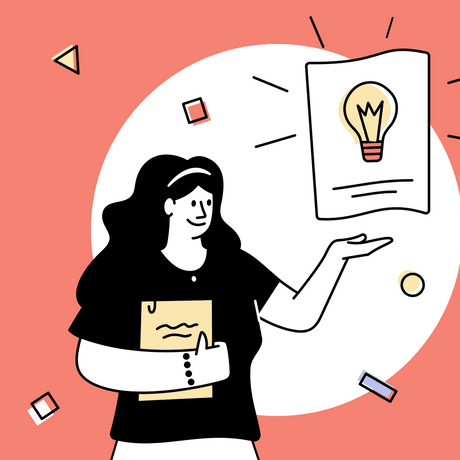 CV
· Nov 09 2023
· 7 min read
How to Improve Your CV Guide: Examples and Tips for Success
Cover letter
· Nov 23 2023
· 3 min read
Writing Guide to Crafting a Well-Structured Cover Letter
Land the interview for your dream job with CVMaker
Effortlessly create your professional CV within 10 minutes and download it whenever and wherever you want!
Create your CV
Increase your chances landing your dream job with CVMaker.