Finance CV
Clara highlights her specialised technical skills, additional work experience, and certifications as a Finance Manager. The layout of the Harvard CV is professional, with clearly defined sections to showcase her skills and experience.
Start now
"Excellent analytical and problem-solving abilities and a strong understanding of UK financial regulations and industry best practices. Experienced Finance Manager with a proven track record."
Clara Chen
- Finance Manager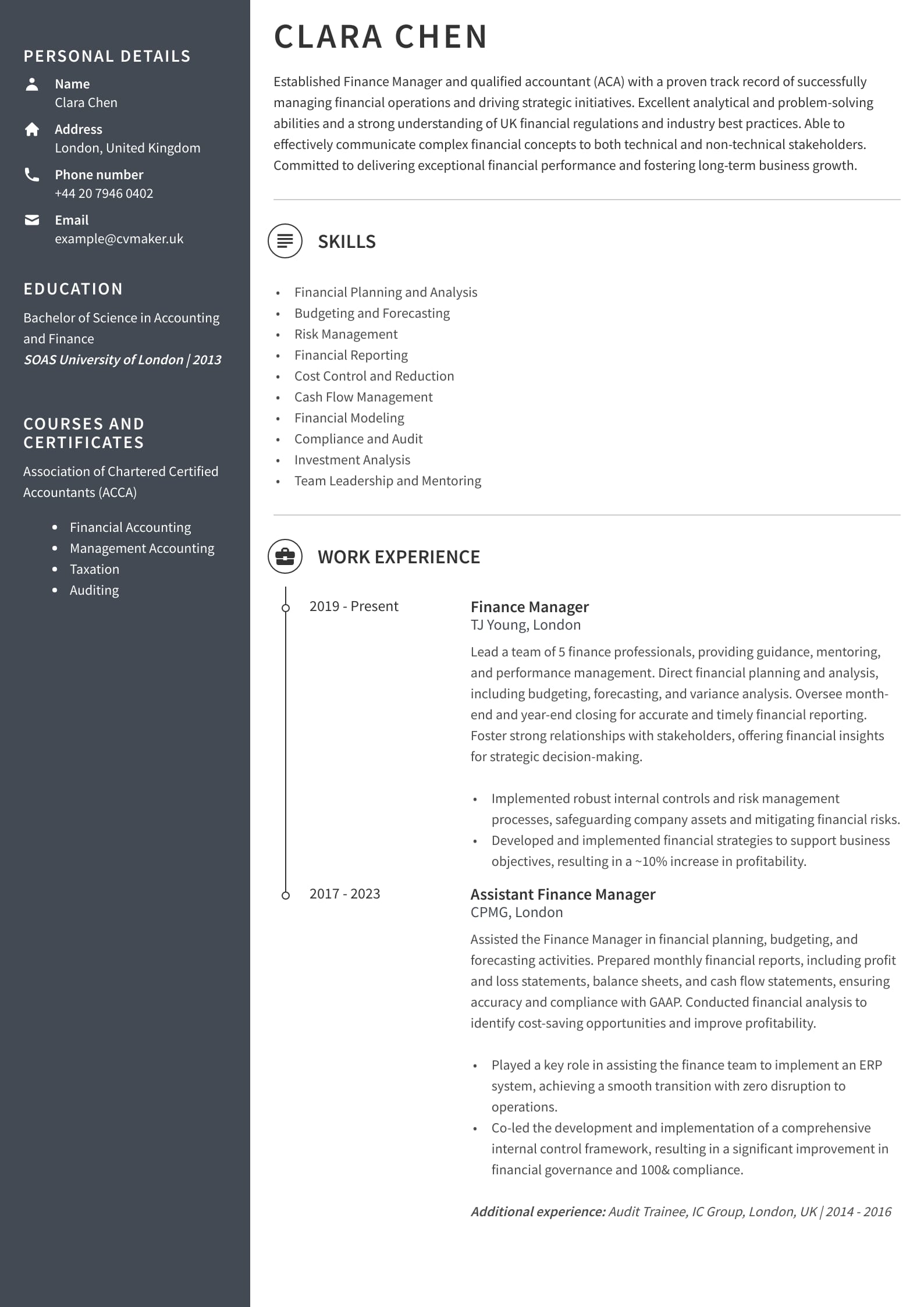 How To Write a Finance CV (Examples and Tips)
In today's highly competitive job market, the UK finance sector offers diverse employment opportunities, catering to professionals at every stage of their careers. As the demand for financial services continues to evolve, the recent emergence of remote financial services also offers excellent flexibility and work-life balance. Suppose you're an aspiring financial student or graduate, an experienced finance director leading strategic financial decisions, a financial planner providing expert investment advice, or a financial analyst, interpreting complex financial data. In that case, there's an ideal role for every skill set.
However, writing a good CV tailored and relevant to your career goals can be challenging, even with the right skills or qualifications. So, optimising your CV for applicant tracking systems (ATS) is vital, especially when the most experienced candidates get rejected due to poorly formatted and generic CVs. In this guide, we offer insightful tips and CV samples for financial jobs to make it easier to stand out to potential employers and land your dream role in this rewarding field.
The CV writing process: Where to start? 
Securing a role in finance requires a well-crafted CV that highlights your experience, qualifications and skills. Given the competitive landscape of jobs in the UK financial sector and the increasing demand for technical expertise, building a master CV is essential. Start by creating a master CV with your entire professional qualifications and experiences. This comprehensive document is the foundation for tailoring job-specific CVs for different roles, such as financial analyst, chief financial officer, financial planner, auditor, or payroll manager. Refer to our banking CV example for more inspiration for your CV.
Learn how to create an impactful, relevant, modern CV  that aligns with current trends and career goals. In addition, read more about what the world of finance entails.
Finance CV example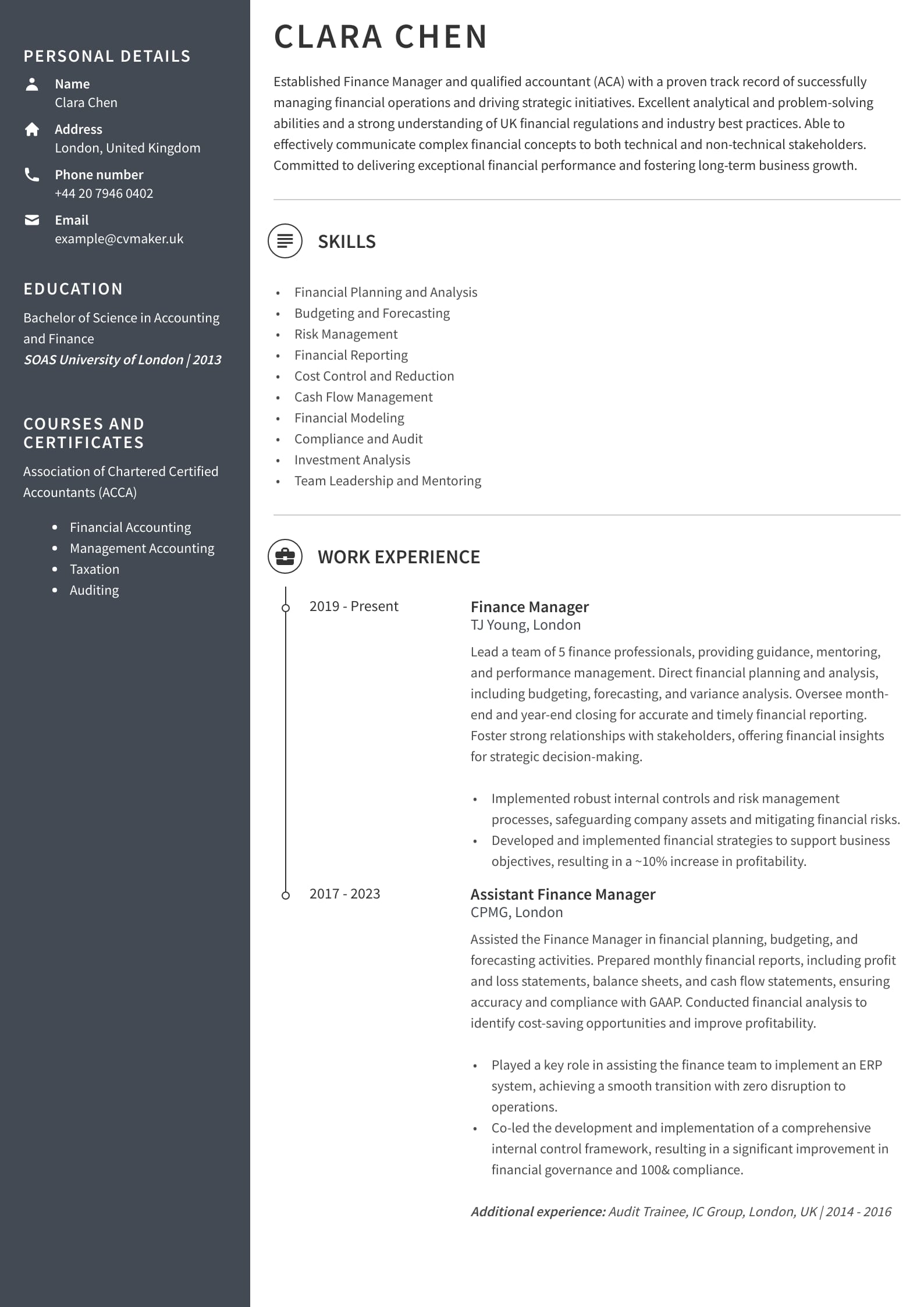 Download this CV sample - Finance CV PDF
Clara has demonstrated her expertise and career progression over six years. She highlights her specialised technical skills, additional work experience, and certifications for the role. The layout of this finance CV sample is professional, with clearly defined sections. Clara's professional finance CV template and design are tailored to her career goals as a financial manager. 
What to include in a finance CV? 
Your CV should showcase essential sections such as a personal profile, work experience, education, skills, and certifications. To further boost your CV, there are optional sections you can also include such as additional achievements you have gained during your career or education. Crafting a well-written personal profile is crucial and is the first step to making a strong impression on potential employers and highlighting your unique strengths.
How to write a personal profile for a finance CV? 
A personal profile on a CV should be concise, compelling, and tailored to your job targets. Demonstrate that you researched your desired position and use keywords that align with the employer's requirements. Begin your CV with a captivating opening statement that showcases your passion for the field and highlights your unique strengths. Mention relevant technical skills and financial terminology to demonstrate your expertise in the field. Ensure your CV profile example concisely summarises your experience and career goals. Continue reading for more personal profile CV samples:
Pro Tip
If you are writing a graduate finance CV or are a student with little to no work experience, highlight your education, relevant internships, additional experience, projects, and transferable skills in your CV summary.
Finance student personal profile example
A dedicated Finance Student with a solid foundation in financial principles and data analysis. Proficient in Excel, financial modelling, and risk assessment. Possesses an eagerness to apply classroom knowledge to real-world financial scenarios.
Auditor personal profile example
Detail-oriented Auditor with a successful track record in conducting comprehensive financial audits. Experienced in analysing financial statements and ensuring regulatory compliance. Possesses risk assessment and internal controls expertise, aiming to contribute analytical skills that enhance financial transparency and efficiency to ensure organisational success.
Payroll manager personal profile example
A results-driven Payroll Manager with seven years of experience efficiently managing complex payroll operations. Proficient in ADP Workforce Now and adept at implementing payroll systems. Demonstrates an ability to ensure accurate and timely payroll processing for large employee bases. Committed to maintaining strict compliance with tax regulations and payroll standards, fostering a productive workforce and optimising payroll efficiency.
Chief Financial Officer personal profile example 
Qualified Financial Officer with five years of experience executing financial planning and analysis for multinational organisations. Proficient in capital budgeting, financial forecasting, and driving revenue growth. Demonstrates a proven track record of optimising financial performance and enhancing shareholder value, steering the organisation towards sustainable success and profitable growth.
Financial advisor personal profile example
Established and client-focused Financial Advisor with over three years of experience delivering comprehensive financial planning services. Specialised in retirement planning, wealth management, and risk assessment. Proficient in utilising investment analysis tools to craft tailored financial solutions, helping clients achieve their financial goals. Dedication to building lasting client relationships through sound financial advice and practical strategies ensures utmost client satisfaction and financial success.
Learn more about creating a unique personal profile to fit your career goals.
What key skills should I put on my finance CV? 
Tailoring your CV to the job you're applying for is essential and helps demonstrate your relevant skills to the employer. We recommend adding your soft skills to your personal profile and creating a separate section for hard skills or technical proficiencies. Incorporating related keywords and skills to your target sector and role makes your CV for a job impactful and maximises your chances of landing your desired role. If you're considering switching gears and heading in a new direction with your career, learn more about how to write a career-change CV to maximise your chances of success.
You must demonstrate which skills are relevant to complete various tasks and duties in your role. For example, in financial analysis, you'll assess financial data, conduct forecasting, and provide insights to support decision-making. Therefore, strong data analysis and financial modelling skills are crucial for accurate interpretations and effective financial planning. Refer to our data analyst CV example article for further insight into applicable skills for your CV or consider taking a look at our lawyer CV example for similar skill sets.
Examples of hard skills: 
Financial analysis

Budgeting and forecasting

Data analysis

Risk management

Financial modelling

Taxation

Auditing

Investment management

Compliance and regulations

Business valuation.
Examples of soft skills:
Communication

Problem-solving

Analytical thinking

Attention to detail

Teamwork

Time management

Adaptability

Decision making

Leadership

Integrity.
Examples of transferable skills:
Project management

Strategic planning

Presentation 

Negotiation

Client relationship management

Critical thinking

Customer service

Research

Sales and marketing

Conflict resolution.
Examples of technical skills:
Advanced Excel

Financial reporting systems (e.g., SAP, Oracle)

Data visualisation tools (e.g., Tableau, Power BI)

Accounting software (e.g., QuickBooks, Xero)

Bloomberg Terminal

Python programming for finance

Financial modelling software (e.g., DCF, NPV)

Statistical analysis (e.g., SPSS, R)

SQL database management

Econometric software (e.g., EViews, Stata).
For more tips, refer to our article on skills to put on a CV.
How to write work experience on a finance CV 
Highlight relevant duties, accomplishments and contributions in each role. Start by listing your job title, company name, and employment dates. Use concise bullet points to describe your key responsibilities and achievements, emphasising quantifiable results and specific financial projects or tasks you were involved in. Similar to admin roles, your experience should showcase your expertise. 
Demonstrate your financial analysis and budget management proficiency, and highlight other relevant skills. This section showcases how your contributions positively impacted the organisation's financial performance, regulatory compliance, or strategic decision-making. Tailor each work experience entry to the specific area of expertise or role, focusing on your expertise and value as a professional in this field.
When applying for a financial job with little to no work experience, consider using a skills-based CV to highlight transferable skills from additional experiences such as internships or volunteering. If you are writing a student finance CV or are a recent graduate, you may have little to no work experience and want to write a financial intern CV. If so, we recommend completing a relevant course to improve the credibility of your knowledge and expertise.
Finance Graduate work experience example: 
Financial Student | Alpha Investments, London | 2021 - present
Assist the finance team and conduct financial research and analysis. Prepare financial reports and presentations for investment proposals. Utilise Excel and financial modelling skills to analyse market trends.
 Completed a comprehensive financial research project, earning praise for thorough analysis and insightful recommendations.

Developed a dynamic Excel financial model during an internship project, showcasing advanced data manipulation and visualisation skills.

Contributed to a high-profile investment proposal, impressing senior analysts with data-driven insights that influenced the final investment decision.
Chief Financial Officer work experience example:
Chief Financial Officer | GlobalTech Solutions, San Francisco | 2015 - Present
Oversee budgets for cost-efficiency and resource allocation. Implement strong internal controls for financial integrity and compliance. Monitor budget allocations and resources to ensure optimal cost-effectiveness and align financial practices with organisational objectives.
Led a cross-functional team in a successful cost reduction initiative, saving the company £100k annually.

Implemented new financial reporting systems, improving the accuracy and timeliness of financial data by 25%.

Negotiated favourable terms with lenders, securing a £20 million credit line to support company expansion.
Finance CV with little to no experience example:
Finance Assistant | Beta Consulting Services, Manchester | 2020 - September 2021
Assisted the finance team with bookkeeping, reconciliations, and data entry. Managed accounts payable and receivable, ensuring accurate and timely payments. Supported budget preparation and financial reporting processes.
Streamlined the accounts payable process, reducing late payments by 30%.

Received commendation from the finance manager for outstanding attention to detail in financial data entry.

Assisted in completing the annual financial audit by providing accurate and well-organised financial records.
Find out more about writing work experience or listing achievements on a CV. For similar work experience examples, refer to our business analyst CV example article.
How to list education on a finance CV 
The educational requirements to apply for a role in finance in the UK vary depending on the job and employer. Generally, a minimum of a bachelor's degree is required for most entry-level roles. A degree in finance, accounting, economics, business, or a related field can help secure a good role. 
Employers may prefer higher-qualified candidates with experience for more specialised and senior roles, such as analysts, investment bankers, or financial managers. Higher-tier qualifications include a master's degree in finance, an MBA, or a professional certification like Chartered Financial Analyst (CFA) or Chartered Institute of Management Accountants (CIMA). It may also be required to have qualifications in Association of Accounting Technicians (AAT) courses and degrees accredited by professional bodies like ACCA, ICAEW, and CIMA.  Refer to our accountant CV example for more tips on how to list education on your CV. 
In addition to formal education, employers often value relevant work experience, internships, and extracurricular activities that demonstrate interest and commitment to the sector. However, if you are entering the workforce after graduating, you may have little to no work experience but sufficient qualifications. If that's the case, highlight your skills and additional experiences on your student CV example for a finance role. 
Education examples:
Bachelor of Science (BSc) in Finance University of London, 2013

Master of Business Administration (MBA) with a Finance Concentration Manchester Business School, Manchester, 2021

Association of Chartered Certified Accountants (ACCA) Qualification ACCA, London, August 2021
If you're still unclear on how to write education, read our article on this topic for more information. In addition, read more about other educational requirements and opportunities for your CV with the UK Civil Service Fast Stream. 
Courses and certificates to add to your CV 
When targeting a specific role, showcasing relevant courses and certificates highlights your commitment to continuous learning and offers a competitive edge. Include the certification name, completion date, and the issuing organisation to demonstrate credibility. If you want to enhance your skills or get more noticed, consider taking one of these courses to stand out from other candidates:
Chartered Financial Analyst (CFA) Certification

Financial Modeling and Valuation, Wall Street Prep

Certified Public Accountant (CPA) Exam Preparation Course

Advanced Excel for Financial Analysis, Coursera

Risk Management Professional (RMP) Certification

Investment Banking Certification, Udemy

Financial Modeling Certification (CFI)
For more guidance, read our article to learn how to list courses and certificates and how this section could enhance your application. 
Key takeaways 
Writing a good finance CV from scratch can be challenging, but following our key strategies and finance professional CV format can increase your chance of being shortlisted for an interview. Even with little experience, you can find other ways to emphasise your knowledge through certifications or additional experiences. To gain interest in your CV, consider the following:
Being with a captivating opening statement that showcases your passion for finance and highlights your unique strengths.

Demonstrate which skills are relevant to complete various tasks and duties in your role by including hard, soft and transferable skills.

For work experience, use concise bullet points to describe your key responsibilities and achievements, emphasising quantifiable results and specific financial projects or tasks you were involved in.

In addition to formal education, employers often value relevant work experience, internships, and extracurricular activities that demonstrate interest and commitment to the finance sector.

If you want to enhance your skills in finance or get more noticed, consider taking an online course to stand out from other candidates.
Next Steps? 
If you are an experienced financial professional interested in boosting your chances of getting hired, find out how to improve your CV. Or, if you're starting a new CV, discover our CV Writing Service to help you save time and effort. To impress potential employers even more, learn how to start a cover letter to complement your job application or refer to our extensive library of more than 40+ CV examples to get inspired.
FAQ 
What are the different finance career paths?
If you're interested in kickstarting a career in this area, there are various career paths to discover in the UK. Explore business and finance positions that best fit your skills, experience and interests. For example, you'll find many opportunities in a corporate environment, investment banking, financial analysis, and graduate assistant roles suited for every level. Learn more about the benefits of working in financial services and how your potential role could contribute to the UK economy. 
What should I write in my finance CV? 
Crafting an effective CV, regardless of the job, is always the same but should be tailored to the specific role and sector. Your financial CV objective might be different, but writing a successful director CV, finance executive, CV, finance manager CV, and finance officer CV should include essential sections. Ensure to include financial qualifications, relevant experience, key achievements, and technical skills. Use impactful language and quantifiable accomplishments to demonstrate your value to potential employers. You may also want to consider adding references to your graduate CV if you're a recent student looking for an internship or part-time work. 
What is the best finance CV summary? 
The best finance CV example for a profile summary should concisely highlight your relevant experience, technical skills, and key accomplishments. Use strong action verbs and financial terms to showcase your expertise. Tailor your summary to the specific role you're applying for to make a strong impression on potential employers. We suggest reading the job description carefully and aligning your CV for the job with the employer's requirements. If necessary, highlight your expertise in analysis, budgeting, and risk management. Use this as an opportunity to further emphasise your ability to drive growth and improve profitability. Craft a concise, engaging profile that entices recruiters to read further and consider you for this new opportunity. 
What is the best finance CV template?
Choose a finance CV template that aligns with your professional style and showcases your information effectively. Look for clean and professional designs that emphasise readability and organisation. Select templates with sections for education, work experience, skills, and accomplishments, making it easy for recruiters to find critical details in your CV. You can easily choose and personalise a CV template from our 20+ professional ATS-friendly templates.
Land the interview for your dream job with CVMaker
Effortlessly create your professional CV within 10 minutes and download it whenever and wherever you want!
Create your CV
Increase your chances landing your dream job with CVMaker.