Student
Jason is a Business Psychology student specialising in Human Resources (HR), ready to leverage his strong administration skills to start a career in HR.
Create your CV
"Knowledgeable in employment law and key HR practices with a solid understanding of recruitment, compliance, and business operations."
Jason Patel
- Business Psychology student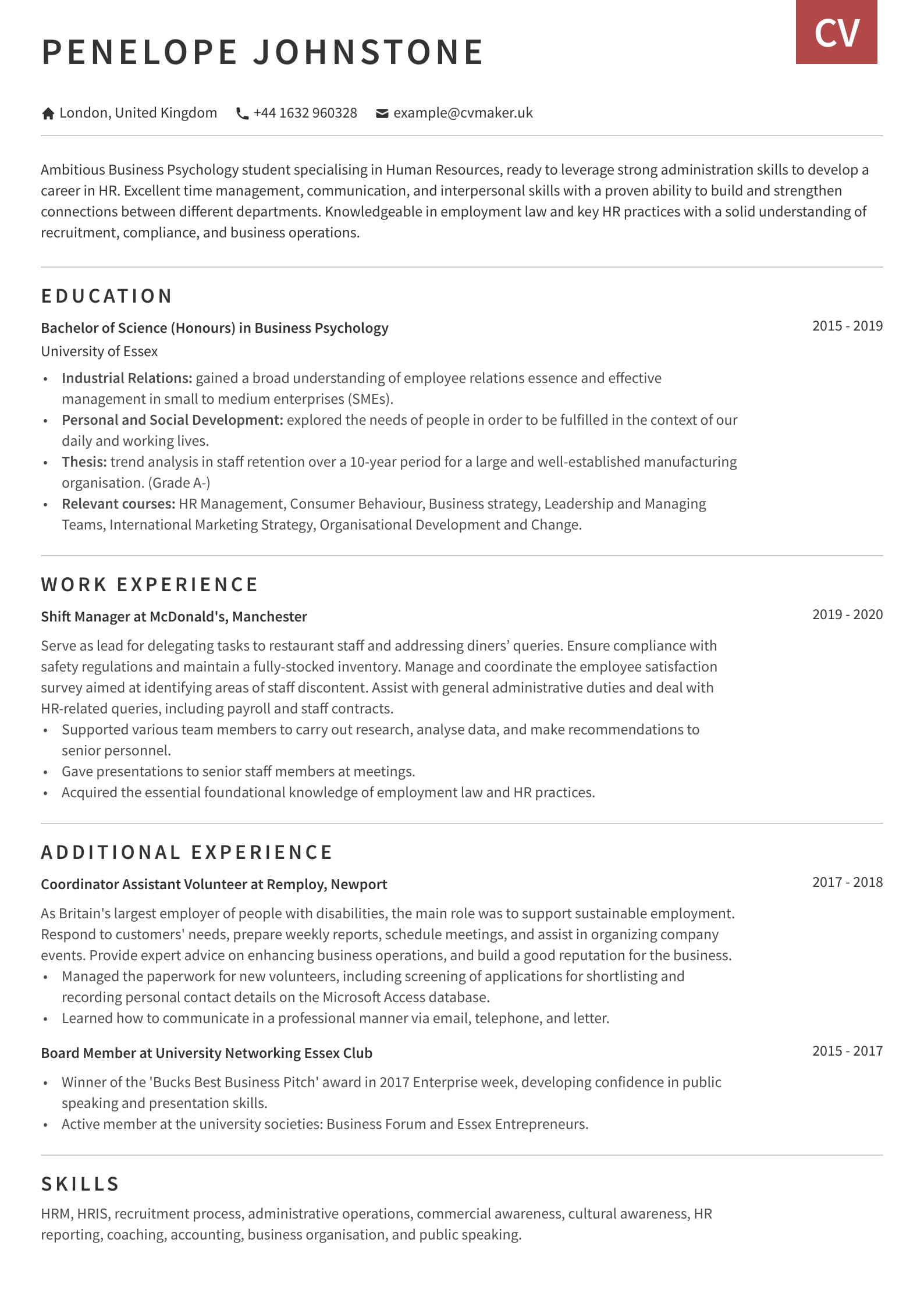 How to write a student CV? Examples and tips to land more interviews!
Are you a student looking for a new CV, or do you need expert advice on how to write a good CV? With CVMaker, we provide the tools and resources you need to create your professional career documents. In addition, our CV Builder provides a built-in job finder, making it easy for you to look and apply for jobs in one place. 
CVMaker experts highly recommend creating an ATS-friendly CV. ATS refers to an applicant tracking system, and in a nutshell, larger companies tend to utilise these tools to manage hundreds of applications. It allows recruiters or hiring managers to filter by criteria such as years of work experience or specific keywords, including but not limited to language or technical skills.
Regardless of your experience, our guide will equip you with tips and the best practices when writing a student CV. It provides guidelines about how to create a CV that is presentable and easy to follow. Follow our advice to learn writing strategies to craft a strong student CV!
The CV writing process: Where to start?
Many studies have shown that, on average, recruiters scan a CV within 9 seconds, making it of utmost importance to have a well-structured, concise, and tailored CV. To ensure this, CVMaker advises conducting thorough research about the company and desired job position before you start writing your CV. There are two stages to the CV writing process: creating a master and tailored CV. 
Master CV for students
A master CV includes all your experiences, training, courses, certifications, and additional information in one document. The aim is to have as much information as possible about previous work or volunteer experience, even if you think it is irrelevant or outdated. Ultimately, this document logs your entire work and academic history. You can consider it a reference tool for tailoring your CV for a specific job. 
Throughout your career, it will become challenging to remember all the tasks or projects you worked on, so CVMaker recommends keeping some kind of notebook or a master CV. Keep track and update it regularly by adding new skills, tasks, or achievements, even if they are beyond your job scope. 
Job-specific CV for students
When tailoring your CV for a specific role, refer to your existing research or conduct new research on a position of interest to ensure you are using the correct keywords and skills that are both relevant and accurate. Making a job-specific CV may seem more time-consuming, but you are guaranteed to reap the rewards with a well-written, tailored CV. The CV length should be no more than two pages, preferably one page for students or individuals with little to no experience. 
If you don't know where to start when tailoring your CV, take a deep dive into the company culture by researching the values, clients, or work environment. Try to incorporate their values into your professional career documents, such as your CV and Cover Letter but, most importantly, remember your findings for the interview. By looking at the company websites and job openings, you will understand the requirements or skills they are hiring.  
Pro Tip
When writing a job-specific CV, always refer to your master CV as a source document. Making a master CV and researching the company's keywords can help you land a job. Don't overlook this opportunity.
Student CV Example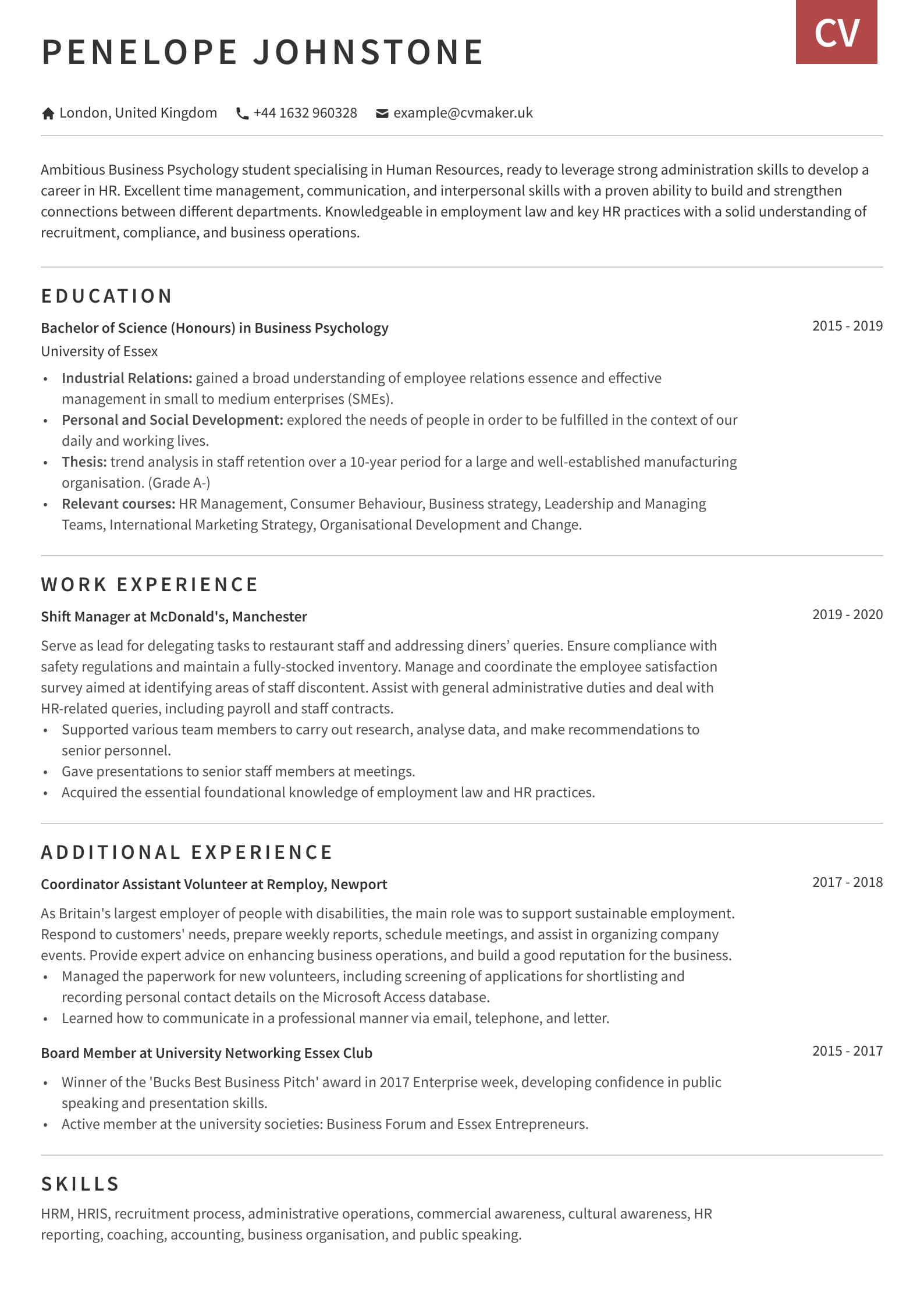 Download this CV example - a university student CV.
In the student CV example above, applicant Jason is a third-year university student looking to kickstart his career in Human Resources. During his studies, he gained relevant experience, both professionally and voluntarily. By including education at the top of the CV, we can draw attention to key skills and qualifications. Part-time or voluntary experience has been strategically incorporated into the additional experience section with years only.
What to include in a student CV? Tips and examples
There are certain must-have/preferred and optional sections on a CV. Once you have populated your job-specific CV with relevant experience, skills, and personal details, then carefully assess what optional information would still be beneficial to include.
Personal profile for a student CV
A profile summary, also known as a personal profile or about me, is a brief professional statement that shows a recruiter your career aspirations. Note that a personal statement for a student CV differs from a personal profile in the UK. The former is often associated with a written document or essay where a university student articulates their interest in joining an institution or organisation.
Examples of personal profiles
The following provides three examples of various types of student profiles: high school students and undergraduate university students with and without work experience. To learn how to write this section, read our blog article CV personal profile examples and helpful tips.
High-school student
Enthusiastic and data-driven school leaver with a passion for marketing. Demonstrated hands-on experience in public speaking, customer service, and team management. Seeking to leverage my communications and analytical skills to kickstart a career in web marketing. Looking for an internship as a marketing assistant in a team-oriented start-up or small enterprise.
Undergraduate student with internship experience
Detail-oriented and dextrous second-year university medical student specialising in neurology. Passionate and highly skilled in conducting research, patient care, and neuroimaging techniques. Eager to apply my administrative and problem-solving skills gained from the internship in a clinical setting.
Third-year law student
Attentive and organised third-year law student majoring in International Human Rights Law,  experienced in building partnerships with clients and knowledgeable in court procedures and case transcriptions. Adept at legal research, document filing, and time management. In search of an entry-level job position as a policy advisor in a respected and professional law firm.
What skills to put on a student CV?
Skills come in many forms, some more naturally than others. When deciding what to include on a CV, don't be tempted to invent skills just because you think it would be more beneficial. Instead, carefully assess your top skills and differentiate between relevant hard and soft skills. Refer to the skills article for more information. 
Examples of hard skills 
Also known as professional skills and are teachable and measurable abilities acquired or enhanced through hands-on experience, repetition, and educational training. 
Programming

Writing 

Social media marketing

Project management

Customer service
Examples of soft skills
Also known as personal skills,  these skills are more related to character traits or interpersonal skills that define an individual's relationship with others. 
Ambitious

Enthusiastic

Attentive 

Customer-oriented

Flexible
Examples of transferable skills
For students, a few soft skills can be transferred and applied in any industry, regardless of background.
Problem-solving

Critical thinking 

Leadership

Adaptability

Teamwork
Work experience on a student CV: How to include it with tips and examples
Within this section, the main aim is to include relevant jobs, explaining your day-to-day duties, applied knowledge, and key achievements or learnings. Only include experiences that are relevant to the position or where you have obtained transferable skills. That will help you land a job, ensuring you possess the core competencies for your desired job. Refer to the work experience on a CV blog for more information. 
Additional experience examples on student CV 
If you have little to no work experience, change the primary focus of your CV to education by utilising a skills-based CV format. Alternatively, consider creating an additional experience section with part-time or voluntary work experience where you can just elaborate on the role, company/organisation, and date with months excluded. A strategic CV aims to help you land more interviews where you can elaborate within the job interview itself. 
Examples of additional experience:
Internships or job shadowing: This is perhaps the best substitute for work experience. You should aim to assist with as many tasks or projects as possible during an internship. Use this experience to learn as much as possible or even job shadow someone to see if this is the right career for you or what skills you need to build on. Additionally, skills gained from an internship make you more valuable as an employee. 

Traineeships and apprenticeships: Just like internships, they bridge the gap between your academic, personal, and professional interests. It signals to a recruiter that you have hard skills gained during your practical experience. You can look at it as an investment in your career. Although you usually don't get paid much for these kinds of training, the reward is much better than it seems at first glance. 

Self-employment, freelancing, or volunteer experience: This can be a benefit, but you should also make sure it is relevant or shows transferable skills. Include your position, company or client name(s), and dates. 
Pro Tip
If you're unsure as a student what kind of job you want to pursue, consider joining a job shadowing program. It is a type of on-the-job training where one unqualified employee learns from a more experienced one.
How to list education on a student CV
CVMaker strongly advises focusing on academic accomplishments, courses, and student societies when writing a CV as a university student. As for the layout of a CV,  it is beneficial to place education above work experience. Another feature that should stand out is a brief description of your education, with which you can include relevant keywords and any projects or skills obtained during your studies.
What to include under the education section?
When structuring the education section, always include the degree/diploma type, the level, the institution/organisation, completion date/in progress, and relevant subjects. As a student looking for an internship or who might be graduating, it is best to include only final year courses and projects that are relevant as well as any grades such as first-class Honours or even if you have two majors. Take a look at the following elements you can incorporate: 
University degree: Include the completion date of your bachelor's, master's, or doctoral degree. Alternatively, you can mention your expected graduation year or in progress, relevant courses, and good grades. 

Degree description or thesis topic: If you have little to no work experience, you can convert your education into a job description by incorporating the skills you learnt or university projects. 

Relevant university courses: Include courses directly under your degree program where you mention them in bullet points. Focus on those courses that better match the job description or company's goals. 

Certificates, courses, and training: If you completed external courses, incorporate them into the education section. Alternatively, try to format your CV by separating these sections to fill the white space or to make it stand out even more. To improve your chances of getting a job, don't hesitate to add professional courses and certifications if they relate to your field of study. 

A-Levels or GCSEs: Avoid listing secondary education and all your subjects. Instead, state your final grade and the number of credits or courses you have achieved. Remember that this section is not mandatory, and we advise you to avoid it in the CV. If you studied in an international high school, it could be an excellent addition to highlight your open-mindedness and ability to work in a diverse and multicultural team. 
Key takeaways
With the above examples and tips, you should be more knowledgeable about what makes a good student CV, the types of sections, and the importance of tailoring your CV to a specific job. By considering our expert advice, you'll be in better shape to craft an outstanding, well-structured CV.  
CV tips for students:
Always include your personal information and check that you have included the correct number and email address.

Do not include outdated or unprofessional email addresses that you may have created long ago.

Use simple, concise, and professional language.

Exclude information that is false or that you are not able to back up within an interview. 

Avoid using colloquial terms or slang. 

Apply for entry-level jobs or internships as you kickstart your career.

Proofread your CV for typos and spelling mistakes. 
Next steps?
Need to polish some inconsistencies in your text or improve your writing? Check out our CVMaker website for professional CV Writing Service. Get in touch with us to get advice from an expert who has created thousands of CVs.
Student CV Example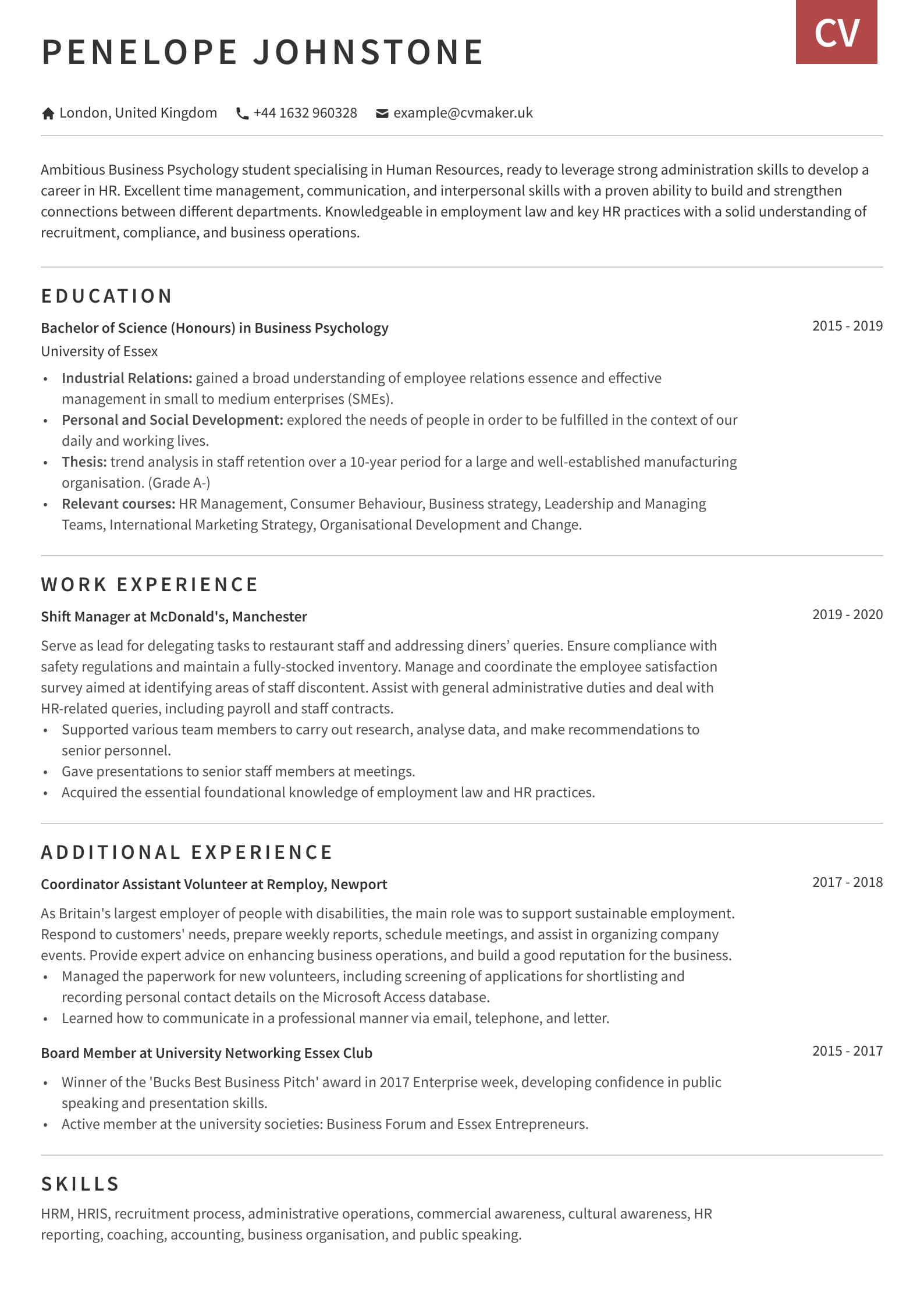 Download this CV example - a university student CV.
In the student CV example above, applicant Jason is a third-year university student looking to kickstart his career in Human Resources. During his studies, he gained relevant experience, both professionally and voluntarily. By including education at the top of the CV, we can draw attention to key skills and qualifications. Part-time or voluntary experience has been strategically incorporated into the additional experience section with years only.
FAQ
How is a student CV different from other CVs?
The big difference, generally speaking, is that you won't have as much experience as someone who has been in the job market for a long time. Little work experience is usually a drawback, but employers understand that students are unlikely to have all the required skills – unless you talk about mature students who have returned to education mid-career. Therefore, a student CV will need to make more of the positive attributes of the individual concerned rather than highlighting the relevant work experience. The only difference is the traditional (chronological) and skills-based (functional) CVs. 
How to write a CV while in university?
You should follow all the steps of the CV writing process, including but not limited to planning, researching, creating a master CV and a job-specific CV, followed by proofreading and editing. Utilise action verbs and short paragraphs to get your message across. Look out for the keywords that show up on the company website and the job vacancy post.
What is the best CV structure for a student CV?
Begin with contact details, then progress to the core components of your CV, such as education or work experience. Keep in mind that a personal profile is at the very top of your CV but is written last. Write in complete sentences starting with an action verb or adjective to make your writing more convincing and concise.
A good student CV should contain at least the following:
Personal information

Personal profile

Work experience (if applicable)

Skills

Education
Consider the following sections only if applicable:
Additional experience

Courses and certifications

Technical proficiencies

Languages

Hobbies and interests

References

Achievements
How long should my student CV be?
Aim to keep the text on your CV brief and concise. Your CV needs to involve one or a maximum of two pages. However, it does not imply your CV cannot be longer than the recommended number of pages. A longer CV is more applicable for academic positions and STEM industries. 
Is there a specific writing style and CV layout to use for a student CV? 
Throughout the CV writing process, use clear language and cohesive structure, avoid ambiguities and include strong action verbs to persuade your recruiter. Stick to the keywords on the company's website and job position. CVs are formal documents and should be treated as such, even if the employer considers themselves different from other companies.
What layout is best for a university student CV?
A CV layout should follow an easy-to-read structure. The sections must be formatted so that your work experience or education follows your summary. Alternatively, next to each other if you opt for a two-column CV.
How to format a CV for university students?
If you have applied the correct layout and followed a strategic structure, then formatting is the last thing you need to do when writing a CV. There is no one correct way to submit a CV, but there are a few things to consider, such as type of content, font type, font size, or spacing between sections. Ideally, a CV should not be longer than two pages, so if you can format it to fit into one page or avoid white space, that is highly recommended.
Land the interview for your dream job with CVMaker
Effortlessly create your professional CV within 10 minutes and download it whenever and wherever you want!
Create your CV
Increase your chances landing your dream job with CVMaker.