Waiter/Waitress CV
Alex, a Head Waitress with professional experience, has opted for the creative California CV template. This template showcases work experience, skills, and key achievements within each job.
Create your CV
"Head Waitress with 10+ years of experience in fast-paced environments. Influential team leader, adept at supervising waiters to ensure high-quality customer service. "
Alex Usoro
- Head Waitress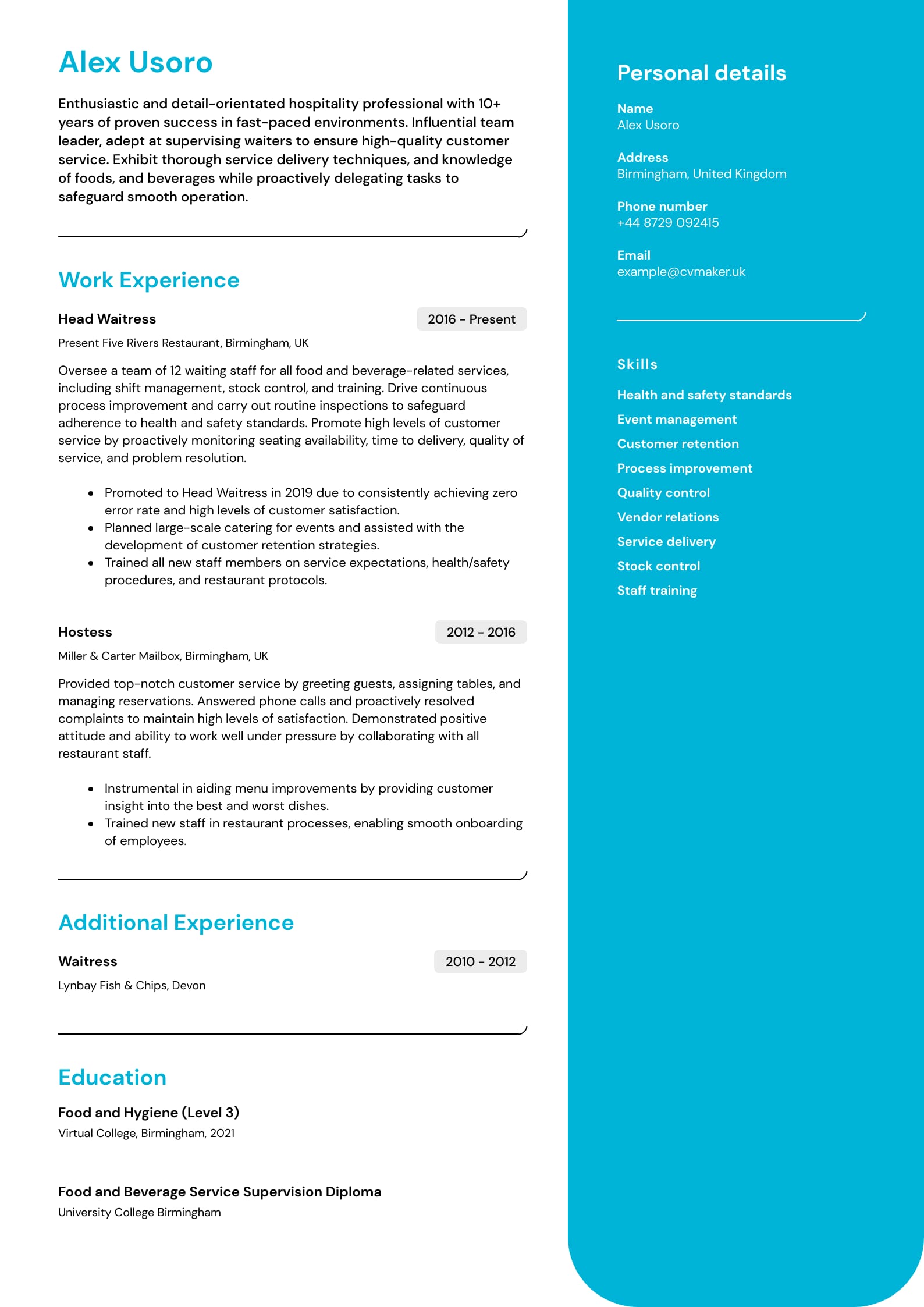 How to write a CV for waiter or waitress with tips and examples
As an integral part of the hospitality or catering industry, waiters and waitresses greet customers and serve food and drinks efficiently while ensuring excellent customer service. This profession is especially suitable for students, recent graduates or people with little to no experience who need a part-time job or side income. However, with more restaurants and bars opening up across the UK, the demand for them is rising. Managers expect them to work in the busiest times of the day effectively, cheerfully, and with a smile. Knowing all this, how do you ensure that you stand out from other candidates when applying for a job as a waiter or waitress?
The key is to have a keyword-strong and well-structured CV that meets your career goals. You need to strategically place the information to align with the company culture and incorporate the keywords from a specific job vacancy. Are you aware of ATS? It stands for applicant tracking systems (ATS) used to filter out candidates by criteria such as years of work experience, skills, or particular industry knowledge. To help you create an ATS-friendly CV, our experts designed over 20 professional templates depending on your experience level and personal preference. Get noticed and increase your chances of success using our tools and industry-standard advice.
Let's get started!
The CV writing process: Where to start?
A Waiter or Waitress CV is no different from a regular CV. Regardless of experience or profession, it must be easy to read and written clearly. To make the process easier, switch the focus of a CV to essential aspects such as content, strategy, format, template, and, most importantly, structure. Remember that a cover letter goes hand in hand with a CV, so use the former to elaborate on relevant experiences or skills.
For more details, read the cornerstone article on how to write a good CV.
Master CV for a Waiter or Waitress
At the heart of every well-written, tailored CV is a master CV. It is a comprehensive and professional career document which covers everything you have achieved, including your educational and professional history. Take your time to ensure you don't miss any important details or information. Use this document as a foundation for all your future job-specific CVs.
Include all job titles, responsibilities, and achievements you've held. Although time-consuming, it's essential for future success where the value outweighs the cost. Make it as detailed as possible and preferably save it in a text document that is easily accessible.
Job-specific CV for a Waiter or Waitress
Creating a job-specific CV tailored to the employer's needs is crucial to securing a Waiter or Waitress job. The secret formula is to optimise your CV for ATS, conduct thorough research on the company, and list all the keywords used in a job post. Review and edit the document thoroughly to avoid errors.
Once you have that prepared, extract relevant information from a master CV to benefit your application. Note that a job-specific CV needs to be one or two pages long. It can include qualifications, awards, letters of reference, or other information pertinent to the industry standards and job of interest.
If you need more tips for your Waiter or Waitress CV, see the article on how to improve your CV.
Waiter or Waitress CV example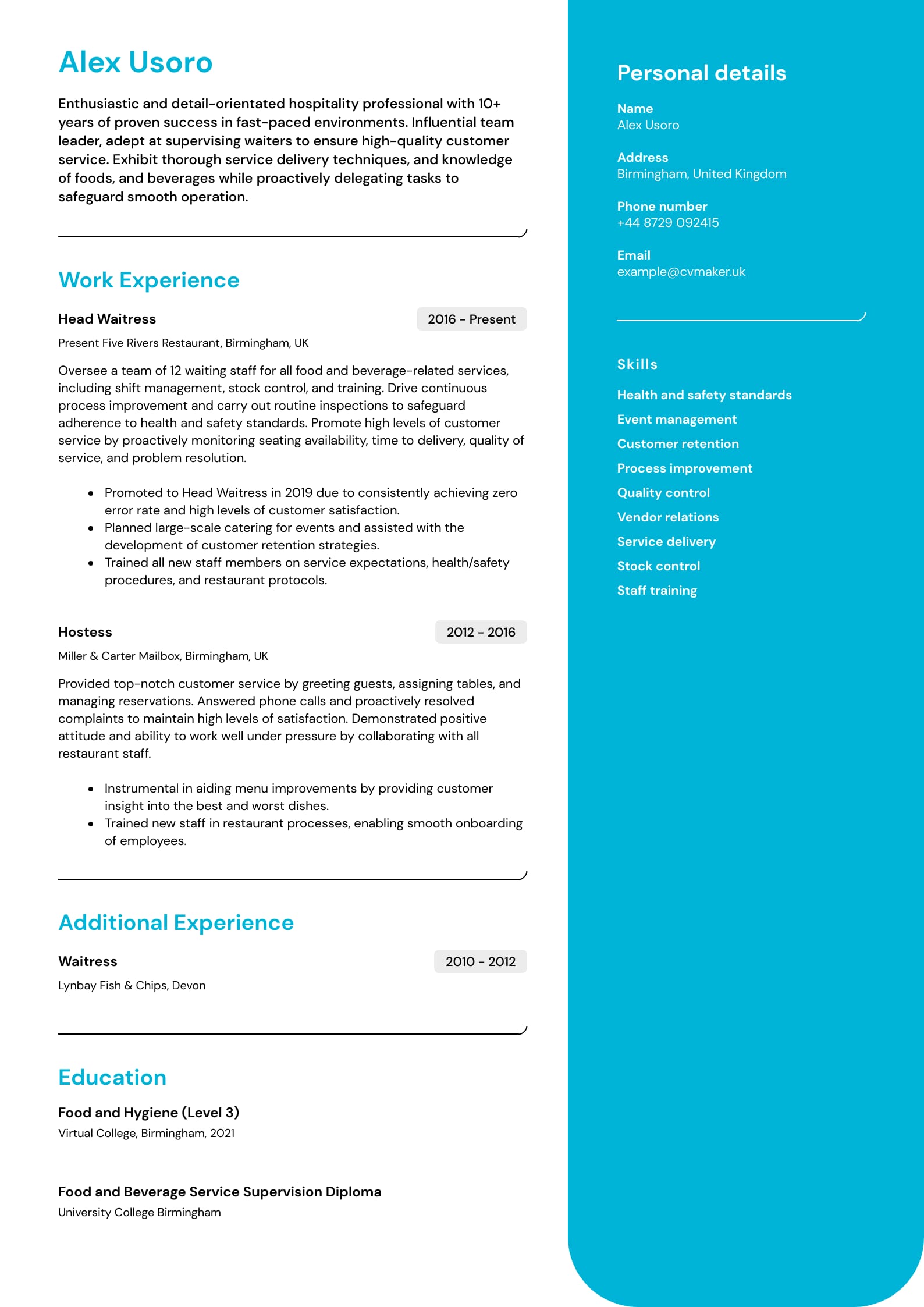 Download this Waiter or Waitress CV sample in PDF
Alex is an experienced and qualified Waitress with demonstrated track record of leading teams, working in busy environments, and, most importantly, providing top-notch customer service. She is an ambitious and adaptable professional who aims to strengthen her career in the hospitality industry. The California template used is easy to read and presents her work experience, personal profile, and skills in a cohesive and well-structured form.
If you're unsure whether to add a photo to your CV, look at our article to see if it's required.
What to include in a Waiter or Waitress CV?
A successful CV for a Waiter or Waitress needs to include fundamental information pertinent to the hospitality or catering industry. These can include customer service skills, experience working in a fast-paced environment, or, generally, having a positive and results-orientated attitude. Previous experience in a similar role or transferable skills can also be a great addition to your CV.
Focus on unique strengths and highlight your measurable achievements. Even though the aesthetics of a CV, including the choice of template, may seem like the first thing you need to do, it shouldn't be the main focus of your CV. Remember that the goal is to show how your experience and skills will benefit the company you would like to work for. Recruiters and employers are only skimming through for the essential details, so make sure you keep it concise and compelling!
Below are recommended sections to incorporate into your CV for a Waiter or Waitress. Once you have filled it in with essential information, consider adding optional sections such as awards or references.
How to write a personal profile for a Waiter or Waitress CV
A personal profile, also known as a personal statement, is a section that aims to reflect your career aspirations and goals, giving recruiters an engaging first impression. It gives potential employers a glimpse into what you can offer before they delve into the details of your experience and areas of expertise. It also allows you to differentiate yourself from other applicants who may have similar qualifications and experience. Lastly, it serves as your opportunity to showcase yourself positively and give a personal touch to your CV.
Waiter or Waitress CV graduate personal profile example
Keen and enthusiastic graduate with two years of experience in busy customer service environments. Service-orientated, friendly, and energetic team player who stays motivated and proactive even in peak times. Open to developing new skills and developing my career in the hospitality industry.
Experienced Waiter or Waitress CV personal profile example
Dedicated Waiter with seven years of experience in private catering, waiting, and customer service. My focus is ensuring every need is met with friendly professionalism. Experienced in serving small, intimate occasions and large parties of 100 guests. Ambitious to broaden my experience internationally.
An optimistic, honest, informative personal profile can help you secure an interview. Read how to write a personal profile on a CV to learn more about what makes a good personal profile and proven strategies.
What skills to put on a Waiter or Waitress CV
Waiter or Waitress CV skills can differ from job to job, yet specific skills are essential. List hard and soft skills beforehand when writing this section, even if you've only utilised them briefly. Soft skills may be less apparent since they come naturally and are hard to measure. See the examples below for more inspiration or refer to our barista CV example.
 Examples of hard skills
Food, health and safety knowledge

Soft-selling

Time management

Memory

Handling transactions
 Examples of soft skills
Adaptability

Detail-orientated

Multi-tasking

Communication

Patience
To learn more, see the article on how to list skills on a CV.
What to include in the work experience section on a Waiter or Waitress CV
When listing your work experience section for a Waiter or Waitress CV, focus on both duties and achievements to give a better glimpse into your role and interests. For each job experience, write down achievements such as increased sales, appraisal, references from past employees, or how you accomplished customer satisfaction. Back up your claims with data while demonstrating the value you can add to the company.
If you are applying for a more experienced role, such as a Manager in waitressing, apply measurable outcomes to your work experience section. In other words, you need evidence to show the recruiter what you achieved. For example, you could write, 'planned large-scale catering for events, helped boost sales by 20%  and assisted with developing customer retention strategies.'
Examples of work experience for a Waitress or Waiter
Waitress, The Ivy, 2021-Present
Addressed and resolved customer orders, serving food and drinks promptly to maintain high-level of customer satisfaction. Provided menu recommendations, answered questions, and shared additional information with restaurant customers to enhance their dining experience. Liased with kitchen staff and Restaurant Manager to ensure smooth operation.
Awarded "Employee of the Month" for exceptional customer service performance and positive customer feedback.

Provided exemplary table service that increased our guest base by 40% within six months.
Read our blog on how to develop confidence and overcome interview nerves, especially if you're unfamiliar with the job market and interview process. CVMaker suggests thoroughly researching and reading the job requirements before you attend your interview.
How to write an additional experience section on a Waiter or Waitress CV 
Do you have volunteering, internship or short-term experiences relevant to this role? Showcase what you have done in an additional experience section and emphasise your key achievements. The additional experience section is optional but can help boost your CV and make it look more appealing and unique, mainly if you have little to no work experience. Store side activities you didn't mention on a CV in your master CV and have them at hand before your job interview. To strengthen your CV, consider adding languages, hobbies, and interests to your Waiter or Waitress CV. Ensure these details are relevant to the role and add value to your application.
Examples of additional experience for a Waiter or Waitress CV
Completed a Level 1 course in Food and Beverage Service

Awarded a Level 2 Diploma in Professional Food and Beverage Service.

Volunteered at a local cafe in 2017, serving food and beverages.
How to list education on a Waiter or Waitress CV
No higher education degree or qualification is necessary for a Waiter Assistant role. However, secondary/tertiary education coupled with GCSEs is invaluable and shows you've taken the initiative. Rather than focus on qualifications, most recruiters seek practical experience and are keen to hire people with the crucial skills and qualities to excel.
Structuring the education section on a Waiter or Waitress CV should be in an easy-to-read format to make it presentable to recruiters. For example, list the school's name, location, dates attended, and the degree/diploma/certificate received. This information is enough for recruiters and managers when reviewing applications for waitressing roles.
Key takeaways
Less is truly more when it comes to job applications. Incorporating job ad-relevant keywords into your application from the beginning can maintain readers' interest and demonstrate that you have taken the time to understand their requirements.
Here are the key points to writing a perfect Waiter or Waitress CV:
Keep the information concise, positive, proactive, and easy to read.

Craft a comprehensive master CV and then a job-specific CV

Be well-presented, uncluttered, well-spaced, organised, and professional.

Read job posts carefully and pick up keywords.

Compile a summary CV from your master CV using only relevant information for the job.

Include both soft and hard skills.

Write an upbeat personal summary in the CV focusing on the job requirements.
Next steps?
Ready to take your career to the next level? Then, come on board and get access to the world of CV examples and templates that will win you interviews!
Creating a keyword-strong and ATS-friendly CV is essential. Our CV Writing Service offers a way to simplify this process and revamp your job application with our expert help.
FAQ
How to write a CV for a Waiter or Waitress with no experience?
If you lack direct experience, shift the focus of your CV to other sections such as education, skills, or additional experience. Don't let a lack of relevant work history deter you from taking the first steps and applying for a job anyway. Many recruiters or hiring managers don't only pick candidates by their skills or expertise but also look out for enthusiasm and genuine interest in starting a job. A prior position in a related field or volunteering experience can make you stand out, demonstrating an ability to excel in a customer-facing role.
Another strategy is to list transferable skills you may have acquired from side activities or other jobs. These could include customer service or event planning, for example. In addition, if you've taken relevant courses or certifications, make sure to include them as well on your CV.
For more advice, refer to how to write a skills-based CV article, especially if you're a student or graduate.
What should you put on a Waiter or Waitress CV?
A CV should include appropriate keywords, hard and soft skills, qualifications, a logical structure, and a unique profile summary and must be customised to fit the job description for a CV or resume. Additionally, the document must be easily readable.
The primary sections you must cover in your CV include:
Personal details

Personal statement

Work experience

Skills section

Education section

References (optional)

Languages (optional)
How should you format a Waiter or Waitress CV?
When writing your CV, using a professional and transparent format is essential. However, a Waiter or Waitress CV looks different from person to person depending on their situation and career goals. The most common format of writing a CV is reverse chronological order, with the most recent placements at first.
What to add to your CV for an entry-level Waiter or Waitress position?
Working as a Waiter or Waitress can be a great entry-level experience which could help you develop new skills, even if you have little to no work experience. This profession is also well-suited for graduates because it gives employees transferable skills that can apply to any customer-oriented sector.
To learn more, read the expert advice from CVMaker and create tailor-made CVs for candidates entering the workforce after graduating. We also recommend reading this graduate CV article discussing how to gain professional experience if you have just finished studying and are looking for work. Finally, if you are still looking for a job, read our tips and suggestions on presenting your CV with no work experience.
How long should a Waiter or Waitress CV be?
CVMaker suggests keeping your Waiter or Waitress CV to one-two page long. Anything more than this, and the chances are it will not be read by the recruiters.
Do you need to include references on a Waiter or Waitress CV?
Don't include contact details of references; instead, say 'available on request.' Learn more about how and when to include references.
Land the interview for your dream job with CVMaker
Effortlessly create your professional CV within 10 minutes and download it whenever and wherever you want!
Create your CV
Increase your chances landing your dream job with CVMaker.