Waiter/waitress
Alex, a Head Waitress with professional experience, has opted for the creative California CV template. This template showcases work experience, skills, and key achievements within each job.
Create your CV
"Head Waitress with 10+ years of experience in fast-paced environments. Influential team leader, adept at supervising waiters to ensure high-quality customer service. "
Alex Usoro
- Head Waitress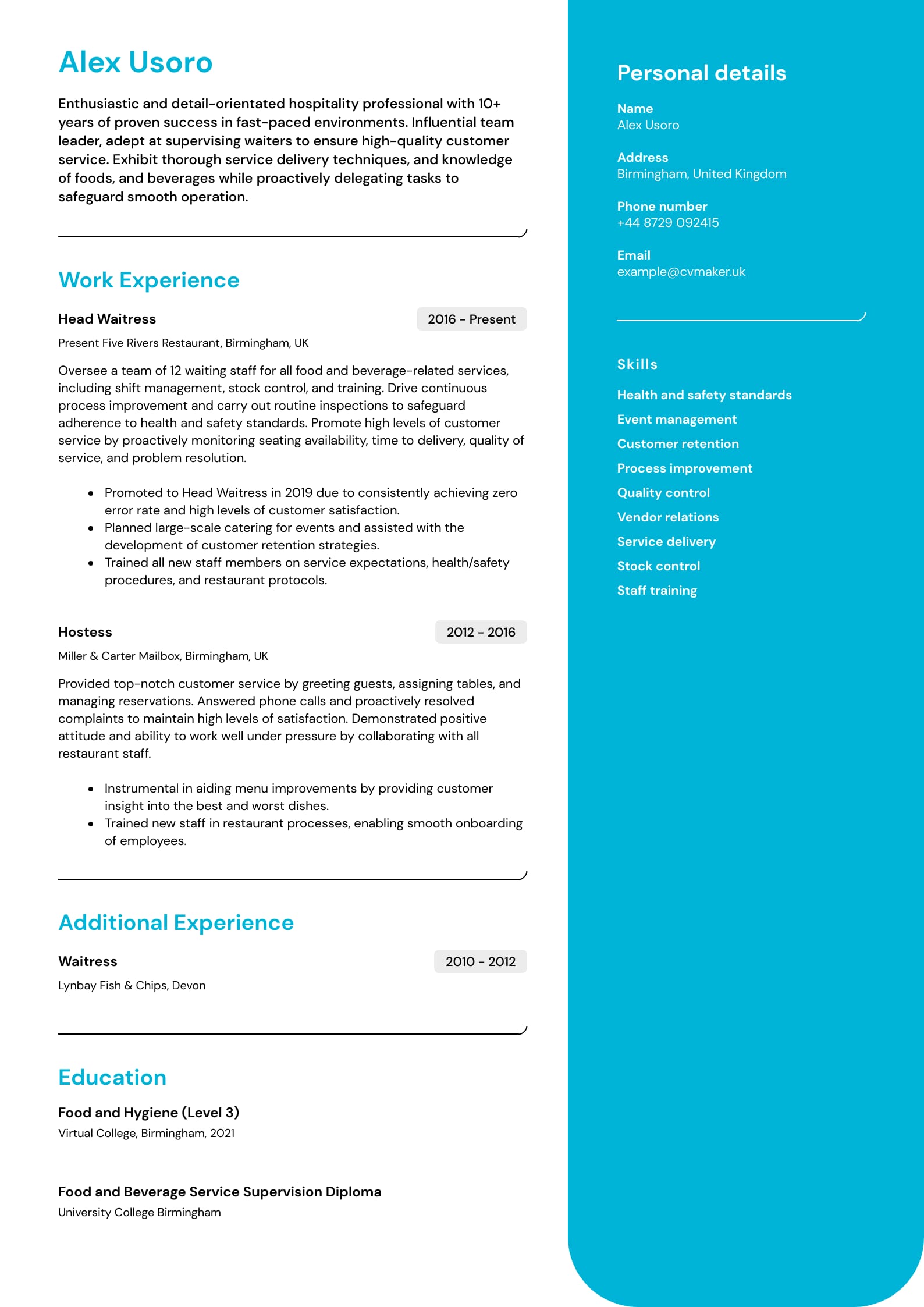 All you need to know about creating a waiter/waitress CV
Waiters and waitresses are key frontline staff in restaurants, fast food outlets, hotels, pubs and many other food establishments. Don't be fooled into thinking you don't need to craft a professional waiter or waitress CV to get hired, though.
Because people often start as a waiter or waitress after leaving school, many think it's an entry-level job, but that's wrong. Professional waiters and waitresses are highly sought after locally and internationally. Highly skilled waiting staff can travel extensively while earning money.
Generally, waiters and waitresses must wear a branded uniform since they're considered frontline staff. They also work shifts, including at night, over weekends and on public holidays.
Frontline staff are the 'face' of any business, and owners and managers value employees who do their job with passion and enthusiasm. Top-quality waiting staff care about their employer brand as if it's their own and have a natural desire to want to make customers feel welcome and happy.
If you want to convince a prospective employer that you have what it takes to keep customers happy and coming back, your waiter or waitress responsibilities CV must showcase that attitude right away. It's a reflection of your professional self, so it must impress.
This article shows you how to best highlight your skills and strengths, and we give you a waitress or waiter CV example to see how it's done.
Waitress or waiter CV example UK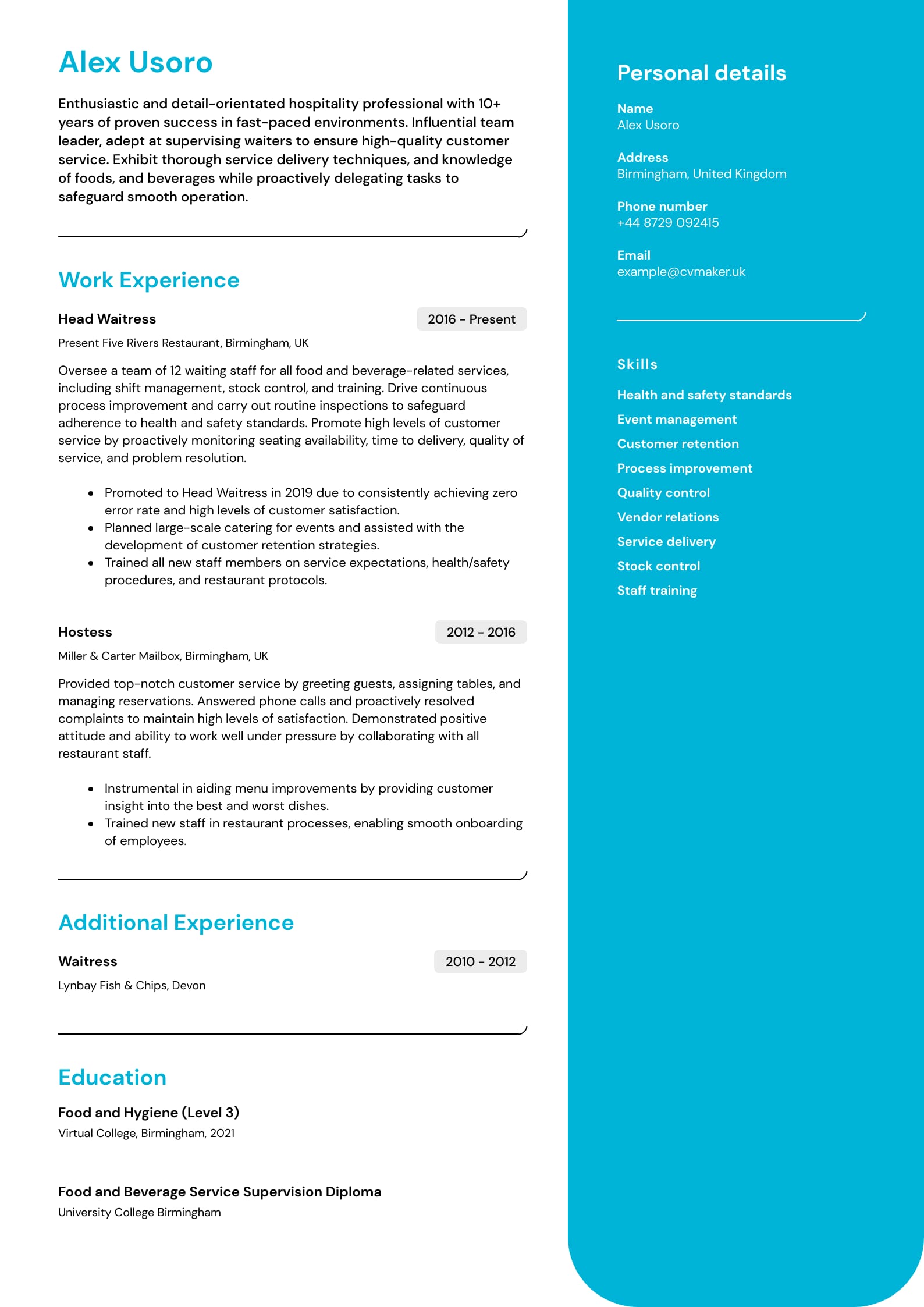 Download this waitress CV example as PDF
From this CV template waitress, you can see how Alex charts her career in the restaurant industry very clearly and with enough detail without rambling on. Her summary tells readers at a glance how many years of experience she has and that she wants to further her career in hospitality. Alex also indicates that she's worked with different types of cuisine, which would attract various kinds of customers. This shows the reader that she's flexible and adaptable. Note too how her interests tie in with her job. Undoubtedly, Alex is looking for long-term career prospects where she can improve her management skills. She has opted for the perfect Auckland template for its clear lines and easy readability. Alex hasn't included a photo, but you can include a photo on your CV. 
Planning the basics waiter or waitressing CV
Compiling a winning CV requires upfront planning, so set some uninterrupted time aside.
Approach it as a project that gets what you have to offer on paper as accurately as possible so that the reader gets to know you by just scanning through it.
At the heart of every good tailored CV is a master CV for a waiter or waitress. It's a comprehensive document covering all your education, skills, and working history.
The document must -
Flow, be logical and reader-friendly

Be plain black font on a white background

Be error-free with no spelling mistakes or bad formatting

Be well presented, uncluttered, well-spaced, organised and professional

Start with your most recent or current job and work backwards to your first job

List education and qualifications in the same way

Include both soft and hard skills

Include accurate reference details with each job or role
Take time and ensure that nothing gets left out because this CV forms the foundation of all future job applications. It can be as long as is necessary, so be detailed.
Include every job title, all responsibilities and any achievements in each role. Obviously, this will be time-consuming, but it's essential for future success.    
While you're writing your master, make copies of all relevant qualifications, awards, letters of reference and anything else that matters. Save it all together in a secure file with your CV for waitress or waiter and keep it where you can access it easily.
Always proofread and edit your master carefully, so it's error-free. If possible, ask someone else to check it for errors as well. You don't want basic grammar errors putting readers off.
Include your skills
Waiter or waitress CV skills will vary from one employer to another, but core skills are required across the board.
Don't overlook anything when compiling your waitress or waiter CV skills. List soft and hard skills, even if you only used them for a short while. Soft skills may not be so apparent to you because you use them daily.
So for each role, take time to figure out what you did or do and which skills are necessary to do your job to the best of your abilities.
Here some crucial soft skills needed by waitresses and waiters -
Adaptability: coping in varied and often rapidly changing situations

Multitasking: serving more than one table at a time

Empathy: understanding someone's emotions and point of view

Self-control: remaining calm and level-headed in the face of change and challenge

Patience: knowing when to wait, when to respond and when to take action

Effective listening: listening to understand and letting the speaker know they're heard

Soft-selling: promoting food and drink to increase sales without being intrusive

Attention to detail: taking orders accurately and checking bills before they reach the patron

Positive language: using upbeat and reassuring talk to calm negativity and win customer confidence

Clear communication: relaying information in a straightforward and easy to understand manner

Taking responsibility: ensuring that queries get resolved, irrespective of who is at fault
Technical skills will vary depending on the business, but you will need -
Intermediate level of computer literacy to operate order and POS software

Knowledge of food types and different alcoholic and non-alcoholic drinks

Complete understanding of how processes in the restaurant operate

Knowledge of health, hygiene and safety regulations

Understanding of menu and off-menu items and special offers

Numeracy and basic accounting skills to ensure transactions are processed accurately

Intermediate level of computer literacy to operate order and POS software

Knowledge of food types and different alcoholic and non-alcoholic drinks

Complete understanding of how processes in the restaurant operate

Knowledge of health, hygiene and safety regulations

Understanding of menu and off-menu items and special offers

Numeracy and basic accounting skills to ensure transactions are processed accurately
Personal statement versus a profile summary
You don't need a personal statement for a waitress or waiter CV, but you want to write a profile summary at the start of each tailored waitress or waiter responsibilities CV. Although you can write one summary and tweak it for several similar applications, it's best to rewrite the summary each time if there's any time-lapse. 
Here are examples of summary statements at different levels of skills and competency. The bold text indicates pertinent info that immediately lets the reader know vital details before reading the rest of the CV.
Waitress - profile summary example - senior
Head Waitress with over 15 years of experience in different sectors of the restaurant industry. Keen and enthusiastic with an eye for detail, I am service orientated and friendly. An energetic team player and leader who stays motivated and proactive even in peak times, I intend to make a career for myself in hospitality, particularly food and beverage.
Waitress - profile summary example - experienced
Dedicated Waiter with 7 years of experience in private catering. Service and ensuring guests' every need is met with friendly professionalism is my main focus. Experienced in the service of both small, intimate occasions and large parties of 100 guests and more. I am keen to broaden my experience internationally.   
Waitress - profile summary example - inexperienced
*Entry-level school leaver who wants to build a career in the hospitality sector. Although I currently have no experience, I am a quick learner who has a passion for food and beverage. I volunteered as a server at local charity events while I was at school, and I am keen to start as an assistant or a waiter. I will prove to be a highly motivated employee, who's eager to learn.*
What's the difference between a profile and a personal statement?
A profile summary is a brief statement included at the beginning of your CV, whereas a personal statement is a longer, separate motivation.
A profile summary is usually less than 100 words; a personal statement ranges from 500 to 1000 words.
Profile summaries can also be called – 'overview', 'professional summary', 'skills/qualification summary' or 'professional bio'.
Which one should I use?
Professional, management, executive and specialist roles benefit from a personal statement. They can be used for entry into graduate training programs and internships as well.
On the other hand, every CV for a waitress or waiter benefits from a brief profile summary because it allows the reader insight into who you are before reading your CV.
That's why it's essential to take your time when you write both statements and that you write them specifically for each job you apply for. It's your opportunity to stand out from other CVs since all applicants have similar qualifications and experience.
An optimistic, honest and informative profile summary or personal statement is your key to winning the first interview.
What must I say?
Even though a profile summary is short, it must still be relevant to the reader. Working from the job post and using your experience, include hard and soft skills, years of experience and any keywords you can identify. You want to match your summary with the employer's requirements as much as possible.
Keep these points in mind –
The job title

Highlight your knowledge

Include years of experience

Cover vital soft and hard skills

Match it to the employer's requirements
A personal statement must contain the same details like your profile summary, but it's expanded to give broader information about your skills and experience. It also allows you to express vital info like why you went into a specific career, would like to go into it, or why you want to change careers.  
Take the time to match your personal statement with the employer's requirements as much as possible too.
Whatever info you decide to include, keep both statements friendly, conversational and upbeat; it's the first impression prospective employers have of you.
How to use your master waitress or waiter CV
Once your master waiter or waitress CV is complete, you can apply for jobs quickly and be sure you won't omit any important details.
When you see a job you'd like to apply for, read through it very carefully, noting the main requirements. Often employers use keywords in the job description to parse applications.
Parsing is a way of sorting suitable applicants from the rest using keywords and scoring. If your CV for waitress job ends up with the 'rest', you won't hear a word again other than a polite standard message of regret.
The best way to identify keywords in a job post is to sift through the job responsibilities for directly relating words. Keep in mind that companies might have different titles for waiter or waitress jobs, and they can be called servers or waiting staff instead. If, for example, the job title and description use the word 'server', adapt your waiter or waitress CV to 'server' instead.
Your next step is to condense your master into a slick CV waiter or waitress that gets through parsing software and immediately draws the reader's attention.
You achieve this by extracting relevant and crucial info from your master and transferring it to a waiter or waitress skills CV tailored for the specific job.
It's vital to know that recruiters and employers spend only seconds on each application before moving on because they're looking for exact information. If they don't see it, they don't read further.
Placing pertinent keywords in your application from the start keeps them reading. It also tells them that you read the job ad thoroughly and you're not a time-waster.
There are a few rules for tailored customer services CVs –
Keep the same clear, concise black and white format of the master

Length matters, so don't exceed 2 to 3 pages

Make it relevant to the job only

Keep the language positive, proactive and easy to read

Check spelling, dates and sequence carefully

Don't include contact details of references; instead, say 'available on request'

Also, include the note – 'a detailed CV is available on request'
To sum it up
Getting your dream waitress or waiter job is in your hands because we get out what we put in as with everything in life. Spending time upfront planning and compiling a master waiter or waitress responsibilities CV is investing in your future.
Here are the key points to writing a perfect waiter or waitress duties CV –
Spend time crafting a comprehensive master CV

Save your master and all relevant documents in a secure file that's easily accessible

Read job posts carefully and pick up keywords

Compile a summary CV from your master using only info that's relevant to the job

Write an upbeat personal summary into the CV focusing on the job requirements
When you send your application –
Always send your tailored CV and cover letter in pdf format

Don't send any other documents unless  specified as essential

Check that your contact details are easy to find on the CV

Don't include reference contact details with an initial application
Waitress and waiter CV FAQs
We answer some of your most pressing concerns -
What is a master waiter or waitress job description CV, and how do I use it?
A master CV for waitress or waiter is a compilation of your highest level of schooling, through further education to your first job and on to your current, or most recent, employment.
Why do a master waitress or waiter CV?
Ultimately, to save time and present yourself in the best way possible every time. Once you have all the info accurately in one place from start to end, you don't ever have to do it again, and all that's required is to update it annually.
When must I include reference details?
Only once the recruiter or employer has made contact with you and requested reference details. Don't include references on a CV, particularly phone numbers and email addresses, when you first respond to a job post. Instead, say, 'references available on request'.
If the recruiter gets back to you for a telephone interview, they may ask for references, but if they don't, just leave it. Your application might be unsuccessful at this stage, or the interviewer can prefer to take references in the final hiring stages.
Including reference details upfront puts both you and the referee at risk.
Why?
Firstly, you're sharing someone's personal details with people you know nothing about. This leaves the referee at risk if their details get into the wrong hands.
Secondly, unscrupulous recruiters may contact the referee first before they contact you. This is an unfair practice, but you can do little about it if you gave them the details.
Finally, if a referee is surprised by a call they're not expecting, they might not take it or not recall all your details and give a weak sounding reference.
When you're job hunting, it's always best to contact your referees beforehand and remind them that they'd agree to provide employment references for you. When a few years have passed, it can be difficult to remember dates, job responsibilities and other crucial details.
Giving a past employer a heads up ensures that they're still willing and available to provide a reference. It helps ensure that all your references are confirmed and promotes your skills and abilities accurately too. 
Should I include hobbies and interests on my CV?
If including hobbies and interests in a CV or personal statement, only mention those relevant to the job. Avoid irrelevant memberships and personal achievements as well.
Remember that recruiters and employers are pressed for time and won't read anything immaterial. Hobbies and interests are excellent for our health and well-being but don't include them unless they relate to the job.
Great examples of interests or hobbies for a waiter or waitress to add to his cv; 
charity work

wine tasting

cooking

organic ingredients

cocktail mixing
Waitress or waiter FAQs
Are you interested in a career as a waiter or waitress or thinking of changing careers in that direction? Here's how you can do it -
What education do I need?
There's no minimum education level required, and some GCSEs are usually adequate. Your schooling must allow you to be good with numbers and to communicate fluently.
Although fluent English is a prerequisite in the UK, speaking other languages can get you a job overseas or on a cruise ship. 
There are levels of further education available that include an introduction to the hospitality industry and food and beverage service.
Do I need additional skills?
High school education is enough for waiter and waitress roles because most employers are willing to train their staff.
There are short courses and online courses that will improve your CV and make potential employers see that you're serious about your career. That will give you a definite advantage over other applicants.
Good knowledge and interest in types of food and beverages is another benefit since you'll be required to understand and promote menu and off-menu items.
Are there different fields of speciality?
The restaurant and catering industries are very diverse and offer a broad range of foods and service styles. Menus are as vast as there are regions, cultures and ingredients in this world. Some establishments specialise in certain types of cuisine, while others have a menu that changes daily.
Waitresses and waiters work in establishments that serve food directly to customers, and these range from cafeterias to roadhouses, pubs, steakhouses, Michelin Star restaurants and many more.
Service styles include plate, cart, platter, buffet and family-style and range from very formal silver service to informal service.
Each establishment has its own culture, and you can specialise in many different areas. The more skilled and specialised you are, the more your skills will be in demand, and the better you can handle your next salary negotiation.
Is there career progression?
There's plenty of scope for a waiter or waitress to progress in their career, and the great thing is that you can enter as a school leaver and gain on the job experience and training.
Progression opportunities include head waiter, maître D or restaurant manager. You can also move into food and drinks preparation positions such as bartender, barista, sommelier or chef if you're willing to study further and broaden your skills.
How do I get started?
Before you do anything, compile a waiter or waitress CV master so that you waste no time applying for jobs when you see relevant posts.
If you've just completed school or are thinking of changing careers, approach food establishments and catering services in your area. Sometimes speaking to people directly wins you an interview when you lack experience.
Otherwise, check job boards and your local newspaper classifieds.
Although a personal statement isn't usually a requirement for this kind of role, it can be a good idea to motivate your career choice when you have little or no experience.
Land the interview for your dream job with CVMaker
Effortlessly create your professional CV within 10 minutes and download it whenever and wherever you want!
Create your CV
Increase your chances landing your dream job with CVMaker.