Barista CV
Amelia has selected the two-column Edinburgh CV template to effectively showcase her experience and skills in the hospitality sector. She has added additional sections like education and certificates to further validate her skills.
Start your CV
"Enthusiastic and dedicated Barista passionate about delivering top-quality coffee and excellent customer service. Proven success in improving customer satisfaction and streamlining processes"
Amelia Smith
- Barista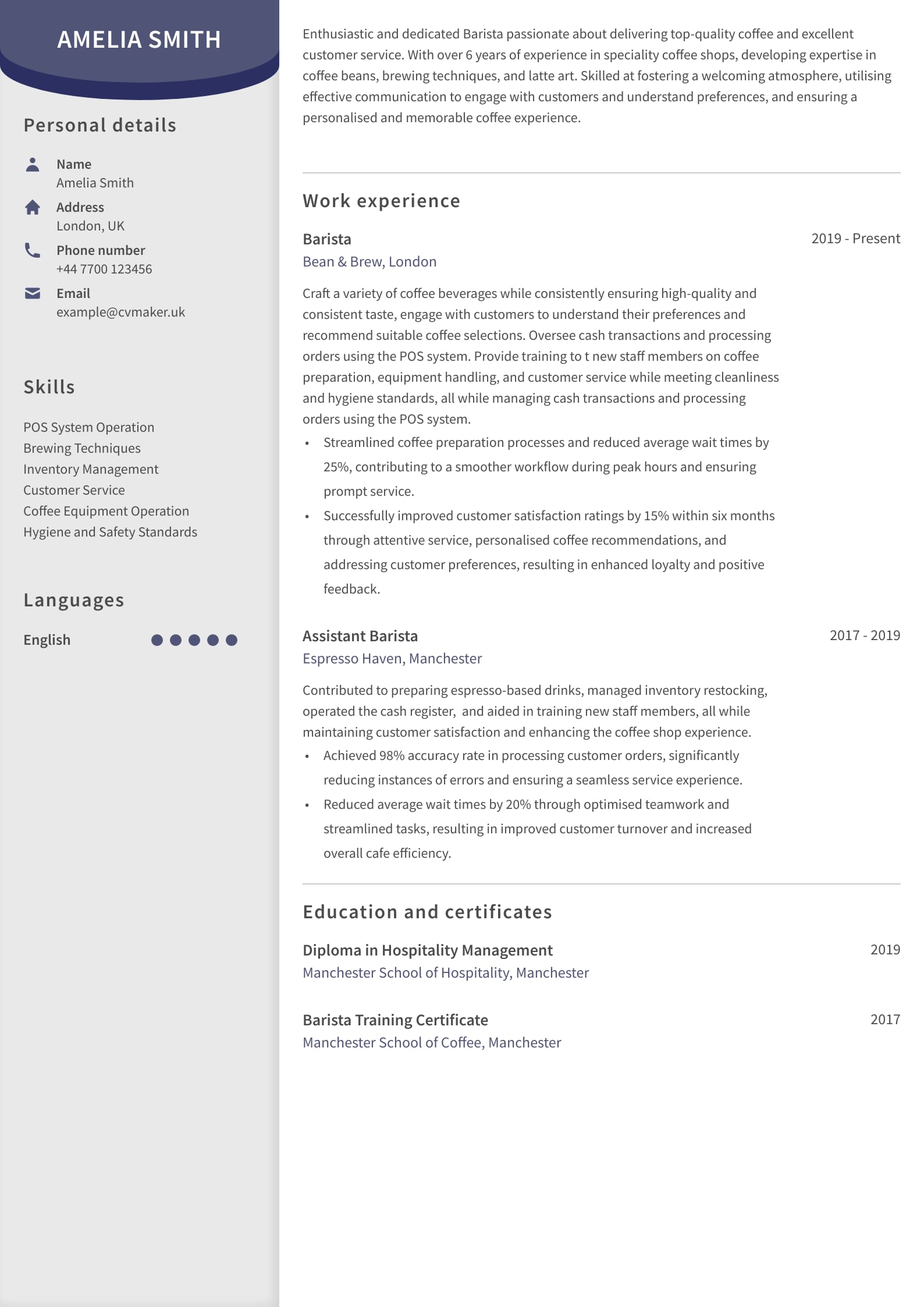 How to Serve up the Best Barista CV with Examples and Tips
The professional realm of coffee and the lively hospitality industry holds a strong appeal and offers many opportunities in the UK job market. Whether aiming for barista, supervisor, manager, or aspiring to become a barista maestro, your CV must stand out to potential employers. Our guide is designed to help you navigate different job roles and levels while catering to the unique demands of each role.
In a competitive market getting your application noticed by recruiters is crucial. It's important to ensure your CV is optimised for application tracking systems (ATS). That's why choosing a professional template and modern CV that recruiters can quickly scan is essential and increases your chances of securing a job interview.
The CV writing process: Where to start? 
Make the best impression on potential employers and write a good CV tailored to the industry and your desired role. As a barista, there are diverse opportunities and many ways to advance your career. Alternatively, self-employment offers the possibility of establishing your coffee shop, and there is flexibility in when and where you can work.
The range of roles available are:
Cafe Assistant

Barista

Barista Technical Advisor

Shift/Team Supervisor

Store Manager and Regional Manager 

Barista Maestro/Team Leader
Learn more and explore the job profile of a Barista with the National Careers Service. 
First, there are two steps to consider before your start; creating a master CV and then tailoring it to a specific job. A master CV includes your entire professional and academic experiences in one document. A job-specific CV is a tailored version that highlights your skills and experiences and uses keywords relevant to the job description you're applying for.
Barista CV example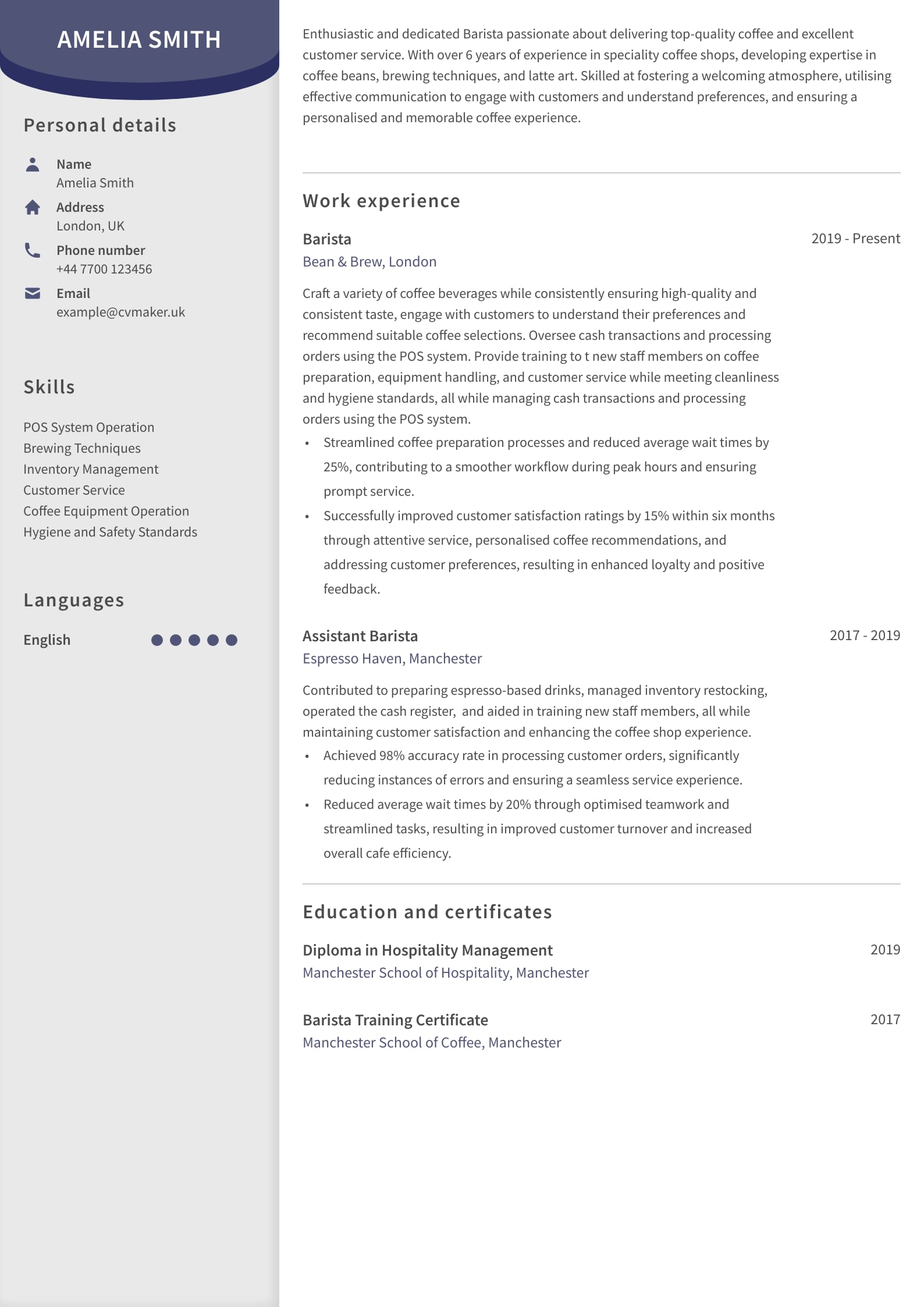 Download this Barista CV sample in PDF
In this CV sample, Amelia presents her six years of specialised coffee shop experience and customer service skills. She highlights her proficiency in coffee equipment operation, brewing techniques, and latte art skills. She also demonstrates her expertise by listing her achievements, education, and Hospitality Management and Barista Training certificates. It showcases her dedication to progress from a cafe assistant to a barista and proves her commitment to advancing her career.
What to include in a barista CV? 
Crafting an effective CV should include several key sections. Start with a profile highlighting your passions and expertise in coffee preparation, communication skills, and experience working in customer service. Detail past roles, showcasing responsibilities and accomplishments through relevant work experience.  Include any courses, certificates or qualifications that could support your application for a role in hospitality. 
Explore our other CV examples for more popular roles in the UK, such as bartender and waiter/waitress.
How to write a captivating personal profile 
Your personal profile on your barista CV is the first impression you'll make on recruiters and potential employers. Highlight your mastery of coffee preparation, latte art, and multitasking or team working in fast-paced environments. Communicate your genuine passion for providing quality services to customers in a hotel or cafe environment.
Use your personal profile to showcase your personality and passions as a coffee enthusiast. Use positive language to convey your commitment to quality, precision, and customer satisfaction, which will impact potential employers and hiring managers.
Cafe Assistant CV personal profile example
Dedicated Cafe Assistant with two years of experience providing exceptional customer service and maintaining a welcoming environment. Proficient in order-taking, food preparation, and cleanliness standards. Committed to ensuring a seamless and enjoyable experience for every customer.
Barista CV personal profile example
Passionate Barista with four years of expertise crafting exquisite coffee beverages using advanced brewing techniques and intricate latte art. Adept in creating personalised coffee experiences and delivering top-tier customer service. Excited to contribute to a team dedicated to elevating coffee culture.
Regional Manager CV personal profile example
Accomplished Regional Manager with eight years of proven success overseeing and optimising operations across multiple coffee shop locations. Exceptional leadership skills and a track record of boosting profitability, employee engagement, and customer satisfaction. Experienced in implementing streamlined processes and maintaining excellent customer service.
School leaver Barista CV personal profile example
Ambitious School Leaver aspiring to launch a career as a Barista, driven by a genuine passion for coffee. Eager to learn from experienced professionals while contributing enthusiasm, strong work ethic, and attention to detail. Committed to growth and acquiring skills in a supportive coffee shop environment.
For more ideas, refer to our article on writing a compelling personal profile. You can also learn more about writing a school leaver CV if you need extra guidance.
What skills should I add to my barista CV? 
When constructing your CV, include hard and soft skills. A successful applicant has both personal (soft) and professional (hard) skills to accomplish tasks and duties effectively. It's crucial to demonstrate that you have the right skills and know how to apply them practically.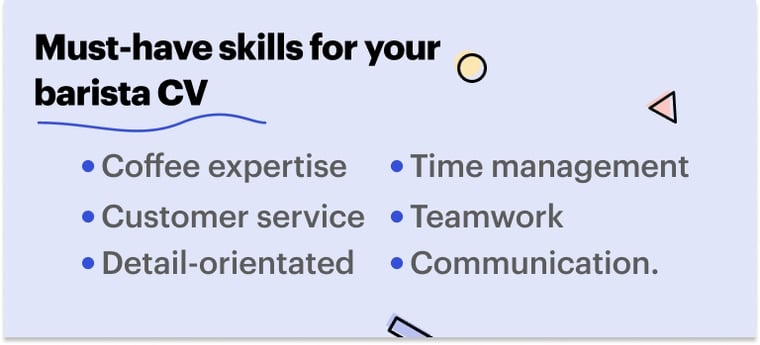 Manager:
Hard Skills: Staff management, inventory control, financial reporting, equipment maintenance.

Soft Skills: Leadership, delegation, problem-solving, decision-making, conflict resolution.
Supervisor:
Hard Skills: Shift scheduling, training new staff, quality control, ordering supplies.

Soft Skills: Communication, team coordination, adaptability, mentoring.
Senior Barista / Maestro:
Hard Skills: Advanced latte art, speciality drink creation, machine maintenance.

Soft Skills: Creativity, innovation, training, and mentoring junior team members.
Front of House Manager:
Hard Skills: Customer flow management, coordinating with kitchen, ensuring hygiene standards.

Soft Skills: Customer relations, organisation, multitasking, conflict resolution.
Entry-Level Barista/School Leaver:
Hard Skills: Basic coffee preparation, POS system use, cash handling.

Soft Skills: Eagerness to learn, strong work ethic, punctuality, memory, the ability to accept criticism and work well under pressure.
For more inspiration, refer to our article on what skills to put on your CV. 
How to write work experience on your barista CV
Structuring your work experience on your CV is essential to showcase your skills and achievements effectively. To do this, begin with your job title and company name in bold, followed by location and employment dates. Summarise your key responsibilities with relevant bullet points, focusing on tasks pertinent to the role, like coffee preparation and exceptional customer service. 
Moreover, emphasise your achievements as quantifiable results. Ensure you mention how you achieved enhanced customer satisfaction ratings or boosted sales figures. 
If you have little to no work experience or are a student or undergraduate looking for part-time work in hospitality, consider volunteering or applying for an apprenticeship or internship as a trainee.
Pro Tip
If you have little to no work experience, consider writing a skills-based CV as an alternative CV format for a barista role to showcase your transferable skills and qualifications over work experience.
Examples of work experience
Barista Maestro | Bean & Brew, London, 2019 - Present
Masterfully craft a diverse range of coffee beverages with meticulous attention to detail. Provide exceptional customer service, offering personalised recommendations and ensuring an enjoyable cafe experience. Training all team members to barista level and assisting with mentoring. Proficiently managing cash transactions and monitoring or delivering services to brand standards.
Introduced innovative coffee brewing techniques, increasing customer satisfaction by 20%.

Recognised for consistently achieving top sales performance, contributing to a 15% revenue boost.

Received the "Barista of the Month" award three times for exceptional service and dedication.
Food Bank Volunteer | Community Food Pantry, London, 2019-2020
Collaborated effectively within a dedicated team to manage food distribution and support community members in need. Engaged with fellow volunteers, recipients, and visitors, showcasing excellent communication skills. Contributed to the setup and organisation of distribution events, attended training sessions, and fostered a positive and welcoming environment. Provided vital assistance to fellow volunteers, boosting team morale and delivering excellent customer service.
Assisted in streamlining the food distribution processes and worked in a team to improve efficiency and enhance community support.

Received appreciation from the organisation for consistently providing exceptional service and support to community members.
Barista | Espresso Haven, Manchester, 2017 - 2019
Contributed to the preparation of espresso-based drinks, ensuring precise measurements and presentation. Managed inventory levels and restocked supplies efficiently to support smooth operations. Operated the cash register proficiently, accurately handling transactions and offering prompt service. Participated in training new team members, prioritising customer-focused practices.
Collaborated on redesigning the cafe layout, which led to a 30% increase in customer flow.

Implemented a streamlined inventory management system and reduced waste by 25%.

Received consistent positive customer feedback and contributed to a 10% increase in customer loyalty.
Shift Supervisor | BrewTime Cafe, Birmingham, 2015 - 2017
Managed daily cafe operations, including staff scheduling, inventory control, and quality assurance. Led and motivated a team of baristas, fostering a collaborative and productive work environment. Collaborated with management to conceptualise and execute promotional events to drive sales. Addressed customer inquiries and concerns promptly, ensuring a satisfactory dining experience. Enforced strict hygiene and sanitation protocols, maintaining a safe and clean cafe environment. 
Introduced a customer feedback system, resulting in a 15% improvement in overall customer satisfaction.

Successfully orchestrated a charity event, raising £1,500 for a local community initiative.

Implemented a staff training program, enhancing team members' product knowledge and service skills.
For more information, find out how to list work experience on your CV here. 
How to list education on a barista CV 
To be considered for this type of role, it's not a requirement to have higher education qualifications. In the UK, employers typically require candidates with two or fewer GCSEs at grades 3 to 1 (D to G) for level 1 courses and two or more GCSEs at grades 9 to 3 (A* to D) for level 2 courses.
To pursue a career as a barista, you can explore diverse entry paths, including:
Educational Route: Complete full-time courses such as Level 1 Award in Introduction to Employment in the Hospitality Industry, Level 2 Award in Barista Skills, or Level 2 Diploma in Food and Beverage Services. These courses have no prior qualification entry requirements or minimum age requirements. Learn more about how these courses and traineeships can prepare you for this type of work. 
Apprenticeships: Consider hands-on training through apprenticeship programs, such as bar and waiting or as an apprentice team member. These programs are generally 12 months, combining practical on-the-job instruction with studies. You'll require several GCSEs, including English and Maths, to be eligible. Learn how to become an apprentice on the UK Government website, and refer to our article on how to write an apprenticeship CV for more information.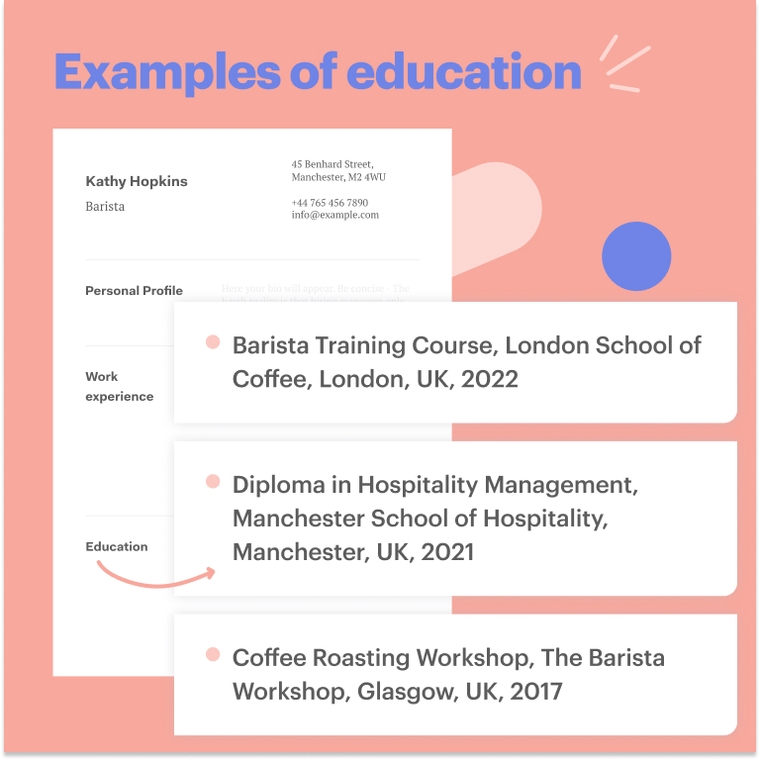 For extra guidance, refer to our article on how to list education on your CV. 
Additional courses and certificates for your barista CV 
Professional certificates and courses make your CV more credible and help you stand out from other applicants. To enhance your credentials and demonstrate your commitment to professional growth, consider pursuing relevant courses that align with your career goals. These credentials can improve your skills and offer valuable knowledge in areas that complement your hospitality or customer service job targets. 
Examples of courses and certificates: 
Coffee Brewing Techniques and Artistry, Specialty Coffee Association (SCA) 2022 (In Progress)

Food Safety and Hygiene Certification, National Restaurant Association, 2021

Customer Service Excellence Training, Udemy, 2020

Barista Masterclass: Advanced Techniques, Coffee Academy, 2019

Digital Marketing Fundamentals for Cafes, HubSpot Academy, 2018.
Explore free online platforms and learn how courses and certificates can enhance your application.
Key takeaways
Creating a well-written CV for a barista, supervisor, regional manager, or team barista maestro role may slightly differ, but all require the same strategic approach. We recommend writing a customised cover letter to your employer to increase your chances of success. Or, if you are trying to find a job and have little experience, read our blog on overcoming interview nerves. By following this guide and including these key sections, you can demonstrate your suitability for a cafe job and secure a job interview for your dream role.
Next Steps? 
If you are short on time and need an urgent CV crafted in minutes, we can help speed up the process. Our professional CV templates are well-structured and formatted, so you don't have to worry about the final touches. Alternatively, learn more about our CV Writing Service, which can support and advise you to achieve your career goals.
FAQ 
What are the different types of barista jobs in the UK? 
In the UK, barista roles vary from entry-level to experienced barista maestros, with responsibilities ranging from crafting specialist coffee beverages to managing cafe operations. Junior roles like assistants may focus on drink preparation and customer service, while senior positions such as shift supervisor, team leaders, or regional managers involve supervising teams, cash management, and monitoring customer service standards or quality.
What is a typical UK CV format for a barista?
A typical UK CV format should include a clear layout with sections such as personal details, professional summary, experience, skills, education, and qualifications. Emphasise relevant coffee-related skills, customer service abilities, and any specialised training in coffee-making techniques to show you are the best fit for the position. If you are preparing a barista CV for your first job, you can consider using a skills-based CV format.
How long should a barista CV be? 
A professional CV in the UK is generally one to two pages long. Use targeted information and keyword research relevant to your role and job description. Highlight your most relevant skills, work experience, and achievements to make a strong impression on potential employers.
How to write a barista CV with no experience? 
If you have little to no experience or are a student still studying and looking for their first job, we recommend writing a project-based or skill-based CV. Leverage transferable skills such as excellent customer service, attention to detail, and a willingness to learn. Showcase any relevant coursework or personal projects. Consider volunteering, doing an internship and adding this as additional work experience to your CV to enhance your credibility.
What is a barista's personal statement on a CV?
It is a short paragraph, around 60 words, summarising the best of your skills, experience and experience. Include your knowledge and passion for coffee, customer service, and commitment to creating a welcoming cafe atmosphere. Highlight your dedication to delivering quality beverages, communication skills and teamwork to contribute positively to customers' cafe experience.
Land the interview for your dream job with CVMaker
Effortlessly create your professional CV within 10 minutes and download it whenever and wherever you want!
Create your CV
Increase your chances landing your dream job with CVMaker.