Bartender
Olivia has selected the Harvard template for her CV. She doesn't have a lot of experience and wants to come across as serious and professional. This template clearly showcases Olivia's skills and experiences.
Create a CV
"Confident, outgoing, and social college graduate with one year of experience working in customer service. Skilled in communication, time management, and cash handling. Have some cocktail-making knowledge and a Level 1 award in Catering and Hospitality. Motivated to pursue my ambition to become a bartender and professionally develop."
Olivia Harrison
- Bartender
Bartender cv making guide
What to pour into your bartender CV template: Step-by-step bar work CV example, writing guide and template
Are you an outgoing and sociable person that loves a fast-paced work environment? Do you ooze charisma and have a natural flair for communication? Or maybe you have a genuine passion for entertaining others and serving drinks? If so, then a career in the hospitality industry as a bartender might be for you!
In this guide, we'll cover everything you need to know about crafting a perfectly written CV and how to get your foot in the door in the competitive job market. If you have previous work experience in customer service or have just graduated from college, we'll show you how to market yourself successfully to recruiters regardless of your professional background. We'll guide you through the simple process of how to make an impressive bar work CV and help boost your chances of being invited to an interview.
Bar work is not just about pouring and serving drinks but encompasses much more than that. Bartending is a popular and in-demand occupation that can add value to any CV. In this role, you'll spend the majority of your time developing your social skills and interacting with new customers every shift. There are many facets to this busy role, and you'll always have something to do. Working as a bartender is, therefore, an attractive role for many because it's a fun-filled yet challenging opportunity to learn transferable skills and professionally develop. Whether you're experienced in hospitality or customer service, or a recent graduate, working as a bartender can provide a beneficial building block to your future career.
Bartenders do more than serving drinks: Bartender duties CV
Here are some of the top skills required for bar work and we'll be incorporating these skills into our bartender CV sample below.
Social skills: interacting with customers and colleagues.

Mixology: how to mix and serve drinks.

Hospitality: knowledge about the hospitality industry.

Communication and Interpersonal: interacting and dealing with different customers.

Teamwork: Working with colleagues to achieve company goals and complete tasks.

Problem-solving: providing customer satisfaction for any issues/complaints.

Time- management: multi-tasking and completing tasks on time.

Cash handling: handling financial transactions, credit cards, and customers' bills.

Organisation: keeping the bar area tidy, organised, and clean.
If you're already familiar with some of these skills, then you're off to a great start! If not, we've included some more information about the required skills section to include on your bar work CV. We also elaborate more on this later in this article. 
Are you interested in crafting a bartender CV but feeling stuck on how to get started? If you're applying for your first bartender role or have limited work experience and require some extra guidance? Then read our tips for some new ideas. We've also included a bar staff CV example below to inspire you to create your own.
Bartender sample CV
Whether you're eager to get started writing your first bartender CV, or you're looking to revamp and improve your CV for a bar supervisor or managerial position- we can help. Our professional templates can be tailored to any occupation and will help you showcase the best design for your CV and help you stand out from the crowd. 
Below you can view our bar work CV example for the candidate Olivia, from Birmingham. She is a recent college graduate and has limited paid work experience.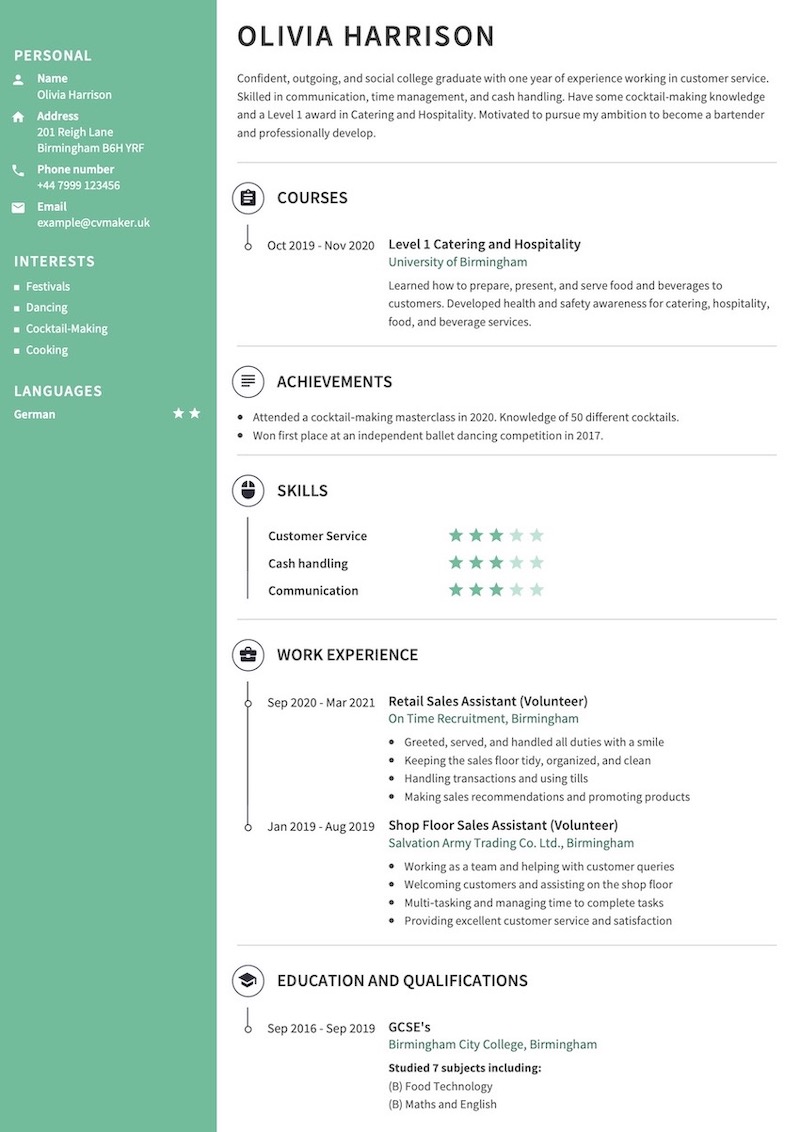 Bartender CV Example UK - Olivia Harrison- Birmingham-based college graduate with previous volunteer experience in retail and customer service. She has no paid work experience in the hospitality industry but has undertaken a catering and hospitality course and completed a cocktail master class. Olivia has relevant skills and interests related to bar work and is searching for a new position as a bartender at a professional establishment.
Mapping out the process: Writing a successful bar work CV
To write a successful CV means you should be diligent and concise. So, think carefully about your professional and personal experiences and take the time to list any relevant information. Plan carefully what you're going to add to each section on your CV and make sure your summary, work experience, and skills relate to the role you're applying to. 
Make sure you read the job advert carefully, do some research, get to know the industry,  and tailor your CV to the role. Being as detailed yet specific as possible is important. Show the recruiter that you're a perfect match and an ideal candidate for the position. 
Preparing a master CV is a productive way to store and refer to all of your professional work experience. The master CV differs from your Bartender (career) CV because the master CV includes all of your personal and professional information. Your master CV should not be used for job applications but instead should be used as a reference document that is updated regularly. When preparing your bar work CV refer to your master CV for any relevant work experience or additional details that could enhance your application. Ask yourself if there are any skills, or previous work experience that matches a bartender role.
Master CV
The master CV is the foundation of your work history throughout your lifetime. It should be regularly updated once you have completed anything relevant to your professional development. This could include employment, volunteer roles, certificates, courses, or other accomplishments.
Your master CV should be viewed as a combination of absolutely everything you have achieved. Make sure you don't leave any information out. It's a good idea to create copies of all relevant qualifications and certificates that you've accumulated over the years. You can use these documents for evidence and refer to them at a later date on your applications. Save all of this information on one file so you can easily access it if requested by recruiters.
In comparison, your career CV is something you'll use to apply for specific jobs, for example bartending. This CV can be tailored to any industry or job vacancy. When applying for a bartender role you can simply add any relevant details from your master CV. Crafting the perfect career CV will therefore take less time because you'll have the information saved on one document already. Sounds easy, right?
Your master CV should do the following: 
Concise and simple information with an easily readable font.

Be well presented, structured professionally, and organised.

Use a white background with a black simple font.

No spelling or grammar mistakes.

Factual information that you can support with evidence.

Include work history, skills, education, certificates, and courses.

Include soft and hard skills.

Include an entire list of your job roles you have held with detailed responsibilities and skills for each.

Include dates and the length of time it took to complete everything.

References related to each job.

Your most recent or current job at the start with the first job you completed at the end.

List education and qualifications from recent to first in the same reverse chronological order.
Example structure for your master CV
WORKING PERIOD - JOB TITLE - COMPANY
Responsibilities

Achievements
STUDY PERIOD - DIPLOMA - INSTITUTION
Study (grade level or honours if applicable)

Additional achievements

GCSE, how many subjects (grade), including maths and English

Additional achievements
Importance of a master CV
You may be wondering 'is making a master CV worthwhile?' The answer is yes, it's worth the effort. Master CVs may be time-consuming and require some initial work- but once it's complete, you won't have to do it again! The rest of the work is just updating your Master CV bi-annually. Master CVs are valuable documents because they help you construct the perfect career CV for half the time. Just make sure you update your master CV annually or between jobs so your information is accurate.
Treat your master CV like any other professional document. This means proofreading and checking for spelling or grammar errors. If you copy information from your master CV onto your career CV that is incorrect- you'll leave a bad impression on your recruiter and reduce your chances of getting the job. Don't take any chances, and always double-check your applications.
Components of a good bartender CV
How do you create an outstanding impression with your vacancy specific CV? We'll be guiding you through this section and advising you on what details and information to include. We'll also be highlighting the common mistakes to avoid. You can easily follow our guidelines to construct your own bartender CV or choose from our expert templates below to revamp your work profile in minutes.
The very first step in writing your bartender CV is understanding what sections to include. Your CV should contain the following elements:
Personal details

Profile summary

Work experience

Area of expertise or Skills

Education section

Additional sections (Optional)

Hobbies or Interests

References

Languages
Within that framework, you need to address the bartender needs of your prospective employer in the tone that matches the company's style. Just as you research your clients before making your pitch, you should research the company here and aim your pitch directly at the hiring manager or your prospective boss. This has the dual purpose of answering the questions, "Will you fit into our culture?" and "What can you do to lift my sales numbers?"
Personal information
You should include the following details:
Your full name

Phone number

Email address

Driving licence type (if you have one)
Website Links: You can choose to add website links to other personal profiles such as your LinkedIn page. Depending on the type of job you're applying for, it may be suitable to include an URL to a work portfolio to showcase what you have accomplished. Using websites is optional- just make sure what you include is relevant to the job and adds value to your application. In this case for a bartender, it may not be the most applicable.
Photos: It's not advised to add a photo, logos, or self-portrait on your career CV because this is not allowed on UK CVs.
Do
Include only personal information that you feel comfortable with.

Provide an email address that you read daily.

Include the type of driving licence you have.

Clarify your first name if it differs from your legal first name.
Do not
Use an unprofessional email address for example: "spicegurlsfan19@hotmail.com".

Forgot to include your driving license type.

Include a photo of yourself, your gender, age, religion or home address.

Enter a phone number with an unprofessional voicemail.
Work experience
List your work experience in reverse chronological order from the most recent work experience to the last. If you have previous experience in other roles then you should mention any transferable skills that you developed which are relevant to your bar job. For each role you summarise, make sure to include the title of your role, name of the organisation, date of employment (use the term 'present' for any position you are still holding), and responsibilities/duties that best describe your position in bullet points.
Try to focus on the achievements of your work experience rather than the responsibilities. Demonstrate what you learned and achieved instead of just being descriptive about what you did. Make sure to write your work experience with data and numbers. Show what you have accomplished and add numbers or data if relevant. For example 'our team contributed to a 10% increase in sales revenue in 2022'.
Tips for bartender CV work experience:
Highlight transferable skills if you are going through a career change or have little work experience. Think about how your current professional and personal life skills can be applied to the job role. 

Use action verbs at the start of each bullet point summary to demonstrate how you did something that proves your competence for the role such as 'managed, handled, or provided'. 

Write 4-5 bullet points to explain what the job involves and how you do it successfully. 

Use reverse chronological order to format your CV.
Little to no work experience - No bar job yet? No problem
In the bartender CV sample, Olivia was a recent college graduate that had little-to-no work experience. She compensated for her limited paid work experience by taking courses and gaining certificates in the hospitality industry. She also volunteered to gain transferable skills and added achievements to enhance her competence for the role. 
Candidates applying for a bartender role with little to no work experience still have an equal opportunity of getting the job if they market themselves successfully. Don't forget that employers will still consider your application even if you have no experience and you can enhance your CV in many other ways. Here are some things you could try:
Volunteering
Non-paid work could help you gain some necessary customer service and sales experience. You'll be able to develop transferable skills such as communication, social skills, teamwork, cash handling, and time management that could support your bartender responsibilities CV.
Courses and Certificates
Are you new to the industry and have limited work experience? Then opt to complete a course or gain a certificate to develop your knowledge, skills, and expertise. Consider attending Bartending school and or completing a course in beverages and hospitality.
Prepare for the interview
Feeling nervous before the interview? Job interviews can be challenging, especially if you're an introvert. It can be especially nerve-wracking for candidates who have little experience or are attending their first job interview. Try and relax before the big day, be yourself, and show an enthusiastic can-do attitude.
Before attending your interview, try to make the best impression, and practice mastering your interview technique. Depending on the role, some recruiters will call you for a pre-screening interview before a face-to-face interview, so learn how to prepare for a phone interview just in case!
During the interview
It's even better if you can show off some bartending knowledge or can explain how to prepare a few of your favourite cocktails. You should demonstrate that you have put the time and effort into learning more about the industry. Use the job advert as a 'cheat sheet' so you know what exactly the company is looking for and what your role entails.
Little work experience? No problem.
Even with little experience, if your CV showcases a fun, charismatic personality and positive attitude then this will set you apart from the competition. Be likeable and show passion for the industry. An idea is to apply as a server or barback to work your way into a higher position as a Bartender.
Education and qualifications
To be considered for a bartender role, it's not a requirement to have higher education qualifications. This means GCSEs are usually enough for your bartender application to be considered. It's also more likely that your application will stand out if you've attended bartending school or completed relevant certificates and courses.
Bartender education requirements and recommendations:
GCSEs or A-Levels (or equivalent): GCSE Maths and English can be useful for a bartender role. It's not necessary to list all the names of subjects you've taken, so just state the number of GCSEs you have achieved.

Courses:  There are no specific courses you must take to become a bartender. Taking professional certificates and courses could drastically enhance your bar work CV application. You might want to consider completing an NOCN or BTEC Level 1 award in hospitality and catering or a food and beverages award. Some certificates can be completed alongside GCSEs. Alternatively, attending Bartending school would be the best option to boost your bar work CV and stand out from the competition.

University (Bachelors, Masters or PhD):  If have a higher education qualification you can still add this to your application, but it's not required for a bar work CV.
When to put Education before Work experience?
If you have little to no work experience or more education and qualifications- then consider putting education before the work experience section on your bar work CV.
Areas of expertise or Skills
Adding a skills section to your CV is essential. Some candidates may choose to craft a skills-based CV if they have limited experience, have just graduated, or have been unemployed for a while.
Successful bartenders use a combination of soft and hard skills to complete tasks. There should be an equal emphasis on soft (personal) and hard (professional) skills on your bar work CV.
Hard skills or Professional skills
Hard skills are the learned, specialised, technical skills that can be applied to different occupations and industries. On a bar work CV, it's useful to refer to some hard skills such as 'customer service, mixology, hospitality, and cash management.' In comparison, examples of soft skills are 'creativity, problem-solving, patience, or teamwork' which can be personally obtained and also beneficial for managing professional tasks.
Bartender hard skills or professional skills
Customer service

Hospitality industry knowledge

Mixology

Cash handling

Taking orders

Checking identification

Ordering stock

Knowledge of alcoholic and non-alcoholic drinks

Knowledge of liquor regulations
Soft skills or Personal skills
Soft skills refer to 'listening skills, time-management, and teamwork' which are transferable and can be gained by personal and social life experiences. Soft skills should mostly be included in your profile summary. If you do not have many hard skills or the bartender vacancy specifically asks for more soft skills, only then would you choose to list them in a different section.
Remember to refer to the job vacancy advert to see what type of skills your company is looking for. We have provided some professional and personal skills to include on your bar work CV:
Bartender soft skills or personal skills
Team work

Listening skills

Communication skills

Patience

Positive attitude

Problem solving

Adaptable

Leadership

Time management
Personal profile or Profile summary
Your personal profile is the foundation of a successful CV. This is the first section that will catch the eye of the recruiter, so you must make sure what you write is compelling and unique. Your profile summary should be personable and unique so you stand out to recruiters. Describe yourself in short and strong terms and consider the job title when writing your profile and mention any relevant achievements, qualities, ambitions, goals, and skills. When writing a perfect profile summary you should be accurate, informative, and relevant. Your statement is a section that evolves to reflect your current career goals and should be different for every job role you apply to. You can also choose to use similar information in your cover letter and collate relevant details for the job vacancy you're applying to.
The language and phrasing of your personal profile will express how much experience and expertise you have for the prospective role. Even if you do not have much work experience, do not state this in your summary. Instead, demonstrate what transferable skills you have and how your passion for interests is relevant to the position. Make sure to describe yourself with any soft skills you have. We elaborate more on skills later on in the article.
Personal profile example for bar work CV
To give you a clear idea of what recruiters expect, we've included three personal summaries from Bar Staff CV samples. These summaries range from beginner (inexperienced), intermediate (experienced), and expert (managerial/supervisor) candidates applying for a bartender role. Identify the use of language expressions and how each candidate highlights their skills and experiences differently.
Bar Manager CV profile summary example – (Expert)
Experienced and professional bar supervisor with over five years of experience working at 500+ guests a night bars at events and local pubs. Knowledge of over 50 cocktail recipes with a passion for preparing high-quality beverages and providing excellent customer service. I've led my team to exceed sales targets by 10% for 2019-2022 and increased profits by 5% in 2021. Motivated to pursue my ambition to become a bar manager.
Bartender CV profile summary example – (Experienced)
Current part time university students with two years of experience as a restaurant waitress and bartender at a local pub with 70 guests a night. Skilled in customer service, multitasking and time management. Enthusiastic about making cocktails and practising my bartending skills. Motivated to develop my hospitality industry knowledge and people skills to become a well-versed bartender.
Bar Staff CV profile summary example – (Inexperienced)
Confident, outgoing, and social college graduate with one year of experience working in customer service. Skilled in communication, time management, and cash handling. Knowledge in cocktail-making and achieved a Level 1 award in the Catering and Hospitality industry in 2019. Motivated to pursue my goal to become a bartender at your establishment and develop my bartending skills
Additional sections
The purpose of your CV is to convince the recruiter that you're the best candidate. So for this section, it's time to unleash your creativity and think about what makes you employable and unique. Recruiters receive hundreds of CVs for a job posting- so it can be a monotonous and time-consuming task for them. Make their job easier and increase your chances of getting an interview by making your CV different from the rest. Add an attractive achievement or an interest that will grab their attention. Just make sure any additional sections add value and prove your competence for the role.
It's entirely optional which sections you choose to add. Only you can intuitively decide which information to include and whether it applies to your potential role.
Languages
Can you speak more than one language? If so, you're in luck because this is a unique way to stand out from the crowd and get your CV noticed! Feature your language section on your bar work CV to impress recruiters and showcase your multilingual abilities.
It's common that in many industries at work you'll interact with colleagues or customers that speak a foreign language. Working in a multilingual environment can be beneficial for professional and personal growth in many ways such as enhanced listening, problem-solving and interpersonal skills.
Before adding languages to your CV, take a recognised test to evaluate your language proficiency. Also, make sure that you include your proficiency level rating in this section too.
We elaborate more on How to add your unique language skills to your CV on our blog.
Hobbies and interests
Adding unique hobbies and interests to your CV will enhance your application in the competitive job market. If you're a candidate with limited work experience, then we'd highly recommend adding any relevant hobbies and interests. This section must add value to your CV and demonstrate your skills and competencies for the role. Get creative and think outside the box!
Achievements
You might be thinking, 'how do I add accomplishments to my bar work CV?' If you have little experience in this field, then you might want to think about adding your latest success or mention that you were a top achiever in college. These examples would demonstrate to the recruiter that you have discipline and the motivation to strive for a goal.
Final tips and tricks
In this guide, we've outlined that the integral purpose of a CV is to leverage your skills and show off your potential.  An exceptional CV should convince the recruiter to employ you. Now that you've read this guide thoroughly, you should be well equipped to write an impressive bar work CV. You should have the confidence to start applying to roles as a bartender and kickstarting your career in hospitality! We've covered what to write and how to create a professional career CV using our templates.
Summarised tips
Thoroughly proofread your CV and check for errors.

Write a persuasive cover letter to accompany your CV.

Use our templates and let us do all the design and formatting for you in a few easy steps!

Use keywords on your CV and interview.

Research the role requirements and into the company.

Use your job advert as a 'cheat sheet' to follow.

Write a comprehensive master CV and update it manually or between jobs.

Write a personable and upbeat personal summary that offers solutions

Mention facts and figures to showcase your achievements and competencies.

Include hobbies, interests, and achievements to stand out only if you have limited work experience.

Keep the language of your CV concise, simple, and short.

Include languages on every CV application if you're multilingual!
Things to do when sending in your job application
Send your CV and covering letter in PDF format.

Don't send any other documents unless specified as essential

Check that your contact details are accurate and easy to find

Don't include references on your CV
Don't be discouraged if your job applications are ignored at first. It's a normal part of the application process to get rejected. Applying for jobs can be challenging and daunting for some candidates, especially if you're new to the process. Though, if you've taken the time to write an impressive CV, the chances of getting hired should get easier. Don't give up!
In the meantime, if you are struggling to find paid work experience then spend time gaining volunteer experience, taking a course, earning a certificate, or working towards an achievement that will benefit your career CV.
If you are short on time and need an urgent CV crafted in minutes, then we can help speed up the process. Our professional CV templates are well-structured and formatted so you don't have to worry about the final touches. Building your CV has never been easier, with our pre-made templates, you will save you time and hassle.
FAQs and facts
Have some extra questions about writing an exceptional perfect bar work CV? Listed below are the top FAQs for bartenders.
Should I include a bartender cover letter?
Yes, it is essential to include a cover letter with your CV application. If you're not sure how to craft a professional cover letter then refer to our guide for ideas.
Should I include references on my CV?
It is not mandatory to include references on your CV. Recruiters rarely request references for the initial interview stage. Though, if you get the job then it would be suitable to provide references if your employer asks for them. Refer to our guide for more help on using [references].(/blog/cv/include-references-on-cv)
How long should my Bartender CV be?
Ideally, your CV should be 1-2 pages long. It's best if you can condense all of your information onto one page, though this is not essential. Try to avoid writing a cluttered and lengthy CV. Proofread and edit once you write it so trim down any unnecessary information.
Should I create a specialised CV or keep it general?
For every job application, you should always aim to tailor your CV to the role you're applying to. Make sure your profile summary and cover letter are personalised to match the hiring company's job requirements. Re-word your skills, interests, and work experience to keep them relevant to the job role. Make sure to add any work experience or additional details to your general master CV and update it regularly.
Which size font is acceptable for my CV?
When writing your bartender CV opt for a size 10-12 because it's fairly easy to read.
Where can I find good templates for a bar CV?
We have a huge variety of templates on our website. You can find different designs that are appropriate for any career. For our bartender CV sample in this guide, we used the 'Havard design' but there are several other creative designs to choose from.
I don't want to write my own CV for bar work or motivational letters, is there a service I can hire? Yes, at CV Maker we also provide a CV writing service.  We can create a professional and tailor-made CV for your desired job in a few days. This process is easy, efficient and hassle-free.
What courses are available for bartenders?
To increase your chances of employability, you can add specialised courses and certificates to your bar work CV. To begin you could opt for a Level 1 award in hospitality and catering or even try a cocktail masterclass in your local area. Some courses take longer than others and cost more. So do some research into bartender-related qualifications online and see which program suits you.
Where can I find bartender courses?
You can choose to enroll in a bartender course online or in person. Search the latest bartender courses at various websites such as:
Online Advanced Bartending Course | European Bartender School
How much money does a bartender make in the UK?
According to the latest data in 2022, the average salary of a Bartender in the UK is around £12 an hour, which equates to £23,425 per year.
Where can I find jobs for bartenders in the UK?
Popular websites to find Bartender jobs in the UK are:
Can I work as a bartender if I have bad grades?
Having bad grades is not the end of the world. What matters most is your character and skills!
Land the interview for your dream job with CVMaker
Effortlessly create your professional CV within 10 minutes and download it whenever and wherever you want!
Create your CV
Increase your chances landing your dream job with CVMaker.