Customer Service CV
Shannon, an experienced customer service professional, has selected the Cambridge template. After having worked in a series of customer-focused roles, this CV example showcases Shannon's ambition to find a senior role within the industry.
Create your CV
"Customer service professional with a reputable track record in coaching, motivating, and guiding teams to achieve both business and personal career goals."
Shannon Lewis
- Customer Service Team Leader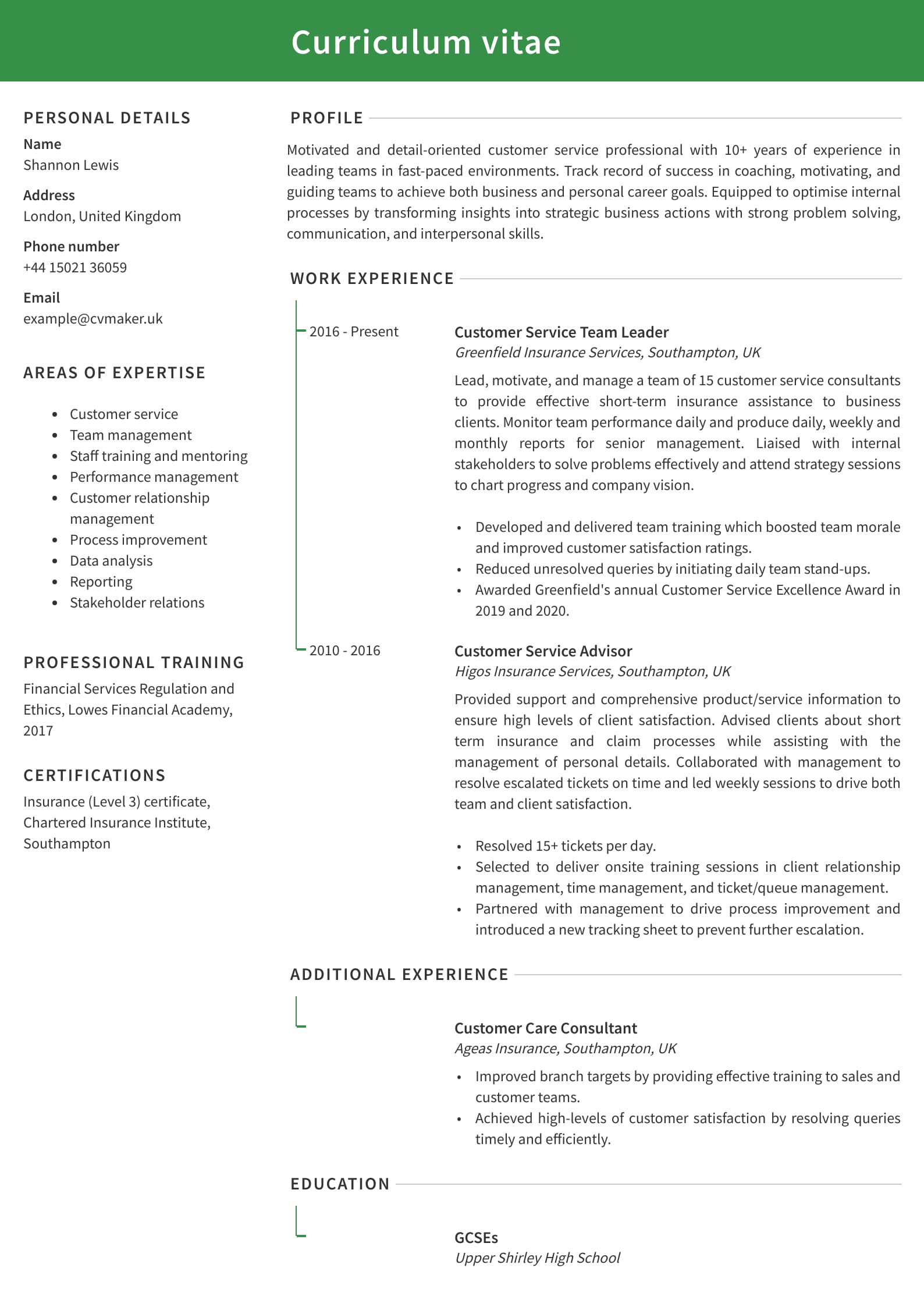 How to create a customer service CV? Tips and examples to help you land more interviews!
The customer service field has seen tremendous growth and provides abundant job possibilities. From retail stores to call centres, hospitality, and more, customer service personnel must offer exceptional service and make sure customers are happy with their business. Working in customer service means you play an essential role in the organisation. Your main task is to keep customers satisfied while supporting the sales process.
CVMaker offers a comprehensive career platform to help you structure a winning application for your dream role with professionally created templates. In addition, we'll assist you in writing the best customer service CV to land you a job interview.
The CV writing process: Where to start?
Regardless of your experience, it is a challenge to create a CV that stands out among a sea of applicants. A CV is typically the most in-demand career document required when searching for a job, so you must use the correct tools and techniques. In today's world, appearances count for a lot, but several factors must be considered. They include content, writing strategy, format, template, and additional career-related documents.
In the end, the core CV sections typically include your relevant work experience, education, and key skills that target and align with your career goals. Our customer service CV example offers a practical instance of using these tips to create maximum impact. For more advice, see the article on how to improve your CV.
Master CV
A master CV includes all of your professional work history in one document. You can include academic qualifications, job history, skills, certificates, volunteer experiences, and anything relevant to employment. Do not use your master CV to apply for jobs; instead, use it as a reference for your job-specific CV.
Pro Tip
Remember to list everything you have completed and achieved, referring to the relevant parts when writing a job-specific CV.
Job-specific CV
When writing a customer service CV, it's essential to focus on the skills and experience you have that are relevant to the role. Remember to be industry-specific and research the relevant terms associated with customer service. Adapting your CV to a specific role will increase your chances of landing more interviews. Ultimately, recruiters or hiring managers want to see how and why you are the best candidate for the position.
Customer Service CV example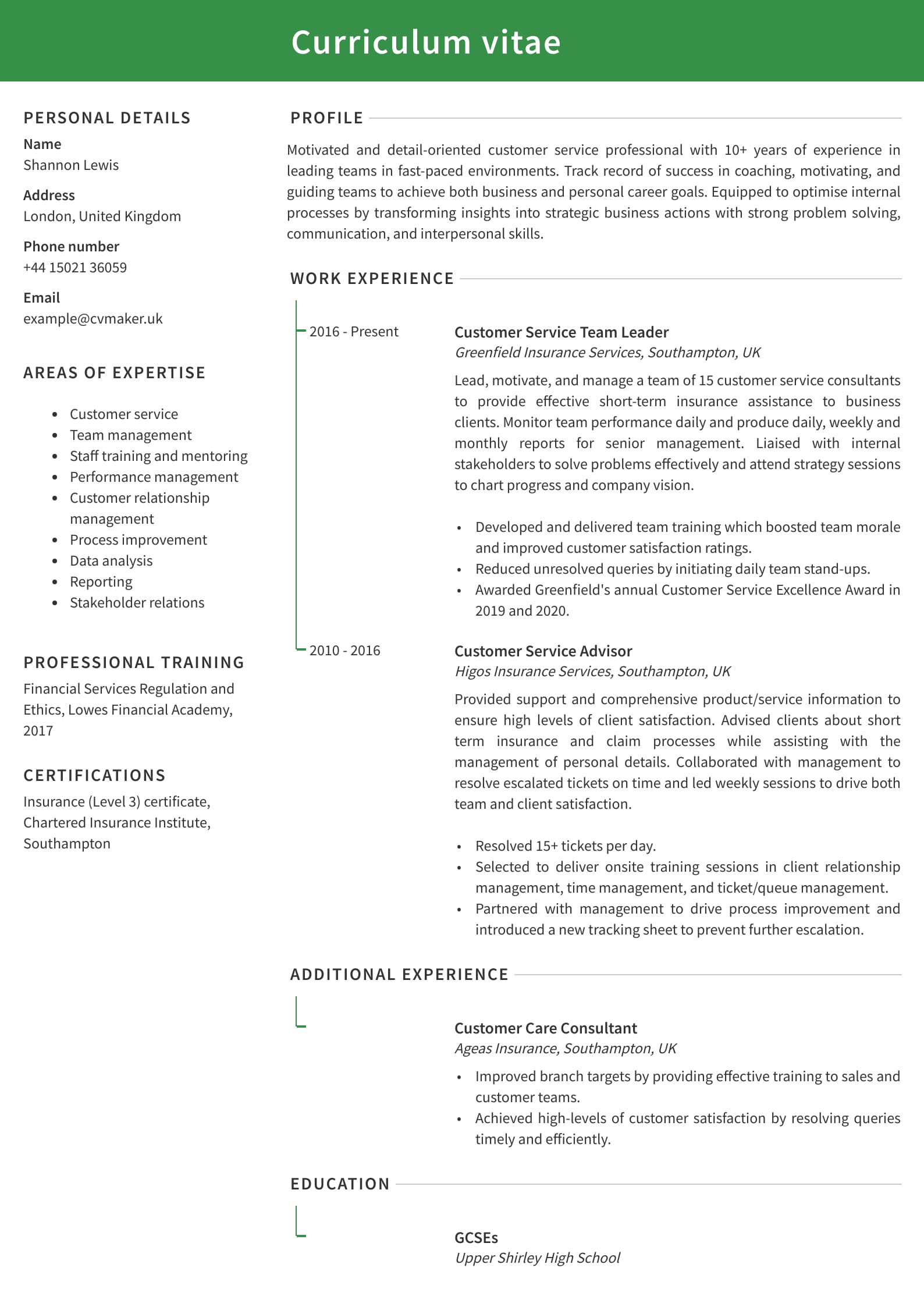 Download this example - Customer Service CV
*Shannon, an experienced customer service professional, has selected the Cambridge template in this example. After working in a series of customer-focused roles, this professional CV example and template highlight Shannon's ambition to find a senior position within the industry.*
What to include in a customer service CV? Tips and examples
Customer service is all about supporting your customers before and after to ensure an enjoyable experience with your brand or service. When writing a customer service CV, it is essential to focus on the skills and qualities that make you an ideal candidate. In addition, highlight your ability to support, interact and help others professionally.
Personal profile for a customer service CV
A compelling personal profile on a retail CV should demonstrate your experience and soft skills, specifically showcasing why you are the right fit for the role. This section is your first opportunity to impress a potential recruiter with your customer service knowledge or experience. Therefore, this brief professional statement should accurately reflect your current motivations and objectives.
When describing yourself in this section, pay close attention to your sentences' structure, key phrases, and overall language. For example, use actionable verbs throughout your CV to demonstrate how you are proactive and accomplish objectives or tasks.
Example of personal profile for customer service CV
Motivated and detail-oriented customer service professional with 10+ years of experience leading teams in fast-paced environments. Track record of success in coaching, motivating, and guiding teams to achieve business and personal career goals. Equipped to optimise internal processes by transforming insights into strategic business actions with strong problem-solving, communication, and interpersonal skills.
What skills to put on a customer service CV?
To succeed in customer service roles, such as a shop assistant, employable individuals need solid communication abilities, the capacity to resolve dilemmas quickly, and know-how of company and product value. Having the right skills can benefit your CV, even if you need to gain relevant experience or if you're applying for a more experienced role, such as a Customer Service Manager.
An ideal example of a customer service CV should include a mixture of hard, soft, and transferable skills. Hard skills are measurable and easily defined, while soft skills describe personal qualities and traits. Transferable skills are gained throughout your personal and professional life. If you're new to the job market, a recent graduate, or have little experience, consider creating a skills-based CV.
Below are some customer service examples to include on your CV, and you can get more insight into how to add skills to your CV.
Examples of hard skills:
Customer service skills

Sales and marketing

Budgeting

Team management

Product knowledge.
Examples of soft skills:
Adaptability

Patience

Communication

Effective listening

Decision-making.
Examples of transferable skills:
Teamwork

Problem-Solving

Leadership

Time-management

Collaboration.
Work experience on a customer service CV
Before writing your customer service CV, list your experience and research the job you are targeting. Use active verbs and keywords to summarise your duties. We suggest aiming for four to six lines to describe your work responsibilities. Structuring your work experience section like this will ensure you create an eye-catching and effective CV. Take a look at our hairdresser or bartender CV example articles for more inspiration.
When writing your CV, list your most recent experience. Additionally, if you have any relevant experience over 15 years old, highlight the transferable skills developed within that role within the additional experience section of your CV. For more tips on how to write this section on your customer service CV, you can refer to our work experience guide.
Examples of work experience achievements for a Customer Service Manager
Successfully delegated tasks to team members and handled front-end supervision.

Boosted retail operations and introduced cost-reduction strategies.

Resolved conflict and handled escalated situations with customers by leveraging strong problem-solving and communication skills.
Pro Tip
Remember to tailor your CV to be job-specific and refer to the role requirements on the job post to make your work experience relevant.
Additional experience for a Customer Service Manager CV
Customer service is a broad industry. Use this to your advantage and mention the various skills, duties, and tasks involved in this sector. An ideal customer service manager should have a wide range of experience to be successful. In addition to the core skills and knowledge required for the role, try listing additional courses and certificates you have achieved.
It's crucial to demonstrate how you have excelled in a managerial position. Use the additional experience section to highlight experiences that might be short-term or outdated. Try to include key responsibilities, achievements, and experiences within volunteer roles or previous employment where you had to supervise, manage or work within a team. If you need more inspiration, you can add hobbies and interests to your CV. Make sure you are relevant; this section enhances your ability to lead and manage a team.
How to list education on a customer service CV
In the UK, you are not required to undergo higher education to achieve a customer service manager role, nor as an assistant. Yet, it is crucial to complete secondary or tertiary education and have GCSE qualifications. Most recruiters are less concerned with qualifications or certificates for this role. Instead, they focus on possessing good hands-on experience and relevant skills/qualities to perform in customer service.
When structuring education on a customer service CV, a structured format is required to make your application presentable. The details you should include in your education section are straightforward. Just mention the name of the school, its location, dates, and the degree/diploma/certificate obtained. This should suffice for a customer service CV as far as hiring managers and recruiters are concerned.
For those with little employment history, highlight relevant qualifications or other experience to make your application appear more substantial. Refer to our graduate article if you are a recent student, have been unemployed for a while, and need more ideas on improving your CV.
Key takeaways
It's time to wrap up and summarise the essential points from this guide to writing a winning customer service CV.
Use concise, straightforward language and keep it brief.

Create a professional cover letter with your CV.

Before sending your application, review your professional documents for any mistakes or errors.

Compose a pertinent and descriptive personal introduction that reflects your best soft skills and professional aspirations.

Illustrate your accomplishments with quantifiable results.

Include further details of your hobbies, interests, and achievements to demonstrate your experience and suitability for the role.
Next steps?
When you're short on time and need a rapid CV turnaround, CVMakers expert team can handle the entire process with pre-prepared, stylishly formatted templates. Discover more about our CV Writing Service. Need to polish some inconsistencies in your text or improve your writing? Check out our CVMaker website for professional CV Writing Services or our easy-to-use CV Builder.
FAQ
If you're interested in pursuing a career in customer service or transitioning to this industry, here's how you can create a modern CV template for customer service. Choose from over 20+ designs to suit your career objectives.
What education should you have to apply for a customer service position?
Depending on the industry, most applicants will need GCSEs and secondary education for all customer service assistant roles. However, for higher-level roles such as store manager, you may be asked to have a higher education qualification or certificates to support your application.
How should you describe customer service skills on a CV?
Ensure this section is actionable and demonstrates how these skills relate to your job and responsibilities. For example, when describing customer service skills on a CV, you must focus on what experiences or tasks you have completed that make you competent and skilled for the role. Back your descriptions up with evidence and support your claims.
How should you say that you have customer service experience?
Provide an example of how you performed excellent customer service or demonstrated competencies for the role. Refer to the relevant skills and qualities listed in this article and the keywords and requirements in the job posting. It may be better to emphasise transferable and soft skills, as these can be acquired more easily.
Land the interview for your dream job with CVMaker
Effortlessly create your professional CV within 10 minutes and download it whenever and wherever you want!
Create your CV
Increase your chances landing your dream job with CVMaker.