Cashier CV
Using the Wheaton template, Amina effectively showcases her work experience as well as hard and soft skills. The straightforward look allows any potential employer to easily scan for keywords and experience.
Start your CV now
"Committed and detail-orientated cashier with over 5 years of experience in high-speed retail settings. Strong communication skills and a committed team player, always aiming to deliver a seamless customer experience."
Amina Patel
- Cashier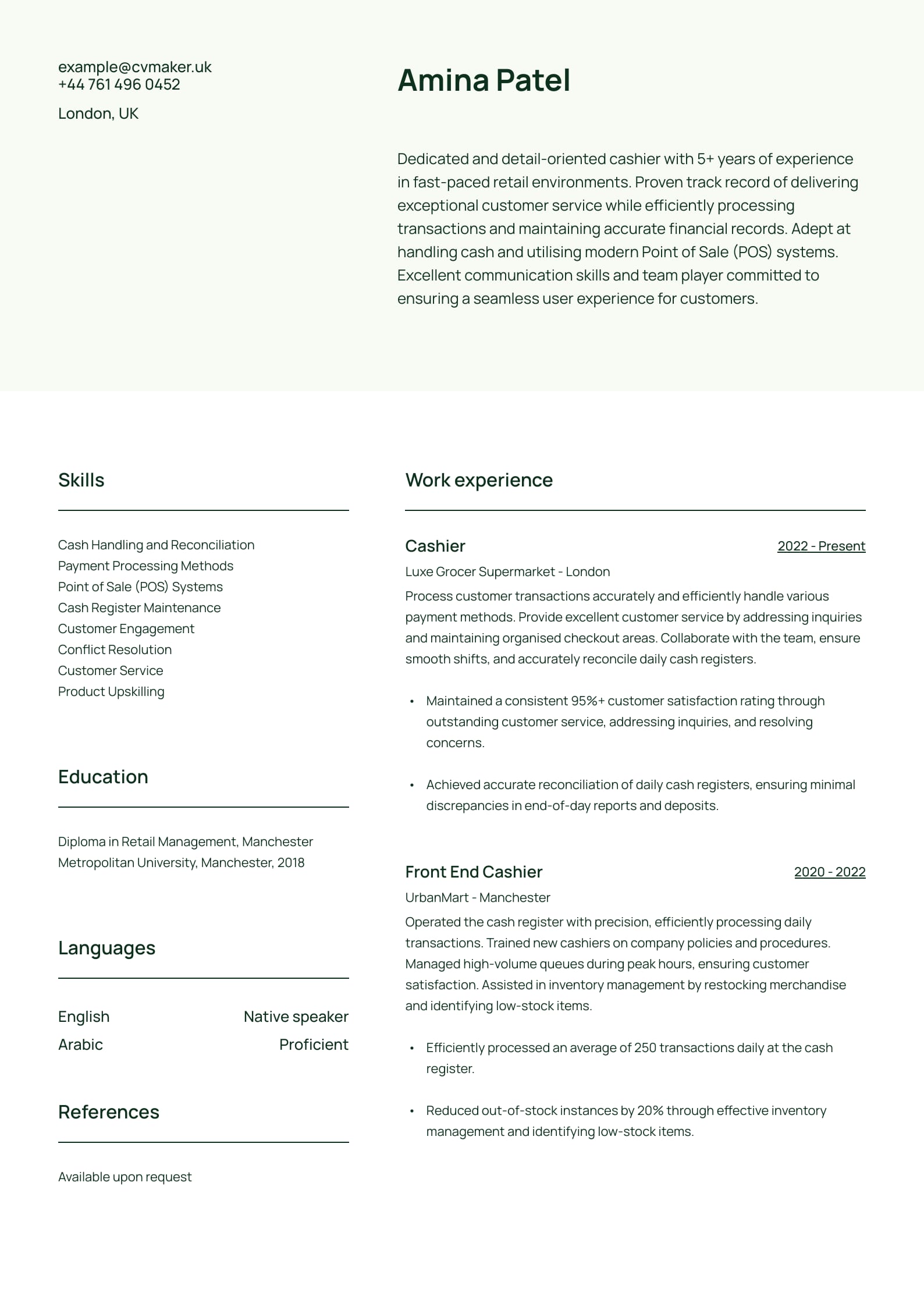 How to Write a Cashier CV: Guidance, Tips and Examples
Cashiers play a vital role in our society as the interface between customers and businesses across a range of industries. From supermarkets and betting shops to high-end luxury brands, banks and airlines - cashiers are the point where customer satisfaction begins.
In this diverse role opportunities for training, personal development and further employment are ample, making it a perfect career choice for those with excellent interpersonal skills.
With this type of position sought after across the UK, applications are over-stocked and employers are in a position to be picky. In our guide, we show you how to build a stand-out CV that scans with application tracking systems (ATS) and puts you at the front of the queue.
The CV writing process: Where to start? 
Crafting a CV that stands out in a competitive job market is no small feat. After all, this is the document that represents you to potential employers—it needs to be nothing short of excellent. Similar to working in customer service or retail, one of the advantages of being a cashier is the flexibility it offers. Across your career, you could be working in:
Supermarkets

Cinema box offices

Luxury goods stores

Travel agents

Casinos.
With such a diverse range of opportunities, it's crucial to have a CV that can adapt as quickly as you do.
We recommend starting with a master CV. This comprehensive document includes all your skills, experiences and qualifications. While you won't send this to employers, it serves as a foundation for crafting job-specific CVs later on. Learn more about a master CV versus a job-specific CV.
By starting with a master CV, you not only save time but also ensure consistency across your applications, making a lasting impression on employers. It's your first step towards gaining that all-important interview.
Cashier CV example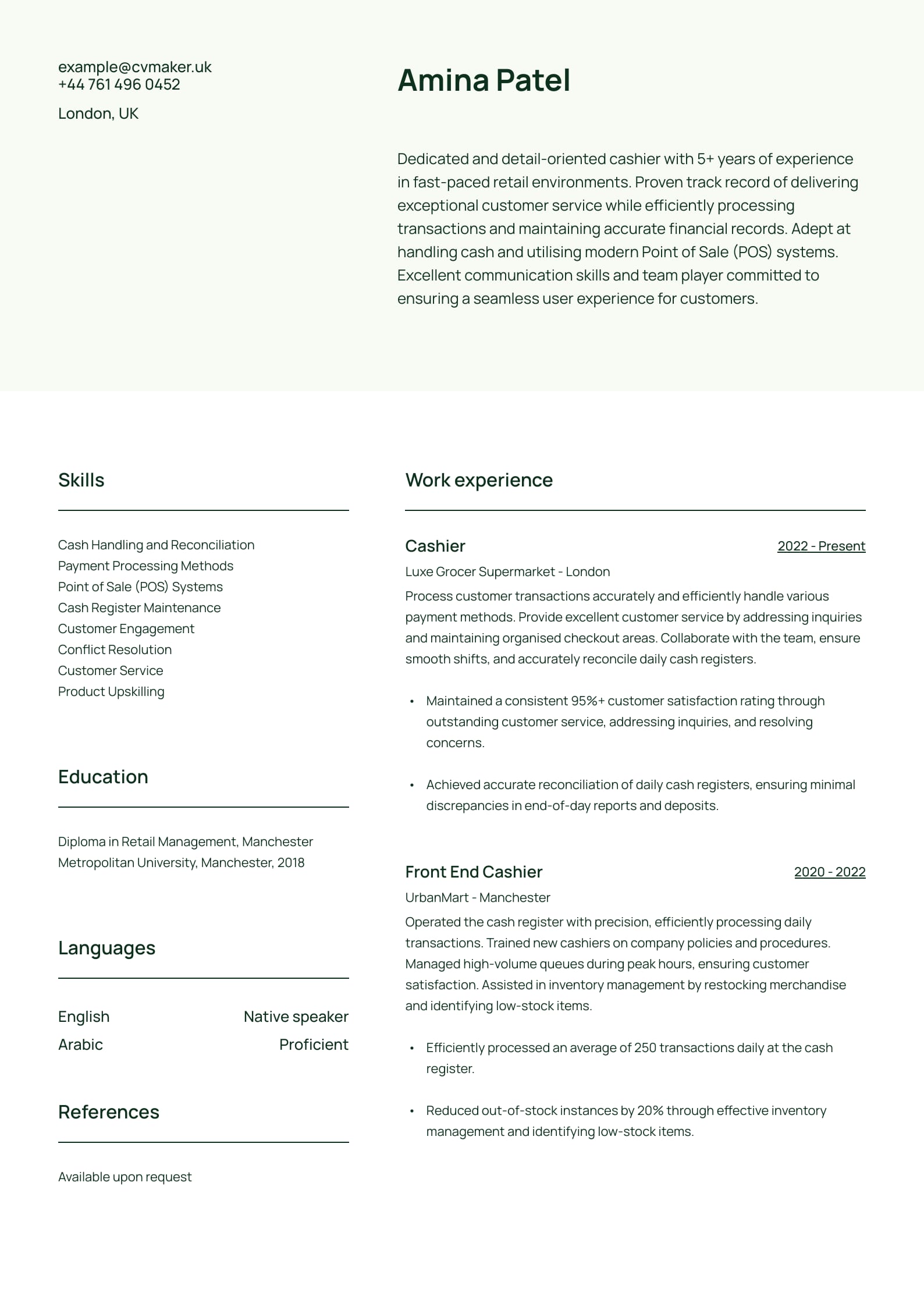 Download this Cashier CV example in PDF
With clear, bold headings, a hiring manager can quickly identify what they need to know about Amina. The Wheaton template allows for easy extraction of her personal attributes, work experience and both hard and soft skills. Amina's unique offerings are underscored with a clean, straightforward look, making her a top candidate for any cash register position.
What to include in a cashier CV?
When preparing a good CV from your master document, it can be difficult to know what to include and what to focus on. As a starting point, we recommend always including the following sections.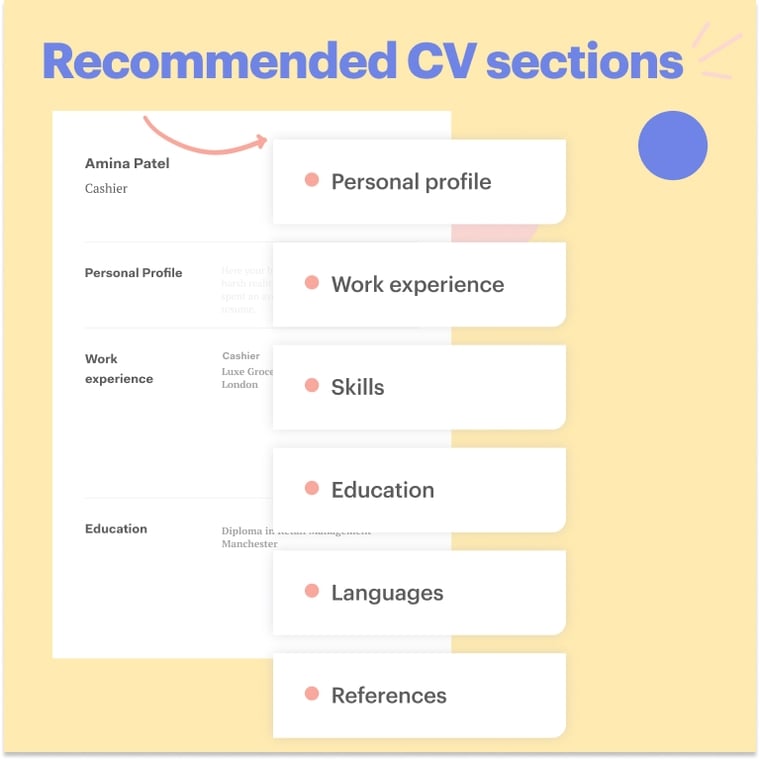 Below we explore these essential sections in more detail and provide examples you can use to maximum effect in your next application. 
Show your qualities in a personal profile 
The personal profile section of your CV serves as your professional introduction and is an excellent opportunity to grab the employer's attention right from the start. It provides a snapshot of who you are and what you can offer and shows that you've carefully read the job advert and possess the attributes they're looking for.
Consider including the following:
A powerful opening statement\ Who you are (your current position)

Your seniority

Your trademark soft skills

What you bring to the table
Restaurant cashier personal profile example 
Exceptional front-of-house cashier elevating guest experiences in fast-paced dining settings. 3 years of experience specialising in efficient till service that understands and meets customer needs. Committed to serving food to high standards that leave guests wowed. The first and last contact guests have, always ready with a friendly welcome and goodbye and adept at assisting with all questions and suggestions.
Learn more with our waiter/waitress CV example and hospitality CV example articles.
Betting shop cashier personal profile example
5 years of experience underscore a passion for delivering exceptional customer care in fast-paced betting environments. Known for strong adaptability and self-motivation, equally comfortable working alone or within a team. Exceptional organisational skills enhance the ability to build strong relationships and communicate effectively. Proven capability to handle challenging situations calmly and professionally.
Refer to our shop assistant CV example for more inspiration.
Bank cashier personal profile example
7 years of experience in customer service roles within the banking sector. Exceptional attention to detail and accuracy, coupled with strong communication skills, contribute to a track record of customer satisfaction. Highly adaptable and comfortable in fast-paced environments, with a focus on obtaining critical customer data. Adept at handling challenging situations with calm professionalism, while building strong relationships with customers.
Learn more with our banking CV example article.
Retail cashier personal profile example
Skilled in premium retail settings with 2 years of hands-on experience. Exceptional customer service and cash desk operations are second nature. Flexibility and adaptability align seamlessly with business needs. Committed to continuous learning and development. Outstanding communication skills at all levels, enriched by a high degree of cultural knowledge and awareness.
Learn more with our retail CV example article.
The key skills for a cashier CV
The skills section on a CV is a critical part, serving as a showcase of your abilities and expertise.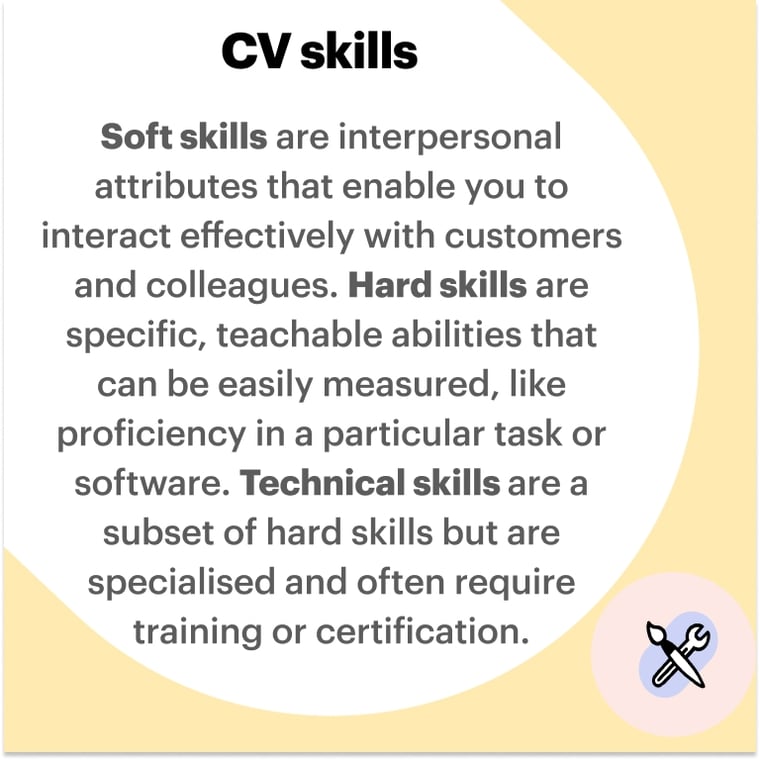 By carefully selecting and presenting your skills, you can demonstrate your suitability for the cashier role you're targeting. Examples of skills for a cashier in the UK may include:
Soft skills

Hard skills

Technical skills

Customer service

Cash handling

Barcode scanning

Communication

POS System operation

Credit card processing

Adaptability

Basic maths skills

Receipt verification

Teamwork

Inventory management

Currency conversion

Conflict resolution

Sales techniques

Use of cash register software
Be sure to highlight any additional language skills on your CV to underscore your ability to communicate with diverse people. Highlighting these skills in your CV, you can show potential employers that you have what it takes to excel in this role.
Provide an overview of your work experience 
The work experience section on a CV is more than just a list of past jobs; it's the narrative of your professional development. This section should not only outline where you've worked but also highlight your achievements and growth in those roles.
Pro Tip
Including quantifiable achievements is crucial; numbers speak louder than words and provide a concrete demonstration of your skills and competencies.
To make your work experience section as impactful as possible, structure each entry with a short paragraph that describes your role and responsibilities. Follow this with two quantifiable bullet points that showcase your achievements and contributions. This format allows you to tell a compelling story while providing measurable proof of your capabilities.
Work experience examples
Cashier supervisor | Faster Fashions, London | 2019 - Present
Responsible for overseeing a team of 10 cashiers in a high-volume retail environment. Implemented training programs to improve efficiency and customer service while providing regular performance feedback to team members. Actively involved in conflict resolution and process improvement.
Reduced cashier errors by 25% through the introduction of comprehensive training.

Increased customer satisfaction ratings by 15% by implementing a new customer service protocol that emphasised active listening and prompt problem-solving.
Cashier and self-serve advisor |  Big Orange Supermarkets, Manchester | 2018 - 2021
Handled cash transactions, assisted customers with inquiries and maintained a clean and organised checkout area in a busy supermarket. Took the initiative to recommend products and promotions to customers, contributing to store revenue. Completed the company's entire training program, earning the title of an official brand ambassador.
Handled an average of 100 transactions daily, maintaining a 99% accuracy rate.

Increased efficiency of self-service checkouts by an average of 10 transactions per hour.
Cashier Lead | Shocking Gadgets, Dumfries | 2017 - 2020
Served as the cashier lead for a team of 5 cashiers in an electronics retail store. Coordinated shift schedules, managed front-end operations and ensured a smooth customer experience. Took the lead in training new hires and was the go-to person for resolving returns or customer complaints.
Improved shift efficiency by 30% through effective scheduling and task delegation.

Achieved a 98% customer satisfaction rate by proactively identifying issues and implementing solutions to enhance the customer experience.
Little to no work experience
Many cashier roles in the UK are open to applicants with little to no work experience. With training provided on the job in most cases, you have the license to focus on your transferable soft skills including:
Communication skills

Teachability

Cultural awareness

Interpersonal skills

Team player.
If you are preparing your CV for the first time with no previous experience, consider using either a student, skills-based or simple CV template.
Volunteer cashier | Charity Sports Match, Oxford | June, 2023
Gained hands-on cashier experience volunteering at a popular annual community event. Excelled in communication and quickly adapted to the on-site payment system, showcasing teachability. Demonstrated cultural awareness and strong interpersonal skills in a diverse setting.
Successfully processed all entry transactions during the all-day event, highlighting quick learning and adaptability.

Received positive feedback from event organisers and attendees, emphasising strong communication and interpersonal skills.
Enhance your CV with the education section 
Including an education section in your CV is important for several reasons. First, it provides employers with a snapshot of your academic background, which can be a key factor in your employability. Second, some employers require a certain level of formal education or specialised training for cashier roles, so it's crucial to list any relevant qualifications.
In most cases, it's sufficient to list your education from GCSE level onwards. For those with higher education qualifications, simply listing your highest level of education is usually enough. This section allows you to meet the basic educational criteria set by employers while also showcasing any additional training or certificates that make you a standout candidate.
Example of education:
Diploma in Retail Management, Manchester Metropolitan University, Manchester, 2018
Choose the right CV format 
Potential employers will only spend a couple of seconds reviewing your CV, so it's crucial to pick a format which says the most about you in the least amount of time. Here are a few tips for consideration.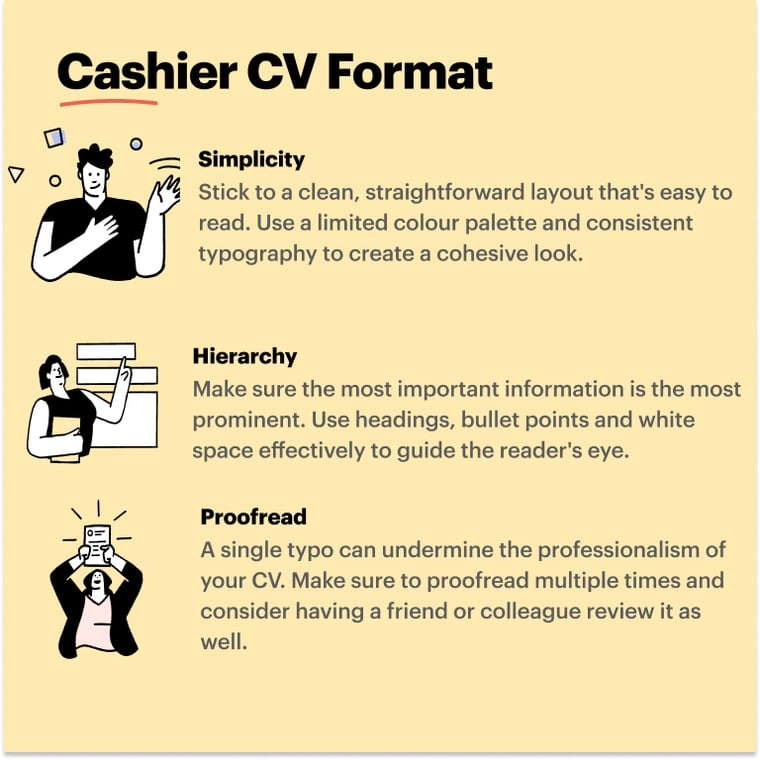 Key takeaways 
Navigating the complexities of CV writing can be a puzzle. To help you craft an exceptional CV, here are five key takeaways from our comprehensive guide:
Start with a master CV: Create a comprehensive master CV that includes all your skills, experiences and qualifications. This will serve as a foundation for crafting job-specific CVs, saving you time and ensuring consistency across applications.

Craft a compelling personal profile: Your personal profile is your first chance to grab an employer's attention. Make sure it's a powerful opening statement that shows you've read the job advert and possess the attributes they're looking for.

Showcase relevant skills: Divide your skills into categories like soft skills, hard skills, and technical skills. This helps employers quickly identify your strengths and see how well they align with the job requirements.

Quantify your work experience: More than just a list of past jobs, your work experience should tell the story of your professional development. Use quantifiable achievements to provide concrete evidence of your skills and competencies.

Include a focused education section: List your highest qualification and any other relevant training or certificates. This meets the basic educational criteria set by employers and can set you apart from other candidates.
Next Steps? 
Iron out any creases using our intuitive CV builder with 20+ CV templates and professional designs to choose from. To accompany your CV, discover our cover letter templates or learn more about how to start your cover letter. If you don't want to leave anything to chance, connect with our professional CV Writing Service.
Draw inspiration from our CV examples to save time, emphasise important sections and make it easier for hiring managers to grasp your unique professional offer even quicker.
FAQs
What qualifications do I need to be a cashier in the UK? 
In the UK, no specific qualifications are usually required. However, GCSEs in Maths and English can be beneficial. Some employers may also prefer candidates with customer service experience or training.
What is the career progression for a cashier?
Starting as a cashier can lead to various career paths, including supervisory roles, store management, or specialised roles like inventory control. Training and experience can open doors to higher-paying positions within the retail sector.
Can you apply for a cashier position with no experience? 
Yes, many positions are entry-level and offer on-the-job training. Focus on transferable skills like communication and adaptability when applying without experience or read about how long a CV should be for the job you are applying for.
How hard is it to get a job as a cashier?
The difficulty varies by location and employer demand. These types of positions are generally plentiful but can be competitive due to the low entry requirements and flexible work hours.
Land the interview for your dream job with CVMaker
Effortlessly create your professional CV within 10 minutes and download it whenever and wherever you want!
Create your CV
Increase your chances landing your dream job with CVMaker.