Shop Assistant CV
Leila has opted for the Peking CV template to showcase her areas of expertise versus her work experience more clearly and concisely to maximise impact!
Start your CV
"Dedicated and enthusiastic Shop Assistant with over 3 years of experience providing excellent service. Adept at training and mentoring new team members to ensure high service and product knowledge throughout the store, fostering a welcoming environment for customers."
Leila Rahman
- Shop Assistant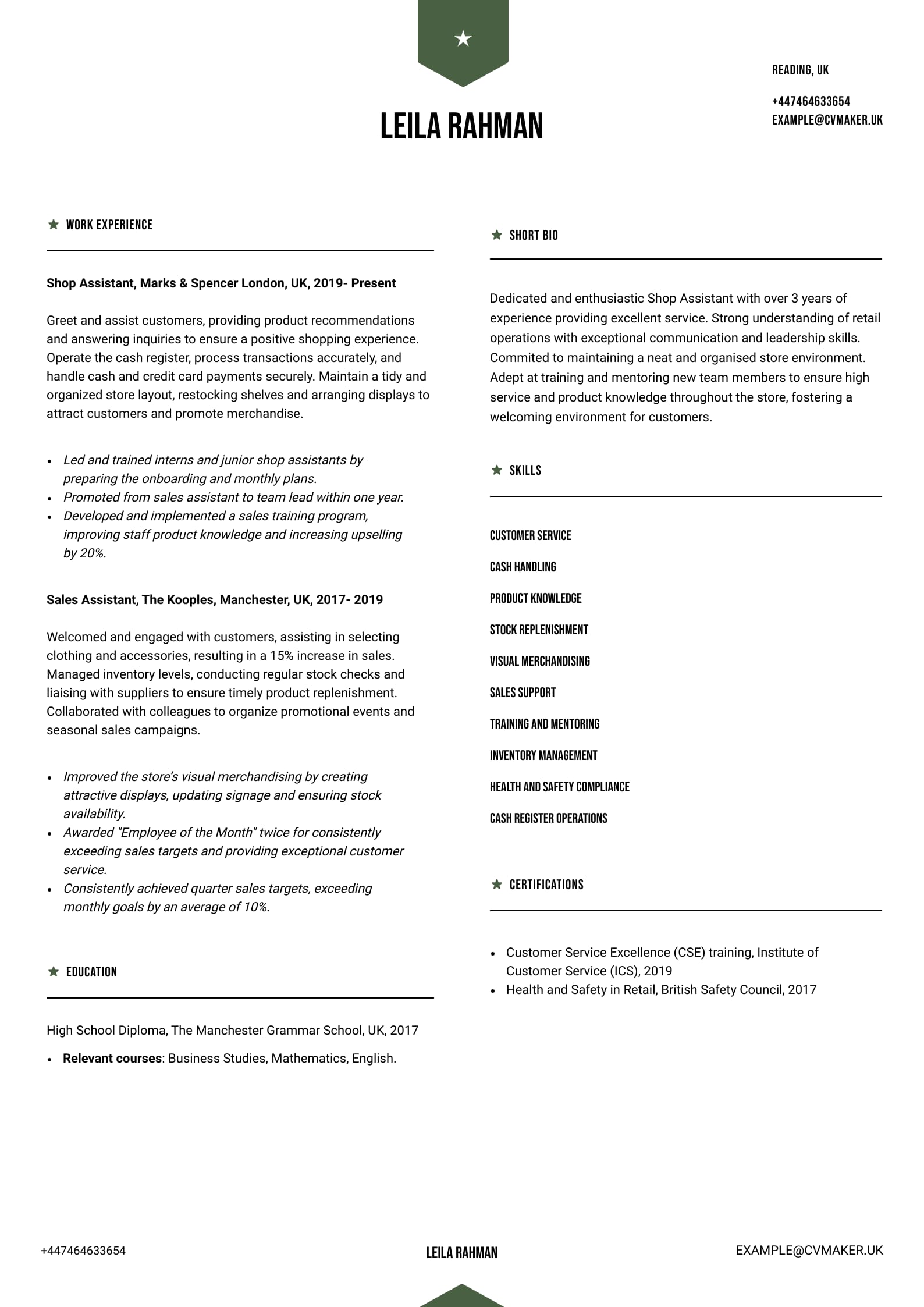 How to Write a CV for a Shop Assistant for 2023 (Free Step-by-step Guide)
Imagine yourself in the daily life of a shop assistant dressed in uniform and working long hours with half-hour breaks, either within a clothing boutique or a cosy coffee shop. Their job performance relies on sound product knowledge and a friendly, customer-orientated approach as key drivers to success. However, one key prerequisite for entering the role as a shop assistant is a well-crafted CV to help you stand out from others.
Types of shop assistants in the UK:
Sales Assistant

Retail Assistant

Cashier

Shop Merchandiser

Clothes Shop Assistant

Coffee Shop Assistant

Book Shop Assistant 

Grocery Store Assistant

Department Store Assistant

Jewelry Store Assistant

Shoe Store Assistant.
Whether you see yourself as a fashion-forward sales assistant, a skilled barista brewing the perfect cup, or even a tech-savvy wizard in a tech store, this step-by-step guide is your treasure map to navigating the world of retail. To successfully navigate through the fierce UK market, ensure you create an applicant tracking system (ATS) friendly CV that beats the system and helps you land that all-important interview. See our tips and examples below to steer you toward stress-free success.
The CV writing process: Where to start? 
A good CV for a shop assistant requires structure and coherence. Your mission is to create a CV that is targeted and tailored to specific job descriptions. This strategic approach ensures you stay ahead of the curve and maximise your chances of being noticed and getting shortlisted for all-important interviews. The integral stage of this process is creating a master CV and later fine-tuning a role-specific CV.
Shop assistant CV example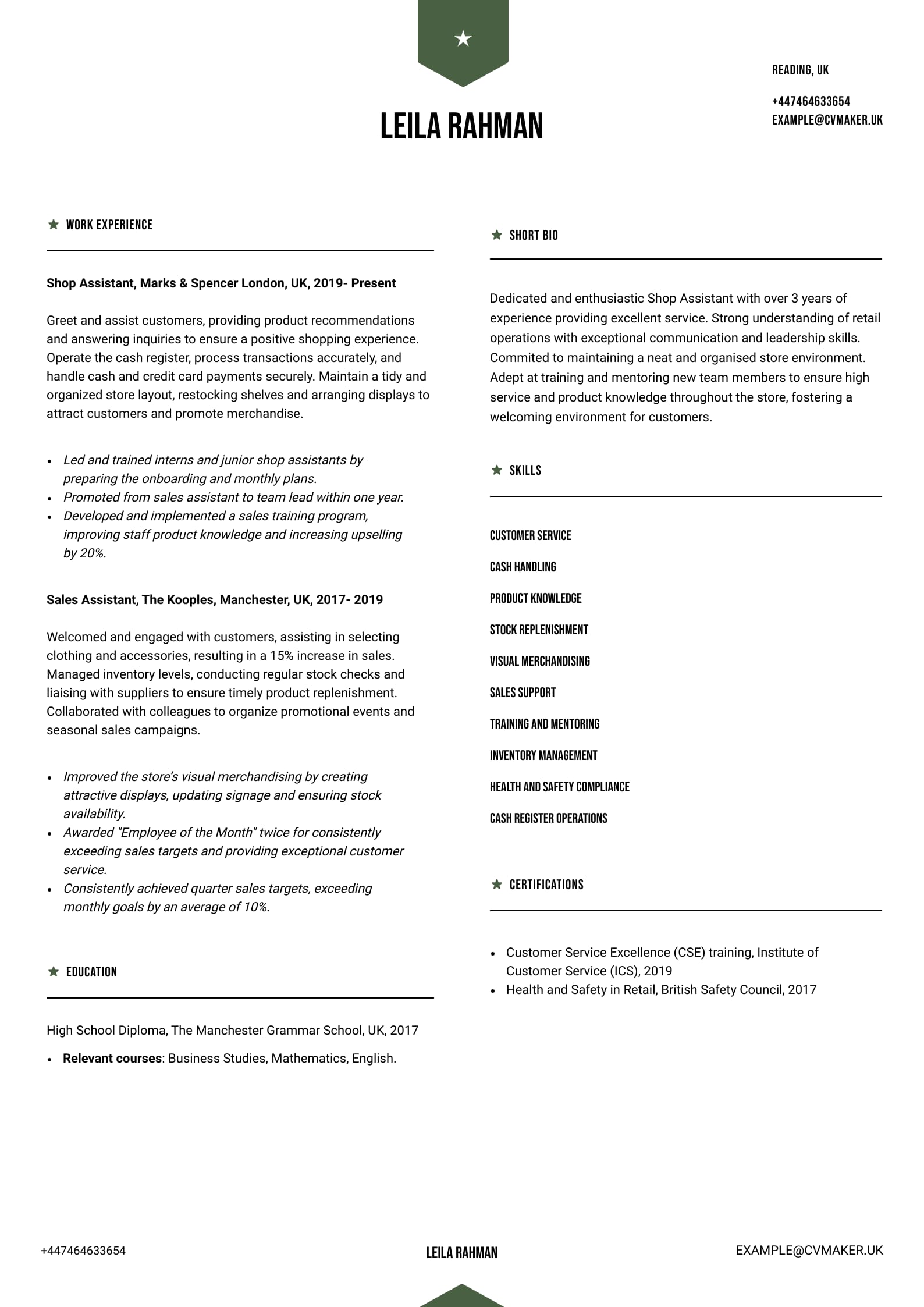 Download this shop assistant CV sample in PDF
This CV features Leila Rahman, an accomplished Shop Assistant looking for a managerial role in the UK market. Her profile shines by showcasing her dedication to customer service, backed up by skills in cash handling, product knowledge, and inventory management. Leila's promotion from Sales Assistant to Team Lead and a double "Employee of the Month" award makes her an outstanding candidate.
What to include in a CV?
To craft an outstanding modern CV for sales or retail, you need to differentiate between must-haves and optional sections while taking into account the specific entry requirements and your employer's vision regarding the ideal candidate.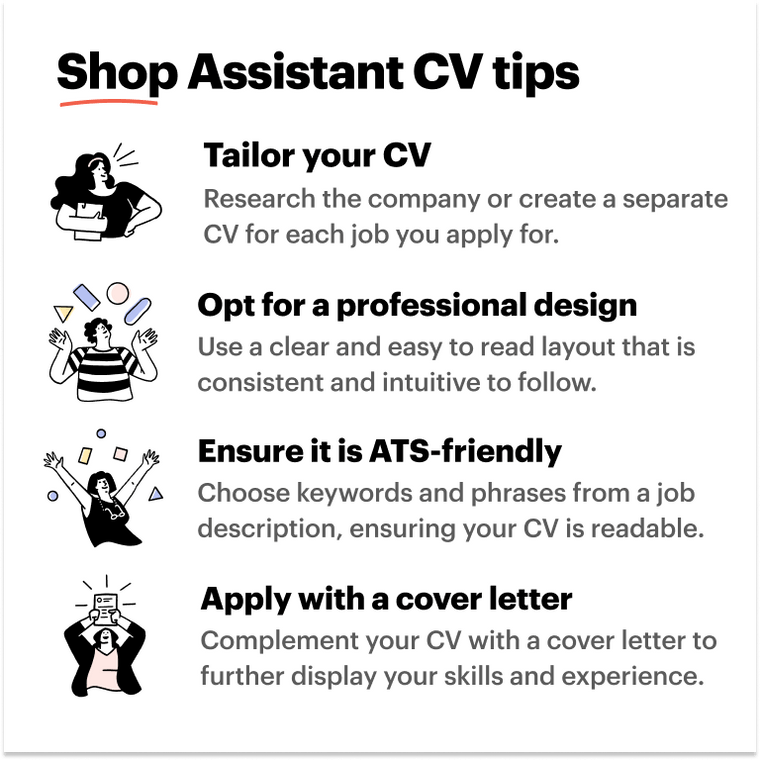 Must have:
Personal details

Personal profile

Skills

Work experience

Education.
Optional:
References

Courses and certfiicates

Language skills

Career accomplishments

Awards

Professional affiliations.
What to put in a shop assistant personal profile 
A personal profile, also known as a summary, showcases your alignment with the role's demands by highlighting pertinent qualifications, skills, accomplishments, and experiences. The profile summary is your first chance to make an impression on a recruiter. This elevator pitch conveys your career goals in four to six lines.
Moreover, it must provide recruiters with a quick insight into your retail history and other pertinent background, setting you apart from other candidates.
Clothes shop assistant CV personal profile example
Experienced clothes shop assistant with 3 years of hands-on experience in high-end fashion retail. Excellent communication skills, adept at driving business growth through a customer-orientated approach. Recognised for achieving consistently high sales targets while providing personalised styling advice to customers.
Coffee shop assistant CV personal profile example
Customer-orientated coffee shop assistant with 2 years experience in a busy café setting. Well-versed in inventory management, food safety and hygiene, and menu knowledge.Hold a Food Safety Level 2 certification, adept at multitasking, and maintaining a cheerful attitude during peak hours.
Entry-level shop assistant personal profile example
Aspiring shop assistant with a strong work ethic and a customer-focused mindset. Eager to learn and contribute effectively to a retail team. Demonstrated track record of adapting quickly to new challenges and providing excellent service in a dynamic retail environment. Completed a customer service training course to enhance skills. Awarded Best New Employee during training.
Retail shop assistant CV personal profile example
Skilled retail shop assistant with 5 years of experience managing customer enquiries, processing transactions, and optimising store operations. Demonstrated leadership skills in coordinating team efforts and ensuring a seamless shopping experience for customers. Achieved Employee of the Month recognition twice for outstanding performance. Completed a Retail Management course.
Book shop assistant CV personal profile example
Passionate bookshop assistant with 2 years of experience in a non-fiction section within the store. Hosted 10 book club events, with an audience of 100 readers for each event. Lauded for exceptional knowledge of diverse book genres and the ability to engage customers in thoughtful conversations. Committed to fostering a love for reading and literature through personalized recommendations and community engagement.
How to write work experience for a shop assistant CV
Your work experience section should showcase your duties as well as achievements, ideally in three to six lines. List your most relevant experience and main role tasks, followed by two to three measurable achievements. Each sentence starts with an action verb without using personal pronouns to make your writing more professional. Use numbers and figures to maximise your impact and make your CV shine in a pool of candidates. 
Example of work experience:
Shop Manager, Abbey Lane Emporium, 2021-Present
Effectively managed stock inventory, conducted audits, and maintained product availability while accurately operating cash registers for efficient transactions and financial handling. Resolved customer inquiries and concerns with patience and professionalism, contributing to customer satisfaction and loyalty. Maintained a clean and organised store environment, ensuring visually appealing merchandise displays.
Promoted from Junior Retail Assistant to Shop Manager within two years by surpassing business targets and contributing to 15% growth in sales.

Led and trained new staff, streamlining their onboarding and contributing to a more knowledgeable and proactive team.

Consistently ranked among the top 5 sales performers out of a team of 20, showcasing dedication to achieving and exceeding targets.
How to write a shop assistant CV without experience
We suggest using a skills-based approach over a chronological format, which perfectly suits school leavers, undergraduates, or job seekers changing careers. Consider creating an 'Additional experience' section to further elaborate on short-term experiences. Furthermore, you can mention your key achievements, awards, or honours gained from these experiences. With no experience, you can forgo dates, particularly years, and elaborate on them within an interview.
Refer to how long should a CV be for more information.
Showcase your education for a shop assistant CV
You need a strong foundation in specific tools, processes, and techniques in the retail industry. While some of this knowledge can be self-taught or gained at a job, an education section on your CV can easily demonstrate your training and qualifications. Highlight the highest level of study you have completed and list your degrees in reverse chronological order.
Entry requirements:
GCSA:
2 or more GCSEs with grades 9 to 3 (A* to D), or equivalent, for a level 2 course

4 or 5 GCSEs with grades 9 to 4 (A* to C), or equivalent, for a level 3 course.
Qualifications:
Retailer Level 2 Intermediate Apprenticeship

Level 3 Diploma in Retail Skills Sales Professional.
Additional courses:
Retail Sales Training Certification, National Retail Federation

Food Safety and Hygiene Level 2 Certification, Chartered Institute of Environmental Health
List skills for a shop assistant CV
As your shop assistant CV starts to take shape, the next step is to highlight your main areas of expertise that could help you perform in your job. Whether you are applying for an assistant manager role or without experience, emphasise role-specific skills to help you stand out from other candidates.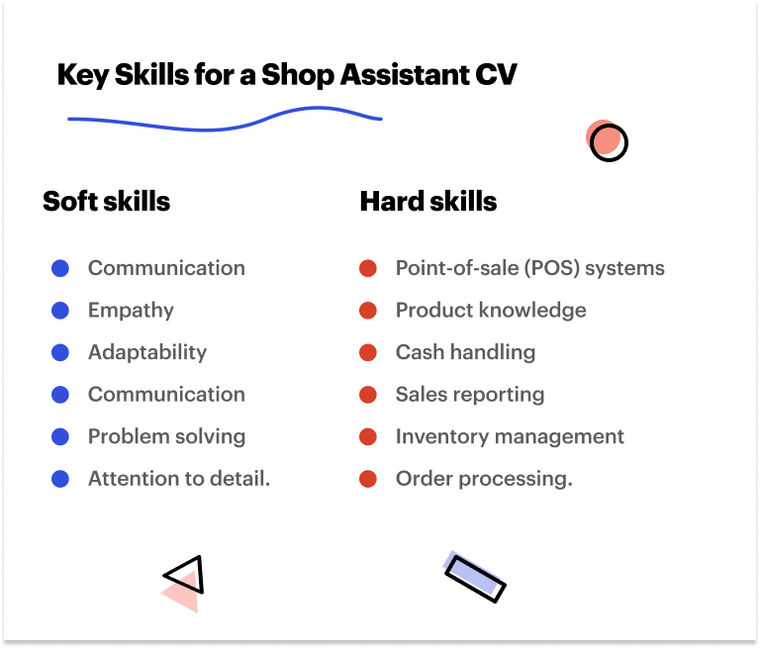 Clothes Shop Assistant CV
Soft skills

Hard skills

Customer Service

Styling and Merchandising

Communication

Point of Sale (POS) Systems

Fashion-orientated

Inventory Management

Adaptability

Customer service

Attention to Detail

Wardrobe Coordination
Coffee Shop Assistant CV
Soft skills

Hard skills

Customer Service

Espresso Machine Operation

Communication

Cash Handling

Teamwork

Menu Knowledge

Multitasking

Food Safety and Hygiene

Proactive

Beverage Preparation
Retail Shop Assistant CV
Soft skills

Hard skills

Customer Service

Inventory Management

Communication

Cash handling and Reconciliation

Problem-Solving

Stock Management

Adaptability

Merchandising

Teamwork

Product Knowledge
Book Shop Assistant CV
Soft skills

Hard skills

Customer Service

Inventory Management

Communication

Book Sales

Book Knowledge

Cash Handling

Attention to Detail

Recommending and Suggesting Books

Problem-Solving

Organising author events
Add courses and certificates for a shop assistant CV
The choice of a course depends on the specific role you're applying for. Remember that most shop assistant roles do not require specific courses and certifications. However, adding relevant courses from accredited institutions can make you stand out from other candidates. Lastly, they can enhance your skills and knowledge and show your professionalism and willingness to learn.
See the National Careers Service site for more legal information. 
Key takeaways
Believe in yourself and let your dream job become reality. Rely on your expertise and use strategic thinking to make your CV outbeat the system as well as other candidates. A successful CV is tailored to job targets while showing your personality in the best possible light. Good luck with your career search, and do not let the fierce retail industry stop you!
Keep your CV to one or two pages using a professional template.

Complement your CV with a cover letter to demonstrate you've put research into the application and how your skills align with the company's needs. 

Tailor and personalise your CV to a specific job to the recruiter's needs and job requirements.

Incorporate job listing keywords for ATS visibility for maximum impact.

Showcase your relevant experience using a customer-centric approach and highlighting loyalty or leadership abilities.

Emphasise skills, hobbies, and interests that elevate customer interactions.

Maintain consistent grammar, punctuation, and style.
Next steps?
Our easy-to-use builder provides various CV templates you can customise to your liking. Contact our CV Writing Service team to help you optimise your CV, cover letter, or LinkedIn profile. Draw inspiration from our CV examples to save time, making it easier for hiring managers to grasp your unique professional offer even quicker.  
FAQ
What are the duties of a shop assistant?
"A nation of shopkeepers," they say, and indeed, the British retail industry relies on shop assistants who are the main force of today's shopping world. 
Assist store manager in shop opening procedures.

Create appealing merchandising displays.

Receive and organise stock deliveries.

Restock shelves to maintain inventory.

Help customers locate desired items.

Handle payment transactions efficiently.

Address customer complaints and concerns.

Process refunds and exchanges.
How do you describe a shop assistant on a CV?
Focus on key duties and achievements highlighting your ability to elevate customer experiences and contribute to store operations. Use strong action verbs to begin each bullet point and quantify your achievements whenever possible.
How to make a shop assistant sound good on a CV?
To make a shop assistant role stand out, emphasise your skills in customer service, communication, teamwork, and attention to detail. Highlight any accomplishments that showcase your ability to drive sales, provide exceptional service, or contribute to the store's overall success.
What do shop assistant employers look for in a CV?
Shop assistant employers typically look for CVs that showcase relevant experience in customer service, retail operations, and sales. They also value candidates with strong communication skills, a positive attitude, and a customer-focused mindset. Highlighting any specialised skills or certifications related to the role can make your CV more appealing.
Examples of qualifications:
High School Diploma | Oakwood Academy School, UK | 2018
Relevant coursework: Business Studies, Art and Design, ICT

9 GCSEs grade A or B, including English and Maths.
NVQ Level 2 in Retail Skills | Riverside College, UK |2019
Relevant coursework: Selling Skills, Product Knowledge, Handling Payments, Teamwork.
Retail Operations | City and Guilds, UK | 2020
Relevant coursework: Customer Service, Merchandising, Stock Control, Health and Safety.
Is a retail assistant the same as a shop assistant?
Yes, retail assistant and shop assistant are often used interchangeably. Both roles involve assisting customers, processing transactions, and maintaining store operations. They restock shelves, resolve customer complaints, and ensure the sales floor is well-maintained.
Land the interview for your dream job with CVMaker
Effortlessly create your professional CV within 10 minutes and download it whenever and wherever you want!
Create your CV
Increase your chances landing your dream job with CVMaker.