CV
>
How and when to include references on a CV
How and when to include references on a CV
CV
· July 28 2023
· 4 min read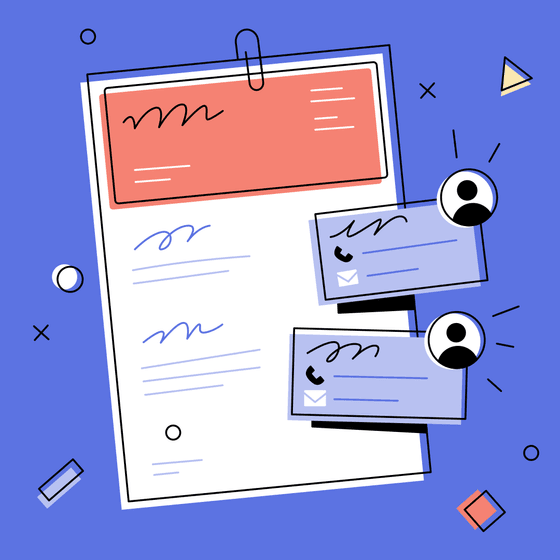 Throughout your career, it is essential never to burn bridges with employers. A good CV reference can go a long way, but it is debatable for many whether or not to include them. In short, list professional references only if it's a requirement or if it will be advantageous for your job application. Either way, CVMaker experts suggest you to update your CV regularly so you can make use of our following tips and recommendations. You can easily create and customise your CV using one of our 20+ professional templates to meet your career goals and land your dream job.
What are references?
A good CV reference is provided by a past employer, teammate, or colleague that can vouch for your experience, achievements, or skills. These referees have experience working with you in a professional environment and can offer insight into your capabilities and personal characteristics. Recruiters can contact them to give an objective opinion on a candidate's skill set and suitability for the specific job. Check out our CV references video guide to find out more.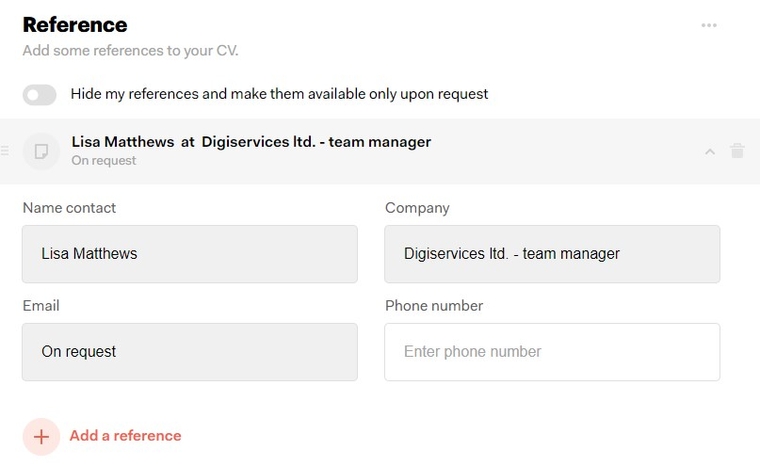 Where to add references on a CV?
References are added at the end of your CV and should include their full name, job title, employer, and possibly a brief description of your professional relationship. Although adding references' contact details are standard, it can also be beneficial to leave them out. Firstly, if the recruiter contacts you to ask for the contact details of your references, you will already know that they consider you a serious candidate because they are conducting a background check. Secondly, once you know they will do a background check, you can inform your referees that they can receive a phone call soon and prepare them. With CVMaker, you can easily add references using our modern CV Builder.
How to choose the best job references?
Choosing the best reference can depend on the type of job you are targeting, specific experience, projects, or key achievements mentioned within your CV. It gives a recruiter a glimpse into your personality, and key strengths through another professional. Therefore, it is crucial to choose referees that can give relevant and valuable insight into your qualifications and personal traits. A strategic approach to choosing references for a CV can significantly influence your hiring chances. Avoid including a neighbour, friend, or family member as a reference because they can be biased in their judgements and might seem unprofessional to include.
When to include CV references?
A CV reference has numerous advantages and disadvantages. On the one hand, it provides credibility to your CV by supporting claims about your specific skills on a CV. It could sound impressive to a recruiter if you have a referee who can give valuable feedback or proof of your competencies. On the other hand, adding references requires space, which might be scarce if you have a decent amount of experience. Lastly, it could also be unnecessary, considering that you are only at the beginning of the application process.
Additional tips to consider when adding a reference:
Mention the position of the reference.

Reach out to the referee to request a reference and to thank that person.

Keep in touch with your referees from time to time by connecting with them on professional sites such as LinkedIn.

Don't add someone as a reference who you know won't be beneficial to you.

Exclude outdated references unless you have a connection or good experience that you would like them to back up.

Avoid including all your references and aim to choose references from your most recent experience or studies.
For more details, consult our cornerstone article on how to write a good CV.
Should you mention references on a CV?
The necessity of references depends on the job itself. If a company clearly states that you must add references to your CV, you do not have a choice. However, if they do not request this, it will be better to leave it out. Recruiters prefer a compact CV template of no more than two pages, so you have to be efficient with space. Instead, it would be more advantageous to use it in the later stages of the application process. Listing references will be most helpful if you lack work experience and want to fill in the blank spaces on your CV.
How to get a good reference? 
Experts at CVMaker recommend asking for permission before you add someone as a reference. There are different ways to do this, depending on the relationship between you and your referee. The best way to ask for approval is face to face as you can explain what kind of jobs you are interested in and find out what they think of you. Otherwise, an email or personal message will suffice. In general, try to find at least three references for your CV ensuring the CV reference format is just the name, title, and company. Avoid contact details or mention contact details on request.
If you are kickstarting your career, consider references from school, university, or other types of experience. If, for example, this person has worked with you on a thesis, they can vouch for your organisational and research skills. Another CV example could be a volunteer coordinator, should you have done voluntary work in the past. Although recruiters prefer professional referees, these alternatives will still suffice. They can be especially beneficial if you are a recent graduate or just starting your career.
If you're unsure if you have good reference or not, consider contacting one of our experts to give CV writing advice.
Closing remarks
So now you've considered adding references and maybe got a call from a recruiter or hiring manager. What can you do to prepare for a reference call? Well, once you know that the recruiter will contact your referees, you can inform them about the position you applied for (if possible, give them the job description) and the organisation's name. You can also ask your referees to highlight specific skills you have and your achievements when they receive a phone call from the recruiter. In general, recruiters ask referees similar questions about an applicant. These could include the following questions: employment starting and end dates, reasons for leaving, responsibilities, punctuality, strength and weaknesses, or how well the applicant worked in and across teams.\
Start creating your CV
Create a professional CV quick and easy with our advanced CV Builder
+ Create CV
Written by
The CVMaker platform offers a complete career platform for jobseekers with handy tools and valuable information. Are you ready for the next step in your career? Start here today!
Related articles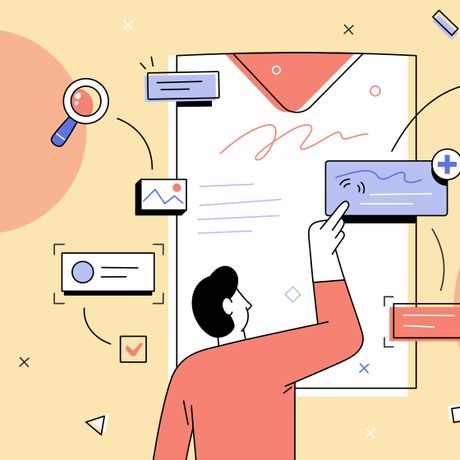 CV
· Aug 24 2023
· 7 min read
How to Write a Good CV in 2023: UK Examples, Tips, and Templates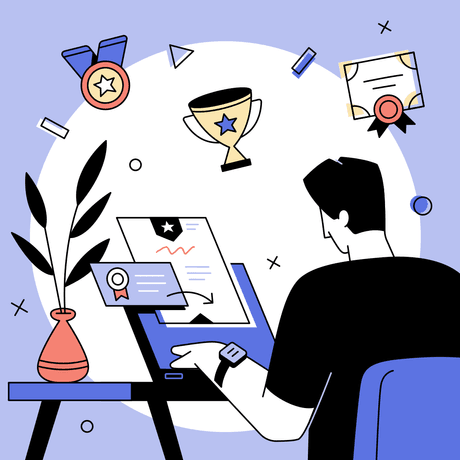 CV
· Sep 07 2023
· 5 min read
How to List Achievements on a CV? Best Tips and Examples!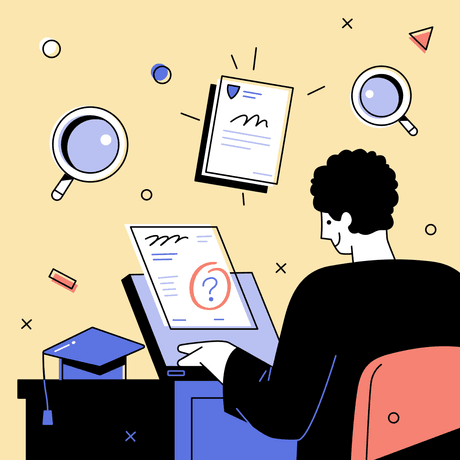 CV
· Sep 20 2023
· 5 min read
How to Write a CV with No Experience in 2023 (Examples and Tips)
Land the interview for your dream job with CVMaker
Effortlessly create your professional CV within 10 minutes and download it whenever and wherever you want!
Create your CV
Increase your chances landing your dream job with CVMaker.