Internship CV
Katie Andrews is a recent graduate looking to kickstart a career through an internship. With the Princeton CV template, she showcases her experience through education and side jobs.
Create your CV
"Ambitious graduate seeking an internship as a Business Analyst. Passionate about solving business problems through efficient and data-driven solutions. Adept at providing suggestions for improvements, writing reports, performing research, and analysing data."
Katie Andrews
- Business Analyst Intern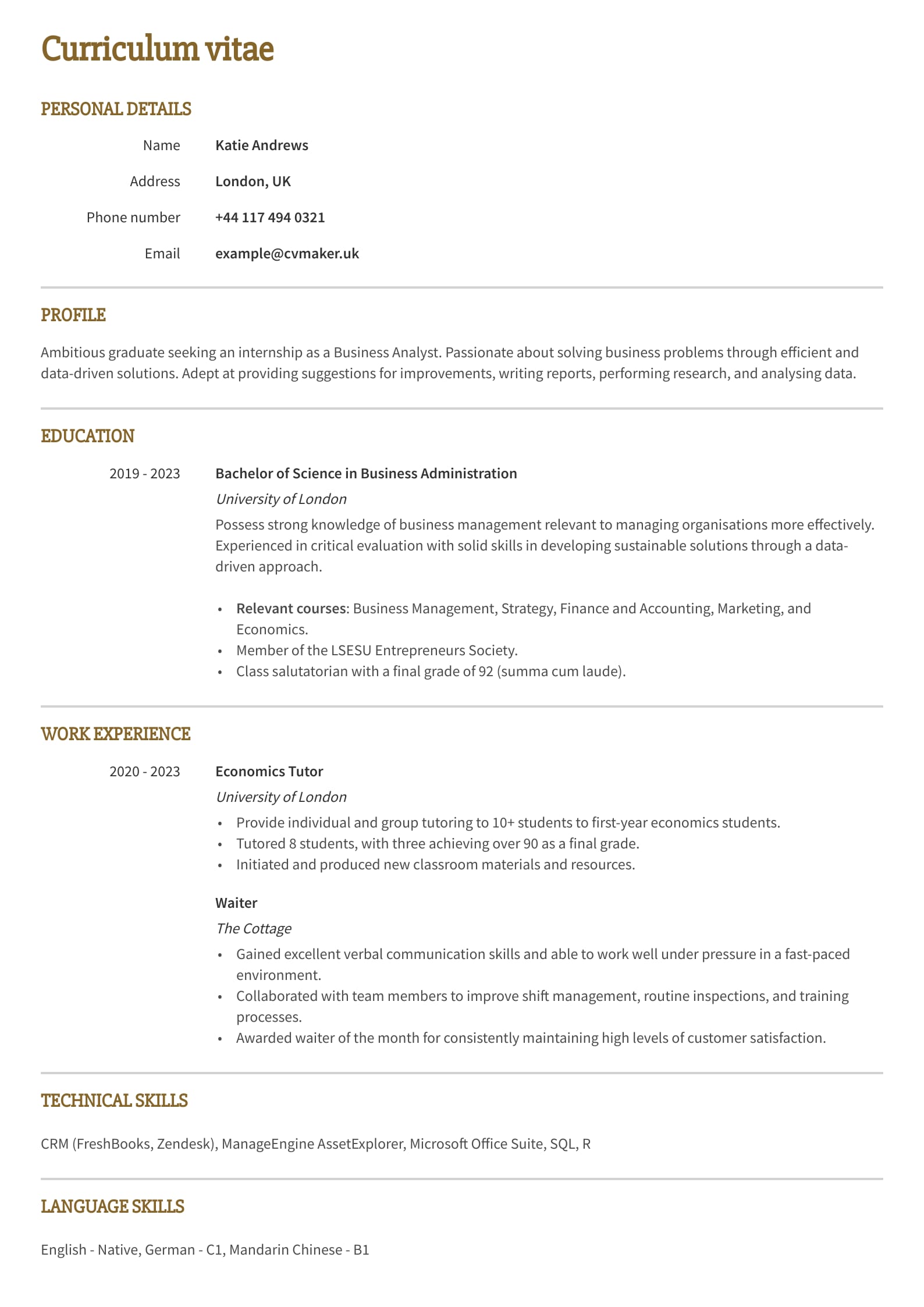 How to write a CV for an internship with tips and examples
You need experience to get a job, but you can't get experience without a job. This situation is known as the experience paradox, in which many students, graduates, or career changers find themselves. Perhaps you doubt whether an internship is worth a shot, especially if it is underpaid or even unpaid. In truth, internships are a valuable learning experience that can help you land your first permanent job. Additionally, they are a great way to find out if that job is something for you. We're here to tell you there is a light at the end of the tunnel, and the solution is all in how you write and structure your CV.
The key to writing a good CV is conducting thorough research about the job requirements and taking the time to understand your career goals. When writing a CV, you must ensure it's scannable and easy to read by both recruiters and automated software known as Applicant Tracking System (ATS). If you are looking for tips and examples on writing a CV as an intern or a student seeking internship experience, this article is for you. Let's get started!
The CV writing process: Where to start? 
An internship is no different from a regular CV; however, you still have to think of how to display the key information in a way that best aligns with your career goals. Writing a CV for an internship or a graduate can be daunting, especially if you don't have work experience. That's why having a well-crafted, concise, and tailored CV is crucial.
Before jumping into writing, we recommend getting to know the company culture and brand personality to find out what kind of organisation you're communicating with. Doing so will give you more insight into what information to include in your CV and, eventually, help you land a job interview. There are two steps to consider, creating a master CV and, thereafter, tailoring your CV to whichever job target.
If you need more inspiration, see our CV templates to help you get started.
Master CV for an internship CV
A master CV incorporates everything you've achieved and is a log of all your career and academic history, which you can use as a reference tool for future job applications. While creating a master CV might seem time-consuming, the value outweighs the time spent updating or creating this log. In the end, you will save more time as you can simply copy, paste, and adjust the information when applying for a specific role.
Pro Tip
Research the types of roles you're interested in or the company you wish to work for and create a list with the main requirements and keywords to incorporate into your CV.
Job-specific CV for an internship CV
Perhaps you're wondering whether it is worth investing your time and energy into writing a job-specific CV for an internship. Unlike a generic CV, a job-specific CV makes your CV better organised and concise. Even though you can apply directly to an entry-level job, internship contracts are way shorter and can give you valuable insight into the daily job duties and responsibilities. Eventually, this will help you determine whether a job is a right fit for you.
To create one, condense your master CV to a one to two-page document while ensuring it matches the ATS criteria and job requirements. Extract and incorporate the most relevant information from your master CV and transfer it to your job-specific CV. Make sure it aligns with whichever job target you choose, such as banking, computer science, consulting, or architecture CV. Doing so will make you stand out and help you direct your CV focus. Ensure you follow all the stages of the CV writing process, as the preparatory stage will help guide you to structure and prioritise your tailored CV.
Internship CV example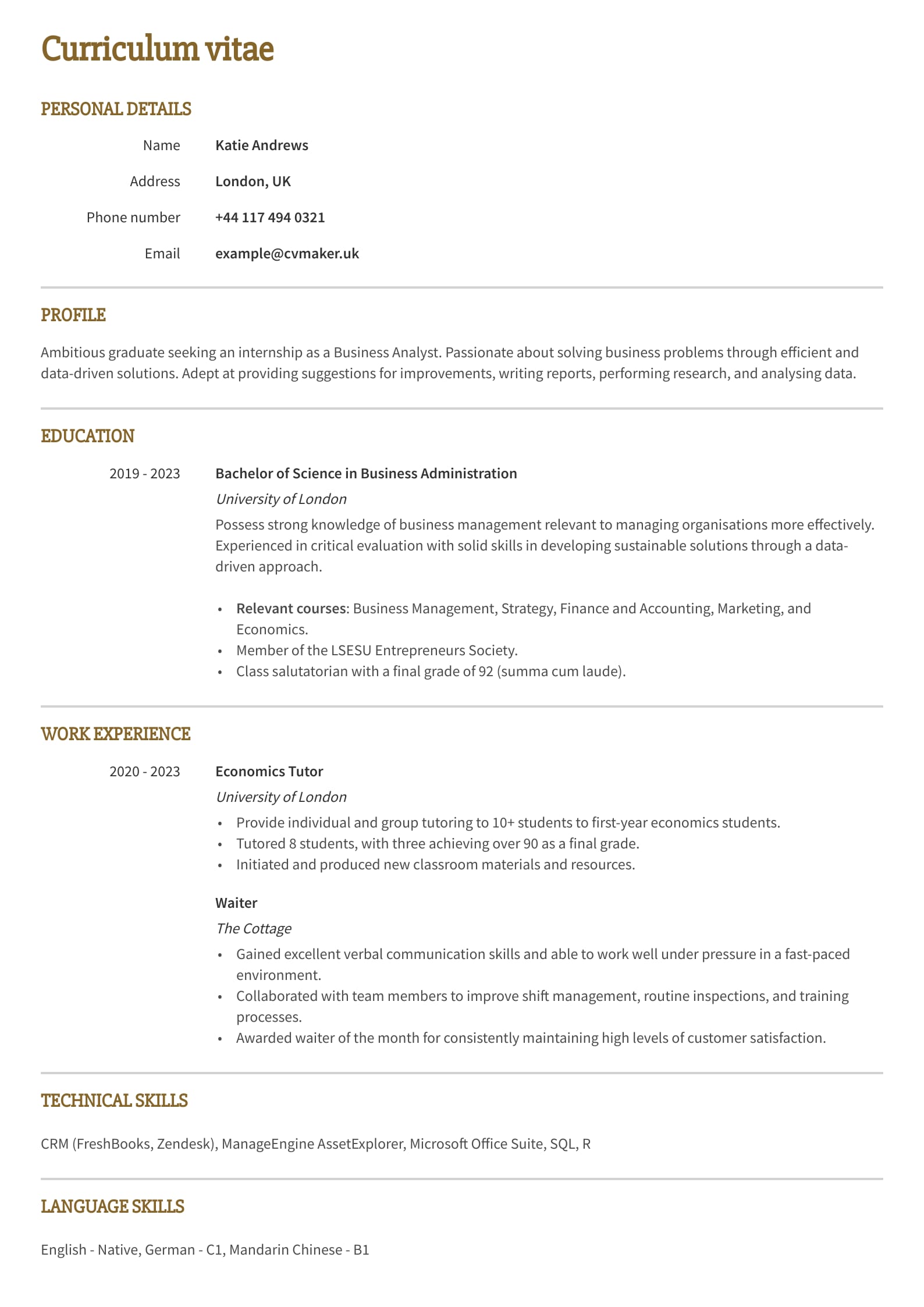 Download this CV example - Internship CV.
Katie Andrews is a recent graduate looking to kickstart a career through an internship. With the Princeton CV template, she showcases her experience through education and side jobs while drawing attention to her technical and language skills.
​​What to include in an internship CV? Tips and examples 
The aesthetics of a CV can vary depending on your career choice as well as your personality, but this should not be the main focus of your CV. A good CV needs to include fundamental information regardless of experience or qualifications. Below you can find a list with core sections to incorporate into your CV for an internship. Once you have populated your CV with essential information and sections, consider adding optional sections. To learn more, read the cornerstone article on how to write a good CV.
How to write a personal profile for an internship CV
A personal profile, a profile summary or about me, is a brief statement at the beginning of your CV that outlines your current situation, relevant experience, and career ambitions. Refer to the examples below or read more on our career blog about how to write a personal profile.
High school leaver personal profile example
Enthusiastic and data-driven high-school leaver passionate about marketing, ready to gain practical experience through an internship. Skilled in public speaking, customer service, and team collaboration with solid digital marketing knowledge.
Investment banking internship CV personal profile example
Analytical and data-driven finance graduate specialising in investment management. Knowledgeable in risk management, pricing mechanisms, and capital financing with strong communication and interpersonal skills. Seeking an investment banking internship to apply research, filing, and problem-solving skills.
Summer internship CV personal profile example
Detail-orientated and resourceful third-year finance student, ready to leverage strong data analysis and business management skills to develop a career in accounting. Seeking a summer internship to apply excellent time management, statistical, and communication skills. Knowledgeable in legal procedures, financial software, and mathematics.
Media internship CV personal profile example
Diligent and data-driven media studies graduate specialising in digital marketing. Striving to improve business marketing strategies by providing solutions through a creative yet pragmatic approach. Adaptable individual with a solid understanding of advertising, business organisation, and market research, seeking a social media internship.
Business psychology student personal profile example
Organised and ambitious business psychology student specialising in human resources. Excellent time management, communication, and interpersonal skills with a solid understanding of employment law, compliance, and business operations.
Law student personal profile example
Attentive and organised third-year law student majoring in international human rights law, seeking an entry-level job position as a Policy Advisor. Adept at building partnerships with clients and knowledgeable in court procedures and case transcriptions.
Career change CV personal profile example
Enthusiastic and detail-orientated French-English translator aiming to kickstart a career as a Technical Writer. Equipped to convey complex information into easy-to-understand ideas or explanations. Quick learner with demonstrated communication skills in different multicultural and professional settings.
How to include skills in an internship CV
Skills differ from person to person but, generally, can be divided into three categories: hard skills, soft skills, and transferable skills. They highlight your strengths and show why you're qualified for the job. When adding skills to a CV for an internship, ensure they are relevant to your target job. Otherwise, leave them off your CV or incorporate them in other CV sections such as work experience or personal profile. If you want to learn more, see the article on how to include skills on a CV.
Pro TIp
Avoid inventing or including skills that you haven't mastered. You can be tested on that during the interview.
Examples of hard skills
Also known as professional skills, hard skills are capabilities that are easy to quantify. You can obtain them through practical experience, educational training, or courses.
Data analysis

UI/UX design

Video editing

Programming

Technical writing
Examples of soft skills
Also known as personal skills, soft skills are natural abilities that are honed in your day-to-day life. They define your relationship with other people.
Results-driven

Meticulous

Motivated

Caring

Flexible
Examples of transferable skills
For candidates starting out or changing careers, it will be beneficial to use transferable skills.
Organisation

Team management

Leadership

Time management

Problem-solving
How to include work experience on an internship CV
The purpose of this section is to list your previous jobs or work experience in a way that includes both daily duties and achievements. If you're looking for an internship, you might not have relevant work experience or, possibly, no experience. If that's the case, shift the focus of your CV to the education, skills, or additional experience sections. To learn more, see our article about how to add work experience.
Additional tips to consider for internship work:
Include job positions or experience relevant to your new job target.

Utilise transferable skills to boost your CV.

Rewrite duties and achievements for your job-specific CV to ensure you're targeting the right keywords.
For more advise, please refer to our blog article on entering the workforce after graduation.
How to list additional experience for an internship CV
This section is often used by individuals with a lot of work experience, but sometimes it is outdated. Nonetheless, relevant. One way to leverage this is to add a title and company while forgoing the dates. That way, you can elaborate further within an interview.
For example, if you are a student with various volunteer experiences, strategically use this section to include it or other short-term work experience. Another way to do it is to create a project-based CV where you list relevant projects you were involved in and your main achievements. This includes but is not limited to side jobs, freelancing, tutoring, student societies, or volunteering. To learn more on how to write a CV if you have little to no work experience, read our article on how to create a skills-based CV.
How to write education for an internship CV
For candidates who lack work experience, education is the next section you can leverage to make your CV stand out. This section, most commonly, should be kept brief and to the point. However, if you have little to no experience, you can always elaborate with relevant academic courses, achievements, projects, or student societies. We advise placing education before work experience if you don't have enough work experience.
Tips on what to include under the education section
University degree: Mention your degree alongside the university program title and include the completion or expected completion date.

Degree description: Consider this a job description in the educational setting. Utilise your transferable skills or other achievements to align your CV with your career goals and personality.

Relevant courses: In bullet form, list university courses relevant to the job.

Certificates or professional training: If you completed accredited online courses from a university or well-known provider, list them in this section. Alternatively, consider creating a separate section for courses and certificates if they add value to your CV.

A-levels or GCSEs: Using this section will be a good addition if you don't have a tertiary (higher) education or have no experience. Only list it with relevant subjects and final grades, if applicable.
Key takeaways
An internship is valuable for anyone just starting out in their career, but what's even more important is ensuring your CV is set up the right way. With our expert tips and examples on which sections to include, you can be certain that you will start landing more interviews.
Additional tips on landing an internship:
Be clear and concise when writing your CV or cover letter.

Use professional language without personal pronouns ('I', 'me', 'us').

Expand your network and use your existing connections.

Seek out feedback from experienced people.

Focus on entry-level jobs or internships to kickstart your career.

Use relevant CV sections and keywords.

Proofread your CV regularly.

Avoid outdated information.

Don't lie about your skills, education, or experience.
Next steps?
CVMaker offers over 20 professional templates with built-in job finder and job application tools that make it easier for you to apply. Our complete career platform also provides CV Writing Services and CV and Cover Letter Builder.
FAQ 
How to write a CV for an internship with no experience 
If you are seeking an internship but don't have direct experience, don't let that discourage you from taking the first step and creating your CV from scratch. Switch your CV focus to additional experience and showcase relevant skills, education, volunteering, or other activities that highlight your enthusiasm for the industry. With a bit of effort and focus, you can still create a strong CV that catches recruiter's attention.
Think of any transferable skills you may have acquired from previous positions or side activities that could be relevant to your next internship or full-time job. For instance, if you're interested in marketing, it might be a good idea to include the following skills: content creation, social media management, or data analysis. By highlighting them, you can demonstrate your ability to excel in the field of interest.
How to kickstart your career through an internship
Internships help you get practical experience and teach you valuable skills on how to perform a specific job. The internship enables you to meet new people and familiarise yourself with the organisation and office environment.
Even if you haven't worked in your desired industry before, you can still convey your motivation to learn, dedication, and passion for the field. Use your personal profile section or cover letter to elaborate further on that. Employers tend to look out for candidates who demonstrate a strong work ethic, a willingness to learn, and a passion for the field. By highlighting these qualities on your CV, you can increase your chances of landing the internship of your choice.
Where can you apply for an internship
Consider attending and networking at job fairs to scout for potential employers, or consider career platforms such as CVMaker, Indeed, LinkedIn, or Glassdoor. At CVMaker, we recommend looking at the company's website page to compare the same job post on different platforms.
How to choose the best CV template for an internship
The CV template choice differs from person to person. Regardless of experience and the type of job you're interested in, remember your CV layout needs to align with your career goals. The most common way to do it is to use a chronological CV where you first list the most recent experience in reverse chronological order. Another way to do it is to write a skills-based CV better suited for candidates who lack relevant experience and are new to the industry.
How much do interns get paid in the UK?
According to Talent, the average salary interns earn in the UK is £23 300 per year or £11.95 per hour. The lowest job level positions start at £21 060 per year, whereas the highest job level positions have a salary of up to £30 000 per year. The only exception is job shadowing, where an employer does not have to pay the minimum wage.
How to write a CV for a research internship
Unlike professional internships, research internships focus on your academic achievements (degree, publications, courses) rather than work experience or skills. To write a research internship, emphasise relevant experience and qualifications and incorporate them in your academic CV.
What's the difference between academic and professional internships
Academic internship, whether it is paid or unpaid, is practical work experience that bridges classroom learning and real-life work experience. It is usually integrated into your academic curriculum, be it a required or an elective course. On the other hand, a professional internship, also known as non-academic, is completed independently by students either in support of their studies or to gain on-hands work experience.
What are the benefits of completing an internship? 
The benefits of completing an internship during your undergraduate studies or attending an internship programme can add great value. As a fresh graduate, you are ready to soak up knowledge and have the drive that many seasoned professionals might be lacking. An internship is an opportunity for you to grow and an opportunity for you to set yourself up for success by making sure you choose the correct career path.
Land the interview for your dream job with CVMaker
Effortlessly create your professional CV within 10 minutes and download it whenever and wherever you want!
Create your CV
Increase your chances landing your dream job with CVMaker.