Paralegal CV
The Paralegal CV example uses the Auckland template to effectively showcase Fallon's skills and proficiency in diverse legal tasks, case preparation, and research.
Start your CV
"Motivated, detail-orientated legal professional with 5 years of successful paralegal experience. Able to efficiently manage a variety of caseloads, overseeing all phases from initiation to resolution. Dedicated to offering comprehensive legal support to clients and colleagues."
Fallon Kessler
- Senior Paralegal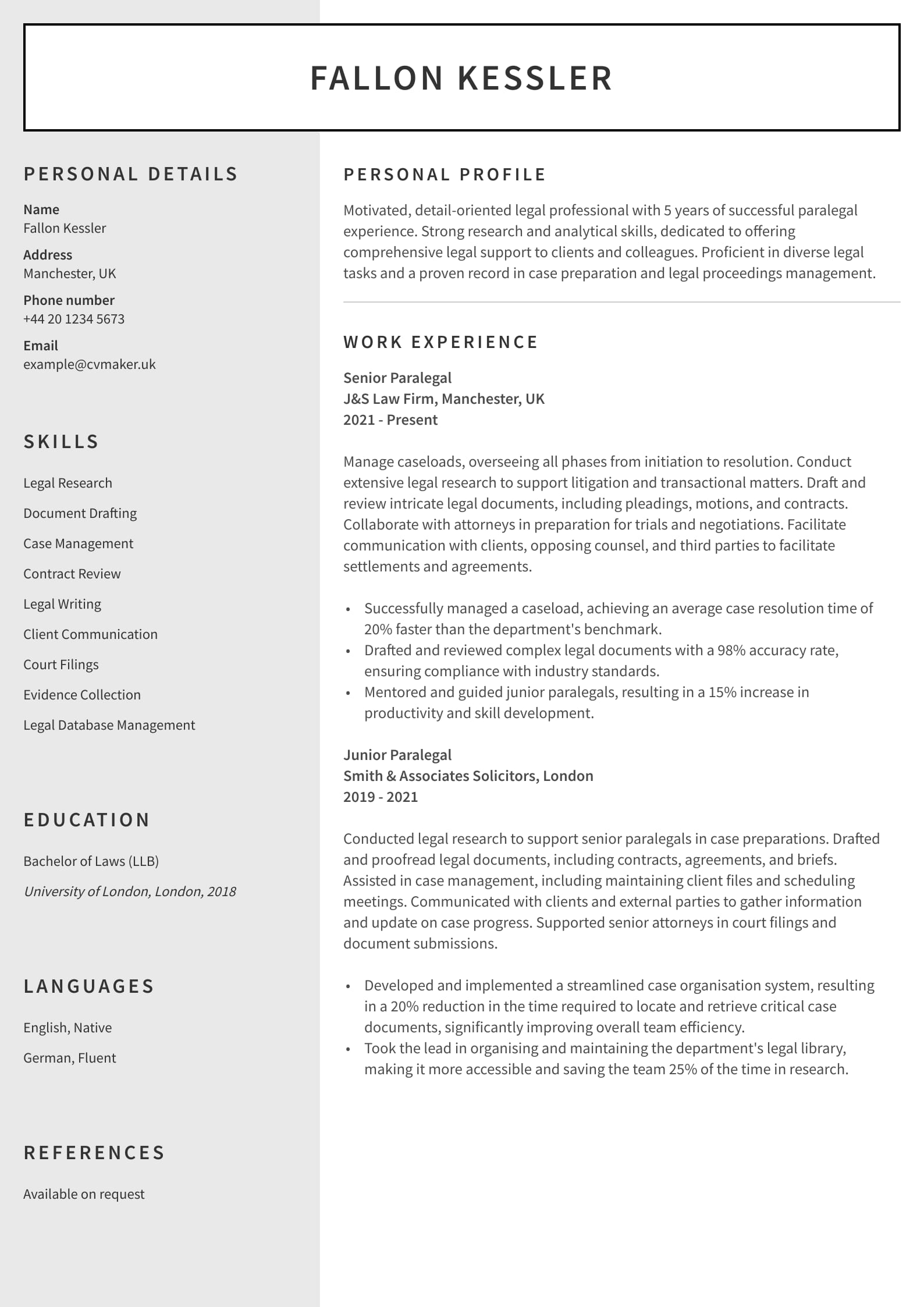 How to Write a Paralegal CV with Examples and Tips
Pursuing a career as a paralegal starts with writing a good CV to navigate this competitive landscape and diverse sectors. Whether exploring roles in law firms, government or corporate realms, showcasing suitable skills and qualifications is essential. In this dynamic and in-demand profession, you'll conduct research, manage cases, and comply with legal procedures in a busy office environment.
To be successful in this role, you need to know the foundations of how to write a professional paralegal CV. Even with no work experience or if you are a seasoned professional, our extensive guide is designed to assist you in writing a modern CV with examples and tips to stand out and drive you toward a successful career.
To maximise your chances of success, ensure your CV is optimised for application tracking systems (ATS). This will ensure you improve your chances of being among the 25% successful candidates by choosing a professionally designed CV template to impress potential employers.
Paralegal CV example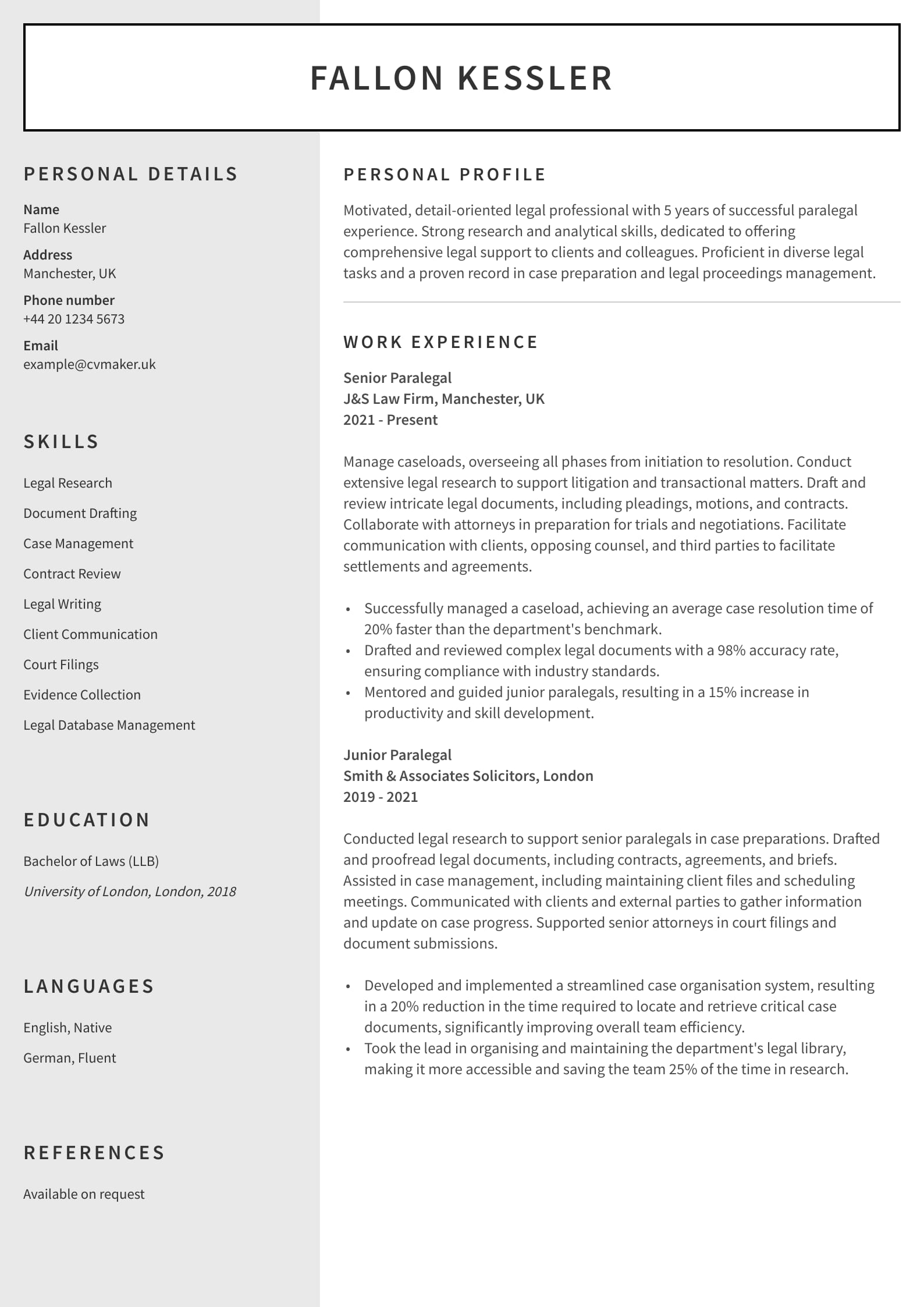 Download this sample CV for a paralegal job in the UK
In this paralegal CV example, Fallon presents her skills and proficiency in diverse legal tasks, case preparation, and research. Her work experience showcases her clear career progression from a junior to a senior role, supported by her accomplishments and ability to work efficiently and productively. Her relevant legal qualifications and measurable achievements demonstrate how to successfully manage caseloads and complete tasks accurately. The paralegal CV template is Auckland, which organises her professional background using a well-formatted structure.
What to include in a paralegal CV? 
Include a personal profile showcasing your unique strengths and specialisations. List skills that apply to your niche and experiences, such as legal research, case management, and civil litigation. Tailor your CV to reflect your specialisation, for example, in criminal, corporate, or family law. Then, highlight your work history and educational qualifications that align with industry standards. Include relevant certifications, training programs or an additional section that presents your interests or knowledge of areas aligned with your job targets.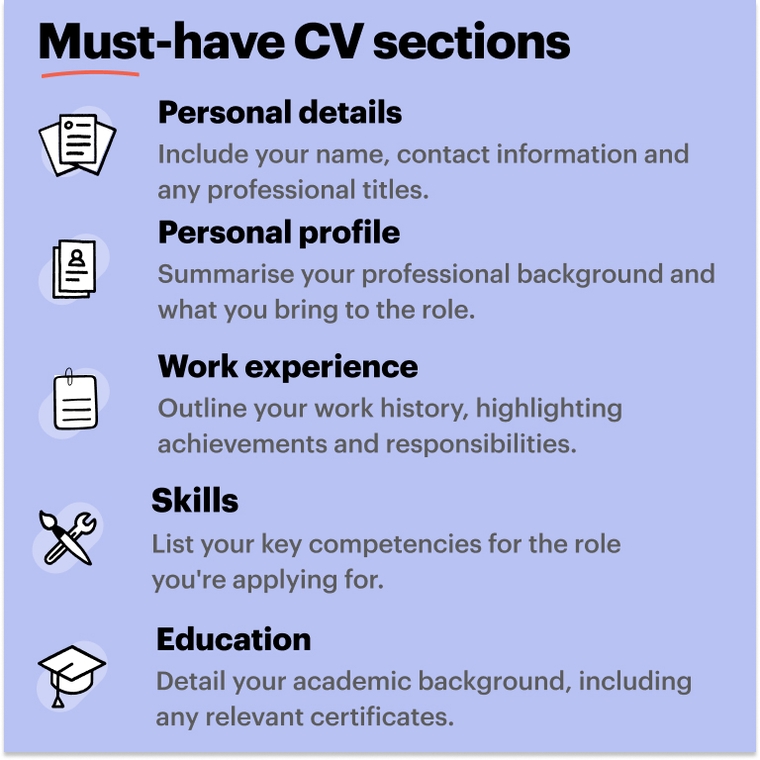 In this competitive industry, spanning various sectors, the demand for diverse skills and extensive experience makes the CV writing process particularly challenging. Read our comprehensive guide on the CV writing process for additional support. Explore our lawyer CV example or civil service CV example for more inspiration.
Show your passion in your personal profile 
A paralegal CV profile is an opening statement and personal summary that acts as a compelling hook to attract the hiring manager and spark their interest. Often overlooked by many applicants, a well-crafted personal profile is a gateway to showcase your unique qualities and achievements. Crafting an impactful personal profile is crucial for making a lasting first impression and establishing yourself as a standout candidate. Take the opportunity to highlight your essential skills, years of experience, and niche expertise.
Pro Tip
Align your personal profile with the paralegal job description CV. This will show your suitability for the role and demonstrate your ability to research the organisation and position.
Legal Assistant CV personal profile example
Diligent Legal Assistant with five years of experience in civil litigation. Solid understanding of legal procedures and contract preparation. Adept at conducting legal research, managing case files, and preparing case reports. Excellent organisational and written communication skills, prioritising efficient collaboration with legal professionals. Dedicated to maintaining client confidentiality and contributing to the smooth functioning of legal processes.
Paralegal CV personal profile example
Dedicated Paralegal with three years of experience undertaking legal procedures, case management, and research methodologies. Proven ability to support senior legal professionals in managing caseloads and completing files above average time. Competent at legal drafting, document preparation, and maintaining client confidentiality. Possesses a Masters in Law and a commitment to continuous professional development. Detail-orientated and resourceful, eager to contribute skills and expertise to advance career.
Trainee Paralegal CV personal profile example
Ambitious Trainee Paralegal with a solid academic background and a focus on criminal law. Proactive in assisting with legal research, document preparation, and case management. Possesses a strong work ethic, excellent attention to detail, and a commitment to learning and development. Enthusiastic about contributing to legal teams and gaining practical experience in the field.
Senior Paralegal CV personal profile example
Experienced Senior Paralegal with over ten years of expertise in immigration law. Proven track record of managing complex legal cases and providing leadership within diverse legal teams. Proficient in legal research, drafting documents, and ensuring compliance with regulations. Strong organisational and interpersonal skills, fostering effective communication and collaboration. Committed to delivering high-quality legal support and contributing to the success of legal initiatives.
Learn how to write a CV personal profile. 
Paralegal skills to showcase on your CV 
Listing paralegal skills on your CV is more than just adding competencies; it's about demonstrating you have a combination of interpersonal and technical skills required in the legal industry. Include a combination of technical knowledge (hard skills) in a separate skills section with interpersonal communicative qualities (soft skills) showcased in your personal profile.
Discover what hard and soft skills you can add to your CV for a paralegal job by checking other roles with simlar skills sets like administative support or office manager. Showcase your organisation skills, commitment to client satisfaction, knowledge of legal processes.
A skills-based CV is effective if you have little to no work experience. Instead of emphasising previous roles, this approach showcases your transferable skills, qualifications, and competencies. Highlight critical skills relevant to the job you're applying for using concrete examples from volunteer work, internships, coursework, or personal projects. This format emphasises potential strengths and contributions, making it practical for recent graduates or those considering a career change.
Hard skills

Soft skills

Legal research

Detail-orientated

Case management

Communication

Drafting legal documents

Analytical thinking

Contract review

Time management

Litigation support

Organisation

Legal database management

Team collaboration

Court filings

Critical thinking

Legal writing

Adaptability

Regulatory compliance

Negotiation

Document management

Emotional intelligence
Refer to our article on what skills to put on your CV.
Describe your relevant work experience
When referencing your work experience paralegal CV examples, including accurate, relevant, and precise entries is essential. Provide details about your daily responsibilities and your tangible impact in previous roles. Consider these tips to present work experience tailored to your job targets.
Use a reverse chronological order: Begin with your most recent role and proceed backwards.

Detail responsibilities and achievements: Clearly outline your tasks and accomplishments for each position, emphasising quantifiable results. Use dynamic action verbs like 'researched,' 'drafted,' 'analysed,' and 'prepared.'

Highlight legal skills: Emphasise skills and experiences most pertinent to legal contexts, such as legal research, case management, document preparation, and client interaction.

Quantify legal achievements: Utilise numbers and percentages to quantify your successes in legal settings. For instance, state accomplishments like 'contributed to a 20% improvement in case preparation efficiency' or 'successfully managed document review for complex litigation cases.'

Incorporate legal terminology: Incorporate industry-specific language and acronyms relevant to the legal field.

Use bullet points: Opt for concise content instead of lengthy paragraphs to enhance readability, ensuring your CV is easily digestible.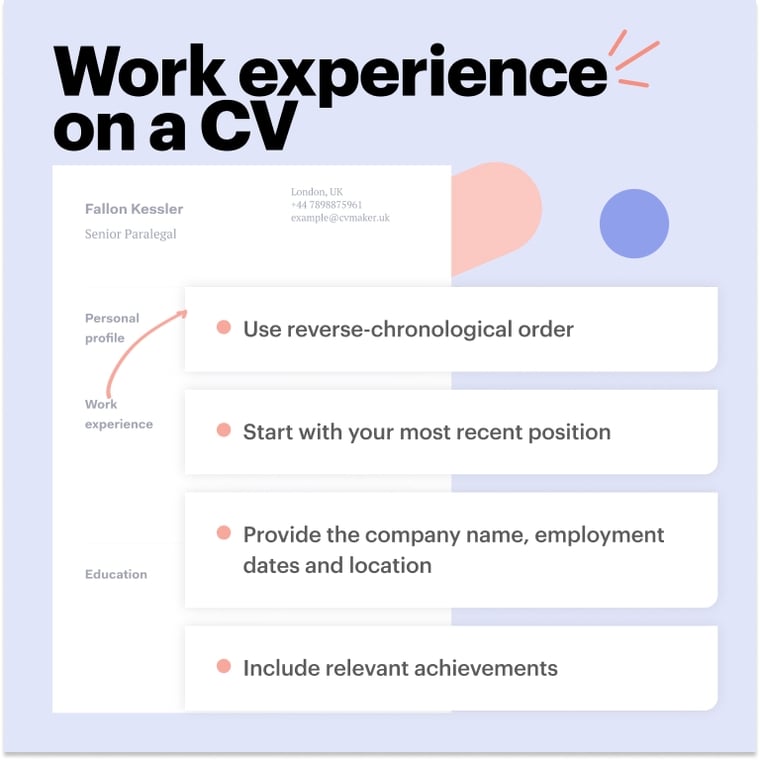 Paralegal work experience CV examples
Legal Assistant | Law Firm Associates, London, UK | 2019 - Present
Provide comprehensive support to legal professionals in case management, legal research, and document preparation. Facilitate client interactions, maintaining a high level of professionalism and confidentiality. Collaborate with senior attorneys to draft legal documents and correspondence. Conduct legal research and prepare case materials to assist in trial preparations.
Assisted in successfully resolving complex cases, contributing to a 15% increase in case closure rates.

Coordinated and managed the firm's legal database, which reduced retrieval time by 20%.
Paralegal | Legal Solutions Ltd, London, UK | 2020 - Present
Conduct thorough legal research, prepare legal documents, and assist in case management activities. Collaborate with solicitors to ensure accurate and timely case reports for court proceedings. Engage in client interactions, addressing inquiries, resolving concerns, and maintaining positive professional relationships. Support attorneys in trial preparations and coordinate administrative tasks within the legal team.
Drafted and submitted legal documents, resulting in a 10% improvement in case filing efficiency.

Facilitated the implementation of a new case management system, streamlined workflows and reduced administrative overhead by 15%.
Senior Paralegal | Premier Legal Associates, London, UK | 2012 - 2017
Provided leadership and mentorship to junior paralegals, overseeing their work in case management, legal research, and document preparation. Collaborated with senior attorneys to develop legal strategies and trial preparations. Managed over 2,000 complex cases independently whilst prioritising the compliance of legal protocols and deadlines. Facilitated effective communication between estate agents, solicitors and clients to expedite the exchange of contracts and closure of cases.
Led a team of 100 paralegals in successfully resolving high-profile cases, contributing to a 20% increase in client satisfaction ratings.

Implemented process improvements, resulting in a 25% reduction in case turnaround time.
Paralegal CV work experience example with no experience 
Intern | Pioneer Marketing Solutions, London | 2021- 2022
Collaborated with the marketing team during a summer internship, contributing to various projects and campaigns. Assisted in research, analysing trends, and preparing reports. Coordinated with cross-functional teams to ensure the seamless execution of projects in line with milestones and deadlines.
Supported the marketing team to create content which improved engagement on social media channels and increased company followers by 20%.
If you have little or no work experience, highlight your achievements that align with your career goals. Include duties that are relevant to your job targets. If your previous experience is not industry-related, the example above highlights transferable skills such as research, collaboration, and effective communication, which are valuable assets on a paralegal CV.
Learn how to write work experience on a CV for a paralegal with our expert examples and tips.
How to include education on a paralegal CV 
Including your education on a paralegal CV is essential as it provides employers with insights into your academic background and qualifications. Typically, employers seek candidates with relevant and higher education. In this section, mention your highest level of education, such as an associate's or bachelor's degree in paralegal studies or a related field.
Pro Tip
Include only relevant educational qualifications, focusing on degrees and certifications relevant to legal work. If you have little to no work experience, education can leverage your CV for a paralegal job. 
If you are a recent graduate entering the workforce after graduating and writing a paralegal CV with no experience, you can position education above the work experience section.
Include the following information:
Full name of the degree or qualification

Name of the educational institution where you studied

Include the location or an online course

Graduation year, expected graduation year, or in progress

Honours, awards, or distinctions received (if applicable).
Here are some more tips to consider:
Coursework: List relevant coursework or examinations to provide insight into your academic specialisation, such as Legal Research and Writing, Civil Litigation, and Contract Law.

Projects: If you worked on noteworthy projects, a dissertation, or research papers during your academic studies, mention them briefly. This demonstrates your ability to apply your knowledge in practical scenarios.

Certificates: Consider completing certificates and additional training programs for your job targets. Include courses or certifications in a separate section or under the education section.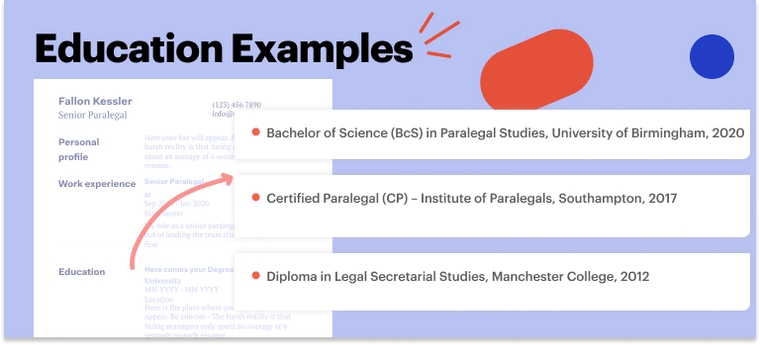 Refer to our mastering the CV education section for more expert tips and examples. 
Additional sections to include on your paralegal CV 
Including additional sections on your CV is crucial for providing a comprehensive overview of your qualifications and skills. These sections go beyond the standard education and work experience, allowing you to highlight specialised skills and tailor your CV to specific roles. Use an additional section to showcase unique achievements or explain unemployment gaps on your CV.
Highlighting professional memberships with relevant organisations in the legal field can add credibility to your CV and support your paralegal skills. This provides insight into your commitment to ongoing professional development, networking, and a commitment to staying current with industry standards and practices.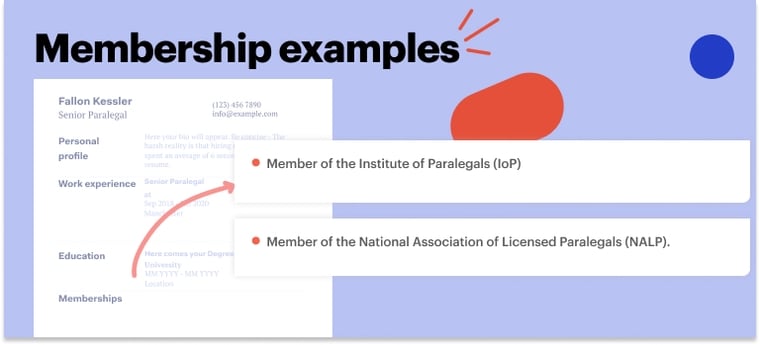 If you are fluent or proficient in languages other than English, include a section for language skills and your proficiency level. This will enhance your CV and demonstrate your ability to network and communicate with global clients.
If you've written legal articles, papers, or blog posts, create a section to showcase your written contributions such as publications or a portfolio. You can also add relevant coursework, projects, or academic material in this section. If you have little work experience, consider creating a portfolio to showcase relevant knowledge and interests.
To add credibility to your paralegal CV sample, add a section for references so prospective employers can verify your qualifications and gain insights into your professional capabilities.
Key takeaways 
Precision and a tailored approach are paramount to crafting an impactful CV for a legal role. Following the guidelines outlined in this article will ensure you optimise your chances of securing your dream role. Increase your chances of being shortlisted for a job interview by presenting a well-structured CV with essential sections and information. Finally, remember that even with little work experience, you can use a specific CV format to highlight your skills and qualifications to impress potential employers.
Next Steps? 
For aspiring paralegals and legal assistants eager to advance their careers and improve their CVs, explore our career blog for more tips and advice. Explore our CV Builder, which uses a personalised approach to create an application aligned with your career goals. If you need additional support, our CV Writing Service offers a time-efficient solution that is particularly beneficial for recent graduates or those entering the job market.
FAQ 
What qualifications do you need to be a paralegal in the UK? 
While a law degree is not always mandatory, it can be beneficial and is required for senior roles. Many candidates hold qualifications such as a degree in law, legal studies, or a related field. Additionally, having practical experience and certificates from recognised legal institutions will boost your paralegal CV profile. Importantly, employers seek candidates with a strong understanding of legal procedures and specialised knowledge, such as property law for an estate agent.
Do you need a law degree to become a paralegal? 
Not necessarily, but a law degree is sometimes a prerequisite to enter this profession. Many successful paralegal CV examples include qualifications in legal studies or related disciplines. However, even without a degree, recruiters seek candidates with relevant work experience, certifications, and a comprehensive understanding of legal processes.
Should I write a cover letter for a paralegal job? 
A well-crafted cover letter allows you to introduce yourself, express your interest in the position, and highlight specific skills and experiences that make you a strong candidate. It's an opportunity to showcase your communication skills, explain gaps in employment and demonstrate how your background aligns with the paralegal CV job description. Read our cover letter tips for more ideas on what to write.
What is the best CV format in the UK for a paralegal CV?
The best CV format in the UK typically follows a chronological CV format, which lists work experience and education in reverse order. Ensure you use a professional ATS-friendly template so recruiters can easily find and scan your CV. Ideally, your CV length should be one page long, use clear fonts and be well-structured for easy readability.
Land the interview for your dream job with CVMaker
Effortlessly create your professional CV within 10 minutes and download it whenever and wherever you want!
Create your CV
Increase your chances landing your dream job with CVMaker.