Undergraduate CV
Aisha, an aspiring software engineer candidate, has opted for a sleek two-column CV template. The skills summary and work experience presents her as a qualified candidate. She is highly educated and passionate about staying up-to-date with the latest technologies and innovations.
Create your CV
"Enthusiastic and proactive undergraduate student seeking a summer software engineering internship. Well-versed in Python, Java, C++, JavaScript, Ruby with a passion for problem-solving. Quick learner, team player, and eager to embrace emerging technologies."
Aisha Malik
- Undergraduate Student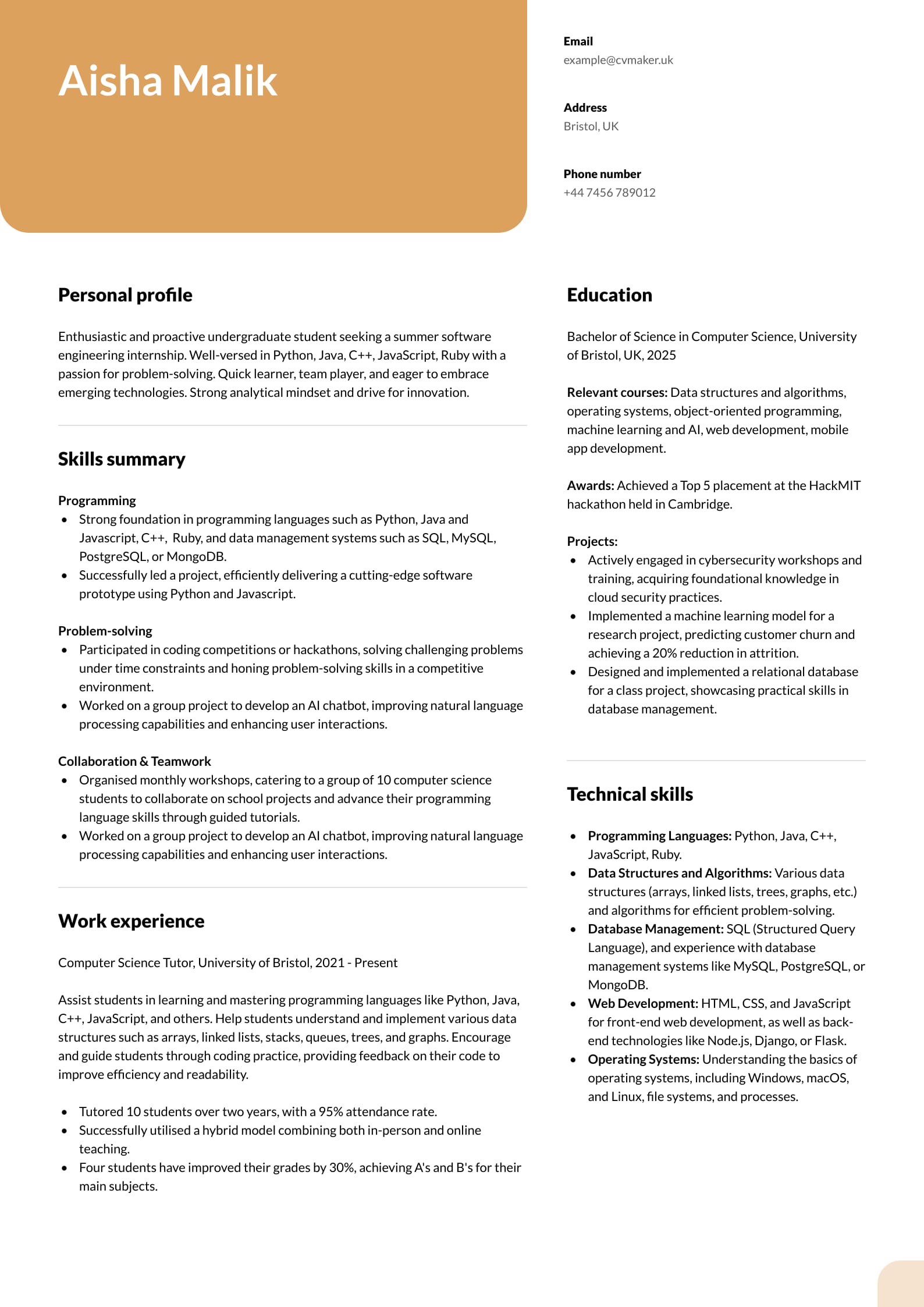 Undergraduate CV - Writing Guide for 2023 (Template, Examples, and Tips)
Imagine spending hours eagerly looking for your first job opportunity. Excitement and motivation fill your mind as you perfect your CV and apply for job after job, hoping for that interview invitation or job offer. But despite your enthusiasm, rejection after rejection leaves you feeling stuck and unnoticed.
Searching for a job can be a daunting process, but rest assured, we're here to help you increase your chances of getting shortlisted for an interview. We have compiled this step-by-step guide with CV examples and tips. Whether you're a first-year undergraduate, about to graduate or changing careers, we walk you through each step of creating an applicant tracking system (ATS) friendly CV that aligns with your career goals, ensuring it captivates your recruiters' attention. Let's work together to turn those rejections into acceptances and make your transition from the academic world to a successful career much smoother.
The CV writing process: Where to start?
Did you know recruiters form their opinion about your application in just 7 seconds? To ensure each second counts, crafting an ATS-friendly CV is crucial. The layout with clear headings would effectively showcase your experience, qualifications, and skills.
The largest job finder websites in the UK:
When applying for multiple jobs, it's essential to build a master CV, which becomes your go-to reference. It is a comprehensive document with all your qualifications and experiences, serving as the foundation for creating job-specific CVs for different roles, such as marketer, software developer, sales specialist, data analyst, or receptionist.
To learn more, see the article on how to write a good CV.
Undergraduate CV example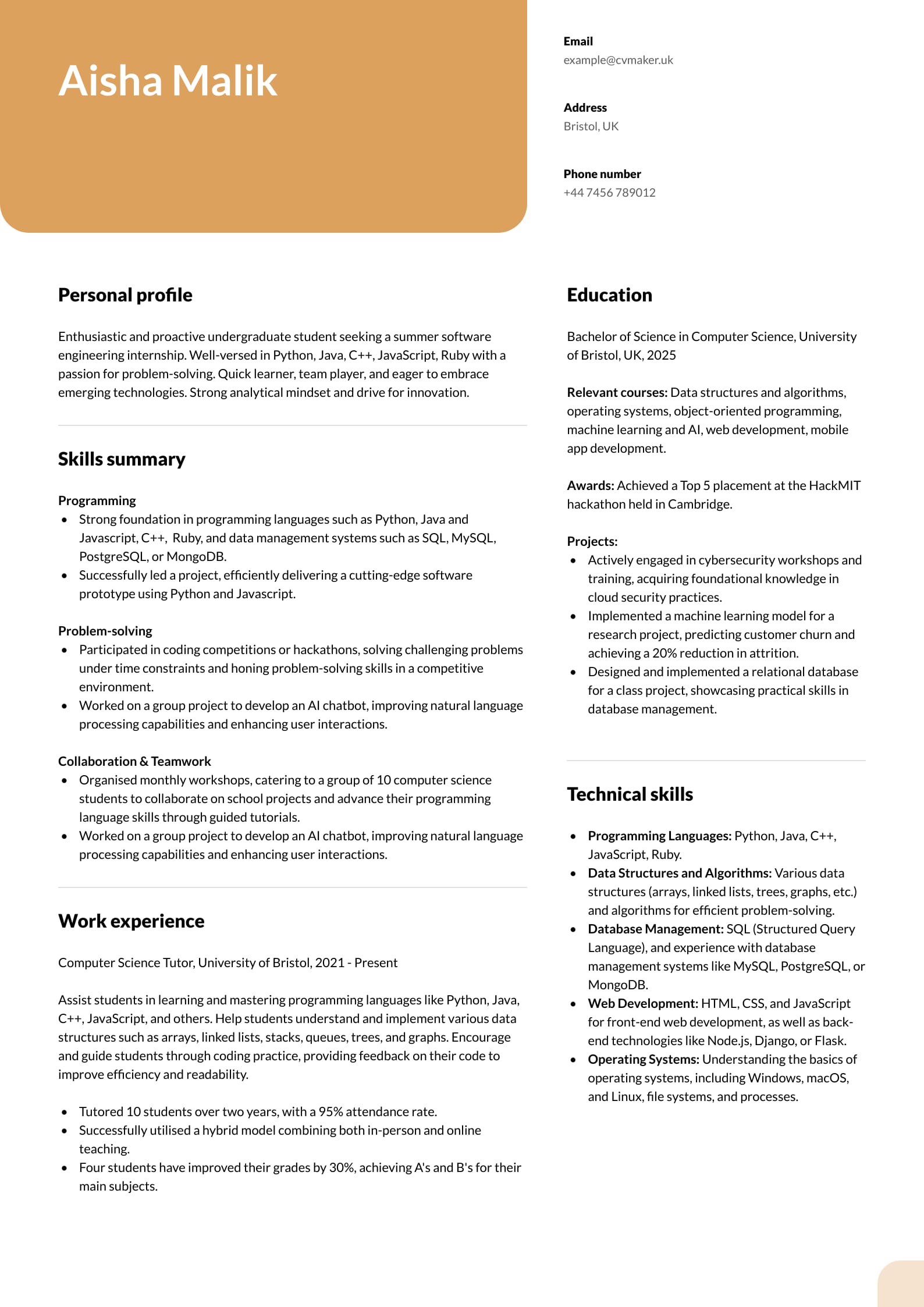 Download this CV sample - Undergraduate CV
This CV sample features Aisha Malik, a second-year undergraduate student seeking a software engineering summer internship. The skills summary efficiently showcases the main achievements and projects from her studies and tutoring experience. She has opted for a simple CV template with a professional font and skills-based format. Since Aisha is targeting the IT role, she strategically highlights her technical proficiencies and education to show she's the right fit.
​​What to include in an undergraduate CV
As an undergraduate student, you should focus on your organisation, time management, and communication skills. Ensure your CV aligns with your career goals as well as ATS systems to increase your chances of success. Keep your CV clear and concise, highlighting relevant sections to leave a positive impression.
When populating your CV with core information, showcase your unique strengths and measurable achievements. Focus less on aesthetics, such as the design or colours of your CV, and spend more time writing an engaging personal profile. Remember, the main goal is to show employers and recruiters how your skills and experience can help grow their company. Omit optional sections such as references or hobbies and elaborate on them instead within the interview.
Common part-time jobs for undergraduates in the UK:
Retail assistant

Shelf packer

Waiter/barista/bartender

Student ambassador

Receptionist

Tutoring

Customer service representative

Library assistant

Data entry clerk

Food delivery driver.
For more information, see the part-time CV article.
What personal details to include on an undergraduate CV
The personal information section includes core details for recruiters and hiring managers to identify and contact you. This section must be easily identifiable and legible. Only include information on your CV that gives you an advantage over your potential employer and that you're comfortable sharing. In the UK, you could include the following information:
Your full name

Phone number

Email address

Location (city and country).
If you're still studying or about to graduate, we suggest showing more than just your contact details and including links to other outside-of-work activities. Your CV should be concise, so linking to the following pages allows you to elaborate on your projects and additional experiences:
LinkedIn profile link

Portfolio links

Professional websites or links.
How to write a personal profile for an undergraduate CV
Your personal profile, also known as a personal statement, is a summary of your qualifications and skills that gives a glimpse into who you are and what you can bring to the role. Start with stating your career goals and your degree name. Move on to the most notable achievements and incorporate them accordingly.
Ensure you tailor your profile to match the specific job you're applying for, keeping this section clear, concise and relevant. If you're a student with little to no work experience, then highlight your education, skills, or additional experiences in the personal profile.
Academic CV undergraduate example for personal profile
Attentive undergraduate specialising in applied mathematics. Proficient in Python, Javascript, C++, and SQL. Strong analytical mindset with exceptional research and communication skills, adept at transforming complex problems into simple solutions. Quick learner, team player, and eager to advance technical skills in the research role.
Student with an internship CV example for personal profile
Creative third-year undergraduate student with hands-on journalism internship. Skilled in public speaking, writing, and digital media. Independent and adaptable, with excellent collaboration and communication skills. Strong foundation in storytelling, SEO, social media management, and audience building.
First-year undergraduate CV example for personal profile
Motivated and detail-orientated first-year business administration undergraduate student with strong communication and teamwork skills. Adept at developing business strategies, and solving problems through efficient and data-driven solutions. Eager to leverage theoretical knowledge and practical skills to develop further as a business analysis intern.
Computer Science student CV example for personal profile
Innovative and solutions-orientated computer science undergraduate student with a passion for machine learning. Proficient in programming languages such as Python, Java, Ruby, and PHP. Knowledgeable in algorithm development, data structures, and data security. Adept at motivating myself and others, with a keen interest in solving technical problems. Seeking an apprenticeship in a fast-paced fintech industry.
Engineering undergraduate CV example for personal profile
Data-driven and resourceful engineering undergraduate, driven to solve real-world challenges through creative engineering solutions. Possesses a strong theoretical background, combined with hands-on experience in projects. Aims to apply engineering expertise to create sustainable and impactful solutions.
Psychology student CV example for personal profile
Empathetic psychology undergraduate student passionate about human behaviour and mental health. Well-versed in qualitative and quantitative research methods, assessment and diagnostics skills, and therapeutic techniques and interventions. Effective communicator with strong critical thinking and communication abilities. Proficient in research methods and data analysis, aiming to explore various facets of psychology to contribute meaningfully to the field. Seeking a clinical psychology internship.
Biology undergraduate student CV example for personal profile
Enthusiastic undergraduate student specialising in environmental biology. Skilled in laboratory experiments, data analysis, and scientific research. Strong academic writing and communication skills. Passionate about biodiversity and environmental conservation. Seeking a research internship in a lab to apply current knowledge and develop new skills.
Refer to internship and entering the workforce articles for more inspiration.
How to arrange work experience on an undergraduate CV
Whether you have held paid positions or volunteered, focusing on your achievements and measurable impacts is key. They are what recruiters and hiring managers are looking for the most. When listing your work experience section, don't let your chances go slim, and strategically incorporate duties followed by two-to-three achievements in bullet points.
This section could encompass your paid work experience, volunteer work, and internships, starting with the most recent and working backwards.

Incorporate keywords relevant to your target job throughout your CV.

Emphasise transferable skills gained from relevant studies, volunteering, or hobbies. Keep this section concise and focused on your target job.

Highlight measurable outcomes or significant academic achievements from school, work placements, volunteering, or internships.

Change your job titles and tailor your duties and achievements to your job target.
Even if you have no work experience or changing careers, we recommend placing your education section over work experience, as it's your main selling point. If you have nothing to put in your work history, consider utilising a skills-based CV format where you group your expertise and main achievements.
Pro Tip
Avoid outdated or short-term experiences. Instead, create an additional experience section without specific dates
Work experience example
Junior Graphic Designer, Envy Co, 2023-Present
Collaborated with the design team to create visually compelling graphics for social media, flyers, company merch, and external marketing campaigns. Gained hands-on experience in Adobe Creative Suite, including Photoshop, Illustrator, and InDesign, to bring design concepts to life. Ensured efficient workflow by organising and archiving design assets.
Contributed to the rebranding of the website, leading to a 30% increase in customer loyalty and positive feedback.

Successfully completed 5 projects for flyers, websites, and e-books within assigned deadlines, demonstrating efficiency and time management skills.

Assisted senior designers to create a visually stunning eBook layout for a client, resulting in a 20% increase in downloads and positive reviews from readers.
How to list additional experience for an undergraduate CV
If you have had part-time jobs, completed volunteer work, or had other side activities, consider creating a separate section called 'Additional experience'. Use this section to elaborate on your relevant experience and achievements.
Add a new section on your CV which includes all your side activities or jobs. Examples of these activities include but are not limited to student societies, board memberships, and volunteering.
Side jobs show that you can multitask and are willing or driven to work. Examples of side jobs could include waiter/waitress, bartender, or driver.

Volunteer work does not directly belong to the work experience section because you're generally not hired or paid by an employer. It depends on what kind of volunteering experience you have, but in most cases, keeping it in this section is safer. Volunteering is still a useful experience that allows you to gain practical skills while working with diverse people in one team.

Student societies highlight your active involvement in student societies or clubs during your university years. Being part of these groups demonstrates your willingness to go beyond the norm and contribute to the betterment of the community.

Placements provide one-year training allowing students to gain employability skills and first-hand experience in a particular job role or sector.

Apprenticeships showcase your hands-on training and technical classroom instruction, making you a qualified candidate and boosting your credibility.
Refer to the hobbies and interests article for more inspiration.
How to add skills to an undergraduate CV
Incorporating the right skills is essential to impress hiring managers and parse through the ATS systems. Highlight your most prominent academic skills that could benefit the company you're applying for. Make sure to differentiate between soft skills, which go to your personal profile and hard skills, which you place in a separate section called 'Areas of expertise'. Focus on your strengths and think of abilities that can come in handy in your next role. Your CV must combine both to make your profile stand out.
Pro Tip
Avoid fabricating skills for the sake of appearance. Instead, only display the courses you have completed; adding false or invalid information can portray you as an untrustworthy candidate.
Soft skills

Hard skills

Communication

Microsoft Office Suite

Problem-solving

Data entry and analysis

Collaboration

Foreign language proficiency

Adaptability

Research and information gathering

Attention to detail

Graphic design

Time management

Social media management

Organisation

Web development

Enthusiasm

Writing and editing (e.g., academic, creative, technical)

Resilience

Presentation

Initiative

Customer service
How to mention education for an undergraduate CV
Your education section on a CV reflects your academic prowess and qualifications. Highlight relevant training and achievements to show you can do your job. Emphasise how your coursework, projects, and extracurricular activities have contributed to your growth and prepared you for your role in your chosen field. Universities value well-rounded students who can excel academically and personally, so showcasing your abilities and accomplishments beyond just grades can significantly enhance your application.
Your CV includes degree/diploma, level, institution, completion date/in progress, and relevant subjects. For internships or graduates, focus on final year courses, relevant projects, and notable grades such as first-class Honours or two majors. Remember, employers value skills, experience, and passion over your grades.
Structure:
[Degree] in [program name], [institution/school name], [Location], [date range, year of graduation, or in progress]
Examples:
Bachelor of Science in Computer Science, Imperial College London, 2023

Master of Arts in English Literature, University of Cambridge, 2021-Present

Bachelor of Engineering in Mechanical Engineering, University of Manchester, 2020

Bachelor of Business Administration in Marketing, London School of Economics and Political Science (LSE), 2019

Master of Science in Data Science, University College London (UCL), 2018
What to include in your education section on a CV
University degree: Include your full degree name, including honours, institution name, completion date or expected graduation year, and final grade (if applicable).

Degree description or thesis topic: convert your academic achievements into a 'job description' by highlighting learned skills or university projects.

University courses: Mention relevant courses under your degree in bullet points, ensuring they align with your job description or company goals.

Courses and professional training: include accredited and relevant courses from renowned universities of course providers, ensuring they closely relate to your job targets.

A-Levels or GCSEs: only state your subject names, final grades, if possible. This section is optional and is only useful if you don't have a tertiary education or no experience.
Pro Tip
If you have studied at an international high school or university, it could be an excellent addition to your CV that shows your ability to work in a diverse work environment.
How to list courses and certificates for an undergraduate CV
Whether you're new to the industry or have already completed an internship, enhance your CV with courses and certificates to showcase your potential and commitment to continuous learning. Keep the list concise, preferably one to two lines max. Alternatively, list the skills in one line instead of using bullet points if you need to save space on your CV. Courses and certificates are an additional section that expands on your pertinent areas of expertise and qualifications. Furthermore, include any relevant courses from your secondary and higher education, along with any certifications or awards received.
For more inspiration, find a course with the National Careers Service.
Examples:
Key takeaways
Securing your first job as an undergraduate can be challenging. However, armed with the right tools and knowledge, you can transform rejections into acceptances and gain a competitive edge over other candidates.
Remember, every application and experience is an opportunity for growth and learning. The more you apply and invest time in tailoring your CV, the more chance you have to enhance your persuasion skills and increase your chances of landing your dream job. This skill will be handy not only in your next job but also in your future career. Keep persevering and honing your craft, and success will surely follow.
Additional tips:
Keep your CV concise, focusing on the most relevant information.

Create an engaging personal profile that showcases your enthusiasm and drive to learn.

Differentiate between soft and hard skills by incorporating the former in the personal profile section.

Back up your achievements with concrete data using numbers and percentages for added impact.

Highlight both your responsibilities and achievements, such as research projects or leadership roles in student organisations.

Showcase your education history along with any relevant coursework, honours, or extracurricular activities.

Accompany your CV with a strong cover letter.

Thoroughly proofread your CV to avoid any errors, thus presenting a polished and professional document to hiring managers or universities.
Next steps? If you want to avoid the hassle of creating your first CV, reach out to CV Writing Service. Our professional writers can polish your career documents and provide expert advice to make your CV shine. If you want to create a CV yourself, we also offer ready-to-use 20+ professional templates which you can easily import and customise to your needs. See one of our 40+ CV examples and career bog to guide you through finding your dream job.
FAQ
How to write an academic CV as an undergraduate?
Start by choosing a professional template with clear headings, bullet points, and, most importantly, readability. Tailor your master CV to a specific job you're targeting and highlight achievements most relevant to that role. If you need to create a CV template for university application as an undergraduate, include one of the following sections:
Core sections

Optional sections

Personal details

Presentations and Conferences

Personal profile

Grants and Funding

Education

Honours and Awards

Skills

Professional Memberships

Research or teaching experience

References

Publications

Professional Service
For more details and inspiration, see the academic CV example article.
What is the best format for an undergraduate CV?
No universal format applies to every job, as it ultimately depends on your career goals, the industry you're applying to, and your style. Nevertheless, we recommend utilising the reverse chronological format if you've already held a few positions. If you have little to no experience, a skills-based CV format is your way to go. It groups different skill types and emphasises key achievements and learning from your studies or side activities. Lastly, pick a clean, professional template with a clear structure.
Read the article on how to create a modern CV to learn more.
How to write an undergraduate CV with no experience?
Suppose you are still at school and are looking for your first job or internship w writing your CV. In that case, we suggest using a skills-based approach focusing on key skills and core competencies by bringing them to the top of the document instead of your employment history. Just ensure the details in your CV example are concise, easy to read, and relevant to the job you are applying to.
See our school leaver CV article for more inspiration.
What should an undergraduate CV look like?
A CV should follow a clear and concise format, typically including sections like education, relevant coursework, research experience, internships, skills, and extracurricular activities. Utilise a professional and easy-to-read font, organised headings, and bullet points for clarity. Tailor the CV to highlight achievements, projects, and experiences that align with the desired job or field of study.
How long should an undergraduate CV be?
Aim for brevity and conciseness when creating your CV, ideally limiting it to one-to-two pages. Emphasise essential sections, including education, work experience, skills, and other optional details. Use easy-to-read and concise language, complemented by a professional font and clear headings.
If you are applying for a research position or academia, be prepared to create an academic CV that is more extensive and employs different headings, focusing more on qualifications and publications.
See the article on how long should a cover letter be for more information.
How to write as an undergraduate if you're still studying?
Start by writing your education section highlighting relevant coursework, research, and projects. Then, include internships, volunteer work, or part-time jobs that showcase transferrable skills. Ensure to show your commitment to learning and enthusiasm for the field. After that, add a personal statement to convey your career goals and motivation to join the company. Lastly, state your expected graduation date and consider showcasing extracurricular involvement or leadership roles to demonstrate your potential.
Can you add undergraduate and postgraduate on a CV?
Yes, you can include both. List your highest degree first, followed by the others in chronological order. Provide relevant details such as university names, degree titles, dates of study, and any notable academic achievements. Tailor the CV to emphasise the qualifications most relevant to the job or educational opportunities you are pursuing.
Land the interview for your dream job with CVMaker
Effortlessly create your professional CV within 10 minutes and download it whenever and wherever you want!
Create your CV
Increase your chances landing your dream job with CVMaker.