Graphic Designer CV
Emily is a qualified and experienced Graphic Designer with a proven track record of creating and implementing innovative ideas across multiple mediums. Over the years, she has gained expert knowledge in design principles and tools. Her previous, graphic-heavy CV was in dire need of an update, so she has selected a simple yet modern Otago CV template.
Create your CV
"Creative graphic design professional with 15 years of experience creating and implementing ideas that inform, inspire, or motivate users. Expert knowledge of design principles combined with a mastery of design software across multiple mediums. Adept at motivating and managing team members to meet deadlines while guaranteeing quality, consistency, and brand alignment. "
Emily Thompson
- Graphic Designer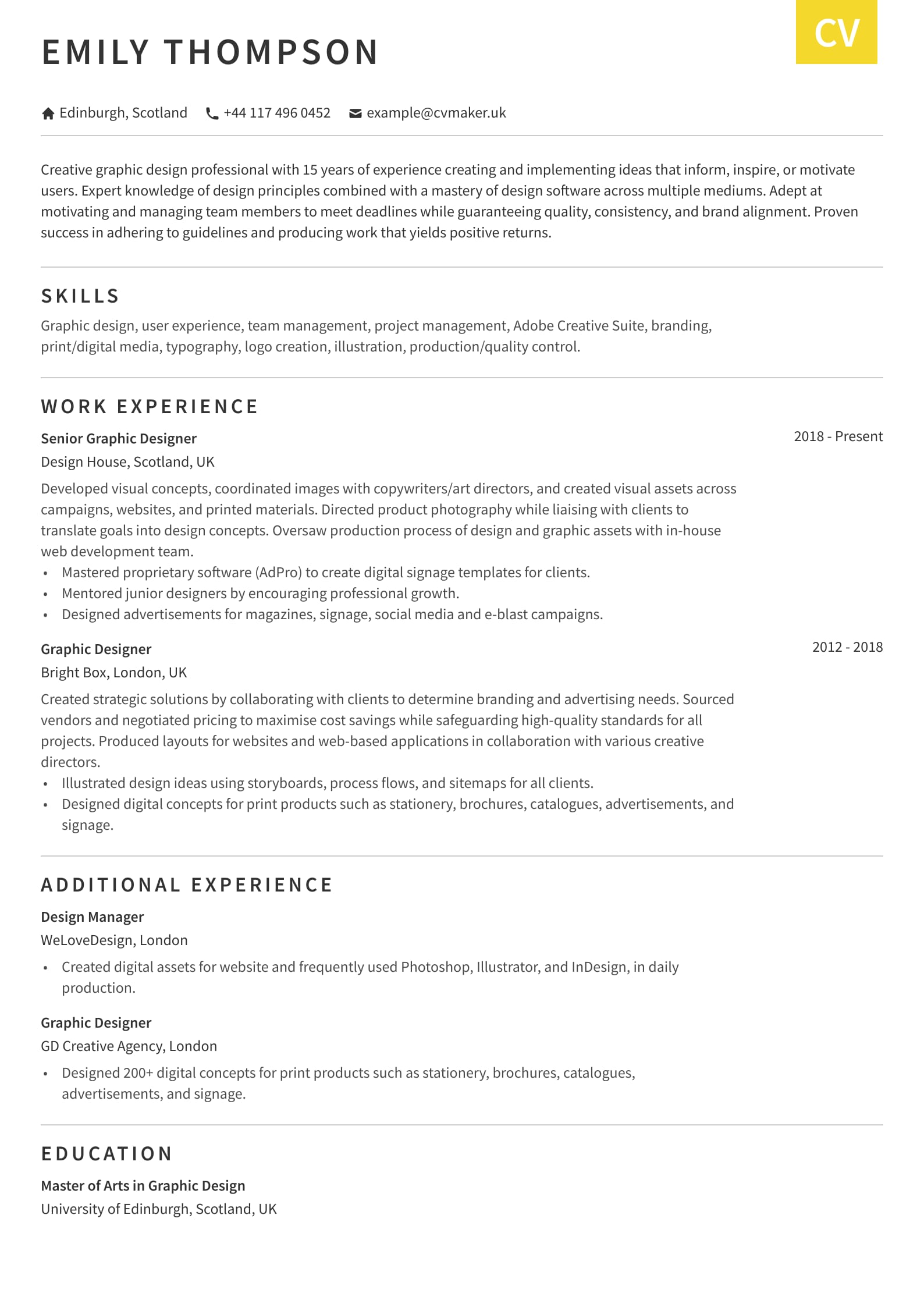 How to write a CV for a Graphic Designer
You're creative, design-focused, and love making eye-catching designs, but when it comes to writing a CV, you're baffled as to why you are not getting through to the interview phase. Well, the thing is, a CV does not need to be graphic-heavy. All that truly matters is the content and layout. The aim is to simplify your experience, skills, and key achievements to showcase why you are the best candidate for the job. If you have design projects, best to insert a link on your CV or send a portfolio as a separate attachment.
The need for graphic designers and companies to continuously increase their digital presence is growing. Choosing a career in graphic design allows a lot of flexibility, whether you decide to work for an agency, freelance, or in-house. A few career paths within the umbrella of graphic design include but are not limited to:
Product Designer

Packaging Designer

Game Designer

Brand Identity Designer

Animation Designer

User Experience (UX) or User Interface (UI) Designer

Production Artist

Creative Director

Lettering and Typography Designer
This article is for you if you're seeking a change or are just curious about what makes an excellent CV. We provide the latest information on what makes a good designer CV, skills to include, and CV examples for different levels.
The CV writing process: Where to start?
A graphic design CV is no different from a regular CV in that it should follow an easy-to-read, clear structure.  Whether you are qualified or just starting your career, include some form of a portfolio to showcase your design skills while also drawing attention to your technical proficiencies.
Master CV
No matter what field you specialise in, a master CV comes highly recommended. This document aims to keep a log of all your past experience, skills, or achievements and ideally in a centralised file location such as a Google Drive. You may think this is time-consuming, but once you've done it, it will only get easier.
Pro Tip
Make it a habit to track your day-to-day duties or any projects you have worked on within your role. That way, when updating your CV, you can easily refer to this document to refresh your memory.
Job-specific CV
A career in graphic design is desirable for many reasons, but it can also be very competitive. With so many people choosing the creative field, you must create a solid graphic design CV to stand out. The importance of tailoring your CV can't be iterated enough. Ensure you use the correct keywords and skills that recruiters or hiring managers have listed in the job description.
Graphic Designer CV Example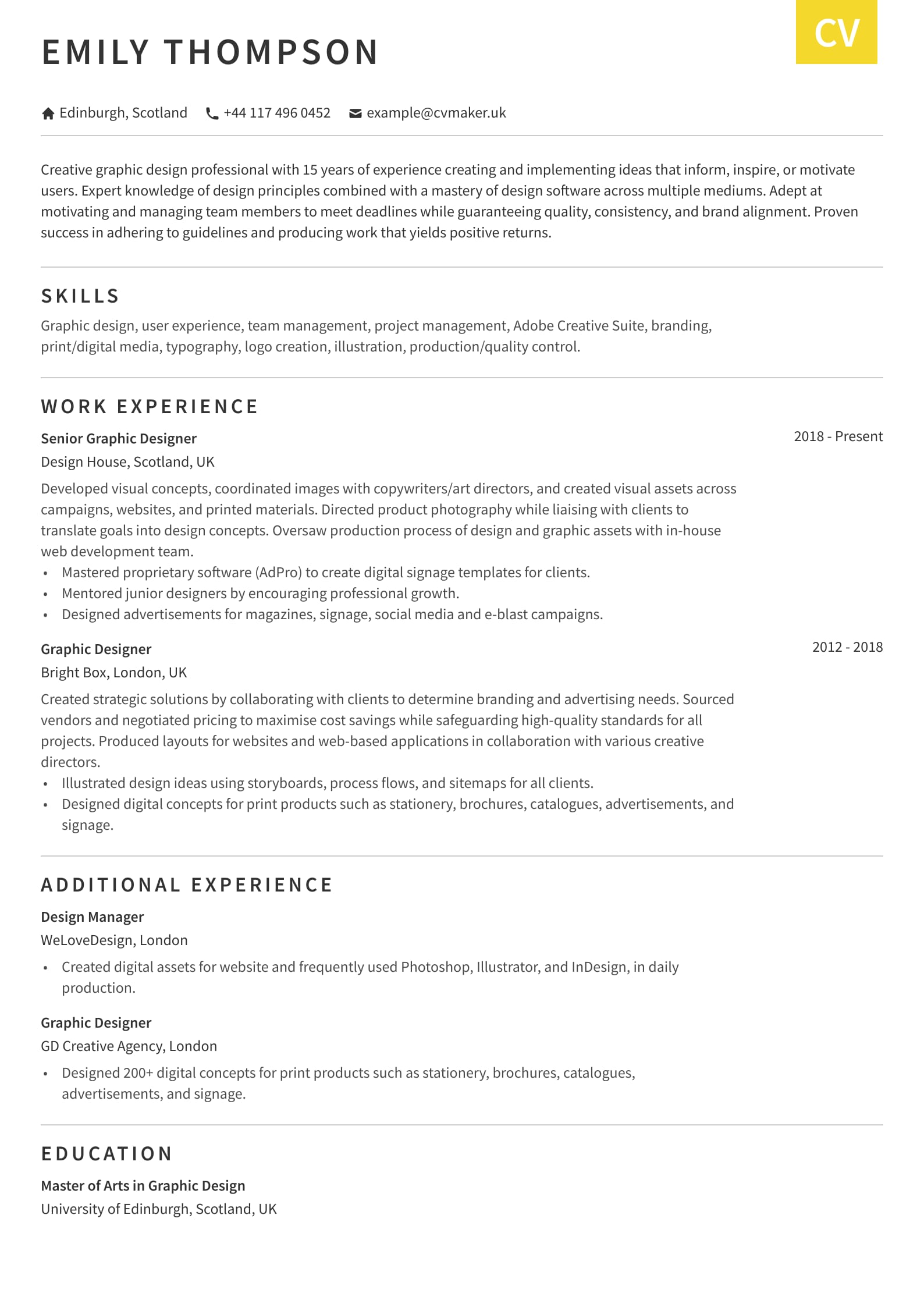 Download this CV example - Graphic Designer CV
Emily is a qualified and experienced Graphic Designer with a proven track record of creating and implementing innovative ideas across multiple mediums. Over the years, she has gained expert knowledge in design principles and tools. Her previous, graphic-heavy CV was in dire need of an update, so she has selected a simple yet modern Otago CV template.
What to include in a Graphic Designer CV? Tips and examples
As a creative thinker who enjoys using technology to bring ideas to life, you might want to do the same for your CV. However, with automated software and recruiters or hiring managers quickly glancing over your CV, you will want to keep it as clear, concise, and relevant as possible. The end goal is to show off your essential skills, experience, and achievements so that you can elaborate on each within the interview. Yes, having a solid portfolio or website to showcase your work is highly recommended, but a well-written, to-the-point CV is what you will need when writing a graphic design CV.
The CV for a Graphic Designer posted later in this article is an excellent example of the same primary sections you'll include with any speciality. Take some time to review the layout, structure, and wording we've used to communicate skills, experience, and design jargon. For more information, refer to the article on how to write a good CV.
How to write a personal profile for a Graphic Designer CV
The personal profile, also known as a CV opening statement, is your first chance to grab the attention of the recruiter or hiring manager. Essentially, it serves as an elevator pitch that needs to start with a powerful statement. Similar to your headline on LinkedIn or short bio on other social media platforms, you need to keep it brief but relevant.
A well-written personal profile should contain your title, years of experience, and relevant soft skills. Alternatively, your CV needs to be clear on the types of roles you are targeting if you are a recent graduate or changing careers.
Entry-level Graphic Designer
Recently qualified Graphic Designer with certifications in user experience (UX) and user interface (UI) design. Skilled in basic design principles and Adobe tools with a passion for implementing design solutions. Experienced in using data and user feedback to create wireframes, prototypes, and user flows while ensuring continuous testing and feedback evaluation.
Senior Graphic Designer
Creative Art Director with 15+ year track record of meeting and exceeding client expectations. Dynamic leader with proven ability to motivate, guide, and manage cross-functional teams to achieve project objectives while remaining within budget. Passionate about solving problems with innovative design solutions by leveraging excellent communication, interpersonal, and brand development skills.
What skills to put on a Graphic Designer CV
A designer can specialise in many different areas including but not limited to brand identity design, marketing and advertising, product packaging, web or user interface design, or print. Whichever route you choose, you need to ensure you include skills relevant to the job. Refer to our artist CV example for more inspiration on skills to add to your CV.
When it comes to deciding which skills to put on your graphic design CV, it is pretty straightforward. Skills on a CV should be balanced between hard, soft, and transferable skills. Sometimes, you must elaborate on technical skills such as software and tools. For example, you can mention Adobe Creative Suit but be more specific in the technical skills section. Alternatively, incorporate the exact tools into your work experience or education. Refer to the skills article for more information.
A hard skill is most commonly gained through training, school, or work experiences and typically can be proven. Soft skills refer to character traits, interpersonal skills, and professional attributes that are developed and sharpened in your daily life. A transferable skill can be categorised into hard, soft, or even more technical skills, such as a specific program or tool.
Examples of hard skills:
Project management

Adobe Creative Suite

Sketching

HTML/Web design

Design strategy.
Examples of soft skills:
Creativity

Curiosity

Problem-solving

Attention to detail

Passion.
Examples of transferable skills:
Time management

Presenting

Planning

Organisation

Verbal and written communication.
Examples of technical skills:
Adobe Photoshop

Sketch

Adobe Illustrator

Adobe InDesign

CorelDRAW Graphics.
How to include work experience on a Graphic Designer CV
Whether you have experience or are just starting your career in graphic design, recruits or hiring managers want to see what you did versus what you achieved. Your achievements include projects you've worked on, clients you've assisted, training, or even new tools or graphic design software. Your career history should only include the relevant experience to your job targets.
We recommend listing your experience in reverse chronological order (or current to oldest). Include the company's name, the dates of employment, and the location while differentiating between duties versus key achievements. This will give the company an idea of your practical work experience, especially if they are looking for someone with your experience. Refer to the work experience on a CV for more information.
Examples of work experience:
Re-designed the brand's tone of voice and style across all platforms, enhancing brand awareness and resulting in 15% increase in lead generation within six months.

Developed a new packaging design for clients, resulting in a 20% increase in sales in the first quarter of its release.

Led a marketing team and created two large-scale social media campaigns that increased engagement rate by 30%, reaching 1 mln impressions.

Designed a new office space design and reduced material costs by 30% within 6 months.

Created educational infographics for a non-profit organisation which resulted in a 40% rise in page views and 300 donations within the first month of release.
Pro Tip
Suppose you have an experience that is not necessarily related to design. In that case, you can strategically alter your duties by focusing on transferable skills that will grab the attention of the recruiters as well as pass the automation software. Always make sure to keep the information truthful so that you can back it up within an interview.
How to list education on a Graphic Designer CV
To work in the design field, you need to be knowledgeable about specific tools, processes, and techniques. Although this can be self-taught, it is always important to back it up on your CV with some training if you still need to get secondary or tertiary education. Only include the highest level of study if you have completed tertiary schooling.
However, to become a graphic designer in the UK, ideally, you would need to start off with a foundation diploma in art and design. The type of information you need to include within the education section, like other sections, must be short and to the point. The one thing that you can do as a recent graduate or student seeking an internship would be to elaborate on projects, relevant courses, and high grades to make your CV stand out. Refer to our skills-based CV example or graduate article for more information.
The following should be listed:
Institution/school

Degree or diploma type

Location

Date range, year completed, or in progress.
Examples of education:
Bachelor of Arts in Graphic Design, Falmouth University, UK, 2015-2018

Master of Fine Arts in Graphic Design, Royal College of Art, UK, 2019-2021

Bachelor of Arts in Graphic Design and Illustration, University of Brighton, UK, 2023-In progress

Bachelor of Arts in Graphic Design and Visual Communication, University of the Arts London, UK, 2014-2017

Master of Arts in Graphic Branding and Identity, London College of Communication, UK, 2019
What certifications to include for a Graphic Designer CV
This section is a must for anyone who is changing careers or has completed several forms of professional training. Including certifications shows that you are someone who is proactive and takes the initiative by making sure to stay ahead of the latest industry trends.
This section varies depending on the type of graphic design positions you're targeting. Most jobs will not require a specific certification or licence. However, certifications in some graphic design specialities help gain a competitive advantage. Some of the critical certifications you may want to list on your graphic design CV include the following:
So, how do you go about putting this section together? It's straightforward. List all your current certifications - that's all there is to it. We recommend following the format:
Course name

Issued by

Issued date or in progress
Key takeaways
We hope this article has shed some light on what makes a good CV and, most importantly, how to write a graphic design CV. Having more insight into the different career paths and CV sections will help set you up for success.
The key thing we want you to take away from this article is the need for consistency and attention to detail. Your first reaction might be to choose a graphic-heavy design template. Although the template is also important, the content is more important.
Here are some additional tips:
Make sure the font is easy to read.

Proofread your CV, use Grammarly, or share it with family or friends for a different perspective.

Avoid white space and unnecessary CV sections irrelevant to your job targets.

Always make sure your personal details, previous employment history, and education match what you've stated on your application or cover letter.
Next steps?
Need to polish some inconsistencies in your text or improve your writing? Check our CVMaker website for professional CV Writing Services or our easy-to-use CV and Cover Letter Builder.
FAQ
What is the best font for a Graphic Designer CV?
The font choice depends on your portfolio, job target and design direction of a company of interest. Be aware that different fonts have different licensing restrictions, so always double check if you're authorised to use for your purpose. The goal is to pick one that effectively gets your message and style across. For example, if you need to design a logo for a luxury brand, fonts such as Future or Helvetica can be more appropriate due to its elegant look. On the other hand, fonts such as Avenir or Bebas Neue can be another solution if you were assigned a project to design a poster for a music festival. They have a more playful and energic look, unlike the first two ones. Other common fonts include Arial, Times New Roman, and Garamond. All in all, they are known to be legible, versatile, and have a clean look. From branding to editorial layouts, they are widely used across different industries in the UK
Is graphic design a good career choice?
If you are someone who wants to combine your passion for art, technology, and communication, then yes, graphic designers are needed in every industry, so depending on which type of design you want to produce or the types of company you want to work with, it is a great career choice.
How do I become a Graphic Designer with no experience?
Start by building up a portfolio through freelancing or experimenting with design tools to produce work you are passionate about sharing. In addition to this, start by networking with people online or through groups of other professionals to see which are the latest trends in graphic design. Complete online courses that you can start including on your CV.
What should a Graphic Designer put on a CV?
Your portfolio, achievements, and technical proficiencies are some of the key things to include in your graphic design CV. Recruiters want to see the type of work you have provided, whether you are familiar with the latest tools and trends, and what you have achieved through university or past work experience.
Where can I apply for graphic design jobs?
With CVMaker, you can apply and manage all your applications in one place. Alternatively,  LinkedIn is a strong platform used by professionals worldwide. If you have a strong LinkedIn profile that matches the information you have included on your CV, then it could be a great way to land your first or new graphic designer position.
What is the best graphic design CV template? 
There is no one perfect CV template but rather a combination of a modern CV template with well-written and structured content. Speed up your CV writing process by choosing from our 20+ professional CV templates.
Land the interview for your dream job with CVMaker
Effortlessly create your professional CV within 10 minutes and download it whenever and wherever you want!
Create your CV
Increase your chances landing your dream job with CVMaker.