Designer CV
Abigail has a reputable track record of implementing innovative, data-driven solutions for various design projects. She has opted for the modern Michigan template, which effectively summarises her extensive work experience, qualifications, and areas of expertise in a concise, two-column format.
Start your CV
"Detail-orientated Product Design Manager with over 5 years of experience in B2B and B2C sectors. Swift learner with excellent communication and leadership abilities. Proficient in leading design initiatives, collaborating with cross-functional teams and delivering high-quality solutions aligned with brand identity."
Abigail Matthews
- Product Design Manager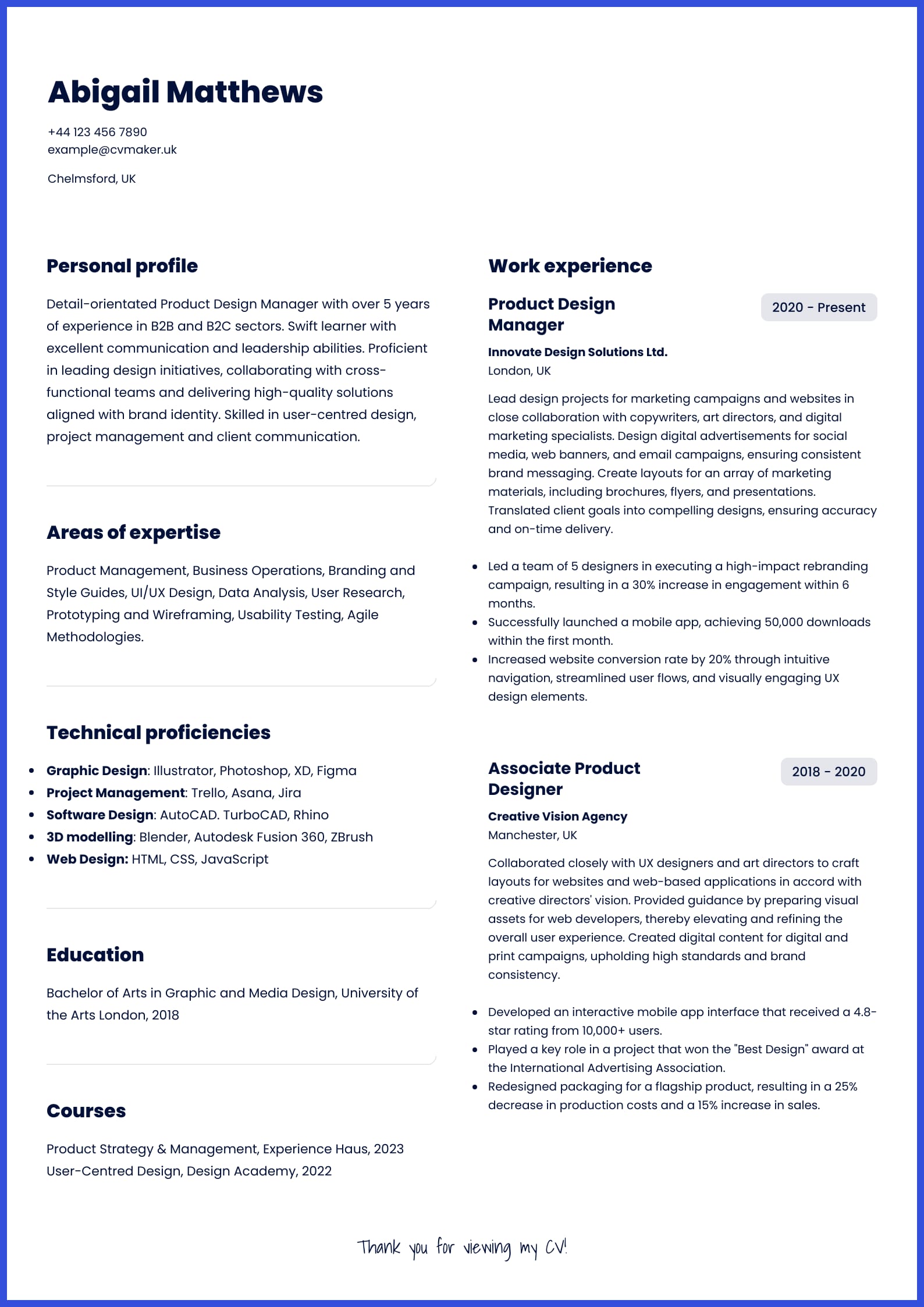 How to Create an Eye-catching Designer CV for 2023 (Guide with Templates and Tips)
As a design wizard you captivate your audience with eye-catching designs that leave them in awe. Yet, when it comes to creating a CV, you find yourself puzzled as to why you're not getting interviews. If you wield your creativity as a graphic designer, shape spaces as an interior designer, or define trends as a fashion designer, what binds theses types of jobs together is a well-crafted CV that speaks volumes about your expertise. While a graphic-heavy template may be tempting, remember that content quality outweighs the heavy visuals. If you already have an impressive track record working in agencies or studios, don't forget to include a link to your portfolio on your CV or attach it as a separate document.
Types of jobs in design include but are not limited to:
Web designer 

Product designer

Interaction designer

Interior designer

UX/UI designer

Fashion designer

Urban desinger

Textile designer

Sound designer.
Whether you're a student seeking your first job or a senior designer, we realise that creating a CV can be tedious. That's why our experts have created  CV examples to guide you. This article walks you through creating an outstanding CV, providing you with the latest industry tips and templates.
The CV writing process: Where to start? 
A CV for a designer follows a similar structure as a regular CV – it should be easy to read and clear. To heighten your chances of securing your dream job and passing applicant tracking systems (ATS), we recommend crafting a master CV. It is a comprehensive document that includes all your professional and academic achievements. Although you won't send it out, putting effort into a master CV outweighs the costs, ensuring consistency and uniqueness across all your applications. It is your foundation document you can refer to for customising your job-specific CVs for various roles. 
To learn more about different types of CVs, read our article to learn how to design a good CV.
Designer CV example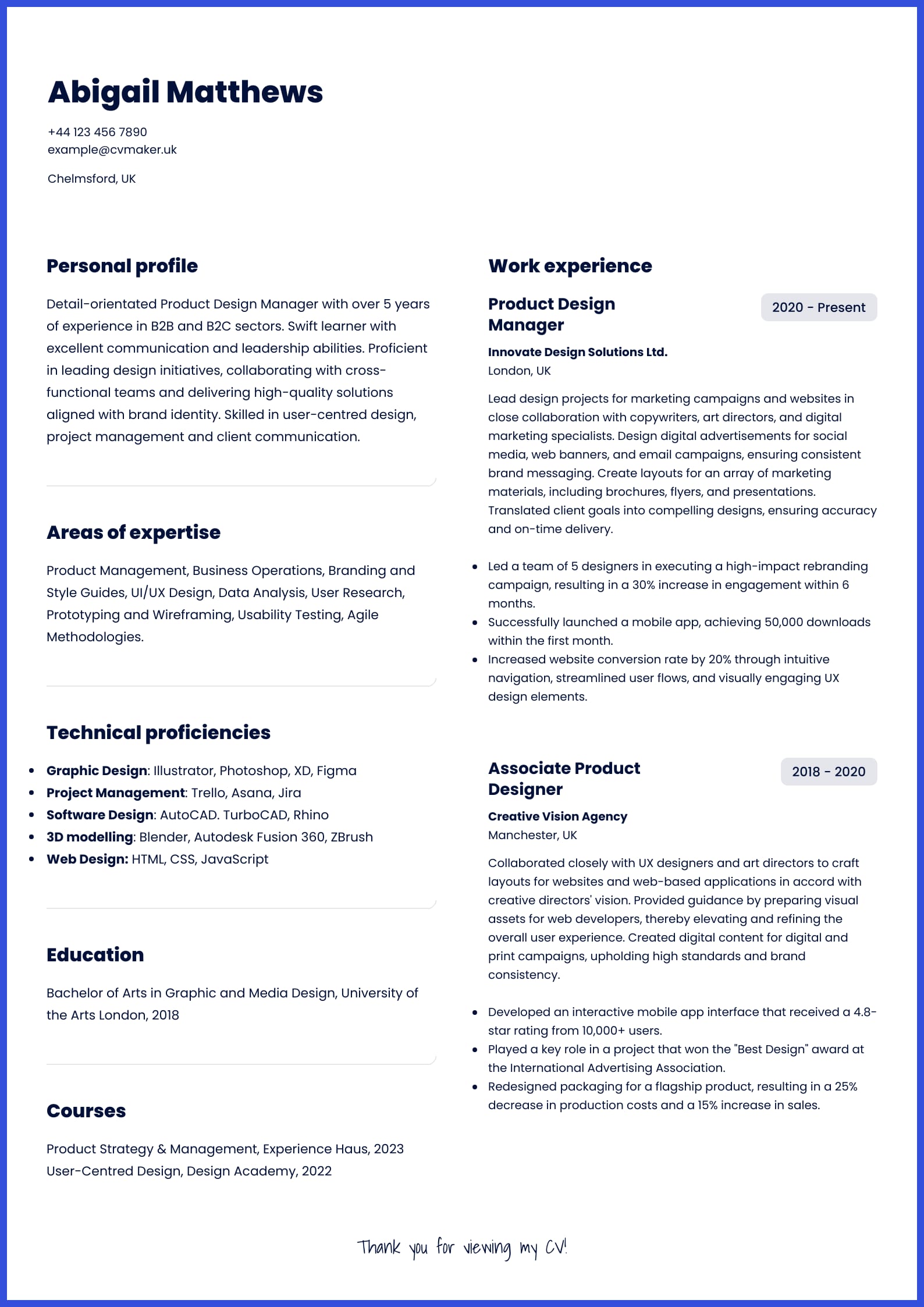 Download this Designer CV sample in PDF
This CV sample features Abigail Matthews, a qualified and experienced Product Designer with a proven track record of creating and implementing innovative ideas across multiple mediums. Over the years, she has gained expert design principles and tools knowledge. Abigail has selected the modern, sleek Michigan CV template to showcase her skills and achievements.
How to write a CV for a designer?
As a creative thinker who enjoys using technology to bring ideas to life, it's essential to refrain from creating a design-heavy CV. Recruiters or hiring managers prioritise clarity, conciseness, and relevance. The end goal is to show off your essential skills, experience, and achievements so that you can elaborate on each during the interview. While having a solid portfolio or website to showcase your work is highly recommended, a well-written, to-the-point CV is a must.
Explore the National Careers Service for all UK requirements to gain insights into a specific job role.
Create an eye-catching personal profile 
A personal profile for a designer CV is an opening statement at the top of your CV that summarises your key skills, qualifications, and work experience in four to six lines. Although short, this elevator pitch can substantially impact your application when done right. The key is to keep it brief but relevant, similar to your headline on LinkedIn or short bio on your website.
Graphic Designer CV personal profile example
Innovative graphic designer with a demonstrated ability to translate ideas into compelling visual narratives. Over 6 years of experience crafting impactful designs across diverse industries. Proficient in Adobe Suite and passionate about creating user-centric design solutions.
Interior Designer CV personal profile example
Innovative graphic designer with a demonstrated ability to translate ideas into compelling visual narratives. Over 6 years of experience crafting impactful designs across diverse industries. Proficient in Adobe Suite and passionate about creating user-centric design solutions.
Fashion Designer CV personal profile example
Creative fashion designer with 7 years of experience curating trendsetting collections that balance style and comfort. Proficient in sketching, pattern-making, and garment construction. Committed to pushing boundaries and creating designs that captivate and inspire.
UX Designer CV personal profile example
Innovative UX designer with 5 years of experience creating intuitive digital experiences that resonate with users. Skilled in user research, wireframing, and prototyping, leveraging data-driven insights to drive design decisions. Dedicated to crafting user-centred designs that harmonise functionality with aesthetics.
Product Designer CV personal profile example
Experienced product designer with 10 years of experience of conceptualising and materialising consumer-focused products. Proficient in sketching, 3D modelling, and prototyping, prioritising detail and functionality. Skilled at transforming ideas into tangible designs that enhance lives of users.
Web Designer CV personal profile example
Creative web designer with 8 years of experience crafting visually appealing and user-centric websites. Proficient in HTML, CSS, and responsive design techniques. Collaborative team player adept at collaborating with cross-functional teams to deliver seamless online experiences that make a lasting digital impact.
Include a strong portfolio
One of the main CV components is showcasing your work through a strong portfolio. Include a selection of your best projects that highlight your skills and creativity. Additionally, it showcases your relevant skills and highlight your technical proficiencies. Remember not to include all your projects and achievements; rather, focus on a few most relevant and high-quality ones. Ensure that your portfolio is visually appealing and well-organised, making it easy for potential employers to browse through your work.
See how to put together a creative portfolio by Prospects for more inspiration.
Pro Tip
Complement your CV with a cover letter explaining how your knowledge and skills contribute to the job opportunity.
Feature your design experience
Follow a clear and concise format. For each role, include the company name, location, and the years you worked there. Ensure to describe both duties and achievements in two to three bullet points.
Graphic Designer, ArtSpace Studios, London, UK, 2019-2022
Conceptualised and executed visual designs for diverse clients, ensuring brand consistency and seamless communication across all departments. Collaborated with creative directors and marketing specialists to understand project goals and deliver reports aligned with their requirements. Streamlined design processes by implementing templates and guidelines, reducing project turnaround time by 15%.
Increased client satisfaction by 25% through designs that effectively conveyed their messages and resonated with their audiences.

Elevated social media engagement rates by 20% by creating visually captivating graphics for campaigns.

Reduced project completion time by 10% through the implementation of design templates and streamlined workflows.
Interior Designer, UrbanSpaces Design Studio, Birmingham, UK, 2016-2023
Led design and execution of residential and commercial interior projects, prioritising functionality and aesthetics. Conducted client consultations to understand preferences, translating them into cohesive design concepts. Collaborated with contractors and suppliers to ensure smooth project implementation.
Achieved a 15% increase in positive client feedback through meticulous attention to detail and exceeding design expectations.

Expedited project timelines by 12% through efficient coordination with contractors and suppliers.

Enhanced workplace productivity by 20% by revamping office spaces to create more functional and inspiring environments.
Fashion Designer, TrendEnsemble Boutique, Edinburgh, UK, 2018-2021
Curated seasonal fashion collections by combining trend analysis with creativity. Managed the entire design process, from sketching and pattern-making to final garment production and quality control. Implemented sustainable materials and practices into the design process, aligning with eco-conscious consumer preferences.
Increased customer loyalty by 10% by introducing sustainable materials and showcasing the brand's commitment to eco-friendly practices.

Generated a 15% rise in brand visibility by collaborating with local artisans to add unique, handcrafted elements to collections.

Successfully led a campaign targeting a group aged 16-20 years old and achieved a 30% boost in online sales through influencer collaborations and engaging content strategies.
Refer to the artist and digital marketing articles for more inspiration.
How to write a designer CV with no experience
If you're just starting your career or seeking a career change, there are multiple ways you can still showcase your talents through various avenues. Alternatively, use a skills-based CV approach. 
Internships: Seek opportunities at design agencies or studios to gain valuable hands-on experience and industry exposure. This allows you to apply your skills, learn from industry professionals, and build a network of contacts within your field.

Apprenticeships: Receive practical training and mentorship from experienced designers by following apprenticeships that last from one to five years. This can provide you with a solid foundation of knowledge and techniques and valuable industry connections.

Placements: Gain real-world experience and insight into the design industry. This can help you understand the essential processes, collaborate with industry experts, and add credibility to your CV.

Volunteer work: Seek volunteer opportunities with non-profit organisations or community projects that require design assistance. This allows you to contribute your skills to meaningful causes, build a portfolio, and demonstrate your commitment to using creativty skills for positive impact.

Hobbies and interests: Mention your creative hobbies and interests, such as photography or video editing, in a dedicated section. Describe how these activities have honed your creativity, attention to detail, and visual skills, making you a well-rounded and passionate candidate for design roles.
Refer to how to write a CV with no experience article for more details.
List skills for a designer CV
In the creative industry, showcasing skills on your CV, also referred to as areas of expertise, allows recruiters or hiring managers to quickly assess your qualifications and suitability for the role. Start by creating a new field called 'Skills or 'Areas of Expertise' to highlight your proficiency in software tools such as Adobe Creative Suite, Sketch, or InVision. Provide examples of projects demonstrating your skills, such as logo designs, website layouts, or branding campaigns.
UX/UI Designer
Soft skills

Hard skills

Empathy

Wireframing and Prototyping

User-orientated

User Testing and Research

Collaboration

Information Architecture

Problem-solving

Interaction Design

Communication

Responsive Design
Graphic Designer
Soft skills

Hard skills

Creativity

Adobe Creative Suite

Attention to Detail

Typography

Adaptability

Print and Digital Design

Time Management

Branding and Identity Design

Client Communication

Colour Theory
Motion Graphic Designer
Soft skills

Hard skills

Creativity

Adobe After Effects

Visual Storytelling

Video Editing

Collaboration

Storyboarding

Time Management

2D/3D Animation

Adaptability

Sound Design
Web Designer
Soft skills

Hard skills

Problem-solving

HTML/CSS Coding

Attention to Detail

Responsive Web Design

Time Management

Content Management Systems (CMS)

Communication

SEO Optimisation

Adaptability

UI/UX Design Principles
Product Designer
Soft skills

Hard skills

Problem-solving

Product Development Process

Teamwork

Prototyping and Testing

User Empathy

Industrial Design Principles

Communication

Manufacturing Knowledge

Data-driven

CAD Software Proficiency
Showcase your education for a designer CV
In the field of design, it is essential to have a strong foundation of knowledge in specific tools, processes, and techniques. While some of this knowledge can be self-taught or gained at a job, an education section on your CV can easily demonstrate your training and qualifications. Focus on the highest level of study you have completed and list your degrees in reverse chronological order.
For aspiring designers in the UK, starting with a foundation diploma in art and design is recommended. Remember the key is to provide concise and relevant information. If you are an undegraduate or graduate seeking a first job, highlighting projects, relevant courses, and high grades can make your CV shine.
Must-have:
Degree or diploma type

Institution/school name

Location

Date range, year completed or in progress.
Optional:
Relevant coursework

Honours

Dissertation title and final grade (if it is 8 or higher)

Awards (such as First or Second class)

Study abroad programs.
Add courses and certificates for a designer CV
The choice of a course varies depending on the type of job you're applying for. While not mandatory, they round off a robust application and portray you as a competent and committed professional. Remember that most jobs do not require specific courses and certifications, but adding accredited and in-demand ones can give you a competitive edge.
Web design
Graphic design
UX/UI design
Typography
Miscalleneous
Pro Tip
Add infographics or links to your portfolio to make it more visually appealing, making your application look complete.
Key takeaways
After reading our practical career tips with examples, you should better understand what constitutes a strong CV and, more importantly, how to craft a compelling designer CV. By gaining a deeper understanding of various career paths and the different sections of a CV, you are better equipped for success.
Maintaining consistency across the board and paying attention to detail are your two ways for success. While it may be tempting to opt for a visually striking, graphic-heavy template for your CV, remember that the content holds greater significance.
Next steps?
Looking to refine your CV? Choose one of our professional CV templates, accompanied by our intuitive CV builder. If you're short on time and need a CV ready in minutes, let our professional CV Writing Service review or create a CV from scratch. Don't settle for mediocrity - elevate your career with CVMaker today!
FAQ
What is the best font for a graphic design CV?
The choice depends on the type of designer you are. Ensure it is easy to read, as recruiters usually spend a few seconds reviewing your CV. We have compiled a list of the top 10 widely used and professional fonts, making information consistent and ATS-friendly.
Helvetica

Times New Roman

Arial

Calibri

Verdana

Cambria

Gotham

Georgia

Futura

Garamond.
How long should a designer CV be?
It should be concise and not exceed two pages. Focus on highlighting the most relevant information and achievements and add additional sections such as courses, certifications, or references if you have additional space left.
Read our article on how long should a CV be to find out more. 
What format should I use for a designer CV?
We advise using the most common reverse-chronological format, which recruiters widely recognise. Submit your CV in PDF or Doc to ensure compatibility across devices while maintaining a readable layout and formatting. 
Minimise white space and exclude any unnecessary CV sections irrelevant to your job targets. Lastly, always double-check that your personal details, previous employment history, and education align with the information provided in your application or cover letter.
How to design a professional CV?
The key to creating a professional CV is customising it to the roles you're applying for. You have to showcase your skills and experiences in a relevant and appealing way to the hiring manager. Here are five tips to get you started:
Use a clean and modern layout that's easy to navigate.

Opt for a professional font like Arial, Helvetica, or Calibri.

Organise your sections logically and highlight relevant experience and skills.

Write a brief profile summary incorporating numbers and figures to showcase your value.

Proofread your CV thoroughly to eliminate any spelling or grammatical errors.
How do you build a CV for an intern graphic designer?
Showcase your relevant design projects and coursework. Highlight any internships or freelance work you have done, and emphasise your willingness to learn and contribute to the company's growth. Keep the design clean and modern, using visual elements to demonstrate your creativity and skills.
Projects: Include any relevant projects you have worked on, whether personal or school-based. Highlight each project's objectives, process, and outcomes to showcase your creativity, problem-solving abilities, and project management skills.

Student societies: Join arts or design-related student societies to show your passion for the field and proactiveness. Engage in collaborative projects, attend workshops or events, and take on leadership roles to demonstrate your leadership and dedication to your craft.
How to design a CV in Microsoft Word?
Explore the available templates and choose one that suits your style and industry. Customise the template by adding information such as education, work experience, personal profile, and skills. Ensure the CV is visually appealing and legible, using consistent formatting and a professional font.
How do you design a CV template?
Whether in web design, textile design, UX/UI design, or urban design, we suggest using one of our CV templates and then applying your master CV to customise it for a specific job. Make sure it is visually appealing and well-structured.
Land the interview for your dream job with CVMaker
Effortlessly create your professional CV within 10 minutes and download it whenever and wherever you want!
Create your CV
Increase your chances landing your dream job with CVMaker.