Fashion Designer CV
To showcase her decade-long style illustration and design career, Alison has selected the Columbia CV template. The key sections such as work experience, skills and education are well-formatted, concise and create impact.
Start your CV now
"Passionate Fashion Designer with over a decade of experience crafting mesmerising and eco-conscious fashion collections. Meticulous attention to detail, coupled with a keen insight into industry trends. Proficient in translating concepts into stunning designs, to deliver captivating creations that resonate with both clients and style aficionados."
Alison Miller
- Lead Fashion Designer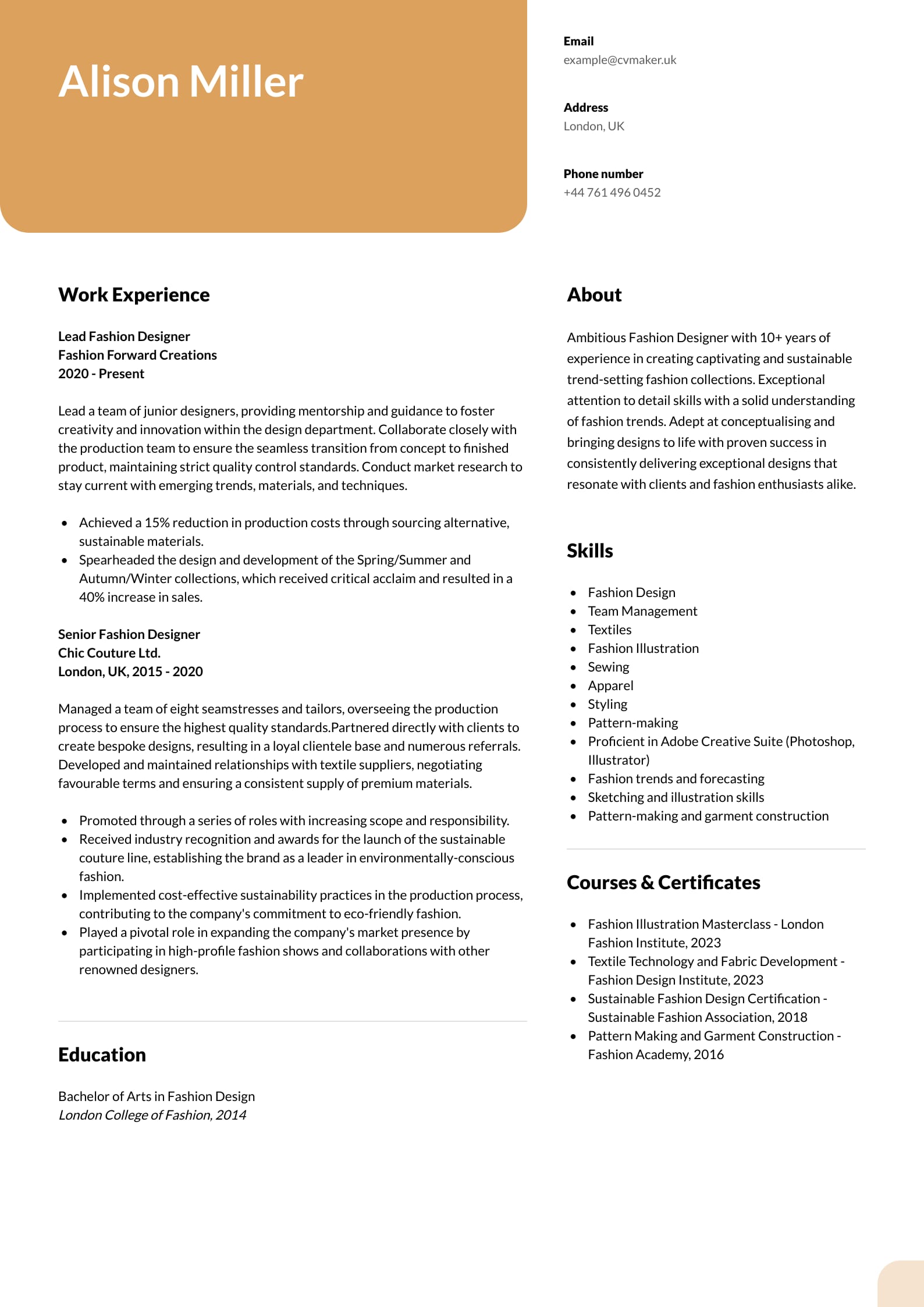 How to Write a Fashion Designer CV: Examples and Tips to Stay on Trend
Fashion design is experiencing a surge in popularity and demand, presenting an exciting opportunity for individuals with self-motivation and creativity. As garment manufacturers have increased by 13% since 2020, this dynamic field promises substantial financial rewards and boasts significant career progression for aspiring designers. 
Suppose you're an aspiring intern, a recent school leaver looking for an entry-level role, or a seasoned expert; one common challenge is writing a modern CV to stand out to industry professionals. In this guide, we help you do just that and choose the best fashion designer CV template to showcase your career journey.
We help you showcase your potential and achieve the best results with your CV and ensure it's compatible with application tracking systems (ATS), a vital component in today's job application process. 
Fashion designer CV example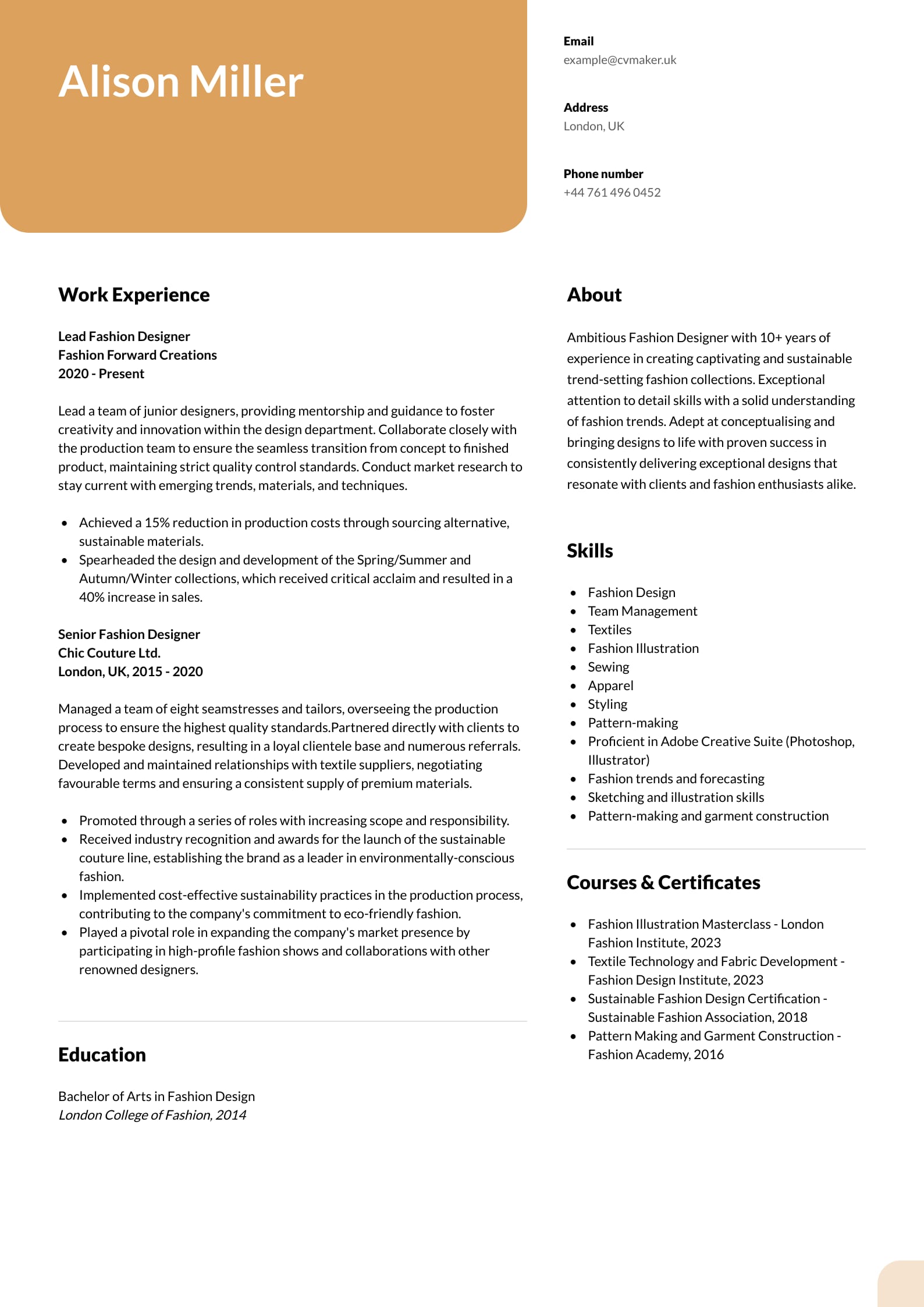 Download this Fashion Designer CV sample in PDF
In this CV, Alison Miller showcases her decade-long illustration and design career. She demonstrates a commitment to professional development with her educational qualifications and certificates. Her dedication to developing her skills and career is clearly presented with the use of the Columbia CV template, which includes key sections which are well-formatted, concise, and create impact. 
What to include in a fashion designer CV?
Start by including your contact information, and following this, craft a captivating personal profile that communicates your career objectives and expertise. Provide details about your educational background, showcasing relevant qualifications, certificates and academic achievements. Ensure you outline your professional work experiences and industry-specific skills, similar to a designer CV or photographer CV.
Remember to tailor your CV to match the specific job you're targeting. For more guidance, refer to our CV writing process article for tips on tailoring your CV.
Pro Tip
Consider including links to social media accounts, websites, and portfolios. If you're a freelancer, this could help showcase your potential online and attract more clients.
Be fashion-forward with a captivating personal profile 
The personal profile is a concise section briefly overviews your significant achievements, skills, and career goals. To impress potential employers, showcase your passion for the fashion industry and highlight unique strengths to stand out from other candidates. To compose a compelling personal profile on a CV, refer to our detailed guide.
Fashion student CV personal profile example 
Passionate apparel student with a strong foundation in design principles honed through coursework and hands-on experience. Skilled in garment construction, trend analysis, and fabric selection. Thrives in collaborative environments, contributing a fresh perspective. Demonstrates a keen eye for detail and commitment to staying current with industry trends, making me an asset to any team.
Refer to our student CV example for more guidance.
Fashion designer internship CV personal profile example
Aspiring designer with practical experience in the design process, from concept sketches to garment production, gained through internships. Highly motivated and innovative, collaborating effectively with industry professionals. Committed to absorbing valuable insights and furthering development in this industry. Adaptable and eager to contribute fresh ideas to the design team.
Refer to our internship CV example for more guidance.
Assistant fashion designer CV personal profile example
Fashion professional with a solid design background and a track record of supporting the creation of successful collections. Known for meticulous attention to detail and proficiency in Adobe Illustrator and Photoshop. Collaborative team player dedicated to enhancing brand aesthetics and ensuring efficient production processes. Adaptable and able to thrive in fast-paced design environments.
Freelance fashion designer CV personal profile example
Dynamic freelancer with a diverse portfolio of trend-setting pieces. Expert in meeting client preferences and bringing style visions to life. Committed to delivering exceptional designs on time and within budget, catering to a range of clients from start-ups to established brands. Innovative and dedicated to staying at the forefront of fashion trends.
Stay ahead of the latest trends with key skills 
Having a diverse skill set helps you thrive in different environments. Fashion designer CV skills must be emphasised on your CV to demonstrate your ability to perform essential tasks. Include a combination of hard and soft skills relevant to your expertise and career goals on your CV. 
For those with little to no experience, emphasise your ability to adapt, learn, and stay ahead of the latest industry trends. If you are just starting out in the industry, we recommend creating a skills-based CV for entry-level apprentice or internship roles.
Interested in exploring other creative roles with similar skill sets or targeting a specific role in the industry? Refer to our CV examples for a graphic designer, digital marketer, and artist. 
Soft skills

Hard skills

Communication

Design software (e.g., Adobe Creative Suite)

Collaboration

Budgeting

Adaptability

Sewing and garment construction

Problem-solving

Fabric sourcing and selection

Decision-making

Trend forecasting

Leadership

Fashion illustration

Time management

Prototyping and sample creation

Resilience

Pressing and sewing

Cultural sensitivity

Textile knowledge
For more information on this section, refer to our article on how to add skills on a CV.
Illustrate your work experience and fashion journey 
Whether you're an experienced designer or a school leaver seeking an apprenticeship, it's essential to demonstrate work experience. Ensure you tailor this section to your background and expertise, quantifying relevant achievements to illustrate impact. Refer to our article about how to work experience on a CV for more information.
If you need more work experience, consider using a project-based CV that showcases your coursework or academic accomplishments relevant to your job targets. Finding an internship or apprenticeship can also help you gain hands-on work experience and develop your industry knowledge. Refer to our graduate CV example for more guidance.
Alternatively, consider volunteering or finding a part-time job to boost your work experience, which can lead to future paid opportunities.
Work experience examples 
Fashion Designer Senior Apparel Designer | Vogue Creations, London | 2018 - Present
Lead the conceptualisation and creation of haute couture collections, specialising in avant-garde themes and styles. Collaborate closely with clients and key suppliers to understand their unique design visions and preferences. Identify and interpret market trends while maintaining the brand's design. Employ cutting-edge fabric techniques and innovative materials to achieve exceptional aesthetics.
Introduced an innovative fabric sourcing strategy, resulting in a 30% reduction in material costs.

Implemented efficient project management techniques, reducing production lead times by 20% for the Autumn 2019 collection.

Developed a signature design concept, which gained international recognition and led to a 50% increase in orders from high-profile clients.
Junior Fashion Designer | Chic Couture, London| 2019 - 2021
Assisted in the design process for seasonal clothing lines, specialising in haute couture themes and artistic styles.Collaborated closely with senior designers to interpret intricate design concepts and bring them to life. Utilised expert pattern-making techniques and fabric selection expertise to achieve desired aesthetics.
Contributed significantly to the Winter/Fall 2020 collection, recognised for its unique and elegant designs.

Streamlined pattern-making procedures, reducing production lead times by an impressive 15%.

Fostered a collaborative design environment, promoting creativity and teamwork among design teams.
Fashion Designer Apprentice | Glamour Studios, Manchester | 2020 - 2021
Gained hands-on experience in various facets of clothing design, emphasising principles and innovative techniques. Assisted senior designers in pattern-making, garment construction, and fabric selection. Actively participated in fittings and sample development and contributed to the design of captivating capsule collections.
Developed a diverse design portfolio featuring eco-conscious collections, resulting in a 40% increase in portfolio views and positive feedback from industry professionals.

Led a student team in a charity fashion show, raising £10,000 for the chosen charity and receiving media coverage for the event's success.

Demonstrated adaptability and growth through academic achievements, achieving a GPA of 3.9 and securing the first-place position in the university's design competition.
Refer to our apprenticeship CV example for more guidance.
Fashion Designer Intern | Design Studio Max, Edinburgh | 2022
Crafted original style concepts, drawing inspiration from contemporary and sustainable design principles. Collaborated effectively with peers to understand diverse design perspectives and encourage creativity. Leveraged digital design software and innovative technologies to manifest unique design visions.
Created a design portfolio showcasing innovative sustainable collections, earning praise from professors and securing a top-of-class distinction.

Organised and led a charity catwalk show, raising £3,000 for a local charity and receiving recognition for outstanding creativity and social impact.
Learn more about how to write a sustainability CV for a fashion role.
Enhance your CV with the education section
Typical entry requirements to become a fashion designer in the UK can vary but it's important to include an education on a CV, whether it's informal or formal. Consider the following educational options to include in your CV:
University: Complete a foundation degree, higher national diploma, or bachelor's degree. Typically, you'll need 1 or 3 A levels or equivalent for a degree. Some universities and colleges are also members of the British Fashion Council and offer courses.
College: College programs offer a practical approach to building essential skills in apparel design and related fields. You'll usually need one or more GCSEs in grades 9 to 3 (A* to D) or equivalent for a level 2 course and 4 or 5 GCSEs in grades 9 to 4 (A* to C) or equivalent for a level 3 course. 
Apprenticeships: Enable students to work as studio assistants to develop product development and production skills. These programs typically span 18 months. Find a local apprenticeship that aligns with your job targets and career goals on the UK Gov website for more guidance. 
Alternatively, you can also consider including online courses to further emphasise your dedication to the role:
Fashion Sketching and Illustration Masterclass Central Saint Martins, University of the Arts London, Online | 2020

Sustainable Fashion: Design Principles and Practice FutureLearn, Online | 2019

Introduction to Pattern Making and Sewing Udemy, Online | 2018.
There are many opportunities to progress from a junior or apprentice to becoming a senior designer or director and leading a clothing department. For more information on how to list courses and certificates on your CV, refer to our article.
Choose the best CV format for a fashion designer 
Selecting the best CV format is crucial to effectively illustrate your skills and experiences. The most commonly used and widely accepted format in the UK is chronological. Whichever format you use, ensure clarity, conciseness, and a well-organised structure to make it visually appealing and easy to scan for recruiters.  Learn more about a chronological CV format.
Use clear fonts that are ATS-compliant and save the file as a PDF format. Consider using a functional or combination CV format, which may be more suitable if you have gaps in your employment history or are changing careers. For more guidance, refer to our guide on how to improve your CV. 
Embellish your CV with achievements 
With the UK being the third-largest apparel and footwear market worldwide, standing out in this industry is essential. Including an achievements section on your CV should highlight relevant roles, contributions, the outcomes achieved and any work you have gained recognition for.
For example, if you helped a business achieve higher sales or revenue, quantify them in this section or include them as work experience accomplishments. There's also the potential to explore diverse sectors of the fashion business, such as working in the sales and marketing team.
Pro Tip
Build a comprehensive portfolio to showcase your design skills, including mood boards, technical drawings, and completed fashion items, to boost your prospects in course and job interviews.
Key takeaways 
Creating an effective job-specific CV requires concisely and clearly presenting your skills and experiences. Utilise a chronological format to showcase your career journey, emphasising quantifiable achievements, awards, or innovative personal projects related to your hobbies and interests on a your CV. Adding references on a CV is also optional, which could highlight your testimonials or positive feedback from clients and businesses.
Next steps? 
If you'd like to kickstart your career but aren't quite sure where to start, consider leveraging our CV Writing Service. With our customisable and ATS-friendly templates, you can streamline the process, save valuable time, and present a standout job application that resonates with industry professionals. Refer to our career blog for more tips on creating a cover letter and preparing for your following job interview.
FAQ 
How do I write a fashion CV with no experience? 
Consider writing a skills-based CV and showcase any personal projects, even if they are not professional, to demonstrate transferable skills, creativity and commitment. Start with a personal statement reflecting your passion for fashion and desire to learn and contribute. Highlight relevant coursework or mention any internships, part-time and volunteer work. Read our article for tips on how to write a CV with little to no experience. 
What is a fashion designer CV personal statement or objective? 
It is a brief introduction that conveys your career goals and potential to employers. It should be concise and impactful, offering a snapshot of your skills, experiences, and aspirations. Tailor it to the job description to make a strong first impression.
What should a fashion designer's CV look like?
Use a well-formatted and professional template with clear headings and sections. It should include personal details and a profile summary at the beginning. Then, list your educational background detailing your academic qualifications, like degrees, courses, or apprenticeships. Then, add work experience, including internships, part-time jobs, or freelance work. Highlight relevant fashion-related skills and achievements that showcase awards, recognition, and notable projects or collaborations. Linking your portfolio with social media accounts with a references section is optional.
How to write a CV for a fashion internship?
Start with a strong personal statement that expresses your passionate interests and enthusiasm for learning. Highlight relevant coursework, skills, and any personal fashion projects. List relevant work experience, such as part-time or volunteer work, and detail your responsibilities and accomplishments. Tailor your CV to match the specific requirements of the internship and demonstrate your eagerness to contribute to an organisation.
What types of jobs are there for fashion designers?
Fashion designers can pursue various jobs in the industry for different levels and expertise. These roles include but are not limited to textile designer, pattern maker, fashion illustrator, buyer, merchandiser, stylist, technician, product manager, marketing manager, and design educator. Still trying to figure out your next career move? Read the fashion designer job profile on the National Careers website for more information. Alternatively, the British Fashion Council provides aspiring professionals with the latest industry styles and trends.
Land the interview for your dream job with CVMaker
Effortlessly create your professional CV within 10 minutes and download it whenever and wherever you want!
Create your CV
Increase your chances landing your dream job with CVMaker.