Photographer CV
Isabella highlights her broad experience and skills with the Harvard CV template. The work experience section focuses on her most recent positions. To the left, additional sections such as skills and courses further emphasise Isabella's capabilities.
Start now
"Committed to crafting exceptional visual narratives that elicit emotion and evoke stories. Solid understanding of specialised techniques to produce captivating results."
Isabella Harrington
- Freelance Photographer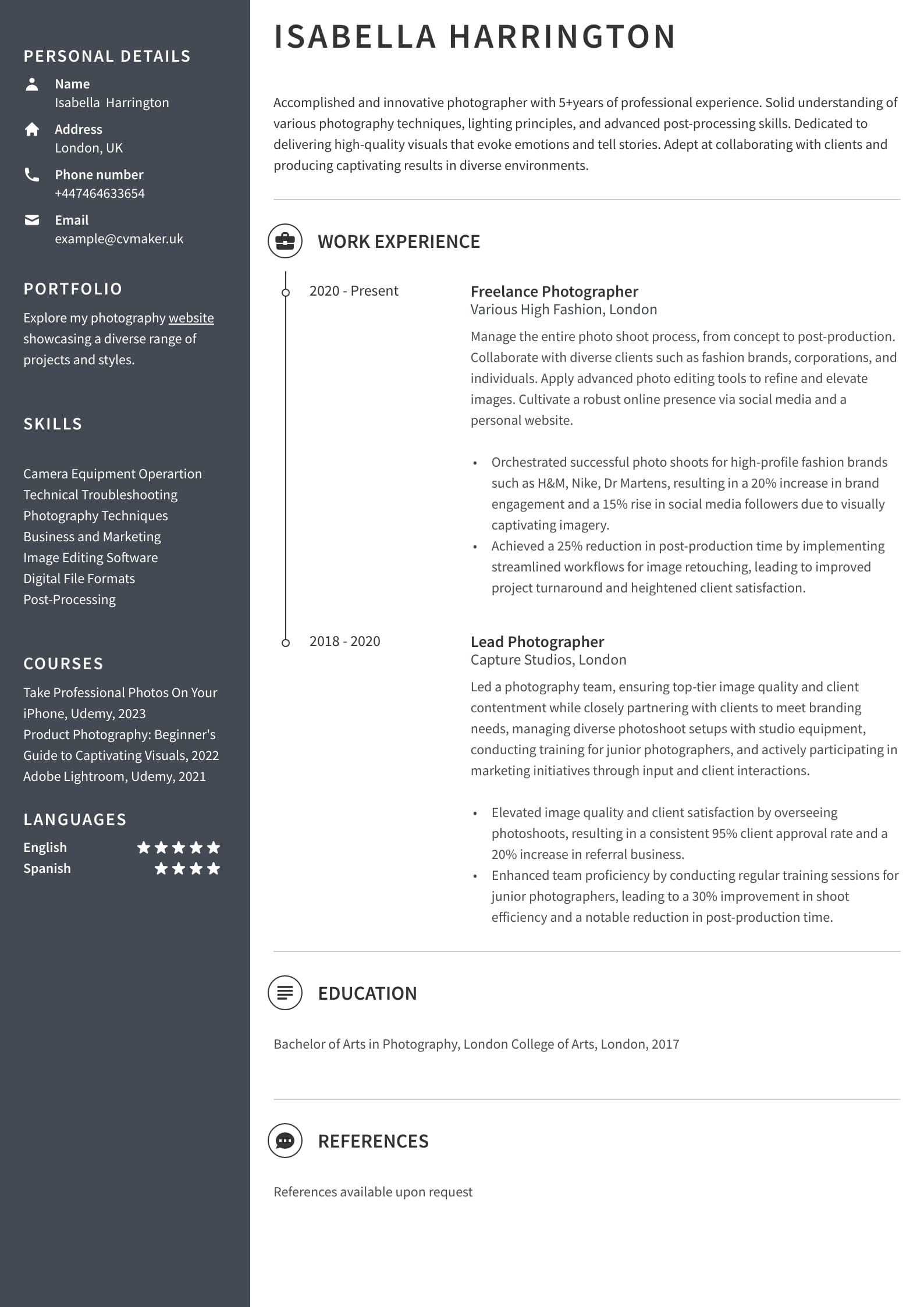 How to Create a Picture-perfect CV: Step-by-step Guide with Examples
In today's digital age, driven by visual content, businesses and clients constantly seek skilled photographers for marketing, events, and personal projects. Photography is a field that continually evolves with new technology and techniques. Suppose you're an experienced professional looking to advance your career or are just starting out in the business; knowing the latest industry trends and how to showcase your expertise through a well-crafted CV is essential. 
With the increasing demand for visual content, photographers face a competitive landscape to get noticed by potential employers. Have you heard of applicant tracking systems (ATS)? It's not just about using any CV but using an ATS-friendly one designed to catch the eye of recruiters who use sophisticated software to scan and assess applications. This guide highlights the importance of writing a modern CV that aligns with the expectations of the industry, whether you're an expert or a beginner in the field.
The CV writing process: Where to start? 
Designing an influential CV must include essential sections. Your CV should present a holistic view of your professional background. For those with little to no work experience on a CV and starting their career in a freelance or entry-level role, writing a master CV is the best place to start. This document includes your entire career journey and is a foundation for creating tailored CVs for various job applications.
On the other hand, creating a job-specific CV is ideal for focusing on the skills and experiences directly related to your job targets. It should be concise and tailored to the job description, making it more appealing to potential employers and increasing your chances of securing a job interview. 
Explore careers and the job profiles with the National Careers Service. Or, if you have some experience and want to get involved in other roles, discover more senior roles, such as a stylist or technician. 
Photographer CV example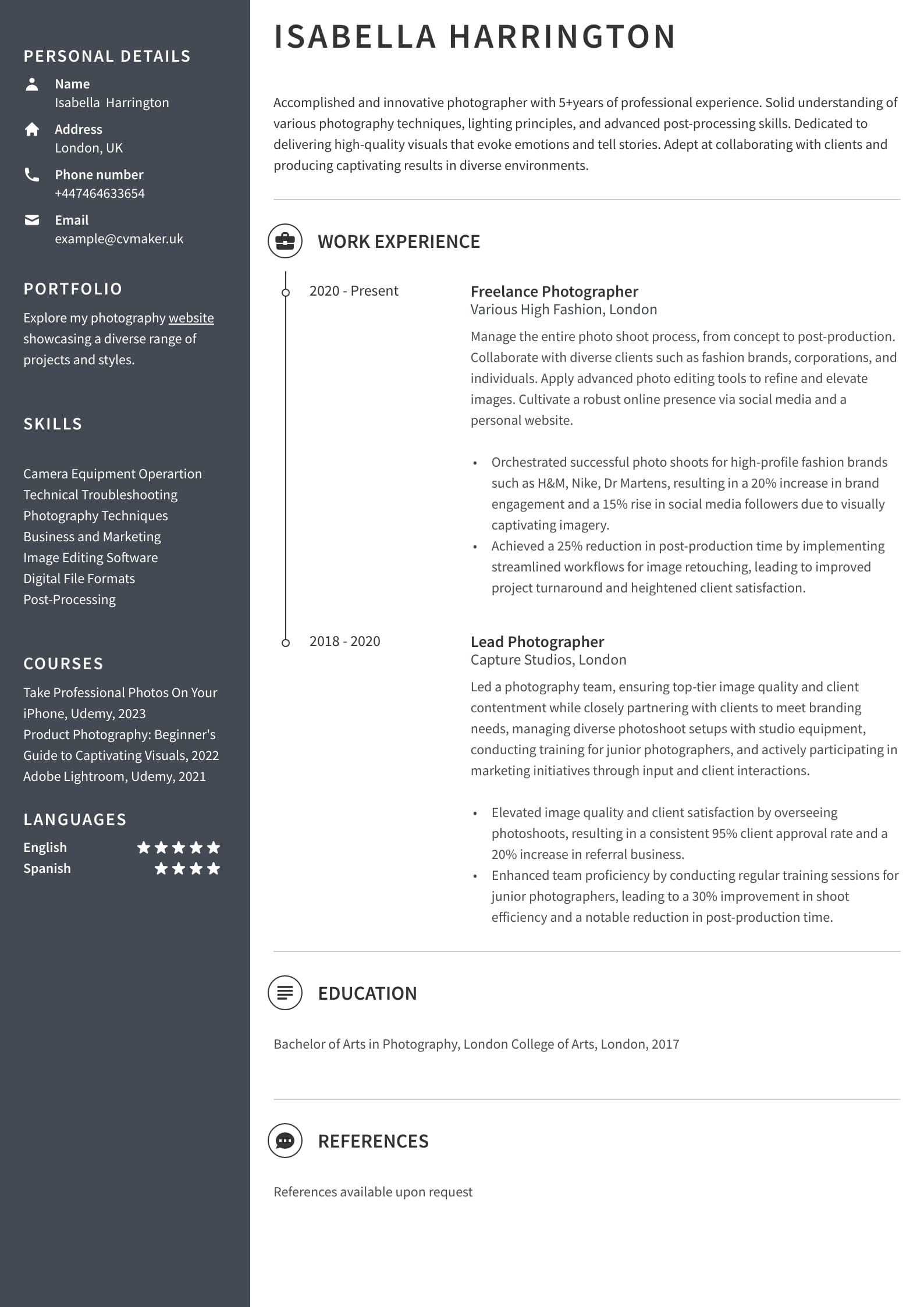 Download this photographer CV sample in PDF.
In this CV example, Isabella Harrington showcases over five years of broad expertise and skills. Her personal profile emphasises her dedication to delivering high-quality visuals and is supported by her career progression and notable achievements. She highlights her expertise in camera equipment operation, technical abilities, and image editing. This photographer CV format includes her portfolio, website, and courses, which illustrate her diverse knowledge, work projects and styles. 
What to include in a photographer CV? 
Tailor your CV to the role you are applying for and include key information highlighting your technical knowledge and experience. Start by including personal details and a compelling personal profile summarising your attributes and dedication to your speciality. Education, work experience, and skills sections should emphasise your achievements and qualifications.
Including a creative portfolio, personal website, and social media accounts in your photographer CV will enhance its quality and appeal. Adding these additional sections helps potential employers and clients understand your work, style, and dedication to share your projects with a network of professionals. Moreover, references on a CV, or hobbies and interests add credibility and personality.
For more tips and ideas, read our article on how to write a good CV for your dream role.
Capture the moment with your personal profile 
A well-crafted personal profile on your CV is your opportunity to make a solid first impression. It should convey your expertise, career objectives, and key attributes. Revise your personal profile to match the specific role you're pursuing, whether you specialise in taking photos for weddings or the fashion sector, are entry-level or aspire to be a self-employed freelancer.
Wedding photographer CV personal profile example
Accomplished wedding photographer with a decade of professional experience. Masters the art of storytelling and capturing moments with precision and creativity. Proficient in using natural light and artificial lighting techniques to produce timeless images. Known for attention to detail and the ability to create an unforgettable visual narrative for couples on their special day.
Freelance photographer CV personal profile example
Highly skilled freelancer with 6 years of experience in diverse genres. Exceptional at adapting to different environments and subjects to produce stunning visuals. Proficient in advanced editing software and digital file formats, ensuring exceptional final results. Excels in building a solid online presence through a personal website and active social media engagement.
Fashion photographer CV personal profile example
Talented fashion photographer with 5 years of experience in the industry. Possesses a deep understanding of fashion trends, composition, and lighting to create visually striking imagery. Proficient in capturing the essence of fashion brands and showcasing their products effectively. Strong technical skills in image editing software, enhancing the quality of every photograph, and keeping to client briefs.
Photography assistant CV personal profile example
Photography assistant with 3 years of experience supporting photographers in various projects. Proficient in camera equipment operation and technical troubleshooting. Skilled in assisting with techniques and post-processing. Committed to contributing to the success of photography teams and ensuring smooth photoshoot processes.
For more information on highlighting the best of your personality and skills in a personal profile, refer to the acting CV example.
What are the key skills for a photography CV? 
The skills section is crucial for showing technical expertise, specialisations, ability to adapt, and be creative when dealing with various job situations and client requests.  By tailoring this section to emphasise unique strengths and knowledge, photographers can effectively stand out in their chosen niche, whether for assistant, fashion, wedding, or product niche roles. For more ideas on the latest trends, look at our digital marketing CV example guide for more industry-specific skills and tips.
If you are are pursuing a junior role, consider creating a skills-based CV to get started in this field.
Soft skills

Hard skills

Creativity and artistic vision

Studio management

Communication

High-volume editing

Client interaction and management

Technical troubleshooting

Problem-solving

Business and marketing

Adaptability

Digital file formats

Detail-orientated

Photography composition

Collaboration and teamwork

Editing viewing presentations

Time-management

Visual assets for website and social media

Marketing and branding

Post-processing
Need help deciding what skills to list in this section? Read our article to discover key skills to add to your CV.  Alternatively, if you're considering a career change, there are related roles with similar skill sets to photography. Browse our CV examples for artist or designer for more inspiration.
Get creative with work experience on your CV 
Adding work experience to your CV is crucial, whether you're an aspiring graduate looking to kickstart your career or a seasoned professional with years of experience.
Potential employers typically seek candidates with a professional portfolio, and for most entry-level or junior roles, volunteering or completing relevant internships or part-time work can enhance your CV. Pursuing a Level 3 photography apprenticeship as a photographic assistant for your initial career search will help you gain valuable experience and skills. This opportunity could lead you to positions in small creative studios or within larger commercial or governmental entities.
On the other hand, if you're a student or recent school leaver, highlight any freelance or school work you've undertaken, even if it's just a few projects.
Pro Tip
If securing work experience proves challenging, submit your work to reputable photography competitions and exhibitions. Attend portfolio review sessions, talks, and industry events.
Work experience examples
Photographer | Classic Captures, London | 2020 - Present 
Create timeless and artistic photographs, specialising in classical themes and styles. Collaborate with clients to understand their vision and preferences. Utilise advanced lighting techniques and equipment to achieve desired aesthetics.
Compose and capture classical photographs, resulting in a 30% increase in client satisfaction.

Successfully conducted 50+ photoshoots, consistently meeting or exceeding client expectations.

Employed advanced lighting techniques, leading to a 25% reduction in post-processing time.
Photography Intern | Focus Photography Studio, Manchester | 2021
Gained hands-on experience in photography through an internship. Assisted with equipment setup and breakdown, observing and learning photography techniques. Supported post-processing and editing tasks to enhance skills.
Assisted in setting up and breaking down equipment for 20+ professional photoshoots.

Gained practical experience in photo editing, enhancing proficiency in Adobe Lightroom.

Played a pivotal role in managing studio organisation, resulting in a 15% increase in workflow efficiency.
Wedding Photographer | Forever Moments Photography, Birmingham | 2018 - Present
Specialise in capturing the essence of weddings, from candid moments to posed shots. Coordinate group photos efficiently while ensuring a seamless flow during wedding events. Expertise in editing and delivering cherished wedding albums.
Captured and edited photographs for 50+ weddings, achieving a 95% client approval rate.

Streamlined group photo coordination, reducing setup time by 20 minutes per wedding.

Expertly edited and delivered wedding albums within strict deadlines, resulting in 100% client satisfaction.
Fashion Photographer Assistant | Vogue Studios, London | 2019 - 2021
Assisted the lead fashion photographer in creating stunning imagery. Managed lighting and equipment setup for studio and on-location shoots. Collaborated with models and stylists to bring creative concepts to life for successful fashion campaigns.
Efficiently managed lighting and equipment setup for 75+ studio and on-location shoots.

Collaborated with models and stylists to bring 30+ creative concepts to life for successful fashion campaigns.

Assisted in producing high-quality imagery that contributed to a 40% increase in client bookings.
For more guidance on how to showcase you unique experiences, read our article on adding work experience on a CV.
Give perspective with the education section on your CV
Photography is a field where your portfolio and practical experience often matter more than formal qualifications, but education can be a vital asset in your CV. Entry requirements for jobs in the UK can vary depending on the role and employer.
Here are some common educational pathways:
College courses: Aspiring professionals can find courses at local colleges or vocational schools, including BTEC or HND courses and Royal Photographic Society. These programs typically offer hands-on training in photo techniques, equipment operation, and editing software. 

University degrees: A bachelor's degree (BA) in photography or a related field, such as visual arts or graphic design, can open doors to more advanced and specialised roles. These programs usually span three to four years. 

Online courses and workshops: Digital photography courses, workshops, and self-directed learning are readily accessible online. Courses can be a quick and cost-effective way to acquire new skills or specialise in a particular niche. 
Studying a postgraduate course can be a strategic move to advance your skills and career prospects:
Master of Arts (MA) in Photography and Master of Fine Arts (MFA) in Photography: This program usually spans one to two years.

Postgraduate Certificate (PGCert) or Postgraduate Diploma (PGDip): These shorter programs are designed for individuals who want to gain specialised skills or knowledge without committing to a full Master's degree. A PGCert usually takes a few months to complete, while a PGDip can take up to a year. 
Learn more about how to write the education CV section or how to add courses and certificates in a CV in our guides.
Zoom in on your hobbies and interests 
This section on your CV for a photographer can help you showcase your personality and interests outside of your professional work. It can reveal your creativity, diverse perspectives, and dedication. Ensure you tailor this section to match your specific job targets and niche.
In addition, consider joining clubs, entering competitions, staying updated with the latest technology, participating in cultural events and sports, and networking with influencers on social media.
Refer to our article for more ideas on showcasing your personality through hobbies and interests on a CV.
Pro Tip
To enhance your CV further, consider connecting with local photographers on social media platforms to stay updated with the latest industry practices and expand your network.
Key takeaways 
Crafting a compelling creative CV must showcase your skills and experience. Highlight your relevant education and qualifications, focusing on courses that enhance your employability. Emphasise technical and soft skills that make you an asset in the field, and consider the value of any work experience, whether through internships or apprenticeship opportunities. Remember, potential employers are more interested in your portfolio and practical experience is the ultimate showcase of your talent and skills.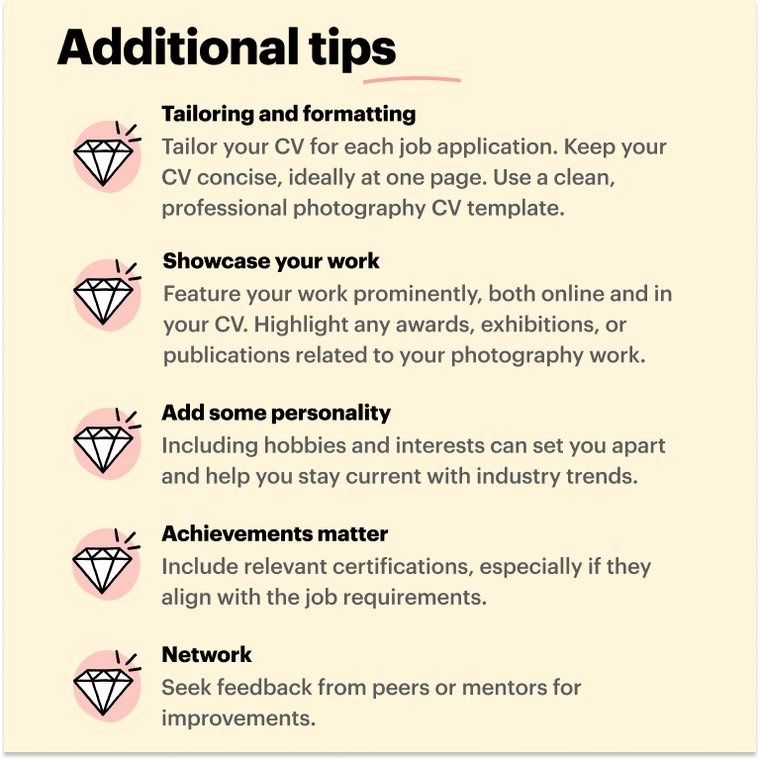 Next steps?
Choose a professional CV template, catering to photographers at all stages of their careers, whether you're starting with a freelance business or have years of experience. Take advantage of our dedicated CV Writing Service, and put your best foot forward with an eye-catching CV and tailor-made cover letter that perfectly aligns with your career goals. Alternatively, delve into our career blog for invaluable insights and advice, especially beneficial for those searching for their ideal job and interested in improving your CV. 
FAQ 
What qualifications do I need to be a photographer in the UK? 
Photography doesn't necessarily require formal qualifications in the UK, although they can be beneficial. Many photographers start as self-taught enthusiasts or pursue photography-related courses. However, you can explore courses such as a Bachelor of Arts (BA) in Photography or specialised programs or courses to enhance your skills and credibility. The Royal Photographic Society (RPS) also offers accredited courses and qualifications, which can boost your professional profile.
How do I get a photography licence in the UK? 
Unlike some professions, photography in the UK typically doesn't require a specific licence. However, if you plan to use a drone for aerial photography, you may need a Civil Aviation Authority (CAA) licence. Moreover, while a photography licence might not be necessary, having a well-crafted CV and a strong online presence is vital to showcase your skills and attract clients.
Do photographers need a CV? 
Yes, having a modern CV is essential for photographers in the UK, especially if you're seeking employment or freelance opportunities. A well-structured CV highlights your skills, experience, and qualifications, making it easier for potential employers or clients to evaluate your suitability for specific roles. Your CV is a visual portfolio of your work and provides a comprehensive overview of your professional background.
What is a photographer CV personal statement?
A personal statement is a concise paragraph at the beginning of your CV. It summarises your expertise, years of experience, and key skills. In this statement, you can tailor your focus to match the specific job you're targeting, whether as a wedding photographer, fashion photographer, or freelance photographer. It is a compelling introduction to your CV, attracting potential employers or clients.
Land the interview for your dream job with CVMaker
Effortlessly create your professional CV within 10 minutes and download it whenever and wherever you want!
Create your CV
Increase your chances landing your dream job with CVMaker.