UI/UX Designer CV
Using the Harvard CV template with clear, bold headings, Anna effectively showcases her attributes and experience as a UI/UX designer. This format allow room for Anna to include links to her portfolio to further emphasise her skills alongside her work experience section.
Start your CV
"Passionate about user-centred design, boasting a proven track record in delivering exceptional digital experiences. Experience in mentoring and training junior members as well as delivering projects to a high standard. "
Anna Sanders
- Senior UX Designer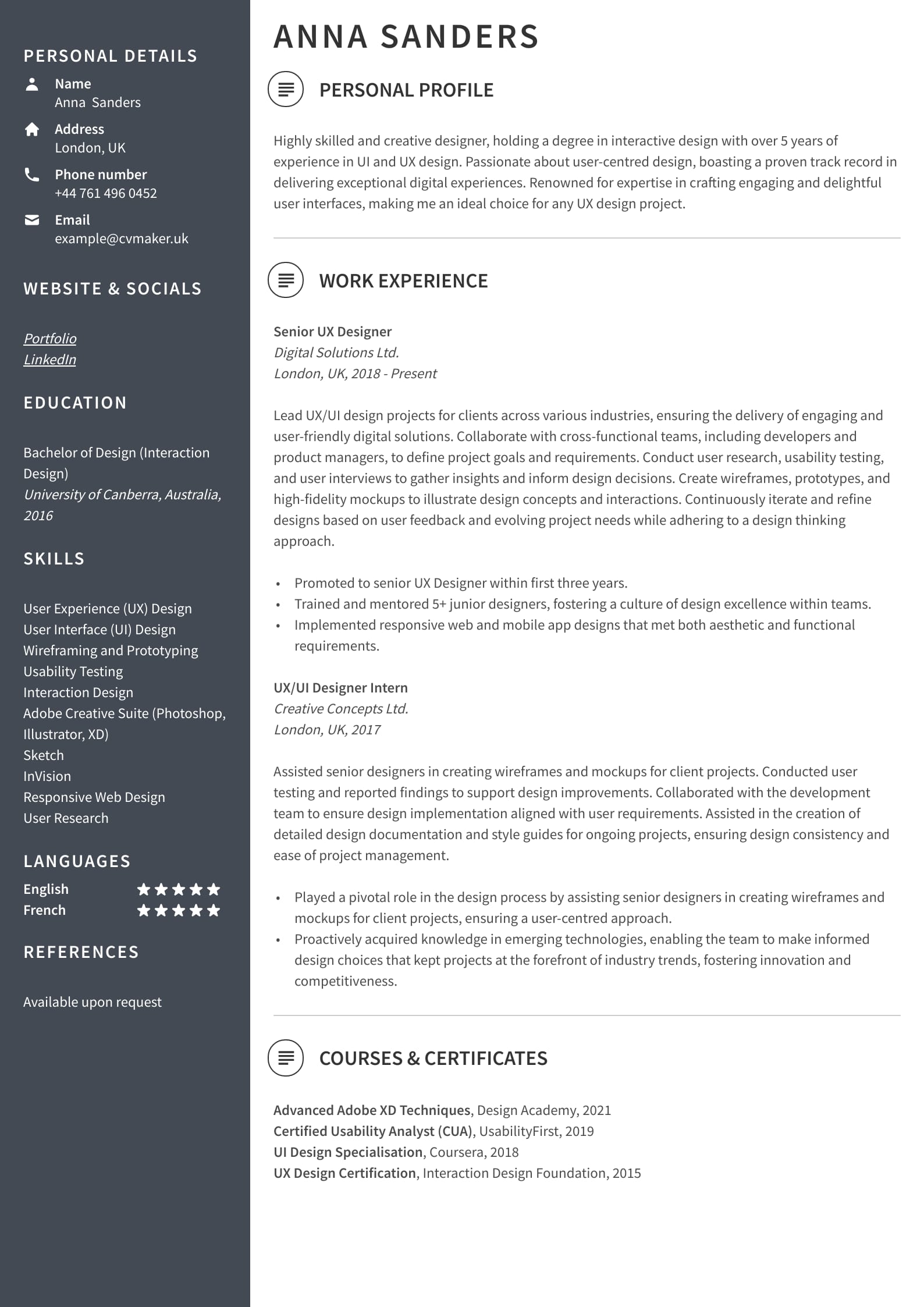 How to Write a UI/UX Designer CV: Guide with Tips and Examples
User interface (UI) and User experience (UX) design is more than just a job, it is a profession that tries to make the world around us useable, accessible and inclusive.
In this creative field where an eye for functionality and ease of use are combined with a knowledge of design principles, competition is high. Whether you're focused on UI design, UX research or a blend of both, crafting an engaging and powerful CV is be your ticket to success.
In this comprehensive guide, we'll walk you through the steps to create an application tracking system (ATS) friendly CV. From creating a strong first impression to highlighting your essential skills and experiences, this guide is your blueprint for a CV that stands out.
The CV writing process: Where to start? 
Similar to graphic designers or artists, your UI/UX CV is your professional fingerprint and the first point of contact between you and any potential employer. Therefore, it needs to be as polished and sharp as any project you've ever worked on.
Roles in this industry are diverse and often overlap, including:
UI Designer

UX Designer

Interaction Designer

User Researcher

UX Writer.
That's why we always recommend starting with a master CV. This remains your own internal document but acts as a foundation for creating job-specific CVs later on. This approach is not just a time-saver but a strategic move too. Find out more about the CV writing process and a master CV versus job-specific.
Tailoring your CV to each job application allows you to highlight the most relevant aspects of your career. From an employer's perspective, a tailored CV signals attention to detail and a genuine interest in the role. It shows that you've taken the time to understand the specific needs and challenges of the position, rather than sending a boilerplate application. Learn more about how to write a modern CV.
UI/UX Designer CV example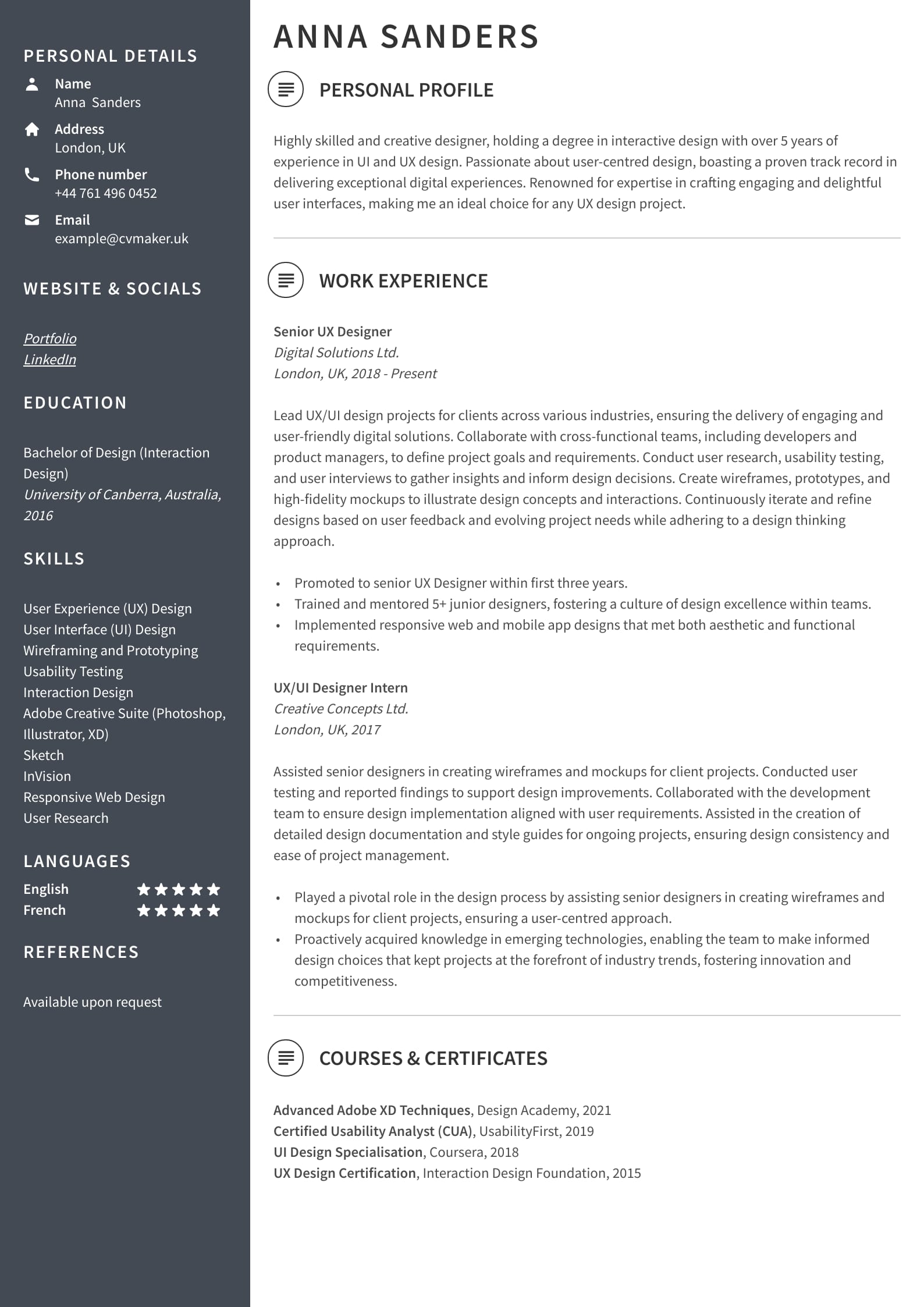 Download this UI/UX CV example in PDF
Anna is a highly creative and skilled designer, specialising in UI and UX design. With a degree in interaction design and over 5 years of professional experience, she has a proven track record of delivering user-centric, visually compelling designs. Utilising clear, bold headings, hiring managers can quickly identify her key attributes, work experience and both hard and soft skills. Anna's CV, crafted using the Harvard template, highlights her unique skill set with a clean, professional aesthetic.
What to include in a UI/UX CV? 
When writing a good CV, a compelling personal profile, detailed work history, relevant skills and educational background are just the beginning of your professional story. Similar to other creative industries such as architecture or design an interaction designer needs to dig deeper to impress.
Enrich your CV with a unique personal profile 
A compelling personal profile on your CV is an effective way to begin. This is your banner statement at the top of the document. Hiring managers and potential collaborators are pushed for time, so your personal profile should tell them all they need to know in a few seconds. Your personal profile should at least communicate:
A powerful opening statement

Who you are (your current position)

Your seniority

Your trademark soft skills, and

What you bring to the table.
UX designer CV personal profile example
Creative UX designer with over 6 years experience specialising in user-centered design. Adept at conducting insightful user research and translating findings into actionable design elements. Exceptional communication skills enable effective collaboration with cross-functional agile teams, including software developers and product managers. Highly adaptable team player committed to enhancing user experience through innovative design solutions.
UX researcher CV personal profile example
Dedicated UX Researcher with 4 years of experience specialising in user-centered design and qualitative research methodologies. Exceptional storytelling and presenting skills enable effective communication with stakeholders and team members. Empathetic by nature, committed to advocating for user needs and perspectives through design research. Adaptable and versatile, skilled in employing a range of research tools and techniques to deliver actionable insights that guide design decisions.
UX writer CV personal profile example
Experienced UX Writer with 5 years in the industry, specialising in developing actionable, creative content that enhances user experience. Collaborates effectively with product, marketing, and design teams, demonstrating strong UX and product thinking. Offers valuable insights into product strategy, focusing on user retention and multi-product adoption. A natural communicator, skilled at understanding user needs to deliver precisely what they require in a user experience.
Junior UX/UI CV personal profile example
Self-starting junior UX/UI designer with 2 years industry experience and a strong foundation in design principles. Proactive with a positive attitude towards learning. Highly attentive to detail and committed to creating visually appealing user experiences. Excellent communicator and open to feedback. Adaptable and up-to-date with industry trends, poised to contribute to a variety of exciting projects.
UI designer CV personal profile example
Seasoned Senior UI Designer with over 8 years of experience, excelling in leading digital design experiences that drive user engagement. Strategic thinker with a deep understanding of multi-channel, integrated digital experiences. Skilled in stakeholder management, effectively articulating design concepts and decisions. Committed to process improvement and optimisation, utilising best practices and tools to evolve design processes and deliver value.
What are the key skills for a UI/UX CV?
In the UX/UI design industry, effectively showcasing your skills on a CV is crucial for standing out in a competitive job market. Employers want to know not just what you can design, but how well-equipped you are with must-have skills to approach design problems. You need to convey how well you understand user needs and how you collaborate with diverse team members.
Like other jobs such as musician or photographer, skills in UX/UI design can be classified as soft, hard or technical.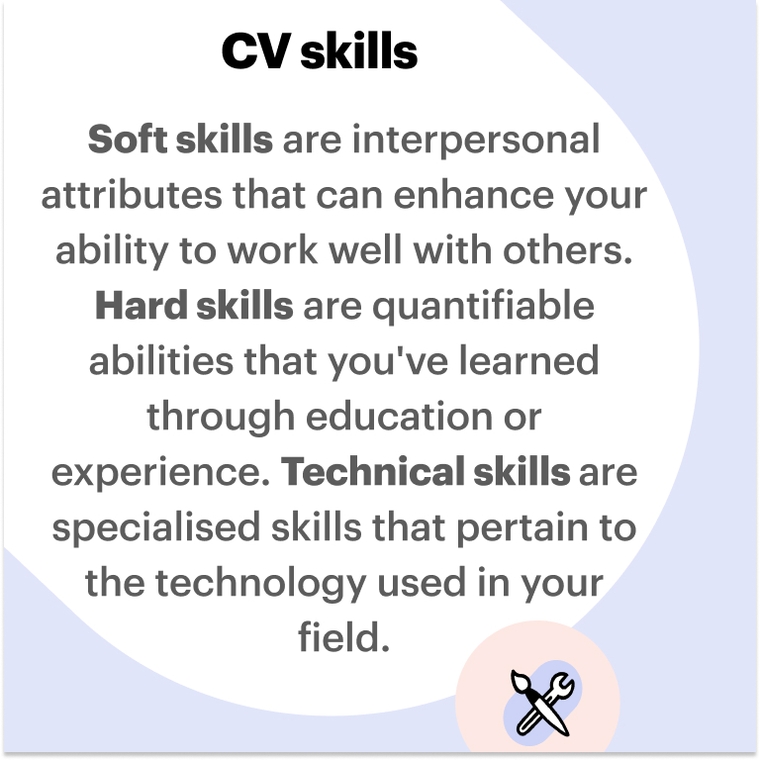 Soft skills

Hard skills

Technical skills

Teamwork

Wireframing and prototyping

HTML/CSS/JavaScript

Adaptability

User research

Adobe Creative Suite (Photoshop, Illustrator, XD}

Emotional intelligence

Information architecture

Sketch

Effective communication

Visual design

Figma

Problem-solving

Usability testing

User testing platforms (e.g., UserTesting, Lookback)
Share your work experience journey 
The work experience section of your CV is where you get to showcase your professional journey and demonstrate your expertise in UX/UI design. It's crucial to be concise and use reverse chronological order to present your most recent roles first.
Each entry should start with a short paragraph detailing your responsibilities and contributions, followed by two bullet points highlighting quantifiable results. If you have little to no work experience, focus on relevant volunteer or amateur roles, emphasising soft skills like being teachable.
Work experience examples
Junior UI/UX Designer | Design of the Times, London | 2021 - Present
Assist in the design and implementation of user interfaces for web and mobile applications, focusing on user-centred design principles. Collaborate closely with senior designers and developers to create wireframes, prototypes and high-fidelity designs. Take part in user research to gather insights and feedback, refining design solutions accordingly.
Contributed to a 20% increase in user engagement across three major projects by implementing user feedback into design improvements.

Successfully completed 10+ projects within deadline, receiving commendations for design quality and attention to detail.
Senior UI/UX Designer | Raspberry Fields Agency, Liverpool | 2019 - 2022
Lead the design team in creating intuitive and visually compelling user interfaces for a range of digital products, including mobile apps and websites. Spearheaded user research initiatives, translating insights into actionable design strategies. Collaborated across teams, including product managers and developers, to ensure seamless design-to-development transitions.
Drove a 35% increase in user retention by leading redesign efforts for the company's flagship application, incorporating user feedback and best design practices.

Mentored 5 junior designers, 3 of whom have been promoted to mid-level positions, enhancing the team's overall skill set and productivity.
UX/UI Copywriter | Call To Awesome Copywriting, Bristol | 2020 - 2023
Responsible for crafting compelling and user-focused copy for web and mobile interfaces, aligning with the brand's voice and overall UX design strategy. Work closely with UX designers, product managers and marketing teams to develop actionable, creative copy that enhances user engagement and drives conversions.
Achieved a 25% increase in user engagement by optimising microcopy across key user journeys, leading to higher conversion rates.

Spearheaded the content strategy for a new product launch, resulting in a 40% increase in sign-ups within the first month.
UX Researcher | Kapico Design, Norwich | 2020 - 2022
Led and executed a wide range of research methodologies to gather user insights, including interviews, surveys and usability testing. Collaborate with UX designers, product managers and stakeholders to translate research findings into actionable design recommendations. Present research outcomes to internal teams and clients, advocating for user-centric design approaches.
Conducted research that influenced the redesign of a major e-commerce platform, resulting in a 30% decrease in cart abandonment rates.

Successfully managed a six-month longitudinal study involving over 500 participants, providing valuable insights that led to two new feature implementations.
Applying with little to no work experience:
Crafting a CV with little to no experience can be challenging but it's an excellent opportunity to highlight transferable skills, volunteer work or any relevant unpaid experiences. Learn more with our student CV or graduate CV example articles. Here's how one might approach it:
UI/UX Design Volunteer | Smiling Cats, Cheshire | 2018 - 2019
Assisted in the redesign of a local cat sanctuary website as part of a small volunteer team. Focused on improving user experience by creating wireframes and mockups and conducting basic usability tests. Collaborated with senior volunteers to understand user needs and implement design changes.
Contributed to a 15% increase in website traffic and a 10% increase in user engagement by implementing user-friendly design elements.

Received positive feedback from team members for being highly teachable and open to constructive criticism, leading to rapid skill development.
Give insight with the education section on your CV 
In the UX/UI design field, your education section on a CV serves as a cornerstone that complements your practical experience. Formal, structured training provides you with a solid foundation in design principles, user psychology and various methodologies. It backs your hands-on experience with theoretical knowledge, making you a well-rounded professional.
Start with your highest level of education in UX/UI design and work in reverse chronological order, listing the institution's name, qualification earned and date of completion.

Include any additional certificates, boot camps or online courses relevant to your UX/UI career.

Feature any academic honours, scholarships or awards received during your studies.

If you have limited work experience, consider using a skills-based CV format, or drawing inspiration from a graduate CV example.

Keep the education section concise; a brief line for each degree or certification is enough to capture the essential details.
Examples of education:
User Experience Design Immersive Course, General Assembly | UK 2021
BA (Hons) Interactive Design, University of the Arts London | UK 2018
Balance your CV with additional courses and certificates
Complimenting your professional offer with additional short courses and certificates in UI/UX design can be extremely beneficial, particularly if you're just starting out or contemplating a career change. These courses offer a quick, yet comprehensive, introduction to the field, allowing you to acquire essential skills in a relatively short period. 
Short courses are available from:
Design your CV for success 
A poorly designed CV can undermine your professionalism and attention to detail. Your CV should be a testament to your design sensibilities, showcasing not just what you can do, but how well you can present it.
Key takeaways 
Creating a well-rounded and effective CV in this field is no small task. Let's break down the key takeaways you need to know:
Start with a master CV: Create a comprehensive master CV that serves as a foundation for crafting job-specific versions. 

Showcase a strong personal profile: Your personal profile is the first thing hiring managers see. Make it compelling and informative, highlighting your experience, skills and what you bring to the table.

Highlight must-have skills: Clearly categorise and list your soft, hard and technical skills. This shows employers at a glance that you possess the necessary qualifications for the job.

Quantify your work experience: Use the reverse chronological format for your work experience and include quantifiable results.

Design matters: Given that you're applying for a design-centric role, the layout and design of your CV should reflect your skills. Keep it clean, organised and professional.
Next steps?
Iron out any creases using our intuitive CV builder with 20+ CV templates and professional designs to choose from. To accompany your CV, discover our cover letter templates. If you don't want to leave anything to chance, connect with our professional CV Writing Service. Draw inspiration from our CV examples to save time, emphasise important sections and make it easier for hiring managers to grasp your unique professional offer even quicker.
FAQs
Is UX in demand in the UK?
Yes, UX design is in high demand in the UK. With the growing focus on user-centred design in various industries, from tech to retail, UX professionals are increasingly sought after to improve user experience and engagement.
How do I get into UX design with no experience in the UK?
Start by taking online courses or boot camps to build foundational skills. Create a portfolio showcasing personal or volunteer projects. Network through industry events and consider entry-level roles or internships to gain practical experience.
How much does a UI/UX developer earn in the UK?
As of 2021, the average salary for a UI/UX developer in the UK ranges from £35,000 to £70,000 per year, depending on experience, location and the complexity of the role. Senior positions can command higher salaries.
What is a UI/UX CV personal statement?
A UI/UX CV personal statement is a brief summary at the top of your CV that outlines your experience, skills and what you bring to the role. It serves as a quick introduction and aims to grab the employer's attention.
Land the interview for your dream job with CVMaker
Effortlessly create your professional CV within 10 minutes and download it whenever and wherever you want!
Create your CV
Increase your chances landing your dream job with CVMaker.