CV
>
How to Write an ATS-friendly CV in 2023? Tips to Help you Beat the System
How to Write an ATS-friendly CV in 2023? Tips to Help you Beat the System
CV
· October 16 2023
· 6 min read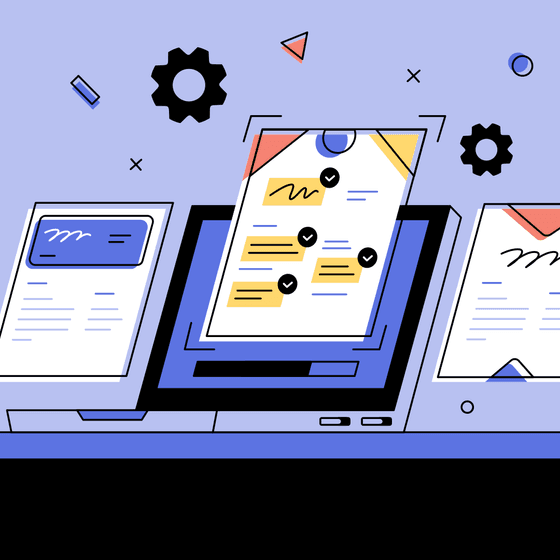 Applicant Tracking System (ATS) can be a determining factor not only in securing a job but also in whether a hiring manager at a company even sees your application. The research has shown that 75% of qualified applicants get rejected by ATS software due to irrelevant information or unreadable text. In today's world, with modern advancements shaping our daily lives, your CV is no exception. Besides thinking of how to format your CV and what to include, another important step is ensuring it is ATS-friendly. If you want to be a part of the 25% successful candidates, you need to know how to prioritise the right keywords and tailor your CV to the job description. Taking the time to ensure your CV is ATS-friendly gets you one step closer to your dream job. Check out our video to learn more about how to write an ATS-friendly CV.
To help you stand out from the competition, we offer expert tips, ATS-friendly CV examples, and comprehensive writing guides. Dedicate time to read through them and optimise your CV for ATS.
What is ATS?
It is software used by recruiters or hiring managers to streamline the application process. It enables them to efficiently review numerous CVs and identify a few candidates for further consideration. The ATS collects, scans, and ranks applicants based on factors such as experience, industry knowledge, and specific skills. Remember that your CV could undergo ATS evaluation before reaching the recruiter's attention.
How has ATS revolutionised recruitment?
Originally developed by larger companies dealing with a high volume of applications, ATS has gained even more popularity, especially due to the impact of the Covid-19 pandemic. More recruiters integrate tools such as ChatGPT into the recruitment strategy, marking a departure from manual CV reviews. The use of ATS has become particularly prominent in various industries in the UK, including healthcare, construction, technology, and finance.
6 tips on how to optimise your CV for ATS
1. Include relevant keywords
To enhance the ATS-friendliness of your CV, it is essential to align it closely with the specific job description. Begin by creating a list of frequently appearing keywords and utilising the exact phrasing from the job description.
To pass the ATS screening, you need to include both job-related skills and action verbs. Job-related skills refer to your abilities and knowledge to perform a certain job. Examples of CV skills for an HR specialist could include the following:
Skills
HRM, HRIS, recruitment process, administrative operations, commercial awareness, cultural awareness, HR reporting, coaching, accounting, business organisation, and public speaking.
Pro Tip
It's worth noting that ATS systems usually do not distinguish between similar skills. Therefore, if the job requires "customer service skills," be sure to explicitly include that phrase in your skills or work experience sections.
For more advice, read the article on how to improve your CV.
2. Incorporate action verbs 
Action verbs highlight your skills and achievements, demonstrating how you excelled in your job role. To add them to a CV, begin sentences with these verbs. Furthermore, we advise using concise sentences and bullet points to effectively communicate your responsibilities, achievements, and areas of expertise. See the ATS-friendly CV examples below:
3. Choose the right format
We advise sticking to the most common format for an ATS, which is reverse-chronological, starting with the most recent positions first. This format works well for showcasing career progression and aligning your experience with the job requirements. Your CV needs to be well-organised, easy to navigate, and brief, as recruiters spend an average of no more than 7 seconds reviewing it.
DOs
Use a consistent font such as Arial, Times New Roman or Garamond

Upload your CV in a Word or PDF format

Left align your document

Decrease your CV page margins

Stick to a one-column format
DON'Ts
Use heavy graphic or excessive formatting (e.g. sublists)

Use unprofessional custom fonts

Create a CV more than two pages long

Use font size lower than 10 points

Apply a two-column format if in doubt
For more information, take a look at our CV templates.
4. Highlight your skills
When determining which skills to include in your CV for ATS, it can be challenging to prioritise specific skills over others. To simplify this decision-making process, we suggest visiting the company's website and reviewing job descriptions for similar positions within your field. By understanding the specific areas of expertise the company values, you can create a targeted list of soft and hard skills. Doing so can help you convince recruiters you have a professional attitude and could be the right first for the job.
Refer to the skills article to learn more about different types of skills.
5. Proofread your CV
Spelling and grammatical errors can hinder your chances of success, whether with ATS or human readers. Before submitting your CV, thoroughly proofread it with tools such as Grammarly to ensure it reads well and doesn't sound repetitive.
Ensure that all personal details, including your contact information, are accurate and up to date. This can help you avoid any potential communication issues. Always double-check the accuracy of the following data:
Location

Email

Phone number

Job titles, company names, and dates of employment
To learn more, read our article on how to write a good CV.
Pro Tip
Consider asking a friend or colleague to review it, as they may be able to identify strengths or character traits you might have overlooked.
6. Ensure your CV is human-friendly
While ATS plays a pivotal role in recruitment, you shouldn't underestimate the significance of a human touch to your CV. Express your skills and expertise in a way that resonates with the recruiter checking your application, creating a genuine and lasting connection. Remember, your CV should be optimised for both ATS and human readers, avoiding an overload of keywords while maintaining readability and visual appeal.
Examples of ATS-friendly CVs
Software Developer CV example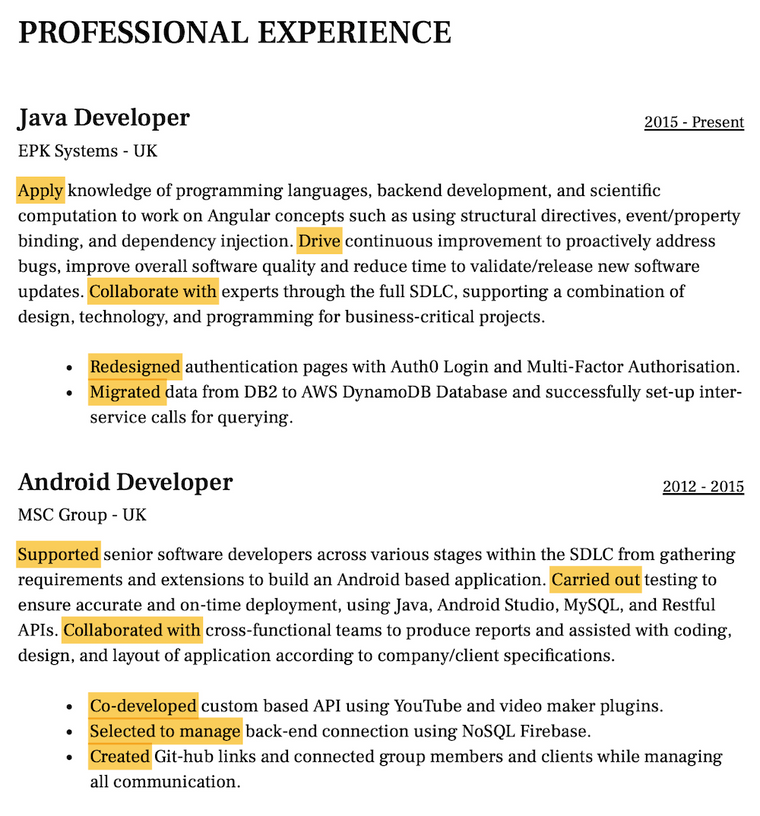 In this software developer CV example, Sam Johnson incorporated specific keywords for his target job to pass the ATS scan. He uses action verbs such as 'apply [knowledge … ]', 'drive [improvement … ],  'carried out [ … testing],' 'collaborate with [a team … ], and others. We advise starting sentences with these verbs to make your writing more concise and tailor it to the job description. Avoid using first-person pronouns, as it will make your writing more professional.
Refer to the software developer CV example guide for more information.
Warehouse CV example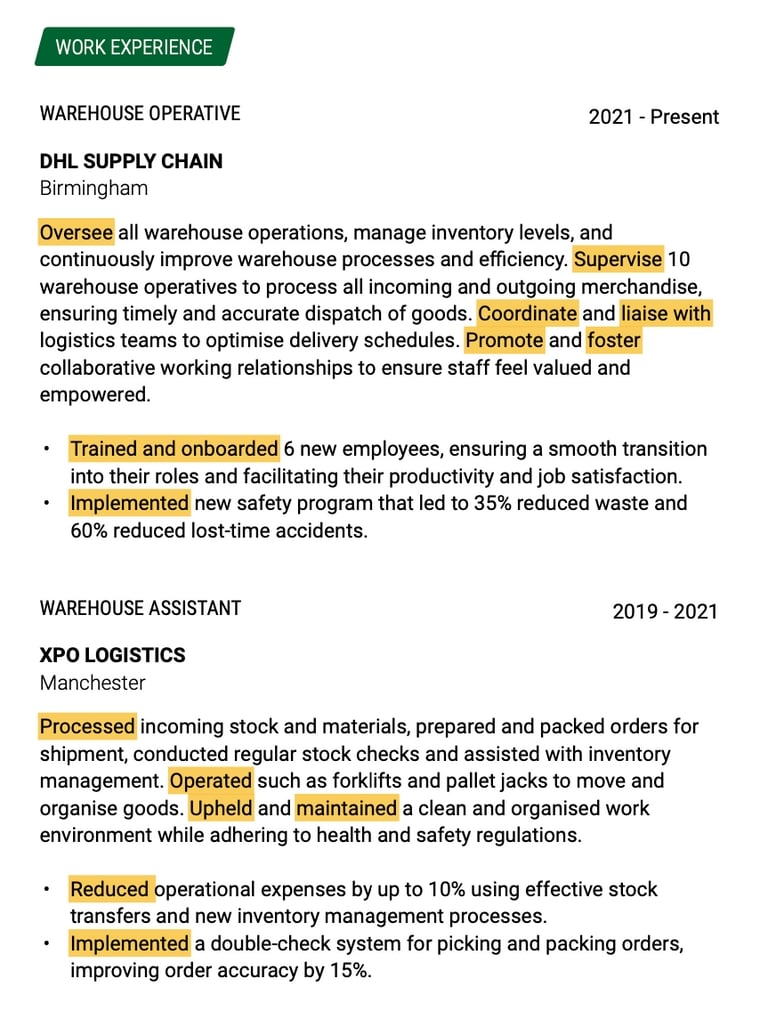 In this warehouse CV example, Andew Hyde focuses the reader's attention on keywords specific to the job description for a warehouse operative. He utilises action verbs such as 'supervise [a team of …], 'reduced [ … expenses], 'implemented [a strategy …], and 'onboarded [ … employees]. By differentiating between duties and achievements, Andrew can more easily pass the ATS parsing.
Refer to the warehouse CV example guide to find out more.
Architect CV example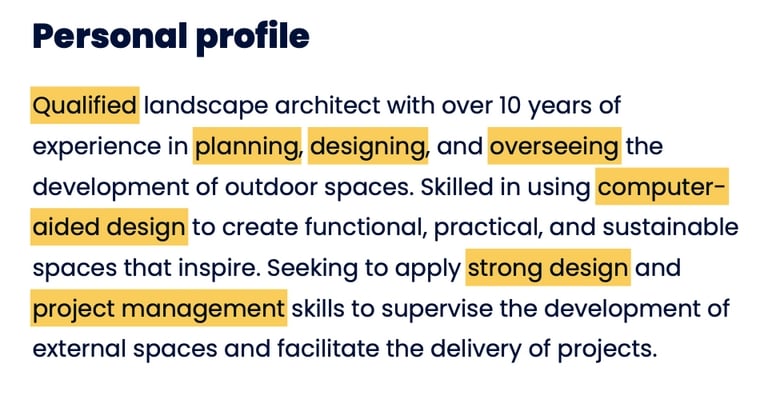 This architect CV example features David Bremner's personal profile section. Examples of relevant skills are 'computer-aided design', 'strong design', and 'project management'. Furthermore, the candidate incorporated relevant keywords to capture the attention of ATS software which include 'landscape architect', '10 years of experience', 'and 'sustainable spaces.' By doing so, David will likely pass the ATS scan and eventually land his dream job!
Refer to the architect CV example guide to learn more.
Student CV example

This student CV example highlights the relevant keywords of Jason Patol's personal profile section. With the career goal of developing a career in HR, he also incorporates pertinent knowledge such as 'employment law', 'key HR practices', 'recruitment', 'compliance', and 'business operations'. Doing so allows him to pass the ATS screening, making it easier for recruiters to see why this candidate could be a good match for the role.
Refer to the student CV example guide for more details.
Key takeaways
The main takeaway is to incorporate keywords and use professional language. We recommend creating a job-specific CV that closely aligns with the position you're applying for while maintaining simplicity. After reading this article, you should better understand:
What is ATS

Why do companies use it

What to do to ensure your CV matches both career goals and job requirements.
Rejection is part of your job search; don't let it discourage you, and remember to apply for one position at a time. To make the process a breeze, use ATS-friendly CV examples from this article as guidance and apply with confidence!
Next steps?
If you require assistance optimising your CV with the right keywords or condensing your content, we recommend exploring our CV Writing Service. Furthermore, we offer a wide selection of over 20 professional cover letter templates that can complement your CV seamlessly.
FAQ
Is my CV ATS-friendly?
The key is to incorporate pertinent keywords and phrases from the job description to align your CV with ATS requirements. Additionally, avoid excessive formattings, such as italics or nested lists, and prioritise the accuracy of personal details.
How to check if your CV is ATS-friendly?
To ensure your CV is ATS-friendly, utilise tools like Jobscan, which verify compatibility with the job and ATS criteria, identify parsing issues, and offer optimisation suggestions. Additionally, manually review your CV for crucial elements such as relevant keywords, formatting, and readability to optimise it.
How to optimise your CV for ATS?
We advise using concise sentences and bullet points to convey your responsibilities, accomplishments, and areas of expertise. This formatting style helps optimise readability for both ATS systems and human reviewers.
What are the latest ATS industry trends in 2023?
With the advent of AI, more companies integrate ATS to enhance their recruitment processes. By leveraging these technologies, they can gain deeper insights into candidates' profiles and provide recruiters with enhanced analytics. Additionally, ATS platforms offer a unique opportunity to foster workforce diversity and inclusion (D&I). Although challenging, it remains a crucial objective for recruiters to attract top talent to their organisation whilst cultivating a diverse team.
Start creating your CV
Create a professional CV quick and easy with our advanced CV Builder
+ Create CV
Written by
The CVMaker platform offers a complete career platform for jobseekers with handy tools and valuable information. Are you ready for the next step in your career? Start here today!
Related articles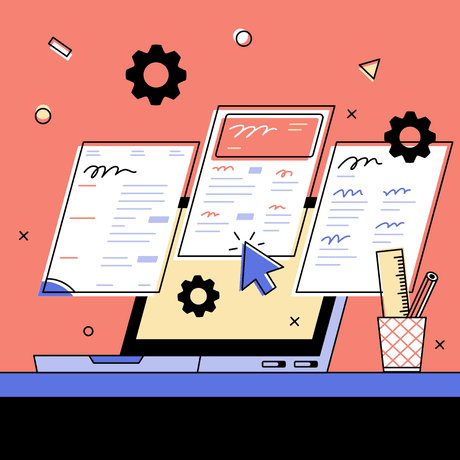 CV
· Nov 14 2023
· 6 min read
How Long Should a CV be in 2023 (Free Guide with Examples)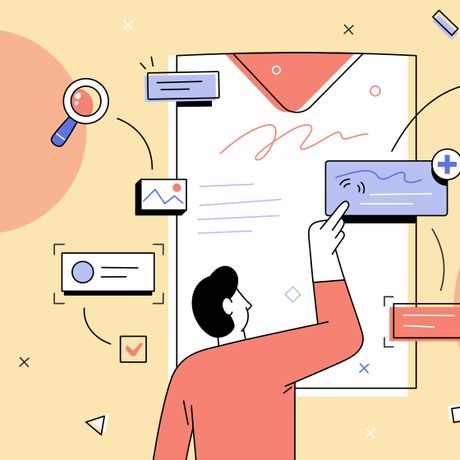 CV
· Nov 28 2023
· 6 min read
How to Write a Good CV in the UK (Examples, Tips, and Templates)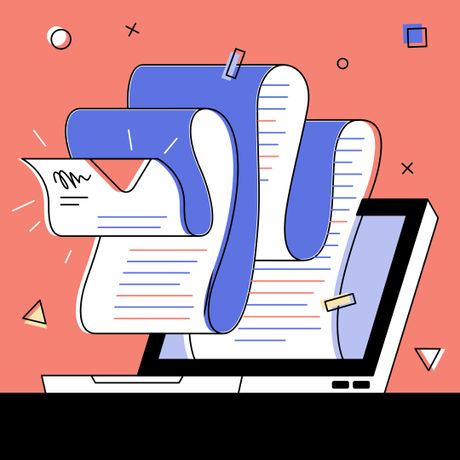 Cover letter
· Sep 14 2023
· 4 min read
How Long Should a Cover Letter be in 2023?
Land the interview for your dream job with CVMaker
Effortlessly create your professional CV within 10 minutes and download it whenever and wherever you want!
Create your CV
Increase your chances landing your dream job with CVMaker.