IT CV
Jan Kowalski has opted for the Auckland template, which is concise and easy to read. Having progressed through a series of IT administrator roles, he is adept at troubleshooting, creative problem-solving, and leading teams. With a degree in Information Technology and VMware certifiction, he's the perfect fit for the next role.
Start now
"Qualified and seasoned IT Administrator with 7 years of experience effectively managing and optimising IT infrastructure and specialisation in cloud computing. Creative problem solver with demonstrated ability to excel in IT administration roles."
Jan Kowalski
- IT administrator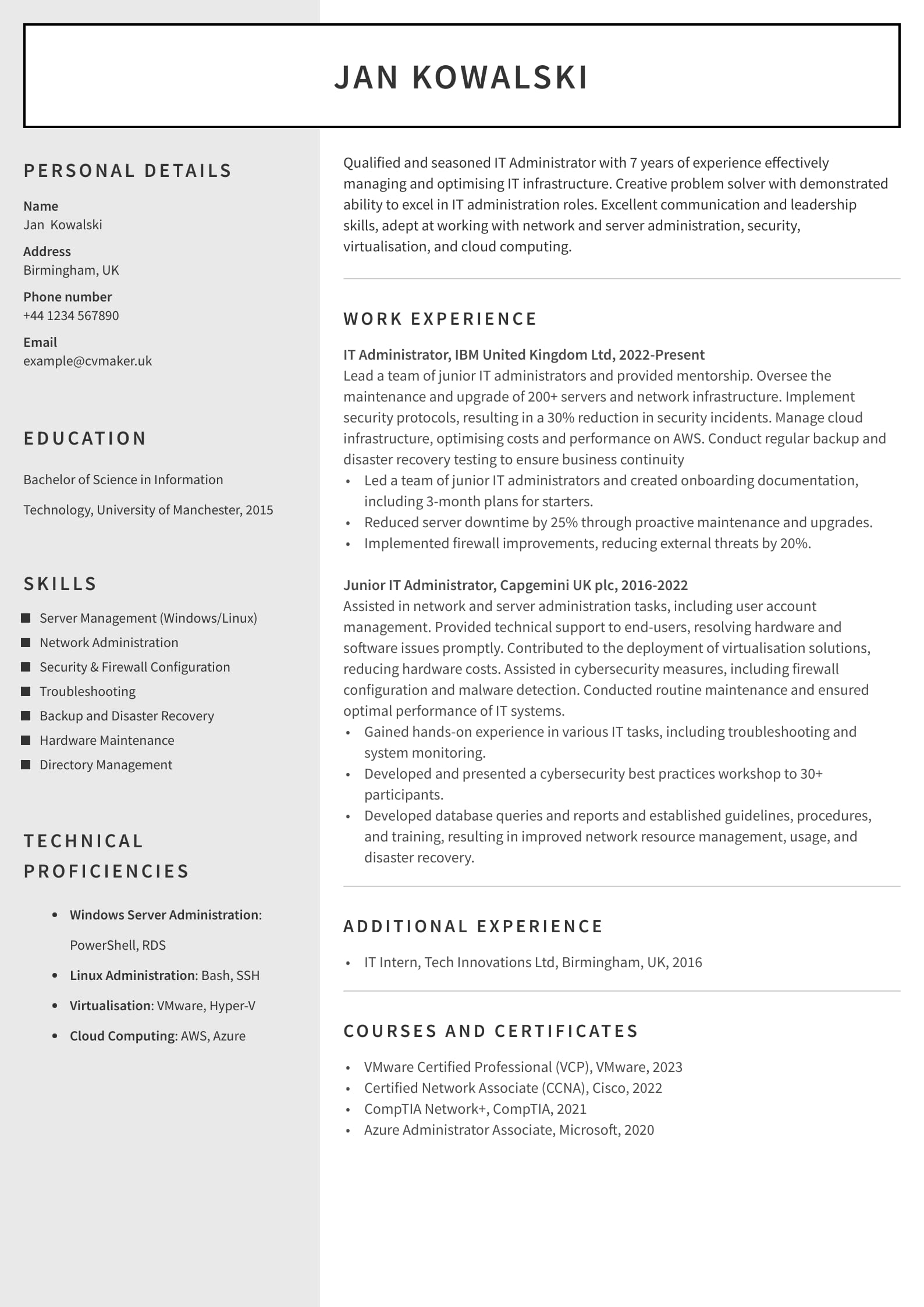 How to Develop a First-rate IT CV in 2023 (Step-by-step guide with Examples)
Information Technology (IT) professionals are the driving force behind digital innovation, using their skills to turn concepts into practical solutions that enhance efficiency, provide entertainment, and tackle complex challenges. The world of IT encompasses a dynamic mix of programming languages, frameworks, and innovative thinking, reshaping industries and revolutionising how we work and live in our tech-driven society.
In-demand jobs for IT specialists in the UK:
IT Support Analyst

Systems Administrator

Network Engineer

Cloud Solutions Architect

Database Administrator

DevOps Engineer
Whether you're a student, seeking a career change, or a seasoned professional, this article explores everything you need to know, providing step-by-step instructions on how to format and create a modern CV.
IT CV example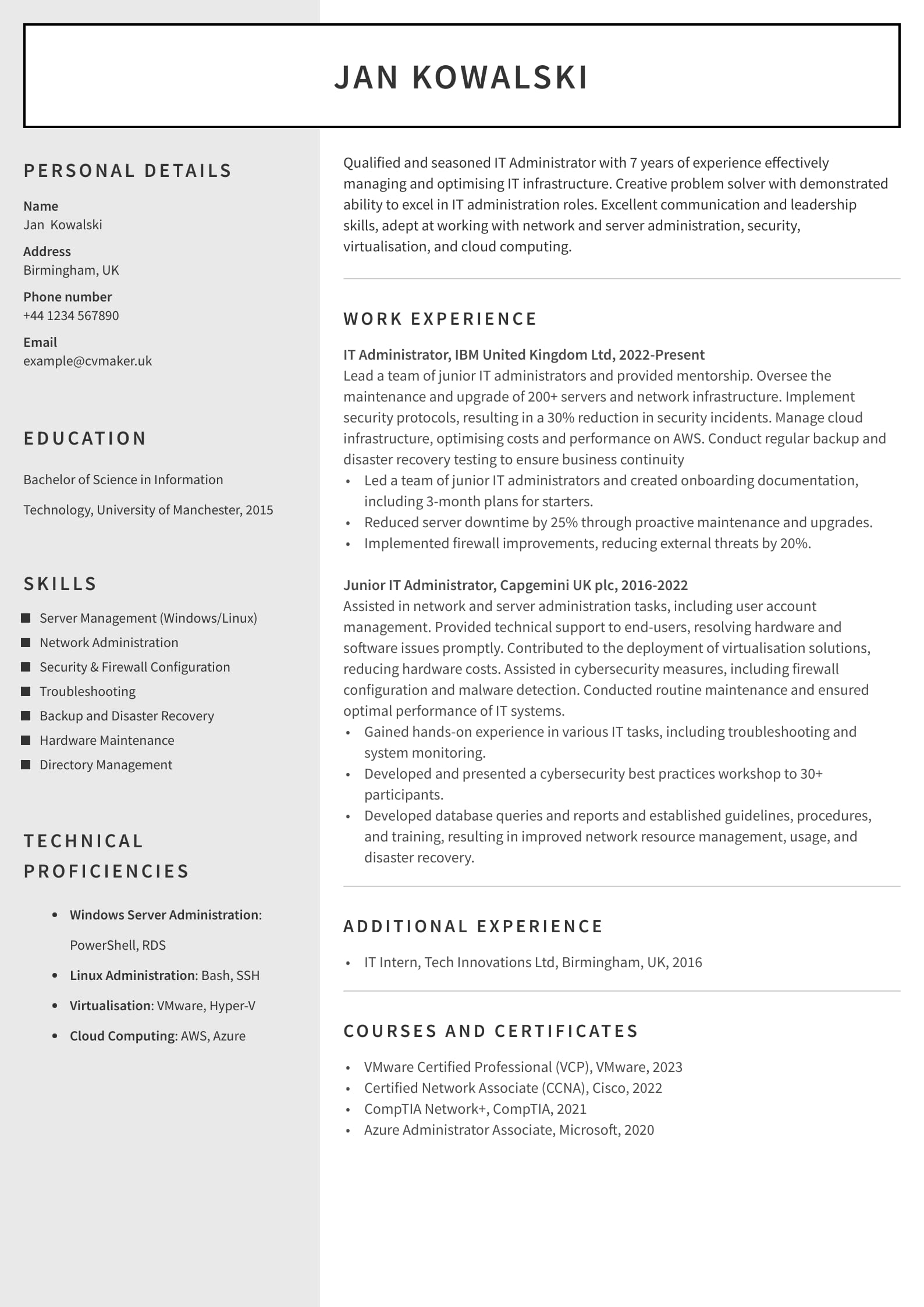 Download this IT CV sample as a PDF
This simple CV sample features Jan Kowalski, a qualified IT administrator specialising in cloud computing. The personal profile section provides a concise summary of his qualifications and relevant soft and hard skills. He is a qualified specialist with a strong background in leading network and server administration teams. Lastly, his education alongside course sections demonstrates his commitment to learning, making this CV tailored and well-suited for the next role.
What to include in an IT CV? 
Building a good CV requires strategically incorporating essential keywords, technical skills, and qualifications. The foundation of a well-structured CV lies in its structure, readability, and alignment with specific career goals.
When deciding which sections to include, beware of applicant tracking systems (ATS) used by recruiters to determine if your CV includes the right keywords, skills, and years of experience. By making your career documents ATS-friendly, you can increase your chances of securing your dream job.
Must-have

Optional

Personal details

References

Personal profile

Courses and certificates

Skills

Languages

Work experience

Awards

Education

Career accomplishments
For more information, refer to the article about the CV writing process.
Crack the code with a personal profile 
The personal profile, commonly referred to as a summary, is a personal statement used by recruiters or hiring managers to assess if your career goals match the job requirements. It is your first opportunity to captivate their attention and set the tone for the rest of your CV.
IT administrator CV personal profile example
Proactive IT Administrator with over 5 years of hands-on experience managing and maintaining IT infrastructure. Proficient in overseeing technology ecosystems, from network administration to server management. Adept at fostering collaboration among cross-functional teams and ensuring the seamless operation of critical systems.
IT analyst CV personal profile example
Data-driven IT Analyst with 10 years of experience implementing technology solutions that enhance business processes. Adept at conducting in-depth system analysis, identifying areas for improvement, and developing innovative IT strategies. Skilled in data analysis, problem-solving, and collaborating with cross-functional teams to achieve project goals. Committed to staying updated on emerging technologies to drive operational efficiency and deliver exceptional results
IT project manager CV personal profile example
Results-driven IT Project Manager with 5 years of experience leading complex technology projects from initiation to completion. Swift learner with excellent project planning, resource allocation, and risk management skills. Proficient in Agile and Waterfall methodologies, with a talent for aligning IT initiatives with organisational objectives. Effective communicator and motivator, fostering collaboration among diverse teams to achieve project milestones on time and within budget.
IT technician CV personal profile example
Detail-orientated IT Technician with 2 years of experience providing outstanding technical support and troubleshooting services. Proven track record in diagnosing hardware and software issues, implementing timely solutions, and ensuring minimal downtime. Proficient in system maintenance, software installations, and user training. Strong problem-solving skills, committed to staying ahead of IT trends and technologies to deliver efficient and reliable support.
For more examples, refer to the article on how to write a personal profile on a CV.
Add skills to your IT CV
Choosing the right skills depends on the job and industry you're targeting. The entry-level IT positions require knowledge of operating systems, computer security, networking principles, and troubleshooting. To explore software or web development, versatile and popular programming languages like Python, SQL, or Javascript can be a good starting point.
Soft skills

Hard skills

Problem solving

Project manageemnt

Teamwork

Data science

Leadership

Machine learning

Creativity

Networking

Adaptability

Cloud computing
See how to list skills in a CV article for more inspiration.
Craft an achievements-based work experience for an IT CV
The work experience section highlights your daily tasks and measurable achievements on a CV. Rather than merely listing all your responsibilities and projects, highlight tangible results and statistics to make a stronger impression of your candidature.
Examples of work experience: 
IT Infrastructure Manager, TechSolutions Ltd | 2016 – Present
Lead the IT infrastructure team in optimising and maintaining critical systems, including servers, networks, and security protocols. Led technology upgrades and strategic planning to enhance operational efficiency and minimise downtime. Collaborate with cross-functional teams to align IT initiatives with business goals. 
Implemented a comprehensive disaster recovery plan, reducing data loss risk by 30%.

Designed and executed a network upgrade project, increasing bandwidth by 40% and enhancing connectivity across multiple office locations.

Streamlined IT procurement processes, resulting in a 15% cost reduction while maintaining the quality of hardware and software acquisitions.
Junior Data Analyst, DataTech Analytics | 2019 – Present
Assisted CTO and senior software developers in routine system maintenance and troubleshooting, ensuring minimal downtime and optimal system performance. Analyse and interpret complex data sets to extract actionable insights for clients. Manage and optimise databases, ensuring data accuracy and security. Develop and maintain ETL processes for efficient data extraction and transformation. 
Streamlined data processing workflows, reducing data processing time by 20% and enabling faster access to critical insights for stakeholders.

Identified and eliminated redundant data sources, leading to a 10% reduction in data storage costs while maintaining data availability.

Optimised A/B testing methodologies, resulting in a 20% increase in the conversion rate of digital marketing campaigns.
For more information, refer to how to list work experience on a CV.
How to decode and list education on an IT CV 
While tertiary education, such as your bachelor's or master's degrees, is essential, don't overlook the value of paid or free courses, certificates, and professional training in enhancing your qualifications.
Explore careers with the National Career Service for more specific entry requirements.
Examples of education: 
Bachelor of Science in Computer Science, University of Manchester, 2018

Diploma in Information Technology, London School of Information Technology, 2020

Certification in Cybersecurity (CISSP), International Information System Security Certification Consortium (ISC²), 2019
For more information, see how to add education to a CV article.
Boost your CV with courses and certificates
Continuous learning is the lifeblood of a successful IT career. Enrich your CV with online courses or certificates to help you stand out from a pool of candidates. To choose the right path, we suggest researching the specific job position to ensure your CV is up to date with the latest industry requirements. 
Examples of courses and certificates:
Certified Information Systems Security Professional (CISSP), International Information System Security Certification Consortium (ISC²), 2020

Cisco Certified Network Associate (CCNA), Cisco Networking Academy, 2019

AWS Certified Solutions Architect - Associate, Amazon Web Services (AWS), 2021

Microsoft Certified: Azure Administrator Associate, Microsoft, 2020

CompTIA A+ Certification, CompTIA, 2018
See courses and certificates in a CV article for more industry-specific examples.
Key takeaways 
Crafting an IT CV can seem overwhelming, but that's not the reason to hold you back from trying and not be afraid of failure. With our practical steps, you can outbeat the competitors and show a CV highlighting your skills and qualifications, setting you on the path to success in the ever-evolving IT industry. The job of your dreams is within your hands!
Next Steps?
To help you create an ATS-friendly and up-to-latest-standards CV, don't forget to explore our services below:
Dedicating time to making a job-specific CV can help you significantly improve your job prospects and eventually secure a job interview. 
FAQ 
How do I write a good CV for an IT job?
To increase your chances of getting shortlisted for the interview, make sure to follow the next steps:
Keep it concise, ideally two pages or one page if you're an undergraduate or school leaver

Start with a robust personal profile, including soft skills

List your relevant skills and technical proficiencies

Detail your work experience, focusing on measurable achievements

Highlight your educational background.
What do I put on a CV for IT skills?
Deciding what IT skills to add depends on the specific job you're applying for. Regardless of where you are in your career, you can incorporate one of the following areas of expertise followed by technical proficiencies:
Programming Languages: Java, Python, C++

Cloud Services: AWS, Azure, Google Cloud Platform (GCP)

Database Management: SQL, MongoDB, Oracle

Network Administration: Cisco, Juniper, Palo Alto

Cybersecurity: CISSP, Intrusion Detection/Prevention Systems (IDS/IPS), Siem tools

DevOps: Docker, Kubernetes, Jenkins

Web Development: HTML, CSS, JavaScript

Data Analysis: Excel, Tableau, PowerBi

IT Support: ServiceNow, Zendesk, Jira
What is the IT field summary for a CV?
The IT field summary on your CV concisely overviews your experience, skills, and career objectives in the IT industry. It gives employers a quick glimpse of your qualifications as well as your personality.
How do you write an IT CV with no experience?
Focus on your educational background, relevant coursework or certifications, and IT projects you've undertaken. Highlight your passion for IT and your willingness to learn. We also recommend following a skills-based CV approach to help you emphasise your skills and projects more prominently.
How do you describe my IT skills?
Describe your IT skills by specifying the programming languages, software, and systems you're proficient in. Use concrete examples from your work experience to demonstrate how you've applied these skills to solve problems and achieve results.
How to format an IT CV example?
No universal format applies to every profession, but we've compiled a list of tips to help you get started and find your best font and right design:
Opt for an ATS-friendly template, ideally a one-column CV

Use a clear, professional font (e.g., Arial, Calibri)

Include relevant headings that apply to your industry 

Keep it concise, and avoid lengthy paragraphs.

Use bullet points for achievements.
Land the interview for your dream job with CVMaker
Effortlessly create your professional CV within 10 minutes and download it whenever and wherever you want!
Create your CV
Increase your chances landing your dream job with CVMaker.