Software Developer CV
Sam, an experienced Software Developer, has opted for the simple yet professional Toronto template. Having progressed through a series of technical roles, he is exploring new opportunities within software engineering.
Create your CV
"Creative problem solver, experienced in creating high-quality clean, scalable, and reusable code with proven success in developing innovative solutions for android applications and client-server platforms."
Sam Johnson
- Software Developer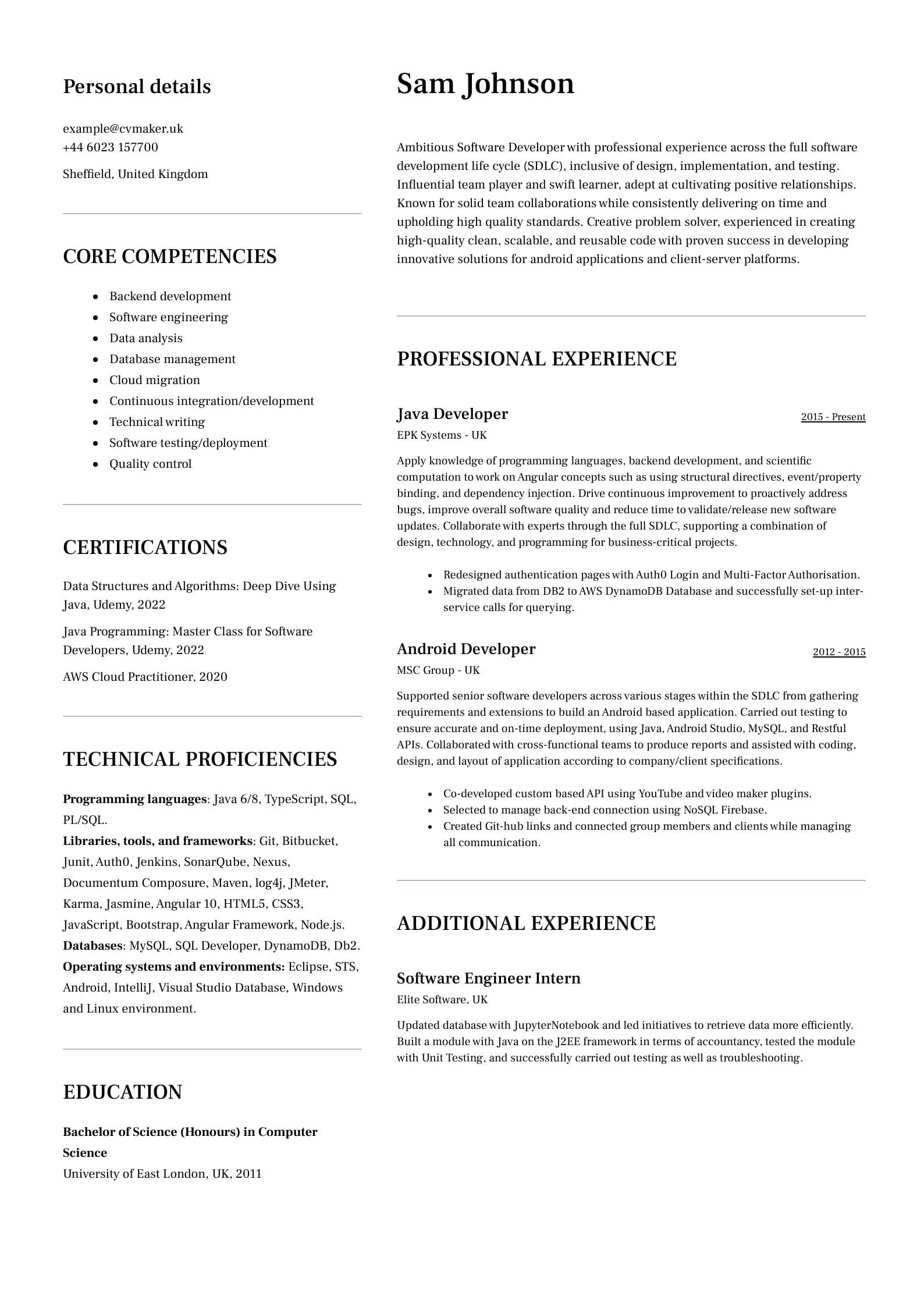 Software Developer CV 2023: Tips and Examples
At its core, software development is the art of crafting digital solutions. It involves translating ideas into code and creating applications that streamline tasks, entertain, or solve problems. Through a blend of programming languages, frameworks, and creativity, developers engineer software to meet diverse needs. As technology shapes our world, software development stands as the driving force, shaping how we communicate, work, and experience life in this digital age.
Whether you're curious about software development or a seasoned developer, this article is for you. We navigate you through crafting a software-focused CV, aligning with the latest industry trends.
The CV writing process: Where to start?
Achieving a solid CV requires preparation. This phase shapes both your master CV and job-tailored CVs. This method holds immense importance for gathering accurate job-search information and steering you toward formulating a CV that aligns with your career objectives.
The master CV chronicles your educational and professional journey from schooling to your current role. It comprehensively showcases your hard and soft skills. 

By extracting relevant data from the master CV and moulding it to suit targeted job applications, the preparatory stage is critical in steering you toward job-specific CV creation, diverging from generic approaches and passing applicant tracking systems (ATS).
Software Developer CV example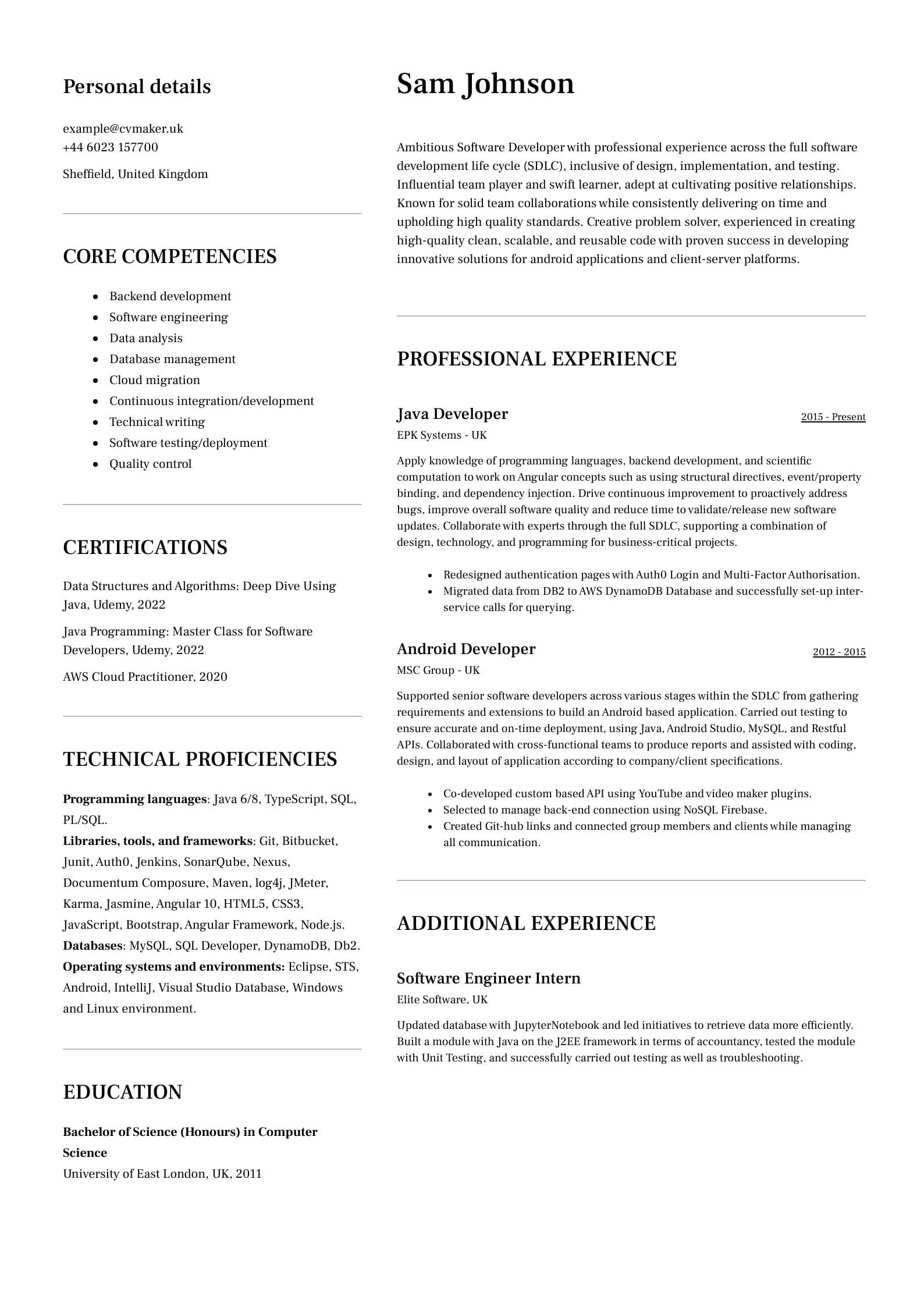 Download this software developer sample CV in PDF
Sam Johnson, an experienced Software Developer, opted for the simple yet professional Toronto template. Having progressed through a series of technical roles, he is now open to new opportunities in software development.
What to include in a software developer CV? 
Various strategies apply to professional documents like CVs, cover letters, thank you letters, and LinkedIn profiles. Amid this diversity, the key lies in incorporating essential keywords, technical skills, and qualifications consistently. The cornerstone of a good CV is a robust format, readability, and alignment with specific job objectives.
Create a targeted and concise personal profile 
A personal profile, also known as a summary and various other naming conventions, is the first section that recruiters or hiring managers will read. If you want to know more about how to write a personal profile or what makes a good CV, read our blog articles with more tips and examples.
Senior software developer personal profile example
Ambitious Software Developer with 5+ years experience across the full software development life cycle (SDLC), inclusive of design, implementation, and testing. Influential team player and swift learner, adept at cultivating positive relationships and known for solid team collaborations while consistently delivering on time and upholding high-quality standards.
Graduate software developer personal profile example
Recent Computer Science graduate passionate about software development. Solid foundation in Java, Python, and software design principles. Thrives in collaborative environments, offering fresh perspectives and innovative solutions. Effective communicator with teamwork expertise. Committed to staying current with industry trends and producing efficient, user-focused software solutions. Excited to contribute skills to dynamic teams, driving growth through cutting-edge applications.
If you have little to no experience, you must demonstrate your transferable skills and passion/interest in a specific job or field. Refer to our student CV or graduate CV examples for more tips.
Pro Tip
You must leverage your experience or qualifications to tell the recruiter why you are the perfect candidate. Refer to your research where you listed soft skills relevant to your career goals and incorporate them accordingly.
Add skills to your CV
Incorporating skills into a CV often poses a challenge for many job seekers. You might be wondering which skills are most suitable and where to place them. The guiding principle in CV writing is to distinguish your skills and prioritise those that are pertinent to the role.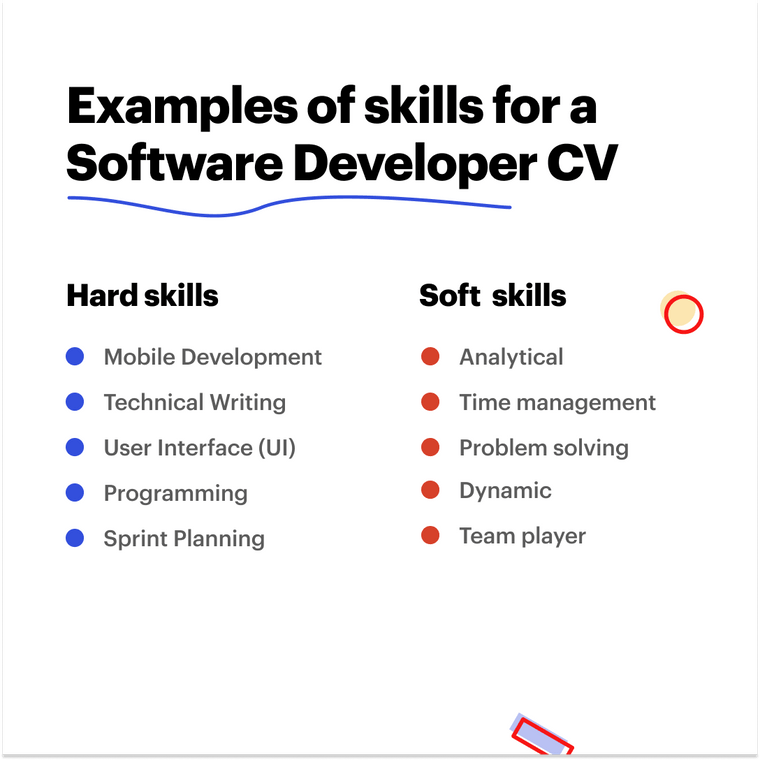 For more tips, refer to our article on what skills to put on a CV.
Differentiate between what you did versus what you achieved
Experience takes on different shapes, encompassing work, volunteer activities, and educational pursuits. Instead of simply listing responsibilities and accomplishments as bullet points, we recommend focusing on differentiating between your day-to-day tasks and notable accomplishments for each experience.
Mobile Software Engineer & Technical Lead, NovaSoftware | 2018 – Present
Provide strategic guidance and direction to ensure team functions smoothly and communicate product goals, business logic, and all technical aspects to achieve on-time delivery of mobile solutions. Design, develop, test, and maintain mobile applications using Xamarin/C# for iOS and Android. Utilise Jira to plan, update, track, and manage new mobile features. Test and deploy software releases through TestFlight, App Centre, Play Store and Apple Store. 
Created Xamarin unit testing framework and delivered over 1000 unit tests.

Established and communicated test plans and cases for development and quality assurance (QA).

Migrated views, controls, and features towards Xamarin.Forms and embedded within Xamarin.Native.
For more insight, refer to our article on how to effectively showcase your work experience. Alternatively, refer to our article on achievements and how to incorporate them into your CV.
Include education and other relevant qualifications
Most commonly, you should only feature tertiary education if relevant, as it typically merits its own section. Nevertheless, education extends beyond formal degrees to encompass paid or free courses, certificates, and professional training. Discover more about enhancing your interview prospects by strategically incorporating pertinent courses and certificates into your CV.
Key takeaways
Navigating the process of crafting a software CV can be overwhelming. These actionable steps can guide you in shaping a CV that effectively showcases your strengths and credentials, setting the stage for a prosperous tech career.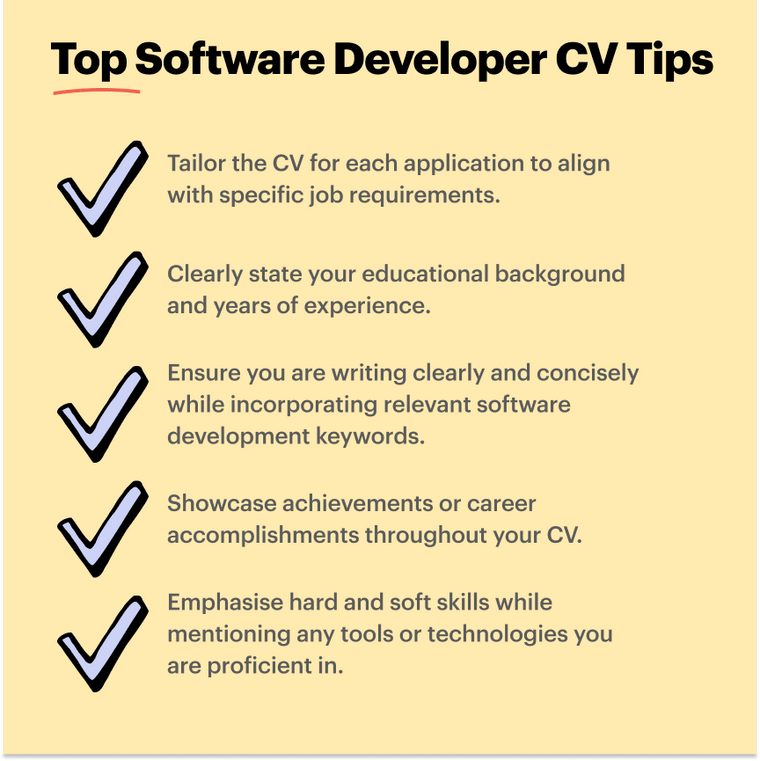 Next steps?
Our professional CV templates are well-structured and formatted and can be easily recreated in our CV Builder. If you are seeking professional writing support, find out more about our CV Writing Services or refer to our extensive list of CV examples for more inspiration.
FAQ
What is the average salary of a software developer? 
According to technojobs, the starting salary is £21,000 and can go to £64,000 for an experienced Software Developer. However, the national average salary for a Software Developer is £31,000.
How do you create a software developer CV with no experience? 
We recommend a skills-based CV format, focusing more on your skills and qualifications and less on your experience if you writing a junior software developer CV.
What if you have little-to-no software development experience?
Whether you lack prior software development experience or are a recent graduate with some exposure, it might appear that such background holds no relevance. However, this assumption is far from true. Any form of experience or qualification holds potential value when strategically integrated into your CV.
In today's landscape, fast-track qualifications like coding boot camps and various online tech courses have gained significant popularity as pathways to becoming a developer. These options can greatly enhance your CV and pave the way for a swift transition into the field.
Land the interview for your dream job with CVMaker
Effortlessly create your professional CV within 10 minutes and download it whenever and wherever you want!
Create your CV
Increase your chances landing your dream job with CVMaker.