Skills-based CV
Taylor has opted for the modern Pecking CV template due to its professional and easy-to-follow structure. It concisely highlights qualifications summary and education which are main features of a skills-based CV. The two-column layout makes this CV more organised and precise.
Create your CV
"Recent graduate with a master's degree in computer science. Swift learner, well-versed in programming principles and algorithmic foundations of computing with two years of work experience. "
Taylor Nguyen
- Software Engineer Intern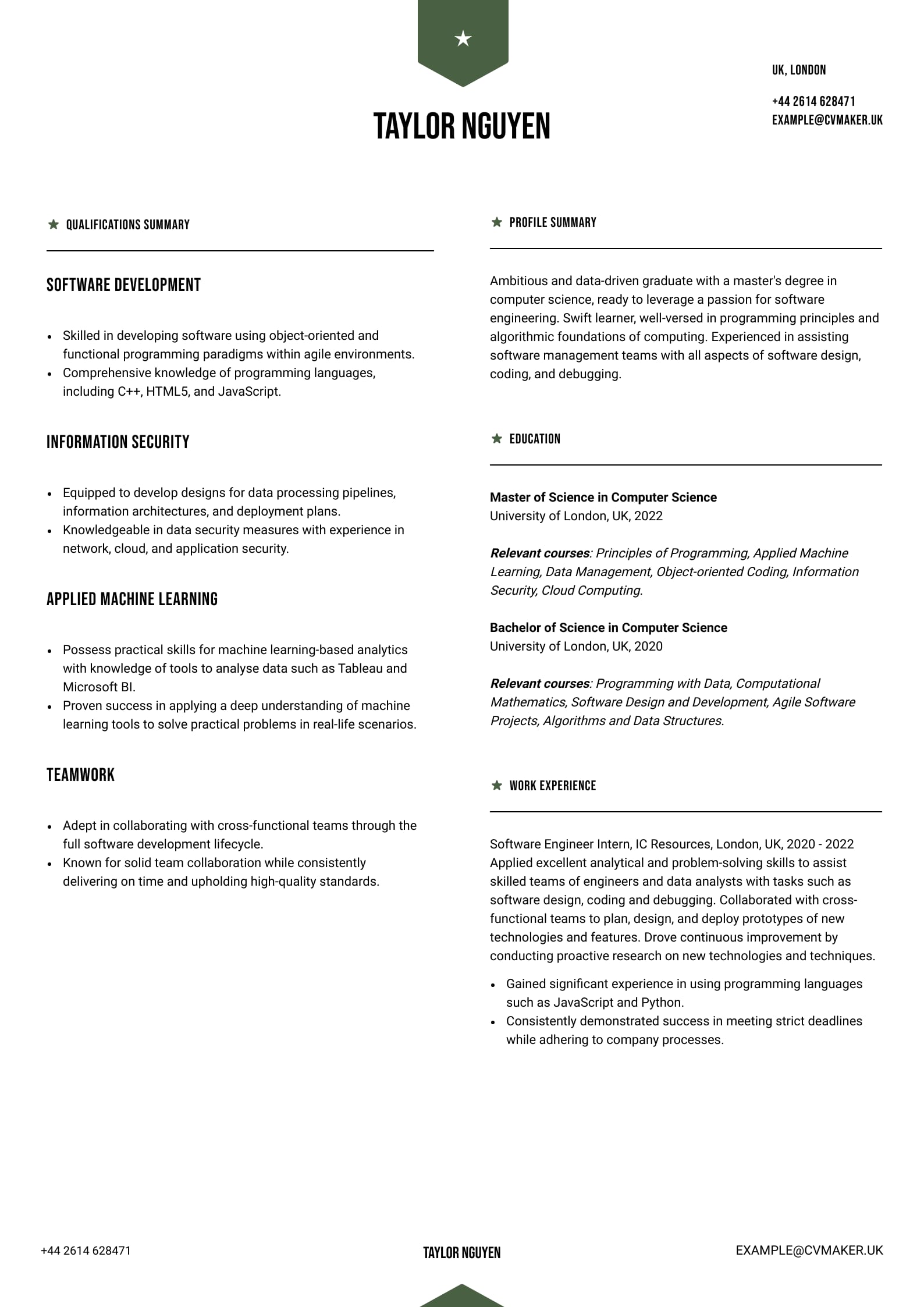 How to Create a Winning Skills-based CV in 2023
A skills-based CV, also known as a functional CV, is an alternative format you can use to showcase your transferable skills and qualifications over work experience. Unlike a traditional, chronological CV, the choice of this type of CV depends on the job you're targeting and your career goals. By showcasing your skills and grouping them together, you can successfully demonstrate your suitability for the desired position.
We suggest using a skills-based CV if you can relate to one of the following scenarios:
You're a job hopper or have only had a few short-term or temporary jobs.

You have had one or more career gaps in your professional history.

You wish to change careers; however, you don't have enough relevant experience to make the transition.

Your work history only consists of volunteering or unpaid work experience.

You're a student or graduate with little to no experience.

You wish to kickstart a new career out of extracurricular activities or passion.
The skills-based CV layout is often used for career changers, job hoppers, and candidates with little to no experience. If you have over 10 years of experience in a specific field but would like to change industries, a skills-based CV is the best way to demonstrate your relevant skills while not disregarding your work experience. See our skills-based CV template below and read a step-by-step guide on how to apply this format to your career document.
The CV writing process: Where to start?
When writing your skills-based CV, you need to ensure that you include keywords relevant to your career goals. The first step to writing a skills-based CV is preparation. At this stage, you need to strategically research, collect, and analyse information from job postings. Identify the main requirements and skills you need to perform a job. Following this step ensures you are creating an ATS-friendly, keyword-focused CV. The next step is creating a master CV and customising it to specific jobs.
Master CV
A master CV is a comprehensive document that outlines all your professional and academic qualifications and experience, including your key skills. In other words, it's a log of your entire career history, providing a complete overview of your background in reverse-chronological format. Use it as a reference when creating several job-specific CVs.
Job-specific CV
A job-specific CV is a tailored version of your master CV. While it is time-consuming to create, it significantly increases your chances of getting noticed and eventually getting shortlisted for the job interview. Focus on key skills and keywords that align with your job target and career goals. Ensure your skills-based CV is at most two pages long, ideally one for a candidate with little to no experience.
See the article on how to improve your CV for more information.
Pro Tip for a Skills-based CV
If the company requires you to be tech-savvy, you can then include a 'Technical proficiencies' section to list all the tools you are knowledgeable in.
Skills-based CV example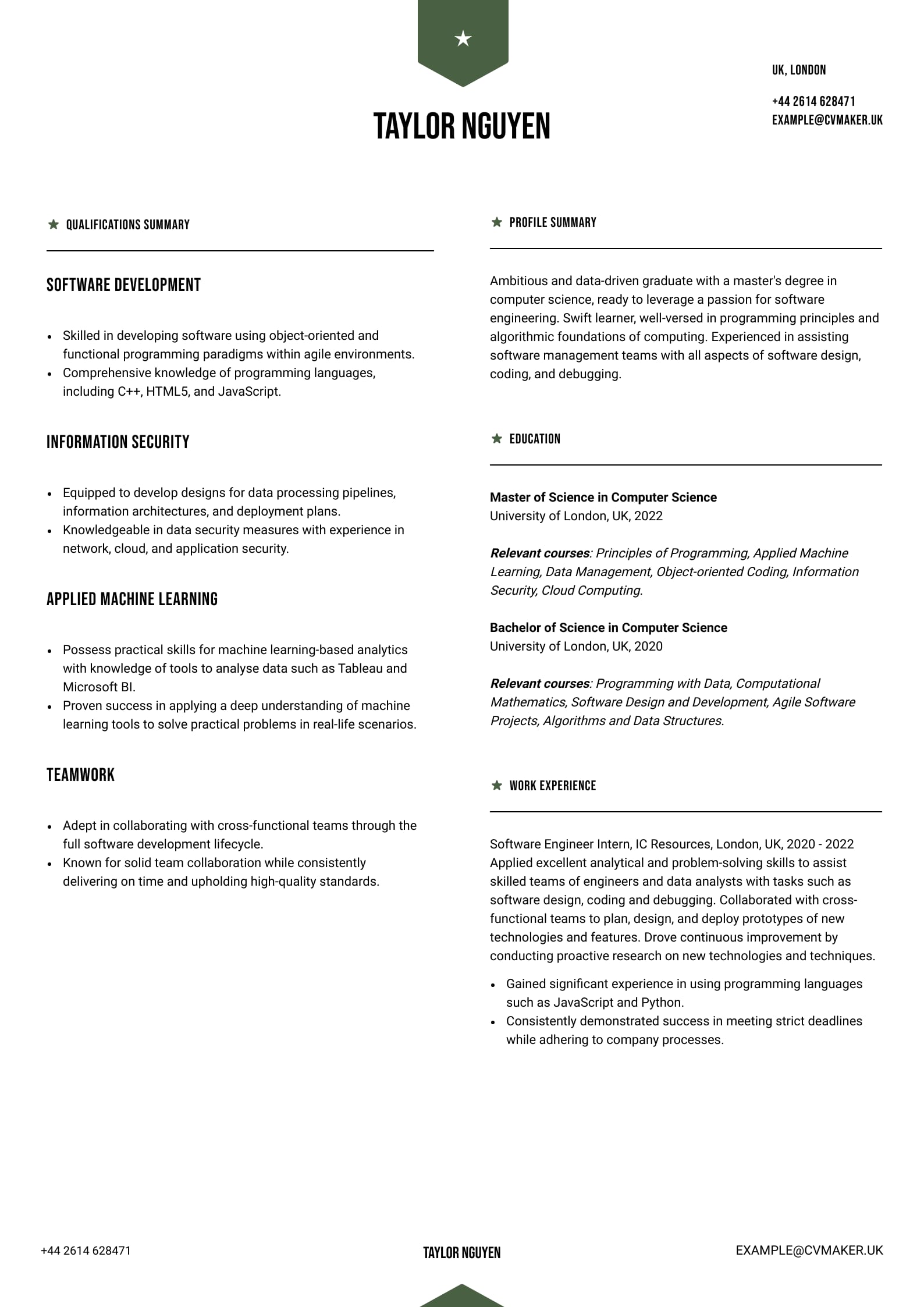 Download this skill-based CV example in PDF
This CV example features Taylor Nguyen, a recent graduate who holds two degrees and has completed an internship. He has chosen the modern skills-based template because of its two-column layout. Despite having little work experience, Taylor demonstrates transferable skills from his academic background in the qualifications summary section. His relevant experience sets him apart from other candidates, making him suitable for his next role as a software engineer.
How to write a skills-based CV?
To write a skills-based CV, prioritise and highlight your areas of expertise, focusing less on work experience. Identify and showcase key abilities relevant to the job while acknowledging previous experience. The skills-based CV format is mostly used for career changers or those who don't have much experience in a specific field or industry.
Most common sections for a skills-based CV typically include personal details, personal profile, qualifications summary, work experience, education, skills, and technical proficiencies, if applicable. Effectively showcase these sections to demonstrate your key skills and values.
See how to write a good CV for more inspiration and guidance.
How to write a qualification summary on a skills-based CV
The core part of any skills-based CV is the qualifications summary, a brief highlight of relevant experience, accomplishments, and skills. It aims to showcase qualifications or skills related to the jobs you are applying to.
In this section, you can list your top three or four skills that align with your career goals. Hard or technical skills are the focal point of a skills-based CV. Additionally, soft skills such as teamwork, leadership, or project management can be incorporated, too, as long as they are relevant to your career goals. To more effectively present your qualifications, apply examples from your work experience or studies to prove you're capable of doing your job.
Examples of a qualification summary for a skills-based CV
Data entry and analysis
Reduced data entry errors by 50% through the implementation of automated data validation checks and improved data entry protocols, resulting in enhanced data accuracy and reliability.

Increased data analysis efficiency by 30% by developing and implementing standardized data templates and streamlined workflows, allowing for quicker data processing and analysis.

Regularly monitored database performance and fixed errors, resulting in a 20% increase in speed in data retrieval and processing.
Database management
Developed and executed data management policies which resulted in improved procedures, data quality, and integrity.

Applied data security measures to ensure data integrity and compliance with data protection regulations. 

Successfully migrated a legacy database to a new system, ensuring seamless data transfer, resulting in improved performance and accessibility.
Project coordination
Successfully managed the budget for 5 projects valued at over £30000 each.

Closely worked with three project managers for a career services company, overseeing all aspects of project facilitation for annual software development projects totalling £2 million.

Improved the company documentation by implementing progress monitoring, task tracking, and using the KPI performance scale to ensure effective collaboration on the timely delivery of projects.
See the project manager CV for more information.
How to list skill types on a skills-based CV
A skills-based CV aims to showcase both your hard skills and soft skills effectively. Rather than having a separate section for skills, integrate them throughout your CV and focus on the qualifications summary. Incorporate relevant skills within sections such as work experience, education, and achievements to provide a comprehensive overview of your abilities. Highlight how you applied these skills in your past experiences to demonstrate their relevance. Remember, the goal is to leave a long-lasting impact on recruiters or hiring managers, drawing attention to your qualifications and transferable skills.
Examples of skill types on a skills-based CV
Administrative Skills:
Time management

Event planning

Record keeping

Workflow optimisation

Attention to detail.
Management skills:
Team leadership

Decision-making

Strategic planning

Performance management

Change management.
Analytical Skills:
Data analysis

Research

Problem-solving

Decision-making

Creative thinking.
Interpersonal Skills:
Communication

Teamwork

Presentation

Negotiation

Active listening.
How to write an effective personal profile for a skills-based CV
A personal profile section provides recruiters with an insight into who you are and how you can contribute to the company. Ensure you tailor your personal profile to match the specific job you're applying for, keeping this section clear, concise and relevant. If you're a student with little to no work experience, then highlight your education, skills, or additional experiences in the personal profile.
Career change personal profile example
Ambitious Product Manager seeking to transition to a Business Analyst role. Passionate about solving business problems through efficient and data-driven solutions. Adept at providing suggestions for improvements, writing reports, performing research, and analysing data
Graduate personal profile example
Attentive and organised graduate majoring in International Human Rights Law,  experienced in building partnerships with clients and knowledgeable in court procedures and case transcriptions. Adept at legal research, document filing, and time management. In search of an entry-level job position as a policy advisor in a respected and professional law firm.
School leaver personal profile example
Proactive school leaver with a strong desire to become a Teaching Assistant. Demonstrated leadership through community service and volunteering. Excellent communication and interpersonal skills from public speaking and debate clubs. Proven dedication and strong work ethic with consistent academic achievements. Additional experience includes tutoring, assisting teachers, and participating in mentoring programs. Eager to develop professional skills in education and contribute to a learning environment.
See the graduate and school leaver article for more inspiration.
How to include work experience for a skills-based CV
In a skills-based CV, the work experience section comes after the qualifications summary. It helps you to list experience by strategically selecting and creating job descriptions to showcase your transferable skills that are relevant to your career goals. Research what the role entails so that you can strategically create both duties and achievements. It's crucial to include a qualification summary only after you have populated your CV with a qualifications summary and integrated your achievements throughout other sections.
Tips on how to list work experience on a skills-based CV:
List the most recent experience first and work your way backwards.

Use a reverse chronological order.

Provide measurable achievements.

Use keywords that relate to the job you're targeting.

Emphasise transferrable skills from previous roles.

Focus on what you did rather than listing all your duties and responsibilities.

Start your sentences with action verbs to describe your duties and achievements.
Pro Tip for a Skills-based CV
Maintain consistency by writing the job duties of your current role in the present tense and the bullets of all past roles in the past tense.
How to incorporate additional experience on a skills-based CV
Utilise the additional experience section to list only the title, location, and key achievements within each role. This section is strategically used to not forgo any experience and can essentially be seen as a career footnote, showcasing previous experience but without adding descriptions or dates that may impact your ATS results.
To find out more, read the article on how to write a CV with no experience.
How to list education on a skills-based CV
There is no standard way to list education on a CV, but rather, like most sections, there are CV strategies that can be applied. Since knowledge can be acquired in different ways, we suggest highlighting relevant degrees or training programs that could complement your formal education. To efficiently write an education section, please. If you're still studying, consider adding an expected graduation date instead. Ensure you include the following information:
Degree obtained

Institution name

Location

Date of completion or expected graduation date

Relevant courses

Any additional certifications, achievements or awards.
Tips on how to arrange education on a skills-based CV:
Descriptions: Write out the full name of the degree, such as Bachelor of Fine Arts, as opposed to abbreviations. However, if you decide to do so, then you must ensure you are doing so consistently throughout your education.

Dates: Exclude if it was completed 10+ years ago; otherwise, if recent, include the entire date range or year completed.

Relevant academic courses: List several courses which you find the most applicable to the position you are applying for, and avoid adding all completed courses.

Thesis topic: If an employer sees a relevant topic related to industry projects and research, it might be a good indication that your interests match the interests of a company. You can add the final grade of your thesis if it is eight or higher.
How to elaborate on courses and certificates on a skills-based CV
To boost your chances of landing a job, add courses and certificates, or professional training, as they could be a great addition to your main qualifications. Completing them presents you as a proactive candidate who takes the initiative to keep learning new skills. If you have had training at work or followed a professional development course, it is advantageous to create a separate section called 'Professional training' and list them there. Make sure to include the following details in your 'Courses and certificates' section.
Course or certificate name

Institution or course provider

Date of completion (or 'in progress').
Tips on how to list courses and certificates:
Use a separate section for courses and certificates.

Highlight relevant courses and certificates that demonstrate your skills and knowledge in a specific field, such as marketing or customer service.

List attended conferences, seminars and any other achievements that can bring value to your job.

Include up-to-date courses and use accredited providers.
Key takeaways 
While applying for a job can be inspiring and motivating, we realise it could also be time-consuming and challenging. Creating a well-designed and professional CV is surely not an easy task. After reading this article, you should have all the right tools and resources needed to impress recruiters. Whether you've already honed your career path or still deciding, this guide can be your first reference point. Review the provided CV example and read our tips above to ensure a successful career and a standout CV that recruiters can't overlook. By now, you should have gained a better insight into the following:
The purpose of a master CV and how to create job-specific CVs

The structure of a skills-based CV

How to write each component of a skills-based CV

How to transform a chronological CV into a functional CV

When and how to use a skills-based CV.
Next steps?
The job search process can be daunting and challenging. To save you time creating a skills-based CV, our dedicated team of experts in CV Writing Services can help you in every step of the writing process. If you need more guidance or inspiration on what career path to choose, explore our career blog and CV examples page with more than 30 CV examples to choose from.
FAQ
What is a skills-based CV?
A skills-based CV or also known as a functional CV, focuses on skills rather than experience. Traditionally, a CV is in chronological order and focuses on your most recent experience. It aims to draw the employer's attention to your transferable skills rather than focusing on a chronological overview of your employment history. In doing so, you are able to tailor your CV in a way that focuses on your ability to do a job and less on your experience.
What is the difference between a functional and a chronological CV?
The main difference between the two is that one is a functional CV and focuses on your skills, and the other draws attention to your work experience by listing your more recent experience first.
What is the best format for a skills-based CV?
The best format depends on your professional background and career goals. Nevertheless, any skills-based CV should be reader-friendly and easily accessible to a wider audience. While the visual part of the CV is crucial, it shouldn't be your main focus. You can opt for both a one or two-column layout based on your experience and template. In the end, the goal is to create an easy-to-read, ATS-friendly CV that remains informative, clear, and relevant. See the tips below for more information:
First-person phrasing: Always write in the first person (e.g. 'Manage' rather than 'Manages') with personal pronouns such as I, me, they omitted in a CV.

Avoid Word Salad: Brevity is key, so always review your sentences by reading them out allowed or even asking a friend or family member to review them.

Verb use and tense: Use strong, active verbs to describe your duties and achievements while ensuring the tense is correct.

Spell check, grammar, and punctuation: Always proofread your work to make sure it is consistent in the way you write numbers, have years of experience, or even know how to use serial commas.

Length: Don't exceed two pages. If you find yourself going onto the second page, ensure it is at least one and a half long.
When to use a skills-based CV?
A skills-based CV is used by individuals with little-to-no experience or for people who are switching careers. It is a strategic layout that primarily focuses on transferable skills and relevant aspects of your previous roles or education, providing insight into your abilities and achievements.
See the internship CV article to learn more.
When not to use a skills-based CV format?
A skills-based CV can be unnecessary if you already possess relevant experience that you can elaborate on. The work experience section is invaluable in the majority of industries, making the reverse-chronological format prevail in the UK and across the globe. If you're looking to transition to a different role within the industry or have already held multiple job roles, the traditional chronological format should suffice.
Which sections to include in a skills-based CV
When it comes to structuring a CV, there are certain recommended and optional sections. See the examples below:
Recommended:
Personal details

Qualifications summary

Work experience

Education.
Optional sections:
Accomplishments

Additional experience

Certifications

Professional training

Licence

Affiliations

Technical proficiencies

Languages.
What are the features of a skills-based CV
A skills-based CV prioritises specific skills of a candidate over other qualifications such as work experience or education. The main feature is a qualifications summary which allows you to group your skills and mention accomplishments from your work history or studies. Additionally, a skills-based CV focuses on transferable skills and related experience rather than directly mentioning the direct one, making it more suitable for school leavers or candidates with no experience.
How long should a skills-based CV be?
Your CV should be no more than two pages. If you have a one-page CV that slightly exceeds the page, then change the font size or format the document so that it at least goes into one and a half pages. Keep in mind that a one-page CV is predominantly used for people with little or no experience.
How to combine sections on a skills-based CV
The above explains high-level sections of a CV with exemptions. In certain cases, sections can be combined while ensuring your writing style remains consistent throughout the document. For example, if you are using all uppercase headings, forward slashes, or even ampersands, then you need to ensure each section is written the same way.
Examples of how to combine sections on a skills-based CV:
Education and Professional training

Education and Courses

Licence and Certifications

Work experience and Awards.
Where do you list skills on a skills-based CV?
With a chronological CV format, you list soft skills in your summary and hard skills in a new section called 'Areas of expertise', 'Core competencies', or 'Hard skills'. With a skills-based CV, the summary becomes the main focal point to list your top soft or hard skills and is known as a qualifications summary or skills summary. Here, you choose three to four top skills and then elaborate with examples from previous jobs to showcase your transferable skills or relevant experience.
How many achievements do I need to list per job entry?
You should list two to three key achievements per job entry, showcasing your daily duties versus your achievements. Remember to check your verb tense as well as use strong action verbs to describe both your duties and achievements.
Do you need a cover letter alongside your skills-based CV?
Yes, a cover letter is highly recommended. A well-written cover letter can boost your chances of landing a job and automatically set you apart from other candidates who didn't attach one. Overall, a cover letter is a great way to include or expand on relevant information that doesn't fit your CV.
Land the interview for your dream job with CVMaker
Effortlessly create your professional CV within 10 minutes and download it whenever and wherever you want!
Create your CV
Increase your chances landing your dream job with CVMaker.