Skills-based CV
Blair opted for the creative Pecking CV template due to its professional and easy-to-follow structure.
Create your CV
"Recent graduate with a master's degree in computer science. Swift learner, well-versed in programming principles and algorithmic foundations of computing with two years of work experience. "
Blair McLean
- Software Engineer Intern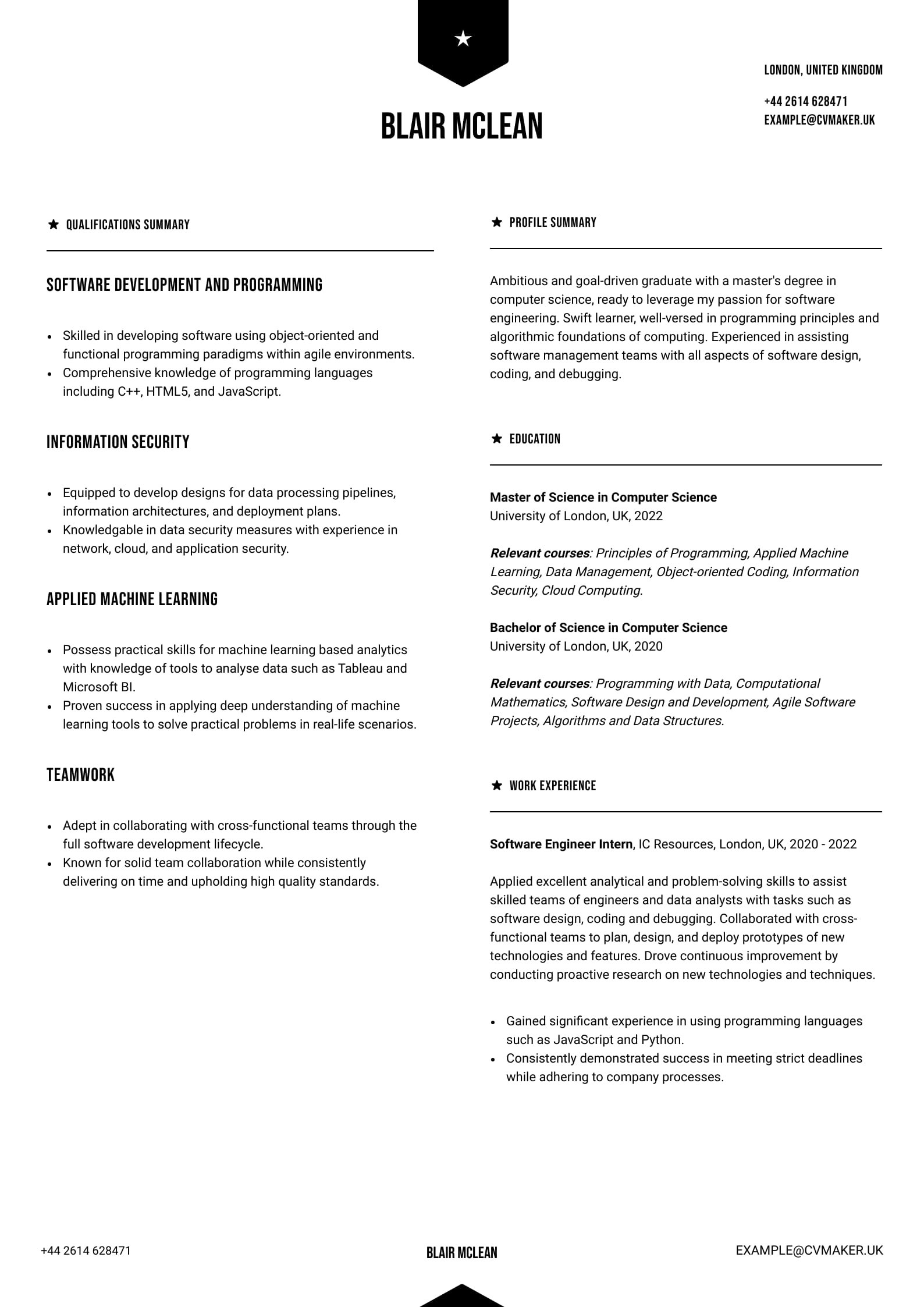 How to write a skills-based CV
Are you confused about whether you need a skills-based CV or a chronological CV?
Relax! That's quite understandable since you get so many different templates if you search 'CV format'.
In this article, we explain everything you need to know about a skills-based CV. Not only do we tell you what it is and when you need it, but we give you an example of how it must look, too.
What is a skills-based CV?
A skills-based CV focuses on key skills and core competencies by bringing them to the top of the document instead of your employment history.
It's not the most common method used for compiling a CV, but it's becoming a more popular choice. That's because it's an excellent way of standing out from other applicants under certain circumstances, which we'll discuss later.
Typically, most people opt for the chronological CV format that focuses on employment history with skills and responsibilities for each job in descending date order.
Skills-based CVs don't have a sequential order. Instead, they list combined proficiencies and knowledge upfront to let the reader know right away what experience you have. The focus is on transferrable skills that aren't situational and can be used in various roles.
Importantly, skills-based CVs are targeted to specific job posts or vacancies and carefully crafted using keywords of the potential employer, matched with your competencies and skills.
Consequently, you can't use the same one twice; it must be tailored for each separate application.
Depending on your skills, education and experience, you may want to craft a combination CV. In that case, you'll have a skills-based section on the first page and a summarised chronological work history on the second.
Skills-based CV example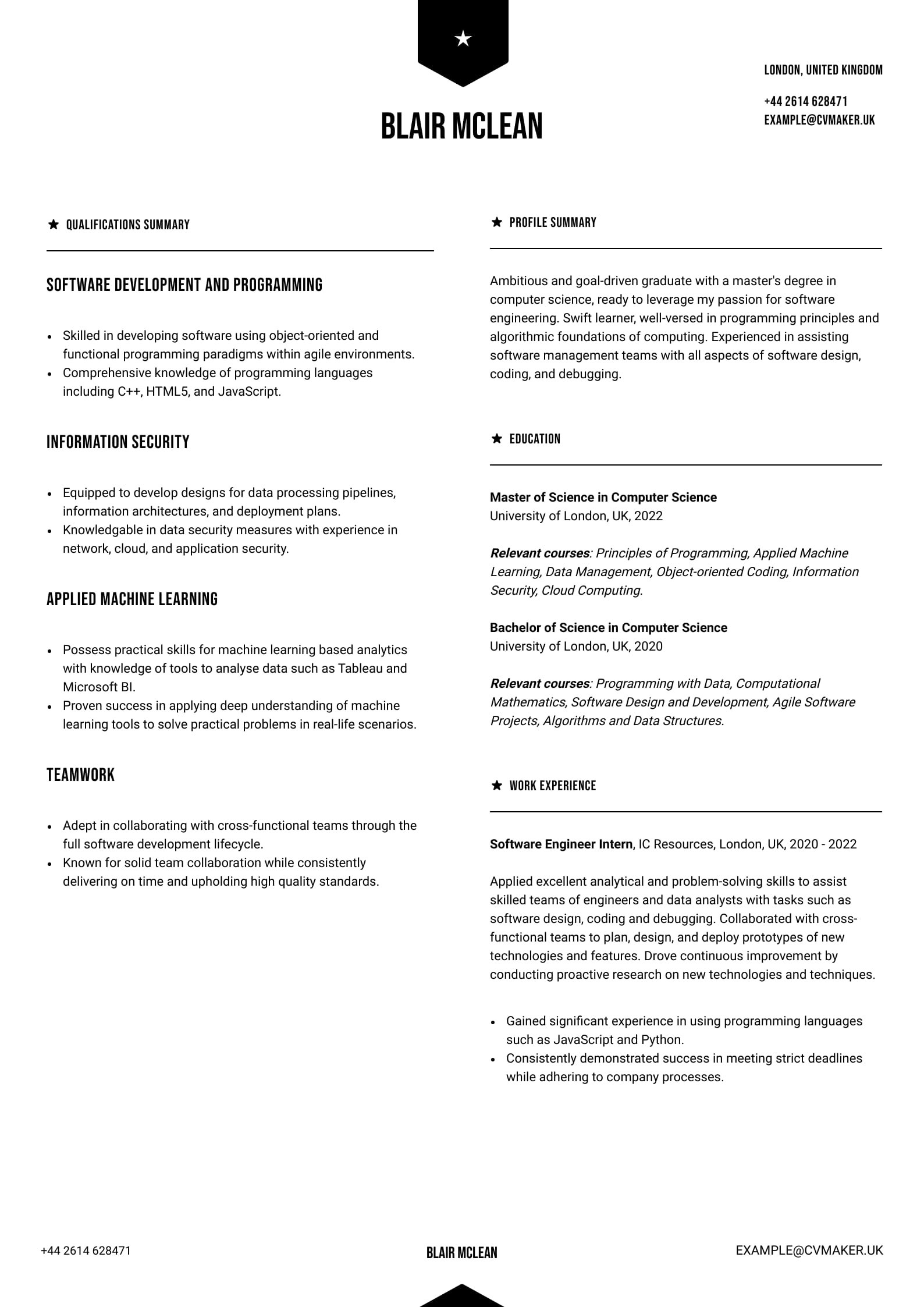 Download this skill based CV example as PDF
Looking at this skills-based CV template, you can see how Blair has brought his academic qualifications onto the first page. He also lists his qualifications in the summary on the opening page because he has limited working experience. Blair chose the clear and concise Auckland template which makes for no-fuss reading. It can be used without a photo. 
When do you need a skills-based CV?
The best time to use a skills-based CV is when –
You have limited or no working experience

You're a new graduate

You're thinking of changing careers

You've been out of the job market for a while
Having scant or no employment history makes it difficult to stand out from the sea of hopefuls when applying for jobs, even when you have outstanding qualifications. And considering the number of applications that fill recruiters' mailboxes, they're not going to spend time on a weak looking CV.
It's much the same with career gaps. When the reader notices you've been out of work for an extended time, it's unlikely they'll reach out to find the reason. If the break spans beyond a year, they'll probably think you lack the necessary skills and bin your submission.
Employers are more open to hiring entry-level employees with little to no job history. It becomes more challenging, though, when you're looking for mid-level onwards or specialised roles.
So it's up to you to get the initial readers attention by showing them your worth immediately to secure a screening interview.
This is a vital step since many hiring managers aren't the first to read through applications. You can't bet your hopes on their knowledge to recognise your value.
Very early steps in the hiring process are frequently left up to agency recruiters, junior HR team members or personal assistants. Often they don't fully understand the role and work primarily off keywords when shortlisting candidates.
Once a candidate shortlist is drawn up, the selected CVs are sent to the hiring manager or circulated to the hiring team. The rest are regretted without further consultation.
If you have little work experience or have been unemployed for a while, either by choice or circumstance, you could find job-hunting a daunting task. No responses or polite regret messages erode your confidence and can make you feel you're unemployable.
But that's not the case, and you just need some guidance on how to compile a winning skill-based CV that will see your name on the candidate shortlist.
How to write a skills-based CV
Always start working on your skills-based CV before you want to apply for jobs. The time you invest upfront will definitely be worth it in the long run.
The easiest way to identify all your skills and experience is to go through your work history and even your high school and tertiary education. For example, suppose you were the editor of your high school magazine. In that case, you have some experience that's necessary in public relations, communications and media. Or, if you were the treasurer of the university social club, you know a bit about finance.
Getting started –
Begin by listing all your hard and soft skills

Rate them by your proficiency level

Extract those that are transferrable, irrespective of the job

Don't discard those that only relate to definite settings - keep them aside
Finally, if you've worked previously and want to present a combination CV, list your past jobs with a summarised list of responsibilities. Focus only on skills and competencies that link to your skill-set.
That way, the reader can gain deeper insight into your experience and understand how these skills are transferrable.
Hard skills versus soft skills
Hard skills
Hard skills are the learned specialised and technical skills you've acquired. They're easy to measure in levels from basic to advanced, and you can improve on them through further study and training.
Both on-the-job and instructional training count and hard skills can be assessed with skills testing.
Examples of hard skills are computer skills, a degree, language skills or being multilingual, typing or data entry speed, software proficiency or technical skills.
Soft skills
On the other hand, soft skills are more challenging to measure since they're associated with cognitive abilities, emotional development, and thought structure. For instance, conflict resolution is a soft skill. It's also high on employers' lists of wants because disputes happen regularly in the workplace but are undesirable.
If you have it, list where you soothed tempers and motivated a team to work towards a common goal. An excellent example would be if you were the coach or captain of a competitive but successful sports team.
Other soft skills include flexibility, dependability, teamwork, leadership or problem-solving.
Putting your skills-based CV together
Only start putting your CV together once you see a job post you want to apply for. This is essential because you want to use specific keywords from the position in your CV.
The quickest way to identify keywords is to recognise words in the job title and opening headline and then repeated throughout the advert. Similarly, consider synonyms and phrases that align with the job title and see if you find them in the text.
Say, the job title is Creative Designer consider words like original, imaginative, innovative and inventive. If they're there, weave them into the text of your CV.
Personal details
Open the CV with your name and surname, full residential address, email and contact numbers. If you have hobbies and interests that relate directly to the job, include them. Perhaps the job is in public relations, and you enjoy public speaking and are a member of Toastmaster International. Leave unrelated interests out, though.
Profile summary
A personal profile summary is a crucial inclusion that sums up your past experience, present situation and future goals in only a few sentences. It's like a flash report that gives the reader insight into who you are, so think carefully and write it with precision. This is your first opportunity to grab the reader's attention.
Key skills and core competencies
This is your next and final opportunity to stand out from the rest so give it your full consideration.
Using the keywords extracted from the post, match them to your list of skills and competencies. Include them in your CV in the same order of importance as they're listed in the job ad. Provide enough detail to illustrate your knowledge and include actual situational examples.
Ensure you have at least 4 to 6 core skills listed with enough info to reflect your expertise. Keep your text to the point, and don't over-elaborate beyond what's necessary. You can expand on each during the interview process.
Employment history
This is where you include the list of jobs you've held previously with brief particulars of your responsibilities that link to your skills and competencies.
It can consist of voluntary, trainee and part-time jobs as well if they relate to the role.
Remember this is the second page of your CV, so keep it brief and reader-friendly.
If you don't have prior work experience, you can leave this section out.
Education and training
Start with your highest level of education and work backwards. This section might be crucial to your application or entirely irrelevant, depending on your intentions and the vacancy.
Where education is critical to securing an interview, provide detailed information in point form. Don't forget to take into account any short courses you've completed.
Incomplete training courses or degrees that are still in progress and relative to the job must be included with details of subjects/modules passed.
Still include your education if it's not relevant to the role, but keep it short.
References
Whereas we usually only list references from past employment, that's not necessarily the case with a skills-based CV. We may list anyone who can reliably confirm your levels of skills and competencies.
Someone such as a club captain can verify leadership skills for a team captain who applies for a job that needs leadership skills. Or a university professor can confirm communication and organisational skills for a successful team leader on past projects.
Don't include the contact details of references, though; instead, say 'available on request.' Further information can be shared during the interview stage.
Additional tips
Once you've complied your skills-based CV, it must be formatted to make it reader-friendly.
While you could feel that a fancy layout and font will draw attention, it's not the attention you want.
Recruiters are often inundated with applications, and visual fatigue is a reality. Difficult to read and lengthy documents add to the strain, which mainly results in them being overlooked.
Keep these rules in mind to create and easy to read CV that can be scanned through but still is informative -
Avoid heavy fancy fonts and stay away from blocks of colour

Stick to black internet-friendly fonts on a white background

Length matters, so don't exceed 2 pages

Keep content relevant to the job requirements only

Use positive, proactive language that's easy to read

Check spelling, grammar and dates if you include any
What's the difference between a chronological CV and a skills-based CV?
A chronological CV differs substantially from a skills-based CV in content and appearance.
While personal details and the profile summary remain the same, the employment history section in a chronological CV is detailed and comprehensive. It includes all past work with job titles, responsibilities and employment dates in chronological order.
Career gaps are accounted for, as well.
The reference section provides names of past employers in authority at the time of employment. Therefore they're in a position to give an accurate view of skills, attitude and productivity. 
Conversely, a skills-based CV isn't rigid in format and only reflects key skills and core competencies that align with the job advertised. There's no chronological order. Instead, they're listed in order of importance to the role.
Past employment history isn't that relevant, and only jobs that included the required skills and competencies are retained.
The purpose of a skills-based CV is to get noticed and included on interview shortlists where otherwise you might get overlooked.
To sum it up
Getting your dream job doesn't have to be out of your reach just because you don't have enough experience, want to change careers or have been out of the job market for a while.
A well-crafted skills-based CV can not only get you noticed but on the interview shortlist.
Let's recap on the key points to writing a perfect skills-based CV
Take time putting it together

Read job posts carefully and pick up keywords

Include only info that's relevant to the job

Write an upbeat personal summary into the CV focusing on the job requirements
When you send your application –
Always send your CV in pdf format

Don't send any other documents unless  specified as essential

Check that your contact details are easy to find on the CV
Land the interview for your dream job with CVMaker
Effortlessly create your professional CV within 10 minutes and download it whenever and wherever you want!
Create your CV
Increase your chances landing your dream job with CVMaker.