Modern CV
Sally Peterson opted for the modern Duke CV template. With experience as a Personal Assistant, this template effortlessly showcases all her experience, skills, and education on one page.
Create CV
"Dedicated administrative and business support professional with experience assisting senior business leaders and teams within fast-paced environments. "
Sally Peterson
- Personal Assistant - Modern CV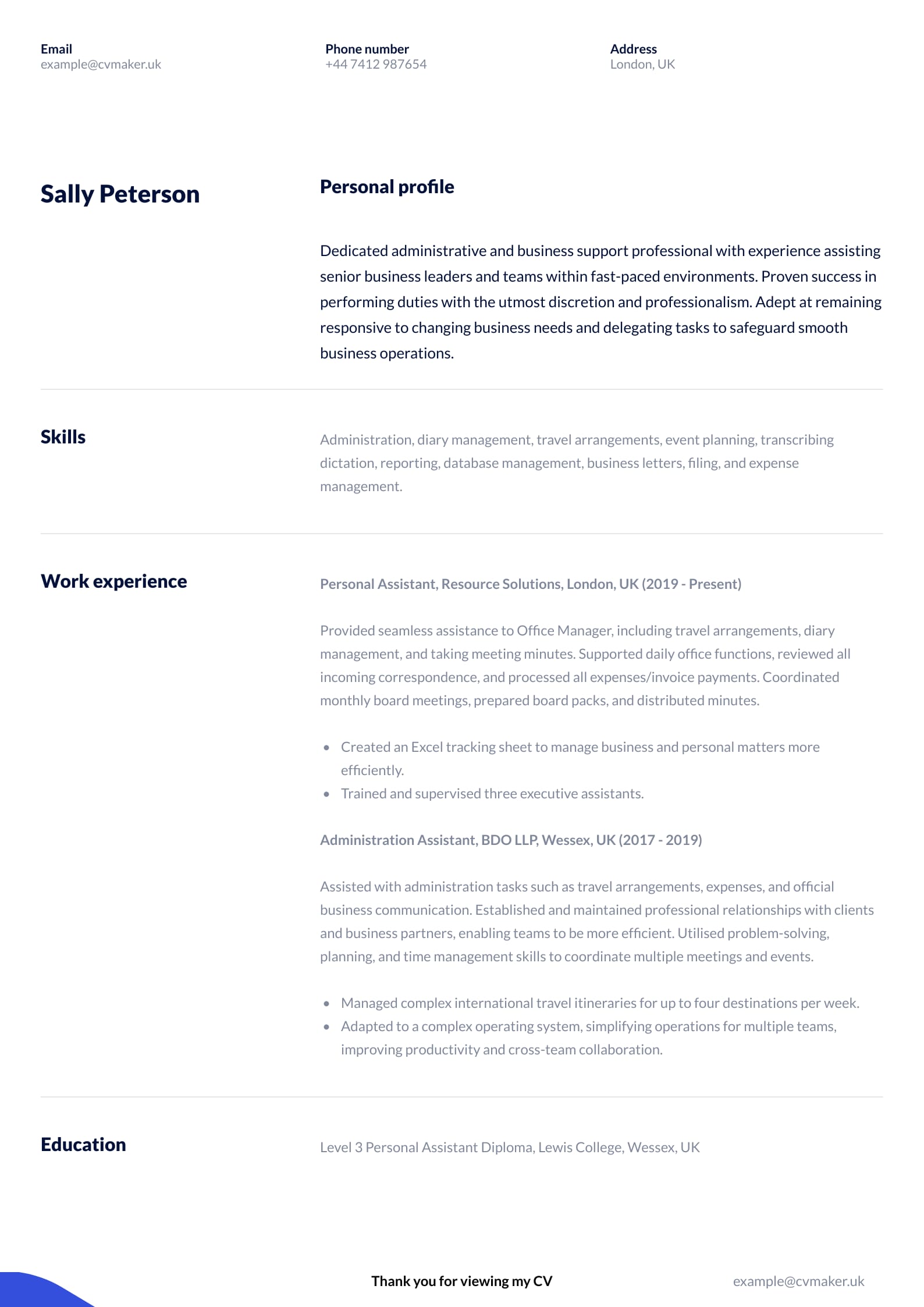 How to Write a Modern CV in 2023 (Guide, Templates, and CV Examples)
In the competitive job market of today's modern world, having a well-structured, modern CV is crucial. As recruiters actively search for candidates and automated technology, like applicant tracking systems (ATS), continually evolves, crafting a concise and impactful CV that steers clear of overwhelming details and unnecessary visuals is essential. Remember, less is more. Aim to keep your CV focused and streamlined, ideally spanning two pages, emphasising core sections and prioritised presentation of relevant information.
To help you with your job search, we have designed an intuitive CV and Cover Letter Builder where you can select, populate, customise, and download editable modern CV templates. Want to know what the main focus of your CV should be? Read on for more examples and tips.
The CV writing process: Where to start?
Regardless of your career goals, we advise starting with a master CV and customising it for each specific job. The master CV is a comprehensive document, serving as the base for all job-specific CVs. It should include your relevant skills, experiences, education, interests, and additional training. Once you have the master CV, emphasise your unique selling points, conduct thorough research on the job description, and ensure that your CV showcases your understanding and alignment with the specific requirements of each role. Refer to our article on how to write a good CV, which discusses various sections within a CV with tips and examples.
What to include in a modern CV? 
When modernising your CV, essentially, you are updating it with a clean design and modern template that is well structured and lists your information concisely. Although conventional CV formats might look disinteresting or outdated, most employers still prefer candidates to have modern and easy-to-read CVs. Remember, too much content or a graphic-heavy CV tends to fail automated technology solutions as they become unreadable. 
A CV has many components, but when it comes to content, we recommend carefully writing each section with relevant skills and showcasing why you are the right person for the job. The contents of a good CV should always be relevant or tailored to the type of job you are targeting, regardless of your template or layout. Ultimately, the goal with a CV is to land the interview where you then elaborate on your goals, education, and key achievements.
Modern templates
Yale modern CV template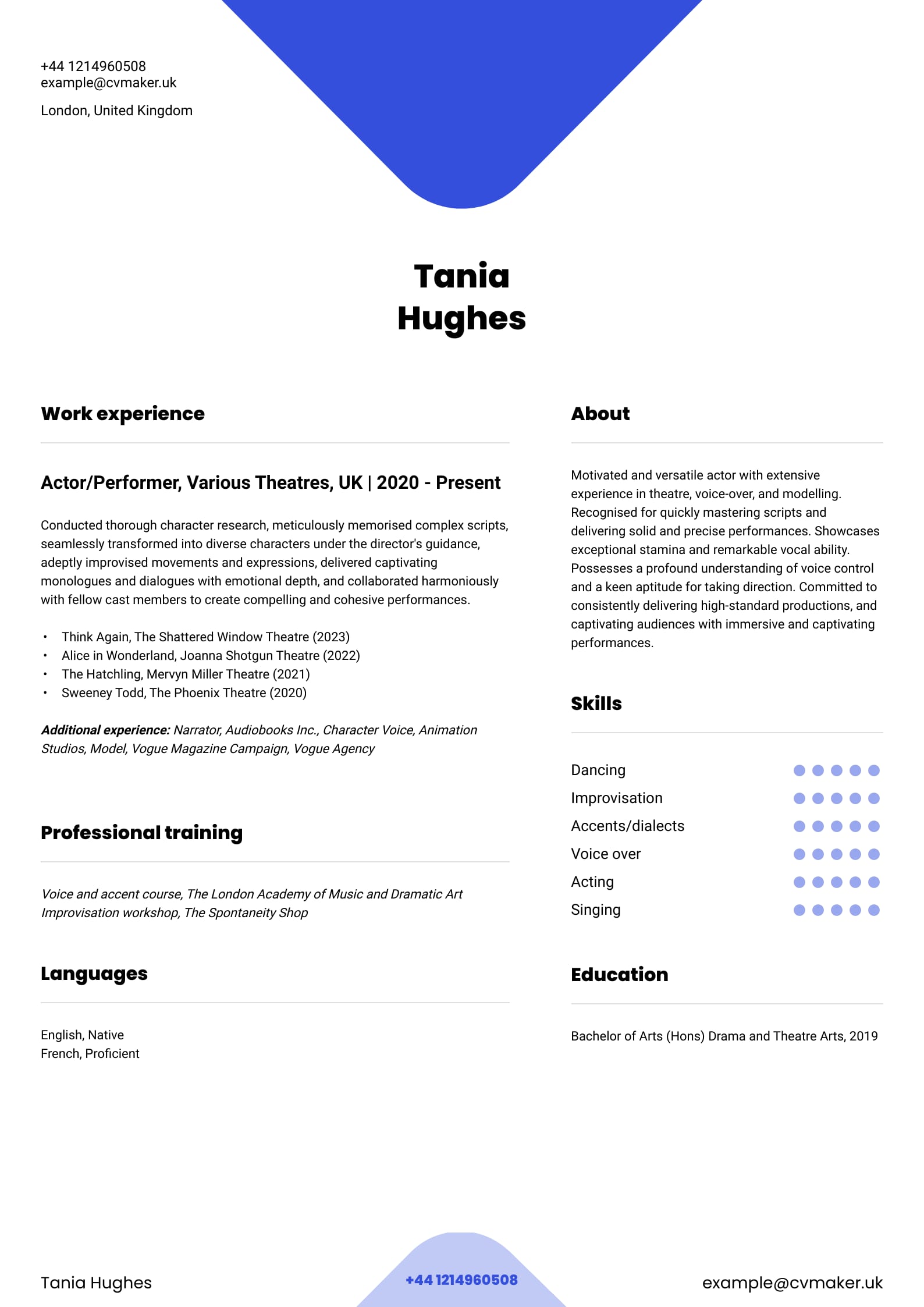 Download this CV example - Modern Acting CV PDF.
Refer to our acting CV example for more information.
Erasmus modern CV template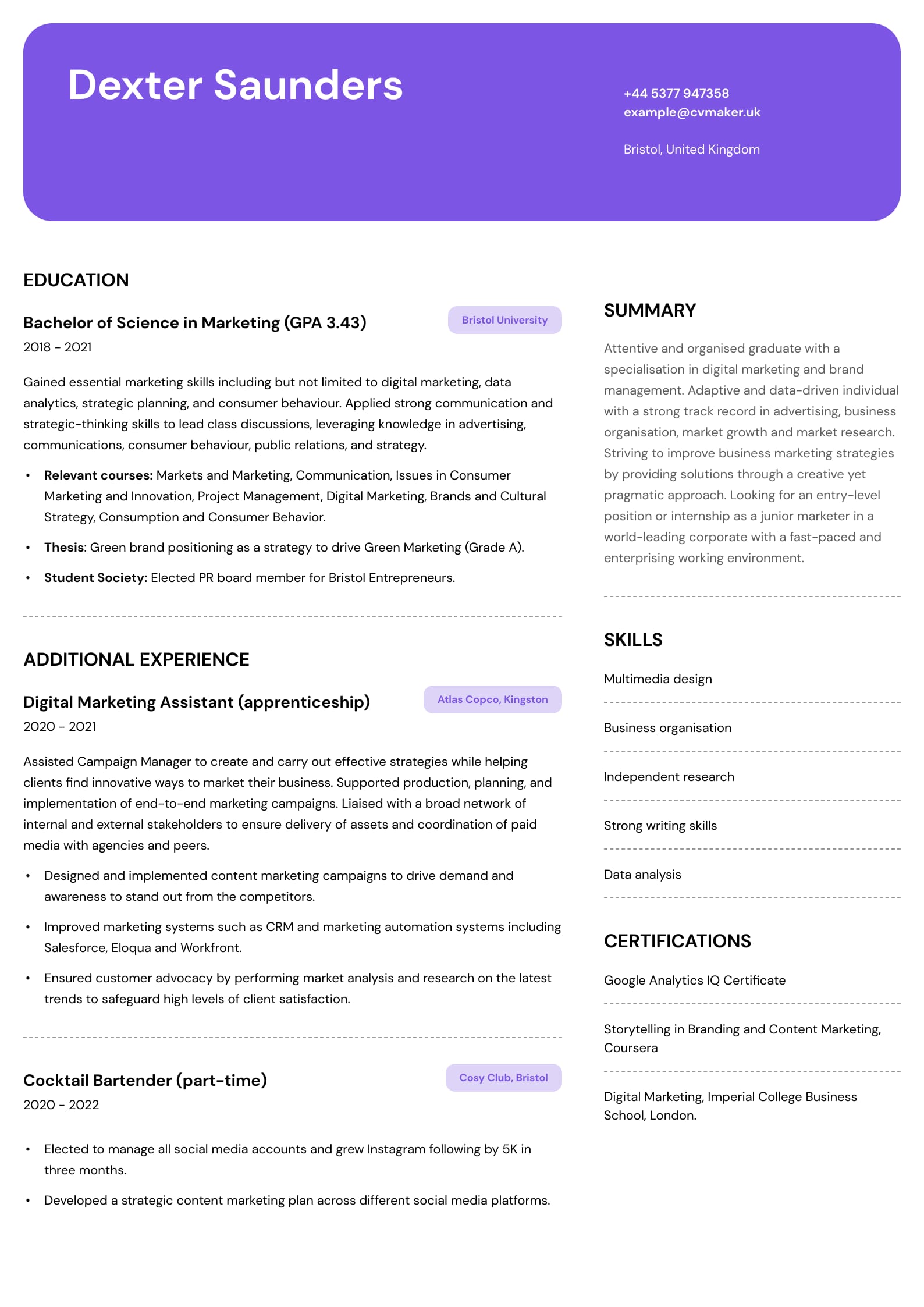 Download this CV example - Modern Graduate CV PDF.
Refer to our graduate CV example for more information.
Duke modern CV template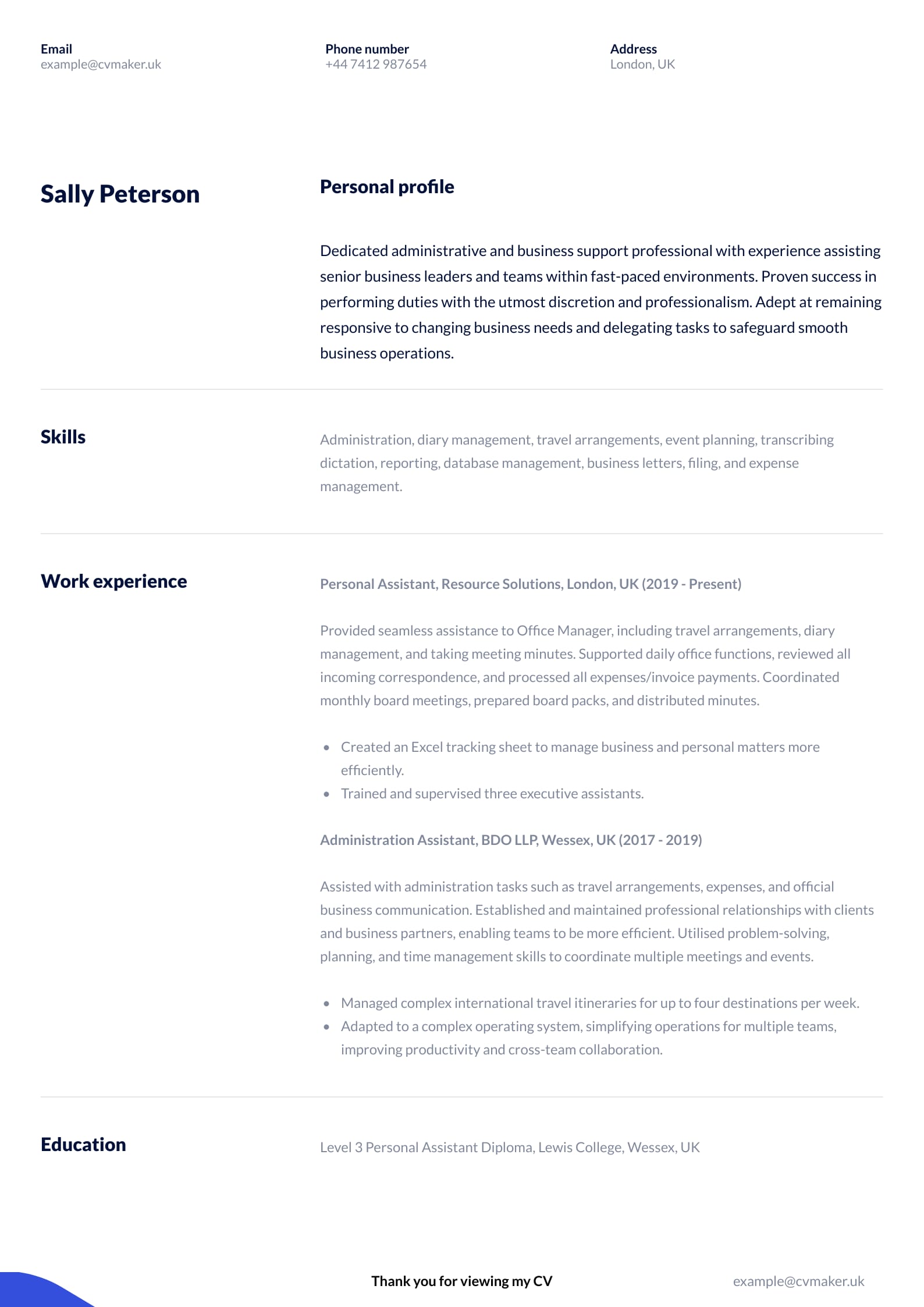 Download this CV example - Modern Personal Assistant CV PDF.
Modern CV layout
A modern approach to CV writing means adhering to a minimalistic CV structure while using a strategic approach to writing each section. A CV should include key sections relevant to your career goals while being personal so you don't sound too generic. Modernise your CV with these tips to ensure it aligns with UK industry standards:
Instead of a one-size-fits-all approach, customise your CV for each job application. Highlight relevant skills, experiences, and achievements that align with the specific role you're applying for.

Many companies use ATS to screen CVs. To pass this initial stage, incorporate industry-specific keywords throughout your CV, especially in the skills and experience sections. 

List your work experience in reverse chronological order, with your most recent or current position at the top. 

Instead of solely listing duties, emphasise your achievements in each role. Use quantifiable metrics and specific examples to demonstrate how you made a positive impact in your previous positions.

Include a brief personal profile or summary at the beginning of your CV. 

Mention your education, qualifications, or relevant courses and certifications.

If relevant, add a section about your hobbies and interests that demonstrate your personality and how you align with the company culture.

Depending on your industry, consider adding links to your professional social media profiles, such as LinkedIn or GitHub, if they showcase your expertise and achievements.
Modern CV formats
Depending on your experience and the industry you're interested in, modern CV templates can vary from person to person and from job to job. You can utilise different strategies and ways to display your information on a CV to align with your career goals and the specific types of roles you're targeting. Overall, there are three main types of CV formats you need to be familiar with:
Chronological CV
The most common CV type in the UK and the global job market. This CV format uses a reverse chronological approach, with the most recent experience listed first.
Skills-based CV
Unlike a chronological CV, a skills-based, also known as a functional CV, focuses on your skills and achievements rather than career experience. It's a less common way to compile a CV, but it's gaining more popularity due to its non-sequential ordering. 
Pro Tip
Skills-based format is an excellent opportunity for applicants new to the industry and with little to no work experience.
Combination CV layout
A hybrid or a combination CV incorporates elements from both chronological and skills-based CV formats. It gives you greater flexibility for the placement of CV sections, allowing you to balance work experience and skills. Most people would still opt for a chronological CV, but this option could be a good alternative for experienced candidates who need to stand out from a sea of applicants. 
Key takeaways 
A CV follows some cornerstone principles and strategies to make yourself noticeable in the job market. While it's true you should make it tech-savvy with the use of eye-catching colour combinations, it should not be the main focus of a CV. The key ingredients of a CV can be summarised as ATS-friendly design, keyword-centred, and the use of personal branding and appropriate CV format. While there is no universal way to craft a modern CV, our tips and guide give you that nudge over other candidates.
Additional tips on how to write a modern CV:
Follow an easy-to-read CV layout and format.

Incorporate relevant keywords throughout your CV.

Include a personal profile that mentions your top soft skills, level of experience, and career goals.

Structure your work experience to clearly show what you did versus what you achieved.

Include relevant education, qualifications, and achievements to make your CV stand out.

List skills pertinent to the jobs you are applying for and elaborate on technical skills if required.
Next steps?
Check out our modern CV Builder that aligns with UK standards. With this, we provide 40+ professional CV examples and cover letter templates to simplify the process, making writing, managing, and downloading your CV easier. Alternatively, consider our professional CV Writing Services.
FAQ
Who should use a modern CV template?
If you want to present your skills and experience in a contemporary and visually appealing way, our templates are suitable for various industries or job types as long as you include relevant information only. 
Is a modern CV good when you have no work experience?
A skills-based layout can be good when you have no work experience as it allows you to highlight your education, skills, and any relevant achievements or projects, compensating for the lack of professional experience. 
What are the best templates for a modern CV in the UK?
The best templates offer a clean, stylish layout with attention to typography and proper use of white space, allowing the content to stand out and be easily readable. Our CV templates are all modern while following a simple CV structure. 
Do recruiters like a modern CV? 
Recruiters generally like a CV as long as it remains professional and easy to navigate, avoiding excessive graphics that may distract from the essential information.
What should be on a modern CV?
A CV in the UK should include personal details, personal profile, work experience, education, skills, achievements, and relevant certifications or memberships.
What are the basic elements of a CV?
The basic elements of a CV include personal details, education, work experience, skills, and any additional sections like achievements, courses and certifications, or hobbies and interests. 
When to pick a modern CV template?
Pick a CV template when applying for creative or design-related positions, startups, or industries that appreciate innovative presentation and want to see your ability to showcase your skills visually.
What is the best layout and format for a modern CV?
The best layout and format prioritise readability, use consistent font styles and sizes, incorporate subtle design elements, and organise information logically. Opt for formats like PDF to ensure compatibility across devices.
Land the interview for your dream job with CVMaker
Effortlessly create your professional CV within 10 minutes and download it whenever and wherever you want!
Create your CV
Increase your chances landing your dream job with CVMaker.