Actor CV
Tania has selected the Yale CV template to showcase her diverse range of experience within the acting industry in a simple and concise manner.
Start now
"Experienced actor who has worked in a variety of roles onstage and able to quickly master scripts to deliver solid and precise performances. Possesses a profound understanding of voice control and a keen aptitude for taking direction."
Tania Hughes
- Actor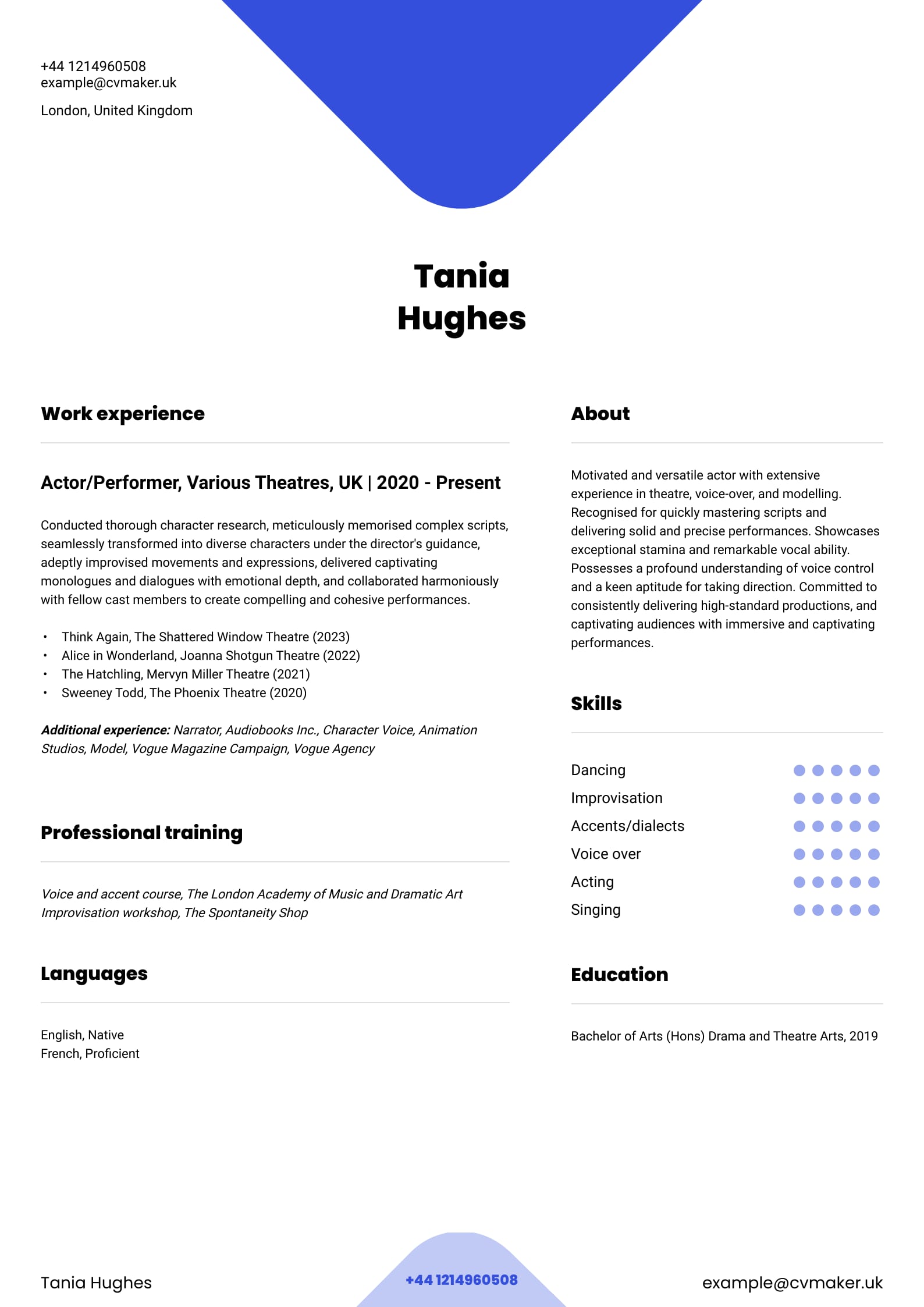 How to Write an Impactful Acting CV: Writing Guide with Examples and Tips
An acting career is best suited for individuals with creativity, motivation, and excellent communication abilities. This industry in the UK offers various opportunities, and nearly every role requires skills in collaboration, following directions, memorising lines, and analysing scripts to bring characters to life. However, despite the abundance of acting roles, breaking into this industry can be fiercely competitive, and you may need help to navigate your career path.
As an aspiring performer, consider your actor's CV similar to performing on stage or screen. Creating a lasting impression on casting directors demands great attention to detail, unwavering enthusiasm, and patience to refine your skills. Just as actors prepare for their roles, you must write a professional acting CV that showcases your talents and sets you apart from the competition.
This CV guide will assist you in creating a compelling CV using our effective step-by-step process to present the best of your education, skills, unique strengths and experiences to maximise your potential. We'll also provide tips and strategies for crafting an impressive CV, even if you have limited or no prior acting experience. Our professionally designed applicant tracking system (ATS)-friendly CV templates can help your job application be discovered by casting directors and industry professionals. Explore our blog for more ideas on how to kickstart your career.
The CV writing process: Where to start? 
Securing a significant role in film, theatre, or TV starts with a good actor CV. You must demonstrate your capabilities and relentless drive to achieve your career goals. Your CV layout should include relevant experience, training, and skills that align with your job targets.
This type of job is more than just looking and playing the part. It also requires a versatile skill set and the ability to undertake various tasks. Whether you're on screen or onstage- you'll need to assist with custom or prop management, attend fittings, travel to auditions or shows, and collaborate with the production team or casting directors. So as an actor, you must be flexible, communicative, and adaptable to be successful.
To kickstart the CV writing process, we recommend creating a master CV with all your credits, training, skills, and achievements. This comprehensive document will be the foundation for tailoring your CV to specific roles and applications. In your job-specific CV, add relevant skills, experiences, and achievements to present yourself as the ideal candidate. Find out how to write a good CV that aligns with your career goals.
Acting CV example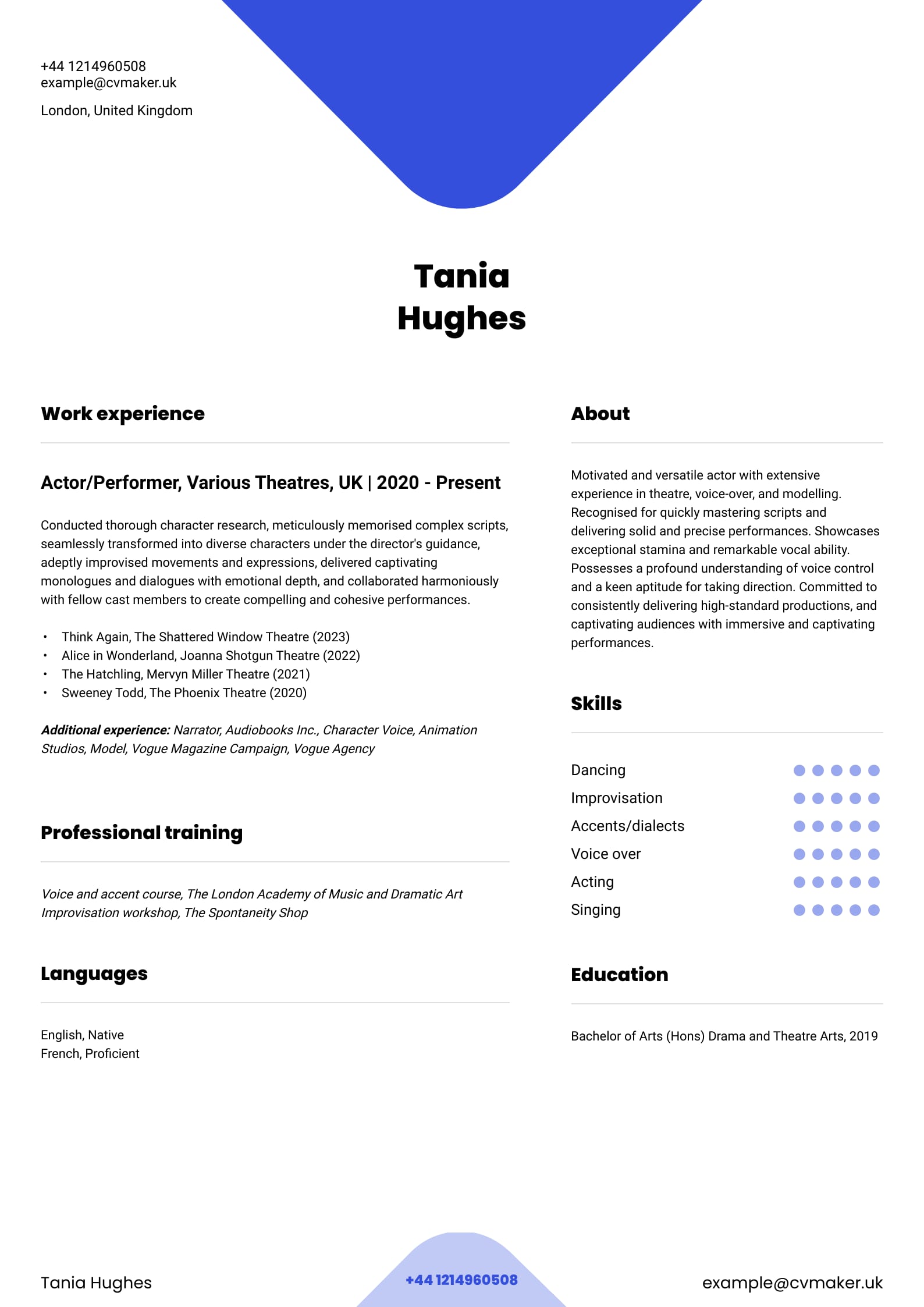 Download this Acting CV sample in PDF
Tania uses a professional and well-structured format highlighting her theatre industry expertise in this acting CV template. Her work experience, skills, and achievement sections are clearly focused and easily readable. Tania's profile showcases flexibility, adaptability, and versatility, supported by her extensive experience and skills learned from performing in diverse roles.
What to include in an acting CV? 
Just like performing at your first audition on stage, knowing what to include on your CV for acting can be challenging. Yet, with some guidance and confidence, you can showcase the best parts of your experience, skills and achievements to succeed both on paper and onstage.
It's important to use a clear and organised format with separate sections for personal details, personal profile, work history, education, skills, and certificates. Keep your CV format concise, well-organised, and easy to read.
When writing an acting CV with no experience, try to highlight other aspects that make you stand out, such as relevant skills, hobbies, achievements, and interests relevant to this industry. If you have gained practical experience or skills from hobbies and interests related to this field, such as drama, singing, or dancing, include this to leverage your CV.
How to write a personal profile on an acting CV
Your personal profile serves a unique introduction, drawing the interest of casting directors to want to learn more about you. It should highlight your unique qualities, showcase your versatility as an actor, and provide a glimpse into your passion for arts and performance. Learn how to write an effective CV personal profile that aligns with your career goals.
Actor CV with no experience personal profile example
Ambitious and enthusiastic Drama Graduate passionate about acting and the performing arts. Quick learner with a strong work ethic, open to feedback and dedicated to continuous improvement. Excited to explore new opportunities to collaborate with industry professionals and pursue a career in the performing arts.
Theatre Actor CV personal profile example
Experienced Theatre Actor with three years of experience in the theatre and entertainment industry. Versatile and adaptable, with expertise in stage, film, and television productions. Demonstrates exceptional command over voice, movement, and character development. Collaborative and professional, able to work effectively with directors, cast members, and production teams.
Voice Actor CV personal profile example
Dedicated Voice Actor with over five years of experience in the film and audiobook industry. Expert at collaborating with cross-functional teams to create high-quality media content that resonates with diverse audiences. Adept at bringing characters to life through powerful voice-over work.
Background Actor CV personal profile example
Highly adaptable and reliable Background Actor with a keen eye for detail and a strong ability to bring scenes to life. Demonstrates excellent understanding of character development and can adapt to various roles and environments. Skilled at following directions and maintaining consistency throughout multiple takes.
What skills to put on an acting CV
We recommend including soft skills in your personal profile and making a separate section for technical and hard skills.
To succeed in the industry, you must be organised, record sessions efficiently, attend auditions and rehearsals on time, and collaborate closely with the production team to deliver high-quality work. Refer to the musician CV example for more inspiration.
Highlighting any transferable skills from previous roles can be beneficial if you have little to no work experience or are a recent graduate. For more tips on presenting the best of your potential, read how to create a skill-based CV.
A Background Actor should be adaptable and have versatile skills to transition between different roles, settings, and directions. Strong teamwork skills are essential to communicate and collaborate with others on set. Endurance, resilience, and self-discipline are also necessary to stay motivated to practice and repeat scenes.
A Voice Actor should have excellent voice control, longevity, clear articulation, and improvisation skills. Adapting to various vocal styles, characters, accents, and dialects is also important. In addition, script analysis and interpretation skills are essential to convey emotions and personalities effectively through vocal performance.
Examples of soft skills:
Creativity

Teamwork

Interpretation

Emotional intelligence

Adaptability

Versatility

Communication

Motivation

Listening

Collaboration

Resilience

Critical thinking

Decision-making.
Examples of hard skills:
Singing

Dancing

Improvisation

Memory

Accents/dialects

Costume design

Time-management

Voice and body control

Physical stamina

Voice-training

Script analysis

Stage-craft

Technical knowledge.
For more ideas, read our article on what skills to put on a CV for your ideal role.
How to show work experience on an acting CV
Whether you are looking for a role in television or film, to be successful you need a combination of valuable skills and relevant work experience. You must demonstrate your industry knowledge, an ability to handle diverse tasks effectively and show an understanding of the creative and technical processes involved to be successful.
We recommend highlighting specific achievements and responsibilities from previous roles, courses, internships, or volunteer positions that illustrate skills such as communication, teamwork, voice or body control and choreography.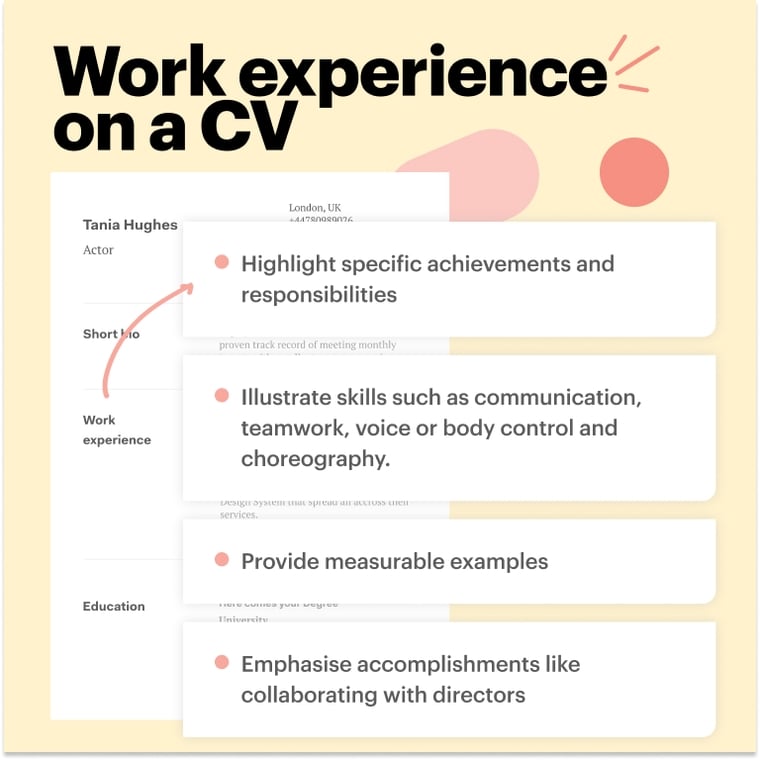 Provide measurable examples of how you have successfully completed duties such as managing rehearsal schedules, collaborating with cast and crew, adapting to different roles, or assisting with the backstage and production process.
Emphasise any accomplishments such as leading roles in complex scenes,  interpreting difficult lines, collaborating with directors to improve the production's success, or improvising with cast members to create unique performance styles. Using actionable work experience examples for your CV will demonstrate how your skills gained from previous roles have prepared you for success. If you're considering writing scripts for the stage or television, you can refer to our writer CV example for some inspiration.
Pro Tip
If you're an aspiring actor with limited work experience, then focus on your key strengths and skills instead.
For more tips and ideas on this section, check out this blog about how to add work experience to your CV.
Background actor CV work experience example
Background Actor| CV Maker Productions, 2022 - Present
Contribute to producing various television series and films by portraying diverse characters in different settings. Adapt to different roles and directions while maintaining consistency in performances. Collaborate with fellow actors, directors, and production teams to create authentic and engaging scenes.
Recognised by casting managers for reliability and professionalism in consistently meeting call times and production schedules.

Track record of following directions and cues from directors, ensuring seamless integration into the overall production.

Commended for maintaining focus and energy during long shooting hours, contributing to a positive work environment.
Theatre actor CV work experience example
Actor/Performer, Various Theatres, UK | 2021 - Present
Perform various roles in stage productions, demonstrating exceptional acting skills, versatility, and commitment to character portrayal. Collaborate closely with directors, fellow actors, and production teams to create versatile performances for different genres and styles. Memorise extensive dialogue and stage directions, showcasing meticulous preparation and attention to detail.
Received recognition for standout performances in leading roles, earning multiple theatre award nominations.

Collaborated with renowned theatre professionals, contributing to the success of highly acclaimed productions.

Developed strong rapport with fellow cast members, fostering a positive and collaborative working environment.
Voice actor CV work experience example
Voice Actor |  CV Maker Productions, 2018 - 2020
Maintained accurate documentation of voice recording sessions, scripts, and project timelines to ensure efficient workflow and timely delivery. Collaborated with clients and production teams to understand project requirements and deliver high-quality voice performances that met their vision. Implemented innovative techniques and approaches to enhance voice acting performances and create captivating character portrayals.
Streamlined voice recording processes, resulting in more efficient project turnaround times.

Contributed to a 20% increase in brand recognition through national television commercial voice-overs.

Implemented effective communication strategies within the voice-acting team, improving collaboration and project outcomes.
Need more inspiration for writing this section? Learn more about how to list achievements on our CV.
How to list education on an acting CV 
All actors will have different types of training, experiences, and opportunities that contribute to their careers. They often engage in workshops, masterclasses, and networking events to expand their skills and stay updated on industry trends.
To become an actor in the UK, you do not need any specific qualifications. However, formal training and education can significantly enhance your skills and increase your chances of success in the industry. As a result, many actors pursue higher education or specialised training to develop their craft and gain a competitive edge.
When listing education on a CV in the UK, it's important to include basic information such as the school's name, location, dates attended, and degree or certificate earned. We also suggest researching the specific education requirements and employment opportunities that best align with your career goals. Read more about the diverse roles available in the UK and how to become an actor in the UK.
Some common educational paths for actors in the UK include:
University: You can pursue a Foundation Degree, Bachelor's Degree, or Postgraduate Diploma in Drama, Performing Arts, Contemporary Theatre, Acting, or Musical Theatre to advance your career. Usually, a Master's degree will not guarantee an acting role or high earnings after graduating.

College: You can enrol on a college course like Level 2 Certificate in Performing Arts, Level 3 Extended Diploma in Performing Arts - Acting, A level in Drama and Theatre or Level 4 Diploma in Speech and Drama.

Drama School: Consider taking a course and classes at a drama or acting school. You can also attend conservatories which provide specialised training in acting. These schools often require auditions for admission.

Volunteering: Gaining practical experience through volunteering, joining drama or theatre societies, and participating in performances can help develop skills and build a network of contacts.

Direct Application: Some actors enter the profession by applying directly for roles or attending open casting calls, though this can be more challenging without formal training or experience.

Find an Agent: Having an agent is not a strict requirement, but it can help you handle the audition schedule, seek out new opportunities, and negotiate contracts on your behalf. Agents can also help you establish industry connections through networking to find an acting role.
If you need extra tips, learn more about listing your courses and certificates in your CV here.
Example of how to list education:
Bachelor of Arts in Acting, CVMaker  Drama School, 2018-2021
Relevant modules: Voice and Speech Training, Movement and Physical Theatre, Acting Techniques
A Levels, CVMaker College, 2016-2018
Drama and Theatre Studies

Key coursework: Play Analysis, Acting Methods, Theatre Production
GCSEs, CVMaker Secondary School, 2012-2016
English Literature, Drama, Mathematics, Art, Film Studies

Additional coursework: Performance Skills, Scriptwriting, Stage-craft
Read more about how to write education on your CV here to highlight your most relevant achievements.
Key takeaways 
Crafting a modern CV is now much easier with this guide. Using a strategic approach to writing your CV will ensure you highlight the best of your potential. We have outlined how to create an impressive actors CV layout that showcases your training, credits, and special skills, even if you have limited experience in the industry. We also suggest writing an eye-catching cover letter to compliment your CV and impress casting directors to improve your chances of landing more auditions.
Next Steps?
We recognise the demands of the competitive industry and the importance of standing out to industry professionals. Our dedicated CV Writing Service is here to support you to win over industry professionals. Choose from an expertly-designed HR-approved CV template to ensure your application impresses casting directors. In need of more inspiration? Explore more popular CV examples for other careers on CV Example page.
FAQ 
Do I need an acting CV?
For the majority of roles in the UK, a CV is essential for auditions and to capture the attention of casting directors. A CV is your professional portfolio, showcasing your experience, training, and skills to industry professionals.
How long should my acting CV be?
When writing a CV in the UK, aim for 1-2 pages. Focus on essential details, and follow the sections highlighted in this CV example guide. Emphasise your recent and relevant work experience, courses and any accomplishments relevant to your job-specific CV.
How should my acting CV look?
If you're wondering what a CV looks like, you can find a CV template in this guide and more CV examples on our website. Your CV should be concise and well-structured using a professional design. Read more information on how to improve your CV.
What should I not include on my acting CV?
To create a concise and professional CV, only include the sections highlighted in this guide. Avoid using information about work experience and skills irrelevant to the industry or a job. Keep it focused by avoiding unnecessary details, such as adding too many personal details in your profile summary and including references.
What file format should my acting CV be in?
Save your CV as a PDF file. PDF format ensures compatibility and maintains the formatting and appearance of your CV across different devices. In addition, it allows for easy viewing and sharing by casting directors and industry professionals.
How often should I update my acting CV?
Aim to update your CV every few months or whenever you have significant new experiences or achievements to add. An updated CV ensures that casting directors and industry professionals have the most up-to-date information about your skills, training, and recent work.
Should my agent look after my acting CV?
While your agent can offer guidance, it's ultimately your responsibility to update and maintain your CV. Collaborate with your agent for assistance, but take ownership of keeping your CV accurate and relevant.
Do I need to include a cover letter for an actor application?
Including a cover letter in your CV is optional, but sending one with your job application can be beneficial. A cover letter is not required but allows you to introduce yourself, highlight your strengths, and express your personal interest in the role. In addition, a tailored cover letter can help you leave a memorable impression on casting directors or agents.
Land the interview for your dream job with CVMaker
Effortlessly create your professional CV within 10 minutes and download it whenever and wherever you want!
Create your CV
Increase your chances landing your dream job with CVMaker.