Dancer CV
The Yale CV template used by Emma Johnson is well-formatted and presents her professional background as a dance instructor effectively.
Start now
"Highly motivated and passionate dance instructor with over 10 years of experience teaching various dance styles. Specialising in contemporary and jazz dance as well as developing new dance programmes."
Emma Johnson
- Dancer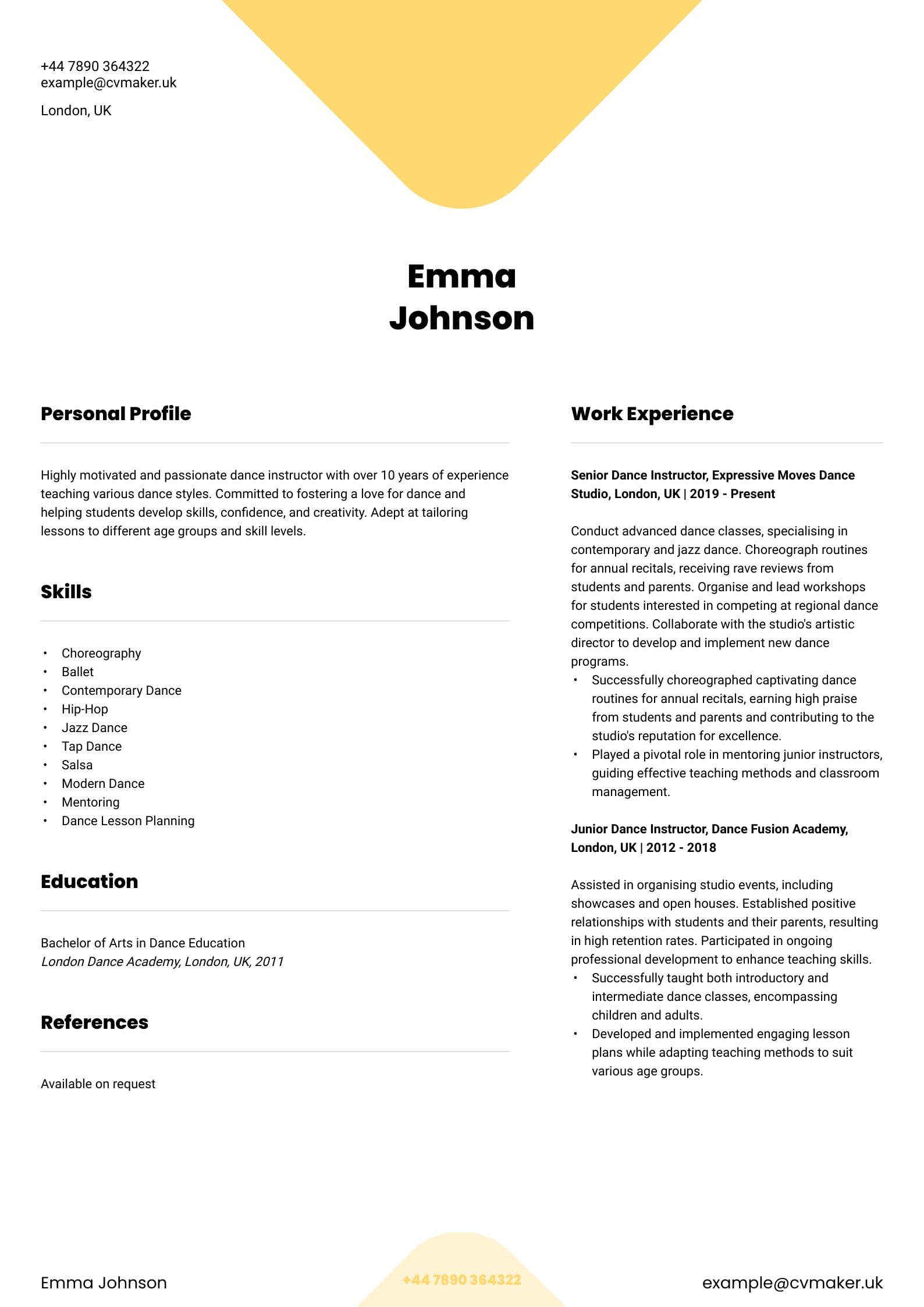 How to Write a Dancer CV: Step-by-Step Guide
The vibrant and diverse performance and visual arts scene in the UK contribute an estimated £11.5bn to the economy. Mastering the art of dance and providing breathtaking performances is just as crucial as impressing potential employers with a modern CV. You must demonstrate your technical skills, being adaptable, and creativity to stand out in this competitive and evolving industry.
Many career opportunities exist for aspiring and talented professionals, such as community programs, theatres, education, and entertainment. From junior dance instructors to senior choreographers, this job can be rewarding and lucrative, offering promising career progression. This guide provides practical tips and examples for writing a good CV, whether you are student, intern or experienced dancer.
To begin with, consider using a suitable CV template, as it's the first step in showcasing your unique style and expertise. A good CV format catches the attention of potential employers and optimises it for application tracking systems (ATS).
Dance CV example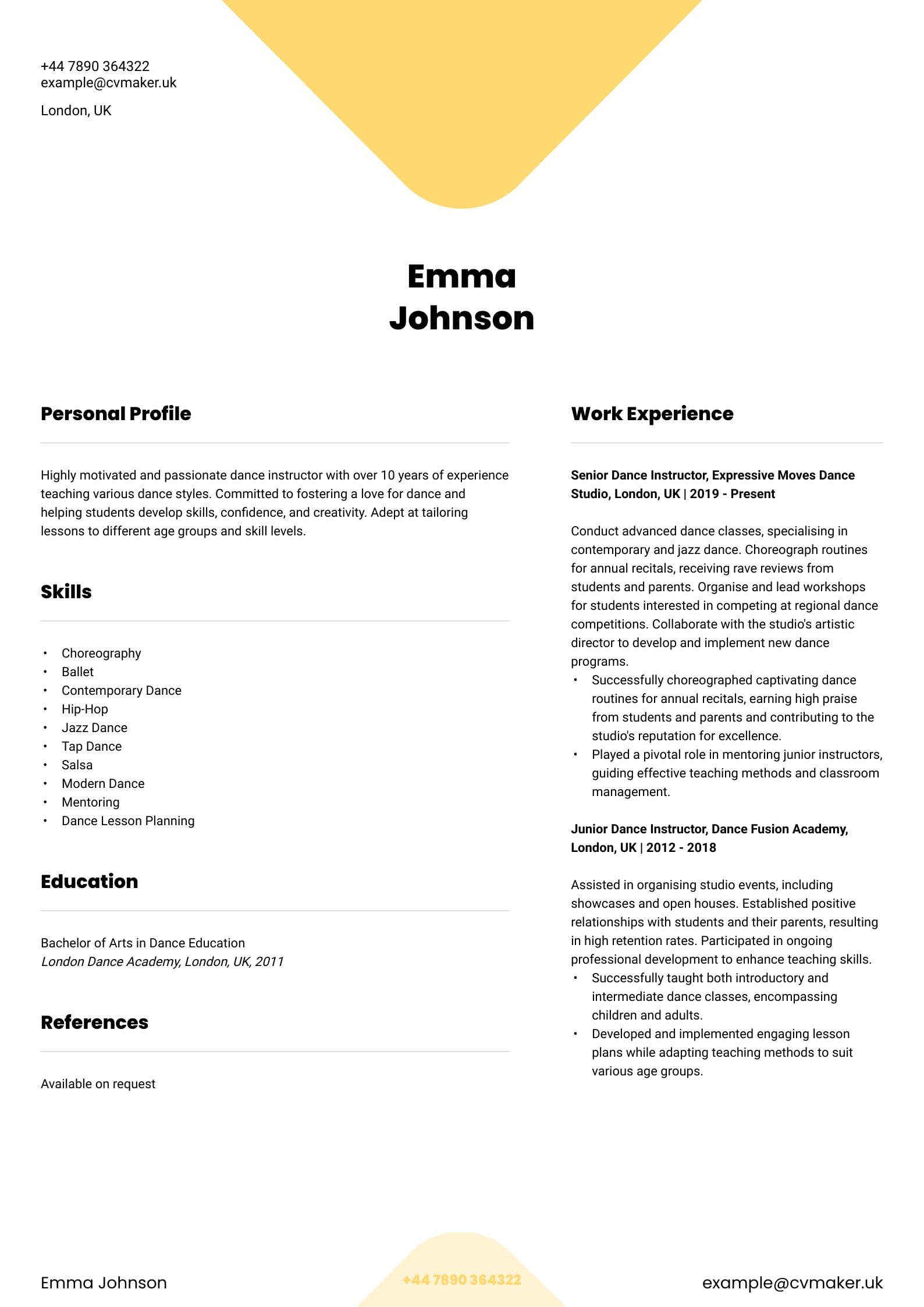 Download this dancer sample CV for the UK
In this dance CV sample, Emma Johnson is a seasoned and passionate dance instructor with over a decade of experience. Emma's relevant qualifications and work experience further strengthen her expertise and suitability for the role. The dancer CV template used is Yale, which is well-formatted and presents her professional background effectively.
What to include in a dancer CV?
Ensure you include key sections with relevant information and use industry terminology. Refer to our article for a more detailed overview of the CV writing process and ensure your CV is job-specific.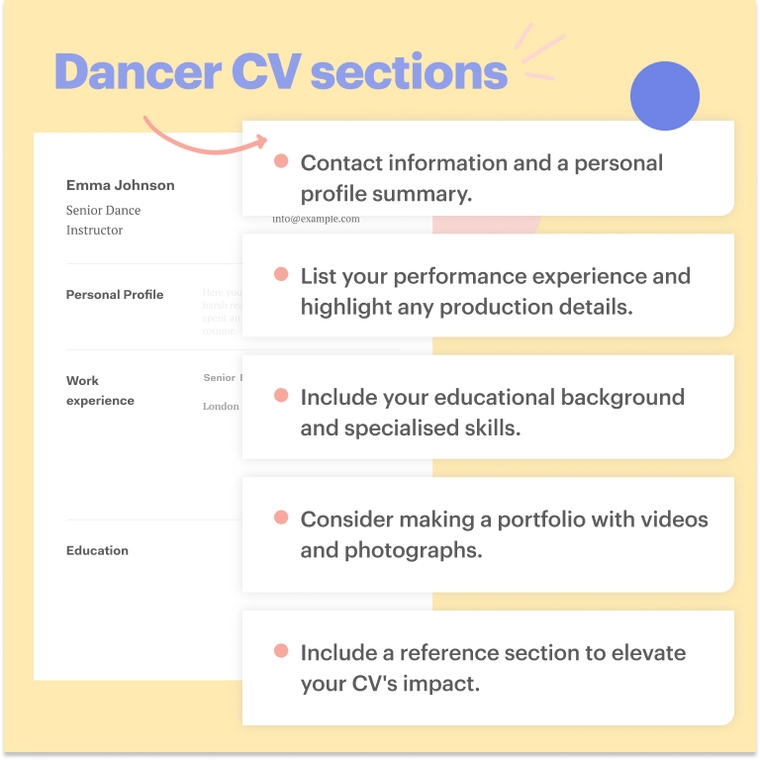 Explore similar CV examples that involve artistic expression, performance and creativity, such as:
Pro Tip
Regularly update your CV and portfolio to reflect your latest work, skills, and accomplishments. Network and collaborate with professionals on social media and use websites for content sharing.
Captivate your audience with your personal profile 
Writing your dance CV personal profile involves summarising your career aspirations and expertise. It should highlight soft skills like versatility, adaptability, and communication with audiences. Clearly state your goals, whether performing on prestigious stages, inspiring young talents, or collaborating with innovative choreographers. Be concise and aim for 60 words, refraining from using personal pronouns to achieve a polished and professional summary.
Dance CV personal profile example
Versatile and dedicated dancer with a profound passion for movement committed to crafting narratives through choreography and engaging audiences through performance. Proficient in various dance styles, from classical ballet to contemporary fusion, showcases adaptability and a steadfast dedication to artistic excellence. Known for meticulous attention to detail and a strong work ethic, consistently pushing the boundaries of dance to inspire and captivate.
Choreographer CV personal profile example
Visionary choreographer bringing a profound understanding of movement and a keen artistic vision to every project. With six years of experience planning captivating dance sequences for various productions, from stage performances to music videos. Passionate about fusing diverse dance styles and techniques into visually stunning performances. Committed to pushing creative boundaries, inspiring performers, and delivering immersive experiences for audiences.
Dance instructor CV personal profile example
Dedicated and innovative dance instructor with over a decade of experience teaching diverse dance styles. Proficient in creating well-structured and engaging lessons customised to suit students of all ages and abilities. Focuses on choreography, mentoring, and developing engaging lesson plans. Provides a supportive and dynamic learning environment that encourages students to explore creativity and enables clear progression.
Refer to our blog about how to write a personal profile for more guidance.
Essential skills for a dancer CV
Like choreographers and instructors, dancers rely on a distinctive skill set that involves movement and expression. Highlight transferable and technical skills gained from other roles demonstrating practical skills such as communication, physical fitness, and collaboration.
Include the skills section, include any proficiencies in performance styles, choreography, mentoring, lesson planning, and techniques. Emphasise your ability to convey emotions through performances and stage presence. Adaptability to different routines and the ability to problem-solve and overcome challenges is also important.
A skills-based CV is a powerful format for showcasing your strengths without too much experience. List relevant projects, accomplishments and activities related to your job targets. Remember to include any relevant skills gained from experience, whether volunteering or part-time work.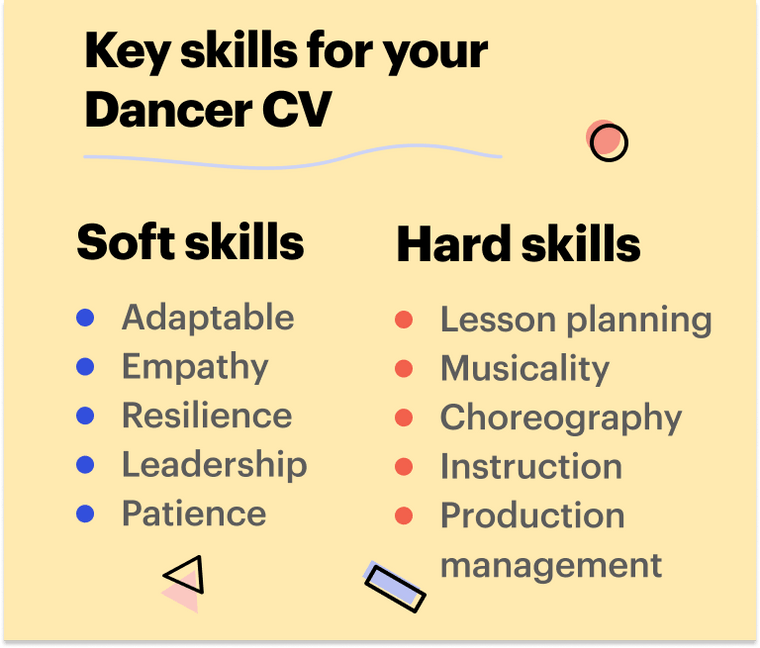 Explore our blog on how to list skills on a CV for more ideas.
Present your relevant work experience 
The dance industry extends beyond the stage. Consider branching into film, television, or commercial work to diversify your experience and reach a broader audience. When listing relevant experience on your dance CV, you must highlight details such as:
Your role(s) and time spent

Dance company

Responsibilities

Notable achievements in bullet points.
If you need more work experience, stay committed to learning and developing industry skills through courses and certificates. The more versatile you are, the more opportunities you'll have to work in different settings and genres. 
Pro Tip
Tailor your work experience section to the specific job or role you're applying for. Use action verbs, figures, statistics, and outcomes to add depth to your experience and showcase your value.
Work experience CV examples 
Ballet Dancer | Royal Ballet Company, London, UK | 2016 - 2023
Performed lead roles in classical and contemporary ballet productions, consistently earning critical acclaim. Collaborated with world-renowned choreographers and directors, contributing to creating original works. Mentored junior dancers, fostering their technical and artistic growth.
Participated in 15 ballet productions, including "Swan Lake" and "The Nutcracker," and received exceptional feedback.

Collaborated with esteemed choreographers to develop choreography for "Cinderella," which achieved 100% ticket sales.
Choreographer | London Dance Productions, London, UK | 2015 - Present
Lead a team of 15 dancers and provided direction in performance enhancement, resulting in consistently stellar reviews and full-house performances. Collaborate with renowned theatre companies nationwide to choreograph stage adaptations of classic plays, contributing to critically acclaimed and award-winning productions. Contributing to a successful dance academy, offering professional training and mentorship.
Choreographed over 20 dance routines for the company's repertoire, each receiving acclaim for innovative movement vocabulary.

Successfully led the choreography team in achieving 95% of ticket sales for the company's annual performances, solidifying its reputation.
Dancer CV with no experience example:
Dance Performance Volunteer | Local Community Events, Bristol | 2020 - 2022
Collaborated with local dance organisations to perform at fundraising and community events. Assisted in the choreography of group dance routines with volunteers, contributing creative ideas and promoting teamwork. Regularly attended dance workshops and masterclasses to enhance technical proficiency and learn new dance styles.
Performed with local dance organisations, participating in 15 local community events and shows.

Achieved recognition for an outstanding solo performance at a community event, highlighting exceptional dance skills and stage presence.
Read how to write work experience on a CV for more practical tips and examples.
Enhance your CV with the education section 
Many professional dancers begin their careers with intensive training through dance schools, workshops, and on-the-job experience. Gaining qualifications, especially if you're a recent school leaver, can significantly boost your credentials. If you have little to no work experience or qualifications, join accredited dance schools to gain a relevant degree or diploma.
Whether you have formal degrees, diplomas, or certificates in dance or related fields, your qualifications demonstrate your commitment to professional development. It also highlights your understanding of techniques and performance principles. Include relevant coursework and training programs to showcase your knowledge to potential employers or collaborators.
For your dance CV, start by listing your highest qualifications chronologically. This approach allows recruiters to see your most recent achievements first. For each entry, include the name of the school or institution, its location, and the completion date. Highlight specific academic projects, courses and certificates closely related to your career objectives.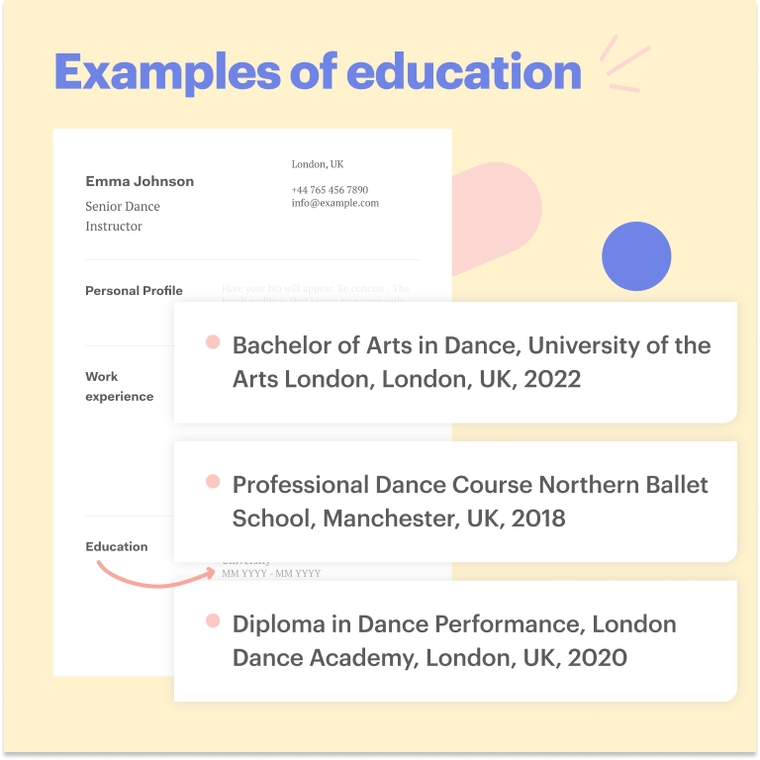 Learn how to master the education section on your CV with our guide.
Dancer CV format and structure 
Formatting is essential for writing a CV that recruiters can quickly scan and read. Opt for a clean and concise layout that utilises an ATS-friendly CV template and reverse chronological layout. Aim to keep your CV to one page for maximum impact by only adding relevant information. Read our article on the ideal CV length for additional tips and information.
Select a consistent and easily readable font style that aligns with industry standards. Refer to our blog on what font is the best for a CV for more tips.  Finally, ensure you carefully proofread your CV for accuracy to eliminate any errors or spelling mistakes.
For more support with writing and formatting your dancer CV sample, read our comprehensive article on how to improve your CV.
Key takeaways
When crafting a dancer CV, it's essential to emphasise key sections and information to showcase your expertise. Highlight your diverse skills, practical experiences and achievements related to your job targets.
Even if you have little to no experience, make a unique impression by creating a portfolio. This captures relevant talents, hobbies and interests through videos and photographs. Compliment your CV with a well-crafted cover letter. Consider including references, which provide further insight to employers and accredit your suitability for the role.
Next steps?
Utilise our user-friendly CV Builder tool to tailor your dance CV to emphasise your unique talents, skills and expertise. Delve into our career blog, where you'll find the latest guidance and insights on creating an industry-standard CV.
FAQ 
What qualifications do I need to be a dancer in the UK?
The UK dance sector does not always require formal qualifications. However, having formal training in dance, arts, or performance can be beneficial. Many dancers start with a strong passion for dance and undergo extensive training in reputable institutions.
While not mandatory, formal qualifications can provide a competitive edge, especially in advanced roles or for teaching and choreography positions. Combining training, experience, passion, and a well-crafted CV will significantly increase your chances of landing a job interview. 
Can you apply for a dancer position with no experience?
Yes, you can apply for a dancer position without prior experience. Many entry-level or junior roles begin with dance apprenticeships. Enrol in dance classes or workshops, join community programs, audition for local productions, and network with industry professionals. This can help to gain practical experience and build your portfolio.
We also recommend writing a skills-based CV or gaining relevant qualifications through courses. Read our helpful blog for the best tips on how to write a CV with no experience.
How can I start my career as a dancer? 
Start training at classes and workshops to begin your career as a dancer. Get involved in community dance programs and local productions. Attend dance events or auditions and network on social media to explore trending opportunities.
While formal qualifications aren't mandatory, they can be beneficial. Build a portfolio to showcase your skills and approach your career with dedication and professionalism. Consider joining companies like One Dance UK and Equity to find new industry contacts and enhance your career prospects.
How long should a dance CV be?
For maximum impact, aim for a one-page dance CV. This concise format lets you present essential information effectively, such as your qualifications, skills, and portfolio. Read our blog on the ideal length of a cover letter to complement your CV and impress industry professionals.
Land the interview for your dream job with CVMaker
Effortlessly create your professional CV within 10 minutes and download it whenever and wherever you want!
Create your CV
Increase your chances landing your dream job with CVMaker.