Painter CV
James has chosen the Michigan CV template, which offers a sleek and contemporary format to align, similar to his own painting abilities. His work experience, education, and achievement sections demonstrate his capability to handle diverse projects.
Start your CV
"Highly skilled painter with 5+ years of experience, passionate about transforming spaces. Lead a team of painters for extensive commercial and residential ventures, ensuring stringent quality standards and project adherence to schedules."
James Turner
- Senior Painter/Team Lead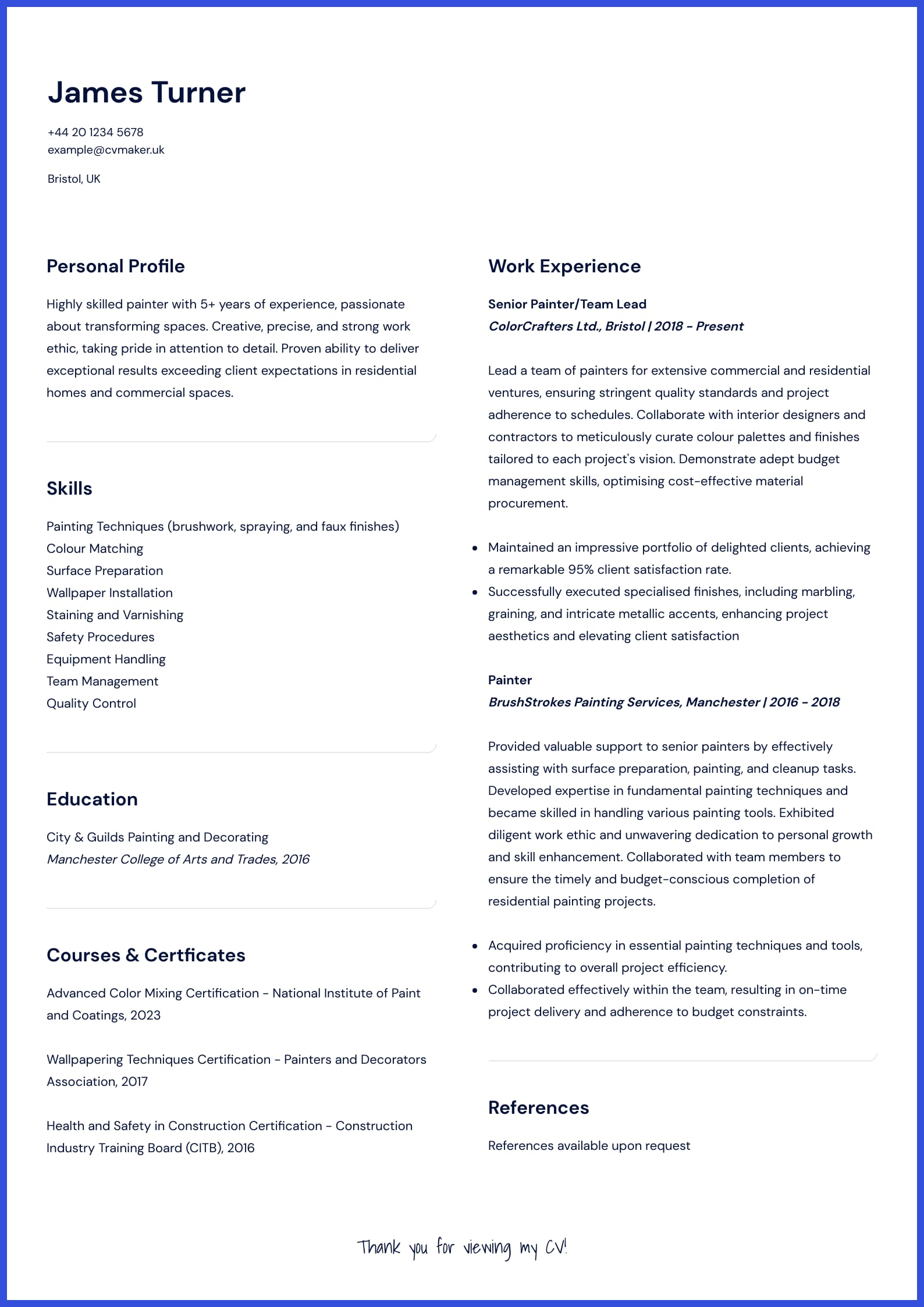 Unlock the Art of Crafting a Painter CV: Expert Examples and Pro Tips
Being a painter and decorator in the UK is more than just applying wallpaper and beautifying spaces. It's a job that demands high concentration, close attention to detail, a head for customer service and excellent communication skills.
Learning to write a good CV can lead to interesting jobs, more training options, and even starting your own business. Whether you're just starting in the profession or have aspirations to become one of the following:
senior painter

team supervisor

contract manager

interior designer

set designer
You need a CV template that can pass muster with application tracking systems (ATS), quickly and effectively qualify you and recommend your services for different positions.
This article will take you through the main components of a modern CV for a painter and decorator in the UK and show how you can give it the two coats it deserves to really shine.
Painter CV example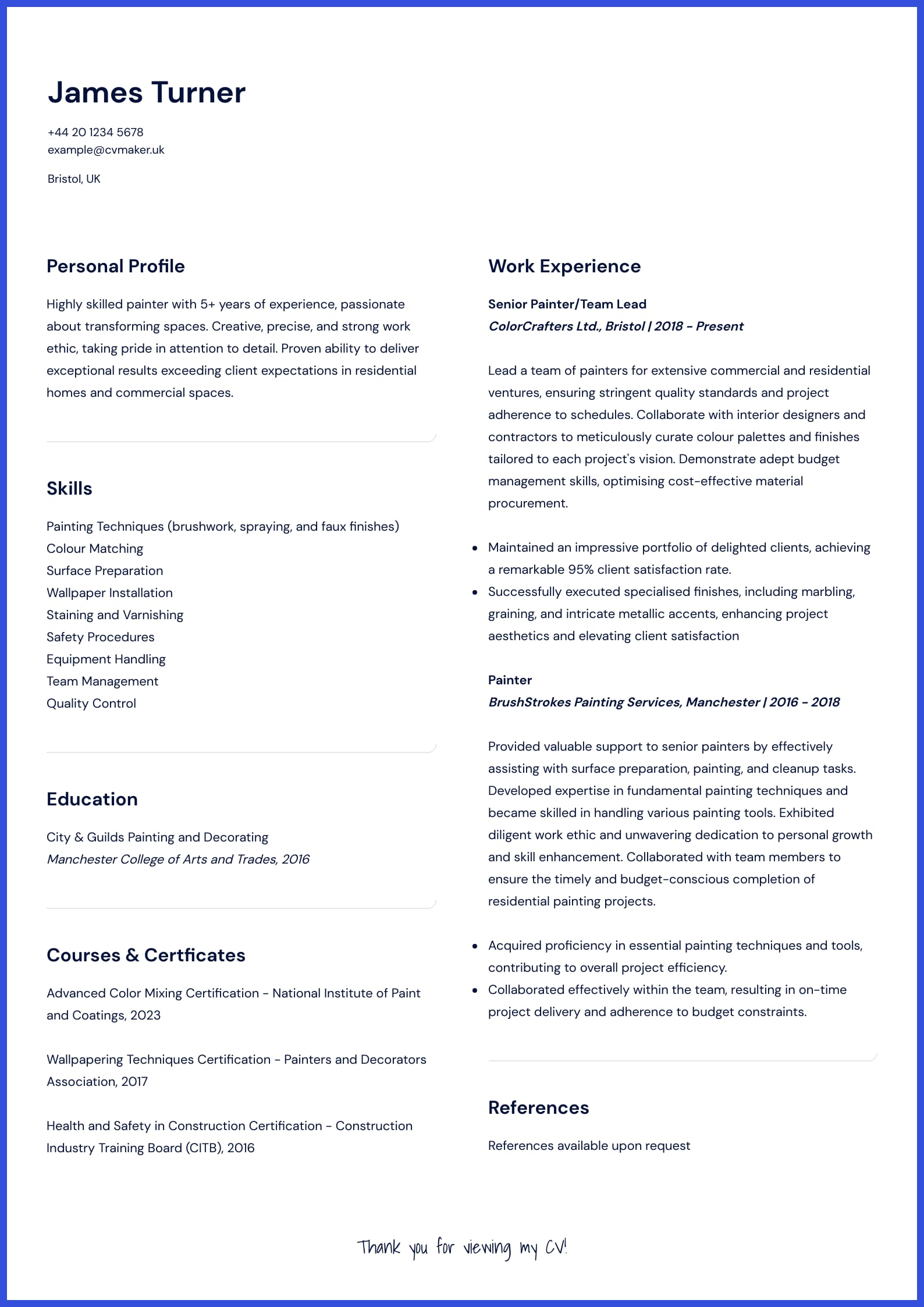 Download this sample of a painter CV in PDF
In this CV example, James highlights his proficiency in both residential and commercial painting and decorating. He excels in areas like surface preparation, paint application, wallpapering, and understanding client requirements. His work experience, education, and achievement sections demonstrate his capability to handle diverse projects and mentor apprentices, all while honing his professional techniques. James has chosen the Michigan CV template, which offers a sleek and contemporary format.
What to include in a painter CV?
Similar to carpenters and interior designers, professionals in this field are trained for a variety of settings, from residential homes to commercial spaces, and even historical sites.
Given the diverse opportunities in this field, knowing where to start your CV writing process and your motivations for doing so are paramount. Before putting pen to paper think about:
What type of role are you interested in?

What are your long-term career aspirations?

What specific skills and experiences do you possess?

What industries or sectors are you passionate about?
More than just listing your previous projects in a set-it-and-forget-it manner, it's essential to consistently show your best side every time you apply for a new job.
In the world of painting and decorating, just like for an electrician or apprentice, there are key things your CV should have. Start with a strong personal profile. This is your chance to grab attention and highlight your best qualities.
Next, list down your past jobs, your education, and the skills you've picked up. This paints a picture of your experience and how you've grown in the field. If you've had roles where you guided others or took on more responsibility, that's worth noting too.
If you've taken any extra courses related to painting and decorating, it's good to mention them. They can add an extra dimension to your offer and show a dedicated, well-trained professional. 
Pro Tip
In your introduction, show that you've done your homework about the company and the specific job you're applying for. It can make a big difference.
Show your qualities in your personal profile
The personal profile on a CV is like your professional handshake. It's the first impression you make, and it's your chance to quickly show an employer why you're the right fit. This section gives a brief overview of your skills and experiences, and it's also where you can show you've done your homework about the job and company.
Painter and Decorator CV Personal Profile Example
Dedicated painter and decorator with over 5 years experience in residential and commercial projects. Skilled in various painting techniques and known for meticulous attention to detail. Adept at client communication, understanding their vision, and delivering results that exceed expectations. Committed to continuous learning and upholding the highest standards of quality.
Senior Painter CV Personal Profile Example
Seasoned painter with over 10 years in the industry, specialising in large-scale commercial projects. Demonstrates leadership in guiding teams, ensuring timely project completion with exceptional quality. Combines technical expertise with strong interpersonal skills, fostering positive client relationships and mentoring junior team members. Upholds company values and consistently seeks innovative solutions.
Painter with no experience CV Personal Profile Example
Eager and motivated individual with a strong passion for painting and decorating. Completed a comprehensive training program in painting techniques and materials. Quick learner with a keen eye for detail and aesthetics. Possesses excellent communication skills, a collaborative spirit, and a drive to deliver top-notch work. Ready to bring fresh perspectives and dedication to any team.
Add some colour to your CV with skills 
Listing skills on your CV is more than just jotting down what you're good at. It's about showcasing your unique abilities that make you the right fit for the job.
Pro Tip
The key is to tailor your CV to the specific role you're applying for. By highlighting the right skills, you increase your chances of catching the eye of potential employers.
Especially in professions like painting and decorating, where the requirements can vary widely depending on the specific role and industry, it's crucial to highlight both your technical expertise and your soft skills. This not only demonstrates your versatility but also shows potential employers that you understand the nuances of the job.
Your hard and must-have skills deserve their own dedicated section, given their importance. These are the skills that employers will look for first and foremost. On the other hand, soft skills, which are equally vital, can be woven into your personal profile or detailed within your work experience descriptions.
For a senior painter:
Hard skills: Advanced painting techniques, knowledge of various paint types, surface preparation, scaffolding setup, and equipment maintenance.

Soft skills: Leadership, team coordination, time management, problem-solving, and customer service.
For a painter apprentice:
Hard Skills: Basic painting techniques, equipment handling, surface cleaning, paint mixing, and brush maintenance.

Soft Skills: Willingness to learn, adaptability, teamwork, attention to detail, and punctuality.
For a spray painter:
Hard Skills: Spray paint application, equipment calibration, ventilation setup, paint thinning, and surface masking.

Soft Skills: Precision, patience, efficiency, adaptability, and communication.
Share your work experience
When compiling your work experience on a CV, clarity and simplicity are the best policies. Be sure to use a reverse chronological order (the most recent employment at the top) and follow a consistent yet brief format.
We suggest writing a short paragraph for each work experience entry followed by two bullet points quantifying your work over that time period. Quantifiable work shows the definite impact your work had to potential new employers. 
Work experience examples 
Painter and decorator | Mount Brushmore Interior Services, London | 2018 - Present
Responsible for preparing and painting residential and commercial properties, ensuring high-quality finishes and customer satisfaction. Collaborated with clients to select appropriate colours and designs, and managed a team of three junior painters.
Completed over 50 projects within the last year, with a 95% client satisfaction rate.

Introduced a new technique that reduced paint drying time by 20%.
Painter apprenticeship | Hastings Borough Council, Hastings | 2019 - 2020
Assisted senior painters in various painting tasks, from surface preparation to final touch-ups. Gained hands-on experience in different painting techniques and tools, and actively sought feedback to improve skills.
Assisted in the completion of 30+ projects, consistently receiving positive feedback for attention to detail.

Suggested and implemented a new inventory system that reduced paint wastage by 15%.
Volunteer Painter (Gap Year) | Community Center, Curitiba, Brazil | February 2021
Participated in a community project to revamp local buildings. Though new to the profession, quickly developed an aptitude, learned basic painting techniques and collaborated effectively with a diverse team despite initial language barriers.
Contributed to the successful painting of three community buildings within a week.

Recognised for exceptional teamwork and adaptability, leading to an offer of an extended stay and formal apprenticeship.
Spray Painter | Newman Cars, Birmingham | 2017 - Present
Specialised in spray painting vehicles, ensuring smooth finishes and accurate colour matching. Maintained and calibrated spray painting equipment, and collaborated with clients to understand specific requirements.
Successfully spray painted over 200 vehicles in the past year, with zero complaints regarding finish quality.

Introduced a new paint mixing technique that improved colour accuracy by 25%.
Remember, the work experience section is your opportunity to showcase your achievements and the value you've brought to previous roles. Tailoring this section to the specific job you're applying for can significantly increase your chances of landing an interview.
Pro Tip
If you're crafting a CV with little to no work experience, focus on transferable soft skills like being teachable or a team player.
Include an education section 
For painters and decorators, your education CV section might not seem as flashy as your portfolio or hands-on experience. But, it's still a space to showcase your dedication and growth in the field. Whether you're applying as a residential painter, commercial decorator, or a mural artist, here's how to make your education section pop: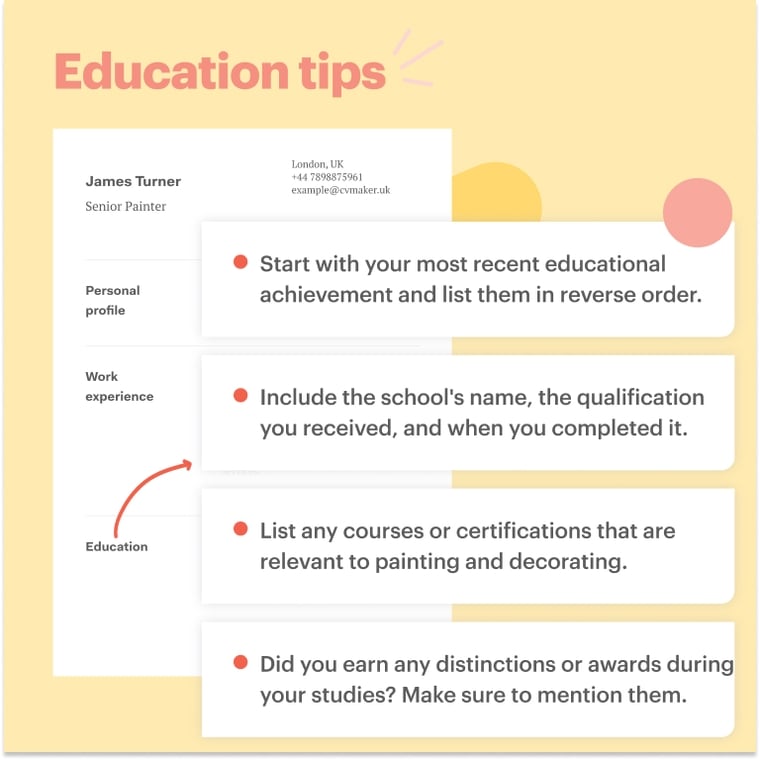 If you're just starting out and don't have much work experience, look at a graduate CV example or consider using a skills-based CV format. Keep it short and sweet. A line or two for each educational point is enough to get the key details across.
Example of education:
City & Guilds Painting and Decorating, Manchester College of Arts and Trades  | 2016 
Choose the right CV format
Selecting the right CV format is pivotal. It not only structures your professional story but also emphasises your strengths. The right format enhances readability and aligns with the job's demands, boosting your chances of catching an employer's eye. To pick the best format, consider the role you're applying for, your work history, and your key strengths. For instance, if you're changing careers, a skills-based format might be more appropriate, while those with a linear career progression might opt for a chronological format.
Pro Tip
Always use a reverse chronological order when listing work experience, education and additional certifications.
Key takeaways 
When creating your perfect CV there are plenty of moving parts to keep track of, and it can be easy to lose an overview. Let's break it down into five key takeaways.
Create a master CV: Before diving into specific job applications, start with a master CV. This comprehensive document captures all your skills, experiences, and achievements, serving as a foundation for tailored CVs for specific roles.

Personal profile matters: Your personal profile is your professional handshake. It should be compelling, highlighting both your technical skills and your soft skills. This section sets the tone and gives employers a snapshot of who you are.

Highlight relevant skills: Differentiate between hard, soft, and must-have skills. Tailor your skills section based on the specific role you're applying for, ensuring you showcase both your technical expertise and personal attributes.

Quantify your work experience: When detailing your work experience, use a clear format and always quantify your achievements. This provides tangible evidence of your contributions and the impact you've had in previous roles.

Education and CV format: While your hands-on experience might be the highlight, don't neglect your education section. Showcase any relevant courses, certifications, or distinctions. Additionally, choose a CV format that best presents your career trajectory and aligns with the job's requirements.
Next Steps? 
Iron out any creases using our intuitive CV builder with 20+ CV templates and professional designs to choose from. To accompany your CV, discover our cover letter templates. If you don't want to leave anything to chance, connect with our professional CV Writing Service.
FAQ 
What is the average salary for a painter and decorator in the UK?
The average salary for a painter and decorator in the UK, as of 2022, ranges from £20,000 to £30,000 for entry-level positions. Experienced painters can earn upwards of £30,000 to £40,000.
Are painters in demand in the UK?
Yes, painters and decorators are consistently in demand in the UK, especially with ongoing construction and renovation projects.
Can you apply for a painter and decorator position with no experience?
Yes, you can apply for entry-level or apprentice roles which offer on-the-job training.
What qualifications do you need to be a painter?
While formal qualifications aren't always required, many painters pursue courses like the City & Guilds Painting and Decorating or NVQs in Decorative Finishing. Practical experience and a portfolio can also be beneficial.
Land the interview for your dream job with CVMaker
Effortlessly create your professional CV within 10 minutes and download it whenever and wherever you want!
Create your CV
Increase your chances landing your dream job with CVMaker.