Carpenter CV
Amir Ahmed, a seasoned Carpenter, skillfully combines his expertise in woodworking, joinery, and safety compliance using industry-standard techniques. His simple CV displays his commitment to excellence in every facet of carpentry in a concise and easy-to-read way.
Start now
"Seasoned Carpenter with 10 years of experience overseeing various projects for both residential and commercial installations. Proficient in utilising advanced woodworking tools to interpret blueprints and specifications."
Amir Ahmed
- Carpenter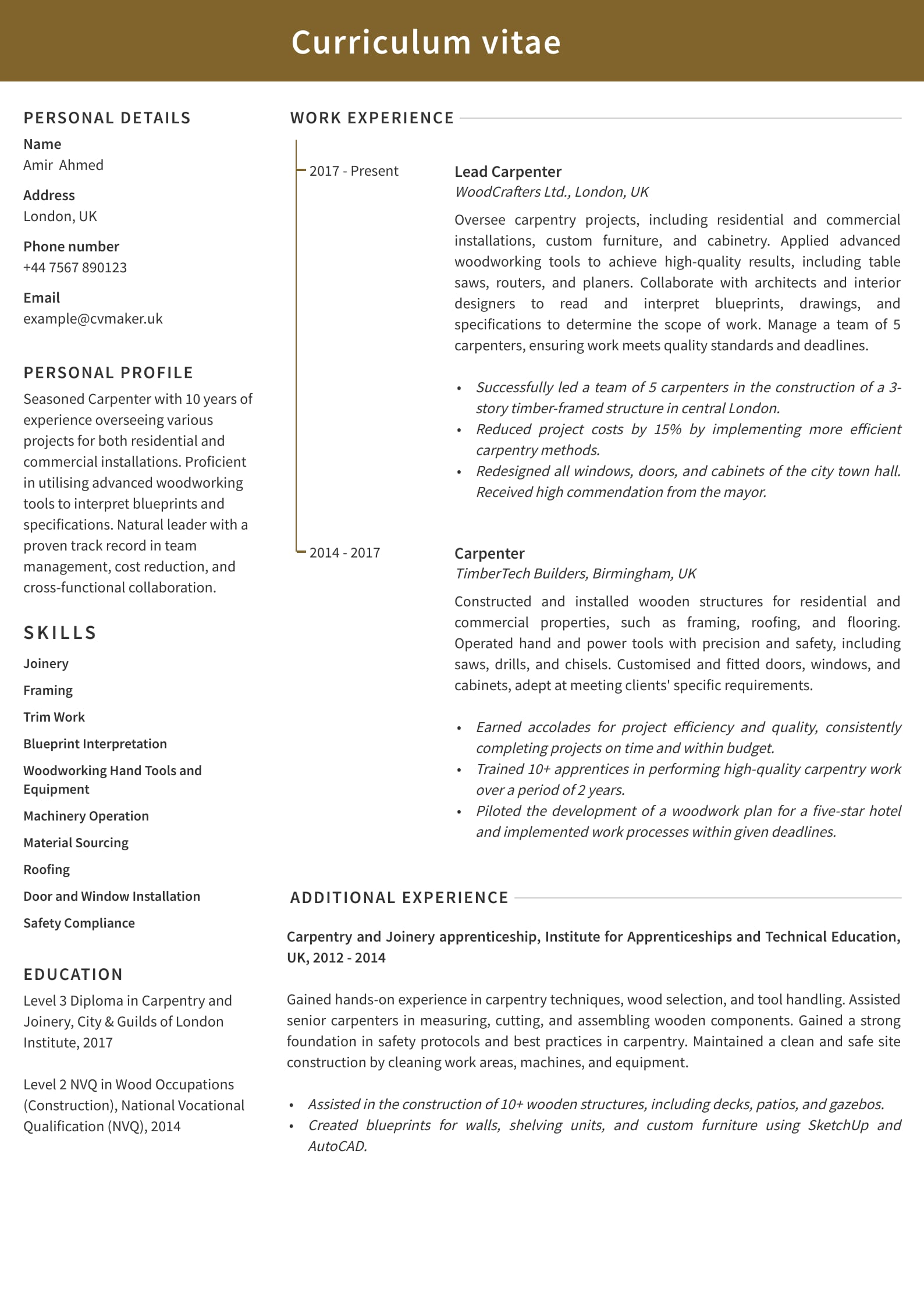 How to Craft a Carpenter CV in 2023 (Free Guide with Examples)
As a carpenter, your job is to work with wood to construct, repair, and maintain various building structures and furniture pieces. This craft is in demand in the UK alongside a good earning potential, yet you need specialised training to kickstart or advance your career. 
Types of carpenters in the UK:
Rough carpenter

Finish carpenter

Cabinet carpenter 

Ship's carpenter

Trim carpenter

Scenic carpenter

Formwork carpenter

Joister

Framer

Roofer.
If you wish to pursue a career in the construction sector, you need a simple CV to outcompete other applicants. Whether you are a school leaver, apprentice, or seasoned carpenter, this step-by-step guide provides the practical insights and tools you need to help you succeed in your next job interview.
Carpenter CV example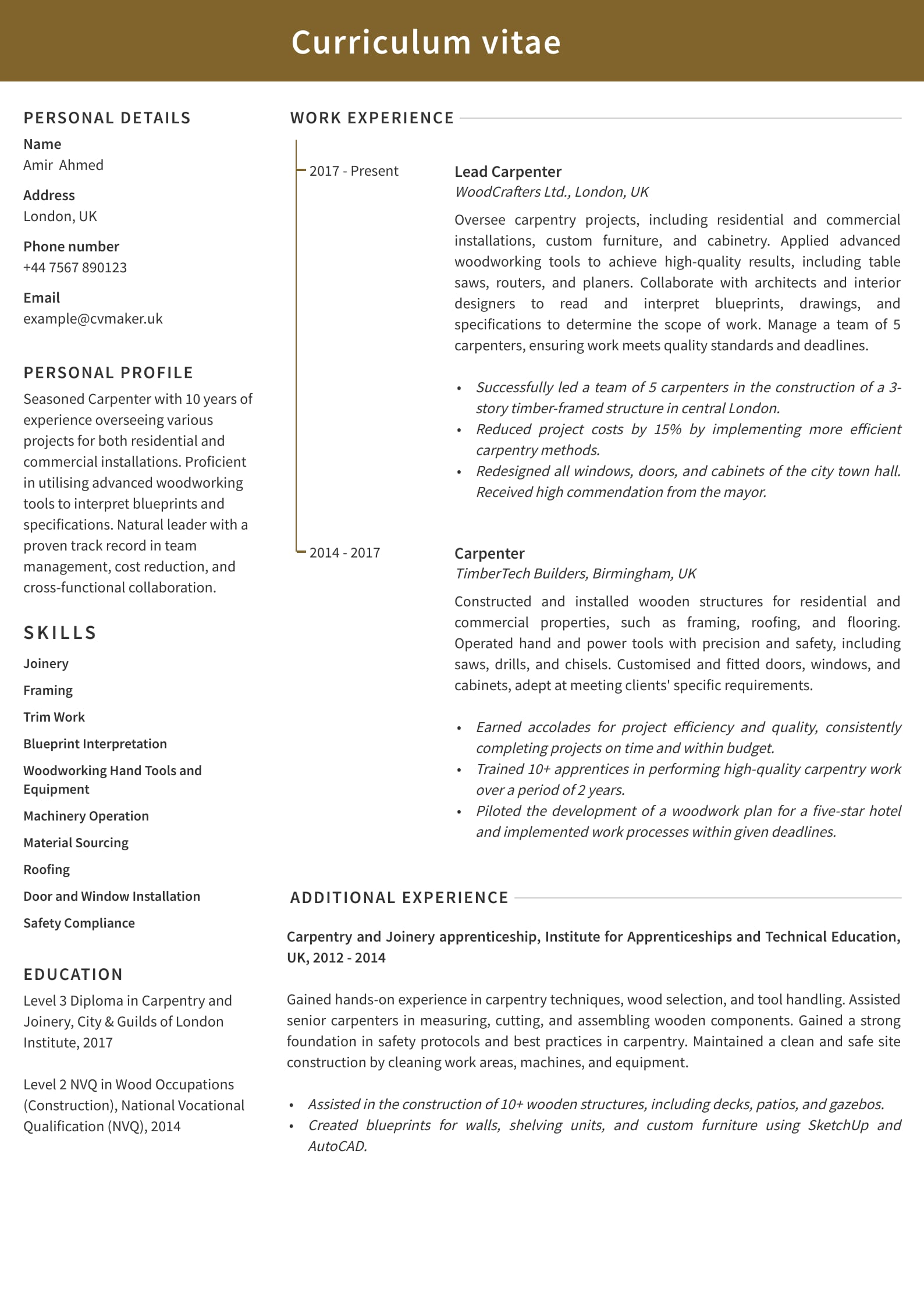 Download this carpenter CV sample as PDF
This CV sample example features Amir Ahmed, a carpenter with over 10 years of experience in the field. He skillfully displays his professionalism using the work experience and skills sections, highlighting his measurable achievements and industry knowledge. His completed apprenticeship and NVQ certificates present him as a qualified candidate with the right skill set for his next role.
What to include in a carpenter CV?
The sections are not set in stone because there is no universal strategy for writing a good CV. It depends on your industry target and specific job requirements. Nevertheless, the core of any CV lies in a clear, well-structured, and applicant tracking system (ATS)-friendly format. 
When deciding which sections to include, create a master CV that elaborates on the scale and type of each project you've worked on. Once done, move on to composing a job-specific CV focusing on one specific role within your field of interest.
For more information, refer to the article about a master vs job-specific CV.
Pro Tip
Your CV works with other documents such as cover letters, thank you letters, and LinkedIn profiles. Avoid overstuffing your CV with all your knowledge and experience. Instead, make use of all available resources to sell yourself efficiently.
For entry requirements, refer to the National Career Service to learn more!
Highlight your personal profile on a carpenter CV
A personal profile, also known as a summary, aims to outline your current job title, years of experience, soft skills and career aspirations in four to six lines. Although it is the first section of your CV, you should write it at last. Keep it concise, and avoid using personal pronouns. This section is an opportunity to introduce yourself and highlight your unique areas of expertise.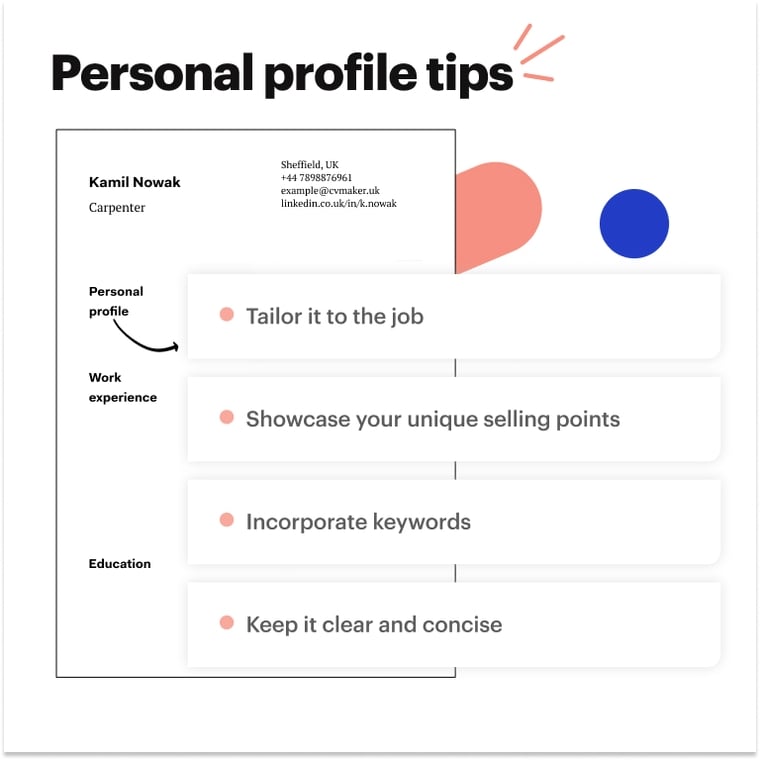 Examples of personal profile:
Rough carpenter CV personal profile example
A seasoned Rough Carpenter with over 10 years of experience in the construction industry. Proficient in framing structures, installing essential components, and ensuring structural integrity. Natural leader with strong communication and project management skills, adept at working in fast-paced construction environments.
Finish carpenter CV personal profile example
An accomplished Finish Carpenter with 8 years of expertise enhancing interiors and exteriors. Skilled in installing trim, cabinetry, doors, and decorative elements to impeccable standards. Swift learner with excellent problem-solving skills, seeking opportunities to learn and grow within a dynamic carpentry team.
Cabinet carpenter CV personal profile example
Analytical Cabinet Carpenter with 5 years of experience crafting custom cabinets and furniture. Adept at working with various wood types and finishes to meet client specifications. Passionate about delivering aesthetically pleasing and high-quality finishes.
See the personal profile on a CV article for more details
Construct an achievements-based work experience for a carpenter CV
Llst your duties and achievements using concise sentences and action verbs in four to six lines. Opt for a reverse chronological format, starting with the most recent positions and working backwards. If you have little to no experience, you can opt for a skills-based approach focusing on your projects and qualifications summary. Whether you are a student or graduate, choosing the right format ensures your CV is ATS-friendly and meets your employer's expectations.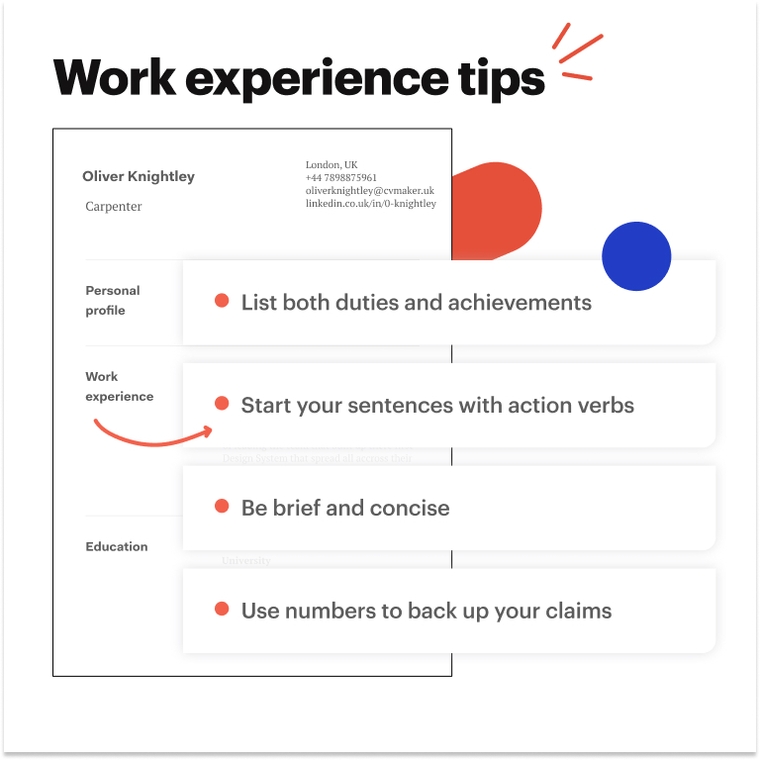 Include measurable achievements on a CV and unique strengths to show your worth to the organisation. It must show how you can benefit the business goals and provide further insight into your strengths and measurable results. 
To learn more, see how to write work experience on a CV.
Example of work experience:
Apprentice Carpenter, Institute for Apprenticeships and Technical Education, 2021-Present
Regularly monitor the stock of materials and supplies, ensuring the team has access to the necessary resources for carpentry projects. Collaborate with senior carpenters to optimise the ordering process, minimising waste and controlling costs effectively. Organise biweekly safety training sessions and workshops, keeping up-to-date with the latest safety protocols and best practices.
Implemented efficient material management strategies, resulting in 25% cost savings

Installed 8 solid wood doors with intricate designs and durable hardware at the entrance of a private house.

Revamped the community centre by upgrading with energy-efficient windows and doors, resulting in a 30% decrease in heating and cooling expenses.
Develop education for a carpenter CV
Create a separate section called 'Education' and list your relevant secondary or tertiary education. Ensure to use the reverse chronological order and write your sections in full. Once you possess the right skill set, consider taking courses or certifications on a CV. You can include them in a separate section or under the education section.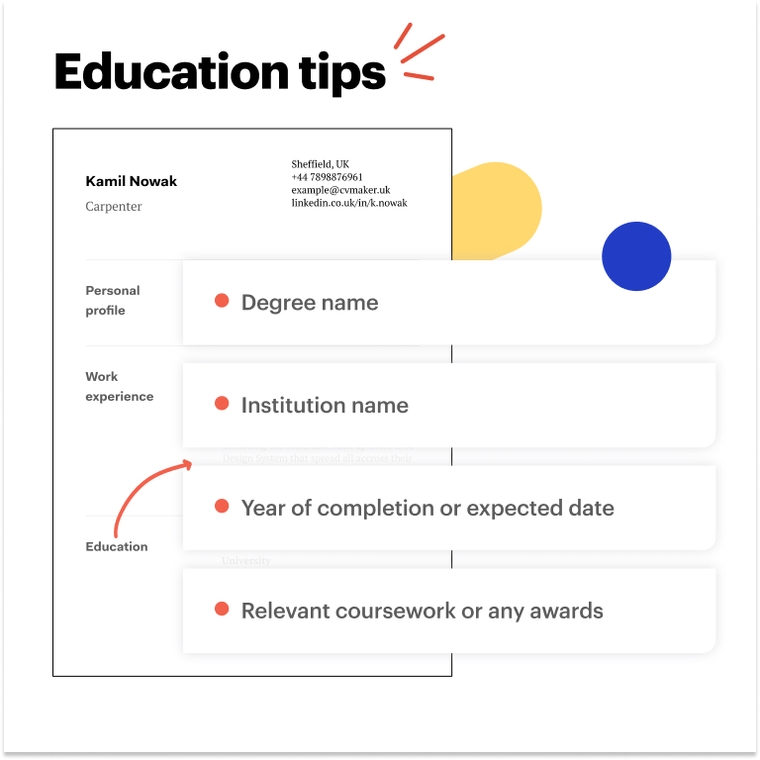 The most common way to get into the field is to complete an apprenticeship lasting up to 3 years, slowly learning all the skills required to carry out your job effectively. The starting salary usually starts at £11,700 per year, with senior roles earning up to £81,000 per year.
If you want to learn more, see the education on a CV article.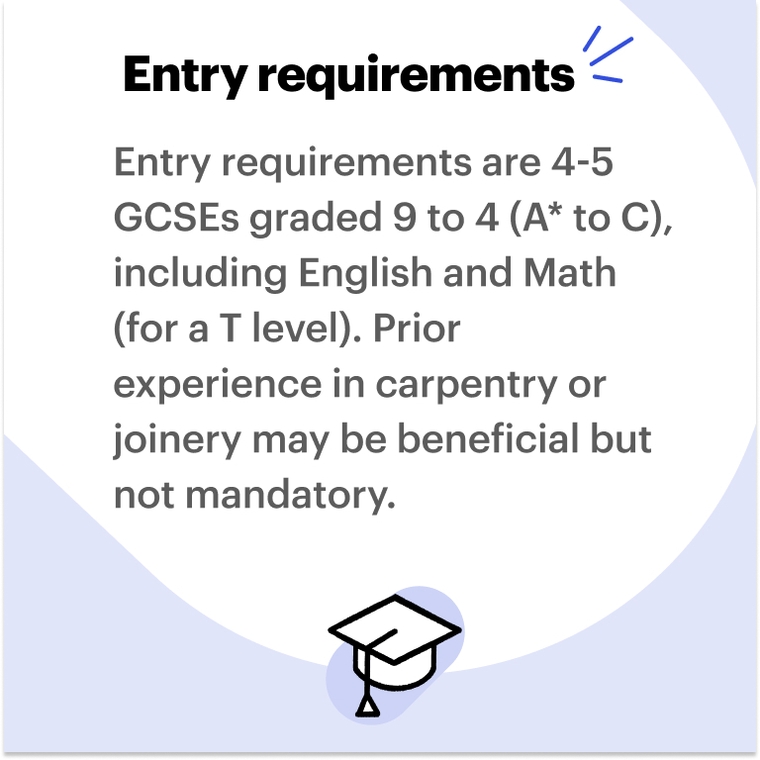 Examples of education:
Must-have: 
Additional:
Demonstrate key skills for a carpenter CV
Adding skills to your CV is more straightforward than you think. You need to be aware of two main types: hard and soft. If you have little to no experience, you can use transferable skills instead of your previous placements or experience. Refer the painter CV example for more inspiration.
Carve out a separate section called 'Skills' or 'Areas of Expertise' with the soft skills going to 'Personal profile'. Alternatively, you can weave them into your work history and education sections and show how you attained this expertise.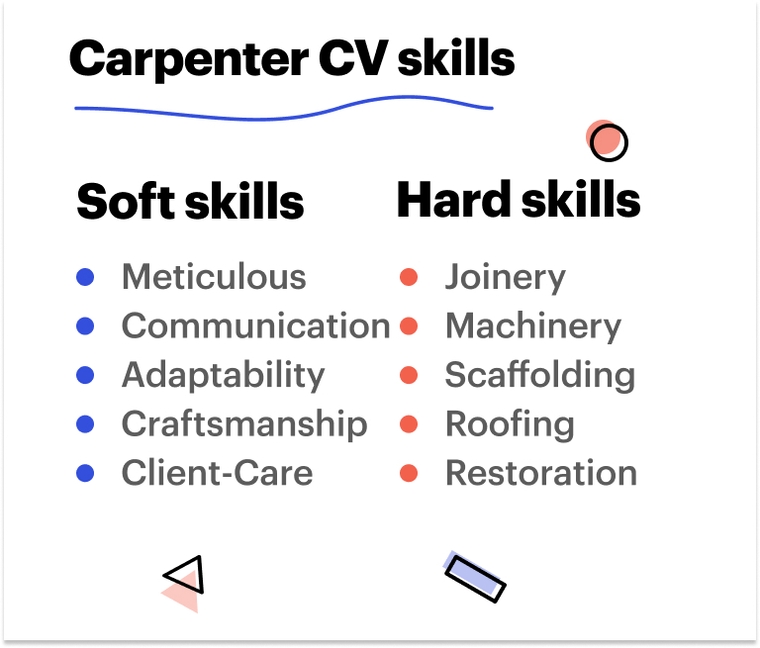 Refer to the article on how to add skills to a CV for more details
Key takeaways
Knowing how to create and format your CV could give you an edge over other candidates. Carpentry requires a skillset of both soft and hard skills, and we hope this guide has helped you better understand job specifications, CV sections, and how to tailor it to a specific job. Remember, your goal is to make a lasting impression while showcasing your qualifications and carpentry expertise in a concise and easy-to-read way.
Next steps?
To ensure your CV reflects your skills and experience, check out our products and services:
Investing time in your career documents can help you significantly improve your job prospects and land that all-important job interview. 
FAQ
What should a carpenter put on a CV?
It should include personal details, personal profile, work experience, education, and key skills. Additionally, you can add relevant achievements or projects, volunteer work, awards, language skills, references, and hobbies and interests.
What are carpenters called in the UK?
This term used to describe skilled woodwork professionals varies depending on your location within the UK:
Carpenter: This term is commonly used in southern England.

Joiner: In Scotland, northern England and northern Ireland, "joiner" is preferred.

Woodworker: another way to say 'joiner' is 'woodworker' in Scotland and Nothern Ireland.
Both carpenters and joiners work with wood, primarily timber products, either at construction sites or workshops, where they manufacture and install fittings in buildings.
Why choose carpentry as a career?
Is it perfect for those who enjoy working with wood, creating functional and aesthetically pleasing structures, and taking pride in craftsmanship? It provides opportunities to develop yourself within the construction industry.
What is carpenter CV job description?
It typically includes a personal profile, work experience detailing carpentry-related roles and responsibilities, educational background, key skills relevant to carpentry, and certifications or qualifications. It should effectively convey the carpenter's expertise and suitability for carpentry positions.
What are the skills in carpentry?
Carpentry skills include woodworking, precision cutting, framing, formwork, cabinet making, trim installation, finishing, blueprint reading, and safety compliance. Carpenters should also possess teamwork and collaboration skills for effective project execution.
Land the interview for your dream job with CVMaker
Effortlessly create your professional CV within 10 minutes and download it whenever and wherever you want!
Create your CV
Increase your chances landing your dream job with CVMaker.