Simple CV
Alexis opted for the simple princeton CV template. With experience as an Executive Assistant, this template effortlessly showcases all her experience on one page.
Create your CV
"Established administrative and business support professional with demonstrated success in assisting senior business leaders and teams in fast-paced, dynamic environments. "
Alexis Williams
- Simple Executive Assistant CV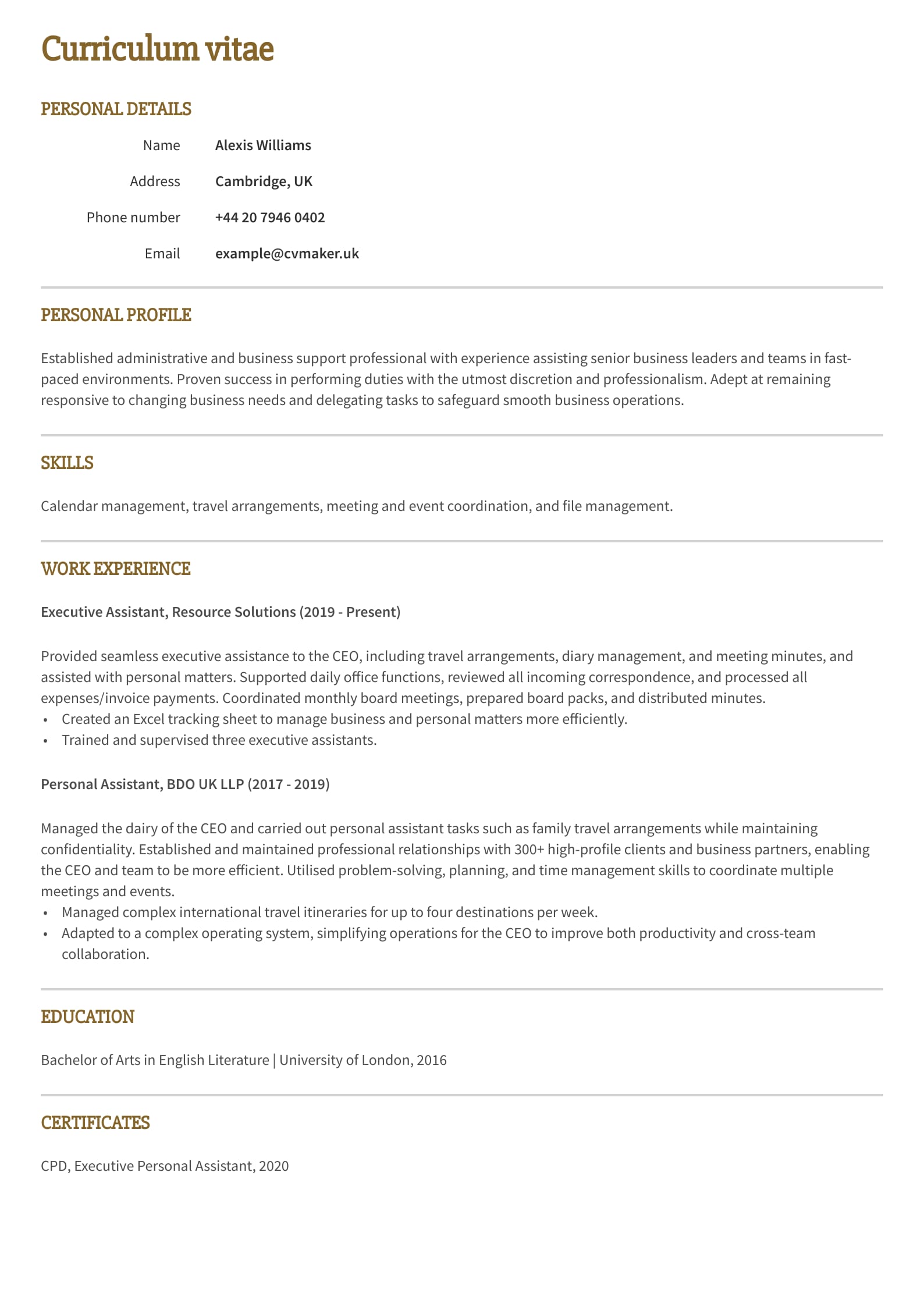 Simple CV Templates, Examples, and Writing Tips!
In the fast-paced, technology-driven world we live in today, the significance of simplicity in creating a CV cannot be emphasised enough. Instead of trying to stand out from the crowd, follow our tips and advice on how to write a good simple CV. The key elements of creating a basic CV include having a clear structure with sections and information relevant to your target job.
With continuous technology advancements such as applicant tracking systems (ATS), there has been a lot of room for improvement in how to structure a CV and the benefits of having a simple CV. If you're looking for simple templates, CV examples, or even simple CV formatting tips, this article has you covered. We provide insight into creating a CV that follows a basic format.
The CV writing process: Where to start?
Begin your CV writing journey by reviewing your current CV and understanding the key elements that make a CV effective. Follow two essential steps to kickstart the process: create a comprehensive master CV and tailor it to craft job-specific CVs.
A master CV provides a comprehensive career overview, including personal details, profile, work experience, education, skills, and achievements. On the other hand, a job-specific CV highlights the most relevant experiences, skills, and qualifications from the master CV.
These strategies empower you to create a targeted and compelling, simple CV tailored to different job roles, enabling you to stand out as a strong candidate in today's competitive job market.
Simple CV examples
For an impactful CV, steer clear of graphically heavy templates. Choose from our handpicked selection of straightforward and user-friendly basic CV templates. Take a look at a few examples below, which can be effortlessly utilised through our CV Builder.
Toronto simple CV template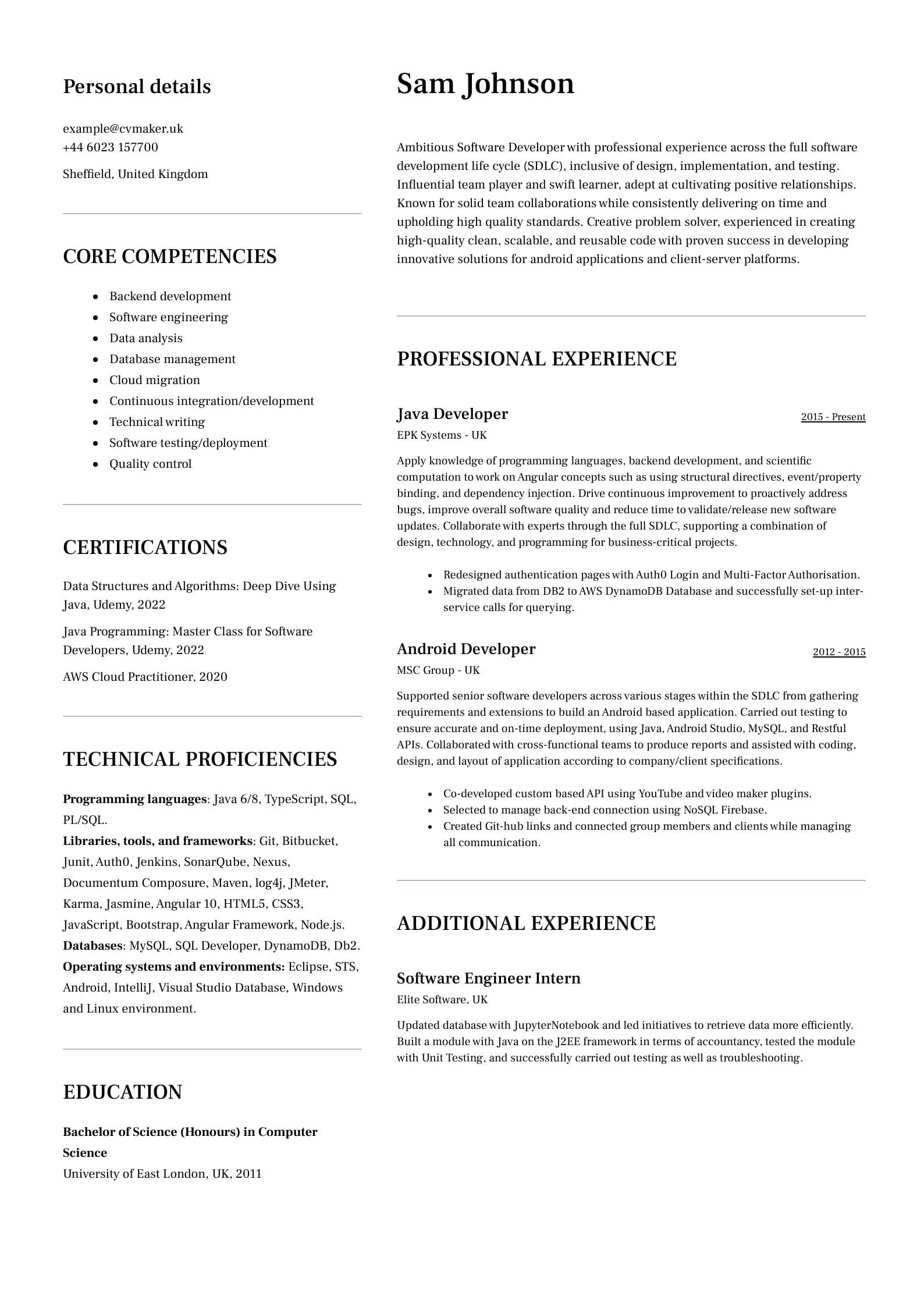 Download this simple software developer CV example
Otago simple CV template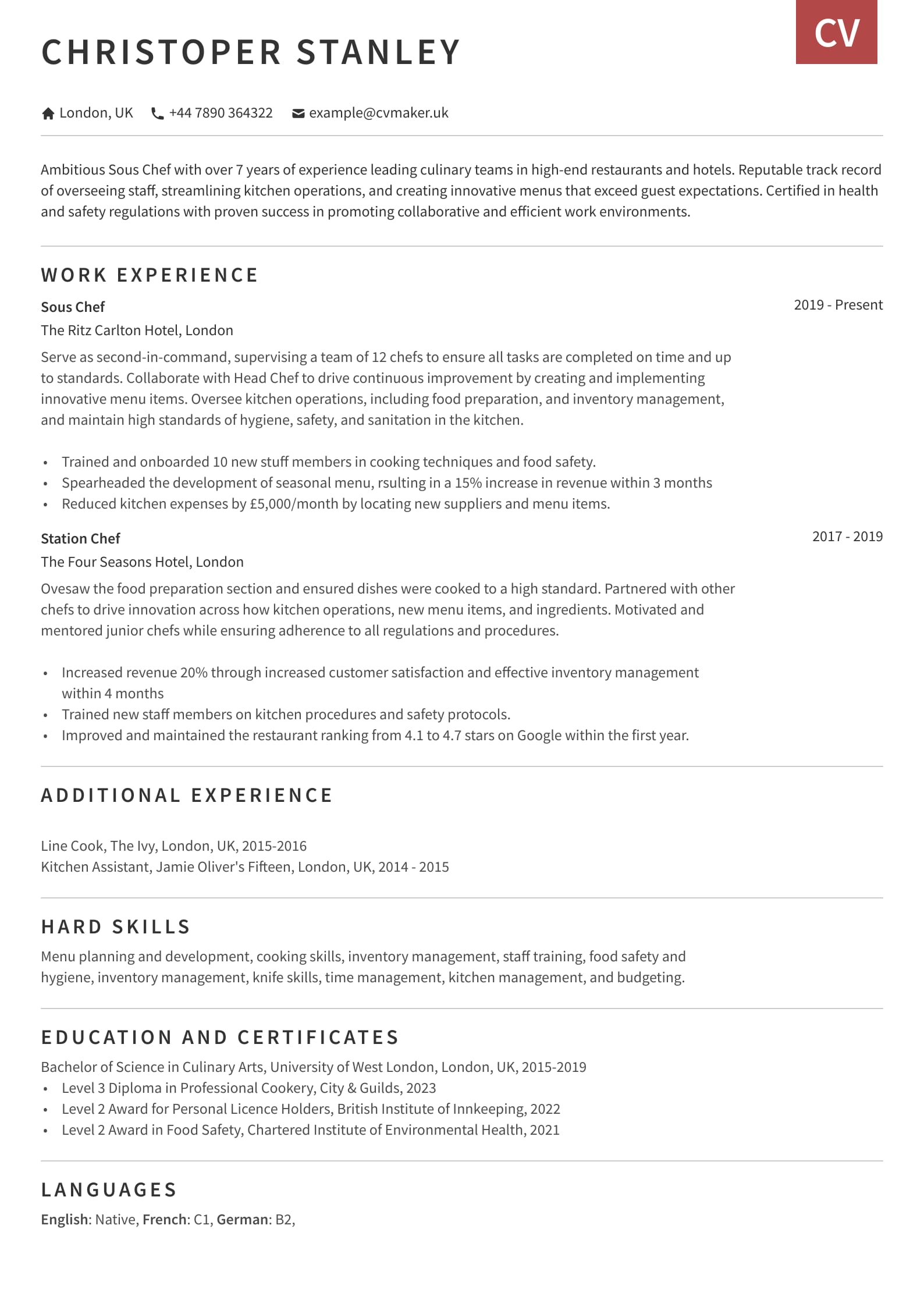 Download this simple chef CV example
Oxford simple CV template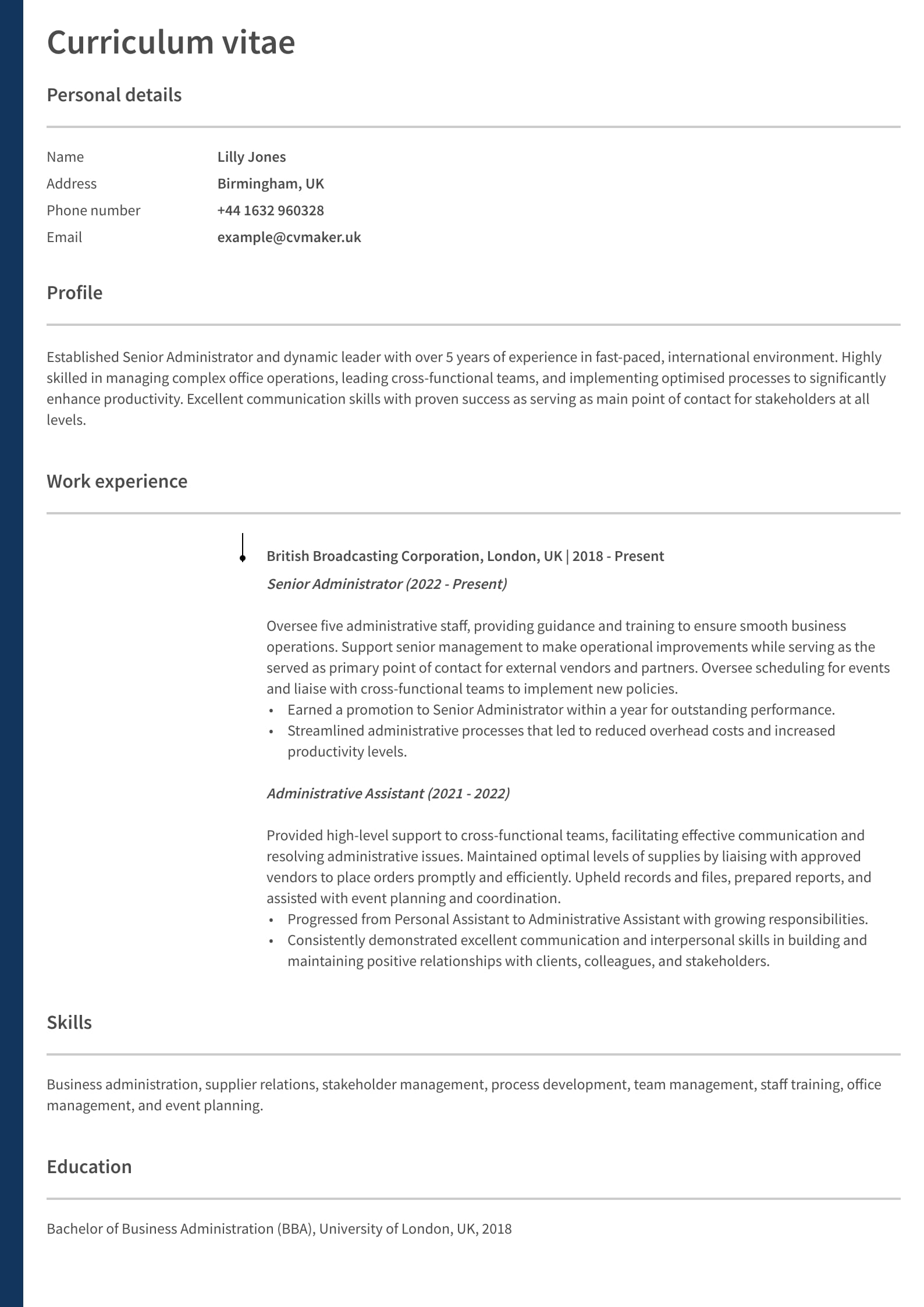 Download this simple administrator CV example
Princeton simple CV template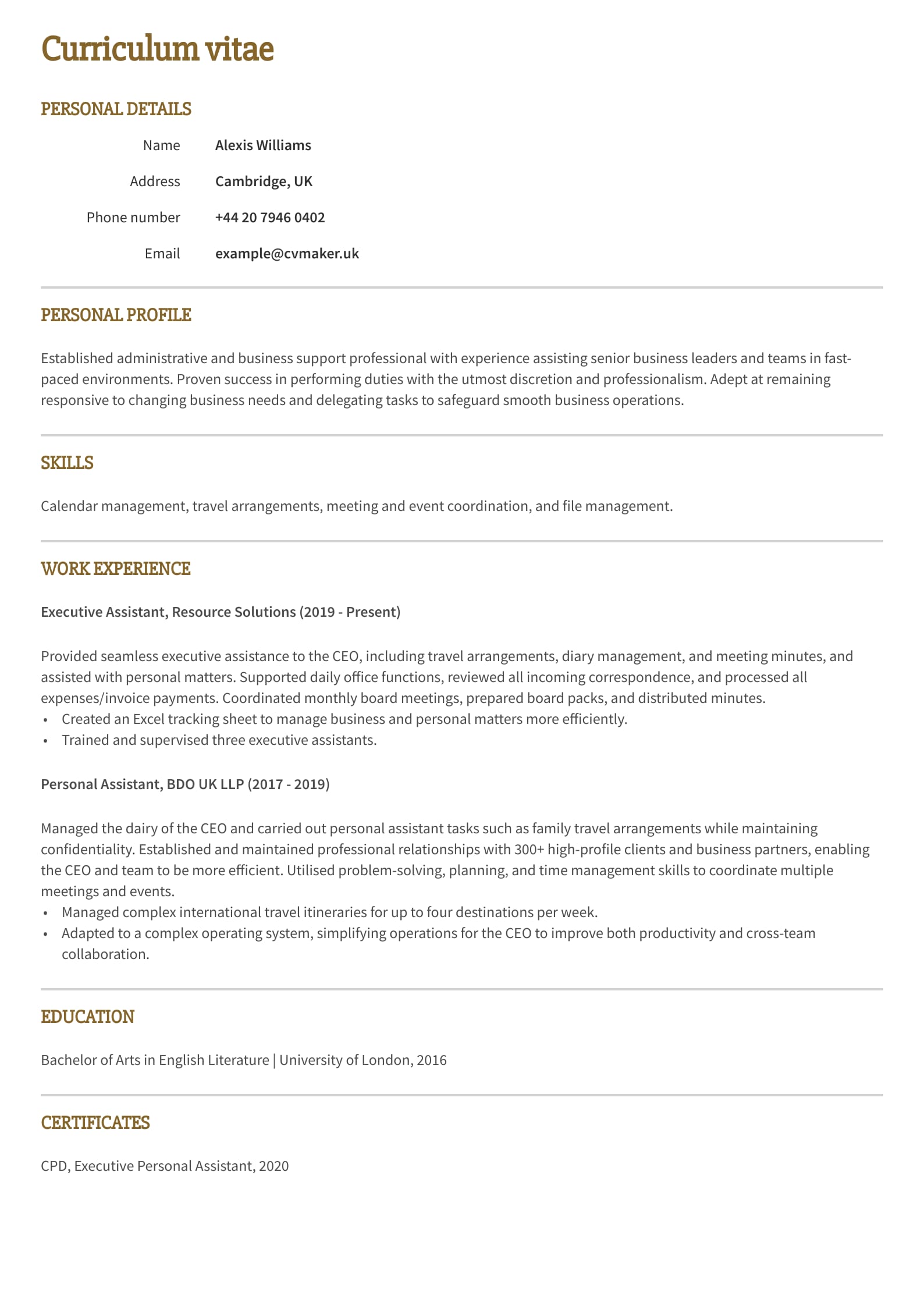 Download this simple executive assistant CV example
How to write a simple CV
Writing a CV is not a walk in the park; those few pages will determine whether or not you will make it to the first round of interviews. A professional CV has, for the most part, followed a standard structure with names differing depending on the region.
Key sections to include:
Optional sections to enhance your CV:
Pro Tip
These sections should complement your main CV content without overshadowing it.
Simple personal profile for a CV 
This is a critical part of any CV, and due to its noticeable position, the recruiter will see it first. Your objective when writing a personal profile, also known as a summary, is to provide a brief overview of yourself, and the best way to do so is by focusing on your soft skills. Refer to our article on how to write a personal profile for more examples and tips.
Example of a simple academic CV personal profile
Registered dietitian (PhD) with a solid research background, industry experience, and teaching portfolio. Interested in combining teaching and research while maintaining focus on public engagement with nutrition and STEM.
Refer to our academic CV for more information.
Example of a simple cleaner CV personal profile
Experienced, self-motivated, and reliable cleaner with over 5 years of extensive experience maintaining cleanliness in large office spaces and hotels. Excel in team environments and working independently, demonstrating initiative and proactive problem-solving skills. Committed to maintaining high standards of hygiene and cleanliness while prioritising environmentally friendly methods in all my work.
Refer to our cleaner CV for more information.
Example of a simple nursing CV UK personal profile
Registered nurse with 10+ years of experience in providing physical and psychological support to patients. Excellent interpersonal skills with proven success in collaborating with medical teams to establish well-resourced and healthy environments.
Refer to our nurse CV for more information.
Example of a simple student CV personal profile
Ambitious Business Psychology student specialising in Human Resources, ready to leverage strong administration skills to develop a career in HR. Excellent time management, communication, and interpersonal skills with a proven ability to build and strengthen connections between different departments. Knowledgeable in employment law and key HR practices with a solid understanding of recruitment, compliance, and business operations.
Refer to our student CV for more information.
Simple CV format tips
A well-formatted CV is visually appealing and creates a positive impression on the reader. It demonstrates your attention to detail and professionalism. Moreover, proper formatting enhances the readability of your CV, allowing the reader to easily navigate through the document and find the information they need. Below you will find a few tips on how to format a CV with a simple layout and a few writing tips:
1. Highlight key sections
Using appropriate headings, bolding, or formatting techniques draws attention to key sections such as work experience, education, and skills.
2. Keep it professional and ensure attention to detail
It shows recruiters or hiring managers that you take the application process seriously and have put effort into presenting your qualifications and experiences in a clear and organised manner.
3. Use clear and concise language
Keep your language straightforward, avoiding unnecessary jargon or technical terms.
4. Maintain organisation and structure
Use clear section headings and maintain consistency in font styles, sizes, and formatting to help readers easily navigate your CV.
Key takeaways 
Ultimately, a CV is your personal marketing document and plays an important role in presenting your skills and experiences to prospective employers. Below you will find a list of key takeaways when it comes to writing a simple yet effective CV:
DOs
Focus on relevant information.

Use clear and concise language.

Highlight your accomplishments

Tailor your CV to the job.

Proofread and edit.
DON'TS
Overload information onto one page.

Include information not directly related to the job.

Include generic phrases or clichés.

Use inconsistent font styles, sizes, and spacing.

Send out the same generic CV for every job.
Next steps?
With CVMaker, you can easily build your very own CV with our intuitive and simple CV Builder. If you are looking for more CV examples and templates or perhaps seeking professional support, refer to our CV Writing Services for more information.
FAQ
Who should you use a simple CV template?
A simple template is suitable for anyone looking to create a clean and streamlined CV that focuses on essential information, regardless of their level of experience or industry.
Is a simple CV good when you have no work experience?
Yes, it is especially beneficial when you have no work experience, as it allows you to highlight your skills, education, and any relevant volunteer work or internships effectively.
What are the best templates for a simple CV?
The best CV templates prioritise clarity and readability, such as minimalist designs with well-structured sections, clear headings, and a professional appearance.
Do recruiters like a simple CV? 
Recruiters often appreciate a straightforward, to-the-point CV because it enables them to quickly grasp the essential details without being overwhelmed by unnecessary complexities or excessive visual elements.
What should be on a simple CV UK?
In the UK, a good CV should include personal details, a concise personal profile, education and qualifications, relevant skills, work experience (if applicable), and any additional relevant sections like certifications or achievements.
What are the basic elements of a CV?
The basic elements of a CV typically include personal details, a professional summary or objective statement, education and qualifications, work experience, skills, and any additional sections that showcase your relevant accomplishments or activities.
When to pick a simple CV template?
Choose a basic CV template to ensure a clear and straightforward presentation of your information, especially if you want to emphasise the content.
Land the interview for your dream job with CVMaker
Effortlessly create your professional CV within 10 minutes and download it whenever and wherever you want!
Create your CV
Increase your chances landing your dream job with CVMaker.