CV
>
How to write a good CV
How to write a good CV
CV
· May 15 2023
· 10 min read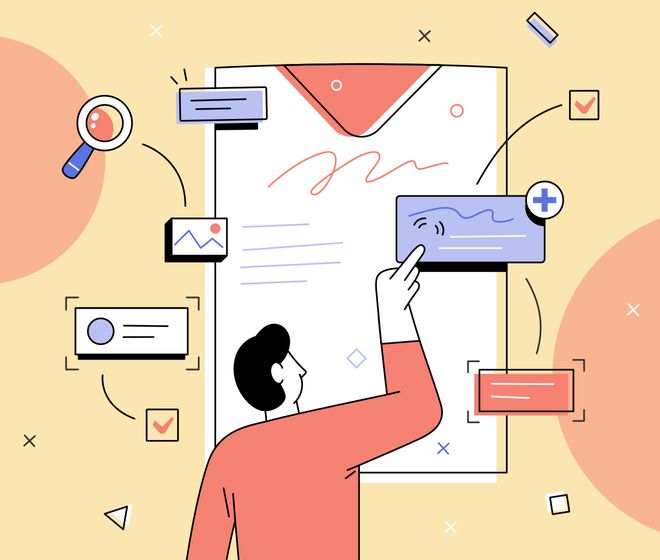 When looking for a job, having a well-crafted CV is a must. That's why at CVMaker, we aim to enable you with the tools and resources to write your CV. Writing a CV may seem straightforward, but with an overwhelming amount of information on the internet, where do you begin? 
At CVMaker, we firmly believe that everybody has the right to work in their dream job, so we want to educate our readers on how to write a good CV. This article features CV basics, layout, formatting, a step-by-step guide on how to write a CV, and the structure of a CV. By following our tips and using CVMaker's easy-to-use CV Builder, you can confidently create a CV that will increase your chances of landing a  job interview.
Don't have time to read through the entire article? We created a TLDR checklist at the end of this article.
What is a CV?
A CV, which stands for curriculum vitae, is a personal marketing document designed to attract the attention of employers. Above all, a CV must be tailored to your career goals. There are a few things to keep in mind, such as UK requirements and the different types of naming conventions of sections on a CV.
What is the difference between a CV and a resume?
In the UK, there is no difference between a CV and a resume, but the prefered term is just 'CV'. In the USA, a CV is used in academic contexts and is much longer than a resume. The naming conventions differ worldwide; each country has specific requirements, such as the inclusion/exclusion of personal details, naming of sections, spelling, language, photo, length, and other country-specific trends.
What is an Applicant Tracking System (ATS)?
ATS is software that recruiters or hiring managers use to track and manage applicants. It can scan CVs for keywords or other job requirements, including but not limited to years of experience, location, or job titles. That's why it's important to create a document that focuses on your career goals in today's job market rather than creating a generic CV. 
Pro Tip
Pay attention to important keywords, phrasing, or job requirements. Make sure they are strategically incorporated into your CV but be careful of plagiarism.
What is the best CV layout and format?
Have you ever struggled to create a CV? Perhaps you have resorted to exploring different CV examples/downloading free CV templates. Have you experienced something changing every time you move sections, resulting in frustration? That's why at CVMaker, we have solved that tedious task for you by creating an easy-to-use CV Builder with a built-in spelling and grammar check. With this tool, you can download and create a professional CV, saving both time and effort in writing a CV. 
Tips on how to format a CV: 
A CV should be no more than two pages. 

Make sure your CV opens appropriately on any device, free of grammar, spelling, or punctuation mistakes. 

Use a professional and industry-specific template (see our CV templates and CV examples page for more inspiration).

Avoid graphic-heavy CVs, as this might impact your ATS results. 
Types of CV formats
There are five CV formats: chronological, reverse-chronological, functional, hybrid, and generic. The most common format is reverse chronological, placing your most recent experience first. A functional CV, or a skills-based CV, focuses more on your skills and less on your experience. Refer to our skills-based CV for more information. 
How to write a CV?
Next, we look closely at each component necessary for an effective and professional CV. Conducting thorough research is the first step when searching for jobs. To stand out in today's job market, you must tailor your CV by focusing on relevant experience and skills. 
Ask yourself the following questions before writing a CV:
What skills set you apart from other candidates?

What did you do on a day-to-day basis at work?

How do your daily duties differ from achievements per job?

Did you collaborate with colleagues on specific tasks or projects?
What is a master CV?
A master CV or the master document comes highly recommended by CVMaker and should continually be updated when changing jobs, completing courses, or learning new skills. This document must contain all of your past work experience, skills, and education, including all forms of qualification, whether formal or informal. The purpose of this is so that you can easily add information when tailoring your CV. 
How to tailor a CV?
Do you feel you are applying for many jobs but not getting any response from recruiters? Well, it's most likely because you are not adding the correct information or your layout needs improvement. Tailoring a CV will ensure you pass the ATS scan and show the recruiter or hiring manager that you are the right person for this role. Remember that you will need to elaborate on your duties or achievements during an interview. For example, you will create a marketing-focused CV if you target marketing roles. However, if something more specific within the marketing field, such as a Social Media Manager, try to focus on skills associated with that job. 
How to structure a CV?
At CVMaker, we believe anyone can write a good CV with the right tools and resources. It doesn't matter if this is your first CV or if you already have one you'd like to update. This next section covers essential CV sections, but if you want more job-specific information, visit our CV templates and CV examples pages. 
Preferred CV sections:
Personal details

Education.
Optional CV sections:
Personal details
A complete CV should always include personal details so that a recruiter or hiring manager can contact you. This section should be at the very top of your CV; a professional photo is not a requirement for the UK. 
Must include on a CV: 
Full name

City/town/region

Phone number

Email address.
Optional information to include on a CV (if applicable): 
LinkedIn profile

Link to your portfolio, blog, or social media accounts

Driving licence and type. 
Can be excluded from a CV: 
Home address

Date of birth

Gender

Marital status

Photo.
Personal profile
The personal profile, or a profile summary, is always at the top of your CV and should be completed last. It provides the recruiter or hiring manager with a quick overview of who you are and your career goals. Remember that soft skills need are incorporated into a personal profile. Refer to CV personal profile for more information.
Skills
It is challenging to decide which skills to include or exclude. Still, by researching and carefully assessing what companies look for, you can identify your areas of expertise. A few common mistakes people make when writing a CV include adding too many skills, mentioning irrelevant skills, combing, or not differentiating between hard and soft skills. Remember that soft skills need are found in the personal profile section, and hard skills are a section on their own. 
Pro Tip
 If you're applying for a technical job, consider creating a new technical proficiencies section. List your expertise or specific knowledge. If you want to learn more, refer to what skills to put on a CV. 
Work experience
A CV must always include recent work experience and should, for the most part, not go back more than 15 years. For this reason, work experience that is irrelevant or outdated could be detrimental to your job search. The main goal is to prevent your CV from simply becoming too long. If you have little to no experience, or perhaps, you are a recent graduate or switching careers, then best to opt for a skills-based CV. Alternatively, see additional experience section below or refer work experience on a CV for more inspiration.
Education
There are many ways to include your education on a CV, but for clarity and layout on a CV, our experts at CVMaker highly recommend that you separate sections on a CV. Education is not only formal or tertiary education but can refer to informal education. If you do not have secondary or tertiary education consider including courses under education. Alternatively, splitting them into sections such as education, courses and certificates, and professional training is best if you have various qualifications.
Tips on how to include education on a CV:  
If you have recently graduated and have little work experience, you can choose to explain your education in greater detail. For example, you can highlight relevant courses, projects, and grades. 

List only the date of completion and not the entire date range. If you're still busy with it or maybe you are studying part-time, you can mention that it is in progress.

Include the most recent or higher education first.

If you have tertiary education or have been out of high school for quite some time, exclude secondary education.

As with any courses or professional training, remove the dates within the education section if they are outdated.

Consider moving education before work experience if you are a recent graduate or have little experience.
Additional experience
This section predominantly showcases work experience gained ten or more years ago, but there is always the exception depending on the number of positions you've held. However, we advise that you briefly mention any short-term or past experience and then elaborate within an interview. That way, you avoid forgoing information but still showcase it on your CV without introducing red flags, such as whether it is short-term or outdated. 
Always remember only to include information if it is relevant to your career goals. Clearly describe your responsibilities and how the skills you've obtained are transferable to the job targets. Your CV should show how your past work experience and skills can bring value to the company or organisation you wish to join. The recruiter should understand your character and key skills based on your CV.
Volunteer experience
Volunteering is a form of experience, and just because you were not paid, it does not mean you did not develop any valuable skills through serving your community. Mention your volunteer work with a particular organisation if it is relevant or advantageous.
Tips on how to add an additional experience:
List only your title, company, and location.

Exclude outdated experience or remove dates.

If possible, include a brief description or key achievements relevant to your target jobs.

include and elaborate on valuable skills.

Avoid including irrelevant work experience in great detail.

Do not mention the reason for leaving.
Hobbies and interests
All activities you undertake outside work can give the recruiter or hiring manager more insight into your personality. However, it should only be included if it is relevant to your career goals or shows some skill that could be applied at work. The primary purpose of a CV is to show why you are the right person for the role, so while including your hobbies and interests may seem beneficial, it's not an actual requirement. You will be able to elaborate on this area within an interview. Read more about hobbies and interests on a CV. 
Achievements
There are three ways achievements must be listed on a CV. Firstly, achievements from work experience or education. These can be listed within the work experience or education section on a CV. Secondly, although the terms can be used interchangeably, the main difference is that accomplishments refer to career accomplishments. This is most commonly its own section and is used by individuals with a lot of experience. Thirdly, awards are a form of achievement and can also be a new section. Awards on a CV can be incorporated throughout your CV within work experience, education, or even into your accomplishments. Most importantly, you must differentiate between them and ensure they are relevant. 
Courses and certifications
To ensure a well-structured CV and layout, consider including additional sections. If possible, incorporate them elsewhere. Courses, certificates, or professional training can be sections individually or combined. However, this all depends on how many you have completed, if it's recent, and if they are relevant to your career goals, then emphasise them by including them in their own section. The purpose of courses or professional training is to showcase your willingness to learn or prove you are qualified/certified in a particular field. Read more on how to list certifications and courses on a CV.
References
A reference on a CV can be good if you want a colleague or past employer to verify your role and achievements. CVMaker experts suggest excluding references unless required by your employer. Whether or not references on a CV are mandatory or optional is purely up to you and the type of jobs you are targeting. The aim is to keep the CV brief and relevant, and if you see there is no space to include references, create a separate document that contains a list of past references.  
Languages
Speaking multiple language skills is impressive, and you can be proud of it. We always advise carefully considering the job requirements before adding any information to your CV. If it is an international company, then definitely include languages on a CV. You can choose to put this information in your master CV, do not forget to copy it onto your job-specific CV. Read more on how to mention language skills on a CV. 
Key takeaways
At first glance, what types of jobs you are targeting should be clear. Recruiters or hiring managers avoid generic CVs, so you need to be clear, concise, and only include information relevant to your career goals. If you're unsure how to organise your CV or which template to use, visit our CV templates page for inspiration. Alternatively, speak to an expert at CVMaker about our CV Writing Service.
Now that you have the basic knowledge of what makes a good CV, we've provided a checklist that summarises the main points in this article:
Create a master CV on your computer that lists all of your work experience, education, and skills.

Utilise your research to ensure you include only relevant or required skills to make your CV stand out.

Be aware of ATS, so this means using the correct layout, naming conventions, skills, writing strategy, and other relevant information.

Choose a layout or template that works for you and make it easy by choosing one of CVMaker's professionally designed CV templates.

Triple-check your personal details before submitting your CV.

List your personal profile at the very top of a CV, followed by your hard skills or also known as areas of expertise. 

Work experience, education, and any additional sections must always follow, but the order can be adjusted.

List the most recent experience, education, or course within each CV section, following a reverse chronological order unless you follow the skills-based layout. 

Differentiate between hard skills and soft skills.

If you are fluent in several languages, it is a good idea to make a separate section for this and elaborate on the level of proficiency/fluency.

Do not include information on your CV that you think will sound interesting or that is not true.

Mentioning references on the CV is not mandatory and sometimes takes up unnecessary space. 

Photos on a CV are not a requirement in the UK.

A CV shouldn't exceed two pages. 

Always proofread your work by using tools such as Grammarly. Alternatively, print it out, read it aloud, or ask a friend to review it. 

Always save your CV in PDF format, so it opens correctly and is legible on all devices. Note that our CV Builder does this automatically for you.
Start creating your CV
Create a professional CV quick and easy with our advanced CV Builder
+ Create CV
Written by
The CVMaker platform offers a complete career platform for jobseekers with handy tools and valuable information. Are you ready for the next step in your career? Create your CV now
Land the interview for your dream job with CVMaker
Effortlessly create your professional CV within 10 minutes and download it whenever and wherever you want!
Create your CV
Increase your chances landing your dream job with CVMaker.