CV
>
How to Write a Good CV in the UK (Examples, Tips, and Templates)
How to Write a Good CV in the UK (Examples, Tips, and Templates)
CV
· November 28 2023
· 6 min read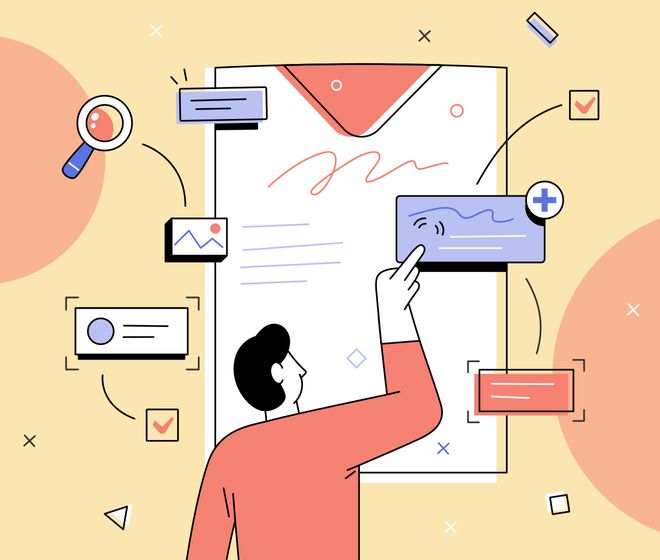 In today's competitive job market, a successfull curriculum vitae (CV) is essential to showcase your skills and experiences to potential employers. Ultimately, a CV is a personalised marketing document aimed at capturing employers' interest. Its primary focus is to align with your career goals by showcasing your professional background, qualifications, skills, and experiences. Whether you're an expert in your field or a recent graduate, this article provides valuable CV advice, examples, and tips to assist you in how to write a good CV.
What to include in a CV?
There are certain must-have versus optional sections when writing a CV. The most important thing to remember is that a CV should be tailored towards your career goals. Therefore, selecting which templates to use also depends on which phase of your career you're in.
Consider the following must-have sections for a CV in the UK:
Personal details

Personal profile

Work experience

Skills

Education.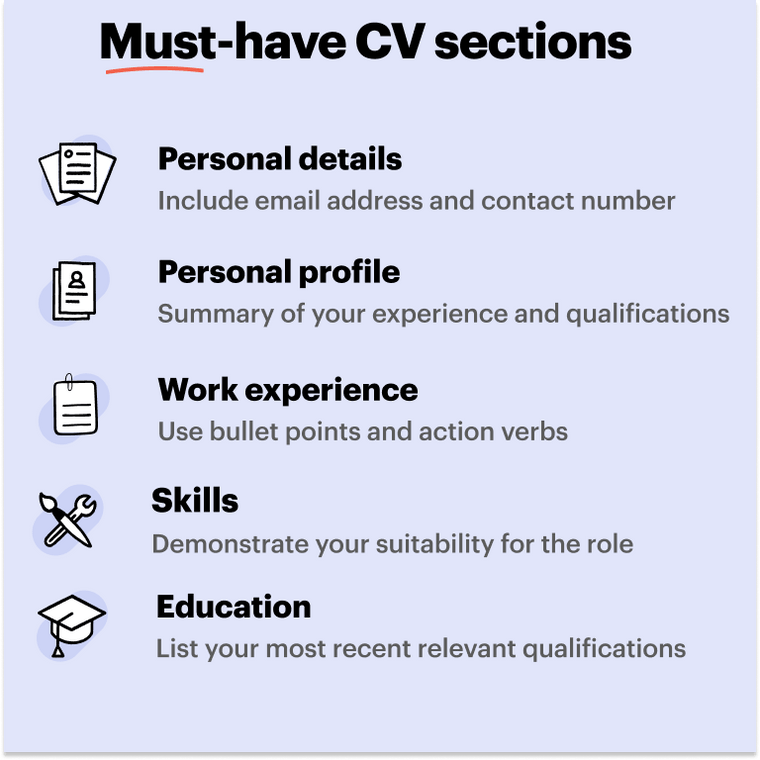 You may include additional sections if they are relevant. This includes but is not limited to:
Professional affiliations and memberships

References

Languages

Awards

Career accomplishments

Courses and certificates

Hobbies and interests

Professional training

Volunteering

Conferences 

Publications.
What are the different sections of a CV?
An excellent CV should highlight your work experience, education, achievements, and relevant skills clearly and concisely. Additionally, tailoring your CV to match the job requirements you are applying for can greatly increase your chances of success.
The following sections delve into important considerations, including UK requirements and the naming conventions for different CV sections.
Personal details on a CV
A complete CV should always include personal details so that a recruiter or hiring manager can contact you. This section should be positioned at the top of your CV, and it's important to note that including a photo on a CV is not required in the UK. 
Required on a CV in the UK:
Full name

Location (town/city)

Phone number

Email address.
Optional information (if applicable):
LinkedIn profile

Link to your portfolio/website

Driving licence and type.
To be excluded:
Exact home address

Date of birth

Place of birth

Gender

Marital status

Photo.
For more tips, refer to whether or not to include a photo on a CV.
Personal profile on a CV
A personal profile serves as an introductory statement summarising your professional background, education, goals, and key soft skills tailored to your desired job and industry. It should be concise, clear, and relevant to make a strong impression on employers, giving them a quick overview of your identity and career objectives. 
For more guidance and examples, refer to how to write a personal profile that has over 15 examples to effectively showcase your soft skills and create a compelling personal profile. Alternatively, review the examples below. 
Retail CV personal profile example
Ambitious and customer-focused retail professional with over five years of experience in enhancing store turnover and productivity. Well-versed in staff training, coaching, and developing performance-driven teams. Excellent communication and interpersonal skills with proven capabilities in problem-resolution, stakeholder engagement, and continuous process improvement.
Refer to the retail CV example or retail cover letter for more details.
Sales CV personal profile example
Customer-focused sales professional with 10+ years of experience in exceeding sales targets, spearheading new sales processes, and driving sustainable revenue growth within fast-paced environments. Influential leader, adept in delegating, training, and coaching cross-functional and performance-driven teams. Demonstrated track record in cultivating valuable business partnerships with proven success in implementing effective customer retention strategies.
Refer to the sales CV example or sales cover letter for more details.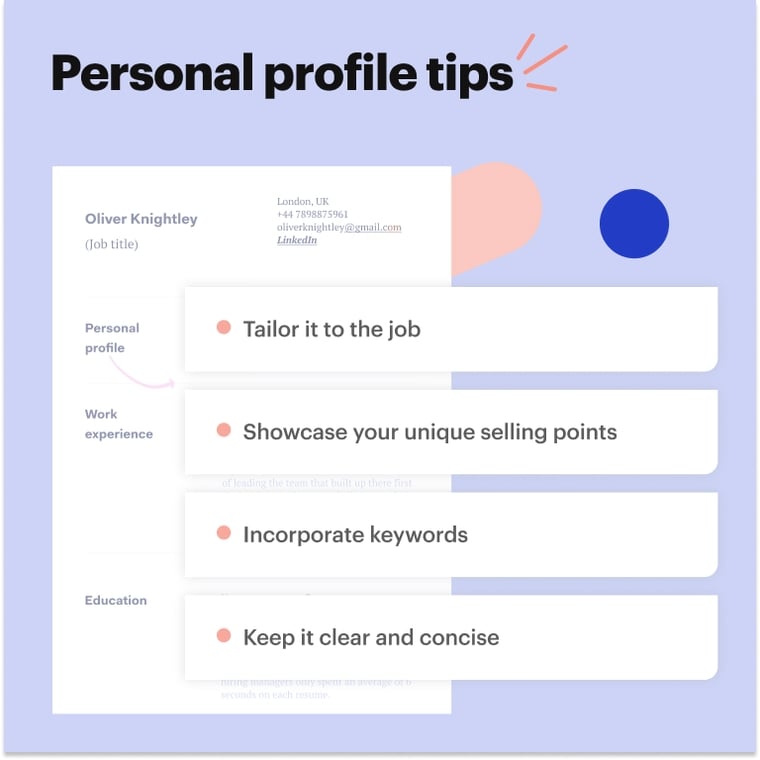 Skills on a CV
Crafting the ideal CV involves tailoring it to align with your career goals, and the same principle applies to your skills section. The skills you put on a CV should be specific and relevant to the types of jobs you are targeting. If you find yourself unsure about which skills to include, seeking input from friends or colleagues can provide valuable insights into your top qualities. The example below shows very specific skills for a bookkeeping role.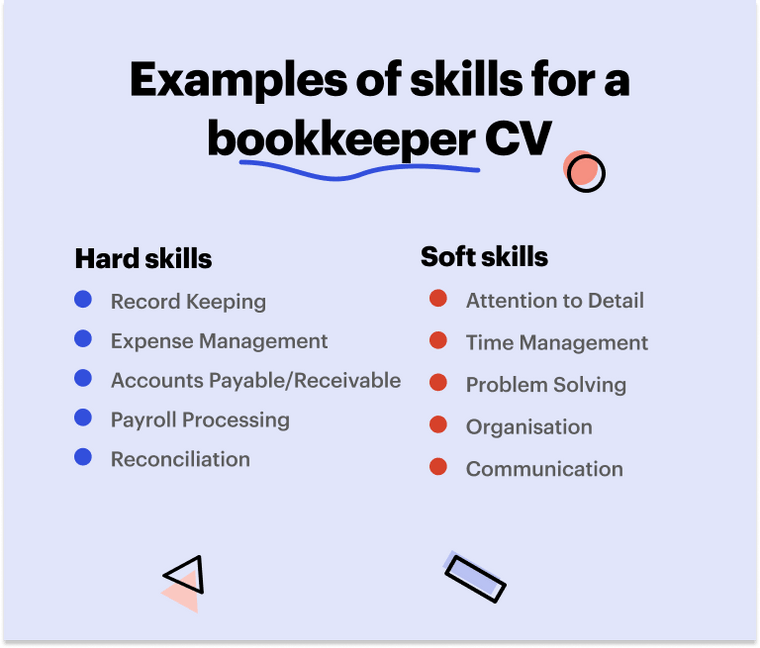 Avoid common CV mistakes such as:
listing too many skills

adding irrelevant skills

neglecting the distinction between specific skills. 
Pro Tip
Selecting the right skills can be challenging, but researching and evaluating company expectations helps identify your expertise and determine which skills to include in your CV.
Language skills on a CV can be a great addition, refer to the article for more tips.
Work experience on a CV
When it comes to work experience on a CV, it's important to consider that individuals have different levels of experience —some possess extensive backgrounds, while others are launching their careers. The main purpose of this section is to emphasise daily tasks, achievements, and pertinent background.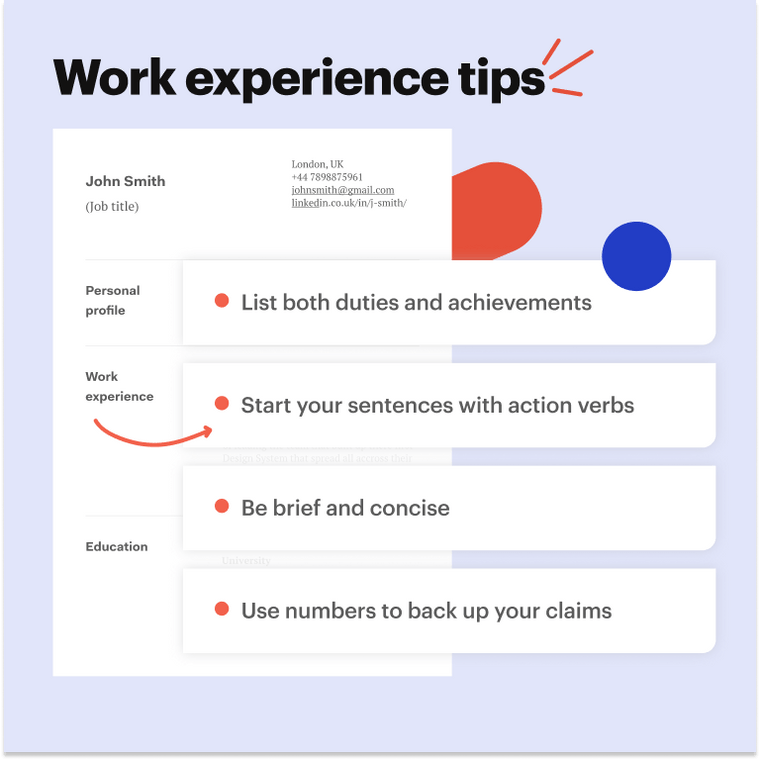 A CV should always include recent work experience, focusing primarily on the past 10 to 15 years. Including irrelevant or outdated work experience can be detrimental to your job search, as it may make your CV excessively long. 
Pro Tip
Include short-term or past experience in an additional experience section and elaborate on it during an interview.
Refer to how to write work experience on a CV for further guidance.
Education on a CV
This section plays a vital role in showcasing your qualifications and expertise, providing valuable information for prospective employers to assess your suitability for a position. It serves as a powerful differentiator, emphasising your dedication to personal and professional growth.
Education encompasses not only formal or tertiary education but also informal education. If you lack secondary or tertiary education, you can consider including relevant courses under the education section to make boost your CV.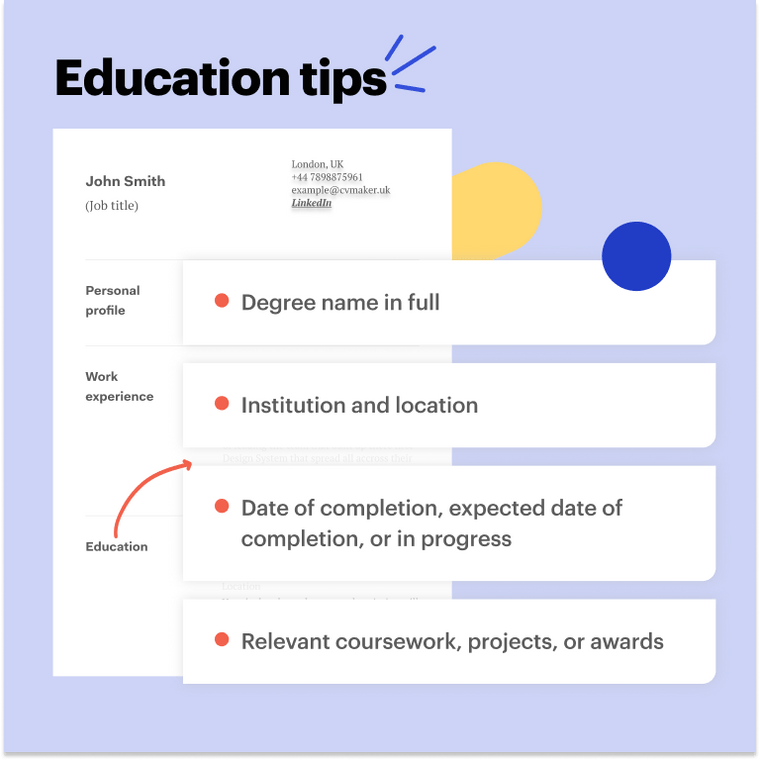 Refer to our education on a CV article for more tips and examples.
Example of a good CV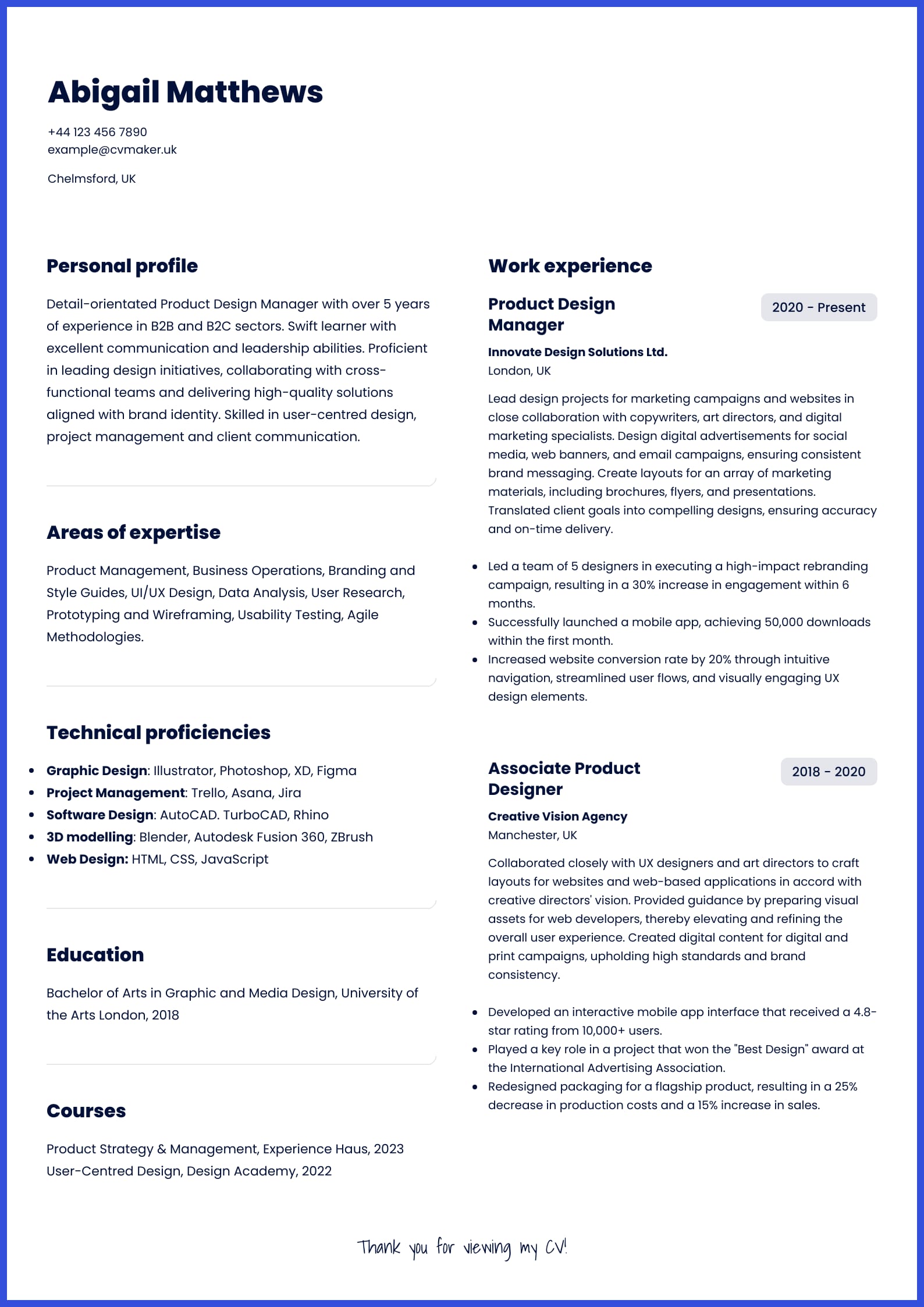 Download this Designer CV sample in PDF
For more examples of good CVs, refer to the following:
What is the best format for a CV?
The format of a good CV you choose relies on your unique career objectives and current circumstances. Nonetheless, the reverse chronological format is widely advised, where you start by listing your most recent experience and continue in descending order. Nevertheless, it's important to note that there isn't a universal format that applies to all situations.
For example, if you are transitioning to a new career, have taken a career break as a parent, or have recently embarked on a sabbatical, you may prefer to conceal any employment gaps and emphasise your skills.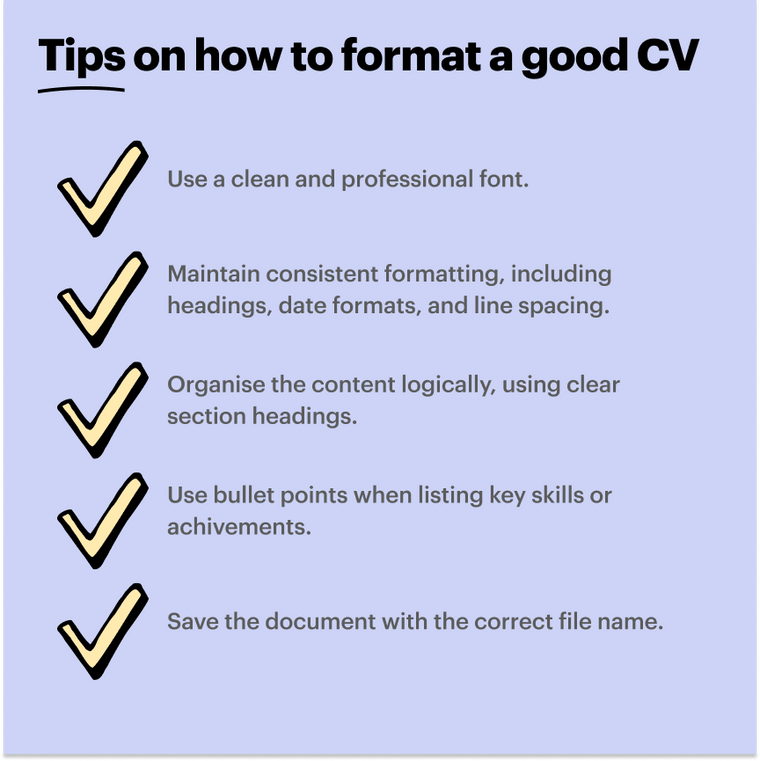 For more tips and different CV formats, refer to the below examples:
Pro Tip
Modify the structure as necessary, considering your particular circumstances and the job requirements for which you are applying.
Refer to the CV Writing Process: Master CV versus Job-specific CV for more tips on what makes a successful CV.
How to write a good CV with no experience
When creating a CV with no experience, highlight transferable skills, relevant coursework or projects, volunteer work, internships, or other experiences demonstrating your abilities and commitment. Emphasise your education, skills, and personal qualities that align with the job requirements. If you have no experience, are a recent graduate, or are transitioning into a new career, it may be best to opt for a skills-based CV. For more examples, refer to the following:
Key takeaways 
To create a perfect CV, it's important to customise it according to your career goals and ensure it is applicant tracking system (ATS) friendly. Using a generic CV is unlikely to pass through ATS, and recruiters or hiring managers may perceive it as a lack of attentiveness to the job description, resulting in rejection. 
Next steps?
If you're still unsure about how to structure your CV or what information to include, visit our extensive range of cover letter templates and CV examples for inspiration. Alternatively, you can consult with an expert at CVMaker for our CV Writing Service.
FAQ
How do I navigate gaps in my CV?
There might be various reasons for gaps; perhaps you took a career break or had personal matters that required time off. Either way, hope is not lost, as we have provided key tips on how to explain unemployment gaps on a CV. Alternatively, you can refer to our article on how to write a CV if you have no experience.
Where can I get help with my CV?
CVMaker is an all-in-one career platform that aims to simplify the job search process for all users. With an easy-to-use builder and career advice, you can now also write professional career documents including matching cover letters. For more information, refer to how to structure a cover letter.
How many pages should a good CV be?
The universal length for a CV is generally two pages. However, this can vary depending on your level of experience and job requirements. If you have extensive experience or a lengthy publication record, a CV may exceed two pages, especially if you are creating an academic CV. Conversely, if you are a recent graduate or have limited experience as a school leaver, a one-page CV is suitable. Explore more tips on how long a CV should be.
How to check if my CV is good?
Ensure that the information included aligns with the job you are applying for.

Check for clear and concise language, avoiding excessive jargon.

Ensure a consistent and visually appealing layout, with appropriate use of headings, bullet points, and white space.

Double-check for any spelling or grammatical errors.

Assess if your CV effectively showcases your skills, experiences, and achievements in a compelling way.
How to lay out a good CV?
Use a clear and professional font.

Maintain consistent formatting throughout the document.

Organise content with clear section headings.

Prioritise the most relevant information and place it prominently.

Utilise white space effectively for visual appeal.

Consider using a well-designed CV template for guidance and consistency.
Start creating your CV
Create a professional CV quick and easy with our advanced CV Builder
+ Create CV
Written by
The CVMaker platform offers a complete career platform for jobseekers with handy tools and valuable information. Are you ready for the next step in your career? Start here today!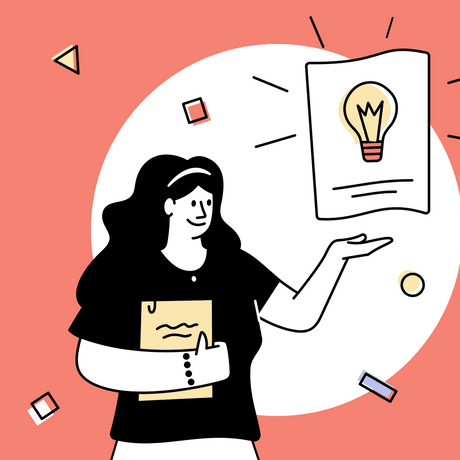 CV
· Nov 09 2023
· 7 min read
How to Improve Your CV Guide: Examples and Tips for Success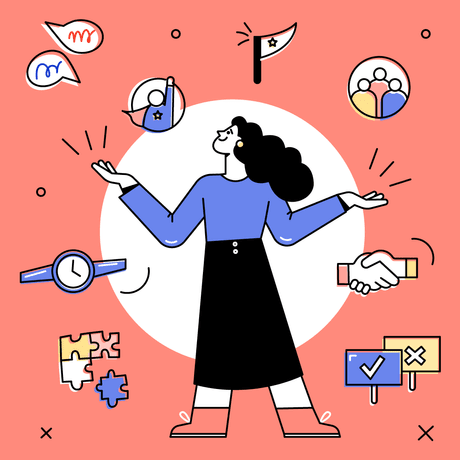 CV
· Nov 28 2023
· 6 min read
What Are the Top 10 Soft Skills to Put on a CV (Tips and Examples)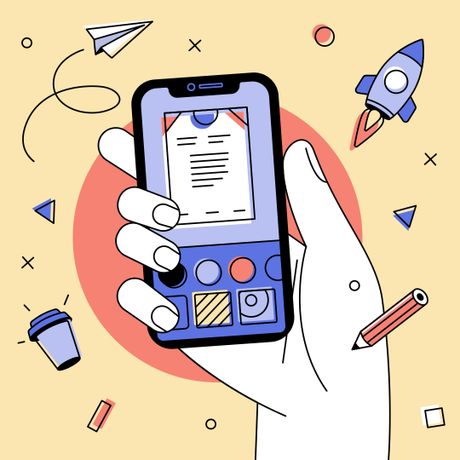 Cover letter
· Sep 14 2023
· 6 min read
How to Start a Cover Letter: 5 Expert Tips for Lasting Impact
Land the interview for your dream job with CVMaker
Effortlessly create your professional CV within 10 minutes and download it whenever and wherever you want!
Create your CV
Increase your chances landing your dream job with CVMaker.