Career
>
How to Explain Unemployment on a CV
How to Explain Unemployment on a CV
Career
· November 24 2023
· 5 min read
In the ever-evolving job market, marked by a rising number of layoffs, unemployment can affect individuals from various walks of life, including recent graduates, individuals who took a sabbatical, or parents who opted for a career break. While being unemployed can be a challenging phase, it's important to recognise that it doesn't define you.
The UK offers a wealth of opportunities for those seeking to re-enter the workforce, but one of the key obstacles is addressing the gaps on your CV. This article delves into how to effectively address career breaks or employment gaps on your CV, regardless of the circumstances that led to your unemployment.
Tips for how to explain gaps in a CV
Explaining employment gaps on your CV can be challenging, but with the right approach, you can address them effectively and present yourself in a positive light to potential employers.
1. Be honest and concise
Just because you have a gap in employment or perhaps recently graduated, you still need to be honest on your CV. You never want to be in a position where you find yourself caught off guard in an interview due to false information on a CV. Always be truthful about the reasons for your employment gap, specifically when being interviewed or in your cover letter. Keep your explanation concise and straightforward.
2. Use a functional or combination CV format
If you have substantial employment gaps, consider using a functional or combination CV format. This functional format, also known as skills-based, focuses primarily on skills instead of experience. Another time this format can be used is if you're changing careers. These formats focus on your skills and qualifications, allowing you to downplay the chronological aspect of your work history.
For additional examples of CV formats, explore the following options:
3. Include dates
While the primary objective is to divert recruiters or hiring managers' attention away from any career gaps, it's essential not to omit them entirely but, instead, employ a strategic approach in presenting them on your CV. Avoid omitting employment dates, as this could potentially raise suspicions. Instead, include only the year or years.
4. Write a cover letter
If you are going to explain your career gap or work history, do so in your cover letter. This is an excellent place to briefly explain the employment gap and provide context. You can mention what you learned or accomplished during the gap that is relevant to the position you're applying for.
Pro Tip
If possible, frame the gap as a neutral or positive experience, such as taking time off to travel, pursue further education, care for family members, or work on a personal project. Avoid negative explanations, like conflicts with previous employers.
For more tips, refer to how to structure a cover letter.
5. Emphasise transferable skills
Transferable skills can originate from diverse experiences, whether from your academic pursuits, volunteer work, or participation in extracurricular activities. If you've acquired new skills or completed relevant courses during your employment gap, make sure to emphasise these skills in your CV. This effectively demonstrates to prospective employers that you remained proactive and skill-enhancing during your time away from the workforce. For more tips, refer to what skills to put on a CV.
6. Highlight volunteer work or freelancing
If you did any volunteer work, freelancing, or consulting during the gap, include it on your CV. This demonstrates your commitment to staying engaged and keeping your skills up-to-date. Additionally, by showing this, you are also showing eagerness to learn and readiness to return. Make it clear in your CV and cover letter that you are eager and ready to re-enter the workforce and contribute effectively to a new organisation. Learn more on how to write a volunteer CV.
Pro Tip
Anticipate questions about your employment gap during job interviews. Practice your response to explain the gap confidently and positively.
For more tips, refer to how to write work experience on a CV.
7. Seek recommendations
If you took time off to improve your skills or work on personal projects, ask mentors, professors, or others who can vouch for your efforts to provide recommendations. You can also ask them for feedback that you can add to your CV or, alternatively, a reference. If you want more information on this, refer to our article on how to include references on a CV. 
8. Networking
Building connections and networking can help you gain insights into potential job opportunities and reduce the impact of employment gaps. We advise updating your LinkedIn profile, attending career fairs, reaching out to recruiters, and proactively connecting with people personally and online. By doing this, you might just find the right opportunity.
Unemployed CV example
Whether you are unemployed due to redundancy, taking a sabbatical, maternity or parental leave, the below example will give you a good idea of the importance of a skills-based CV and how it can make your CV shine if you focus on skills rather than experience.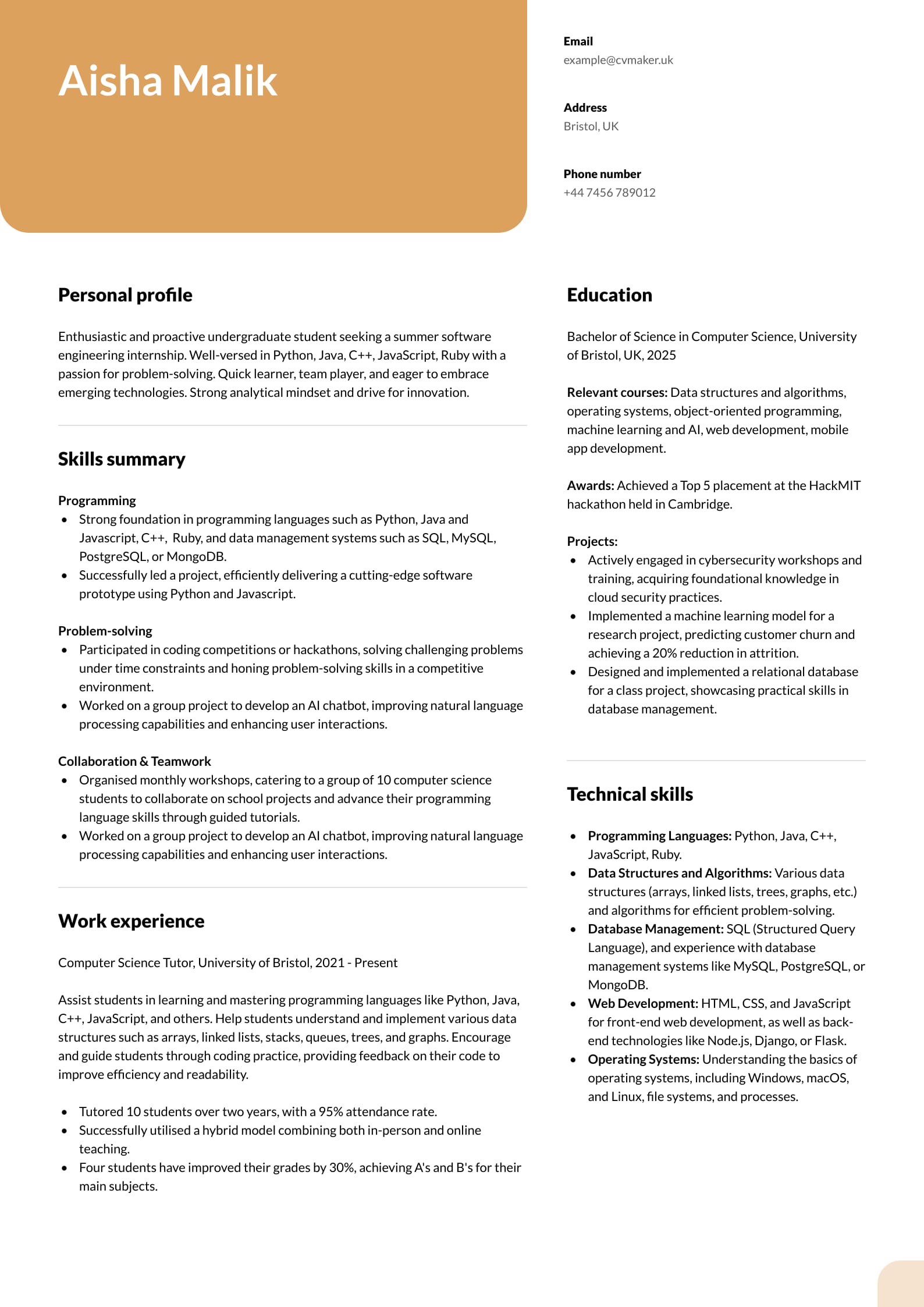 For similar CV examples if you just staring your career, explore the following options:
Key takeaways
Employment gaps are not uncommon, and many employers understand that life circumstances can lead to them. The key is to present your experience and skills in a way that makes employers focus on what you can bring to the table rather than the gaps in your work history. If you are looking for more tips, refer to our cornerstone article on how to write a good CV.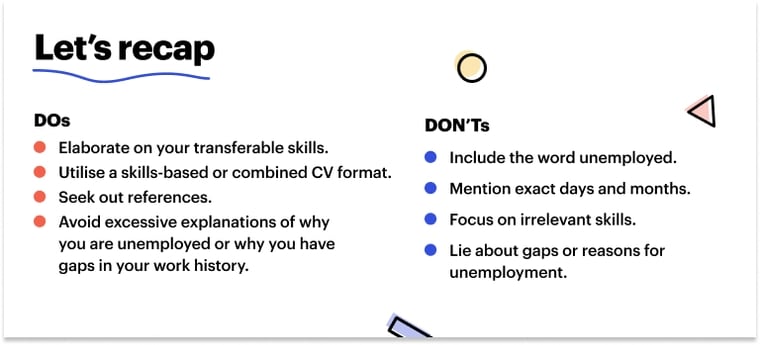 Next steps?
We offer a range of CV templates and an extensive library of examples that can be tailored to suit your individual preferences. To explore further, take a look at our comprehensive list of CV examples for inspiration. Alternatively, if you are looking for a job that is a good starting point for reentering the workforce, consider our administrator or receptionist CV examples.
FAQ
How do you say unemployed on a CV?
You shouldn't say "unemployed" on your CV but rather, strategically incorporate the above tips, such as focusing on skills or using alternative titles like Volunteer / Freelancer / Consultant / Student. Focus primarily on the skills-based format and elaborate on transferable skills within both your CV and cover letter.
How do you write a CV if you are unemployed?
When writing a CV while unemployed, focus on your skills, education, and any relevant volunteer work or freelance projects. Do not say unemployed or leave obvious career gaps on a CV and make sure to frame the gap as a neutral or positive experience.
For more tips, refer to our courses and certificates article. Alternatively, check out some of the links below.
How do you write a CV if you have never been employed?
If you've never been employed, emphasise your education, skills, achievements, internships, and relevant coursework. You can refer to our CV examples mentioned above that provide detailed guides on how to write a CV if you are a student or graduate. Alternatively, check out our examples for an internship or apprenticeship CV.
What do you put on a CV when you are not working?
Showcase your education, skills, certifications, volunteer experience, or relevant personal projects. If you're currently enrolled in studies or undertaking a short course, bring focus to these aspects in your CV. 
Is it okay to have a gap in a CV?
While having a gap in your CV is generally acceptable, addressing it professionally is essential. Regardless of the reason, maintain honesty and frame the gap positively by emphasising any achievements, no matter how small or personal—they still contribute to your overall accomplishments.
Start creating your CV
Create a professional CV quick and easy with our advanced CV Builder
+ Create CV
Written by
The CVMaker platform offers a complete career platform for jobseekers with handy tools and valuable information. Are you ready for the next step in your career? Start here today!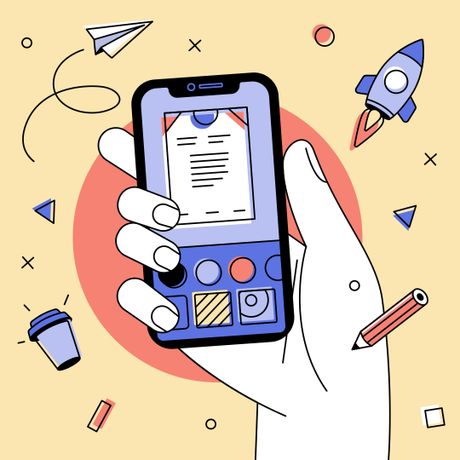 Cover letter
· Sep 14 2023
· 6 min read
How to Start a Cover Letter: 5 Expert Tips for Lasting Impact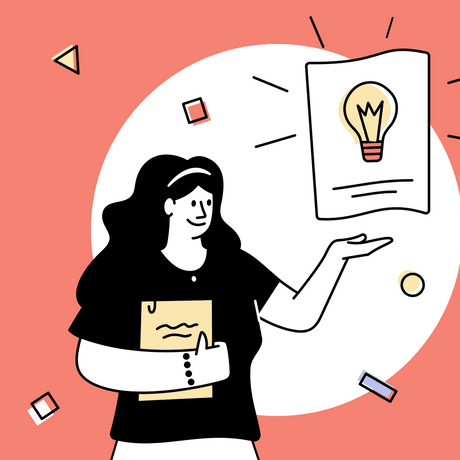 CV
· Nov 09 2023
· 7 min read
How to Improve Your CV Guide: Examples and Tips for Success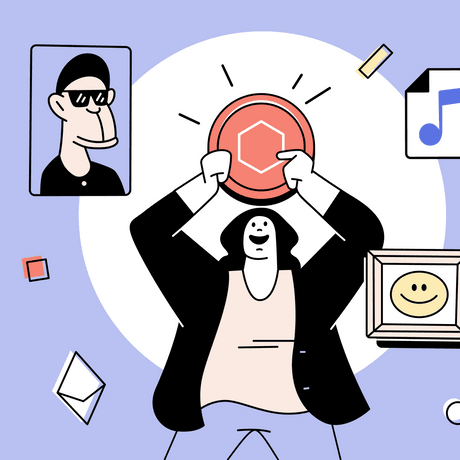 Career
· Nov 09 2023
· 10 min read
Emerging Careers: In-Demand Jobs That Emerged After the Millennium
Land the interview for your dream job with CVMaker
Effortlessly create your professional CV within 10 minutes and download it whenever and wherever you want!
Create your CV
Increase your chances landing your dream job with CVMaker.