Administrator CV
Lilly is an experienced Senior Administrator who has opted for the Oxford template for her CV. Its simple style showcases her relevant skills clearly.
Start now
"Highly-skilled Senior Administrator with excellent communication and operational skills. With over 5 years of experience in managing complex office operations and serving as a main point of contact for key stakeholders. "
Lilly Jones
- Senior Administrator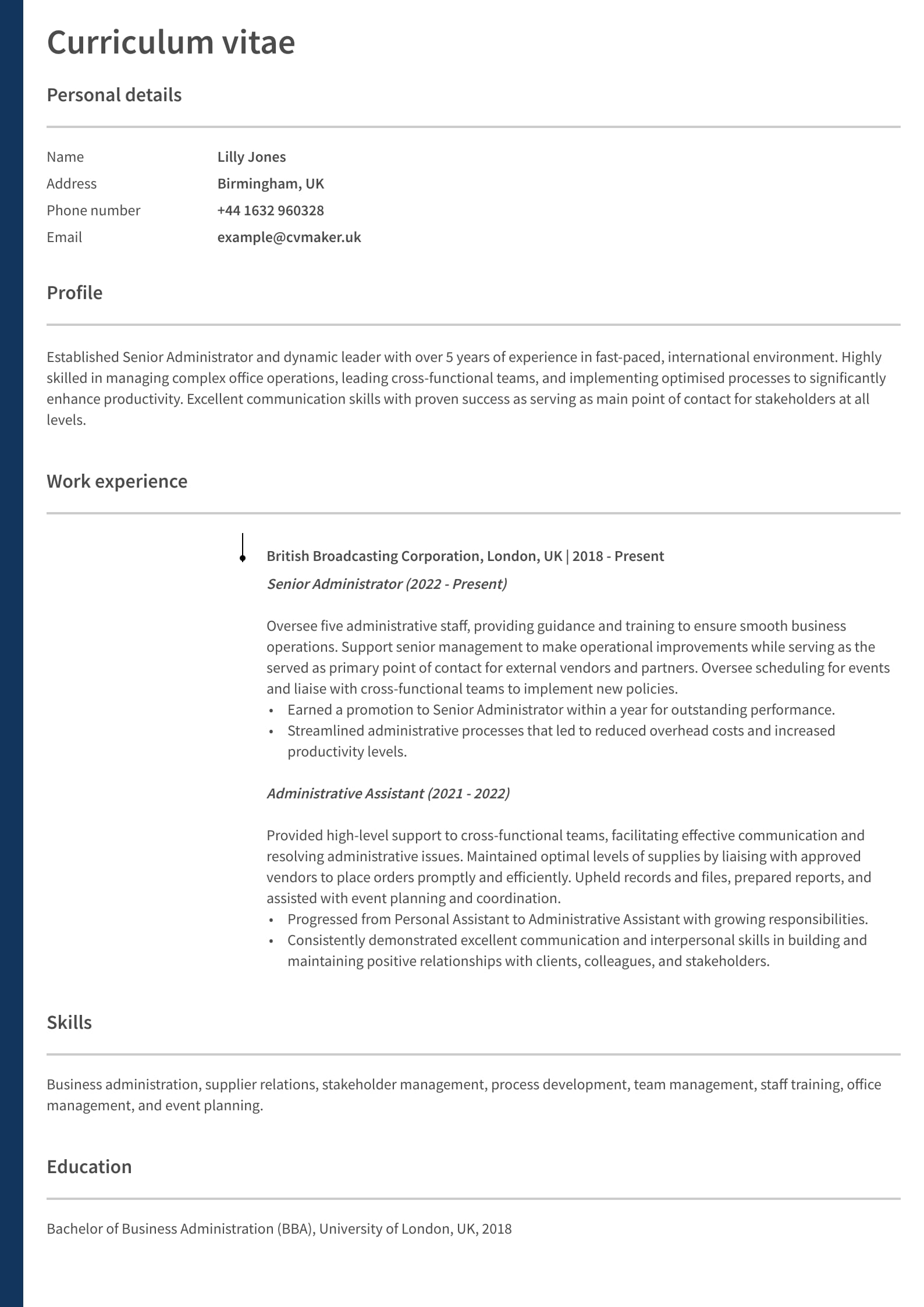 How to Write an Administrator CV: Writing Guide with Examples and Tips
Becoming an administrator could be for you if you want a new challenge or to develop core transferable skills. For this role, organisation, problem-solving, and attention to detail are crucial to showcase to recruiters. For this job, you could also handle customer inquiries, work as a team, and utilise computer software or project management tools.
Just like an administrator, writing an effective CV requires following directions, communicating the right message, sorting information, and using the correct written formats. An admin CV should be concise and relevant, showing your organisational skills and experience in an office environment. To make this process easier, we will guide you through the key sections of writing a modern CV and give your ideas on what to include to ensure your CV wins over recruiters.
In this guide, we'll show you how easy it is to create a compelling and well-structured CV to secure an interview. If you're ready to take the next step in your career, let us help you get started!
The CV writing process: Where to start? 
You should highlight your relevant work experience, education, and skills that match your target job. With recruiters spending a mere seven seconds scanning a CV, capturing their attention in those precious seconds is essential.
If you're interested in a specific role, such as an administrative assistant or business administrator, you'll play a crucial role in organisations, providing support and coordinating across various departments. You'll also maintain records, manage projects and schedules, coordinate meetings, and provide exceptional customer service. To kick-start the CV writing process for your CV, we suggest creating a comprehensive master CV that includes all your relevant skills and experiences.
Master CV
The Master CV is your comprehensive career document, including information about your entire work history, skills, achievements, certifications, and education. It is a dynamic document that evolves with your personal and professional experiences, enabling you to customise your CV for different job targets and applications quickly.
Job-specific CV
The job-specific CV is a tailored version of your master CV. You need to customise your CV to align with the requirements of a specific role. A specific role could alter the keywords and information you add to suit an administrative assistant CV or administrative secretary job, for example. Start by choosing a job and researching the specific requirements. Include the most relevant skills, experiences, and achievements relevant to the job target to present yourself as the perfect candidate to the employer.
Administrator CV example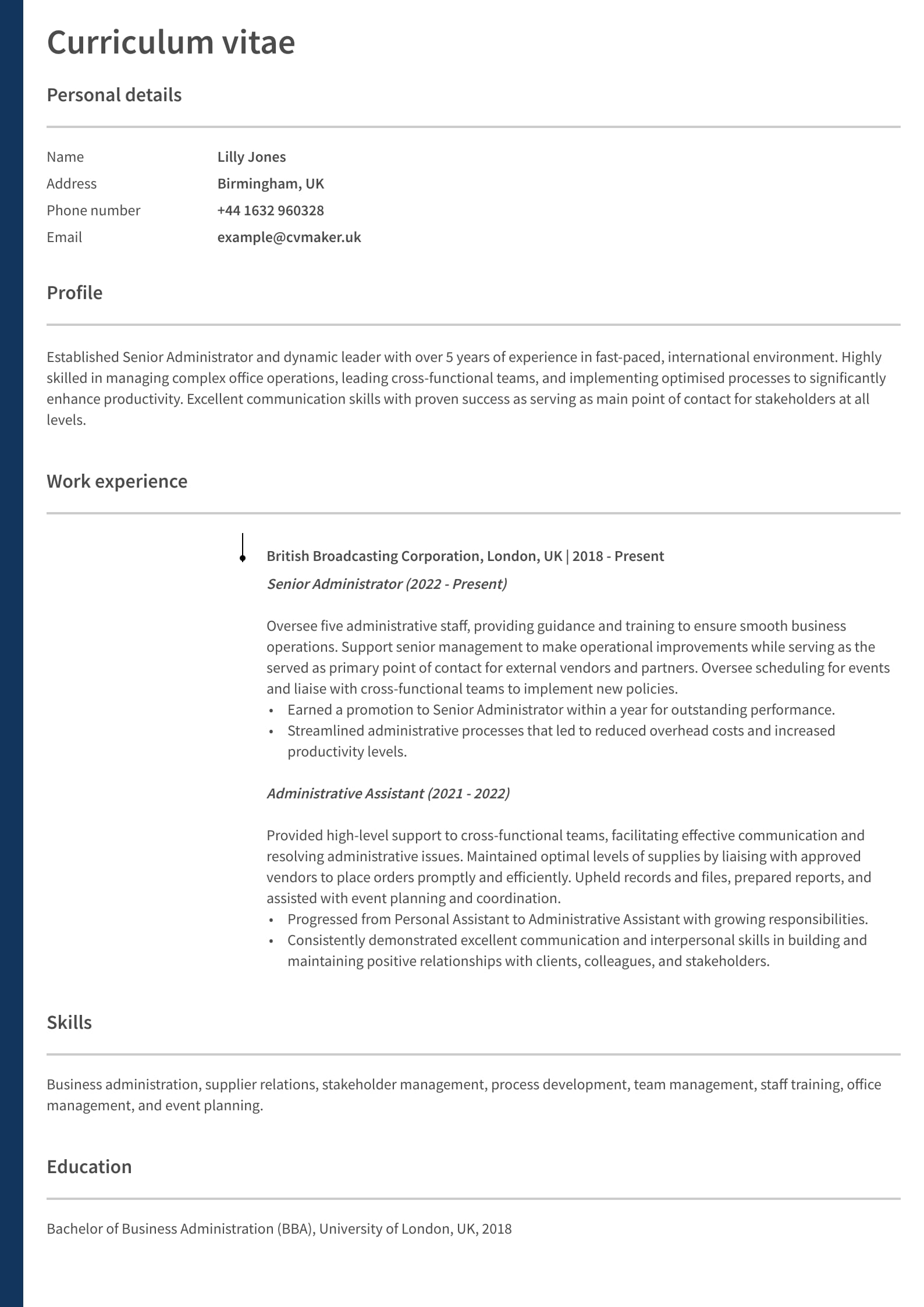 Download this CV example - Administrator CV.
In this CV example, Lilly showcases herself as a Senior Administrator with extensive experience in a fast-paced, international environment. Her personal profile suggests a level of expertise in administrative functions and highlights her ability to manage complex operations, lead teams, optimise processes, and excel in communication. This professional CV template effectively summarises her key strengths and achievements relevant to her job targets and career goals.
What to include in an administrator CV?
It's essential to tailor your application to be job-specific. Highlight your relevant skills, experience, achievements and certifications. Use a clear and organised format with separate sections for personal details, personal profile, work history, education, skills, and certifications. Keep your CV concise, well-organised, and easy to read. Learn more about how to write a good CV and impress recruiters!
Pro Tip
Should you use references on your CV? Typically, this is optional. Instead, save sharing your references for the interview if the employer requests it.
How to write a personal profile on an administrator CV
When writing a personal profile, it's crucial to capture the employer's attention and provide an eye-catching overview of your skills, experience, and career goals relevant to an admin role.
Your personal profile should provide an engaging introduction to your skills and qualifications for a role that interests the recruiter to explore your CV further. See our personal profile on a cv article for more ideas on how to write a compelling personal profile for your CV.
Administrative Assistant CV personal profile example
Highly organised and detail-oriented Administrative Assistant with four years of experience supporting diverse teams and stakeholders. Proven ability to prioritise tasks, manage calendars, and coordinate meetings, ensuring efficient office operations. Excellent communication skills with a strong customer service focus, adept at building positive relationships with clients, colleagues, and stakeholders.
Office Administrator CV personal profile example
Results-driven Office Administrator with five years of experience managing administrative tasks and optimising office efficiency. Skilled in coordinating schedules, streamlining processes, and ensuring smooth operations in fast-paced environments. Proven ability to prioritise tasks and meet deadlines, with exceptional attention to detail and accuracy.
Business Administrator CV personal profile example
Dynamic and results-oriented Business Administrator with seven years of experience driving operational efficiency and supporting business growth. Skilled in overseeing administrative functions, managing budgets, and supervising business operations. Proficient in leveraging technology and business software to streamline operations and enhance productivity.
What skills to put on an administrator CV 
We recommend including soft skills in your personal profile and making a separate section for technical skills. If you have limited to no work experience, highlighting transferable skills can be beneficial.
An office administrator should have excellent organisational, communication, and multitasking skills. In addition, you must comfortably work in a multi-disciplinary team, be proficient in data management and enjoy problem-solving. Look at our receptionist CV example for more ideas on what skills to add to your CV.
A business administrator should have strong communication and leadership skills while supporting other team members and overseeing operations. In addition, you must be well-versed in budgeting, financial planning and possess a high analytic ability to assess data and suggest solutions.
Examples of soft skills:
Organisation

Multitasking

Attention to detail

Time management

Problem-solving

Communication

Adaptability

Teamwork

Leadership

Customer Service.
Examples of hard skills:
Database management

Document management

Data entry and analysis

Financial record-keeping

Project coordination

Schedule management

Office equipment operation

Software proficiency

Supplier relations

Records management.
Read our article on what skills to put on a CV for more ideas.
How to include work experience on an administrator CV 
Work experience is crucial in establishing a lasting impact on potential employers, regardless of the industry or profession. Showcasing your work experience in previous admin positions is crucial. This highlights your familiarity with the day-to-day operations of an organisation, your ability to handle tasks efficiently, and your understanding of the systems and processes commonly used in the field.
In this section, we suggest highlighting specific achievements and responsibilities. This could include paid work, internships, or volunteer roles that demonstrate your organisational skills, time management, communication, problem-solving, and attention to detail. By providing concrete examples of how you have successfully managed projects, coordinated meetings, handled data entry, or assisted with office management, you demonstrate your capability to contribute effectively to an administrative team.
Additional tips to consider when writing this section:
Start with your most recent job and work backwards

Provide measurable outcomes to demonstrate your achievements

Use keywords which relate to your job targets

Highlight measurable outcomes and achievements

Emphasise transferable skills from previous roles

Finally, focus on what you did rather than just listing responsibilities to keep it concise and impactful.
Office Administrator work experience example:
Office Administrator| CVMaker, Birmingham, 2021 – present
Demonstrate strong leadership, handle diverse tasks, and maintain a productive office environment. Monitor team performance daily and regularly generate comprehensive reports for senior management. Collaborate with internal stakeholders to resolve issues efficiently and actively participate in strategy sessions to drive progress and align with the company's vision.
Received commendation for exceptional organisational skills and attention to detail.

Implemented streamlined administrative processes, resulting in improved workflow and cost savings.

Awarded Employee of the Year for positive feedback from colleagues and superiors for outstanding customer service and professionalism.
Senior Administrator work experience example:
Senior Administrator | CVMaker, Birmingham, 2020 - present
Lead and motivate a team of 15 customer service representatives and provide exemplary short-term insurance assistance to business clients. Monitor team performance and prepare comprehensive reports daily, weekly, and monthly for senior management. Collaborate closely with internal stakeholders, and seek solutions to resolve issues.
Spearheaded team training initiatives which boosted team morale and resulted in a  70% improvement in customer satisfaction scores.

Implemented innovative technologies and software solutions that automated administrative tasks and improved efficiency.

Developed strong relationships with key stakeholders, including vendors and suppliers, leading to cost savings for the company.
For a comprehensive guide on writing about your work experience and highlighting achievements, refer to our how to write work experience and how to list achievements articles.
Remember to tailor the details and achievements to your experience, focusing on the most relevant duties and accomplishments for the role you are applying for.
How to arrange education on an administrator CV
Education requirements for an administrator in the UK can vary depending on the position and employer. Most employers typically request secondary-tier education, such as GCSEs, as a minimum requirement. Although, having a relevant qualification like a business administration degree can enhance your prospects.
When listing education on a CV, it's important to include basic information such as the school's name, location, dates attended, and degree or certificate earned.
Below are some examples of the types of education for starting a career in this field:
GCSEs: Good grades in English and Math GCSEs are often required for entry-level admin jobs.

A Levels: Having A Level qualifications, or their equivalent, may be preferred or required by certain employers. Subjects like Business Studies, Economics, or ICT can have relevance for administrative positions.

BTEC or NVQ: Vocational qualifications such as BTEC or NVQ in Business Administration or related fields can offer specialised skills and knowledge relevant to administrative positions.

Foundation Degree or Bachelor's Degree: A degree in Business Administration can help you advance your career and lead to higher-level administration roles, but it's only sometimes required for entry-level jobs.
It's important to note that while education is valuable, practical office experience, transferable skills, and the ability to use relevant computer software and tools are also highly regarded by employers in this field. To learn more, read our how to write the education section for a CV blog article.
How to list courses and certificates on an administrator CV 
You should list the title of the course or certificate, the institution you received it from, and the year in which you obtained it. Only include courses and certificates relevant to the role you are applying for. A brief description of what was learned during the course or certificate can demonstrate your knowledge, skills and qualifications for your CV.
Enrolling in a course and earning a certificate in the UK, either online or in class, can help you achieve your career goals as an administrator. For some job seekers, a higher education degree is usually the minimum requirement for those interested in business administration or other senior managerial positions.
Here are some examples of courses and certificates:
Advanced Diploma in Business Administration

Diploma for IT Users (ITQ)

Diploma in Office Administration

Certificate in Bookkeeping

Diploma in Office Management and Reception

Diploma in Professional Receptionist

Diploma in Systems and Payroll Management.
Key takeaways 
Creating an effective CV is crucial in today's competitive job market, so by using this guide, you can effectively showcase your skills, experiences and accomplishments. Creating a CV is even better with a cover letter, which can boost your chances of securing a job interview.
Next Steps?
At CVMaker, we understand that searching for your ideal role can be challenging in a competitive market. Our CV Writing Service is made to help you save time and offer you support with your job application. Our ATS-friendly and HR-approved templates have been professionally reviewed and designed by experts so recruiters can scan and find your application among thousands of candidates. We can also help you choose a professional admin CV template and have more CV examples for inspiration.
FAQ 
What does an administrator do? 
Working in this area, you are responsible for diverse organisational management tasks, including planning and budgeting to overseeing business operations. They coordinate activities, communicate with stakeholders, and ensure compliance with policies and regulations. Learn more about different admin roles in the UK.
How to choose the best administrator CV format? 
When creating an administrator CV, your chosen format is as important as the information you include. Make sure you use reverse chronological order. Your CV should be easy to read and provide a well-structured overview of your professional experience, qualifications, and skills.
How to structure an administrator CV? 
An organised CV with all your skills and experience can improve your chances of getting noticed by employers and landing a job interview. Your admin CV should highlight any experiences and qualifications that are relevant. Include a clear and concise summary of your key skills, abilities and experience in your personal profile, as this helps you stand out from other applicants.
How long should your administrator CV be? 
In the UK, CV length can range from one to two pages. We suggest focusing on essential details and avoiding repeating information. Instead, highlight recent and relevant work experience, individual strengths, and accomplishments related to your job targets.
What is the best CV template for an administrator CV? 
We offer a variety of CV templates that are appropriate for different industries and job roles. In addition, our professional templates are always customised to suit your style and career goals.
How to write an administrator CV with no experience? 
When writing a CV with limited work experience, we advise focusing on your education, skills, and additional experience sections. In addition, highlight any transferable skills or related experiences for a job in administration. A skills-based CV may be helpful for graduates or if you are newly qualified.
What type of education is required for administrator workers?
The type of education required varies depending on the job. Generally, employers look for applicants with secondary-tier education for administration and office assistants. A bachelor's degree may be required for senior and business administration roles. Some positions require additional certificates or specialised skills. Some work experience in an office environment and strong computer skills are essential.  Refer to our HR CV example for further inspiration on how to add education.
Land the interview for your dream job with CVMaker
Effortlessly create your professional CV within 10 minutes and download it whenever and wherever you want!
Create your CV
Increase your chances landing your dream job with CVMaker.