Office Manager CV
The professional CV template is Toronto, which presents Charlotte's expertise in a concise and well-formatted way. She effectively shows her three years of experience as well as highlighting her achievements.
Start your CV now
"Results-driven Office Manager with 3 years of experience overseeing administrative functions in corporate settings. Possesses key skills to carry out office manager duties to the highest of standards."
Charlotte Turner
- Office Manager
CV Tips and Examples: How to Write an Office Manager CV
In recent years, the office management profession has become increasingly popular, and in 2027, serviced offices are expected to reflect a 52% cumulative growth from 2022.  The rise of technology and shifting workplace dynamics have opened up exciting opportunities for remote and flexible work.
In this role, you'll experience diverse settings, from corporate hubs to construction sites and sports venues.  Whether you aspire to oversee and supervise a team, manage operations in a construction firm, or apply for an entry-level role, this guide helps you write a good CV tailored to your career goals as an office manager.
As the job market evolves, recruiters rely more on application tracking systems (ATS) to scan and read CVs, making choosing the best professional CV templates more crucial. Our practical insights, examples, and expert advice within this guide provide the tools needed to stand out, make an impression on potential employers and secure your dream job.
Office Manager CV Example 
Download this sample CV for an Office manager job in the UK
Charlotte Turner presents her three years of experience in administrative functions and staff management. She excels in facilitating office operations, budgeting, project coordination and fostering a productive work environment for her employees. Her achievements emphasise her ability to improve team productivity, streamline procurement processes, and boost client satisfaction ratings. This professional office manager CV template uses Toronto, which presents her expertise in a concise and well-formatted way.
What to include in an office manager CV? 
It's essential to use key sections and relevant information. Start with your personal information, followed by a personal profile summarising your qualifications and career goals. Highlight your unique skills and expertise in administration, customer service, staff supervision, and budget management. List relevant certifications or achievements and consider adding language skills on a CV to stand out. 
Maintain a structured format, utilising clear headings to ensure your CV is presented with clarity and conciseness. For a more detailed overview, refer to our article on the CV writing process on how to make a job-specific CV that matches the job description.
Pro Tip
Tailoring your CV to the specific position you're targeting will maximise its impact and relevance.
Office Manager CV personal profile examples 
Creating a compelling personal profile is essential to grab the attention of potential employers. Your summary should be concise yet impactful, offering a glimpse of your key attributes and aspirations. Mention relevant qualifications and certifications to establish your credentials to recruiters. Highlight your practical experience and career achievements, showcasing your suitability for the role. Lastly, personalise your profile to the specific role you're pursuing, aligning the summary with the job description.
Hotel Front Office Manager CV Personal Profile
Dedicated Hotel Front Office Manager with over seven years of experience in the hospitality industry. Adept at directing seamless guest experiences and overseeing daily operations in a high-paced hotel setting. Known for exceptional staff leadership, effective problem-solving, and optimising check-in/check-out procedures. Proficient in managing reservations, maintaining guest satisfaction, and enhancing efficiency.
Front Office Manager CV Personal Profile
Experienced Front Office Manager with a strong track record of eight years in optimising office operations. Expert in supervising administrative staff and ensuring a productive work environment. Proficient in budget management, project coordination, and staff leadership. Skilled in fostering teamwork, boosting efficiency, and enhancing customer service. Committed to elevating office functionality and staff well-being.
Office Manager CV Personal Profile
Result-oriented Office Manager with five years of experience overseeing office functions. Proficient in office administration, staff supervision, and budget management. Recognised for driving process improvement, project coordination, and efficient event planning. Skilled in enhancing customer service, vendor relations, and office systems. A natural leader committed to streamlining office operations and promoting staff productivity.
Assistant Manager CV Personal Profile
Motivated Assistant Manager with four years of experience in supporting office operations. Proficient in facilitating office supplies management, vendor relationships, and staff training. Skilled in project coordination and budget compliance. Recognised for optimising expense reports, travel bookings, and team-building efforts. Committed to improving operational efficiency and staff morale through effective leadership.
Refer to our article on writing a personal profile on a CV with the best examples and tips. 
The skills section for an office manager CV
This section is an opportunity to highlight your competencies for the role and demonstrate your suitability to employers. When incorporating skills into your CV, aligning them with the job requirements is essential. Within office management, you'll create and implement staff policies and quality control measures, conduct employee appraisals to assess and enhance performance, handle disciplinary matters, and compile reports and presentations for senior management. List adequate customer service and administration skills relevant to the role to showcase your experience.
If you are just starting in this field without work experience, a skills-based CV can enhance your career prospects and help you secure a job. Include a combination of hard, soft, and transferable skills to leverage your CV.
Hard skills

Soft skills

Business management

Communication

Administration

Logic and reasoning

Computer literacy

Teamwork

Staff supervision

Organisation

Budget management

Time management

Project coordination

Adaptable

Customer service

Detail-oriented

Event planning

Problem-solving
Read our article on how to list skills on a CV for the best examples and tips.
Showcase your work experience 
The work experience section on your office manager CV provides potential employers with a clear understanding of your professional background and accomplishments. Incorporate job-specific skills and keywords, quantify achievements with numbers, and limit each job entry to 3-5 concise sentences with 2-3 achievements in bullet points.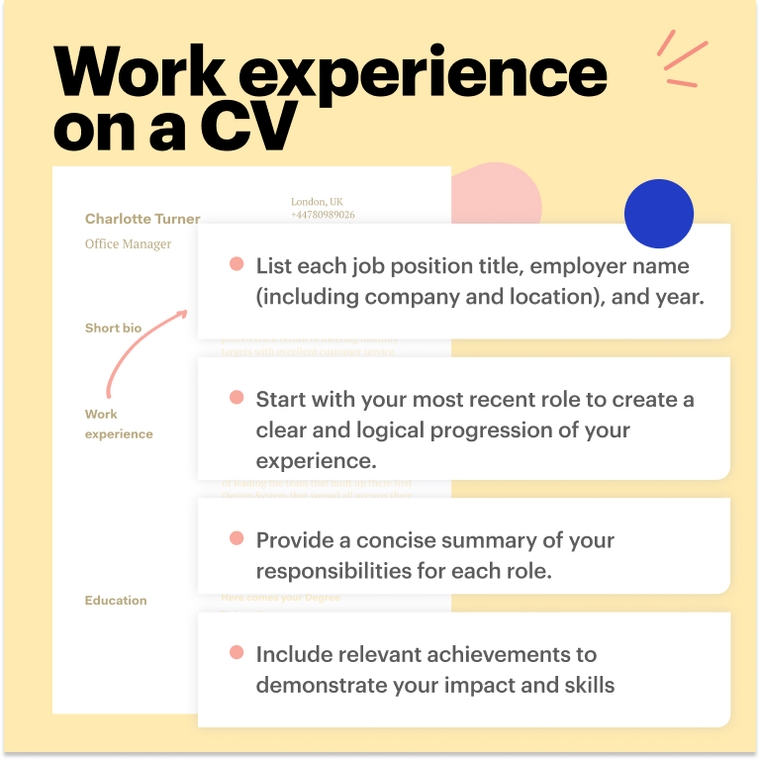 Work experience CV examples 
Hotel Front Office Manager | The Grand Hotel, London, 2020 - Present
Direct and oversee daily front office operations, ensuring a seamless guest experience. Manage a team of receptionists, concierge, and bell staff.  Handle guest requests concerns, and resolving issues promptly. Oversee room reservations, check-in/check-out processes, and billing operations.
Introduced training programs that enhanced staff skills, leading to a 20% improvement in team productivity.

Streamlined office supply procurement, saving 20% annually while maintaining quality standards.

Led a customer service improvement initiative, resulting in a 15% increase in client satisfaction ratings.
Front Office Manager | City View Office Complex Birmingham,  2019 - Present 
Manage front office functions in a corporate office setting, ensuring smooth operations. Supervise a team of administrative staff and receptionists. Develop and maintaining vendor relations and negotiating contracts to achieve cost savings. Oversee budget management and resource allocation, contributing to optimal office functioning.
Implemented office efficiency measures, increasing daily productivity by 15%.

Successfully negotiated vendor contracts, reducing operational costs by 12%.

Streamlined office processes and operations, improving efficiency by 20%.
Office Manager | Tech Innovations Ltd, Newcastle, 2020 - Present
Direct daily office operations and maintaining adherence to company policies and procedures. Lead administrative staff and managing office supplies and equipment procurement. Handle employee relations and assisting in HR activities. 
Attained a 15% reduction in annual office procurement costs.

Implemented procedures resulting in a 20% productivity increase.
Writing an office manager CV with little to no experience
For those with little to no experience or students, use a skills-based or project CV format to emphasise qualifications and transferable skills over work experience. For school leavers pursuing entry-level roles, consider writing an apprenticeship CV to kickstart your career and gain hands-on training with industry professionals.
Office Intern | Tech Recruitment Services, Manchester, 2020 - 2022
Managed the reception area, welcoming and assisting visitors and clients. Handled incoming and outgoing mail, packages, and deliveries. Maintained and organised office supplies, ensuring sufficient stocks. Scheduled appointments and meetings, coordinating with staff. Assisted in basic data entry and documentation tasks. Managed office equipment and reported maintenance issues. 
Improved the organisation of office supplies, resulting in a 15% reduction in costs.

Streamlined appointment scheduling, reducing scheduling conflicts by 20%.

Assisted in creating and implementing a more efficient office filing system.
Still deciding what to write in this section? Read how to add work experience to a CV. 
Boost your CV with the education section
To become an office manager in the UK, typically, you'll need to complete 2-3 A levels or equivalent to gain entry into a relevant degree program at a university, such as business management, human resource management or public administration.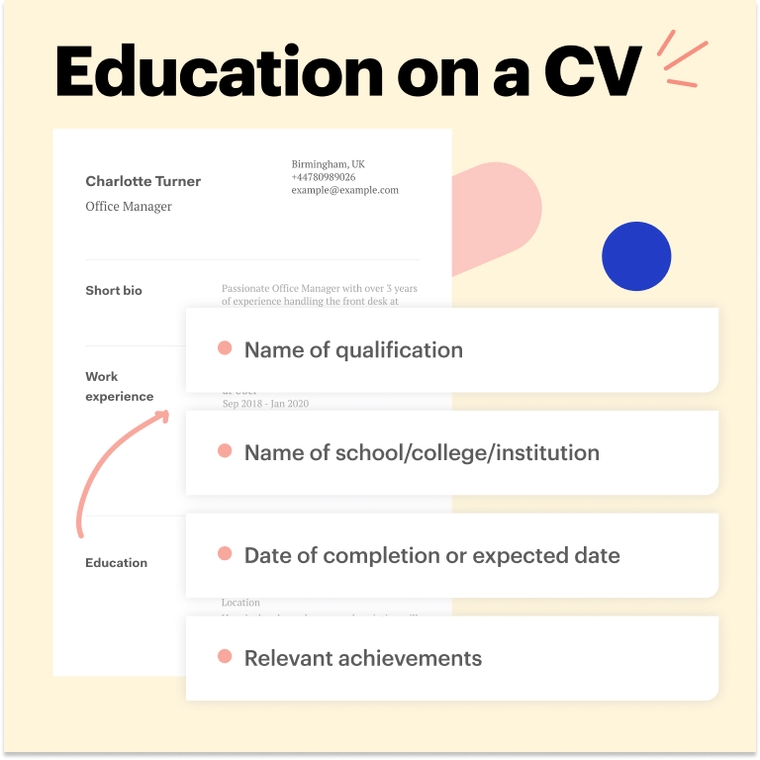 If you're a school leaver, completing an apprenticeship at college is a productive way to gain practical skills and a strong foundation for your future career. 
Examples of education:
Master of Business Administration (MBA) University of Manchester, UK 2019 - 2021

Bachelor of Business Administration (Hons) Birmingham City University, UK 2016 - 2018.
When writing your education section, ensure you use a chronological CV format.  Read our article on how to master the education section on a CV with expert tips. 
Add additional courses and certificates to your office manager CV 
Incorporate additional courses and certificates to demonstrate your commitment to professional development and expertise in relevant areas. Include the course name, issuing body and the date in chronological order.
Example of certificates:
Certified Office Manager (COM) Institute of Administrative Management, 2015

Office Management Specialist (OMS) Certification, The Office Management Association, 2016.
Read our article on how to add courses and certificates to your CV for more guidance.
Key takeaways 
Writing a modern CV in today's job market is essential for in-demand and diverse professions such as office management. Always create a job-specific CV tailored to your career goals and the job you're applying for. Highlight relevant skills, qualifications, certificates and work experience in clear sections. Remember to keep your CV well-structured and formatted to make a strong impression.
For more guidance, explore other CV examples on our site that involve a similar skillset, such as:
Next Steps? 
Ready to create your own CV? Utilise our CV Writing Service as a starting point. We offer personalised guidance that is tailored to your career goals. Remember to follow our career blog for practical advice and tips to help you create the best job application, succeed in job interviews and land your dream job.
FAQ 
What qualifications do you need to be an office manager in the UK? 
Qualifications needed can vary depending on the employer and job requirements. Relevant work experience and skills are often more critical than formal qualifications. A bachelor's degree in a related field, such as business administration or management, can be beneficial. Some office managers may hold only a high school diploma or equivalent and gain relevant experience over time. 
How much do office managers make in the UK?
Salaries in the UK can significantly vary, depending on factors such as experience, geographic location, and industry. Generally, for entry-level roles, expect to earn around £18,000 to £38,000 annually. 
What is the best CV format for an office manager in the UK?
When creating a CV in the UK, following a chronological format is recommended. The best office manager CV format should highlight your qualifications, work experience, and skills. This format presents your work history in reverse order, starting with your most recent position and working backwards. Learn more about how long a a CV should be.
What are the personal strengths of an office manager?
Key personal strengths for this role include leadership, organisational skills, problem-solving, effective communication and administration skills. Attributes that employers are looking for include attention to detail, multitasking, planning and working in a fast-paced environment.
What is the job description of an office manager?
The responsibilities outlined in the job description vary depending on the organisation and level. Typically, you'll be overseeing daily office operations, managing external suppliers, supervising administrative staff, maintaining office systems, and enhancing overall efficiency. Often, you'll be budget handling, financial planning and coordinating projects.
Land the interview for your dream job with CVMaker
Effortlessly create your professional CV within 10 minutes and download it whenever and wherever you want!
Create your CV
Increase your chances landing your dream job with CVMaker.